Enterprise survey software enables large businesses to make informed business decisions with detailed insights. It empowers frontline teams to C-suite leaders to understand, anticipate, and respond to the needs of a company while nurturing customer relationships.
The tool enables them to create and export reports, share surveys with just a few clicks, and do business in a customer-centric culture.
Fortunately, there are several Enterprise survey software available today; however, we have picked the best 12 enterprise survey software, specially designed for enterprises.
Let's get started.
TL;DR
Teams are looking for the best enterprise survey software to conduct market research, analyze real-time data, send surveys to multiple people at a time, and more.
The software helps to facilitate and enable transparent and effective communications to identify the areas of improvement and take action.
We have compiled a list of top enterprise survey software through set parameters including their unique features, pricing plans, and review scores on different platforms.
Some of our top enterprise survey software are Zonka Feedback, SurveyMonkey, Qualtrics, AskNicely, Delighted, Survicate, and more.
To see how Zonka Feedback can be your top choice as an Enterprise survey software, sign up for a free 7-day trial or book a demo!
Measure Customer Feedback & User Insights
Try the best Enterprise Survey Software to understand what users need and learn ways to delight your customers.
#1.Zonka Feedback
Zonka Feedback is a leading enterprise survey software and customer feedback platform that enables you to reach your customers wherever they are, either through an online survey software or an offline survey. The platform has the potential to simplify your customer experience strategy.
It allows enterprises to collect feedback survey data, gather insights, hear Voice of Customer, get a 360-degree view through its multi-device, surveys, and online forms, and collect powerful analytics from them.
This multi-channel platform provides a mode for businesses to tap the customer at different touch points like in-product, website, offline, email, SMS, and more. It also digitally captures survey results and generates reports and data, enabling the creation of workflows centered on valuable surveys and more insights.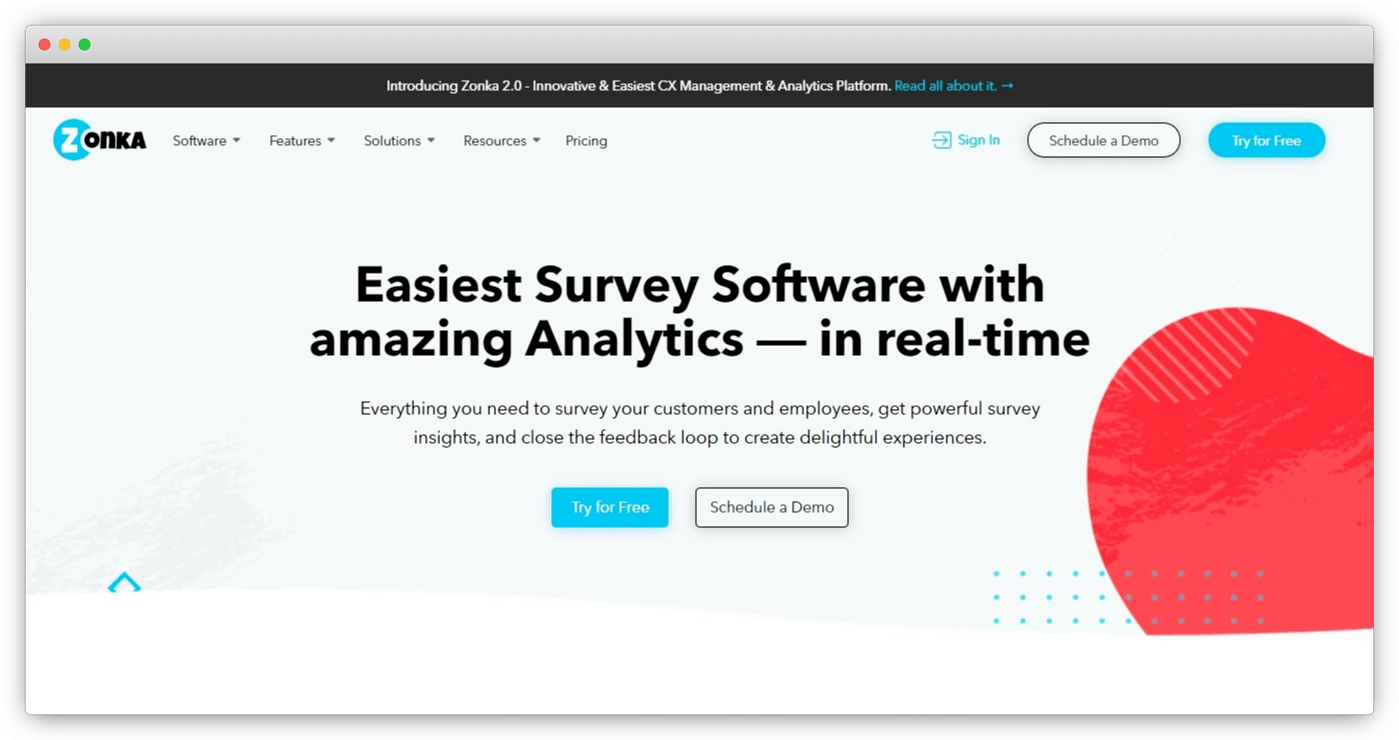 Zonka Feedback Features
Get welcome templates, questionnaires, and thank you templates with WYSIWYG Survey Builder.

Get real-time feedback alerts to quickly closing the customer feedback loop

Use attributes to personalize messages

Set up reminders in case of non-completion of surveys

Get an option to set survey inactivity timeout and restart time

View logs based on different parameters

Track every log of your brand with a primary account or through multiple account option

Get enhanced security features for enterprises

Integrate with popular CRMs POS, SMS Gateways, Email Gateways, and others

Get custom billing and payment options or choose your own billing cycle
Pricing:
Custom plans for enterprise users with Growth Features+. Works on all survey channels - Website surveys, Email survey, SMS survey, In-app surveys, mobile app surveys, and Offline surveys.

You can also try Zonka Feedback for free for 7 days.

Customer Experience Metrics: NPS, CES 2.0, CSAT

Review Score (Capterra): 4.8/5

Ease of Use (g2): 8.8/10
#2.SurveyMonkey Enterprises
SurveyMonkey Enterprises also offers Enterprise survey software that allows users to conduct surveys and collect both quantitative and qualitative information in order to assess customer needs at every touchpoint. It captures real-time feedback with the help of polls, feedback surveys, quizzes, and mobile-responsive surveys.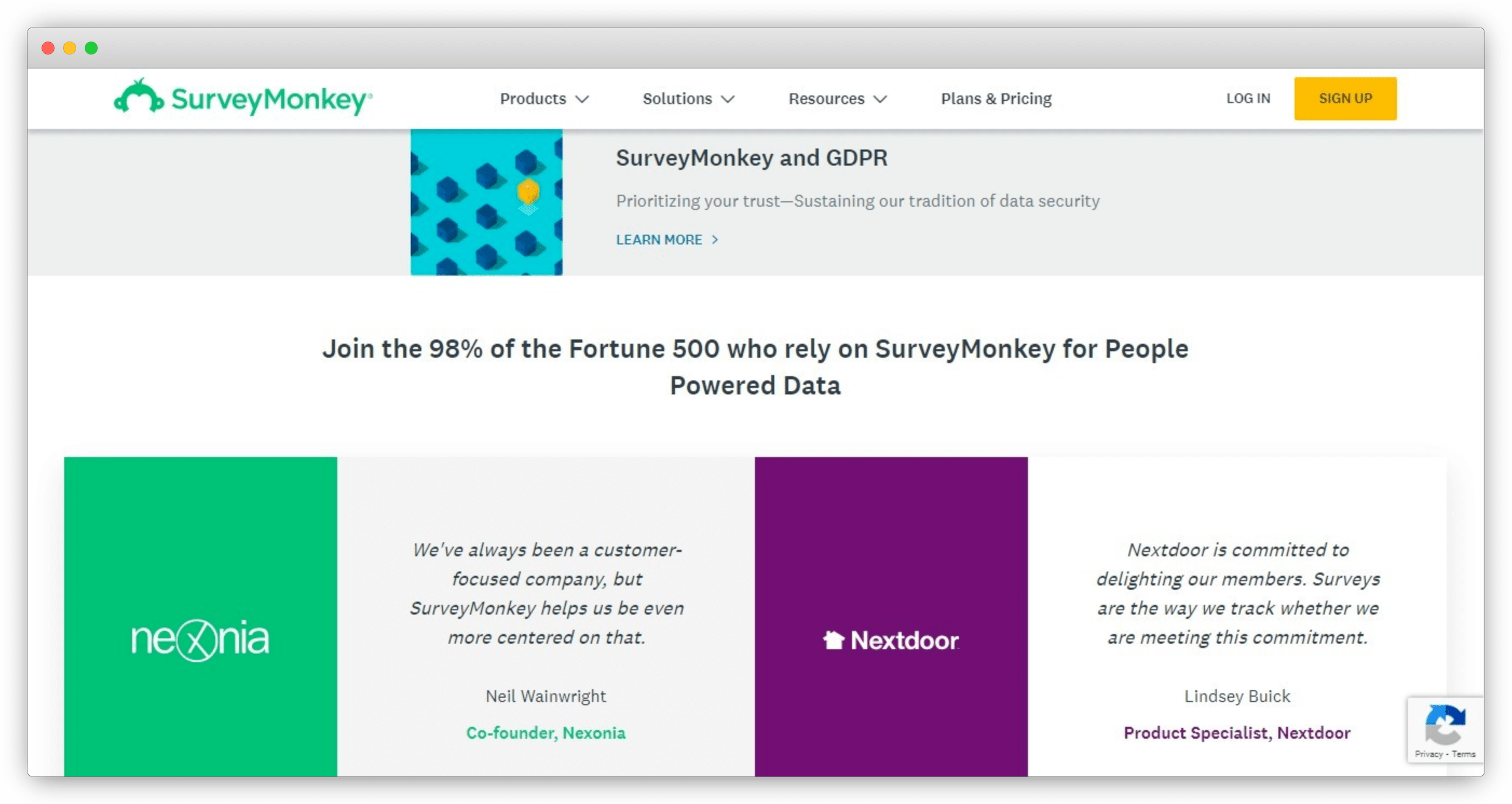 Features of SurveyMonkey
Get pre-built 200 survey templates and access to expert-written question bank
Create multilingual and conversational surveys, quizzes, and polls
Increase contextual feedback through a better understanding of the customer's journey
Uncover customer insights using AI
Secure sensitive data collection with SSO, data encryption, and governance capabilities
Pricing: You need to contact their sales and customer experience team.

Customer Experience Metrics: NPS, CSAT, CES

Review Score (Capterra): 4.6/5

Ease of Use (g2): 8.8/10
Although known as one of the oldest feedback-collection tools, it lacks a few advanced features. You can check out the blog on SurveyMonkey alternatives to learn about its competitors
#3. Qualtrics
Trusted by some of the popular brands in the world, Qualtrics is a popular enterprise feedback management software assists small-to-large-scale businesses to uncover insights and improve customer engagement and experience by using surveys. Qualtrics' powerful machine learning and advanced analytics allow users to in data management and get predictive insights, tailored for specific roles and departments.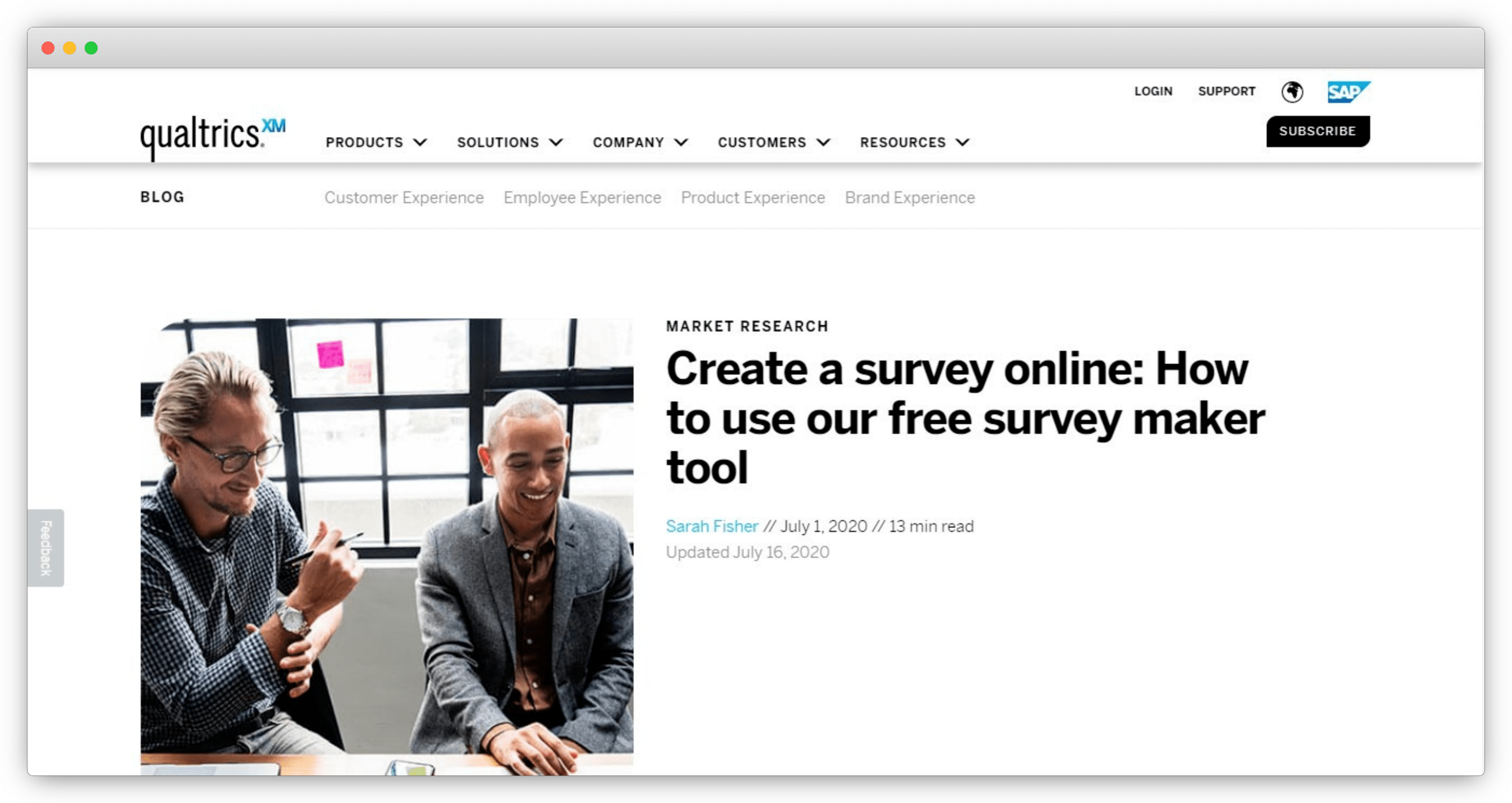 Qualtrics Features
Visualize data with 30+ different graph types
Run targeted campaigns based on location and purchase history
Deliver better customer experiences across every digital touchpoint
Use omnichannel experience analytics and AI-powered automation to understand customers better
Pricing: You can request for demo to learn about pricing plans.

Customer Experience Metrics: NPS, CSAT, CES

Review Score (Capterra): 4.7/5

Ease of Use (g2): 8.8/10
Qualtrics is known for its complex and advanced features. However, it may not be for all. Here is a blog on Qualtrics alternatives with easy to use features.
#4. GetFeedback
GetFeedback is another platform that offers enterprise survey software, helping enterprises create engaging and mobile-friendly surveys. This survey app helps users uncover insights and update the business by providing customer data, timely information, and insightful analytical reports gathered from the various feedback forms and surveys.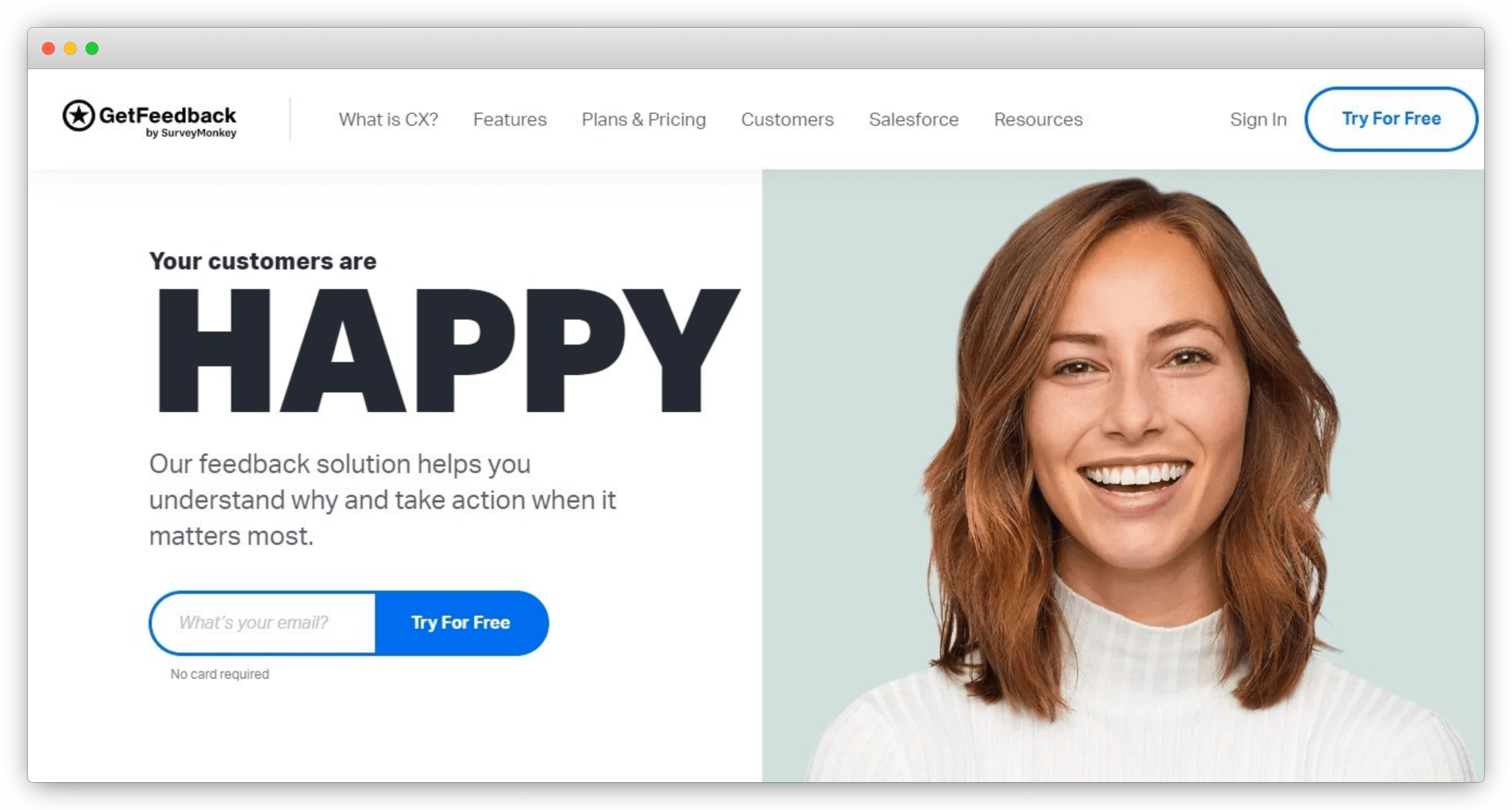 GetFeedback Features
Get an intuitive interface and white-labeled surveys

Quickly embed surveys in Salesforce screens with GetFeedback Flow templates

Get full analyses of customer sentiments with Text Analytics

Increase adoption of products or services through the CX program

Reduce churn rates into winbacks by bringing more value
Pricing: You need to connect with their product management and sales team

Customer Experience Metrics: NPS, CSAT, CES

Review Score (Capterra): 4.8/5

Ease of Use (g2): 9.0/10
GetFeedback is well-known for its customer experience management platform; however, businesses are looking for its competitors due to complex user interface, restricted integration capabilities, and steep learning curve. You can read the blog on GetFeedback alternatives to learn more.
#5. AskNicely
AskNicely aims to measure every customer experience by gathering valuable feedback, determining the loopholes, responding directly, and taking necessary action to enhance the products and services by using the Net Promoter Score (NPS) framework. It also enables enterprise managers to use it to provide real-time recognition to their team members on their mobile devices and phones and guide them on how can they improve their performance.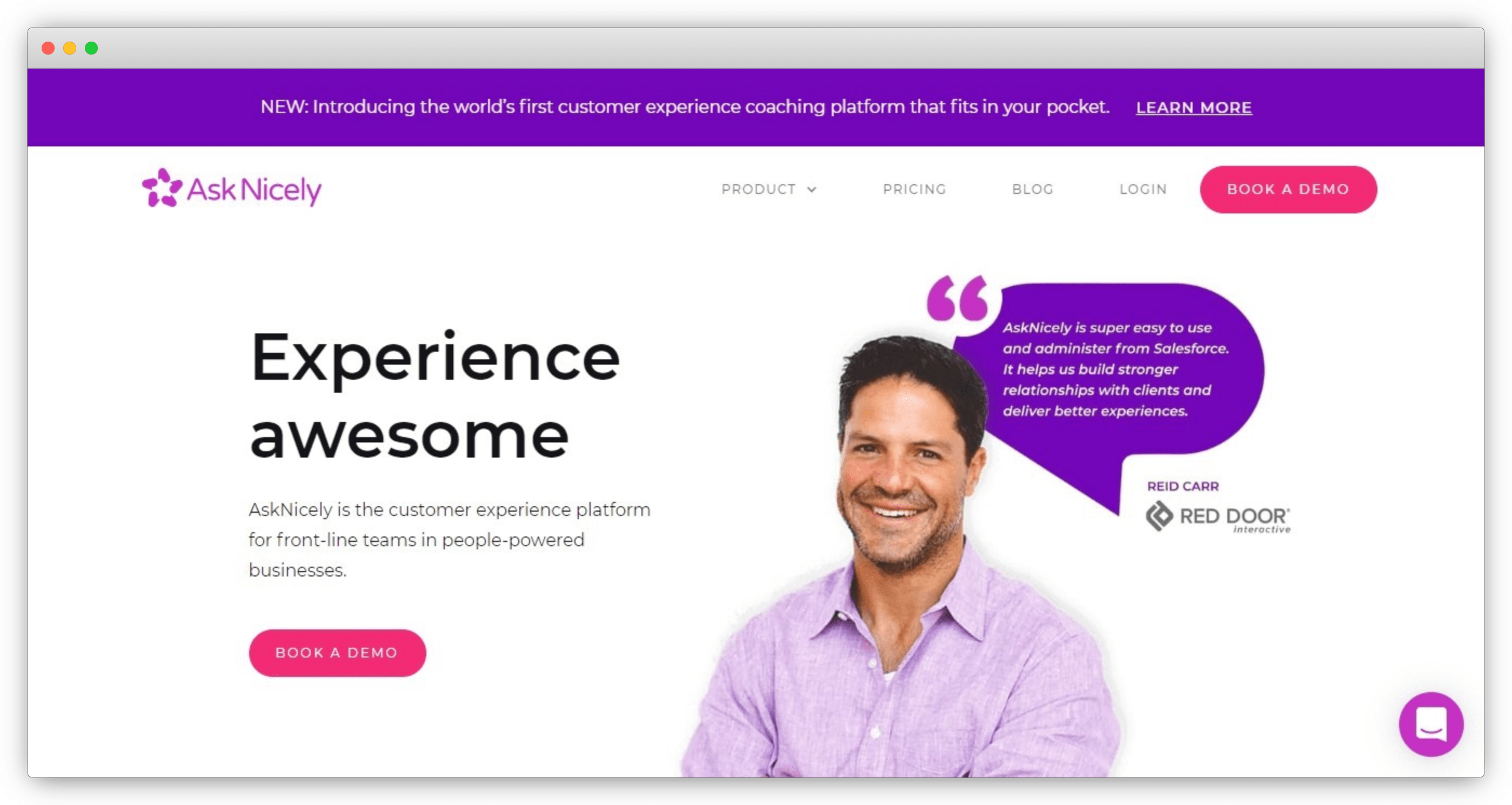 AskNicely Features
Creates customized conversational follow-up questions

Share critical updates, tips, and answers with teams

Uses automated workflows & push notifications to respond instantly

Share customer feedback across your organization in real-time

Share out-of-the-box reports to the CEO
Price: You need to contact the sales team or book a demo for their business plan.

Customer Experience Metrics: NPS, CSAT

Review Score (Capterra): 4.6/5

Ease of Use (g2): 8.8/10
AskNicely is know to measure customer feedback mainly though NPS tool. However, if you're looking for its alternatives that offer other CX metrics, you can check this blog on AskNicely alternatives.
#6. InMoment (Wootic)
Being one of the leaders in enterprise survey software, InMoment follows a modern approach to Customer Experience Management and listens to the voice of the customers by conducting NPS surveys, customer satisfaction, customer effort score, and microsurveys. The platform is powered by business intelligence, sentiment analytics, and AI-driven features that help enterprises analyze customer sentiments in real-time.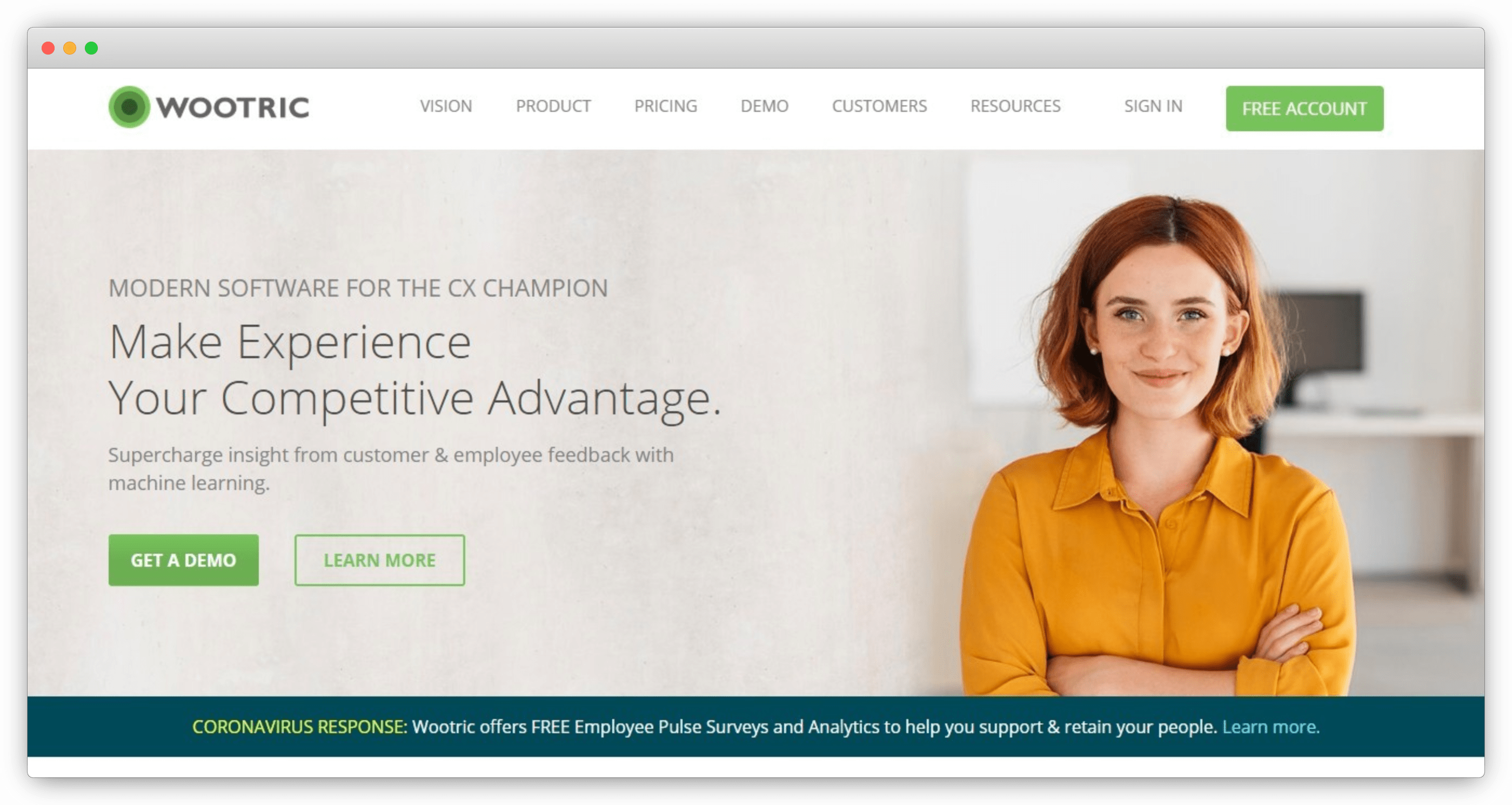 InMoment Features
Multi-channel and multi-lingual platforms to drive consistency

Use segmentation and filter options to compare metrics

Creates unlimited tags for different categories, view trends, metrics

Enable understanding of key drivers to keep customers returning

Ensuring service-lapse recovery – fixing problems so they don't recur
Price: You need to schedule a demo to learn about feedback management and other software pricing plans.

Customer Experience Metrics: NPS, CSAT, PSAT, CES

Review Score (Capterra): 4.6/5

Ease of Use (g2): 8.8/10
InMoment is a popular customer experience platform, but it lacks advanced features, reporting capabilities, and more. You can read this blog on InMoment alternatives to learn more about its competitors.
#7. Survicate
Survicate is an enterprise online survey tool, designed for both medium and large businesses. It gives users the liberty to launch an unlimited number of surveys on multiple domains from a single account. With the tool, businesses can reach a wider audience, create accurate marketing personas, and collect feedback to improve website content, improve product features, and improve customer engagement and satisfaction.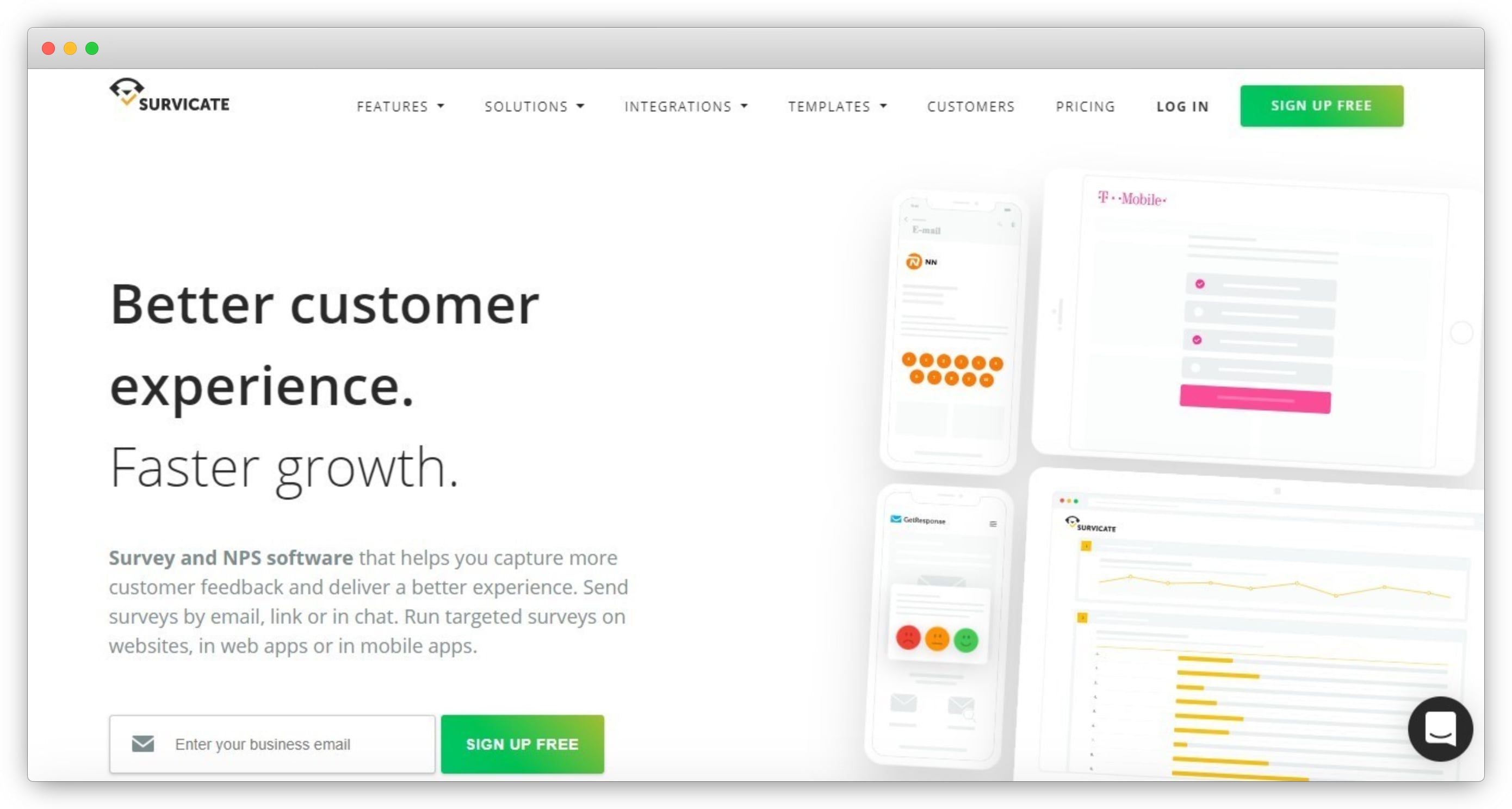 Survicate Features
Quickly customize mobile responsive surveys by adding a logo
Easy to change the background color, and use custom CSS
Option to segment visitors based on different parameters
Shows surveys on different web pages based on different criteria
Instant email or Slack alert notifications, and live chat support
Integrate with your favorite tools in a single click to enrich your data with customer feedback
Price: You can get in touch with their sales team for custom-based plans.

Customer Experience Metrics: NPS, CSAT, CES

Review Score (Capterra): 4.4/5

Ease of Use (g2): 9/10
#8. Delighted
As one of the top enterprise survey software, Delighted captures actionable insights and feedback quickly and easily from customers, employees, partners, and vendors. The tool is a top choice as it enables customers to take a single survey question and share their experience in their own words. Apart from NPS, CSAT, and CES surveys, the tool also creates 5-star surveys, smiley face surveys, and thumbs surveys.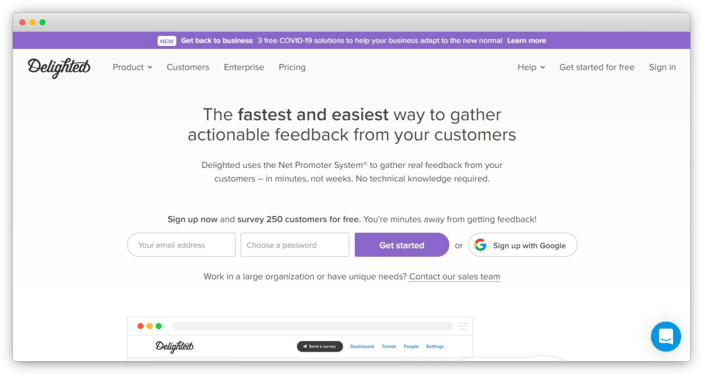 Delighted Features
Get mobile-optimized surveys and support for 37 different languages
Customization options to change button style, colors, subject line, logo, etc
Flexibility to add additional questions, and customize thank you messages
Get survey throttling settings, and set up email alerts for responses
Segment survey responses, visualize survey results with graphs, option to edit scores and add comments
Pricing: Starts at $449/month billed annually

Customer Experience Metrics: NPS, CSAT, CES

Review Score (Capterra): 4.9/5

Ease of Use (g2): 9.0/10
#9. SurveySparrow
As an enterprise survey software, Survey Sparrow makes it easy to send surveys to customers. Being an omnichannel experience management platform, it allows capturing high-quality survey data and feedback from customers and employees at all touchpoints. It has a conversational user interface, that creates and shares mobile-first surveys that provide a chat-like experience.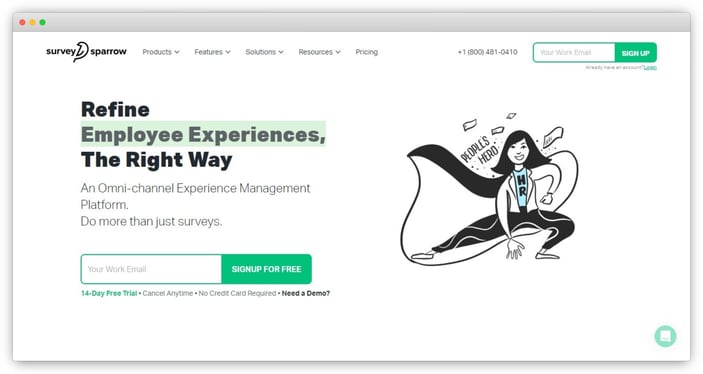 SurveySparrow Features
Easy to collect offline and online data
Get pre-designed templates to collect feedback
Quickly schedule campaigns, and gather demographic details
Do white-labeling, and get question hints, and design a questionnaire with custom CSS
Share feedback on Facebook
Pricing: You can connect with their sales team for an enterprise plan, customized as per your needs.

Customer Experience Metrics: NPS, CSAT, CES

Review Score (Capterra): 4.6/5

Ease of Use (g2): 8.8/10
SurveySparrow offers extensive platform capabilities in terms of survey building and reporting; however, most enterprises are looking beyond survey creation and feedback management. If you're searching for SurveySparrow competitors then here is the blog on SurveySparrow alternatives for you.
# 10. Question Pro
QuestionPro is an online survey software provider that helps enterprises create efficient surveys, polls, and quizzes within a span of a few minutes. It is one of the preferred choices for businesses due to its unique feature of shareable and customizable customer survey templates and robust analytical reports. QuestionPro keeps the data secure by following the most up-to-date and top data security, privacy, and regulation standards such as ISO, GDPR, HIPAA, FERPA, and PCI/DSS compliant.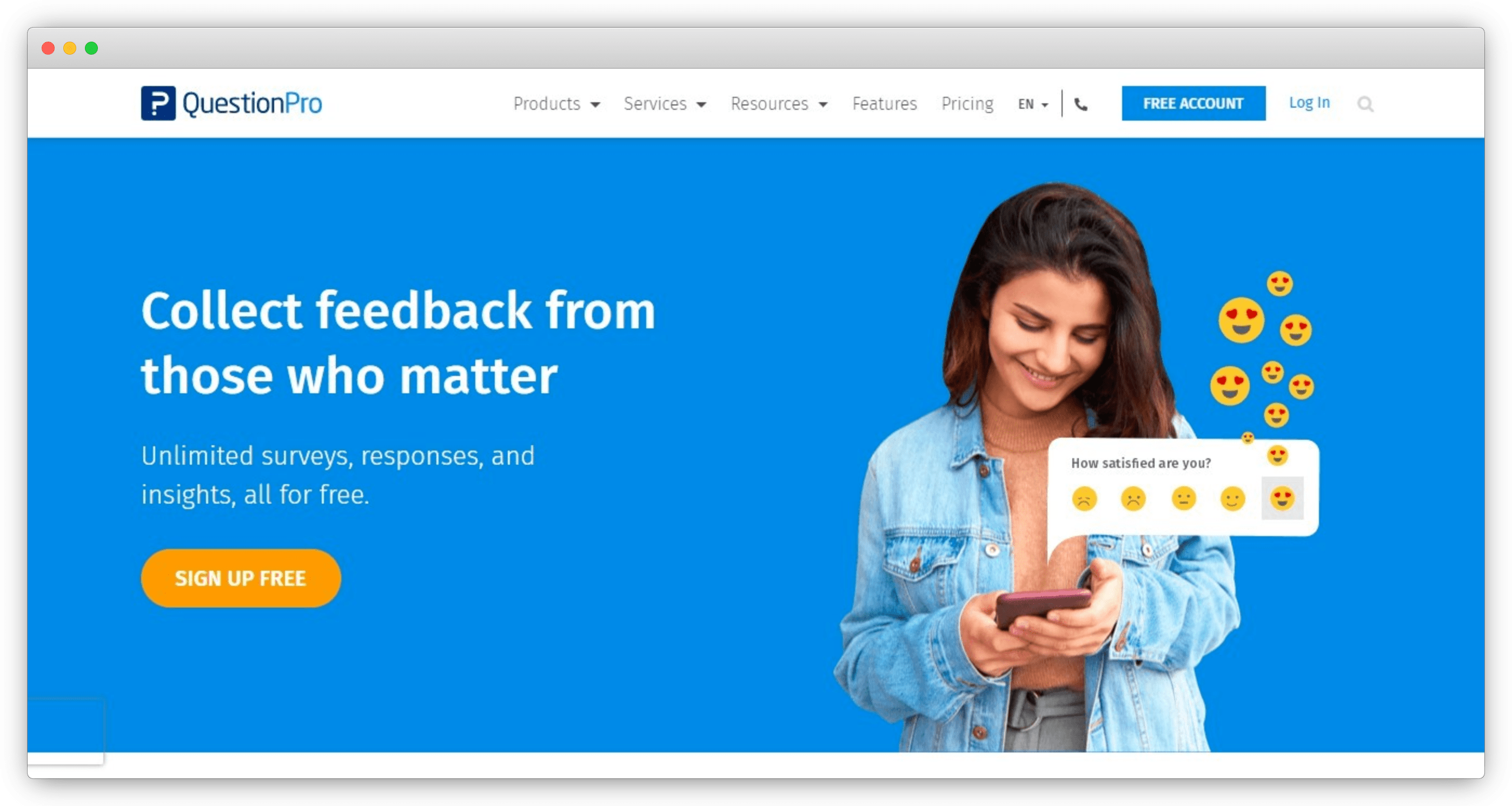 QuestionPro Features
Easy to create multilingual online and offline surveys
Get 250+ customized survey templates, pre-built 30+ question types
Options to translate questions and answers to 95+ languages
Access to 22+ million double opt-in and mobile-ready panelists
Get a dedicated account manager
Price: You can connect with their sales team to learn about their enterprise plan.

Customer Experience Metrics: NPS, CSAT, CES 2.0

Review Score (Capterra): 4.5/5

Ease of Use (g2): 8.8/10
#11. Qualaroo
Qualaroo is known as one of the best survey apps that captures different types of quantitative and qualitative analysis of feedback through Website and app, Product, and UX by surveying customers with Qualaroo-Nudges. The platform supports integration with IBM Watson's Natural Language Understanding which performs sentiment analysis to know how the customers feel and what emotions they go through. The tool also assists in getting actionable customer insights based on different targeting choices such as their visit history, identity, duration on-page, clicking an element, etc.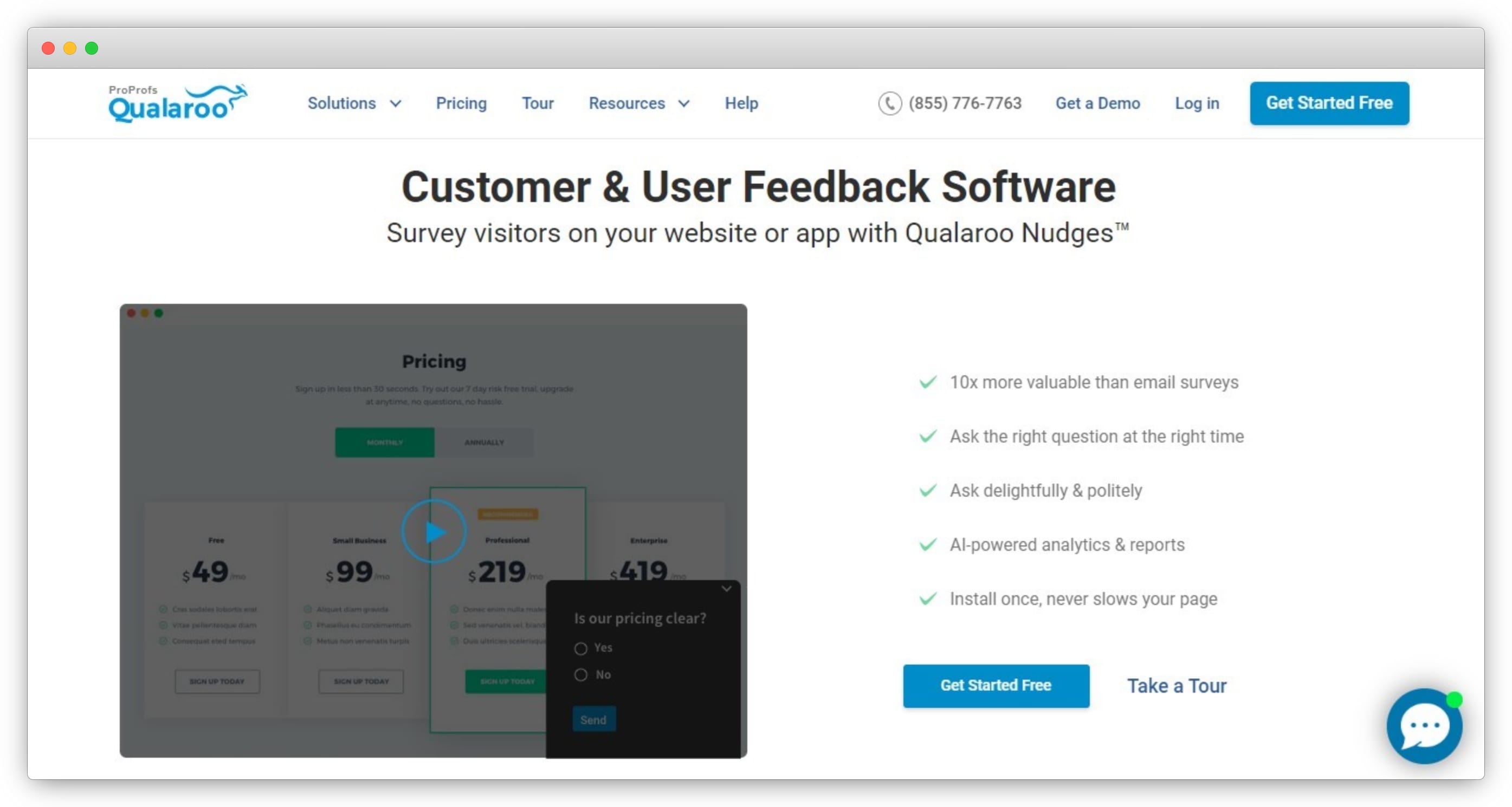 Qualaroo Features
Templates available for Customer and User Experience
Get bookmark responses, easy to embed code in the website,
Modify survey look and feel with customized fonts, colors, logos, etc
Import response data using tools like Tableau, Google Data Studio, or Chartio
Conducts competitor research to gain better insights
Price: The business plan starts at $299; however, you can speak to their sales team for customized options.

Customer Experience Metrics: NPS, CSAT, CES

Review Score (Capterra): 4.5/5

Ease of Use (g2): 9.0/10
#12. Retently
Retently is used by businesses of all sizes. It collects, understands, and tracks customer feedback to reduce customer churn and convert your NPS detractors into promoters. The tool consists of lots of great features such as custom survey creation, automatic schedule, multiple surveys, multi-channel & and multilingual surveys, and audience segmentation.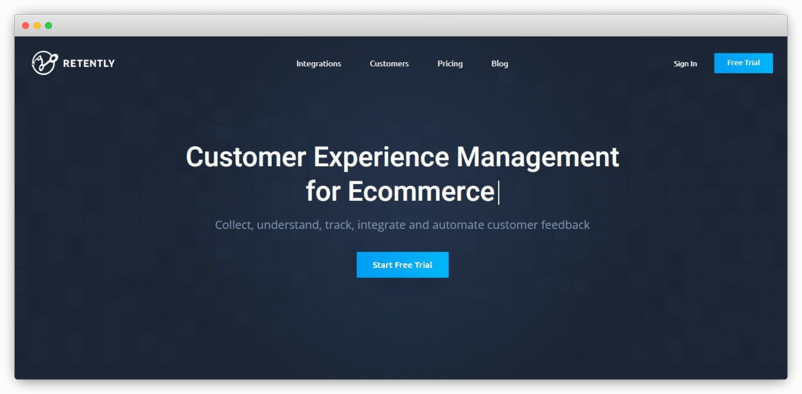 Retently Features
Customize the survey template's styling and language
Create custom workflows, and do A/B testing of subject lines
Keeps track of survey statuses
Set and receive notifications on Email and Slack channel
Use antivirus detection techniques to block harmful content
Pricing:

Price: You can schedule a demo or connect with their sales team for enterprise plans.

Customer Experience Metrics: NPS, CSAT, CES

Review Score (Capterra): 4.9/5

Ease of Use (g2): No ratings available
FAQs
What is an enterprise survey software?
An Enterprise Survey Software is a dedicated tool that helps businesses create surveys, collect feedback, and analyze high-quality data, in no time.
Why do you need enterprise survey software?
When endeavoring the various available market research and survey design techniques, investing in good enterprise research and survey software will help businesses in major improvements when it comes to growth and scaling.
How does enterprise survey software differ from basic online survey software?
Enterprise survey software maintains several differences from basic survey software in terms of a mobile-first approach, avoiding survey fraud, use of advanced features such as AI and ML, a global support network, data security and compliance, and more.
Conclusion
Understanding your target audience and market has been increasingly vital for nurturing customer loyalty and maintaining retention. In the face of intense competition and constant advancements, it's essential for businesses to have an in-depth understanding of their right audience and customer base to effectively meet their needs.
This can be accomplished through the use of the right online survey platform, provided it is built upon robust enterprise survey software. Such software has the capability to significantly enhance any research initiative, streamlining the research process and minimizing the manpower, effort, and resources that would otherwise be needed with lower-quality software.