Nowadays, almost all businesses base their operations on the feedback they receive from their customers. Businesses tend to implement different strategies to collect customer feedback, like conducting personal interviews, creating focus groups, and collecting survey responses.
Sending customer satisfaction survey emails is one of the most common methods businesses use to gather honest feedback since many surveys are submitted anonymously, allowing customers to be as honest as possible.
Measure Customer Satisfaction and Improve Customer Experience🔥
Create customized surveys and feedback forms and take real-time feedback from your customers at all touchpoints.
An important step in writing survey emails is knowing what to include in the email which will attract the recipient's attention and encourage them to continue completing the survey.
Before providing the secrets and tips for writing email surveys, it is crucial to comprehend what customer satisfaction is.
After completing this article, the reader will be equipped with the right tools and practices for writing successful email surveys to collect customer feedback.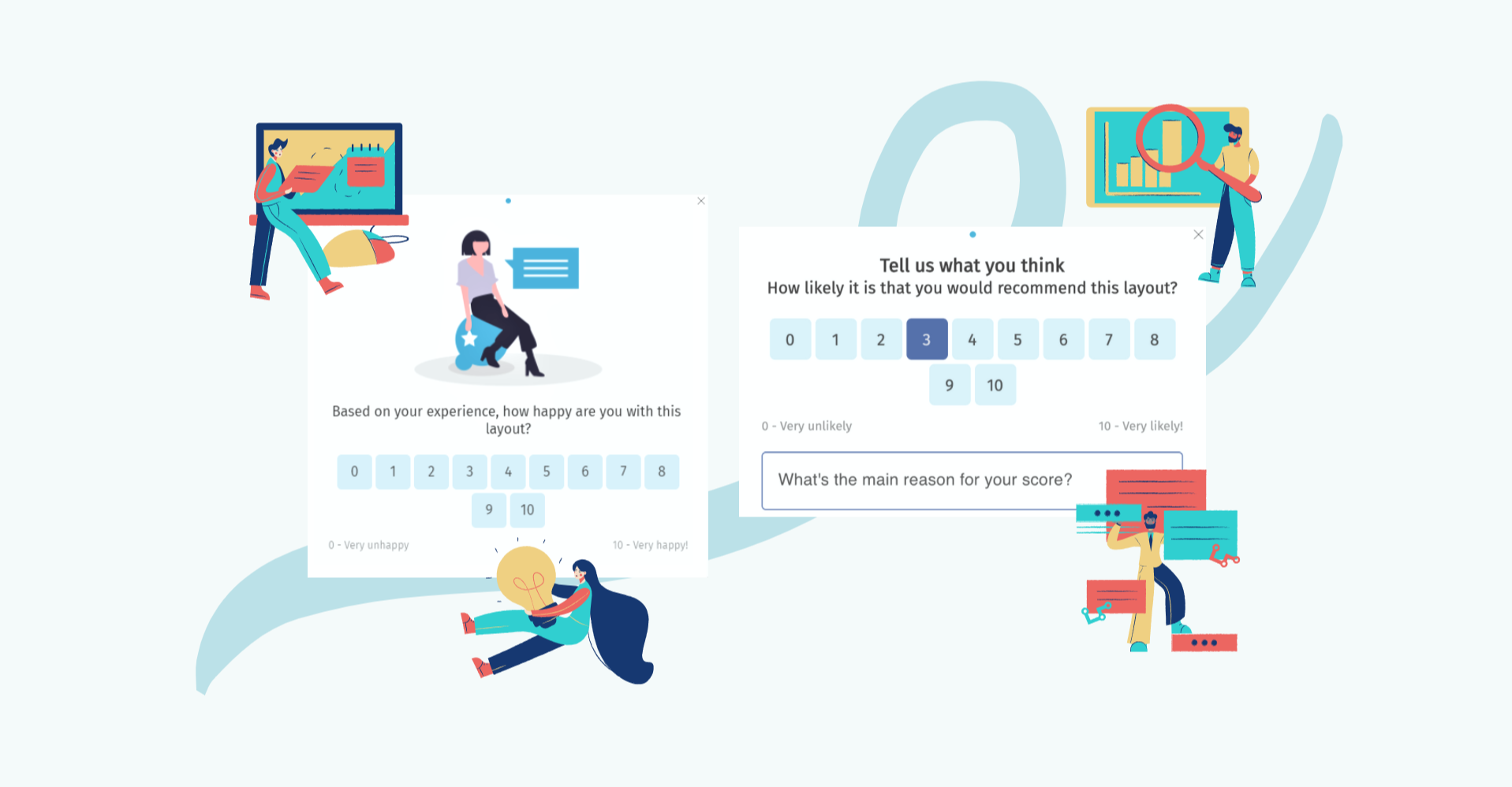 What is customer satisfaction?

Customer satisfaction defines the extent a business's customers are satisfied with its products and services. It also helps businesses surpass their target audience's expectations by providing them with valuable products.


Every business should be interested in providing the highest value to their customers. Customer satisfaction surveys are one of the best ways of gaining insight into how well a business is doing when delivering to its customers.

Customer satisfaction surveys
Customer satisfaction surveys are a list of questions that customers can complete. The questions will be related to the brand, a product or service that the person has previously used or purchased, and how responsive the business has been in assisting its customers with their needs.
Thus, after entering a market or introducing a new product or service to an existing market, businesses should prioritize inviting customers to complete a survey to understand how they can improve their services.
Why are customer satisfaction surveys important?
The future of any business is based on how satisfied its customers are with its products and services.
By giving customers a chance to express their opinions, businesses will benefit in the long run due to receiving customer's feedback and collecting their opinions. These opinions can help businesses improve their future sustainability and effectiveness.
7 Tips to write customer satisfaction survey emails
1. Determine what you want to learn from customers
One of the trickiest parts of requesting customer feedback is knowing what exactly you want to gain from your customer's feedback.
There are a lot of questions that businesses want to ask their customers. However, it is important to narrow down the questions to a reasonable number to avoid taking too much of their customer's time.
Try sending numerous surveys to different segments with different questions, each based on a specific category. For example, suppose a business is interested in getting information about the effectiveness of their customer services. In that case, they should not mention anything in the survey regarding the extent customers are satisfied with a product.
For that reason, you can try email surveys that revolve around a specific category and from which a business will be able to gain useful information.
2. Send emails using the company name
There's a lot of spam out there. Often, surveys are ignored because the recipient doesn't trust the sender or the link included in the message.
Sending customer satisfaction survey emails using a company name reassures customers that the surveying entity is legit and not spam. Also, there are a lot of spammers out there trying to hack your domain, to avoid these frauds you need to regularly check up your DMARC report.
Businesses can also include company signatures at the bottom of the survey email. Mailbutler adeptly allows users to create email signatures with easy-to-use tools and send trustworthy emails signed with the company's signature.
3. Send different surveys to different market segments
One of the advantages of email marketing is that it allows businesses to reach out to different segments easily.
Email marketers can start organizing their email lists based on customers' interests and preferences. This method allows marketers to send different surveys to different segments and achieve optimal targeting.
To organize and target each segment with the right survey questions, try using the Contacts feature, which allows users to get additional insights regarding the times email recipients are most likely to engage with their emails, along with many other features.
4. Send embedded surveys
Embedded email surveys are emails where the content of the email includes survey questions. By inserting the survey questions and the options in the email, customers are more likely to complete the survey since they are not required to go to the survey link to complete the survey.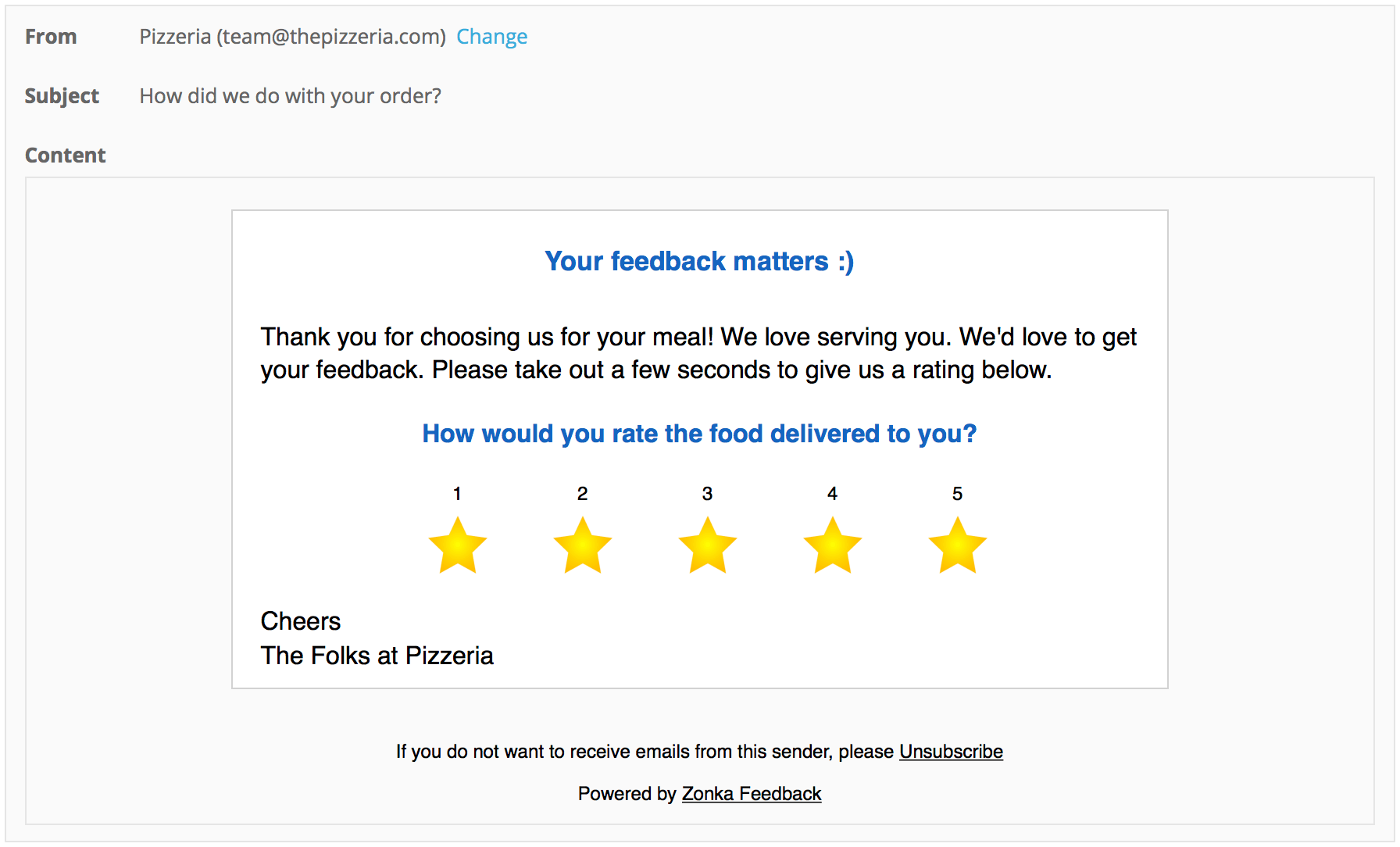 Embedded email surveys make the process of completing the survey easier and save customers' time.
Instead of inserting a call-to-action (CTA) button that directs customers to the survey link, marketers should try embedding their survey questions in the email.
5. Come up with compelling subject lines
Email marketers spend a lot of time and effort to create emails that get high open-rate and to gain feedback from their customers. However, it often goes in vain due to non-creative email subject. That's why you need to make sure to craft creative subject lines and use a rewording tool if you think they could use a bit more spice.
To ensure high open and completion rates, marketers should make sure they are attaching a compelling email subject line to the survey email.
Here are some writing tips to create compelling subject lines:
Personalize the subject line

Make it relevant to the email's content

Offer something to customers
6. Send follow-up emails to inform customers about the survey answers
The last trick that should be considered is sending follow-up emails to customers who have completed the survey. To not forget about sending follow-up emails, marketers can try using the Follow-up Reminder feature that Mailbutler offers that is directly integrated into their inbox.
Why is sending survey answers important?
Sending survey answers to customers shows that their having completed the survey was not a waste of time. It may also interest them to know whether other customers agree with their opinions or not.
Alongside receiving the confirmation, in the future, when a business responds to the survey results and improves its strategy, customers will realize that the business is operating on a need-based customer strategy - where the customers' needs and satisfaction levels are the priority of the business.
This creates loyal customers who will continue purchasing products from your business.
7. Some additional tips worth mentioning
There are plenty of other, smaller tips which can make the email marketer's job easier when sending customer survey emails and increase their chances of success.
Here are some additional tips:
Try including open-ended questions in the survey

Make the email clear and understandable

Express gratitude in the email's content

Keep in mind that customers are busy and that respecting their time is important
Conclusion
Knowing how satisfied customers are with your business is crucial to growing and ensuring that your business will succeed in the long term.

Businesses should understand that collecting customer satisfaction survey responses can benefit them in improving and expanding their business because surveys will provide insight into how their customers feel.
For that reason, businesses can try implementing some of the practices mentioned in this article when trying to write effective email surveys. These practices can help companies to ensure that they are getting the right information from their customers while making sure that their emails will get high engagement rates and their efforts are put to right use!