Consumers always value businesses that are open to criticism and provide a platform to share their experiences, concerns, and grievances. To take your business to the next level, you have to take numerous steps that ensure better engagement and increase Customer Satisfaction.
Measure Customer Satisfaction and Improve Customer Experience🔥
Create customized surveys and feedback forms and take real-time feedback from your customers at all touchpoints.
One of the best mediums to collect valuable data from your consumers and use them to enhance their experience is with the help of Customer Satisfaction Surveys. Conducting them at regular intervals and addressing your consumer's problems can help you improve customer loyalty and increase sales revenue.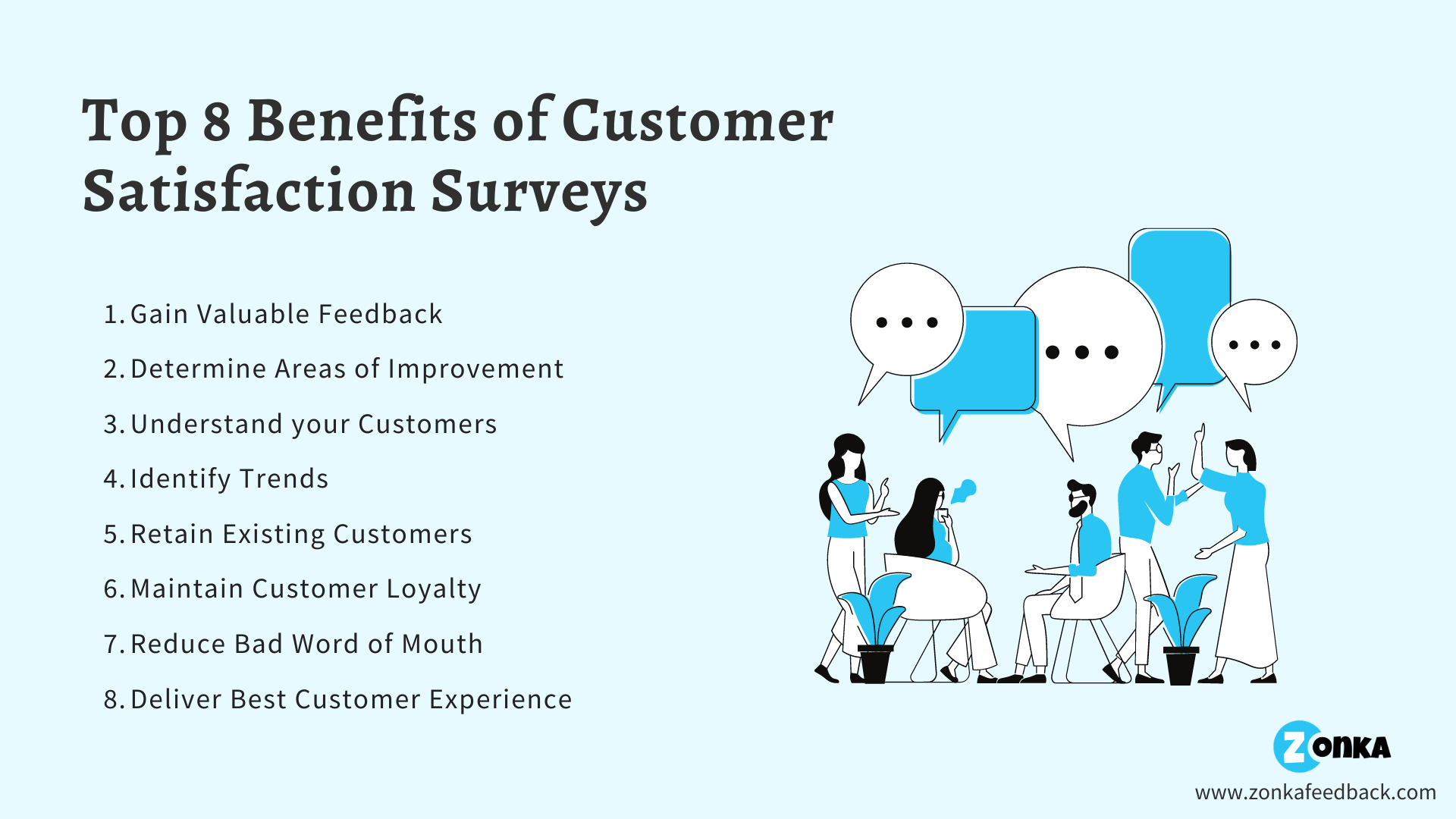 Let's discuss major benefits of Customer Satisfaction Surveys and why they are essential for your business growth.
1. Helps you Gain Valuable Feedback
The customer feedback survey will help you gather consumer's feedback on any concerns related to the products and services. It will make you gain deeper insights about how they perceive your products/services/brand. The feedback will expose issues that you might not be aware of and will help you to fix them. As per a report by Microsoft, brands are viewed more favorably by 77% of consumers if they proactively invite and accept customer feedback
Include both open-ended and close-ended questions

Be open to consumer's suggestions and add them to enhance products/services
2. Helps you Determine Areas of Improvement
The outcome from the Customer Satisfaction surveys will help you determine which aspects of your products and services should need improvement. To create a CSAT Survey, you can make use of online survey software which can capture exhaustive customer's buying experience. According to Glance, 70% of unhappy customers whose problems are resolved are willing to shop with a business again.
Key Takeaways:
To improve overall customer service, ensure to include rating based questions like:
On a scale of 1-10, how would you rate the product?

What do you think of the training environment?
3. Helps you Understand Your Customers
It's a universal truth that empathy begins with active listening. Customers know what they want. However, they may not be able to tell you what they need. It's the responsibility of every business to determine what they want, but not based on intuition, but based on valuable customer feedback. Analyze the feedback and implement it to improve your products and services. By measuring customer satisfaction, you can determine whether you meet, fall short of, or surpass your customer expectations. Data insights from Accenture show that two-thirds of customers are willing to share personal information with companies–but only in exchange for some perceived value.
Don't be defensive if consumers share negative feedback. There could be a possibility that if one customer is complaining about a particular aspect of a product or service, others are also facing the same issue.

Listen to them and try to resolve their issues.
4. Helps you Identify Trends
You can quickly determine your consumer's preferences and choices with CSAT surveys. With the help of numerous customized reports, you can view trends in CSAT levels for a specific period by gathering and comparing different types of survey data.
Create different versions of CSAT surveys and perform A/B tests to see which version performs better and fetch more data

Use graphs and charts in a CSAT tool to analyze and compare complex survey data
5. Helps you retain Existing Customers
The key behind any successful business is to create and follow practices to acquire new customers as well as retain the existing ones. Sharing CSAT surveys not only shows how much you care about their opinions but also gives a platform to engage with them. It also plays a vital role in reducing Customer Churn. Numerous studies prove that reducing churn by 5% can increase profits by 25 to 125%.
Surprise your consumers and send them free discounts and gifts

Don't wait for your consumers to approach you. Instead, make an effort to get in touch with them by dropping an email or giving a call.
6. Helps you Maintain Customer Loyalty
Every business wants its customers should stay loyal to their brand and not shift to your competitors. Customer Satisfaction survey template helps your customers to remain loyal by listening to their feedback and taking every single step to improve their brand image. In this digital era, where customers need more attention than ever, staying connected—be it through surveys or other means—is crucial in keeping your customers loyal. Infact, 96% of consumers say customer service is an important factor in their choice of loyalty to a brand.
Send handwritten notes or appreciation emails to put a smile on your consumers face

Create loyalty programs to reward your consumers for regularly making purchases
7. Helps you Reduce Bad Word of Mouth
Despite all the social media networking platforms and new technology, nothing beats a good word-of-mouth recommendation from a trusted source. When consumers are unsatisfied or have a terrible experience with your products or services, they will not shy away from sharing their negative experiences. Surveys provide the best means to find out just how happy your customers are and what all you can do to keep them happy. According to Sprout Social, 47% of customers with a product or service complaint will voice it on social media.
Ask customers and review any online complaints to find out what or who they are complaining about, such as a rude salesperson, product quality, or return policy.

Try to make things right by fixing the situation.
8. Helps you deliver Best Customer Experience
Every business wants to create a memorable experience for their consumers across multiple channels. If they encounter any bad experiences, then take it as an opportunity to know the reasons behind their dissatisfaction and implement proper measures to eliminate them. This is why you need to gather feedback from them to understand what you can do differently to enhance their experience with your brand and can set you apart from your competitors. A research by Harvard Business Review depicts that omnichannel customers spend 4% more in store and 10% more online than single-channel customers.
Create an omnichannel experience and make a presence on all the platforms where your customers are present

Make use of Chatbots to manage customer interactions
Surveys are the best platforms for customers to share their genuine feedback and experience with you directly. In case if you come across some unsatisfied consumers in the survey outcomes, use it as an opportunity to convert them into your promoters. Now that you know the eight key benefits of conducting a Customer Satisfaction Survey, it's time to implement them for your business growth. At Zonka Feedback, we can help you design the most effective CSAT Surveys, to gain insights about how your clients feel about your business. It can also determine if the actions taken to improve your products/services are working or not and can boost customer retention rates.
Learn more about Customer Satisfaction (CSAT)