Consumers always value businesses that are open to criticism and provide a platform to share their experiences, concerns, and grievances. To take your business to the next level, you have to take numerous steps that ensure better engagement and increase Customer Satisfaction. Customer Satisfaction Survey is one of the best mediums which are used to collect valuable data from users who are further used to enhance the customer experience.
Conducting regular Customer Satisfaction Surveys and responding to problems, you can improve customer loyalty and increase sales revenue. Let's discuss some of the benefits of why using a customer satisfaction survey is essential for the growth of your organization.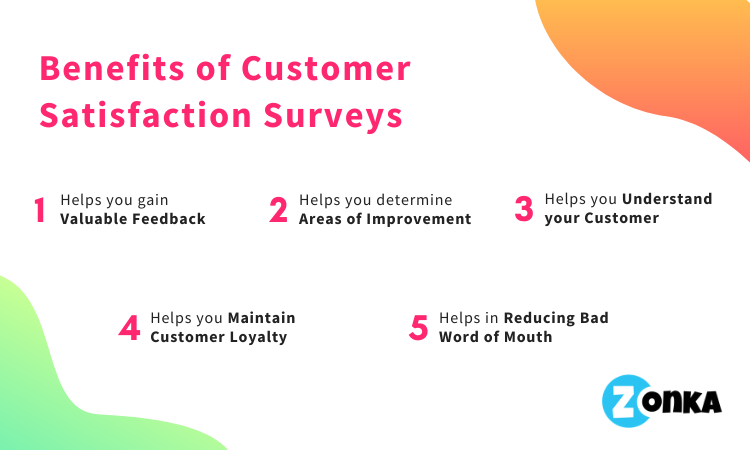 1. Helps you Gain Valuable Feedback
The customer feedback survey will help you gather consumer's feedback on any concerns related to the products and services. The survey should have a combination of both open and closed-ended questions. Open-ended questions will allow consumers to give comprehensive answers. The feedback will expose issues that you might not be aware of and will help you to fix them.
Key Takeaways:
Include both open-ended and close-ended questions
Be open to consumer's suggestions and include it to enhance products/services
2. Helps you Determine Areas of Improvement
The outcome from the customer satisfaction surveys will help you determine which aspects of your products and services should need improvement. To generate a customer satisfaction survey, you can make use of online survey software which can capture exhaustive customer's buying experience.
Key Takeaways:
To improve overall customer service, ensure to include rating based questions like:

On a scale of 1-10, how would you rate the product?
What do you think of the training environment?
3. Helps you Understand Your Customers
It's a universal truth that empathy begins with active listening. Customers know what they want. However, they may not be able to tell you what they need. It's the responsibility of every business to determine what they want, but not based on intuition, but based on valuable customer feedback. Analyze the feedback and see if it can be implemented to improve your products and services. By measuring customer satisfaction, you can determine whether you meet, fall short of, or surpass your customer expectations.
Key Takeaways:
Don't be defensive if consumers share negative feedback. There could be a possibility that if one customer is complaining about a particular aspect of a product or service, others are also facing the same issue. Listen to them and try to resolve their issues.
4. Helps you Maintain Customer Loyalty
Every business wants its customers should stay loyal to their brand and not shift to your competitors. Customer satisfaction surveys help your customers to stay loyal by listening to their feedback and taking every single step to improve your brand image. In this digital era, where customers need more attention than ever, staying connected—be it through surveys or other means—is crucial in keeping your customers loyal.
Key Takeaways:
Send simple thank you through SMS or email to put a smile on your consumers face
Create loyalty programs to reward your consumers for regularly making purchases
5. Helps in Reducing Bad Word of Mouth
Despite all the social media networking platforms and new technology, nothing beats a good word-of-mouth recommendation from a trusted source. When consumers are unsatisfied or have a terrible experience with your products or services, they will not shy away to share their negative experience. Surveys provide the best means to find out just how happy your customers are and what all you can do to keep them happy.
Key Takeaways:
Ask customers and read any online complaints to find out what or who they are complaining about, such as a rude salesperson, product quality or a return policy.
Try to make things right by fixing the situation.
Surveys are the best platforms for customers to share their genuine feedback and experience with you directly. In case if you come across some unsatisfied consumers in the survey outcomes, use it as an opportunity to make it right. Now that you know the five key benefits of conducting a customer satisfaction survey, it's time to implement them for your business growth. At Zonka Feedback, we can help you design the most effective Customer Satisfaction Survey which can help you gain insights about how your clients feel about your business. It can also help you determine if the actions taken to improve your products/services are working and can help boost customer retention.