In a world where business success is primarily associated with excellent customer experiences, the term voice of the customer isn't new anymore. The voice of the customer helps businesses meet customer demands and stay competitive in the market. It empowers them to deliver products and services that people want to buy while also creating experiences that retain existing customers and attract new ones.
An intelligent VoC program is the bridge between customer expectations and excellent customer experiences. It leverages different channels to listen to what customers across the market prefer and expect. A very important module of the voice of customer program that helps ascertain business success is VoC surveys.
In this article, we delve into the intricacies of the voice of customer surveys, including the questions you can ask your customers and best practices for conducting surveys. We will also look at ways other than surveys that can help you effectively listen to the voice of the customer. Let's get started.
TL;DR
A voice of customer survey is crucial for businesses looking to understand customer opinions, preferences, and pain points. These surveys help improve customer experiences, products, services, and overall business operations by collecting valuable insights.

VoC survey questions can be leveraged to understand purchase intent, post-purchase insights, product feedback, service and support feedback, brand perception, customer loyalty, and competitor analysis.

Some best practices for creating VoC surveys include defining clear objectives, keeping surveys simple, adding both quantitative and qualitative questions, leveraging survey logic, and personalizing surveys to get valuable insights.

To effectively listen to the voice of the customer, leverage an effective feedback tool, address customer grievances promptly, and monitor customer behavior over time to adapt your strategies based on changing preferences.

Zonka Feedback is one of the most powerful voice of customer survey tools that can help you in survey collection by creating personalized surveys, distributing them across multiple channels, getting real-time notifications, and closing the feedback loop. Try it for free for 7 days and or schedule a demo to see how it works for your business.
Hear the Voice of Every Customer🔊
With VoC Surveys, reach your customers wherever they are and capture their feedback. Leverage customer feedback to boost customer experience.
What is Voice of Customer Survey?
Voice of the customer survey is a feedback mechanism that enables your business to measure and enhance customers' experiences with the brand. The valuable insights can help drive improvements in the experience with the products, services, and overall business.
They can offer both qualitative and quantitative data for measuring customer satisfaction and identifying the concerns customers have at various touchpoints.
Why VoC Surveys are Important?
When you let customers share their opinions, you can discover actionable feedback insights that you wouldn't find otherwise. These findings are crucial for achieving your major goals.
Let us look at some other reasons why the voice of the customer survey forms an essential component of voice of customer methodologies and must be included to improve your business offerings.
Boost Customer Satisfaction: VoC surveys reveal the needs of your customer base, helping you improve your products and services. This helps you increase customer satisfaction, make strategic decisions, and drive business growth.

Reduce Churn, Increase Retention: VoC surveys spot early signs of dissatisfaction, enabling proactive measures to improve the overall customer experience. By addressing concerns actively, you can strengthen customer relationships, increase customer retention, and minimize churn.

Enhance Market Reputation: Demonstrating commitment to customer feedback by listening to the voice of the customer fosters a positive brand image and goodwill. This not only strengthens your market presence and trust but also leads to more positive online reviews, which further boosts your reputation in the digital space.

Refine Products and Services: Gathering feedback obtained from VoC surveys helps identify areas for innovation and targeted improvements. By addressing issues highlighted by customers, you can enhance product quality and trust.
Voice of Customer Survey Questions to Ask to Collect Customer Feedback
Creating Voc surveys requires knowing what you want to achieve through the survey data. Whether it's understanding brand sentiment, gathering customer feedback, or choosing between qualitative and quantitative data, having a clear plan is key. Once you have your goals, use these voice of customer questions to create your VoC survey.
1. Origin and Purchase Intent Voice of Customer Survey Questions
When it comes to understanding your customers' purchasing behavior, it's important to start from the very beginning. That's why origin and purchase intent VoC questions are crucial for gathering insights into what motivates them to make a purchase and optimizing your marketing and sales strategies.
How did you first get to know about us?
Have you previously tried our products or services?
What are your primary considerations while deciding whether to purchase our product or service?
Are you facing any issues while moving forward to make a purchase?
Is there anything that can be improved to motivate you to make a purchase?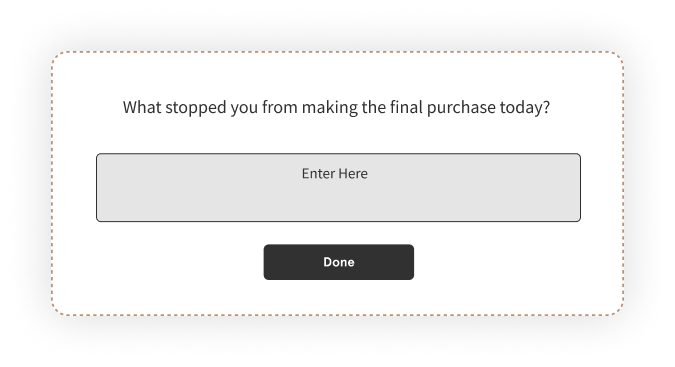 When and how to use them?
Ask these voice of customer questions to new customers to assess effective marketing channels. For early-stage buyers, use purchase intent VoC questions to gauge their intentions.
2. Post-Purchase Voice of Customer Questions
To grasp your customers' needs and reasons for buying, use transactional surveys and ask the right questions after their purchase. This helps you learn what influences their decision to choose your product or service. Include these post-purchase questions in your VoC survey to understand your customers better.
How satisfied are you with your recent purchase experience with us?
Did you face any issues or obstacles while making a purchase?
Based on your recent purchase experience, would you consider making more purchases with our businesses?

When and how to use them?
Ask these voice of customer questions right after the customers have made a purchase to understand the purchase experience and its impact. Place them on the Thank You page or use a pop-up survey post-purchase.
3. Product Feedback VoC Survey Questions
Product feedback questions capture feedback about the customers' experience of using your products, their specific features, performance, and overall quality. Product feedback questions like bug report questions, churn survey questions, feature requests, product-market fit, etc., provide insights into customers' perceptions, preferences, and suggestions for product enhancements or modifications.
How satisfied are you with the overall quality of our product?
Do you think we can do something to make our product better for you?
Would you like to share any special experience or suggestions to improve our product?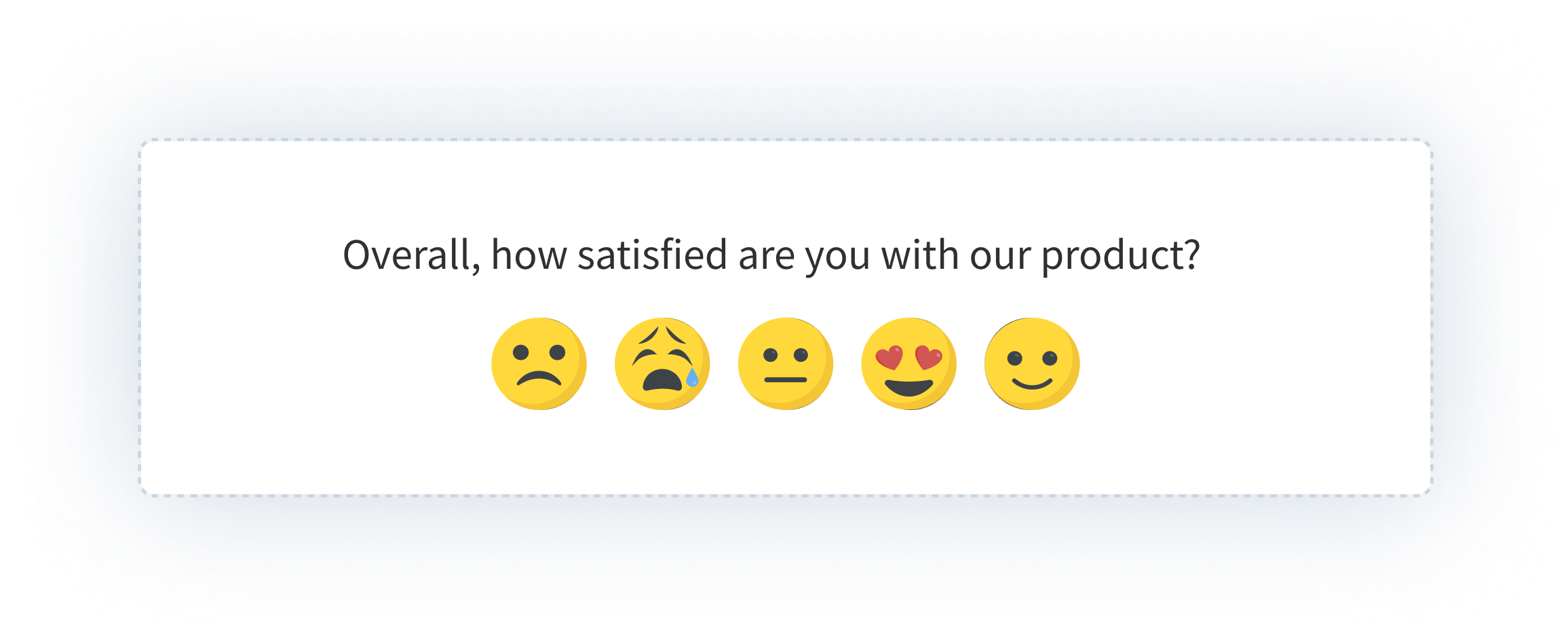 When and how to use them?
Ask product feedback voice of customer survey questions to active product users for insights into product performance and to improve customer satisfaction. You can ask it in-app at key customer touchpoints, or through email surveys for continuous improvement.
4. Service and Support Feedback VoC Survey Questions
97% of the customers say that their experience with customer service is the key factor that influences their decision to make more purchases or be associated with a brand or company.
To evaluate the level of customer service and support received like customer satisfaction with customer service interactions, problem resolution, and the overall support experience, utilize these voice of customer questions.
How would you rate the ease of reaching our service and support team?
Were you able to talk to our support agents in a timely manner?
How would you rate the behavior and conduct of our customer service agent?
Would you like to share any experience or suggestions regarding our support process?
When and how to use them?
Ask support and customer service survey questions to recent customer service users to gauge their satisfaction. For loyalty insights, use Net Promoter Score surveys and open-ended questions to understand the impact of their support experience.
5. Brand Perception VoC Survey Questions
These questions delve into customers' perceptions and attitudes toward your brand. They seek to understand how customers perceive your brand image, personality, reputation, and differentiation in comparison to competitors.
Where did you first hear about our brand?
Have you seen or heard about our brand in the past three months?
Are there any specific qualities or values you associate our brand with?
Do you think of any particular aspect or shortcoming in our brand where we can improve?
Do you think there is anything that sets us apart from other brands?

When and how to use them?
You can ask these voice of customer survey questions from your regular and loyal customers. These questions will help you get an idea about the reputation of your brand in the market and get positive online customer reviews.
6. Customer Loyalty VoC Questions
These questions assess customers' brand loyalty and advocacy. They measure factors that contribute to customer loyalty, such as the likelihood of repurchase, recommendation, and emotional attachment customers feel to your brand.
How likely are you to make purchases with us in future?
Do you trust our products and services in terms of quality?
Have you referred any of your friends or known ones to make purchases from our brand?
How frequently do you interact with our brand and make purchases?
Is there any negative experience that impacted your loyalty and satisfaction with our business?

When and how to use them?
You can ask these questions from both frequent buyers as well as new customers who have made one or a couple of purchases to measure and increase customer loyalty of existing customers or estimate upcoming sales.
7. Customer Satisfaction VoC Questions
Understanding and measuring customer satisfaction is essential for your business's success. Use these VoC questions to assess your customers' overall satisfaction with your products, services, and brand. You can use relationship surveys for surveying customers to gauge their satisfaction with your brand over time.
Are our products/services meeting your expectations?
What can we do to enhance your satisfaction with our products/services?
Is there anything that dissatisfied you during your experience with us?
When and how to use them?
These customer satisfaction survey question should be included in post-purchase surveys or regular customer feedback initiatives. They help gauge satisfaction levels and highlight areas where your products or services can be improved.
8. New Product or Feature Testing VoC Survey Questions
Use these questions in the voice of customer surveys when launching new products or features. By asking these product feature request questions, you can assess customer acceptance, usage intent, satisfaction, and areas for improvement.
Did you have the opportunity to try our new product with upgraded features?
Did you face any challenges or issues while using our new product/features?
Is there anything specific that you love about our new product?
How likely are you to use our new product in your regular routine?

When and how to use them?
These questions are to be used when you have launched a new product or a product feature. You should ask these questions to the specific customers who have purchased or subscribed to your new product or new product feature to know how it is performing.
9. Competitor Analysis VoC Survey Questions
These voice of customer survey questions aim to understand customers' perceptions of competitors, strengths and weaknesses, and factors influencing their choices. This provides valuable market research intelligence for competitive analysis and strategy so that you can make effective decisions to sustain in the competition.
What made you choose us over our competitors?
Who among our competitors would you prefer in our absence?
Is there anything you think our competitors are doing better than us?
How would you rate our business, products, services, as compared to other competitors in the market?
Would you like to share any feedback or suggestions regarding our competitive positioning in the market?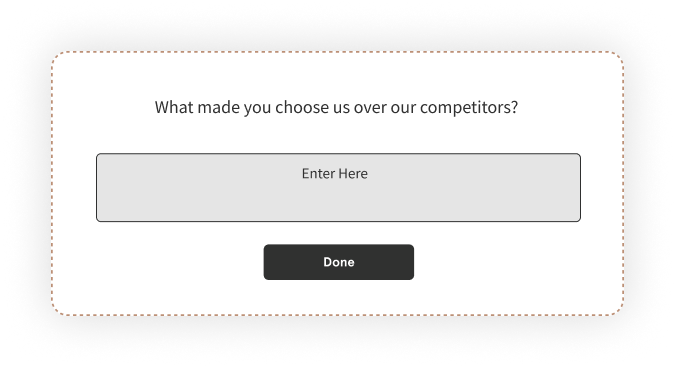 When and how to use them?
Use these voice of the customer questions when you want to analyze your competitors' strategies and offerings to the customers. You can send online surveys to your customers directly or to target market segments to gather insights on competitor comparisons and preferences.
Tips to Create Voice of the Customer Surveys
We bring you some simple and effective tips to create intelligent VoC surveys that people would love to take.
1. Set Clear Objectives
Clearly define the purpose and goals of your VoC survey to ensure that you gather relevant and actionable insights. This helps you stay focused on the specific information you need to collect data and the outcomes you want to achieve.
2. Keep your Surveys Simple and Short
Avoid overwhelming respondents with lengthy surveys that can lead to survey fatigue and lower quality responses.
Simplify your survey design and keep it concise to encourage higher participation and completion rates.
Use concise and easy-to-understand language.

Avoid lengthy surveys to maximize participation.
2. Include Both Quantitative and Qualitative Questions
Quantitative questions help you collect voc data and qualitative questions help you understand what customers expect through the reason behind those facts.
Quantitative Questions
Quantitative questions would help you generate customer experience metrics like Net Promoter Score, Customer Satisfaction Score, and Customer Effort Score. Here are a few types of quantitative questions you can include in your VoC survey:
Likert Scale: Rate statements (e.g., product satisfaction) from "Strongly Agree" to "Strongly Disagree."

Dropdown, Button, and Multiple Choice: Choose from options e.g., radio buttons, dropdown lists, or multiple answers.

Picture Rating: Gather feedback by clicking on relevant pictures for an interactive survey.

CX Metrics (NPS, CSAT, and CES): Measure customer satisfaction (CSAT), brand loyalty (NPS), and how much effort it took for customers to complete a task through CSAT, NPS, and CES survey questions.

Qualitative Questions
Include qualitative questions like open-ended questions in your survey to gather detailed and honest customer feedback. Follow-up questions like "Please share the reason for your answer" can uncover valuable insights and areas for improvement. For a successful survey, use both quantitative and qualitative questions to capture customer feedback.
3. Personalize Surveys
Customers always prefer filling out feedback forms when they know where it's coming from and whether they benefit from it. If they receive a survey request from an unrecognized source, chances are they will not open it. So, how do you communicate the same?
By personalizing surveys!
A good VoC survey tool will allow you to customize and personalize your surveys using these features:
Use Answer Piping: Answer piping allows you to take the answer from a previous question and insert it into an upcoming question.

Utilize Placeholders: Replace placeholders with customer names for personalization, even in mass surveys.

Pre-Filled Info: It helps personalize a single survey for different users by populating information unique to each customer.
4. Add Logic to Your Survey
Different customers have varying needs and experiences, and not all questions are relevant to everyone. This can lengthen the survey and impact the survey experience. With smart survey tools, you can add survey logic and branching for seamless, tailored surveys.
There are three types of survey logics:
Skip Logic: Direct participants to the next screen based on their particular answer.

Hide/Display Logic: Show or hide questions based on the current answer.

Redirect Logic: Send respondents to a custom URL post-survey, enhancing brand engagement and website traffic.

5. Avoid Asking Leading Questions
Leading questions can unintentionally steer respondents towards a particular response, compromising the integrity of customer research and the voc data collected. So always use neutral and unbiased language in your survey questions to avoid influencing respondents' answers.
7. White-Label Your Surveys
White-labeling personalizes surveys with your brand elements like name, logo, image, etc., replacing third-party logos with your own. Hosting surveys on your server reduces costs and enhances customer trust, increasing response rates and promoting your brand with each survey.
How to Effectively Listen to the Voice of Customer?
Other than conducting VoC surveys, here are some more ways that can help you enrich the customer experience and enhance the customer journey.
Being Concerned: Viewing each customer as a potential detractor and actively caring about their experiences is crucial. Negative feedback can have a significant impact, making it essential for management and support staff to address every customer issue.

Installing Effective Feedback Tools: Implementing effective VoC tools helps capture a significant amount of data (through various channels like website feedback, email, in-app, social media platforms, online reviews, customer interviews, focus groups etc.,), manage it efficiently, and allow for immediate resolution of customer grievances. This ensures a rapid response to issues, a key component of a great customer experience.

Understanding your Customers and their Complaints: Addressing customer complaints effectively requires a deep understanding of the customers pain points and their origins. Collecting comprehensive customer data helps create a loyalty program that offers personalized service, filling gaps in service quality.

Empowering Customer-concerned Employees: Delegating responsibilities to customer-facing staff is essential for timely and accurate handling of customer grievances. Effective feedback tools should support task assignments in real-time, ensuring customer satisfaction.

Overall Monitoring of Customer's Behavior: Beyond resolving on-premise issues, customer feedback systems provide value by tracking satisfaction and behavioral trends. Customers rate businesses on various factors, and these preferences can change over time. A feedback system allows to adapt strategies based on evolving customer preferences.

Getting Involved Personally: Establishing a personal connection with your customers is increasingly important. Taking a personal interest in resolving customer issues can enhance their sense of belonging to the business and increase the likelihood of their return.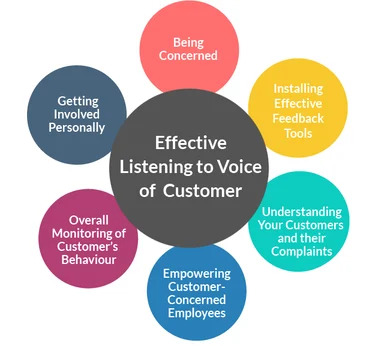 Conclusion
Voice of customer surveys are a very critical part of brand building, product enhancement, understanding customers expectations, and enhancing customer success. And the best part is that creating and distributing digital surveys is easier than ever with advanced survey tools in the market.
Zonka Feedback is one such effective survey software that you can use to create powerful surveys to collect valuable feedback across the customer journey and listen to the voice of the customer. Powered with advanced features like skip logic, question branching, and survey redirection, it helps you create powerful and dynamic feedback surveys, and provide personalized survey experiences to your customers.
Try Zonka Feedback for free for 7 days and see how it helps you to listen to the voice of the customer and grow your business.