Word-of-mouth is still as impactful and customers speak when the experience is either extraordinary or extremely poor. According to an American Express study, a customer would share their poor experience with a brand with 15 more people. This can mean the loss of 15 potential customers. So, it goes without saying that customer feedback is something that successful brands base their growth strategy on.
Similarly, the importance of the user or customer feedback on website cannot be overlooked. Website visitors tend to decide whether they wish to continue browsing within just a few seconds. So, the best that brands can do is develop a website that is aligned perfectly with users' requirements and expectations. But what do your customers expect?
Does your audience prefer a cleaner, more subtle color theme? Can users easily find what they are looking for on your website? Are your automated suggestions aligned with user preferences? Do you have all the payment methods that your customers tend to use available on your website? Is the customer service support offered via live chat helpful?
Website surveys can help you capture the most insightful feedback on website that can answer these and many other questions.
Start Collecting Visitor Feedback Today
Sign up for Zonka Feedback and start asking your users what works for them (and doesn't) on your website.
Now, what are the end results that businesses can expect?
A website that is designed and developed to improve usability, and thus, user experience
Identification and elimination of problems that are leading to an increased bounce rate
A clear view of what can be done to improve website conversions
However, you cannot expect to add an unimaginative survey to your website for responses to start flowing in. Based on what you expect in terms of feedback, you can use website surveys efficiently and creatively.
We have talked in detail about some tried and tested website survey strategies in this article to help you get the most out of website surveys. Read on.
10 Effective Ways to Collect Feedback on Website
Use Popup Surveys to Get Your Users' Attention
Add a Feedback Button for Website Design & Usability Feedback
Use Quick Polls for Content and Help Article Feedback
Collect Cart Abandonment Feedback
Collect Page-Specific Feedback
Collect Screenshot and Video Feedback for Bug Report
Use Website Surveys for User Research and Segmentation
Collect Feedback in Chatbot and Livechat
Monitor User Behavior Using Web Analytics
Encourage Feedback with Incentives
1. Use Popup Surveys to Get Your Users' Attention
Your website users and customers may easily fail to notice a boring survey sitting at the bottom of your web page. Moreover, depending on where you choose to position your surveys, your users may not even reach the point of sharing feedback on website. To prevent this and capture your users' attention immediately, you can use website popup surveys and increase the chances of users sharing feedback.
For example, if your website users tend to exit the website without making a transaction or purchase, it is least likely that they would stay back and explore the website to share feedback. So, you can capture their attention and collect user feedback on website using an exit intent survey. Website exit intent surveys pop up on the screen right before the user is about to browse away from your product. Here's an example: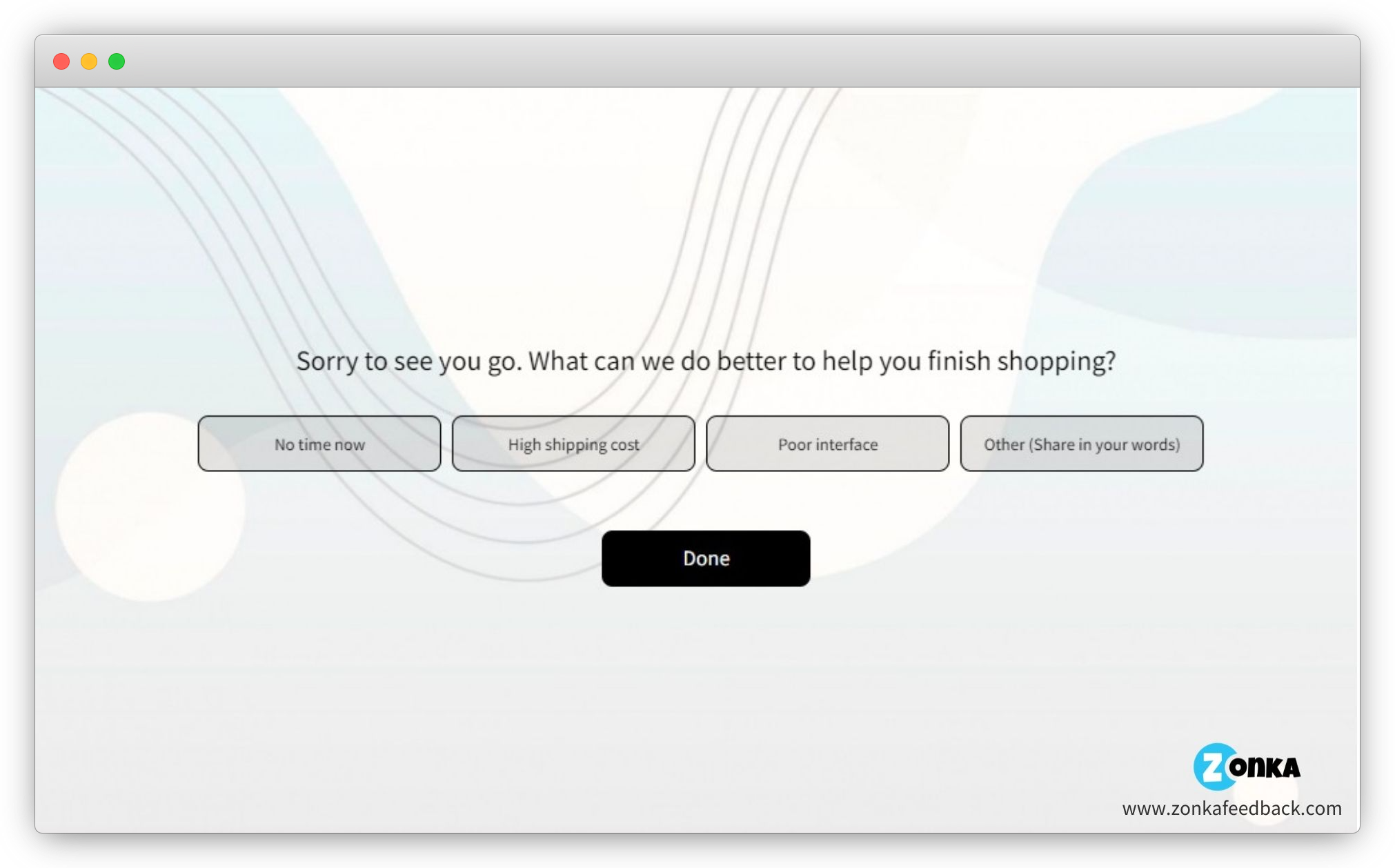 This would help you understand the reason for a high bounce rate and figure out what can be done to increase users' chances of making a transaction. The feedback collected through an exit intent survey is specific and contributes directly to increasing the conversion rate.
2. Add a Feedback Button for Website Design & Usability Feedback
According to Top Design Firms, 50% of the users consider web design important for the overall brand image. There are many elements that impact how your website and brand are perceived. For example, the website theme, the load time, mobile responsiveness, easy navigation, etc. The key is to find out what matters to your audience(s) through their feedback on website. A skilled web design company can implement effective strategies to enhance your website's theme, optimise load times, ensure mobile responsiveness, and improve navigation, thereby positively impacting your brand's perception.
This can be done with a simple yet effective website feedback widget - a feedback button. You can insert a feedback button anywhere on your website to collect generic or specific feedback. In case your site doesn't have this function, try switching your store to WooCommerce for extra features.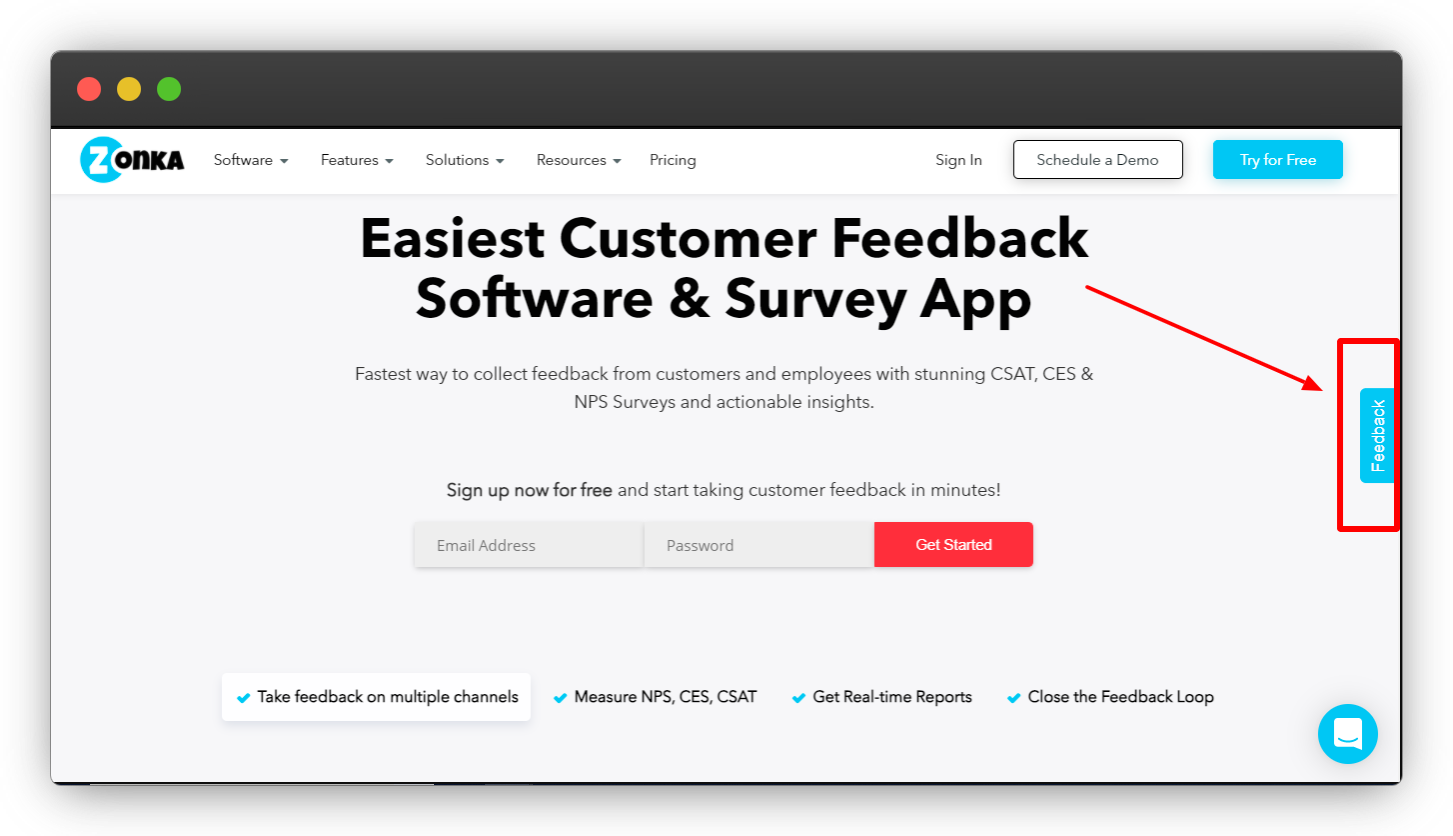 With a website design software that can help you create feedback button, you can collect all types of website feedback. In this case, you can set a design and usability feedback form to open. You can use a CSAT survey to understand the general sentiment of users for the website and follow it up with an MCQ or open-ended question so they can elaborate on what they liked or disliked.
Why Use a Feedback Button to Get Feedback on Your Website?
Doesn't clutter the website
Doesn't interrupt the users
Encourages unsolicited feedback
Communicates the value of customer feedback for the brand
3. Use Quick Polls for Content and Help Article Feedback
Have you ever exited a website because the product information was not useful enough or quit reading a blog halfway because the content was not insightful? This may happen with your customers or website users as well.
So, to understand if your content or help material resonates with your audience, you can use website polls to collect feedback. For example, at the end of a blog post, you can add a Thumbs Up and Thumbs Down survey to let readers share if they found the article helpful with just a simple click.
This helps you get feedback on your website without asking for too much from the users. And we all know that people are more willing to share feedback when they do not have to make an effort to open the survey and fill out a lengthy form.

4. Collect Cart Abandonment Feedback
It has been observed that over 69% of website users abandon their shopping carts. Therefore, cart abandonment surveys have to be one of the most useful resources when looking to collect website feedback.
Cart abandonment surveys are popups consisting of short surveys aimed to understand why visitors abandon their shopping carts and exit without making a transaction. The survey is triggered right when they move toward the exit button instead of clicking on 'Place Order' after adding items to the cart.
Based on what you wish to learn from your website users, you can get answers to questions like:
What would help customers complete their transactions or place an order?
What are the primary reasons potential customers or subscribers quit before making the transaction?
How you can help or assist them with additional information to improve their experience?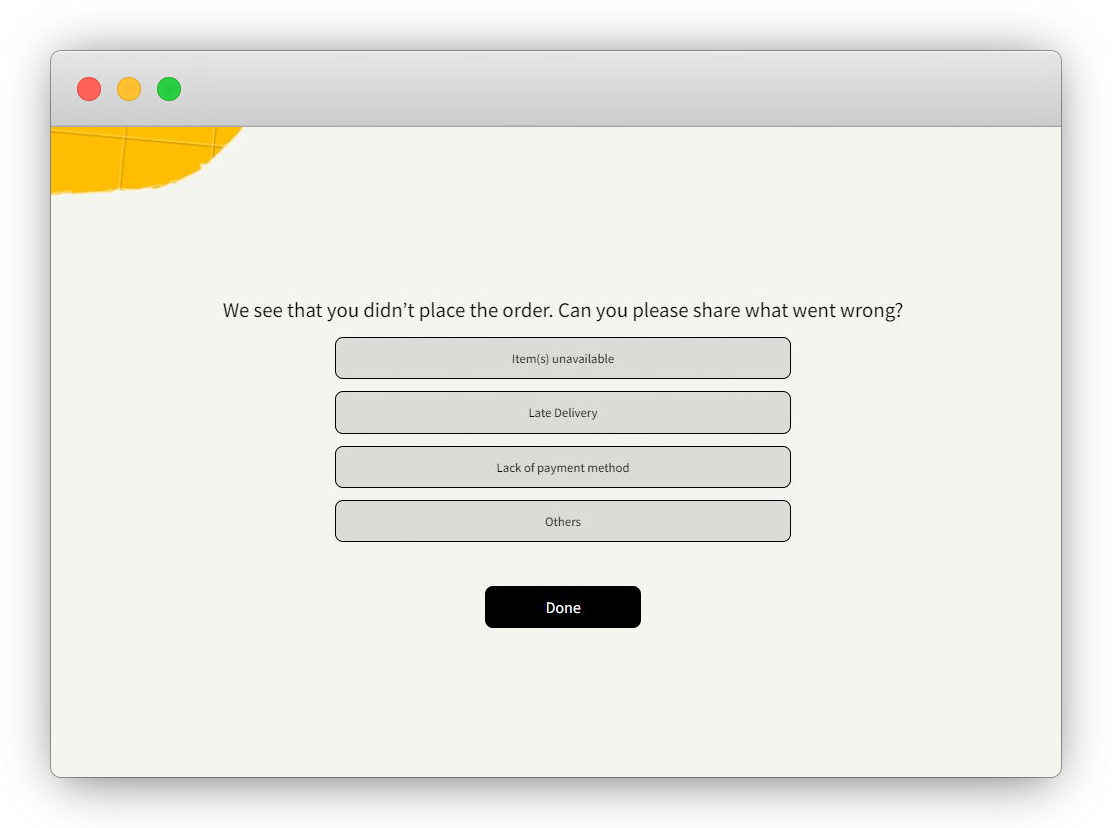 5. Collect Page-Specific Feedback
A page-specific survey is only aimed to collect feedback from users that can give genuine, reliable feedback. For example, you can target your post-purchase website survey only toward users who have completed their purchase. Here's a sample template for post-purchase feedback:
When there is a single purpose for your users to be on a certain page of your website, you can also make feedback sharing easier by directly embedding the survey into the web page. For example, you would not want to embed a post-transaction survey on the home page or contact us page. It would only be relevant for visitors who have placed an order, subscribed to your service, signed up for the newsletter, etc. So, why not embed the survey directly on these pages and tell your target audience what the survey is all about. When there is no mystery about what is behind the feedback button, your users would be more likely to share their experiences.
It is just like what we do very frequently – rating our food delivery on a 5-star scale in less than a second. The easier it is for visitors to share feedback, the more likely they are to participate.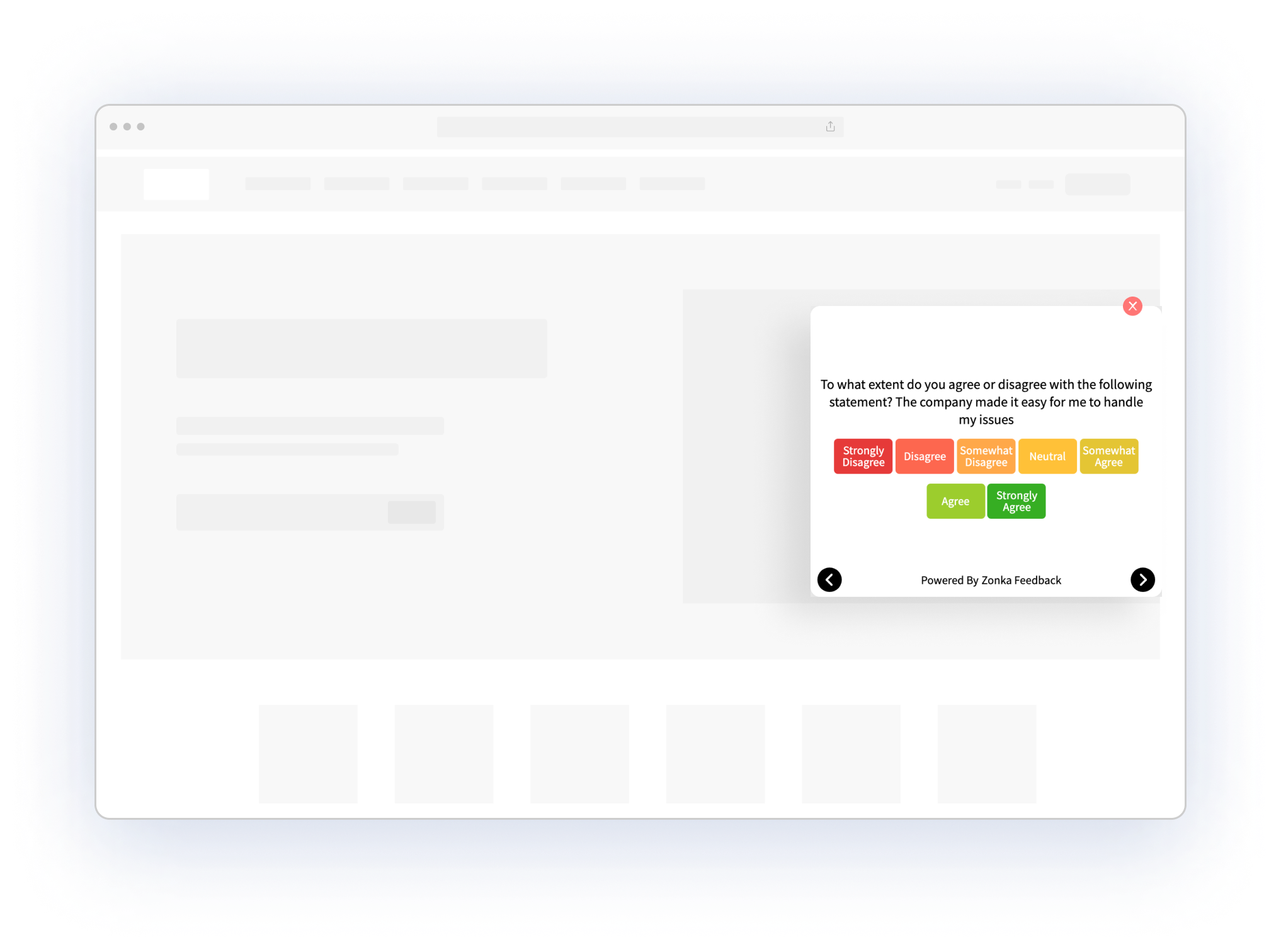 Why Embed Surveys on Your Website?
To let visitors know what is in the survey and increase the participation rate
To collect feedback faster compared to other survey methods
To target the right audience and collect relevant feedback on specific website pages
6. Collect Screenshot and Video Feedback for Bug Report
To get feedback on bugs or errors, you cannot expect your visitors to make the effort to take a screenshot, find your business email address, and report the bug. But you can make reporting the bug effortless to encourage your visitors to do so. You can select a website survey tool that helps you identify bugs through visitors in two ways:
Screenshot Feedback

– Reliable visual feedback tools allow identifying bugs by enabling

website feedback with screenshot

. It allows users to take a screenshot, tag it with their comments or feedback, and share it without having to move away from the website.

Video Feedback

– The video feedback method allows brands to capture short user sessions to monitor their interaction with the website. Brands can monitor specific sessions like cart abandonment, product search, etc. to understand what's leading to poor website experiences.
7. Use Website Surveys for User Research and Segmentation
Survey forms are really helpful when you're looking to understand your audience. Let's take an example to understand this.
When we log in to Pinterest for the first time, we are prompted to share are preferences or interests. This one-time information sharing helps the brand to customize recommendations and search results based on exactly what a user would like to see. Something like this can take the user experience notches higher.
Similarly, several fashion eCommerce websites prompt users to share details like gender, preferred brands, etc. This helps in user segmentation or creating buyer personas, which, in turn, helps you create the most targeted ads, recommendations, and email campaigns.
8. Collect Feedback in Chatbot and Livechat
Almost all websites today either have chatbot or live chat to offer assistance to users. But your chatbot can do more than just help users. You can use the chat option to collect relevant feedback on website in terms of FAQs, customer support feedback, agent performance, etc. This can be done simply by integrating survey software with your chat tool.
Let's understand this with an example. When you're measuring NPS in Intercom, you will need to integrate the survey software with this customer communication tool. This way, you can either pin a survey to the chat window or have your customer service representatives manually send a short feedback survey in the live chat after the issue is resolved or the chat is over.
9. Monitor User Behavior Using Web Analytics
You may not always find what you're looking for if you only use surveys to collect feedback on website since it is subject to participation. But to understand how users engage with your brand through the website, you can also monitor website analytics. This can help you understand several factors to see how your website is performing, such as:
Which pages are performing well
Which page do usually users exit the website at
Top blogs or resources contributing to conversions
Session duration
The number of pages users visit in a single session, etc.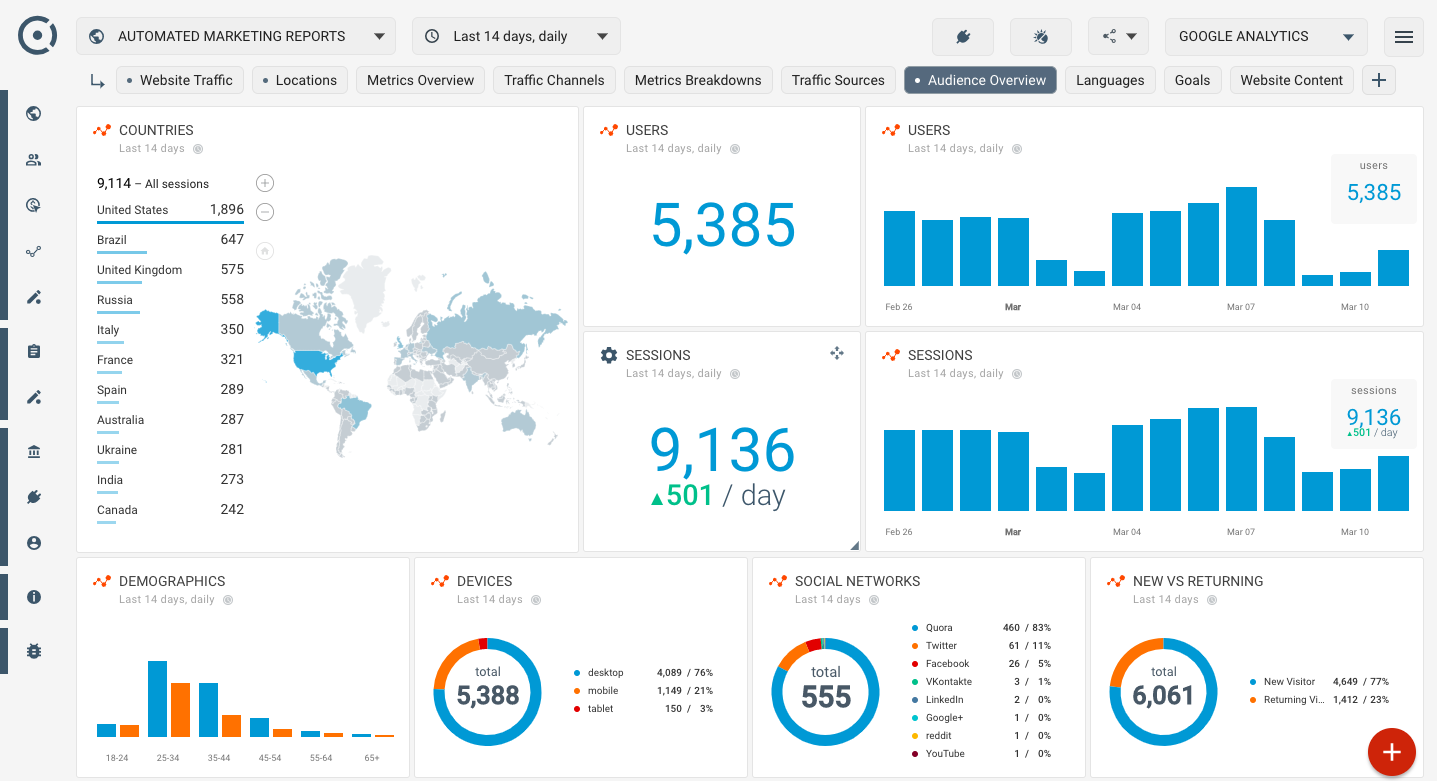 10. Encourage Feedback with Incentives
Often, we refrain from investing our time and effort in sharing feedback with brands, especially if there is no incentive for us. And this can be a major roadblock in your website feedback strategy. So, to encourage more participation, you can offer your visitors incentives, such as rewards, offers, free downloadables, checklists, etc. The key is to select the right incentive that your users would find useful enough.
The process of doing this is simple. We will take Zonka Feedback survey software to explain this.
Zonka Feedback allows automatically sending follow-up emails with its Auto Response feature. All you have to do is mention the incentive or reward in your website survey and ask users to share their email addresses once they have submitted their answers. As soon as they complete the survey, an automatic email consisting of a coupon code or incentive of your choice would be triggered to their email address. The tool allows you to write an auto-response while setting up the survey and send them automatically post-feedback.
Here's an example of an auto-response: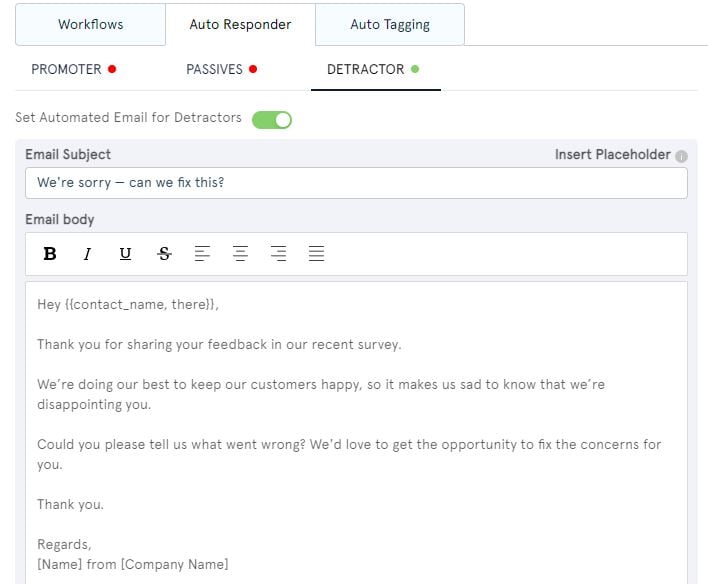 Conclusion
The great thing is that you can collect feedback on website with different types of website surveys. Moreover, you can understand the general sentiment of your audience or get detailed, contextual feedback. The key is to use your website survey tool efficiently around a comprehensive website feedback strategy. Though the feedback would be collected on the website, you can use it to enhance your overall brand image which may include support service standards, the brand's online reputation, availability of remote payment methods, etc.