Website feedback buttons are strategically placed on the website to offer a convenient way to collect user feedback on the site's content, design, functionality, or any other aspect of its user experience. It helps brands understand customer needs and align their website accordingly.
While website feedback can get complicated with coding and plugins, using online survey tools that allow adding feedback widgets like a website feedback button can be highly effective in collecting website feedback.
In this blog, we will explore everything about website feedback button including definition, types, examples, benefits and a roundup of the leading website feedback button tools for collecting feedback.
TL;DR
Collect Actionable Feedback through Feedback Button ⭐
Survey your product users and website visitors without creating any interruption in their work and get valuable feedback to build delightful experiences for them.
What is a Website Feedback Button?
A feedback button is a website feedback widget that can be added to any website without any coding required. When clicked, it opens up a feedback form that users can fill out without leaving the page.
Feedback buttons can be added to various pages for different purposes, like gathering user feedback on UX from users, page-specific feedback, and or unsolicited website or product feedback. It is uncomplicated and hardly takes up any space, making it an ideal choice for people who prefer a clean and uncluttered website.
Types of a Website Feedback Button
There are three major types of feedback button on website. Let us briefly look at each of them.
Fixed Feedback Button: Typically located at the center or on the margins of your website as a side tab. When clicked, the fixed feedback button opens a tab that displays the website feedback form on the screen and prompts users to provide feedback.

Feedback Banner: A feedback banner is a feedback widget embedded at the top of your website to look like a banner. It works like a fixed feedback button; clicking it opens a popup with a form for users to share feedback right on their current screen.

Floating Feedback Button: A floating feedback button often resembles a chat icon usually seen on websites. It remains visible to your site users, regardless of their scrolling or the webpage they're on, ensuring easy access.
Website Feedback Button Examples & Use Cases
Feedback buttons can be implemented in a variety of ways and can be placed based on the website's goals, user interface, and the type of feedback they aim to collect. Let us look at some common examples of feedback buttons that you can use on your website:
Net Promoter Score (NPS): Leverage NPS surveys in the feedback button by asking users to rate on a scale of 0-10 how likely they are to recommend the website to others based on their website experience.

Report a Problem Button: Add this feedback button on your survey apps or community websites to let users report issues, spam, or inappropriate content.

Smiley Rating or Emoji Feedback: Utilize a row of emojis (e.g., happy, neutral, sad) or smiley face surveys to get quick visual feedback on the website's content or service.

Thumbs Up/Thumbs Down: Similar to the smiley rating, you can offer a simplified feedback collection option with thumbs-up and thumbs-down icons for measuring customer satisfaction.

Star Rating: Implement a star rating system in the feedback button where users can choose a rating from 1 to 5 stars to indicate their satisfaction or dissatisfaction.
Top Website Feedback Button Tools to Collect Feedback
There are many feedback button tools that offer website feedback widgets to help brands collect valuable feedback and better understand their website users. Let us look at the top tools that offer feedback button website surveys.
1. Zonka Feedback
Zonka Feedback is a popularly used feedback tool for adding website feedback buttons to multiple web pages without any additional plugins. It offers a range of free website feedback widgets, including feedback buttons, pop-ups, popovers, slide-ups, and bottom bars, compatible with various web page builders.
Moreover, you do not need any coding or technical knowledge to make a feedback form. You can simply use survey templates or build feedback forms yourself from scratch with just a few clicks on the survey builder. Once your data collection forms are ready, you can copy the readymade widget code and insert the feedback button on the site.
Key Features:
100+ survey templates, including a subscription cancellation survey template, marketing attribution survey template, post-purchase satisfaction survey template, website visitor experience survey template, product feedback form template, etc. with 25+ survey question types

Multilingual surveys supported in 30+ languages

Customizable feedback button to change the look, feel, and position

Different ways to use website feedback widgets like feedback buttons, website popup surveys, slide-up surveys, bottom bar, and microsurveys

Embedded surveys and in-app surveys

Survey logic and branching to customize survey flow for different user segments

Easy integration with business tools like Slack, Salesforce, Zendesk, Mailchimp, Google Sheets, Excel, Hubspot, etc.

Intelligent, downloadable reports with filters for comparison and analysis
Rating: 4.8/5
Free Plan: Free trial available
Pricing: Starts at $49/month
2. Qualtrics
Qualtrics is an easy-to-use website survey tool that allows capturing instant feedback through interactive feedback forms across the customer journey. Its intelligent reporting and analytics are designed to create a powerful business impact.
Key Features:
50+ survey templates

In-app optimization with simple user clicks

Predictive intelligence and analytics

Actionable customer insights

Drag and drop functionalities for easy survey creation
Rating: 4.8/5
Free Plan: Available
Pricing: Not mentioned on the website. Other sources have suggested that it starts at $1500/year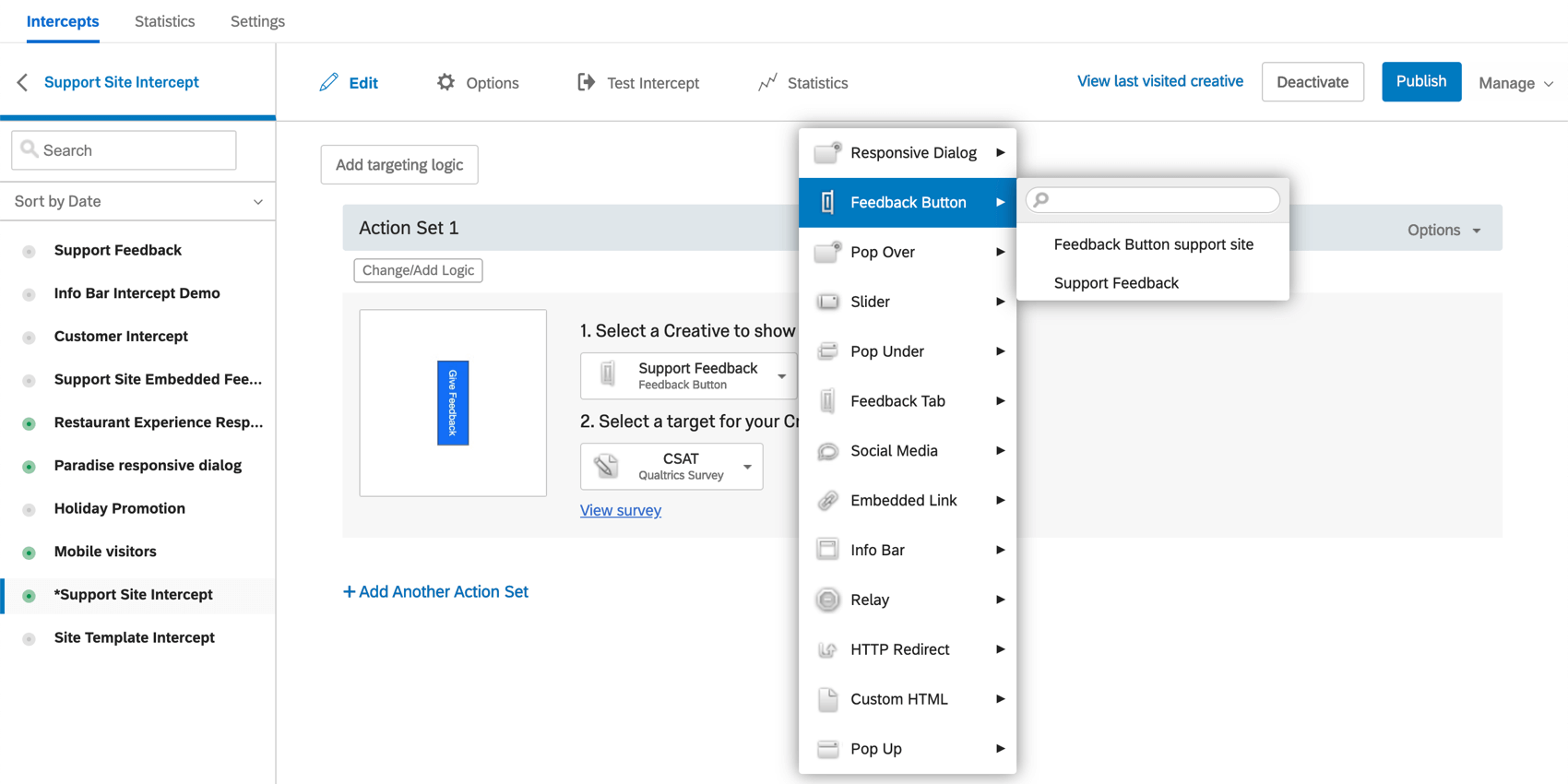 Qualtrics isn't the only website feedback button tool out there. Check out the top Qualtrics alternatives to find more cost-effective and simpler plans to capture actionable feedback.
3. SurveyMonkey
SurveyMonkey is a popular survey tool known for its intelligent data management and insightful reports. It offers the website feedback widget feature and embedding surveys directly into the website.
You can also use readymade form templates for different industries and build questionnaires effortlessly.
Key Features:
Website feedback button, popup surveys, and embedded surveys

Multilingual surveys

Ready-to-use templates

Intelligent reports with filters

Business tool integration
Rating: 4.6/5
Free Plan: Basic plan available
Pricing: Starts at $25/month/user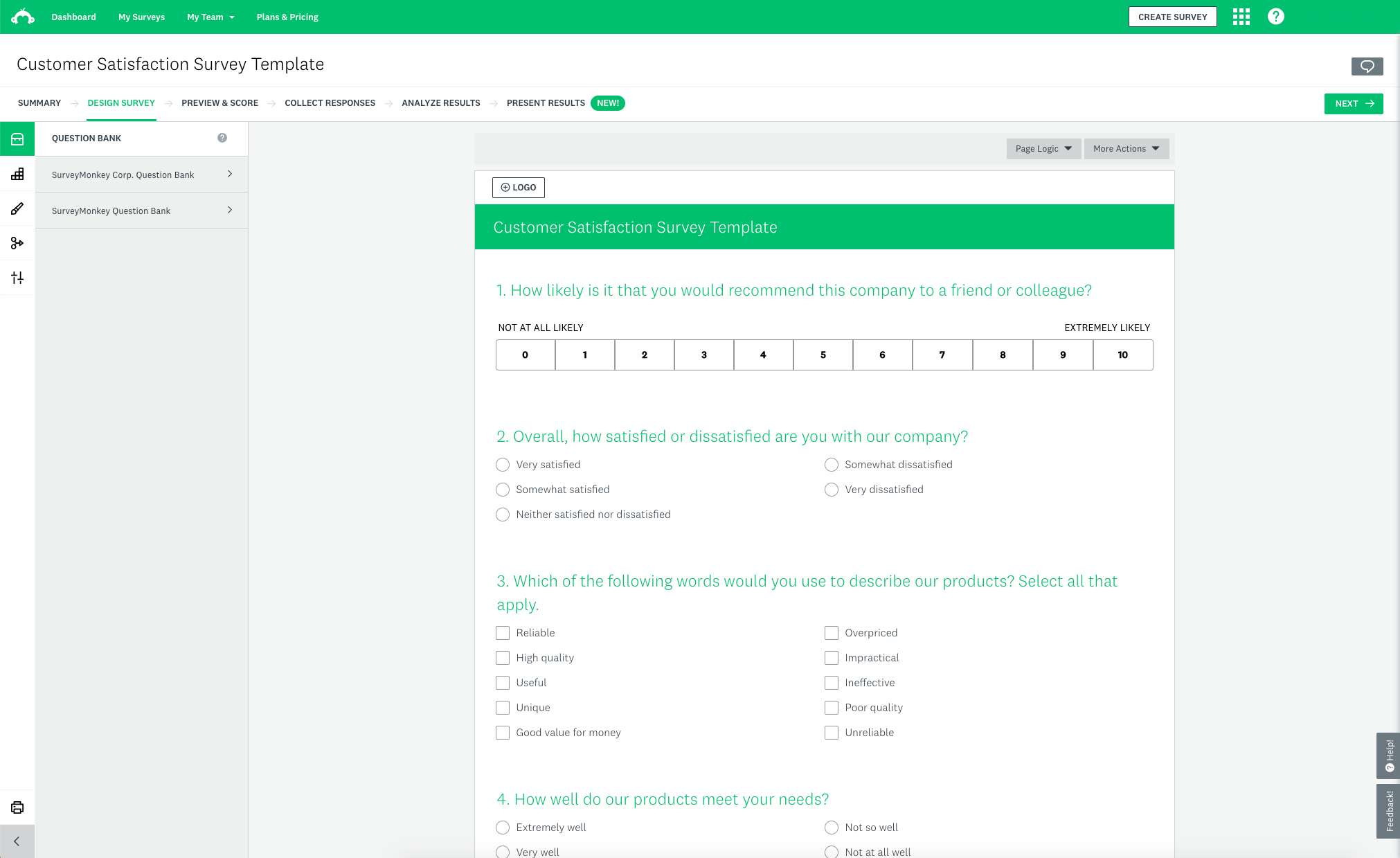 Not sure if SurveyMonkey is the perfect solution for you? Check out SurveyMonkey alternatives and competitors.
4. Medallia
Medallia is a popular website feedback tool as it lets you create the best feedback buttons and branded feedback forms that can be seamlessly integrated into your website, apps, emails, and SMS communication channels. This interactive feedback button can be strategically triggered to specific user segmentations, for example, to those who are about to exit your website.
The platform is an enterprise feedback management software that offers a comprehensive suite of features that extend beyond feedback collection and is most suited for large enterprises.
Key Features:
Website feedback button, popup form, and embedded surveys

Multilingual surveys

Ready-to-use templates

Intelligent reports with filters

Business tool integration
Rating: 4.6/5
Free Plan: Not available
Pricing: Contact their team to get pricing information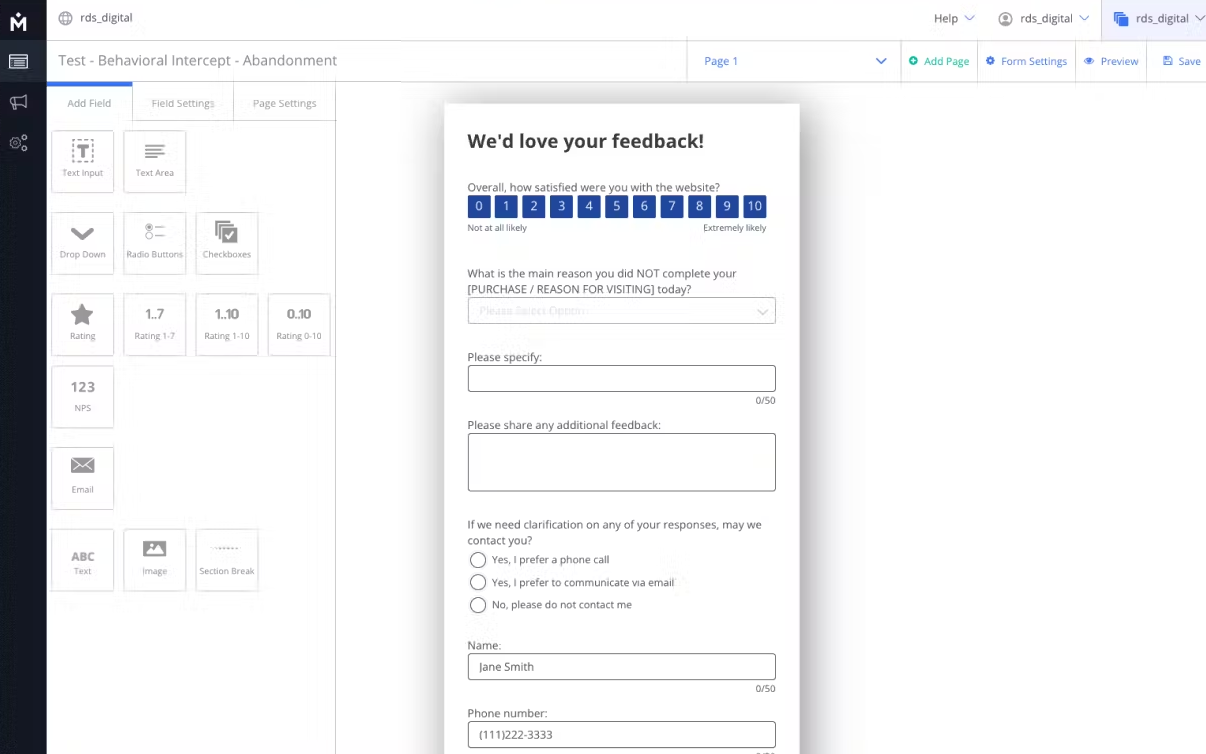 Wondering if Medallia would suit your needs? Why not check out Medallia alternatives and competitors?
5. AskNicely
AskNicely has feedback buttons that can easily trigger a NPS survey on your website, email, or inside your app. You can configure your feedback form, share surveys, and understand customer sentiment through actionable data gathered by its useful analytics.
Key Features:
Gather customer feedback, assess NPS, and utilize workflow automation

Real-time feedback collection from customers

Share out-of-the-box reports to the CEO

Integrate feedback data into the CRM and business intelligence tools

Close the feedback loop with customers
Rating: 4.6/5
Free Plan: Not available
Pricing: Contact their team to get pricing information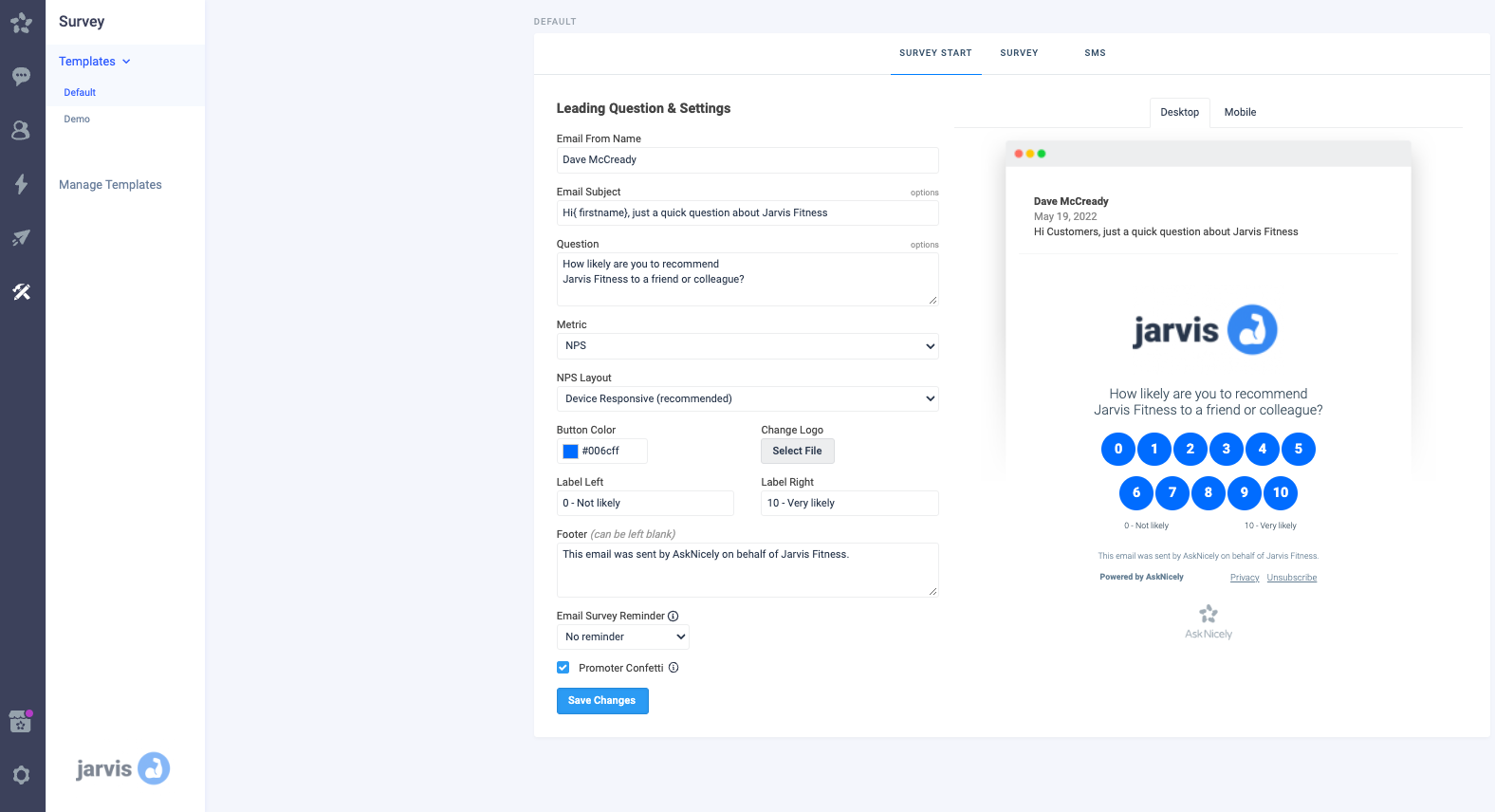 If you are looking for feedback tools that extend beyond just feedback buttons, you can check out our articles on website survey tools, product survey tools, in-app feedback tools, customer satisfaction tools, email survey software, and best NPS software.
Website Feedback Button Questions to Collect Customer Feedback
Use these questions in the feedback button to collect Net Promoter Score, Customer Satisfaction (CSAT), Customer Effort Score (CES), or simply a general feedback.
How would you rate your experience on the website?

Why ask this: To understand how happy your website visitors and customers are with their overall experience of navigating your website.

Where to add this: Homepage or any webpage of your website

How did you hear about us?

Why ask this: To know how your website visitors discovered your business and which marketing channels are working well for you

Where to add this: Website's landing pages

Did you find the information you were looking for on the website?

Why ask this: To understand the effectiveness of your site's navigation and content organization

Where to add this: Landing page, product pages

How satisfied are you with your recent transaction?

Why ask this: To know how smooth and user-friendly is the buying process for the visitor

Where to add this: Post-transaction screen

Was this article helpful?

Why ask this: To capture article and content feedback and deliver authentic content

Where to add this: Content pages like blogs and help articles

How would you rate the overall design and aesthetics of the website?

Why ask this: To identify improvements in a website's design flaws

Where to add this: Homepage

Please describe the issue here.

Why ask this: For capturing bug reporting insights

Where to add this: Thank You page

How satisfied are you with the speed and performance of the website?

Why ask this: To identify areas that need improvement and to ensure optimal customer experience.

Where to add this: After the customer completes a specific action, lands on a particular webpage, loads a product feature, or opens heavy content on the website like a video or image

How satisfied are you with the recent interaction with our customer service team?

Why ask this: To measure agent performance and collect help center feedback

Where to add this: In post-interaction surveys shared just after a user had an interaction with the service or support team.

Is there anything that you feel is missing on this website?

Why ask this: To give users the option to give suggestions for improvement with open-ended questions

Where to add this: In exit-intent feedback when the website user is exiting the website

How likely are you to revisit our website in the future?

Why ask this: To assess the overall UX and identify areas that require improvement

Where to add this: When the website user is leaving the website.

How likely are you to recommend our website to your friends and known ones on a scale of 0 to 10?

Why ask this: To measure overall customer satisfaction and loyalty

Where to add this: At key visitor touchpoints such as post-purchase, subscription, feature addition, customer service interaction, after a few minutes on a content page (article or blog), or during website exit

Would you like to subscribe to our newsletter?

Why ask this: To drive user engagement

Where to add this: Content pages like blogs, articles, and newsletters

What made you exit?

Why ask this: To know the reason for the users' intent to leave your site

Where to add this: In the exit intent form that appears when the customers choose to leave your website
5 Benefits of a Website Feedback Button
There are many benefits of using a feedback button on website, such as:
1. Unsolicited Feedback
A feedback button enables users to spontaneously share their thoughts without prompting which drives customer engagement. Unsolicited feedback is valuable as it provides genuine insights even when you aren't expecting it which could be in terms of design, navigation, and user experience.
It can also have customers uncover new revenue opportunities by gathering customer input on market demands.
2. Survey without Contact Details
A website feedback button benefits you by collecting input from all visitors without requiring contact details, enabling instant feedback on challenges. For example, if a user faces payment issues, they can report it by clicking the button, allowing prompt resolution of otherwise unnoticed problems.
3. Reporting of Usability Issues
Visitors often leave without reporting usability issues that hinder their purchase experience. A feedback button encourages them to share bugs and design flaws, showing you value their feedback. This can boost their likelihood of returning and making a purchase.
4. Feedback at Different Touchpoints
You can collect feedback on different pages at different touchpoints like pre-purchase, post-purchase, from social media, while browsing, and more. You can also get specific viewpoints of website or product feedback in terms of design, pricing, navigation, payment, etc.
5. In-App Feedback
You can add a feedback button directly to your web app or even mobile app to gather feedback on various aspects which increases the chances of customers sharing feedback as opposed to other channels like email, SMS, etc.
How to Add a Feedback Button to a Website?
We explain below how you can add a feedback button to your website using Zonka Feedback with just a few simple steps:
Step 1: Create a Survey
Go to the survey dashboard and click on 'Add Survey'. Select the template of your choice.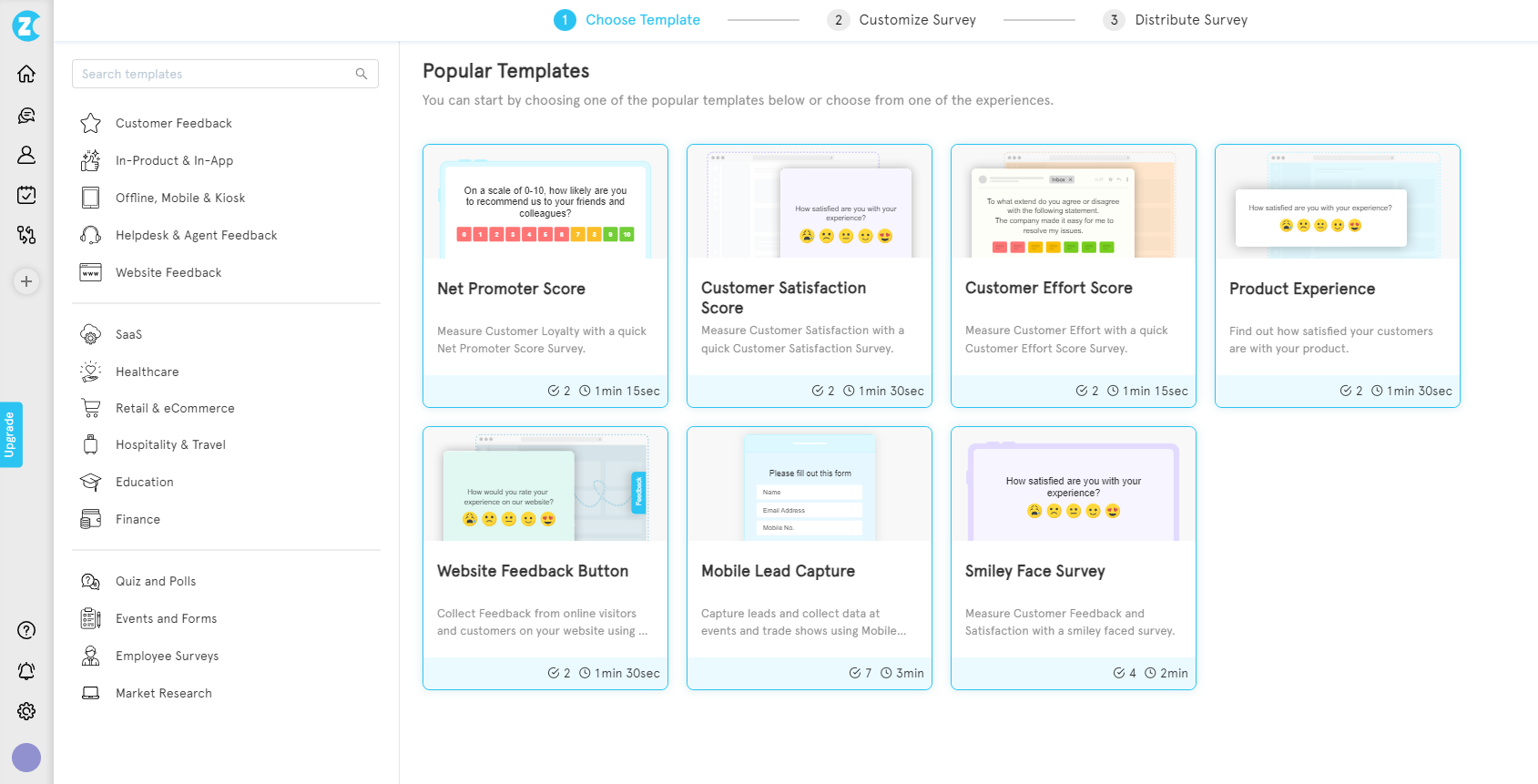 Step 2: Select the Feedback Widget
Select the distribution option as 'Web widget' and then select the type as 'side tab' or feedback button.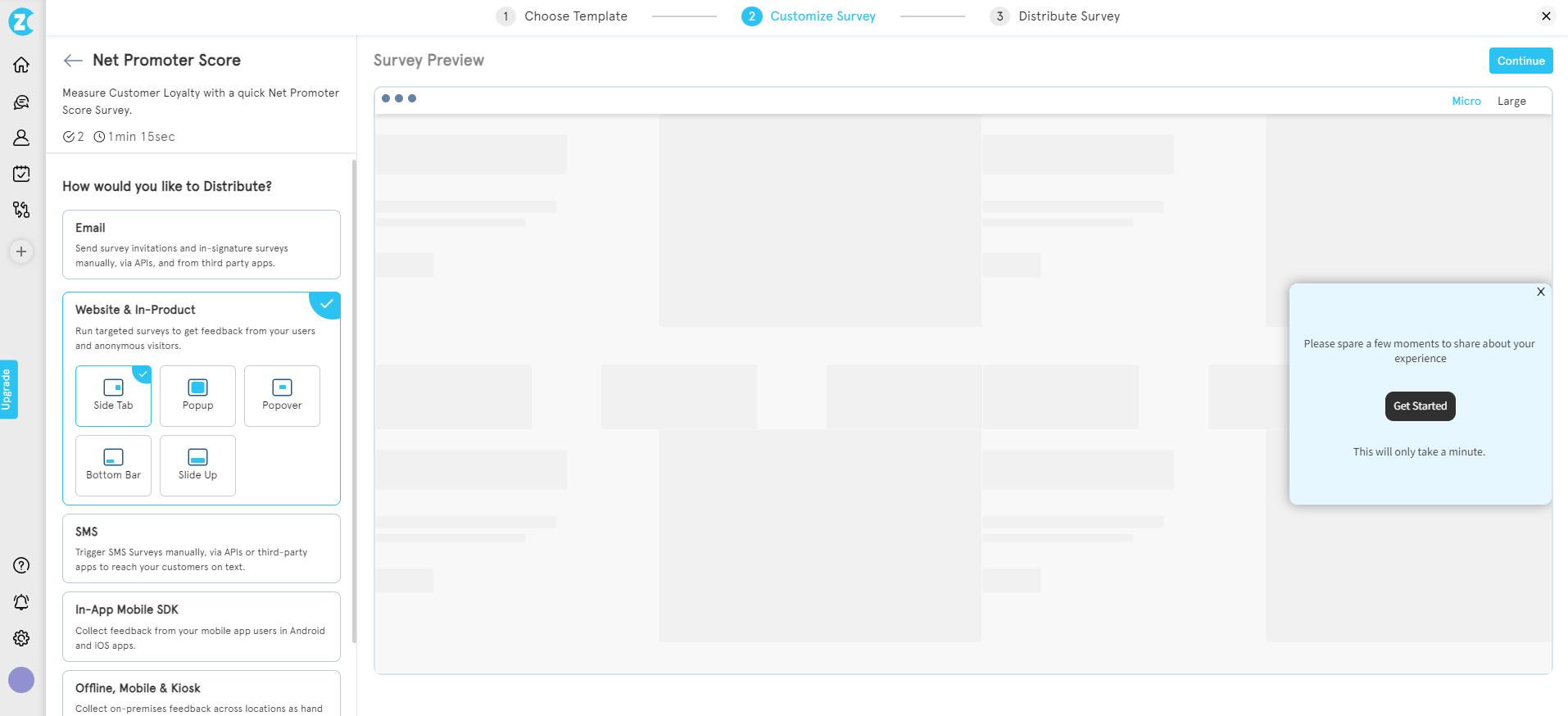 Step 3: Customize your Feedback Form
Edit the survey questions and explore other functionalities like survey logic, design, variables, etc.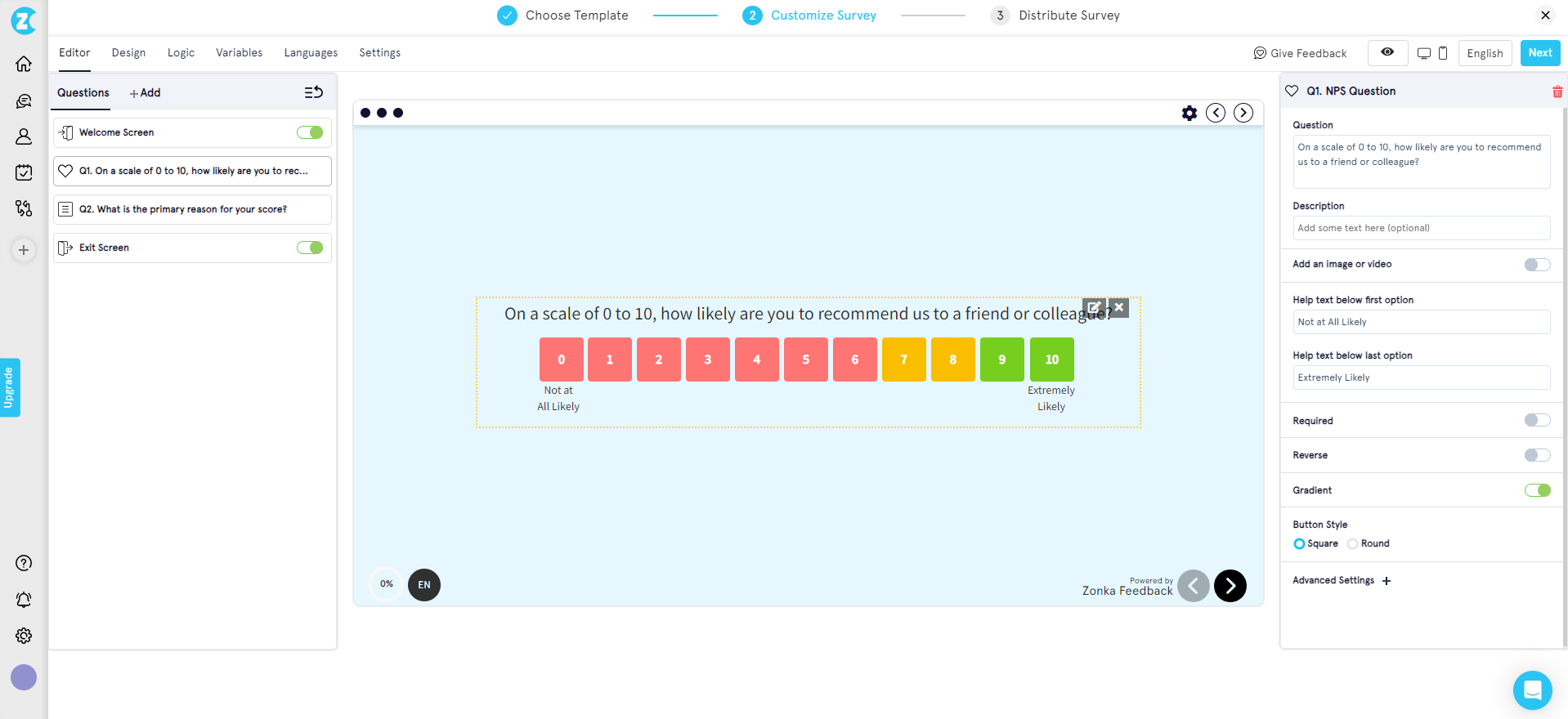 Step 4: Embed Ready-to-use Code into your Website
Once you click on next, you will see a readymade code that you can simply copy and insert the snippet in your website script. You can also perform feedback button customizations from the options available like appearance, targeting, behavior, etc.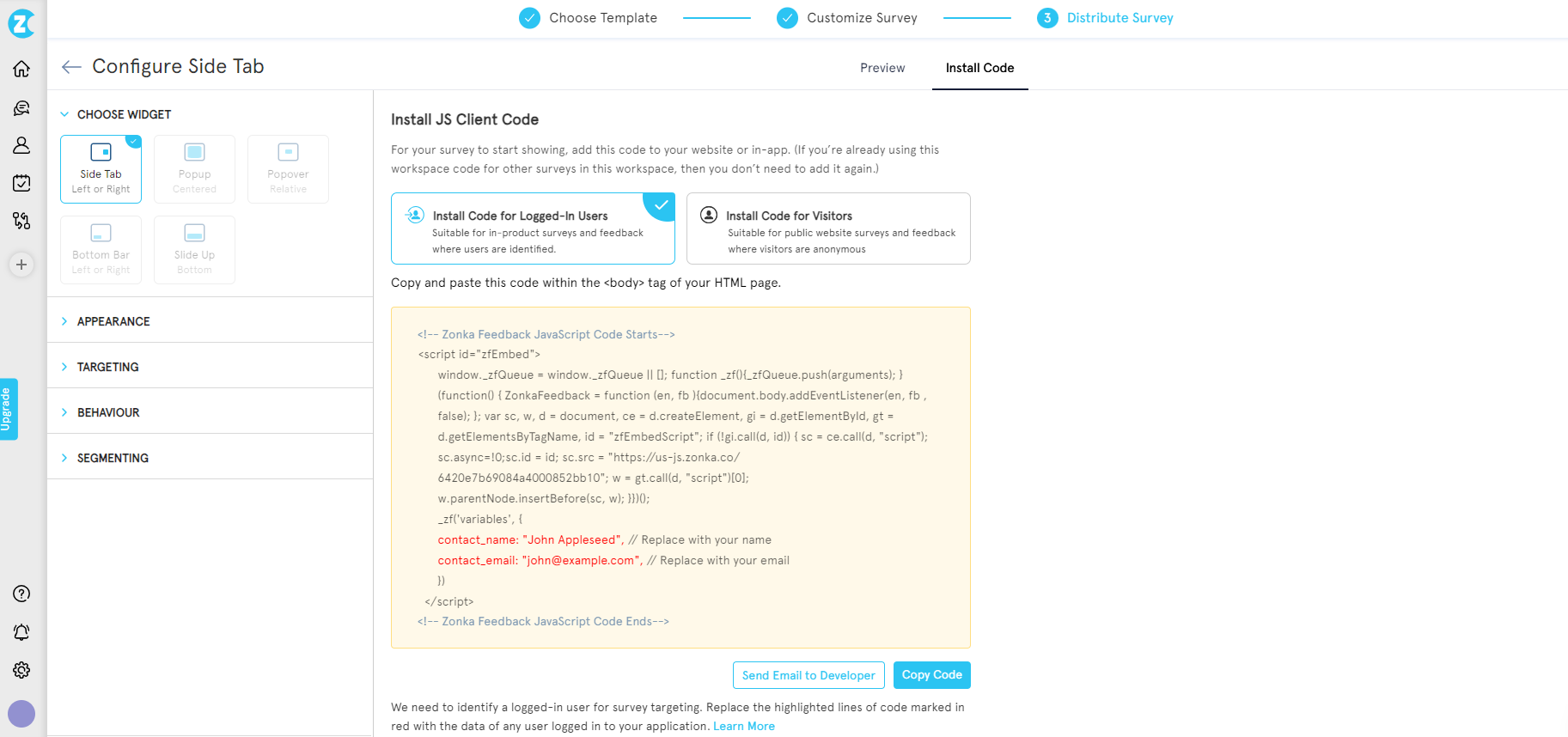 Conclusion
A website feedback button isn't just an add-on; it's a strategic tool for increasing customer satisfaction. It communicates to your audience that you are listening and valuing their opinion. This fosters a stronger bond between your brand and customers and boosts loyalty, conversions, and advocacy.
Sign up for free with Zonka Feedback to create impactful surveys using the feedback button and collect user insights that will empower you to refine your website, product, and service and drive continuous improvement.