Whether you own a small business or a large enterprise, your online reputation is everything today. Your website is the face of your company, and if you do not have a product that your target audience likes interacting with, it is safe to assume that your conversions may take a dramatic hit.
A website feedback button is a perfect solution if you're looking for something uncomplicated but extremely effective. There are some super reliable survey tools today that allow businesses to use the feedback widget feature to add a feedback button to their websites as a simple widget.
This means – no coding, no plugins, and no hefty processes to start collecting website feedback.
A feedback button simplifies website feedback and helps brands know the customers and users to be able to align the brand website with their requirements.
Collect Actionable Feedback through Feedback Button ⭐
Survey your product users and website visitors without creating any interruption in their work and get valuable feedback to build delightful experiences for them.
How does a feedback button on website work? What are the benefits of using a feedback button? What tools can you use? You can read all about it in our detailed article.
Let's get started.
What is a Website Feedback Button?
A feedback button is a website feedback widget that can be added to any website without any coding required. When clicked, a feedback button opens up a survey form that users can fill out without having to leave the page.
A feedback button can be added to any number of pages, and thus, can have different use cases, such as collecting generic UX feedback, page-specific feedback, and unsolicited website or product feedback. It is uncomplicated and hardly takes up any space, making it an ideal choice for people who prefer a clean and uncluttered website.
Here's what a feedback button may look like:
Types of a Website Feedback Button
There are three types of a feedback button on website:
Fixed Feedback Button
A fixed feedback button appears either in the center or on the margins as side tabs. When clicked on, the fixed button causes the tab to open or slide out. The survey appears on the screen and prompts users to share feedback.
Feedback Banner
A feedback banner is a widget embedded at the top of your website to look like a banner. It works like a fixed feedback button; when the user clicks on the banner, the survey form opens up inside a popup. Your users can then share feedback right on the screen they are.
Floating Feedback Button
A floating website feedback button may resemble a chat icon usually seen on websites. This means that no matter how much your visitors scroll or which website page they interact with, they would always see the floating feedback button on website.
This makes sure that the feedback button is constantly visible so that any time your website users come across a challenge, they are able to share their feedback instantly.
Top Website Feedback Button Survey Tools
There are many tools that offer website feedback widget to help brands survey and better understand their website users. But if you're just starting out, make sure the tool is easy to use and allows collecting insightful website feedback data.
We have put together the details of the top tools that offer feedback button website surveys.
Read carefully to understand which one best suits your requirements.
1. Zonka Feedback
Zonka Feedback is a popularly used allows you to add a website feedback button to any number of web pages without any additional plugins or additional support. It offers the high-functionality website feedback widget feature that includes a feedback button and allows adding these widgets to different websites irrespective of the type of web builder (Wix, WordPress, etc.)
Moreover, you do not need any coding or technical knowledge to create surveys. You can use survey templates or build surveys from scratch with just a few clicks on the survey builder. Once the survey is ready, you can copy the readymade code and insert the feedback button on website.
You can also use Zonka Feedback's free website feedback widget to start collecting website feedback right away.
Key Features:
500+ survey templates, including an online shopping attitudes survey template, post-transaction survey template, website visitor survey, product feedback survey, etc.
30+ languages
25+ survey question types
Mobile responsive surveys
Customizable feedback button to change the look, feel, and position of the feedback button
Different ways to use website feedback widgets like feedback buttons, website popup surveys, slideout surveys, and microsurveys
Embedded surveys and in-app surveys
Survey logic to customize survey flow for different user segments
Easy integration with business tools like Slack, Excel, Hubspot, Intercom, Zendesk, Zapier, Salesforce, etc.
Intelligent, downloadable reports with filters for comparison and analysis
Rating: 4.8/5
Free Plan: Lifetime free surveys to create free surveys online
Pricing:
Professional Plan - $79/month
Growth Plan - $169/month
Enterprise Plan - $429/month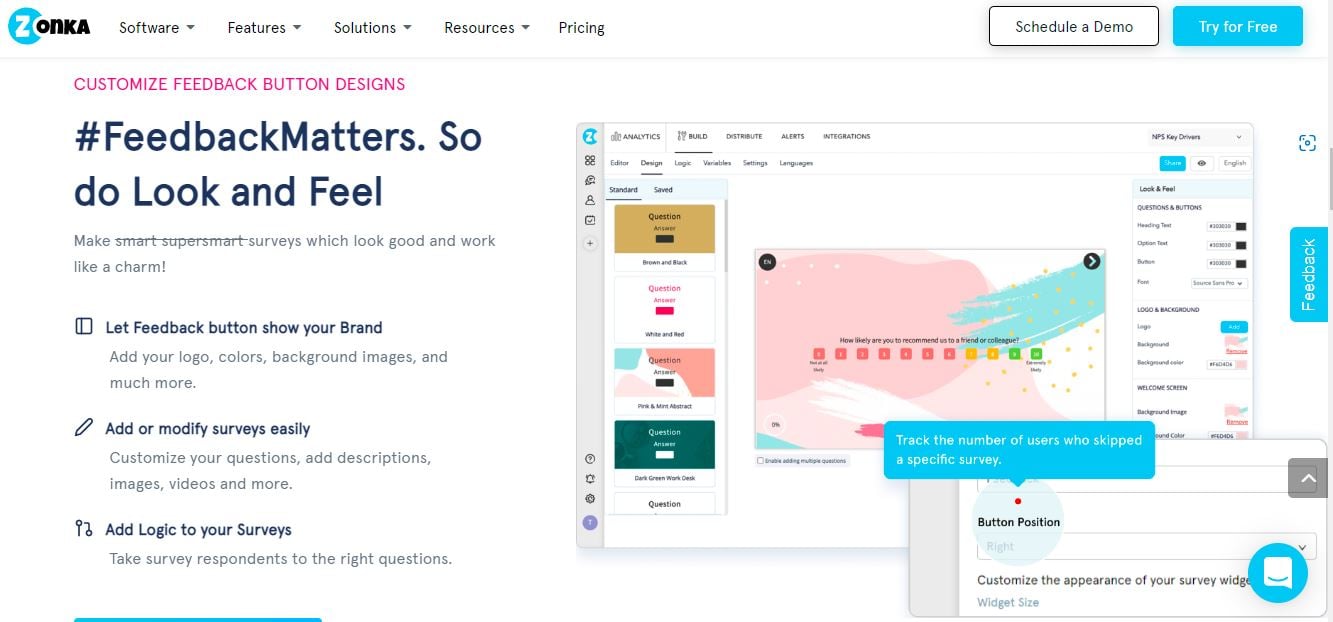 2. Qualtrics
Qualtrics is an easy-to-use website survey tool that allows creating interactive surveys across the customer journey. Its intelligent reporting and analytics are designed to create a powerful business impact.
You can use feedback button website surveys and other feedback widgets in Qualtrics survey software to start collecting website feedback.
Key Features:
50+ survey templates
In-app optimization
Predictive intelligence and analytics
Actionable insights
Drag and drop functionalities for easy survey creation
Rating: 4.8/5
Free Plan: Available
Pricing: Starting from $1500/year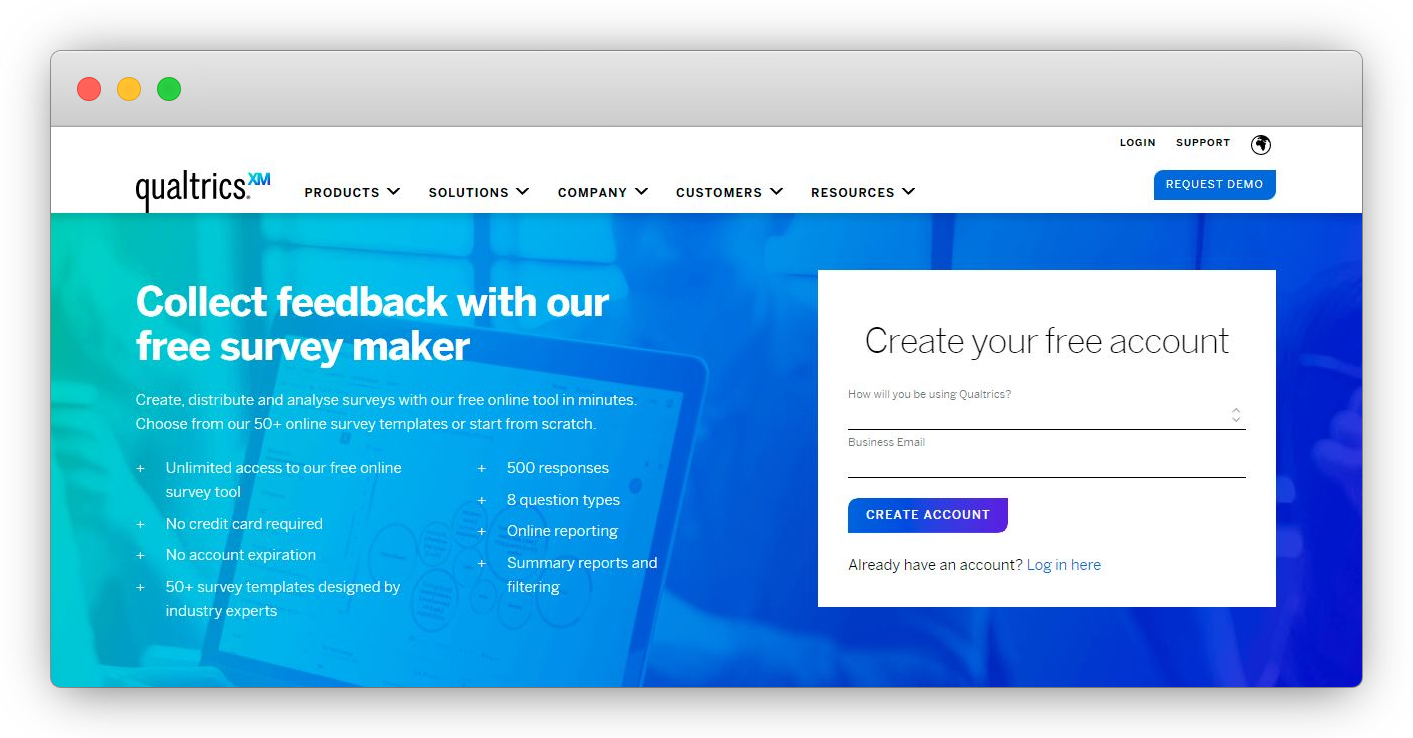 3. SurveyMonkey
SurveyMonkey is a popular survey tool known for its intelligent data management and insightful reports. It offers the website feedback widget feature and also allows embedding surveys directly into the website.
You can also use readymade survey templates for different industries and build surveys effortlessly.
Key Features:
Website feedback button, popup surveys, and embedded surveys
Multilingual surveys
Ready-to-use templates
Intelligent reports with filters
Business tool integration
Rating: 4.6/5
Free Plan: Basic Plan Available
Pricing:
Team Advantage Plan: $25/month
Team Premier Plan: $75/month
Enterprise Plan: Customized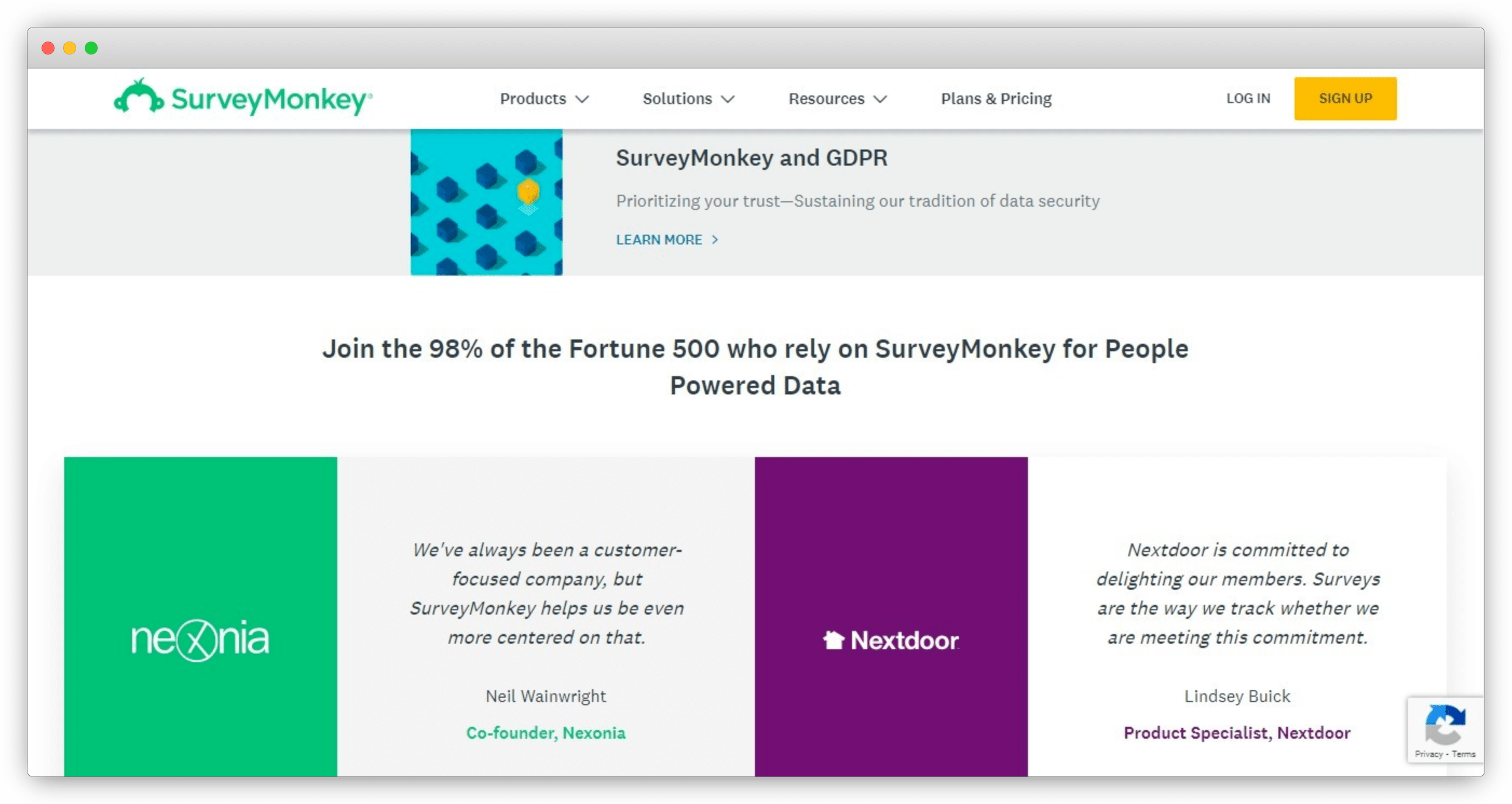 Benefits of a Website Feedback Button
There are many benefits of using a feedback button on website, such as:
Unsolicited Feedback
A feedback button communicates to your users that their feedback is welcome. Not only does it collect feedback at different points in the customer journey, but it also encourages unsolicited feedback and suggestions. This is especially helpful if you're collecting general website feedback where you wish to understand visitors' website experience irrespective of whether or not they make a purchase.
You can use our readymade website visitor online survey form sample to understand how general website usability feedback works. It helps understand if visitors were able to find what they were looking for, liked the interface of the website, found the information helpful, etc. It also consists of CSAT and NPS survey questions to understand the overall customer satisfaction levels.
Uncomplicated
A feedback button doesn't take up any space, which keeps the website clean.
Feedback on Your Own Website
A website feedback button allows you to collect feedback on your own website, without worrying about negative remarks being shared on third-party platforms and social media.
Feedback at Different Touchpoints
You can collect feedback on different pages with a feedback button, and get specific viewpoints in terms of design, product, pricing, navigation, payment, etc.
In-App Feedback
You can add a feedback button directly to your app, which increases the chances of users sharing feedback as opposed to other channels like email, SMS, etc.
You can check out our mobile app feedback survey template to understand how in-app feedback works. It consists of a 5-star rating scale CSAT survey question as well as open and closed-ended questions to gather feedback on various aspects like navigation, speed, functionality, content, look and feel, etc.
Feedback from Unknown Users
Often people would visit your website and leave without sharing contact details or without making a purchase. You can survey such visitors as well and understand what went wrong and what can make users complete their transactions.
How to Add a Feedback Button to Website?
We explain below how you can add a feedback button to your website using Zonka Feedback with just a few simple steps:
Step 1: Create a survey
Go to the survey dashboard and click on Create a Survey. You will be taken to the survey builder, where you can:
Select the survey template on the survey templates page
Edit the survey questions
Choose the question type, such as NPS question, CSAT question, CES question, open-ended question, MCQ, Likert scale, rating scale, emoji scale, etc.
Brand your survey using your logo, "which you can create with a logo symbol generator", background, image, etc.
Add survey logic to make surveys relevant
Add survey duration and progress bar
Add or remove the welcome screen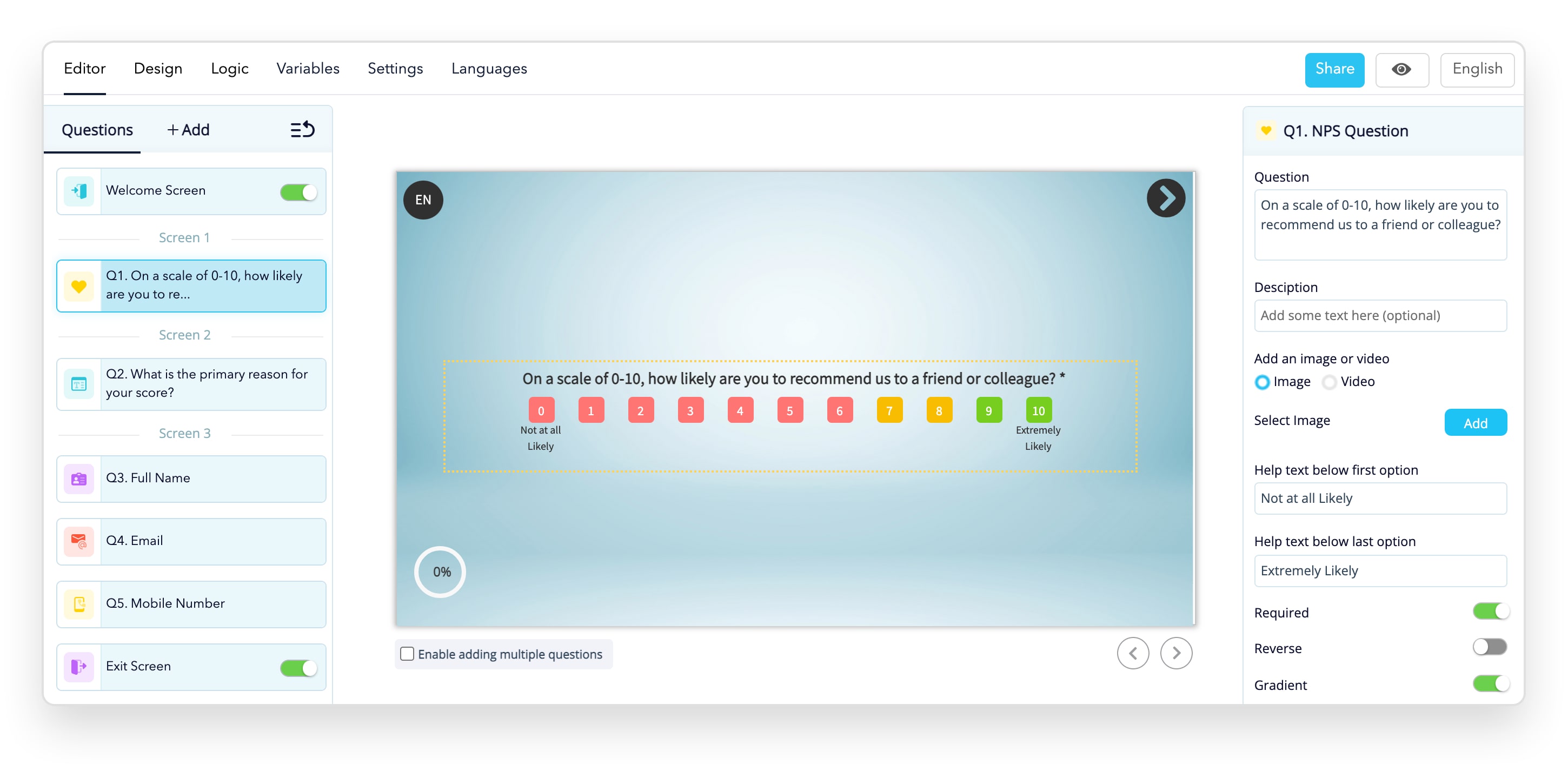 Step 2: Select the feedback widget
Now you will need to choose how you want to share your survey. To add a survey to your website, click on Distribute, and then click on Web.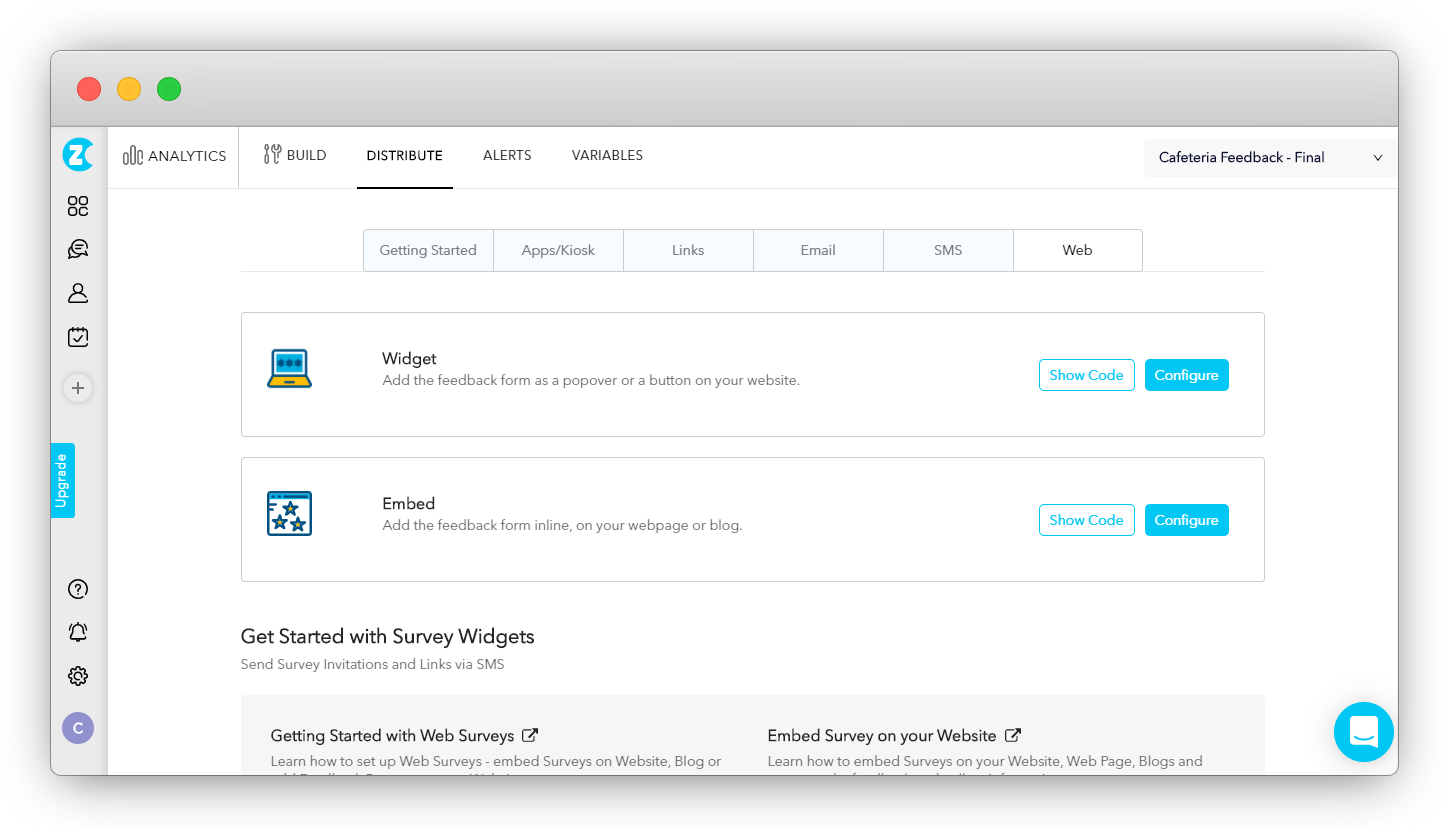 After this, select Widget, which would allow you to choose from different website widgets, including the feedback button.
Select Feedback Button.
Step 3: Customize your feedback button
Once you select the feedback widget, you will be redirected to this screen to configure the widget.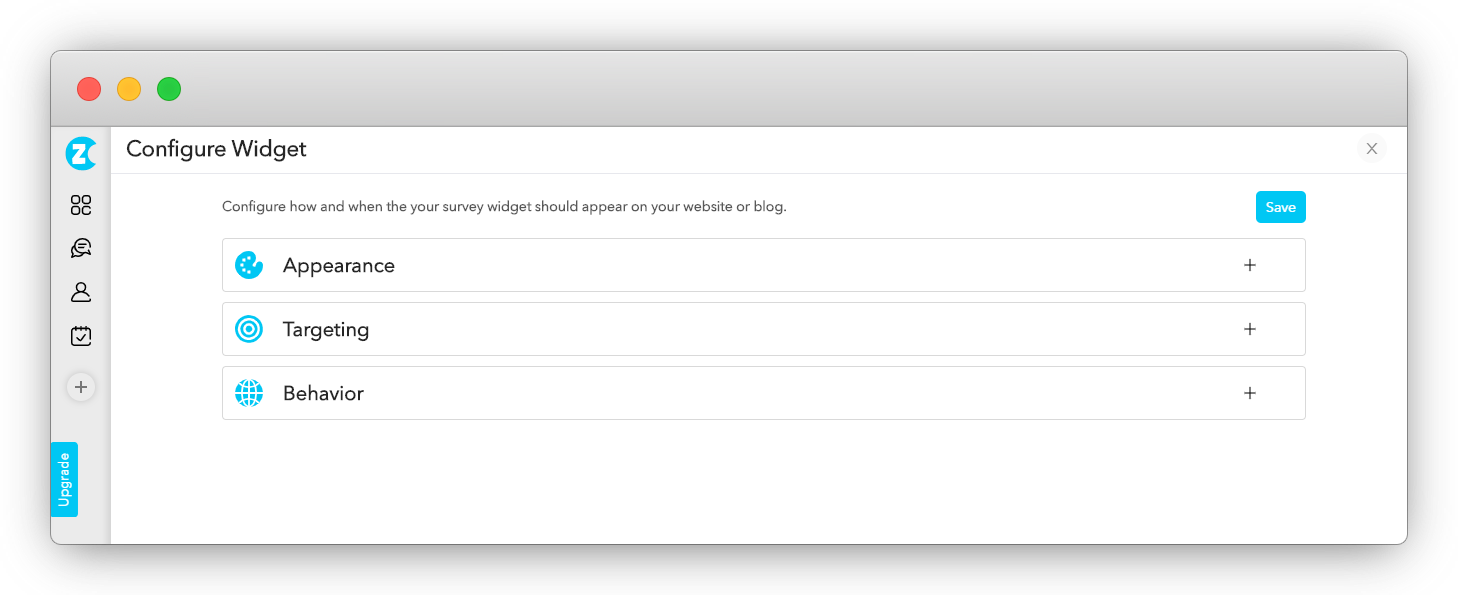 Step 4: Embed ready-to-use code into your website
After you set the feedback button appearance and behavior, you will see a readymade code that you can simply copy and insert the snippet in your website script.
Conclusion
A website feedback button has become more than just a good thing to have on your website. It communicates to your audience that you are listening. It creates a positive brand image, which is extremely critical in brand growth.