A slow and clunky website with inconsistent information and a cluttered interface is bound to push any visitor away within a few scrolls. Let alone exploring your products. This leads to a significant decrease in your conversion and sales opportunities.
Website usability surveys provide valuable insights into visitor's feelings about their website experience. These surveys allow website owners and designers to understand how visitors interact with their site, identify pain points, and gather feedback for enhancements. By asking the right questions, these surveys uncover crucial information about user concerns, preferences, and opinions.
In this blog post, we will delve deep into website usability surveys, covering what they are, why you should implement them, when and where to conduct them, essential survey questions, and best practices to understand visitor behavior and optimize your website's user experience.
TL;DR
Website usability refers to the ease and effectiveness with which visitors can interact with and navigate a website to find information or perform their tasks.

Website usability survey questions can cover various aspects, including design, mobile responsiveness, navigation, etc., and help in reducing bounce rates and conversion barriers by understanding user sentiments and concerns.

You can conduct website usability surveys after a feature update, or post-purchase, to validate content changes, or before launching marketing campaigns and place them on the homepage, landing page, exit pages, or on specific pages with high bounce rates.

Zonka Feedback is an effective website feedback software that can help you create powerful website usability surveys with its amazing features, analyze results using advanced analytics, and take action for closing the feedback loop. You can try it for free for 7 days and or schedule a demo to see how it works for your business.
Start Collecting Visitor Feedback Today
Sign up for Zonka Feedback and start asking your visitors what works for them (and what doesn't) on your website.
What are Website Usability Surveys?
Website usability surveys are used to assess and measure the ease of use, effectiveness, and overall user experience of a website. Website usability encompasses various aspects, including design, mobile-friendliness, page loading speed, content quality, navigation, payment methods, and more.

These online surveys are designed to gather honest feedback, directly from website visitors or users to understand their preferences, suggestions, and pain points when interacting with the site.
If you want to get started with collecting website feedback, here is our website usability survey template that you can explore to kickstart your efforts.
Importance of Website Usability Surveys
If you are wondering why should you conduct your own website survey or usability surveys, here are some major reasons that you should consider.
To Identify Customers' Concerns: Conducting website usability surveys helps you to identify specific issues that visitors encounter while interacting with your website and improve user experience. These concerns may include difficulties in finding information, confusing navigation, or technical issues.

To Reduce Bounce Rates: Website experience surveys can help uncover the reasons behind high bounce rates, such as irrelevant content, slow loading times, or a lack of engagement. Addressing these issues can help retain more visitors and increase user engagement.

To Identify Conversion Barriers: By inquiring about the ease of completing specific actions on the website, such as making a purchase, signing up for a newsletter, or filling out a contact form, you can identify barriers and optimize conversion funnels for maximized conversion rates.

To Understand User Sentiment: By asking visitors about their experience on the website, you can gauge whether they find it enjoyable, frustrating, or neutral. Understanding user sentiment allows for targeted improvements to enhance satisfaction and loyalty.

To Collect Unbiased Feedback: Usability surveys offer an opportunity to capture feedback that is unbiased and unfiltered feedback directly from users. This feedback is valuable because it reflects real user experiences and opinions, helping you make informed decisions about web experience.
When to Take Feedback on Website Experience?
Here are some scenarios where you should implement website surveys to understand visitor behavior and capture customer feedback on the website's usability.
Feature Update: Whenever you introduce new features or functionalities to your website, it's essential to gather feedback from users to assess how these changes are received and if they are able to use the new functionalities.

High Bounce Rates or Low Conversions: If users are leaving your site too quickly or there is a decline in conversion rate, you must conduct website experience surveys to understand usability issues and make improvements to retain visitors.

Before Marketing Campaigns: Ensuring a seamless user experience during a marketing campaign is essential for achieving campaign goals and maximizing conversions. Conducting a website usability survey in advance allows you to optimize the website for campaign success.

Validate Content Changes: Validating content changes through website feedback ensures that the information presented is clear, relevant, and effectively communicates the intended message, enhancing the overall user experience.

Post Purchase Experience: When customers have made a purchase from your website, conducting a website usability survey can help to assess the overall shopping experience, thereby enhancing the buying process, increasing customer satisfaction, and encouraging repeat business.
Important Website Usability Survey Questions to Ask
We have divided the website usability survey questions into categories to help you understand user behavior more with ease. You can also refer to website user experience survey templates to instantly start conducting website surveys.
1. General Usability or Website Experience Survey Questions
The general website usability testing survey is aimed at understanding the overall usability of your website in terms of what the visitors and users like or dislike. It also allows them to share any challenges on the website as well as other suggestions that can improve the overall accessibility or usability of the website and their likelihood of recommending your website to others through Net Promoter Score questions.
Consider these website user experience survey questions to get an idea of customer satisfaction on your website:
What did you like the most or what stood out for you on our website?
Would you like to change anything on our website?
On a scale of 0 to 10, how likely are you to recommend our website to your friends and colleagues?
Did you face any challenges while using our website?
Feel free to share any comments or suggestions you may have.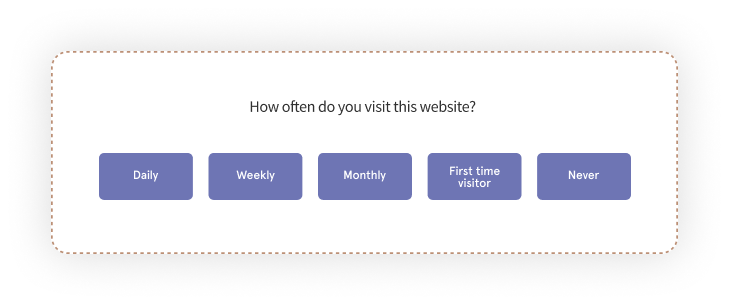 You can utilize this general website feedback survey template to collect valuable feedback on the overall user experience of your website.
2. Design Usability Survey Questions
The majority of first impressions are made based on the website design. So, you must ensure that the users are engaged immediately as they land on your website. We all know designs play an important role so creating a SaaS design of the website would be the best approach to reach the goal.
This kind of website usability survey focuses on the appearance of the website, i.e., the design of the website. The design may include different elements based on your niche, for example, colors, font, size, images, links, buttons, etc.
How would you rate the color palette chosen for our website?
Were you able to clearly differentiate between links and the other content?
How useful and relevant did you find the images?

A website design survey template like this one can come in handy to understand whether the website is appealing and intuitively attractive.
3. Mobile-Responsiveness Usability Survey Questions
74 out of 100 users are more likely to revisit your website if it is mobile-responsive or mobile-friendly. Therefore, you can use these sample survey questions for website usability to understand if users can access it on their smartphones with ease. Here are some website usability survey questions to ask for mobile responsiveness:
How would you rate the usability of our website on your smartphone?
How would you rate the design of our website on your smartphone?
Was the size of widgets and web controls appropriate for your mobile device?
Did the website render fine on your mobile browser?

4. Website Redesigning Survey Questions
Website redesign is done after testing the website and its usability. So, to understand how the overall website is perceived and to highlight the changes or new additions you may need in the next iteration, you can use these five website redesign usability survey questions to gauge customer experience:
How would you rate the usability of our website?
What did you like the most about our existing website?
Could you please help us to know the aspects that you dislike on our existing website?
Is there anything you would like to see on our new website that is missing from our existing website?
We would love to get your suggestions to help us improve our website to make it better for you.

A website redesign survey template like this one can help you to make the most of the website survey and understand user perception on improvements they would like to see.

5. Navigation Usability Survey Questions
Navigation is one of the top elements of a website that determines its performance. It is essential to have the fastest VPS hosting for good navigation and website performance So, you can use these website usability survey questions to find out if the users are able to easily navigate to what they are looking for:
How would you rate the ease of navigation on our website?
Are you able to use all the links on our website?
Do you feel that all the links on our website take you to the right page?
Were you able to easily navigate to your desired page?

6. Content Usability Survey Questions
The content of your website decides whether or not your website is worth spending time on. So, while creating website content, you must ensure that the users get the most accurate information without putting in much effort. To enhance the user experience, consider incorporating a full-speed stream feature that allows seamless streaming of multimedia content. Keep in mind that your users aren't likely to stick around if they need to watch an instructional video just to figure out how the site works — it's essential to keep things straightforward and remove anything your audience considers unnecessary. Effective UX writing is a crucial aspect of ensuring that the content on your website is easily understandable and guides users effortlessly through the desired actions. Add these website usability questions in your survey to cover all feedback in terms of content:
How would you rate the effectiveness of the content on our website?
How useful did you find the content on our website?
Did you find the website content relevant?
How helpful did you find the content on this page?
Were you easily able to find the content you were looking for?
How would you rate content clarity on our website?
How would you rate the conciseness of the content on our website?
Do you agree that the content on our website is presented in the right format?
Do you think the content could have been presented in a better way?
Were you able to play the video inside the website without any extra controls required?
Was the audio clearly audible?
Did you find the speed of the audio optimum to understand the content clearly?

Leverage a website content feedback template like this one to gauge the effectiveness and relevance of overall content on your website.
7. Payment Experience Survey Questions
Users adding items to the cart but exiting without making a purchase because of a payment-related challenge is not uncommon. Sometimes, the payment process may take too long, or a certain payment method may not be available. Such challenges do not only impact the brand image but also impact conversions dramatically.
To eliminate such issues before they drive away potential customers, you can use these payment-related website usability survey questions or utilize a cart abandonment survey template. These website visitor experience survey questions will enable you to capture the true essence of your payment gateway and what issues your visitors are facing while making the payment.
How would you rate the payment security on our website?
How would you rate the availability of payment methods on our website?
Were you able to make the payment quickly without any jitters?
Is there a payment method that you feel is missing on our website?
Based on your payment experience, how likely would you recommend our website to your friends on a scale of 0 to 10?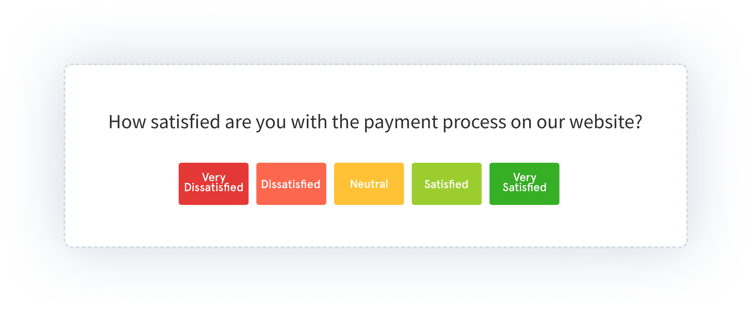 8. Performance Usability Survey Questions
A good website must load quickly and help visitors accomplish their goals without wasting any time. Therefore, you must keep in mind aspects like loading time, image size, etc., to develop a well-performing website
Here are some survey questions for website usability testing to gauge the overall performance of your website:
How satisfied are you with the website loading time?
Were you able to easily retrieve your details on our website?
Were you able to quickly and smoothly save your data on our website?
Have you encountered any technical errors or glitches while using our website?
Did you encounter any issues related to browser compatibility while using our website?
How responsive were interactive elements on our website, such as buttons, forms, and menus?
Based on the overall performance, how likely are you to recommend our website to your friends and colleagues on a scale of 0 to 10?

Best Practices for Website Usability Survey
Creating a website usability survey involves careful planning and execution to gather valuable insights about the user experience on your website. Here are some best practices to consider when designing and conducting a website usability survey:
1. Keep the Survey Short & Focussed
Respondents enjoy giving a survey that is short and focused. Therefore, keeping the website feedback form short and focused is essential to maximize the survey participation rate and gather actionable insights. You should ask only the most important questions that are directly related to your usability objectives. Avoid unnecessary or repetitive questions to prevent survey fatigue.
2. Use a Mix of Questions
Using multiple questions type helps you gather diverse data types and insights. For framing better website survey questions, you can include questions like:
Multiple-Choice: Give multiple-choice questions to respondents with predefined answer options, to make it easier for them to respond and capture quantitative data.

Rating Scales: Use Likert scale survey questions, 1 to 5 rating scale surveys, 1 to 10 opinion scale surveys for measuring customer satisfaction, opinion or agreement.

Open-Ended: Encourage respondents to provide detailed and qualitative feedback with open ended questions.

Yes/No: Use straightforward binary questions for capturing first impressions, ease of completing the task, and technical issues.

Multiple Answers: Allow respondents to select multiple options so that they can share their multiple experiences and give more accurate insights.
3. Utilize Conditional Survey Branching
Survey logic and branching allow you to tailor the survey questions based on a participant's previous survey responses. For instance, if users indicate that they fall into the first-time website visitors category, you can skip questions related to previous interactions with the website. This makes the survey more relevant to each participant and minimizes unnecessary questions.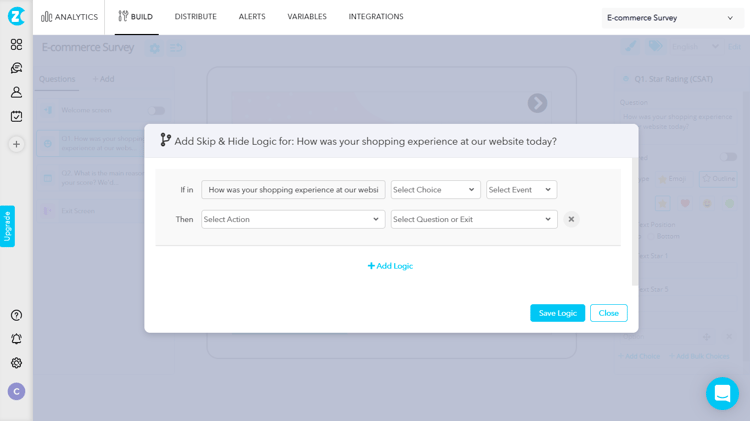 4. Optimize for Cross-Device Accessibility
Before launching a website usability survey, it's crucial to ensure that the website usability survey tool is optimized to work seamlessly across various devices, including mobile devices, tablets, and desktop computers. Doing so will help you reach a wider audience regardless of the device participants choose to use, thereby boosting response rate.
5. Test your Survey
Before deploying the website usability survey questions to a wider audience, it's essential to test it thoroughly. Testing helps identify and address any issues with question wording, technical glitches and redesign survey questions' flow.
You can perform pilot testing with a small group of users, technical testing to ensure that the survey functions correctly on various web browsers and devices or accessibility testing to verify that the survey complies with accesibility standards.
Where to Collect Feedback on your Website?
Running a survey on your website requires careful consideration not only of the questions you ask but also of where you position those questions. For instance, while a landing page is ideal for inquiring how users discovered your site, it may not be the optimal location for gathering feedback on the purchase experience.
Let us look at the places where you can put your surveys on the website:
1. Homepage
Your website's homepage serves as the initial point of contact for visitors when they click on your website's URL. You can leverage the homepage to make a good first impression and understand what they think about your website.
You can include these questions on the homepage survey:
What brought you to our website today?

How did you first hear about us?

What caught your attention first when you landed on our website?

Did you find the information you were seeking?
If you think adding a website usability survey on the homepage would be too evasive, you can leverage feedback widgets like a website feedback button or popup surveys that won't disrupt the user's journey while they explore your website.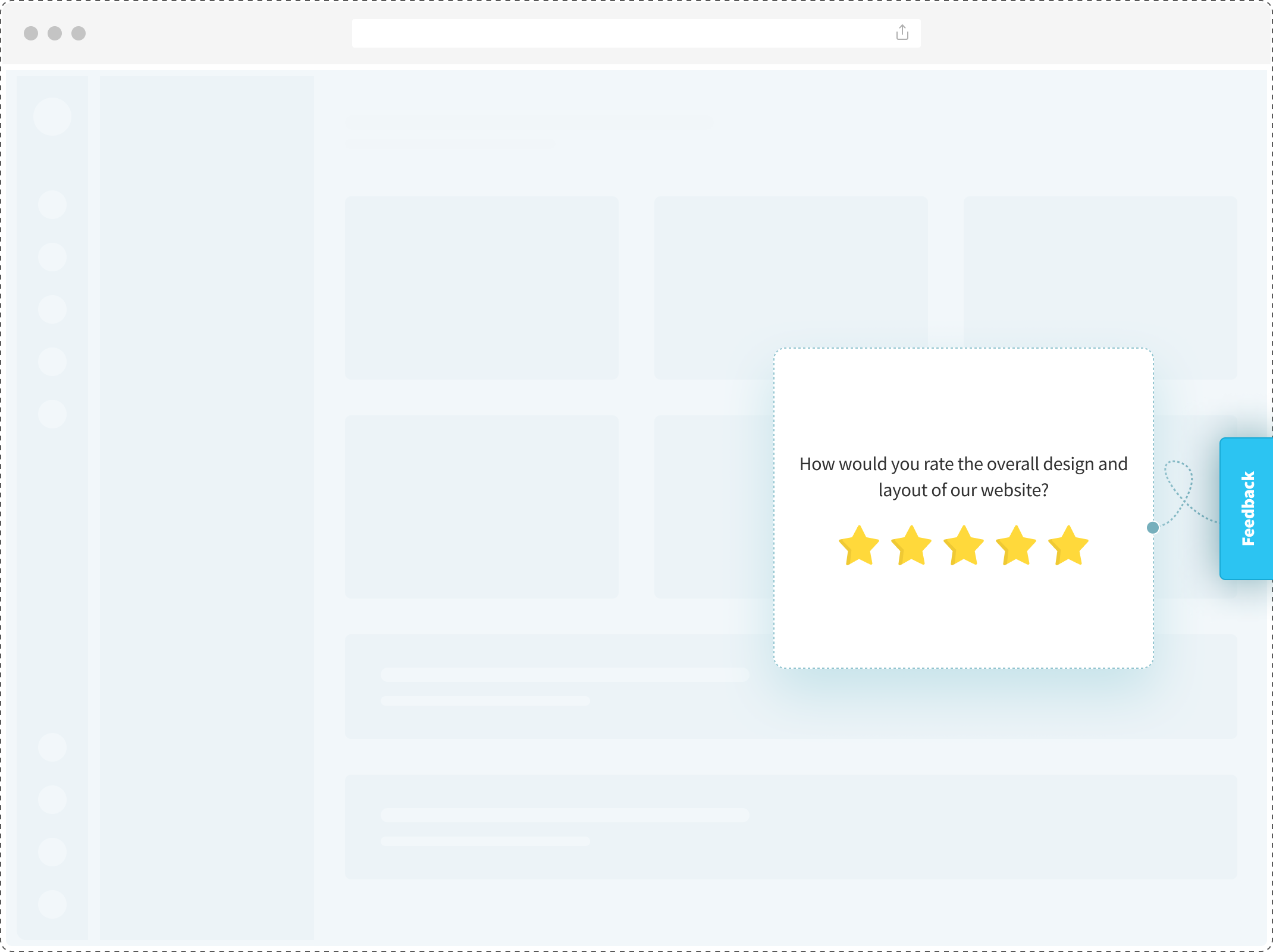 2. Post-Purchase or Price Page
A feedback survey post-purchase or on the pricing page can help you understand visitor's perception of your product's pricing and how it compares to competitors. You can leverage post purchase survey template to assess the purchase experience, appropriateness of your pricing strategy, and its impact on your customer base's growth.
In payment survey questions within the post-purchase survey, you can ask questions like:
Do you believe our pricing offers good value for the features and benefits you receive?

How satisfied are you with the pricing of our product?

How can we improve our pricing page?

How would you rate your purchase experience with us?
3. Landing Page
Landing pages serve as targeted entry points to your website and play a critical role in conversions. It is specially created to draw visitors to specific sections of your website, such as essential pages like pricing or product tours.
You can analyze the performance of your product features, pricing, or even messaging strategy by using website feedback survey questions on the website landing page. Add these website usability survey questions to your website experience surveys:
Did you find the product information on this page clear and informative?

Were you able to understand the key features and benefits of our product?

On a scale from 1 to 5, how satisfied are you with your experience on this landing page?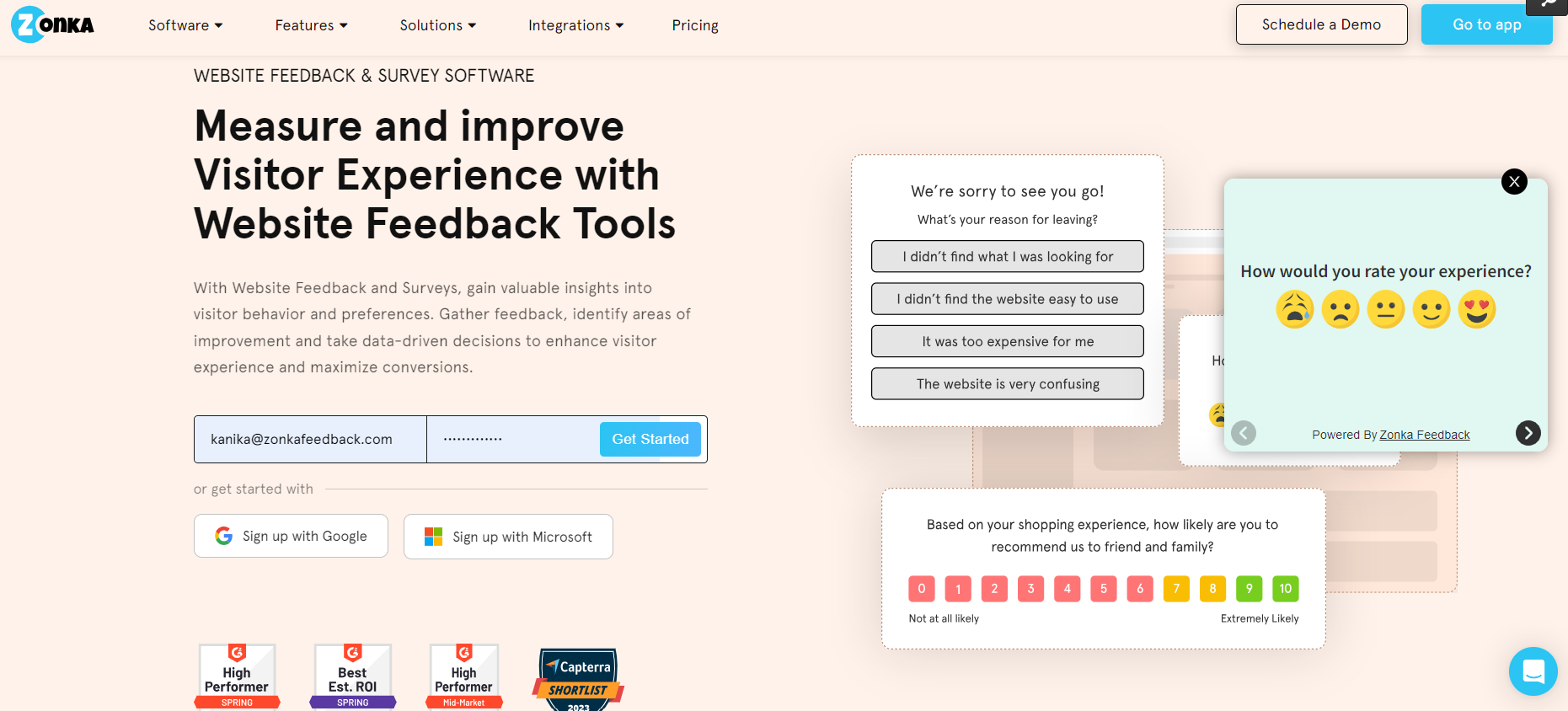 4. Exit Page
If your customers are leaving your website, it is vital that you try to understand the reason and take immediate action to prevent its occurrence. Website experience surveys on the exit page can provide valuable insights into visitor behavior and concerns.
On the exit page, you can ask questions like:
What led you to leave our website today?

Was our website's performance (e.g., speed, functionality) satisfactory during your visit?

Why did you not complete your purchase?

Is there anything we can do to make your experience better?"
You can leverage our exit intent survey template to gauge the reason behind customers abandoning your website.
5. On Pages with High Bounce Rate
Collecting feedback on pages with high bounce rates means strategically placing feedback surveys only on web pages where a significant number of visitors quickly leave without taking further action. This feedback helps uncover why users are leaving, whether due to usability issues, irrelevant content, or other concerns.
By understanding these reasons, you can make necessary improvements to retain visitors and enhance the overall user experience on those pages.
Conclusion
While choosing the right website satisfaction survey questions to test website performance usability is important, it is equally important to understand first what you are looking to measure and then choose the right questions as per your survey requirements.

If you're looking at getting started with your Website Surveys, sign up for a free trial with Zonka Feedback to choose from different website feedback survey templates and questions and start measuring website feedback.