A website feedback form is a powerful tool for businesses that operate online. That's because the user feedback not only gives insights into how your product(s) is perceived, but it also helps understand how to:
Create a website that is easy and attractive for your audience
Eliminate problems that are causing a high bounce rate
Increase website conversions by improving the visitor experience
However, a static feedback form lying in a corner of your website pages may not do the job. To collect insightful feedback, you need a bit more creativity. Thankfully, there's a lot you can do with website surveys to make feedback sharing easy and feedback data impactful.
Start Collecting Visitor Feedback Today
Sign up for Zonka Feedback and start asking your users what works for them (and doesn't) on your website.
In this article, we talk about how you can use a website feedback form intelligently to capture more as well as relevant feedback. Let's get started.
10 Website Feedback Form Ideas
Create Separate Page-Specific Surveys
Find Out the Reason for a High Bounce Rate with an Exit Intent Survey
Take Product Feedback
Use Lead Magnets to Get Leads with Feedback Forms
Use Time-Delayed Popups to Improve Experience
Use a Floating Feedback Button
1. Create Separate Page-Specific Surveys
There are different purposes of a website, including sales, monetize a blog, branding, promotion, lead generation, etc. Therefore, you can use a website feedback form in different ways and add surveys to different pages to collect the most specific feedback.
For example, to understand what's contributing to the website traffic, you can add a feedback form on the home page with a couple of questions like how did you hear about us?
To get feedback on a blog post or piece of information on the website, you can use a thumbs up thumbs down survey so visitors can share if they found the information helpful.
To get feedback from visitors after they make a purchase, you can add a shopping experience survey template on the order confirmation page.
You can use a feedback form for the website to achieve different goals. All you need to do is identify the touchpoints where you can collect important feedback.
2. Find Out the Reason for a High Bounce Rate with an Exit Intent Survey
A high bounce rate is a common problem that website managers often have to tackle. But with website exit intent surveys, you can understand the reason for a high bounce rate directly from your visitors. While you can take post transaction feedback if the visitor makes the purchase. In case they don't, an exit-intent survey comes handy.
An exit intent survey is a website popup survey that pops open when the visitor is about to exit the website without making any transaction. It consists of a survey question that simply asks visitors what's driving them away from the website. Here is an example of a website exit intent survey question.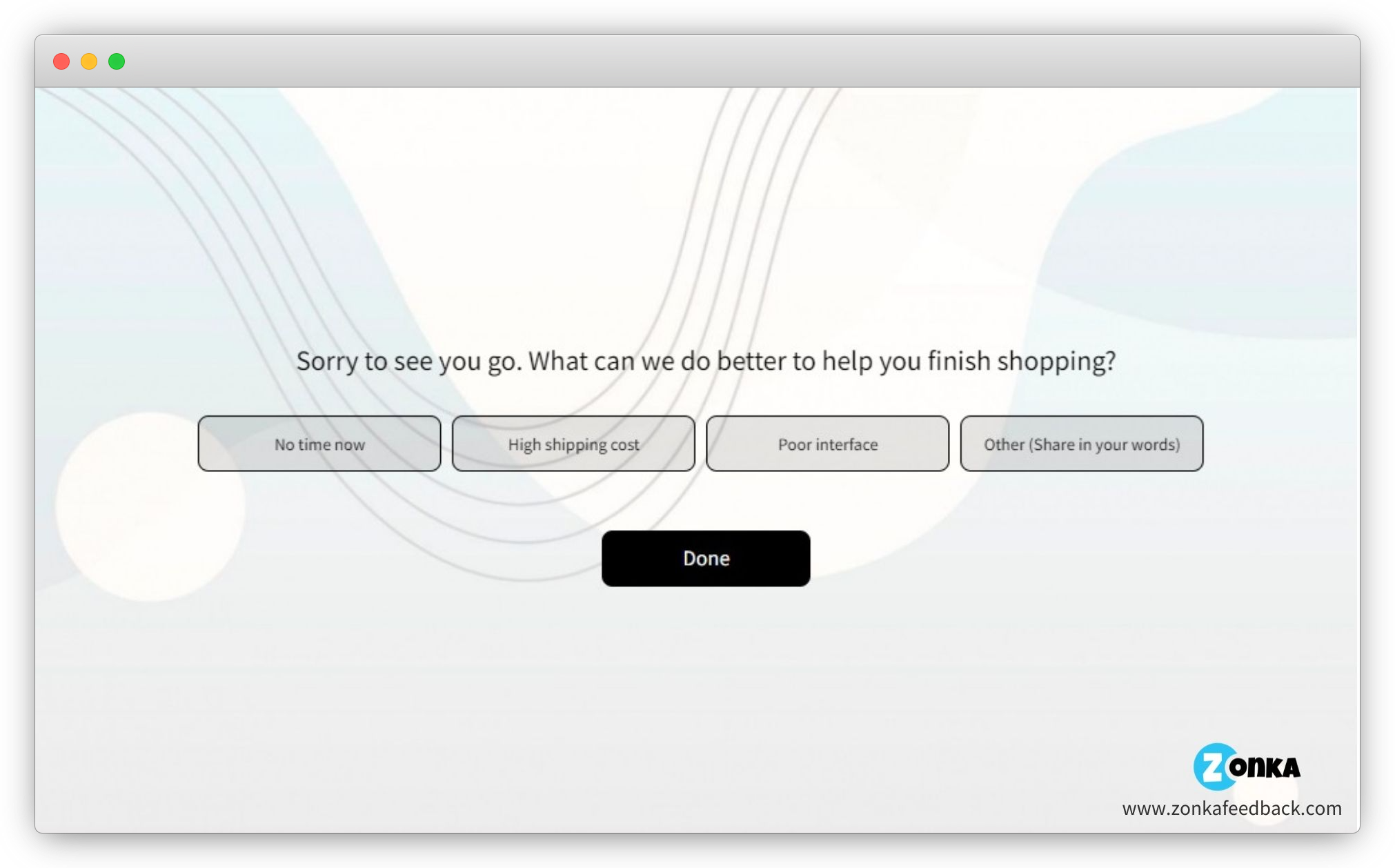 You can also check out these questions for your website exit intent surveys:
What's stopping you to make a purchase with us today?
What can we do better to help you complete your shopping?
We see that you didn't place an order. Can we help?
In case they do complete the transaction, you can conduct a post-transaction survey to measure their experience related to the transaction.
3. Take Product Feedback
A website feedback form is a great tool to understand how satisfied your customers or audiences are with your product and how you can improve. For example, if you sell a SaaS product, you can add a website or in-app survey alongside the features you wish to take Product feedback on.
Let's say that you wish to collect feedback on the survey builder in our survey tool, you can set a popup survey to be triggered as soon as the user is done creating their first survey. Similarly, if you're looking to capture feedback on the automation features, you can embed a survey into the automation page.
Here are some examples of website feedback form questions that can help in conducting a product review survey:
Please rate the overall satisfaction with our product.
How easy or difficult it was to use our SaaS product?
How intuitive is our mobile app on a scale of 1 to 10?
With the feedback, you can understand what is performing well and what needs more attention.
4. Use Lead Magnets to Get Leads with Feedback Forms
A website feedback form can do a lot more than collect feedback. You can create a simple form that can turn your lead generation game around. However, most visitors may not be willing to share their contact information. So, you can create lead magnets and use feedback forms to quickly capture leads.
For example, a beauty and healthcare service website may have a lead generation form to prompt users to share their contact information for a free therapeutic spa session. You can set an automatic email with the free spa coupon to be sent as soon as the user enters their information in the lead generation survey response field.
In Zonka Feedback, you can enable auto-responses based on action. This means that you can trigger follow-up emails based on the feedback you have received.
In this case, you can create an email template with the coupon code and automate it using our Auto Responder feature:
5. Use Time-Delayed Popups to Improve Experience
When visitors spend some time on your website, it may mean that they have either found what they are looking for or are willing to spend more time learning about your business and offerings. You can improve their experience by proactively offering help which, again, may not be possible with a static form lying at the bottom of a website page.
So, you can use one of the most creative ways to collect feedback on website – a website popup survey with a pre-specified time delay so that users do not get a pop-up interrupting their experience as soon as they land on your website. A time-delayed website feedback form inside a pop-up can be used to politely offer assistance after the users have some idea and know enough to seek help from you.
Here's how you can use Zonka Feedback website feedback widget to set a time-delayed popup survey: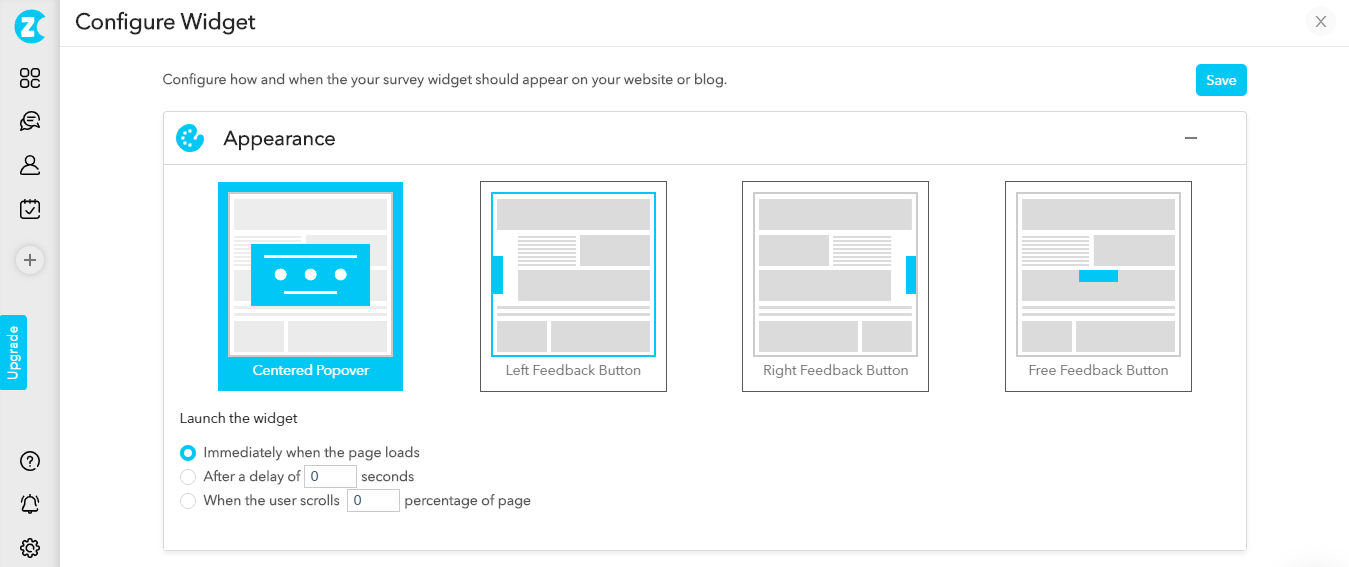 6. Use a Floating Feedback Button
A website feedback button is a simple yet effective website feedback widget. It doesn't take up a lot of space on your website and opens a survey popup to let users share feedback.
But, if the feedback button on your website is sitting in some corner, it may go unnoticed. However, a floating feedback button stays consistently on the screen even when the user scrolls away. This means that your website visitors can click the feedback button and share feedback instantly any time they come across a challenge.
This can encourage users to share unsolicited feedback, which may also end up helping you understand more about what your audience is looking for and align your offerings with their expectations.
Conclusion
There are different ways to use website feedback surveys like a side tab button, an embedded survey, a popup survey, etc. And you can use a website feedback form to capture any kind of feedback, for example, cart abandonment feedback, exit intent feedback, product feedback, purchase feedback, etc. So, make sure you know what you're looking to accomplish using surveys and you will be able to make the best use of feedback forms.
Zonka Feedback offers hundreds of survey templates that you can use to create your own website forms that are attractive as well as intelligent. Moreover, with features like customizable triggers, integration with CRMs & communication tools, and much more, you can strengthen your customer database and close the feedback loop efficiently.