Every successful business tries to follow a customer-centric approach to retain its existing customers. It's important because it's a costly affair to attract new customers than retain the existing ones. Moreover, it's an easy process to convince them to become your brand advocates that will further help you in spreading positive word-of-mouth.
As per Gartner Group, 80% of your company's future revenue will come from just 20% of your existing customers.
So, instead of spending more time and effort to attract new customers, first, try to create and implement workable strategies that can help you identify the exact reasons and reduce Customer Churn to ensure that no customer leaves in the future because of the same reasons. Doing so will help you build credibility and trust in your customers and improve your brand reputation.
Understand what makes your customers leave— and how to make them stay

🔥
With NPS and other surveys, prevent churn, leverage promoters and improve customer loyalty.
Main Reasons behind Customer Churn
There are numerous reasons that can lead to Customer Churn, and they are not always known. Try to gather and analyze Customer Feedback to understand why your consumers have stopped using your products and services. Accordingly, you can revamp the business processes that can help you strengthen your relationship with the existing customers. Let's try to understand some of the common causes of Customer Churn that every organization faces and the ways to combat them.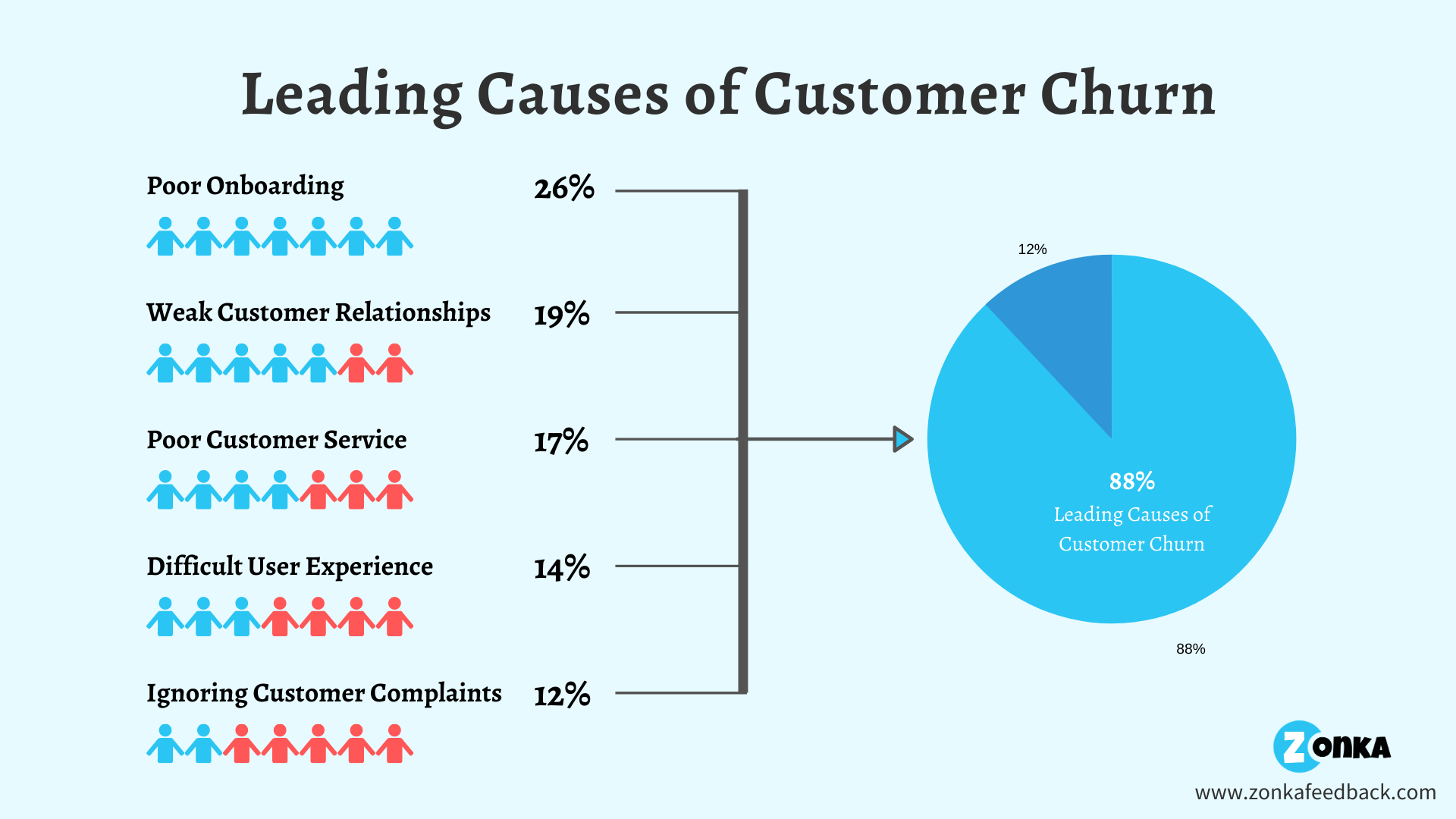 1. Poor Onboarding
One reason behind customer churn is when your customers don't find your products valuable. If your consumers are not finding the products, services, or software valuable, then it might be because they are not able to locate or understand features. This happens mainly due to poor onboarding, where you don't guide your new customers properly on how to use products and services.
A great customer onboarding process is vital to ensure Customer Satisfaction. On the contrary, poor onboarding can affect your business growth. Exceeding your consumer's expectations will keep them loyal to your business. For instance, Slack uses tooltip to guide its users about their features.
As per a study from Harvard Business Review, focusing on onboarding offers can have a significant positive impact over the life of the contract for revenue, contract renewals, and client referrals.
Key Tips to Fix this Issue:
Learn everything about your consumers and streamline the onboarding process for them
Simplify your Product Setup process and educate your consumers with the help of Guides
Create engaging how-to videos and informative knowledge base to ensure they are fully aware of the product features.

online video editing tools like

Canva

to develop stunning videos to kick your video marketing up a notch.
2. Weak Customer Relationship
Engaging with your customers and maintaining healthy relationships with them should be an ongoing process. It's not a one-time activity. You need to follow a proactive approach and listen to the voice of your customers to make them feel that you value their opinion. How can you do that? Connect with them in every possible way and on multiple channels.
Studies show that CX leaders in the technology industry spend 36% more time building customer relationships, and monitoring tech adoption than CX learners.
Key Tips to Fix this Issue:
Measure all important Customer Experience metrics
Send newsletters to increase the level of engagement
Send an invite to your product launch, event or webinar
3. Poor Customer Service
What's the one thing that can make or break your business? Bad customer support service. It can make your customers leave. They are precious for your business; don't ignore them.
If you deliver great products and services but don't focus on customer support, then it's going to cost you a lot of money in the long-run. For instance, if a customer has to go through a long process to connect to a customer rep, then it can lead to high churn rates. To prevent these issues, you need to provide prompt and responsive customer support.
Almost 9 in 10 customers have abandoned a business because of a poor experience.
Key Tips to Fix this Issue:
Make your employees happy. Satisfied employees will provide great customer support
Make self-support easy. Add AI Conversational Chatbots to your website
Keep track of response times and satisfaction ratings. Make use of data to enhance products or services
4. Difficult User Experience
Most of the time, a product will have all the core functionalities, but still, it doesn't satisfy your consumer's requirements. Do you know why? It's because of bad user experience.
A great Customer Experience covers a range of activities, from the voice of the customer (VoC) to customer journey mapping and user experience. Between 49% and 56% of marketers said their functions are solely responsible for these activities.
Many businesses realize over time that consumers download the application, install it, but stop using them over a period of time. What's the reason behind it? It could be because they might not be aware of how to use a product, or the product features are too complex to understand. Always keep in mind while developing any application that great user experience design is the backbone of every application.
Key Tips to Fix this Issue:
Enhance products by implementing UX design principles to improve customer retention
Conduct competitor product analysis to learn more about the best practices
Simply the UI process and fix accessibility issues faced by the consumers
Add appropriate CTA buttons
5. Ignoring Customer Complaints
Do you know what makes your customers more frustrating? Not responding and proper handling of their complaints. If they are complaining about their issues over and over again and your lack of responsiveness behavior will make them feel more frustrated and eventually will result in churn.
Complaints play a vital role to find out the loopholes in your products and services. Treat your customer's issues as a reality check for your business. If they have issues and you are not addressing them on time, then you could be missing an opportunity to strengthen your relationship with them.
As Alen Weiss states in his book, Million Dollar Consulting, ask your customers to be part of the solution, and don't view them as part of the problem.
Key Tips to Fix this Issue:
Escalate problems to the right teams
Respond and resolve issues quickly
Apply feedback to improve processes, products, and services
Conclusion
Churn is an important metric that's directly related to revenue and gives statistical data about your retained customers; that's why every business must understand the issues that lead to churn and fix them. Remember, you need to resolve churn before it becomes a huge problem. It will help if you are proactive in nurturing your existing customers throughout their journey. But if you are facing issues to engage with them, then you can make use of Customer Experience and Feedback Management Tools to gather valuable insights, keep track of their responses, and take appropriate action to prevent Customer Churn.