Your website plays a great role in the success of your business. Website feedback is the way to ensure that your website is working well for your customers and website visitors, and a good website feedback tool helps you do that.
However, choosing the right tool for your business is tricky! Especially, with so many website feedback and online survey tools available in the market.
In this article, we will explore some of the best free and paid website feedback tools available in the market from which you can choose the one that best suits your business requirements. We will also talk about how these feedback tools help you. Let's get started!
TL;DR
A website feedback tool is an application software that helps you to create and share website surveys to collect feedback from your customers, website visitors, and users, directly from your website through various ways like web embedded surveys, popup surveys, sliders, and feedback buttons.

We are exploring some paid as well as some free website feedback tools so that you can select the one that suits the most to your business requirements.

There are many free and paid tools available in the market like Zonka Feedback, Qualaroo, Marker.io, Feedbackify, SurveyMonkey, Zoho Survey, Hotjar, Crowdsignal, and more with various features and functionalities.

To choose the right survey tool, you should explore its features, take your survey needs and business requirements into consideration, and see which one suits you the best as per your requirements and priorities.

Zonka Feedback is an effective website survey software and app that has all the useful features that most businesses require to collect website feedback and improve the experience of customers and website visitors. It also offers a free trial. You can try it for free for 7 days or schedule a demo to understand how it can work for your website.
Measure Website Feedback & User Insights
With Website Feedback Surveys, understand what visitors need and learn ways to delight them.
Top Website Feedback Tools You Can Use
In today's digital age, having an effective website is crucial for the success of any business. However, simply having a website is not enough. It is equally important to gather feedback from your customers and website visitors in order to understand their preferences and improve their overall experience. Thankfully, there are several website feedback tools available that can help you achieve this.
By using these software and survey apps, you can:
Check your website's usability and make it more friendly and useful for your customers and website visitors.
Collect content feedback from the readers of your blogs, articles, and other information available on your website.
Gauge the buying experience of your customers who make purchases using your website.
Share exit intent surveys to the leaving visitors to know the reason for their leaving and make efforts to retain them.
Let's explore some useful tools that you can use for these purposes.
1. Zonka Feedback
Zonka Feedback is one of the best tool for website surveys that businesses use for gathering feedback from their customers and website visitors to collect valuable insights into user behavior and preferences. The feedback tool helps in creating surveys, sharing surveys, as well as working on the feedback data collected to improve customers' website experiences and enhance satisfaction.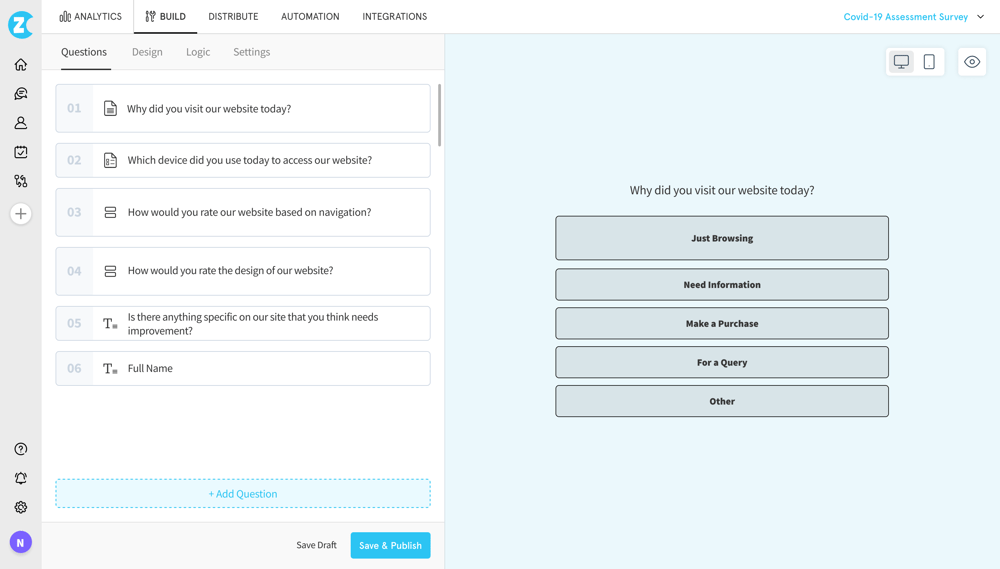 Features
100+ ready-to-use survey templates (AI-powered) and question types
Feedback widgets to share surveys - popup surveys, feedback buttons, slide-up surveys, and bottom bars
Website-embedded surveys to gather contextual feedback
Capturing blog feedback, article feedback from readers
Trigger surveys at various touchpoints of the customer journey - onboarding, purchase, customer interaction, exit intent surveys, and more
Bug reports

Real-time alerts and notifications for feedback and negative feedback (as per criteria set by you)

Sentiment analysis
Advanced analytics and reporting capabilities
Integrations with popular tools like HubSpot, Zendesk, Salesforce, Slack, Google Sheets, Mailchimp, and more.
Pricing
It offers various plans.
Starter plan costs $49/month.
Professional plan costs $99/month.
Growth plan costs $199/month.
Enterprise plan is a custom plan, price varies as per your requirements.
It also offers a free trial of 7 days.
2. Qualaroo
Qualaroo provides innovative solutions for gathering actionable insights from website visitors through targeted surveys and feedback forms. This is one of the best customer feedback tools that can help you gather feedback from your visitors right on the website without any hindrance.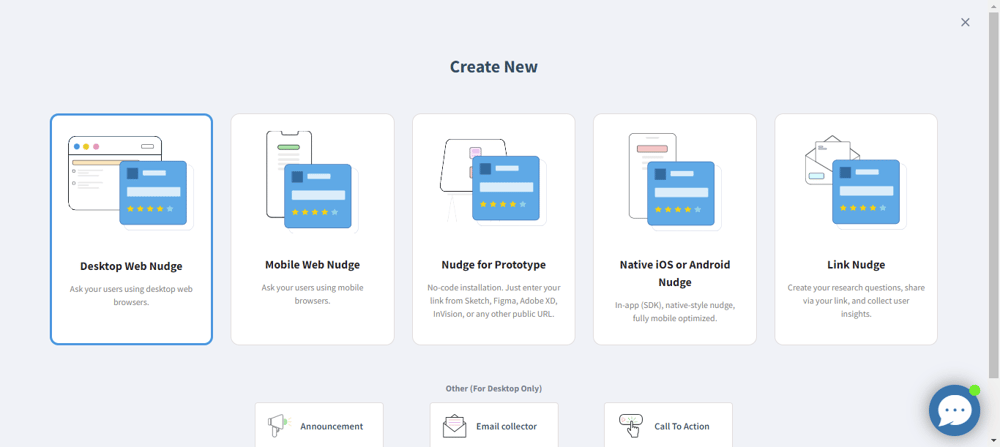 Features
Qualaroo Nudge, unobstrusive targeted surveys to gather customer feedback at the right moment
Intelligent question branching
Professional templates and 10 question types
Question or decision branching
Adding customer feedback surveys on website through simple codes
Prototype testing
AI-powered analytics and reporting
Integrations with other tools like Zapier, HubSpot, Optimizely, Livechats, and more
Pricing
Qualaroo offers three plans viz. Essentials, Premium, and Business. Pricing starts from the Essentials plan which costs $69/month. It also offers a free trial for 15 days.
3. Survey Anyplace or PointerPro
Survey Anyplace stands out with its interactive and customizable surveys and quizzes, making website feedback collection engaging and informative.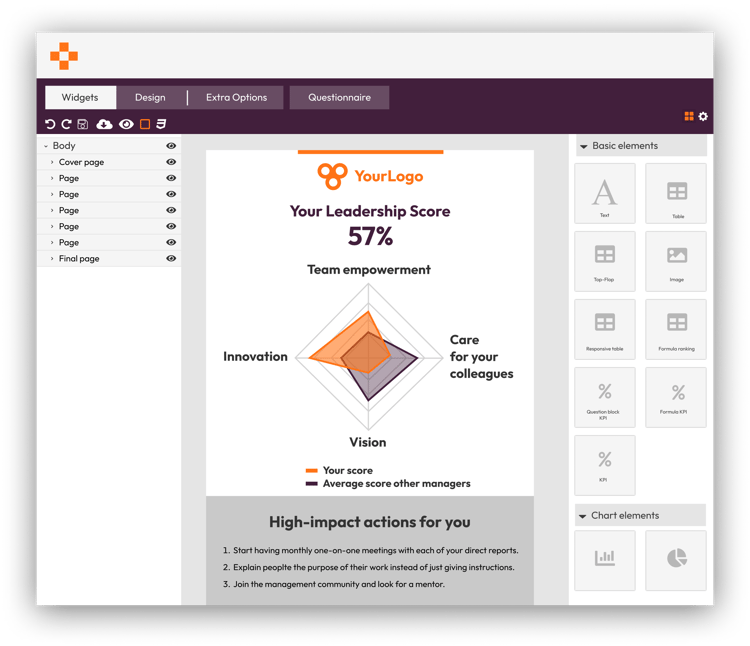 Features
Dynamic questionnaire design
Interactive website widgets to collect survey visitors
Comprehensive analysis and real-time reporting
Automatic PDF generation
API and Integrations
24/7 customer support
Pricing
The price of Survey Anyplace starts from $33/month for its Essential package. It also offers a free trial for 7 days.
4. Formstack
Formstack is a versatile website feedback tool and workplace productivity platform that simplifies the creation and collection of custom feedback forms, making it easy to gather valuable insights from website visitors for improving user experiences.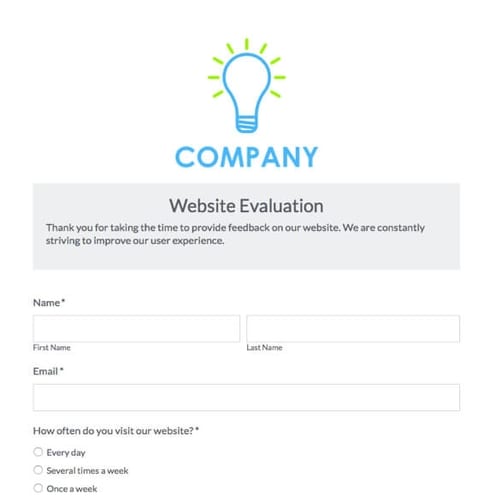 Features
Embedding surveys on the website
No-code drag-and-drop survey builder
Ready-to-go templates and 15+ question types
Conditional logic, conversion kit, and one-question-at-a-time surveys
Various professional themes, designs, and CSS tools to create surveys
Email confirmations and notifications of responses
A/B testing, partial survey submissions, and field bottlenecks to track abandonment
Automatic assignment of tasks through customer feedback to relevant teams
Analytics, filters, and reporting with presentable charts and graphs
Pricing
Pricing starts from $50/month. It also provides a free trial for 14 days.
5. Marker.io
Marker.io is an innovative and one of the best website feedback tools specializing in visual feedback collection. It simplifies the process of reporting and resolving issues on web pages by allowing users to capture and annotate screenshots, making communication and collaboration for website improvements efficient and visual.
Features
Detailed bug reports
Website annotations with screen captures
Feedback widgets with options to customize with your own color and branding
Collaboration with access management
Issue tracker and guest portal with an overview of previously reported issues
Session replay to watch what your clients did before submitting a particular customer feedback
Console recording to record the errors your website users face
Javascript SDK to have a control of your widget
Integrations and ability to be installed on your CMS
Pricing
The Starter plan of Marker.io costs $39/month. It also offers a free trial for 15 days.
6. Pulse Insights
Pulse Insights is an enterprise-level voice of customer and website feedback platform that focuses on collecting contextual feedback and customer insights and understanding customers' pulse through microsurveys and pulse surveys.
Features
Pulse surveys with 1-2 targeted contextual questions
Linked qualitative and quantitative data
Advanced sentiment analysis
Microsurveys to collect customer feedback about specific touchpoints
Unobstructive feedback widgets which to capture feedback and user opinions
Advanced reporting and data extracts
AI and NLP (Natural Language Processing) to find information from unstructured data
Deep enterprise integrations
Track campaign performance in real time
Pricing
The pricing of this tool is only available on personal request.
7. WebEngage
WebEngage is a comprehensive marketing automation and customer engagement platform that specializes in personalized communication across multiple channels. It empowers businesses to build meaningful customer relationships, gather customer feedback, and optimize user experiences through data-driven insights and targeted interactions.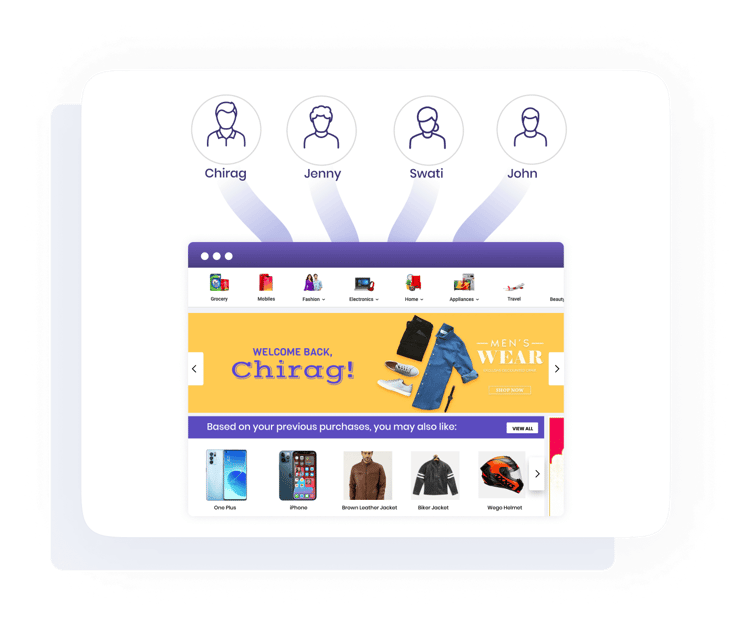 Features
Customizable feedback surveys with ability to add custom categories and design
White labeling and branding of surveys
Embedding of feedback survey window on website
Ability to trigger survey popups as per conditions set by you
Real-time analytics and response reports
Easy integrations
Multilingual support of 6 languages
Dashboard and admin access management
Pricing
Pricing is not available on the website. However, some resources suggest that it starts from $199/month.
8. Feedbackify
Feedbackify is a user-centric website feedback platform that you can use to reveal customer emotions and sentiments effortlessly from your website's audience. It empowers you with customizable feedback forms and surveys to enrich user engagement and inform your strategic decisions.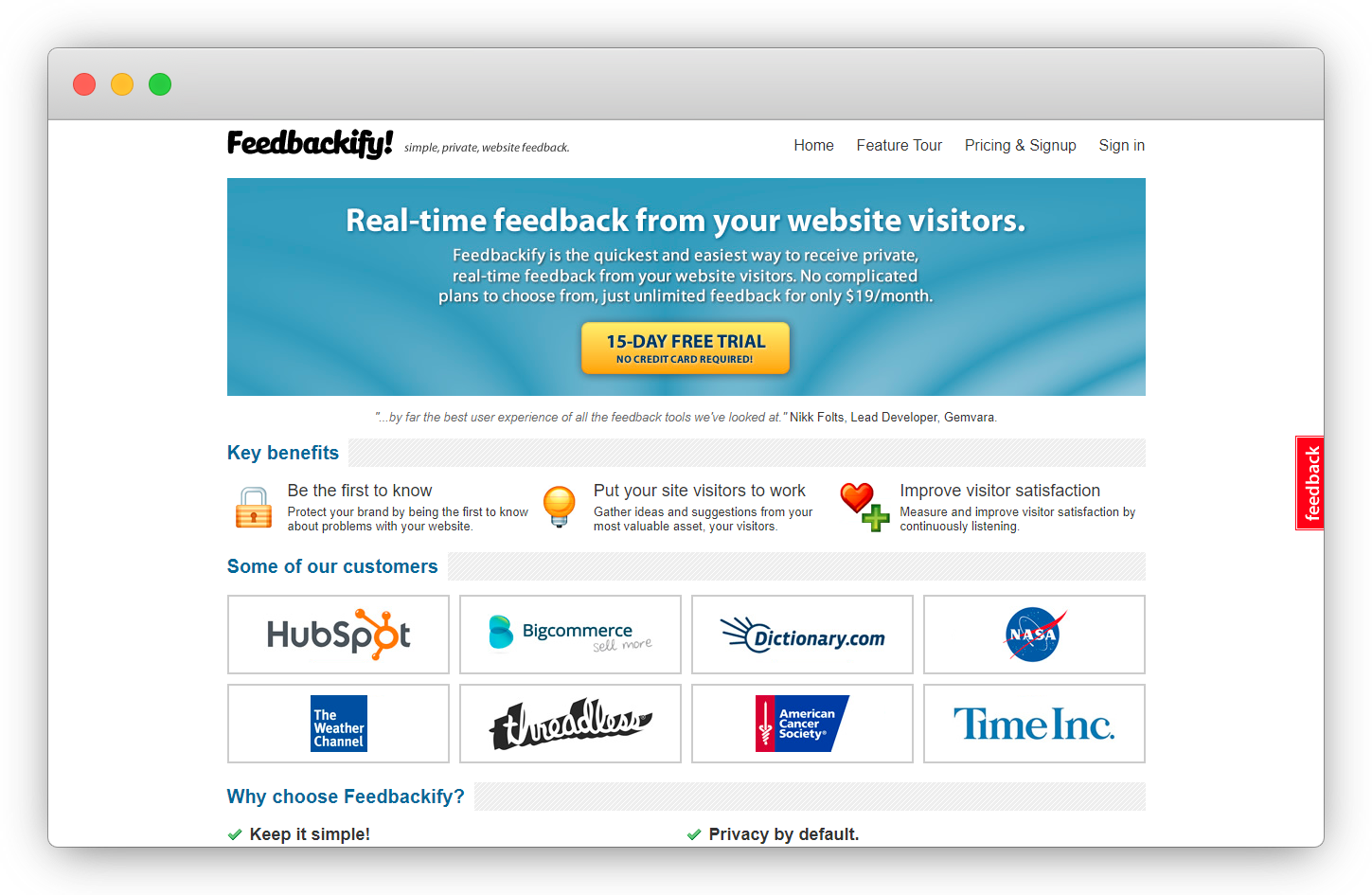 Features
Tens of pre-built survey templates
Ability to connect your sales and metadata with CX data to know what drives sales
Automated notifications to resolve customer issues
Multilingual surveys
Variety of question types including metric questions like NPS, CSAT, and CES
Skip Logic
Drag and drop survey creation
Emotional Value Index (EVI)
Automated data collection and analysis
Root cause analysis, open text analysis with word clouds, and AI text analysis
Seamless integrations like Slack, Teams, Salesforce, HubSpot, and more
Pricing
Pricing of Feedbackify starts from its Single plan that costs $199/month. It also provides a free trial for 14 days.
We have also written about other tools. You can find the top remote working tools, visual feedback tools for websites, in-app feedback tools, product feedback tools, website survey tools, enterprise feedback management tools, and more. You can go through them based on your requirements and choose the right software for your business needs.
Let's explore some free tools to collect website feedback.
Free Online Website Feedback Tools
In today's digital age, businesses understand the importance of collecting feedback from their website visitors to improve user experiences and drive growth. Fortunately, there are several free online survey tools available that make this process easy and efficient. Let's explore some of the top website feedback tools that can help your business gather valuable insights and enhance customer satisfaction.
9. SurveyMonkey
SurveyMonkey is another well-known software that businesses use to conduct market research, polls, and surveys to collect customer feedback, measure satisfaction, and improve website visitors' and users' experiences. With its expert templates and customizable surveys, you can easily measure satisfaction and improve the experiences of your website visitors and users.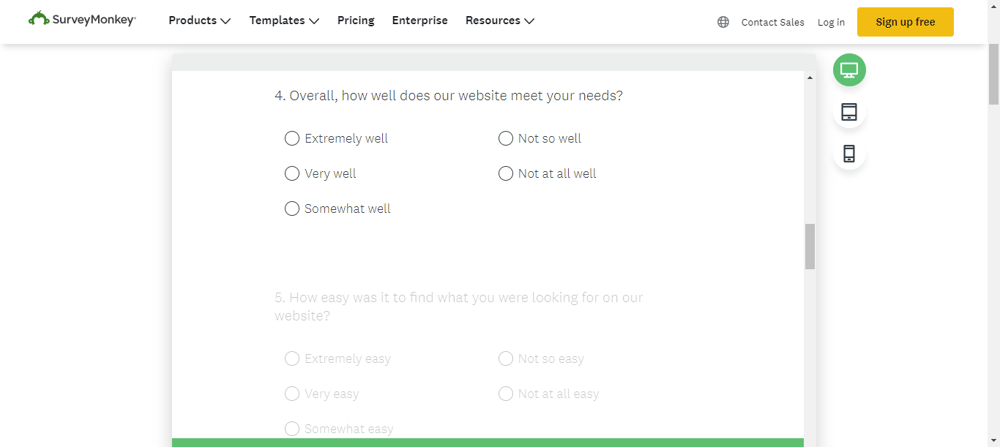 Features
Customized surveys with expert templates and questions
Team collaboration to create, edit, and review surveys
Feedback widgets to share surveys on the website
Feedback notifications and alerts
Skip Logic
Integrations with other tools
Pricing
It offers various plans as Individual plans, Team plans, and Enterprise plans. Paid plan starts from ₹429/ month which is just an Individual Forms plan. The starter plan costs ₹899/month whereas Team plans start from ₹1550/month per user.
SurveyMonkey Free Plan

With a basic free plan of the tool you can create and send surveys. But you can view a limited number of responses per survey. Responses beyond the survey limit will not be viewable and will get automatically deleted after 60 days of being collected.
Not sure if SurveyMonkey is the right website feedback software for you? Check out these SurveyMonkey alternatives and competitors.
10. Typeform
Typeform is a conventional website feedback form tool that you can use to determine whether your website is doing its job well or not. With prebuilt survey templates and interactive video conversations through its feature called 'Videoask,' you can collect valuable feedback from your audience.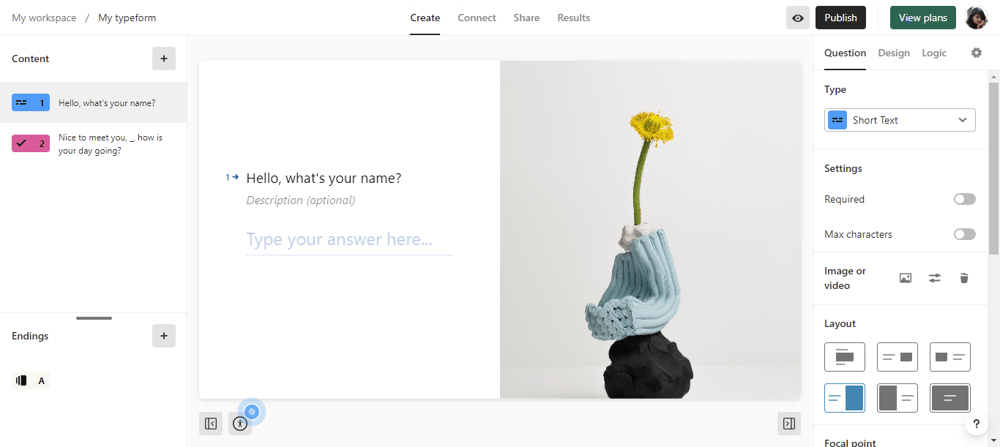 Features
Feedback Widget to website feedback
Prebuild survey templates for doing market research, collecting customer feedback, and user persona.
Website embedded surveys
Survey Logic
Interactive video conversations with a feature 'Videoask' to collect video feedback
Plugins compatible with various platforms to embed forms
Third-party integrations
Pricing
Pricing starts from its Basic plan which costs $25/month. It also provides a free plan as well as a free trial for paid plans.
Typeform Free Plan

Unlimited survey forms
10 questions per typeform(survey)
10 responses per month
Templates and calculator
Downloading your data
Integrations with Slack, Mailchimp, HubSpot, and more.
Not sure if Typeform is the one you are looking for? Why not look for other Typeform alternatives?
11. Qualtrics
Qualtrics is another customer feedback tool that helps you gather insights from your website visitors and app users to uncover the digital experiences your customers are going through.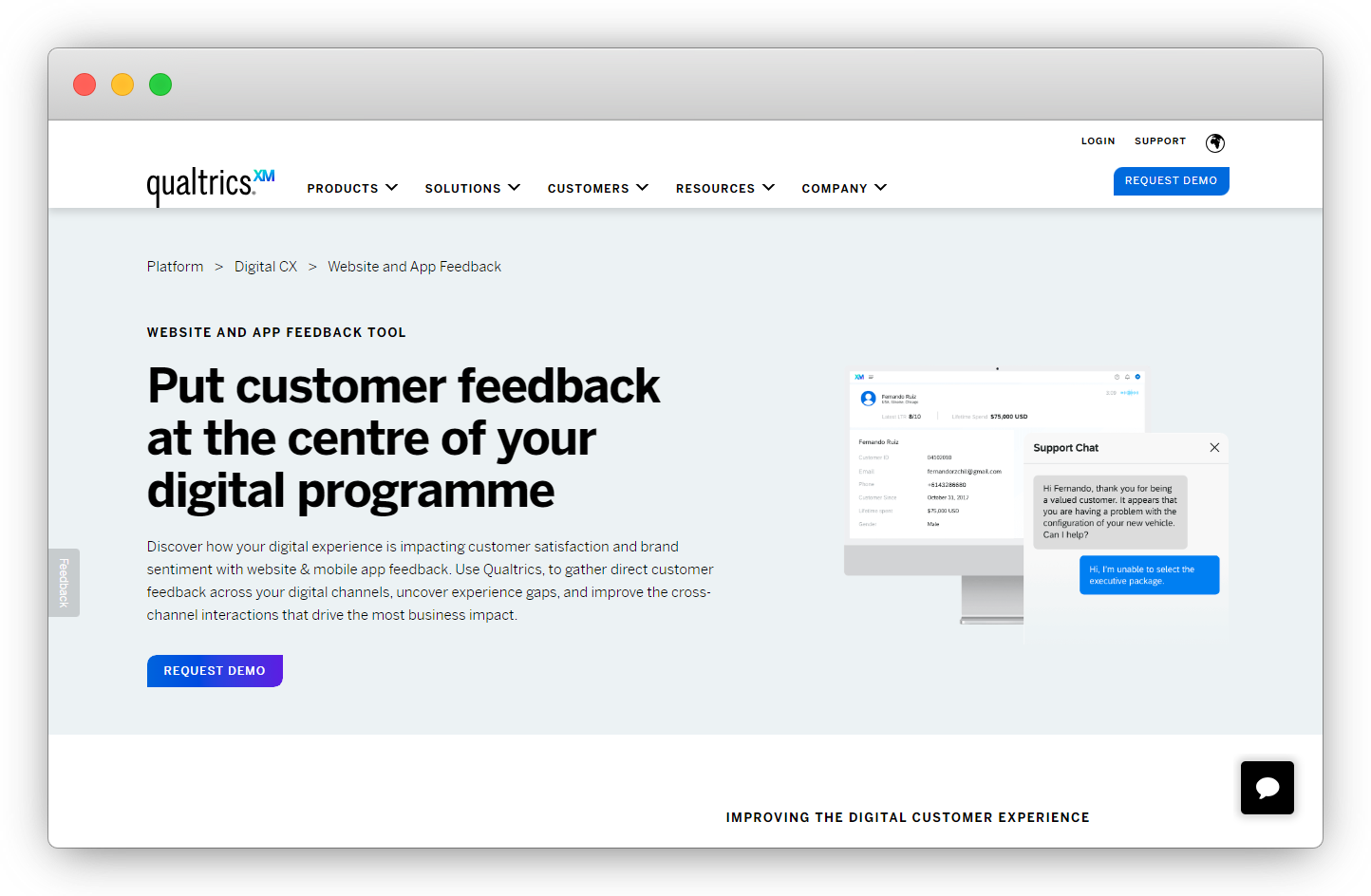 Features
Real-time website and in-app user feedback collection
Customizable surveys and forms
Advanced survey logic
Text and sentiment analysis
Third-party integrations with CRMs and other tools
Ability to set up alerts for critical customer feedback
Drag and drop functionalities
GDPR data security and compliance
Pricing
Pricing of Qualtrics is not provided on their official website. However, some other sources suggest that it is $1500/year.
Qualtrics Free Plan

50 online survey templates
Unlimited access to free online survey tool
No credit card required
No account expired
500 responses
8 question types
Online reporting
Summary reports and filtering
Qualtrics isn't the only website feedback tool out there. Check out the top Qualtrics alternatives to find more cost-effective and simpler plans to capture website feedback.
12. Alchemer or SurveyGizmo
SurveyGizmo, which is now a part of Alchemer, is a flexible online and website feedback tool that allows businesses to conduct website surveys, polls, and quizzes. It is suitable for mid-sized and large-size organizations.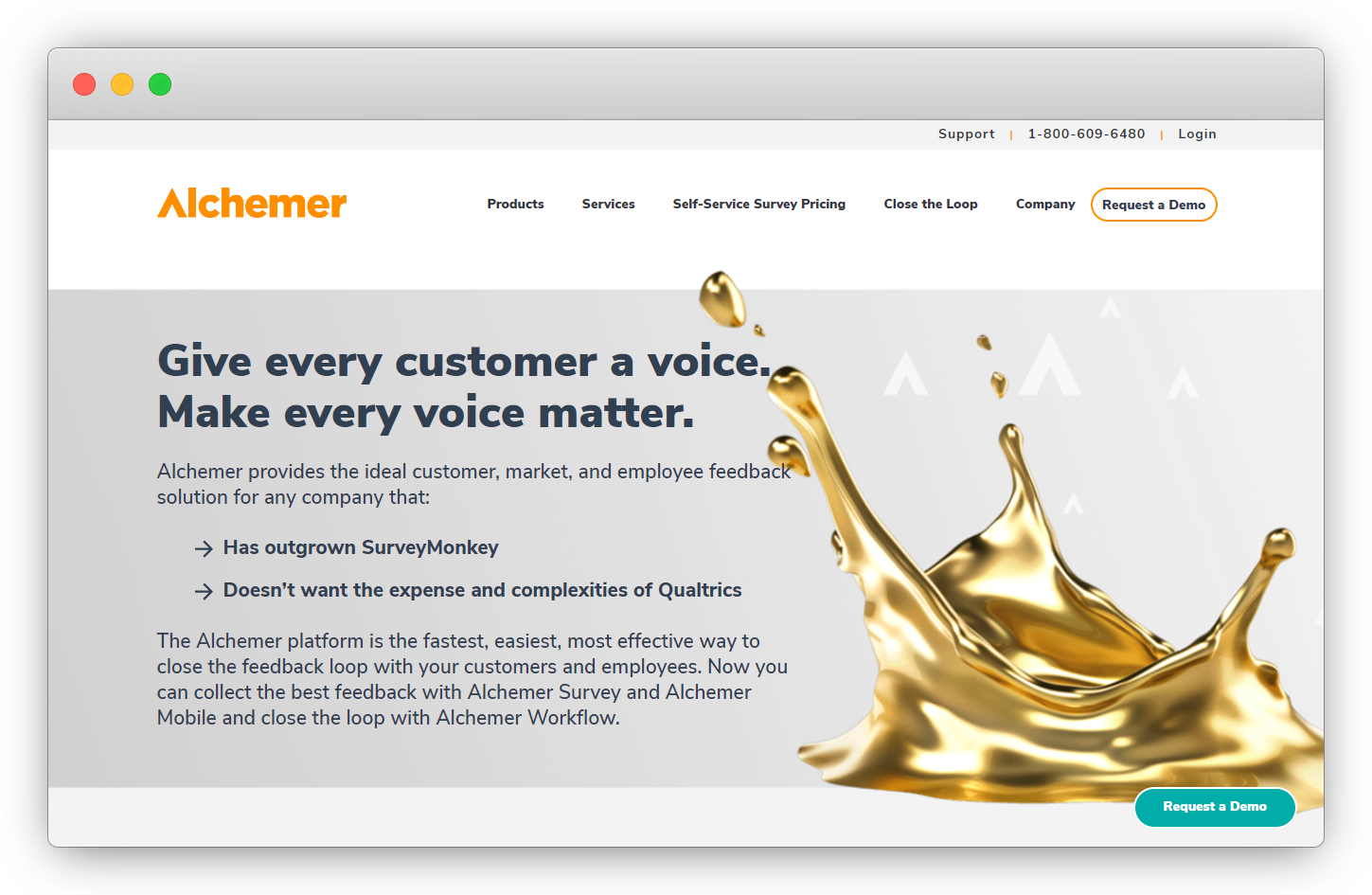 Features
Question libraries
Customizable feedback forms
Advanced branching and skip logic
Data analysis
Response tracking and reporting
Custom survey URLs
Site intercept surveys
Closing the feedback loop
Integrations with business systems
Pricing
It offers multiple plans. The starting plan is Collaborator plan that costs $55/month per user. It also offers a free trial plan.
Alchemer Free Plan

Free plan is limited to 3 surveys (active or closed) at a time.
View 100 responses per survey.
Unlimited Questions
Reporting feature limited to a Standard Report.
13. Google Forms
Google Forms is a flexible and easy-to-use survey tool businesses use to create and share online forms and surveys and analyze real-time survey responses. It is one of the best survey apps out there that can help you create all types of feedback forms and surveys without any cost.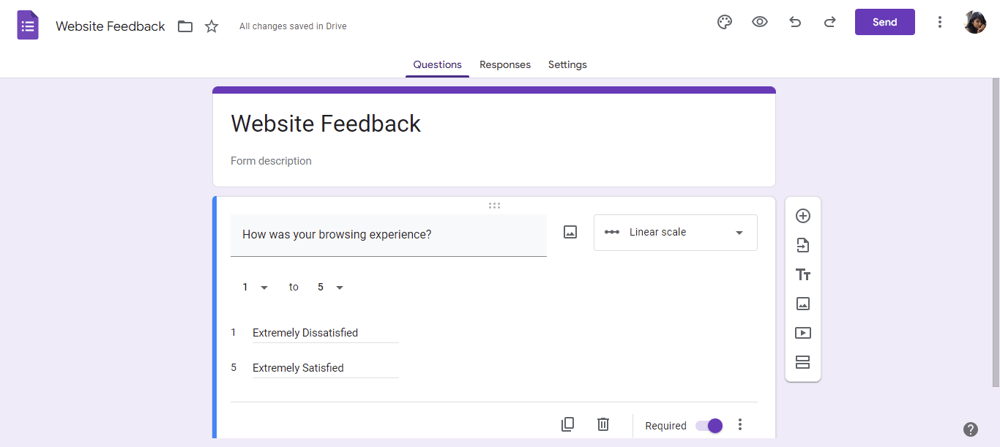 Features
Easy-to-use interface
Multiple question-types and templates
Simple drag and drop operations
Survey logic in the questions
Charts and response data updates in real-time
Team collaboration to build survey forms and analyze results
Pricing
Google Forms is a free service offered by Google as part of its suite of productivity tools within Google Workspace (formerly G Suite). You can create surveys and forms using Google Forms at no cost.
14. SoGoSurvey
SOGoSurvey by Sogolytics is a robust website feedback tool designed to help businesses and organizations gather valuable insights from their website visitors. With customizable surveys and feedback forms, real-time analytics, and advanced question logic, it empowers you to engage with your audience effectively.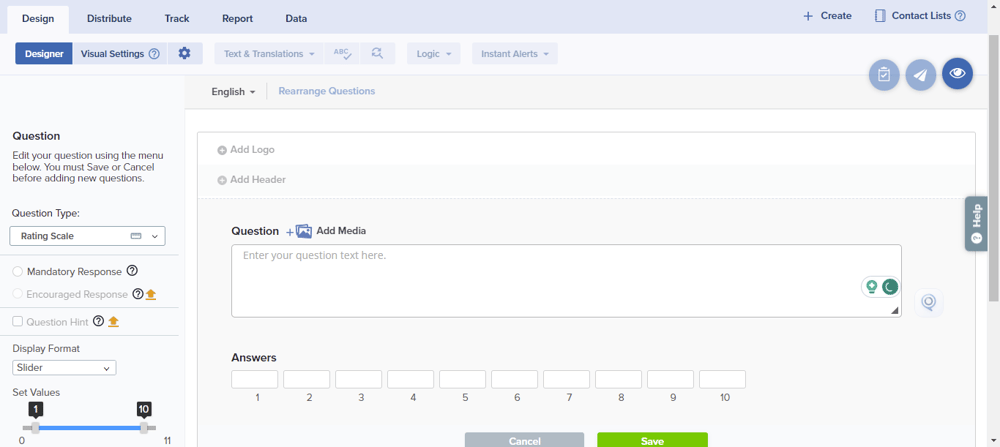 Features
Feedback widget to collect feedback from website visitors
Multilingual Support
Mobile responsiveness
Access to real-time data and analytics
Custom reports and data visualization
Pricing
Pricing starts from $25/month. It comes with a free plan and also offers a free trial for 10 days.
Sogolytics Free Plan

Sogolytics free plan is good for basic survey requirements within an organization as it has limited features, and doesn't support branding of your surveys. It gives you:

Survey templates and banks
Multilingual surveys
Real-time reports
Mobile app
15. Jotform
Jotform is a versatile website feedback tool that simplifies the process of creating customizable forms and surveys, making it easy to collect valuable insights from your website visitors.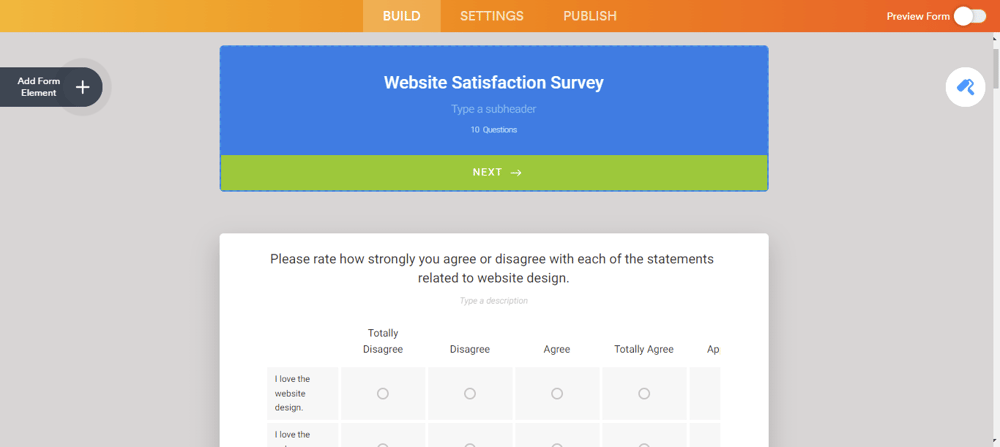 Features
Easy interface with drag and drop operations
Conditional logic to make forms dynamic
Easy embedding of survey forms on website as well as on other parties' platforms
Jotform Tables to collect, track, and manage data with team collaboration
Robust Jotform report builder and data visualization
Real-time notifications
File uploads to allow users to attach files or screenshots with feedback
100+ integrations with other tools
Pricing
Jotform's Starter plan is free. Paid plans start from its Bronze plan which costs $34/month. Other plans are Silver, Gold, and Enterprise plans.
Jotform Free Plan

All features are included in Jotform's free plan with limits like no HIPPA compliance and Jotform branding.

Form limit is 5
100 monthly subscriptions
Available space limit is 100 MB
1000 monthly form views
Total submission storage limit is 500
100 fields per form
20 monthly payment submissions
10 monthly signed documents
1 User per team
16. Zoho Survey
Zoho is an effective website feedback tool that helps businesses collect, analyze, and act on insights from website visitors to enhance user experiences and drive improvements.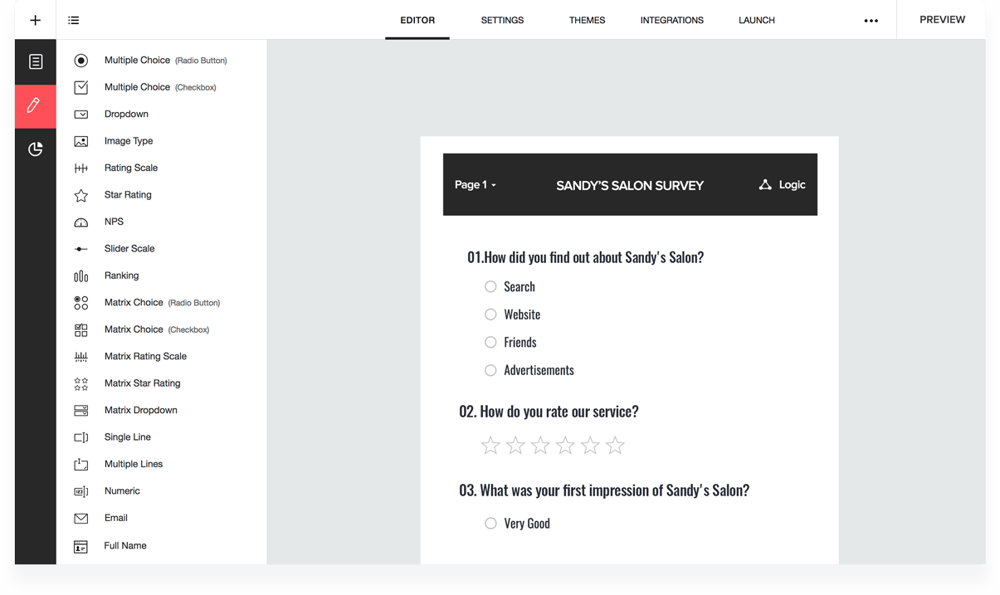 Features
Customizable thank-you pages
Response buying options and creating a research panel of the demography of your choice
Skip logic and piping
Pop-up surveys
Multilingual surveys
25+ question types and customizable themes
Customizable reports
Team collaboration to create & edit surveys, and send reports
Pricing
Zoho's paid plans start its Plus plan which costs ₹600/month. It also offers a free trial for 7 days. It also has a free plan with some limitations.
Zoho Free Plan

Unlimited Surveys
10 questions per survey
100 responses per survey
Over 250 survey templates
Embedding surveys in website
Scoring
HTTPS encryption
Password protection
Unlimited collectors per survey
Real-time responses
Pop-up surveys
Survey builder in 26 languages
17. QuestionPro
QuestionPro is a powerful survey software that is designed to drive growth by collecting and analyzing website visitors' feedback. It supports from small surveys to complex research and helps you to track customer experience and employee engagement.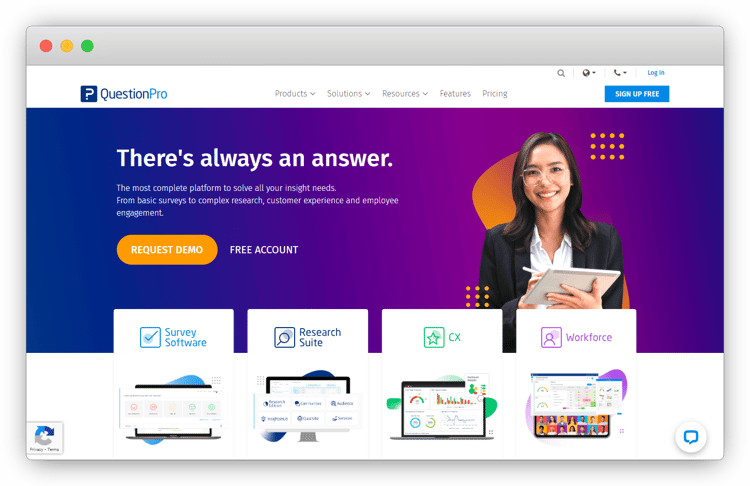 Features
250+ online survey template to conduct different types of surveys
24/7 hours customer support throughout the year
Survey logic and branching
Sentiment analysis
Google sheets integration
Customizable thank you pages
Raw data export
Drag and drop operations
Ability to add your own logo
Pricing
QuestionPro Essential plan is free. Paid plans start from its Advanced plan that costs $99/month. It also offers a free trial for 10 days.
QuestionPro Free Plan

20+ professional survey themes
Add your logo
Skip logic branching
Google sheets integration
Customizable thank you page
Raw data export
24/7 email support
18. Survicate
Survicate is another website feedback survey software that specializes in collecting contextual website feedback, offering tools to understand and improve the user experience.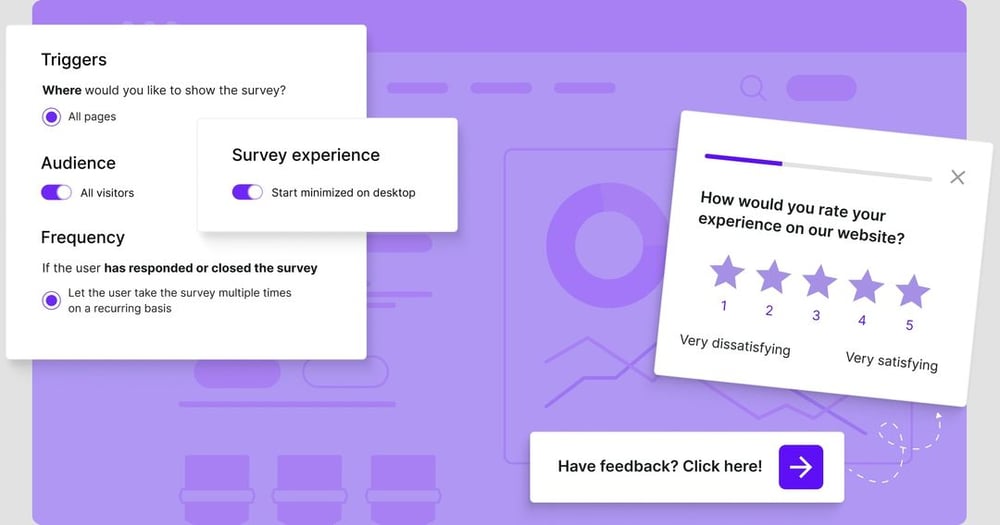 Features
Advanced targeting to trigger website surveys to match user journey stage
125+ available survey templates
Various question types including NPS, CSAT, and CES questions
Easy integrations with your tool stack
Automated recurring website surveys
Survey logic and automation translations
Automatically generated word cloud
Filtering options to analyze responses
Trends tracking
Pricing
Its Flexible plan starts for free. Price increases as you cross the limit of 100 responses. Price starts from $49/month whereas paid Business plan starts from $99/month.
Survicate Free Plan

Up to 100 responses stores by all active surveys
Unlimited team seats
Unlimited traffic and tracked users
Website surveys triggered on active pages based on user behavior
In-app microsurveys for website
NPS, CSAT, and CEES customizable templates
One native integration with marketing, product, and support tool
Skip logic and survey branching
Reports with date and Answered questions filters
Downloading survey responses in Excel, CSV, PDF, and PNG files
19. SurveyLegend
SurveyLegend is an innovative website feedback tool that offers engaging and free website feedback forms with interactive features to enhance user engagement.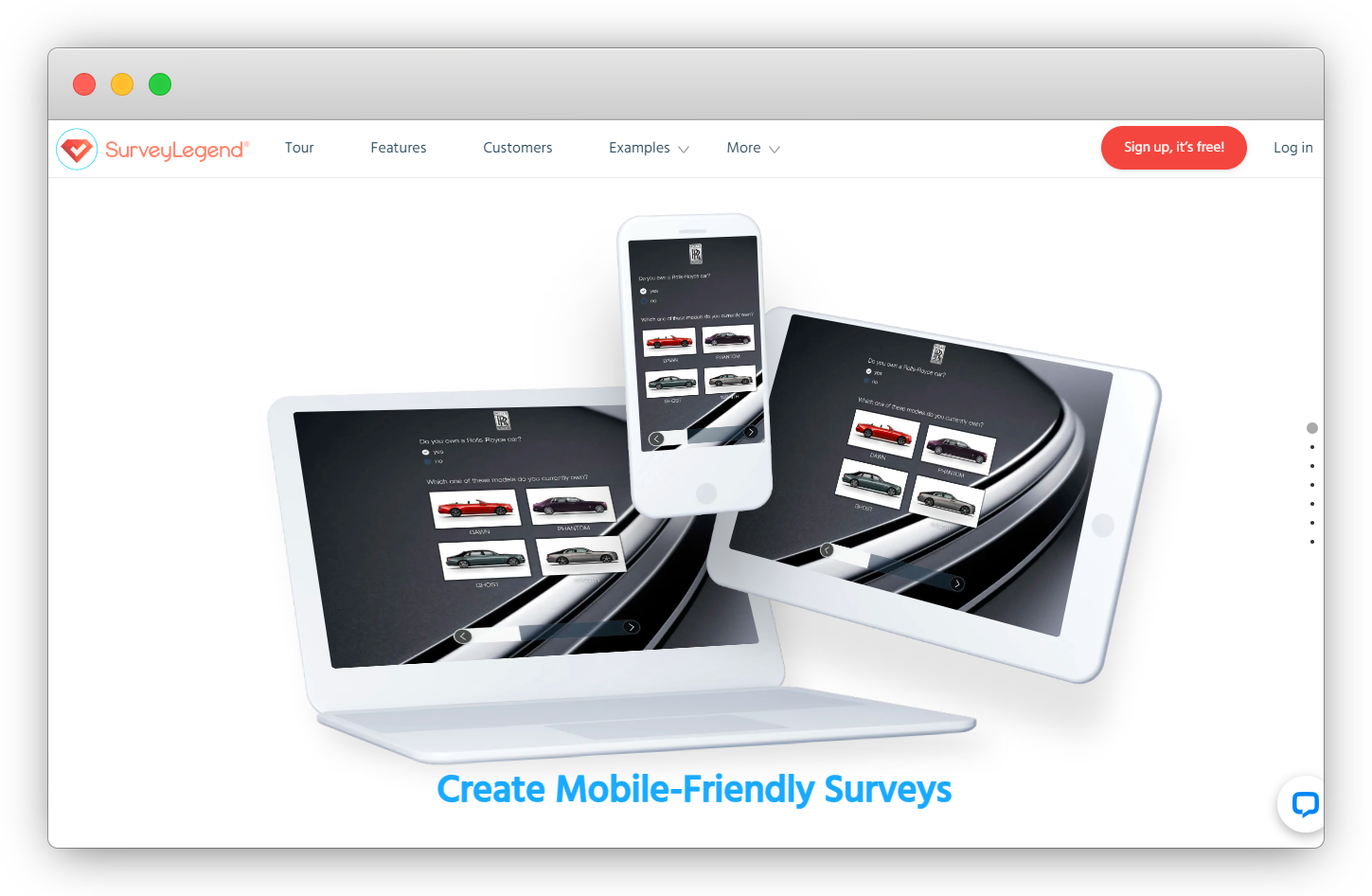 Features
Mobile-friendly design themes and font, colors to customize and band your surveys
Multilingual surveys and support
Conditional logic and branching
Feedback widgets embedding on website
Real-time data analytics and reporting
Easy drag and drop survey creation
Export survey response data
Instant response notifications
RESTful API and Integration options - Google Sheets, Mailchimp, and Salesforce
Pricing
The Starter plan of SurveyLegend is free. Paid plans start from its Pro plan that costs $15/month.
SurveyLegend Free Plan

Free plan includes the following features and limitations.

3 surveys
Unlimited questions per survey
1000 responses per survey
6 pictures
No data export
1 conditional logic
Ads and Watermarked
20. ProProfs
ProProfs is a user-friendly online survey maker and website feedback tool designed to create surveys, forms, quizzes, tests, assessments and collect valuable feedback effortlessly.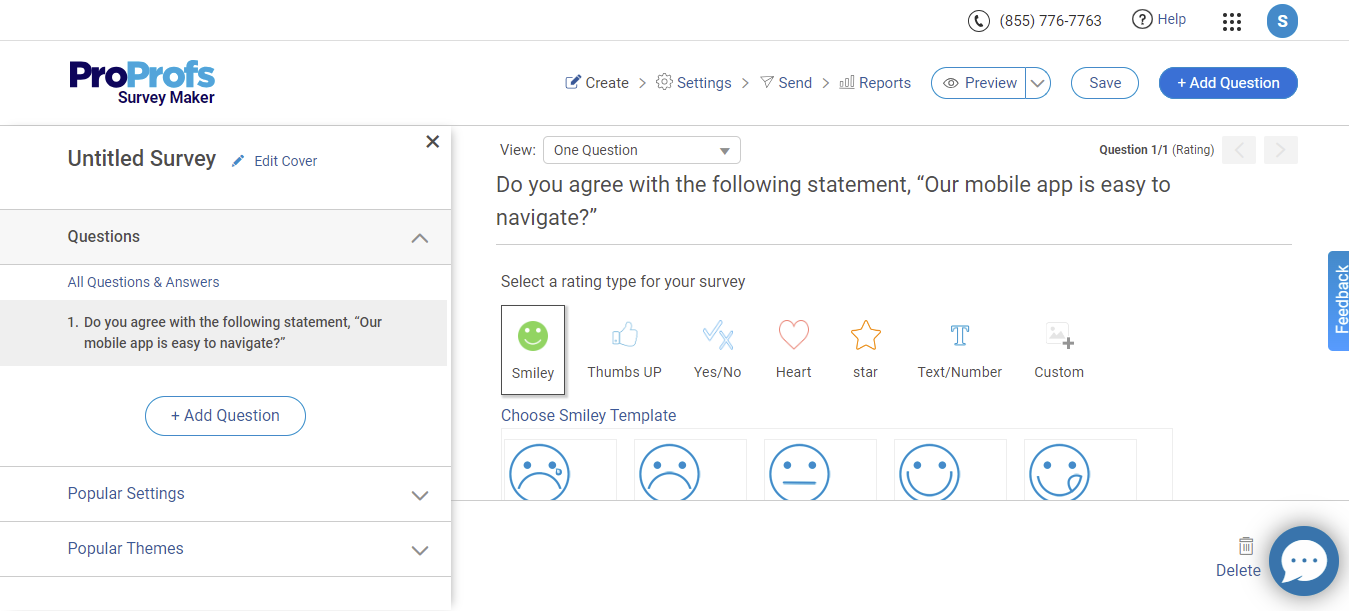 Features
Creating popup surveys, quizzes, polls, sidebars, and website embedded surveys
Net Promoter Score (NPS) surveys
100+ ready-to-use templates and 20+ question types
Adding scoring and branching to questions
Customization with logo and colors, themes, images and branding
Pricing
It offers multiple plans, namely, Essentials, Premium, and Business plans. Pricing starts from the Essentials plan that costs $19/month. It also provides a free plan as well as a free trial for 15 days.
ProProfs Free Plan

10 responses/month
Unlimited survey takers

No premium features and information like survey attempts and scores
21. Hotjar
Hotjar is a popular website feedback tool known for its user experience analytics and feedback collection capabilities. It helps businesses understand how users interact with their websites through heatmaps, session recordings, surveys, and feedback widgets, making it easier to optimize web design and content for improved user satisfaction and thus improve conversions.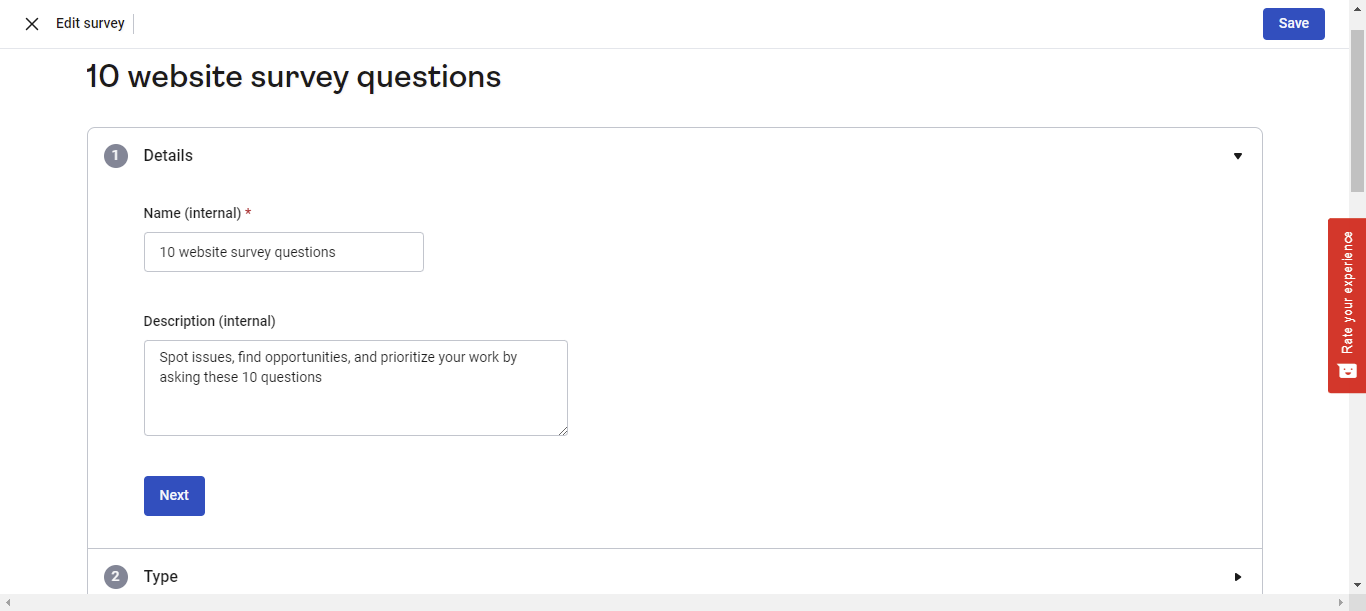 Features
Survey triggers on website at various touchpoints
Feedback widgets like popups and feedback button
Your respondents can give additional context of feedback and also attach a screenshot
Feedback dashboard with multiple question types
Drag and drop question bank
Customization of surveys to match your brand's style and personality
Progress tracking with scores, graphs, and bar charts
Pricing
Its Basic plan is free of cost. Paid plan starts from Business plan that costs $80/month. It also offers a free trial for 15 days.
Hotjar Free Plan

500 daily sessions
Automatic data capture
Unlimited heatmaps
365 days data storage
Not sure if Hotjar is the right tool for your website? Explore other Hotjar alternatives and competitors to be clear about your decision.
22. Limesurvey
LimeSurvey is a simple, quick, and open-source online website feedback tool that enables you to create customizable surveys and feedback forms to gather valuable insights from website visitors, enhancing user experiences and making data-driven decisions.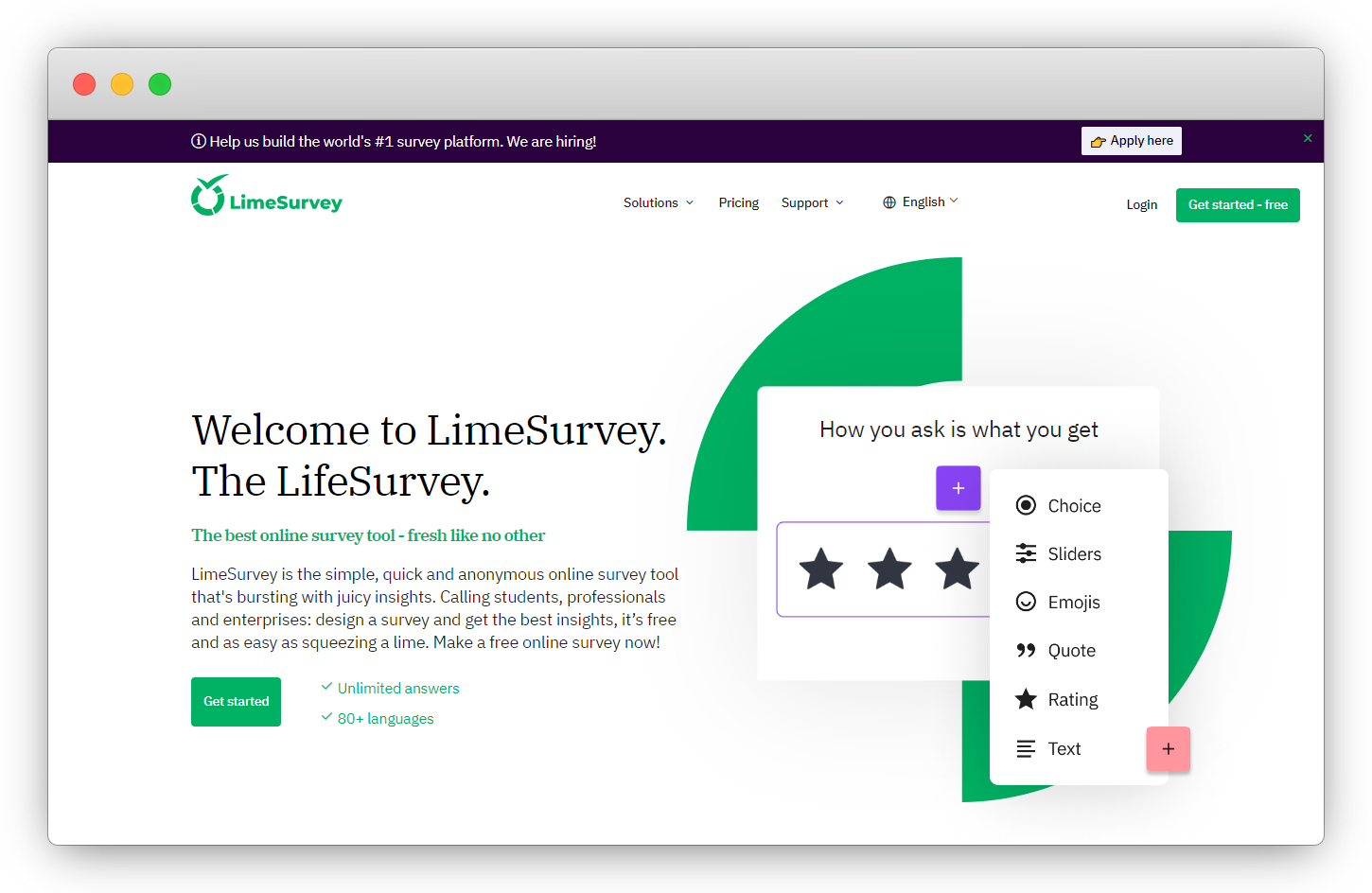 Features
Open-source software offering flexibility for customization and scalability
Multilingual tool with 80+ languages
Pre-designed survey templates
Multiple question types (28+) like Sliders, Emojis, quotes, rating, and more
Website embedded surveys and polls
Simple file management to create surveys with images, videos and audios
Conditional logic to ensure relevant feedback collection
Real-time analytics
Pricing
Limesurvey's paid plans start from its Basic plan that costs ₹689/month. You can use its free plan as a free trial and upgrade it whenever you need it.
Limesurvey Free Plan

25 responses per month
10 MB upload storage
Unlimited number of surveys
80+ languages supported
No external links allowed
23. Formsite
Formsite is a user-friendly online form builder and website feedback tool that simplifies the creation of custom forms and surveys, making it easy to collect valuable insights from your website visitors.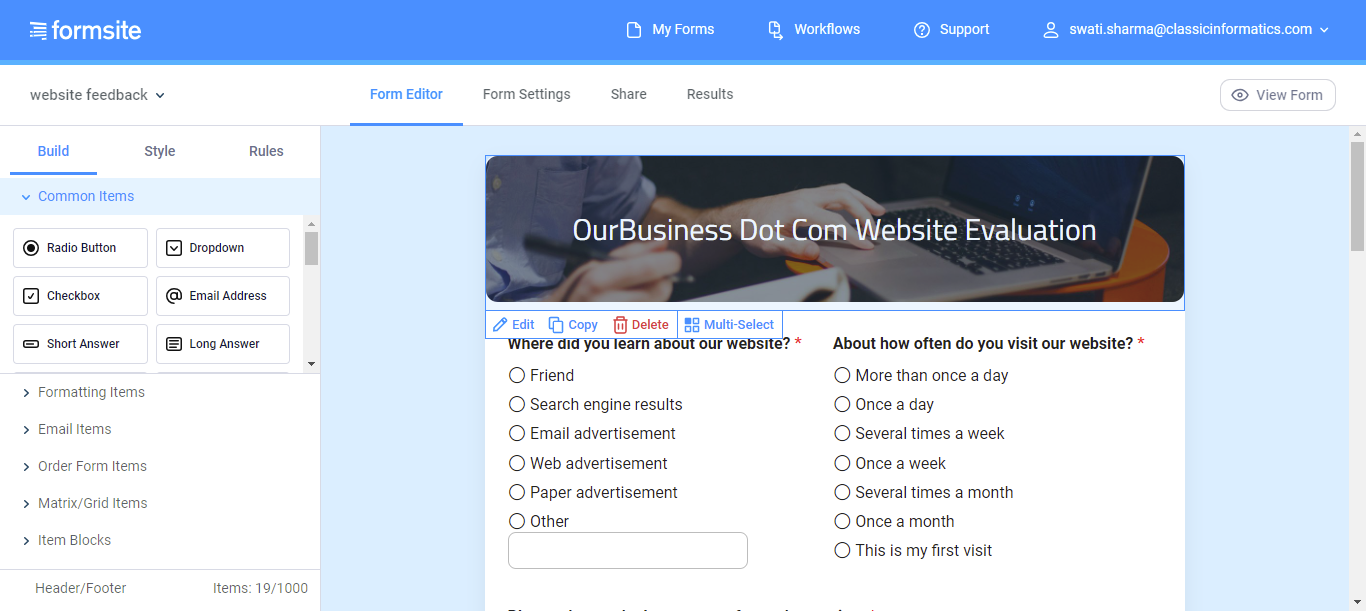 Features
40+ item types including surveys, reports, registration forms and more
Multi-page survey forms with logic
Multiple embedding options and formats to embed forms on web pages
Managing access to sub-users, applying permissions, hiding values in reports
Customization of surveys, image and logo addition
Email notifications of results and responses
Graphs and tables for visual results
Reporting with filter views, downloadable and shareable reports,
Integration with multiple tools like Salesforce, Amazon S3, Mailchimp, and more
The tool also supports calling payment Paypal, credit cards, and cheques
Pricing
Formsite's paid plans start from its Deluxe plan that costs $21/month. It also offers a free trial for 14 days, and after the trial period gets over, it automatically takes you to the free service with certain limitations.
Formsite Free Plan

5 forms
10 results per form
50MB file space
24. SurveyPlanet
SurveyPlanet is a simple, easy-to-use, and user-friendly online survey tool for creating and collecting website feedback. SurveyPlanet's focus on user-friendly survey design and distribution has made it a preferred choice for those seeking to gather feedback and conduct surveys without the need for extensive technical knowledge or resources.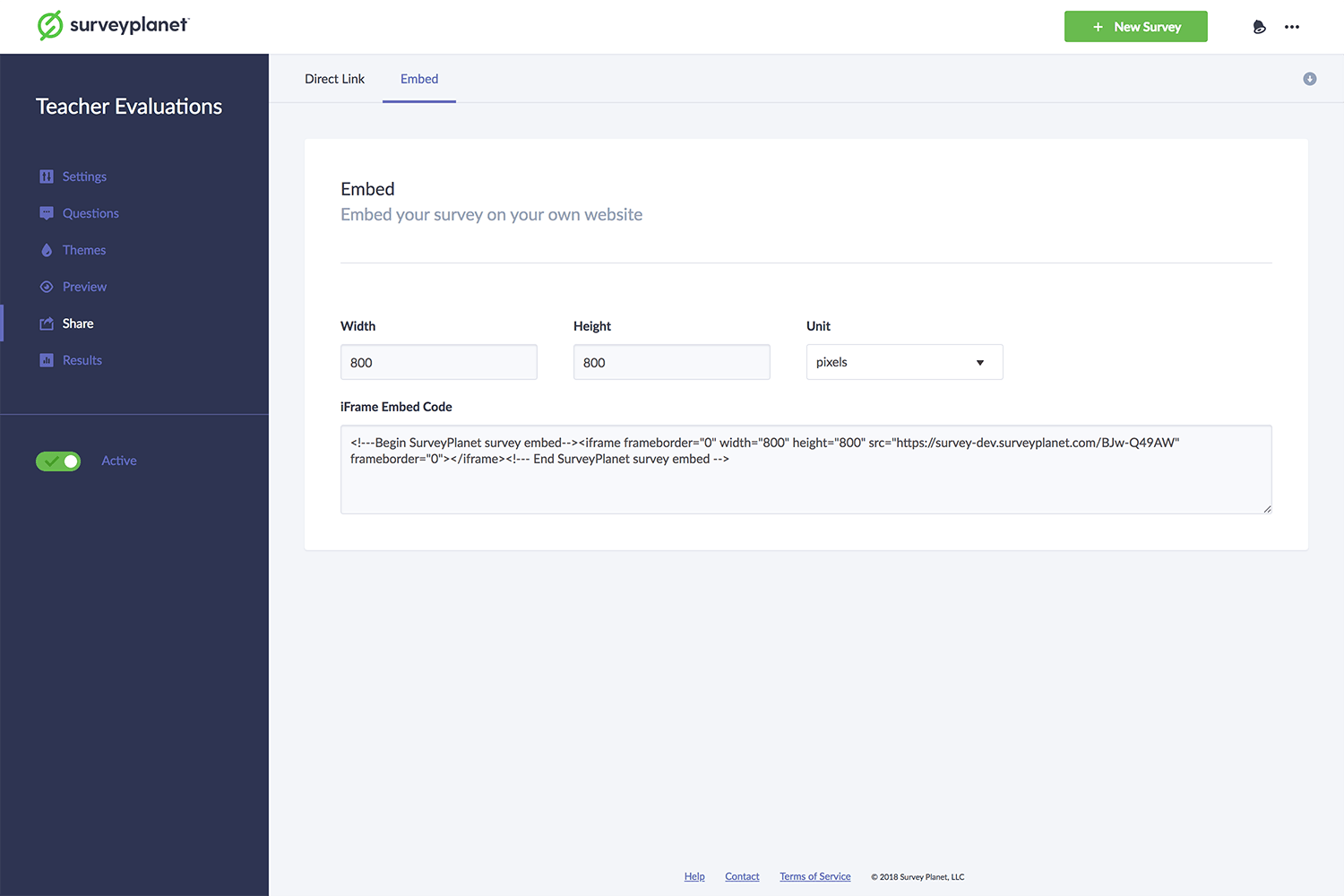 Features
Creative pre-made themes and theme designer to create your own survey themes
Ability to upload pictures to the questions and opening and closing messages
Multilingual software supporting 30+ languages
Prebuilt survey templates and hundreds of pre-written questions
Skip logic and question branching
Custom branding with your own logo, URL redirection
Pricing
Paid plans of SurveyPlanet starts from its Pro plan that costs $20/month
SurveyPlanet Free Plan

Unlimited s

urveys, survey questions and responses

90+ prewritten surveys
Basic survey themes
Welcome and success messages
Surveys on 30+ languages
Survey embedding and duplicating surveys with a single click
Basic in-app reports
Archive surveys
SSL security
25. Crowdsignal
Crowdsignal is a versatile and user-friendly website & customer feedback software that specializes in creating surveys, polls, and feedback forms for gathering valuable insights and opinions from your audience.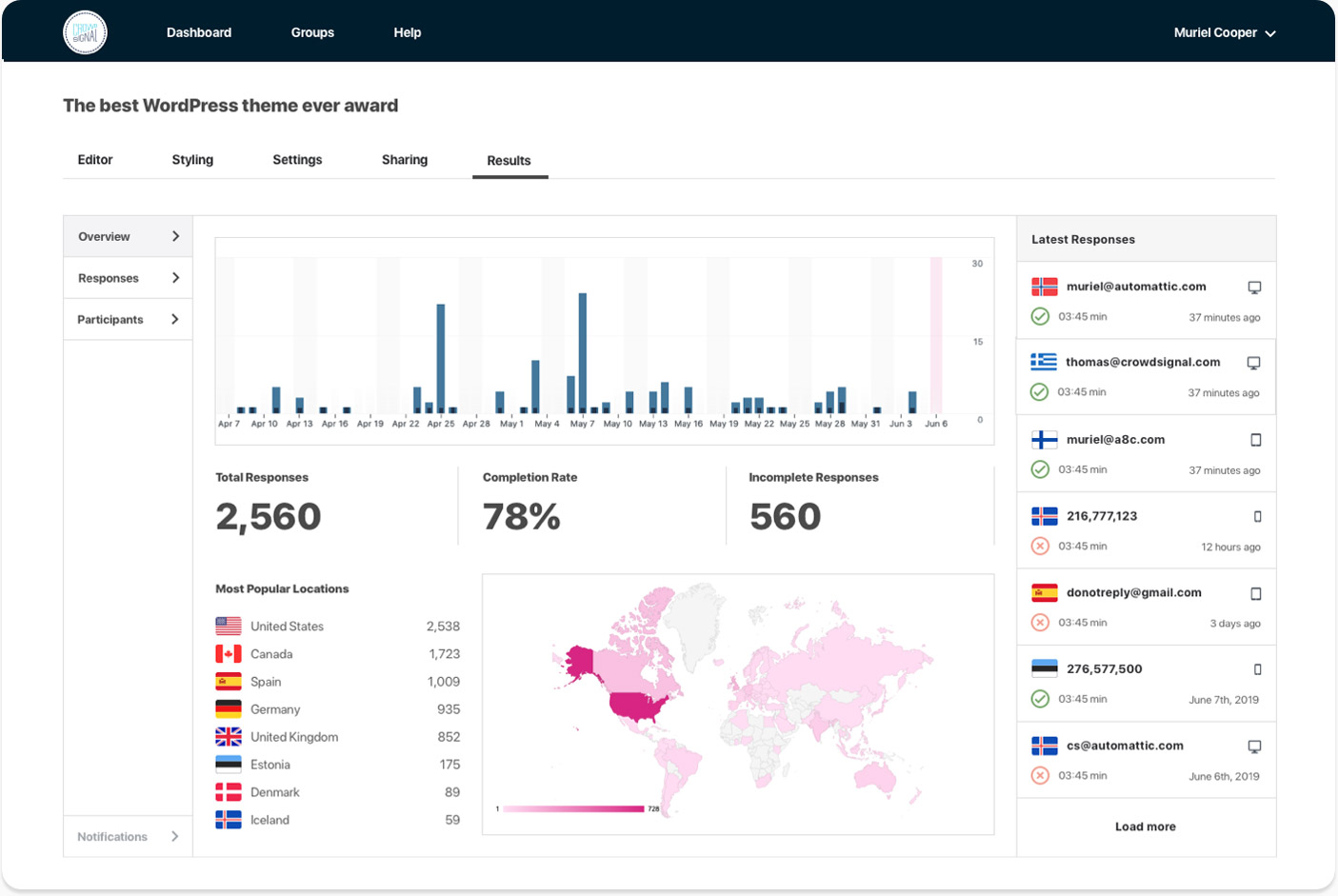 Features
Prebuilt survey design themes with customization capabilities
Analytical functions and filters for deep analysis of survey response data
Export options like Excel, CSV, Google Docs, and XML format
Integrations with tools like Google Sheets to analyze your data and prepare reports
Captcha protection and passwords to limit double voting or spam responses
24/7 customer support
Survey embedding, pop ups, and feedback button
Conditional question branching
Ability to add images, audio, and video to the survey
Attaching surveys with blogs, videos, and images to collect feedback ratings on anything
Pricing
Paid plans start from its premium plan which costs $15/month. The tool comes with a 30-day money-back guarantee for all paid plans.
Crowdsignal Free Plan

Unlimited questions, surveys, polls, and ratings
Limited to 2500 signals or responses
Limited data export
Poll embedding, media embedding
Max file size for upload is limited to 1MB
26. ruttl
ruttl is a creative website feedback tool that allows you to review and collaborate with your team and clients by adding contextual comments on live websites, PDFs, images and more! You can also make real-time edits, now integrated with generative AI, to give the developers precise change values.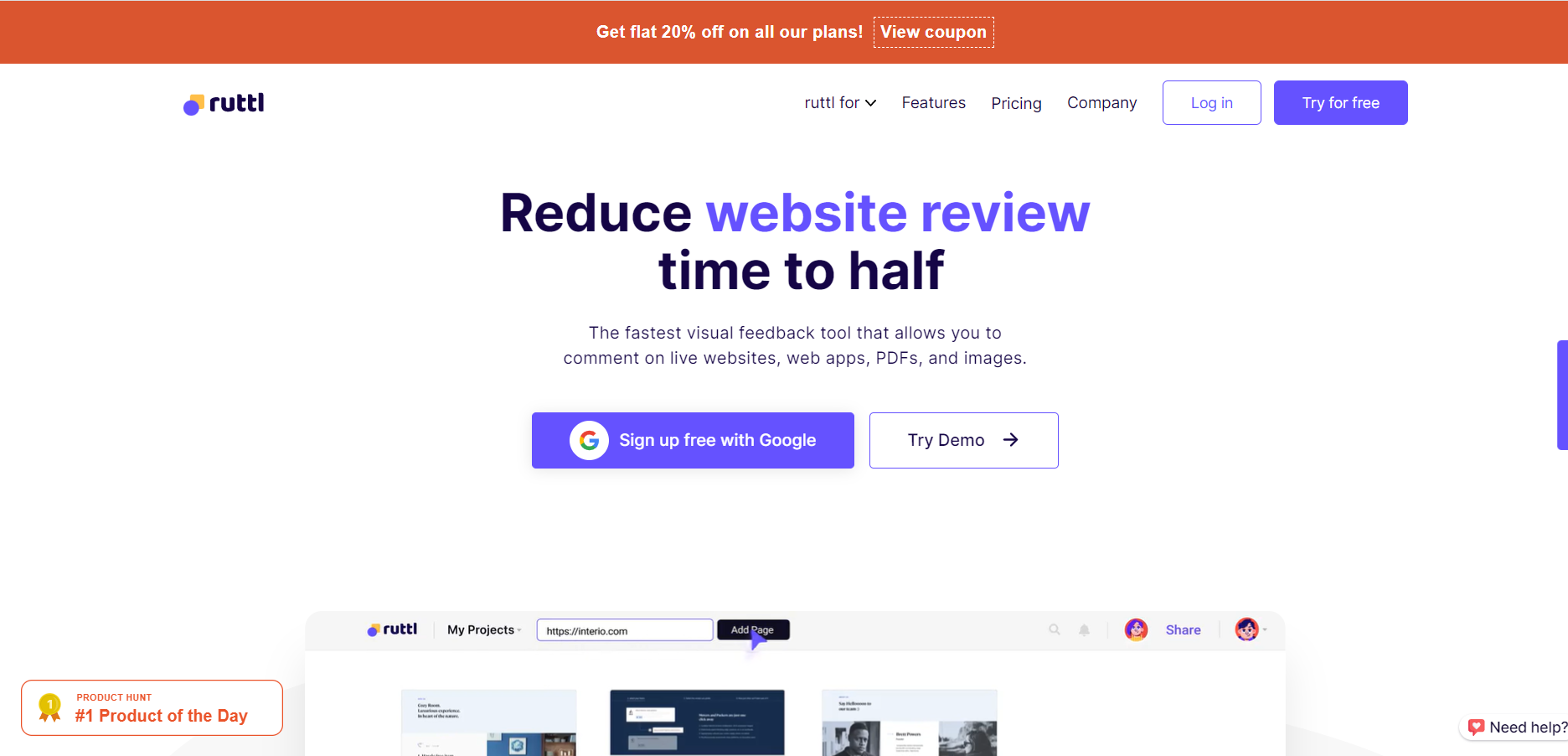 Features
Share feedback by commenting directly on live websites and web apps
Edit and rephrase web page content with GPT integration.
Comprehensive CSS inspection to identify and share exact change values for fonts, padding, alignment, etc.
Efficient bug tracking workflows for website and mobile app projects.
Integrate with needed tools like Slack, Jira, Trello, Asana, Zapier, and ClickUp.
White labeling options, including CNAME and Custom Branding
Support for multiple versions and video comments.
Live chat with the team
Guest commenting feature that eliminates the need for sign-ups.
Pricing
The pro plan of ruttl starts from $4/month/user
ruttl Free Plan

Upto 5 Users

Unlimited Guests

All Integrations
How do Website Feedback Tools help you?
Website survey tools are invaluable assets for businesses and organizations, as they play a crucial role in understanding and improving the user experience, enhancing customer satisfaction, and making data-driven decisions. Here's how these tools can help
Website survey tools play a crucial role in understanding the experience of your customers and website visitors and thus making data-driven decisions to improve user experience. These tools help you in various ways.
Collect feedback and understand user behavior - Website feedback tools help to collect valuable feedback and gain valuable insights into your website visitors' preferences, opinions, and behavior.
Improve website experience - When you are able to understand what your website audience wants and expects from you and your website, you are able to improve their experiences and cater to their needs.
Make better decisions - Website feedback tools help you make informed decisions based on feedback data, leading to better strategies and optimizations.
Increase conversions - With the meaningful website feedback information collected with the help of a good tool, you are able to optimize your website for a better user experience leading to increased conversion rates and higher ROI.
Centralize feedback - With the help of a good website feedback tool, you can centralize customer feedback, share it with relevant teams, and assign them tasks to resolve customers' issues and improve their experience.
Improves communication with website audience - Website feedback tools build a bridge between you and your website audience. It gives them ways to share their experience, concerns, and feedback through tools like feedback buttons and popups in the form of survey responses.
Improves customer retention -Website survey tools inform you about the users' concerns, bugs, and other issues which helps you take action at the right time to improve customer experience and retain them.
Choose a Website Feedback Tool that matches your needs
We have shared a list of some of the best website feedback tools in the industry. When it comes to choosing the best one, you should consider your needs and business requirements in order to make the right decision.
You should look for factors like your business size, expected scalability, budget, your customer base, and your survey needs. Moreover, look for features of the tools and see which of them you need. Based on this, select the tool that is most suitable to fulfill your business needs.