Get Product Feature Requests from customers with Feedback Widgets and In-App Surveys, understand what your customers want and build the most impactful features.
When customers start to use your product, they are bound to have some feedback. And a lot of this feedback is suggestions about what you can build or build better in the product. Those are Feature Requests, and as a Product Manager, you're bound to be getting a lot of those.
And one of the best ways to get organized feature requests, and in fact to encourage your customers to share their ideas and suggestions, is with Feedback Buttons and In-App Surveys in the product itself.
In this article, we dive into the best way to get Product Feature Requests from your customers and how to manage them.
Measure Product Feedback & User Insights 💻
With Product Feedback Surveys, understand what users need and learn ways to delight your customers.
Table of Contents
Tips to Manage Product Feature Requests

What are Product Feature Requests?
Feature Requests are a type of Product Feedback by end users and customers that are ideas and suggestions about product improvements or new feature requests. Feature Requests come in the form of inquiries, comments, messages, and conversations with customers where they ask for particular functionalities in the product. These requests are usually to support specific use cases that the customer is trying to solve. They may or may not always align with the product vision.
Feature Requests could include:
Request for a completely new feature
Request for change or updates in an existing feature
Request for an integration with another tool
Request for changes in UI/UX
Feature Requests are very important as they provide insights into how customers are actually using the product and what use cases and problems are they solving. They also reveal customer expectations with customers sharing exactly what they need and help product managers and companies align their roadmap with what customers want. Feature Requests also make customers feel like more a part of the product and brand as they're able to communicate their own thoughts and ideas to the product.
What to Ask in a Product Feature Request Survey?
To gather effective feature requests from customers, you must first create a feature request form that is easy to understand by users without overwhelming them by asking too many questions or information.
Different companies do this differently. And you should go for what works for you, what details you would need and what you think your customers would be happy sharing without feeling overwhelmed.
With Zonka Feedback's survey builder, you can easily create a product feature request template like this one that can help you get customer insights into what new features they want. All you have to do is choose the right template, customize (add your branding, logos, or additional questions), and you're all set.
More often than not, users want to drop in quick suggestions while they're using your product or in your app. A simple product feature request form works best for this. For instance, HubSpot asks just three essential questions to users to gather feature requests which include a subject, body, and an idea category.
Questions to ask in your Product Feature Request Form
You can include these questions in your feature request form:
What is the feature you'd like us to add?
Please describe how this feature would work
Any attachment you'd like to add to explain your feature request better?
How would you use the feature and what problem does it solve?
Have you seen this feature in any other products?
Which products have you seen this feature in?
On a scale of 0-10, how important would this feature be to you?
Would you be willing to pay more for this feature?
Consider the following while creating a feature request form:
Make it easy: Keep the questions relevant and devoid of jargon or technical terms that users might not know
Keep it consistent: Use one feature request form across all platforms
Choose questions carefully: Focus on qualitative (open-ended questions) and quantitative data (MCQs) to clearly understand what your customers really want in your product
"We have a voice of the customer program and team, and that team's accountability is to bring both quantitative and qualitative data about customers and their experiences. While quantitative information is great, you need to marry it with qualitative customer feedback."

Yamini Rangan, CEO, HubSpot
Popular Channels to Get Product Feature Requests
When customers use your product, they're bound to have ideas and opinions about what features you can bring in the product. The best way for you to ensure that these ideas are not chaotic, but organized, is to proactively provide opportunities to customers and users to share their requests and ideas.
Here are ways you can take Feature Requests from product users:
In-App Feedback
You can provide a feedback form within your product, allowing users to suggest new features, report bugs, or provide general feedback. This type of feedback is convenient for users, as they don't have to leave the app or website to submit their feedback. In addition, In-app feedback is more likely to be relevant and timely, as users can provide feedback right after they experience a particular issue or have an idea for a new feature.
Feedback Button
A feedback button is a clickable element integrated into your website or application that allows users to provide feedback, including feature requests. By positioning the feedback button prominently on your website or within your application where users can easily find it, you can easily get product feature requests. Consider placing it in a fixed position, such as in a corner of the screen, so it remains accessible as users navigate through your site or app.
Email Surveys
Email surveys can be a powerful tool for gathering product feature requests from specific segments of your users who are likely to provide valuable feature requests. For example, you might send a feature request email to your most active customers or those who have recently interacted with a specific feature.

Keep in mind to send a confirmation email or automated response to users who submit feature requests. Acknowledge their input and thank them for their contribution.
Feedback from Sales and Customer Service Teams
Sales and customer service teams are often in direct contact with customers, so they can provide valuable insights into the features and functionalities that customers are requesting. These teams can gather feedback from customers and send it back to the product team which can then start working on it based on business objective.
Customer Advisory Boards
Customer Advisory Boards are the most knowledgeable focus group that can provide feedback on specific features or ideas for new features to validate or invalidate product ideas. By suggesting feature requests, CAB can offer invaluable guidance on which customer issues to address, how to capitalize on competitors' vulnerabilities, and how to position your company for maximum advantage.
Customer Polls
Polls can be conducted via email or within the product itself, and can be used to gather feedback on specific features, ideas, or general satisfaction with the product. Polls can provide a quick snapshot of customer sentiment, allowing product teams to prioritize and respond to the most pressing needs.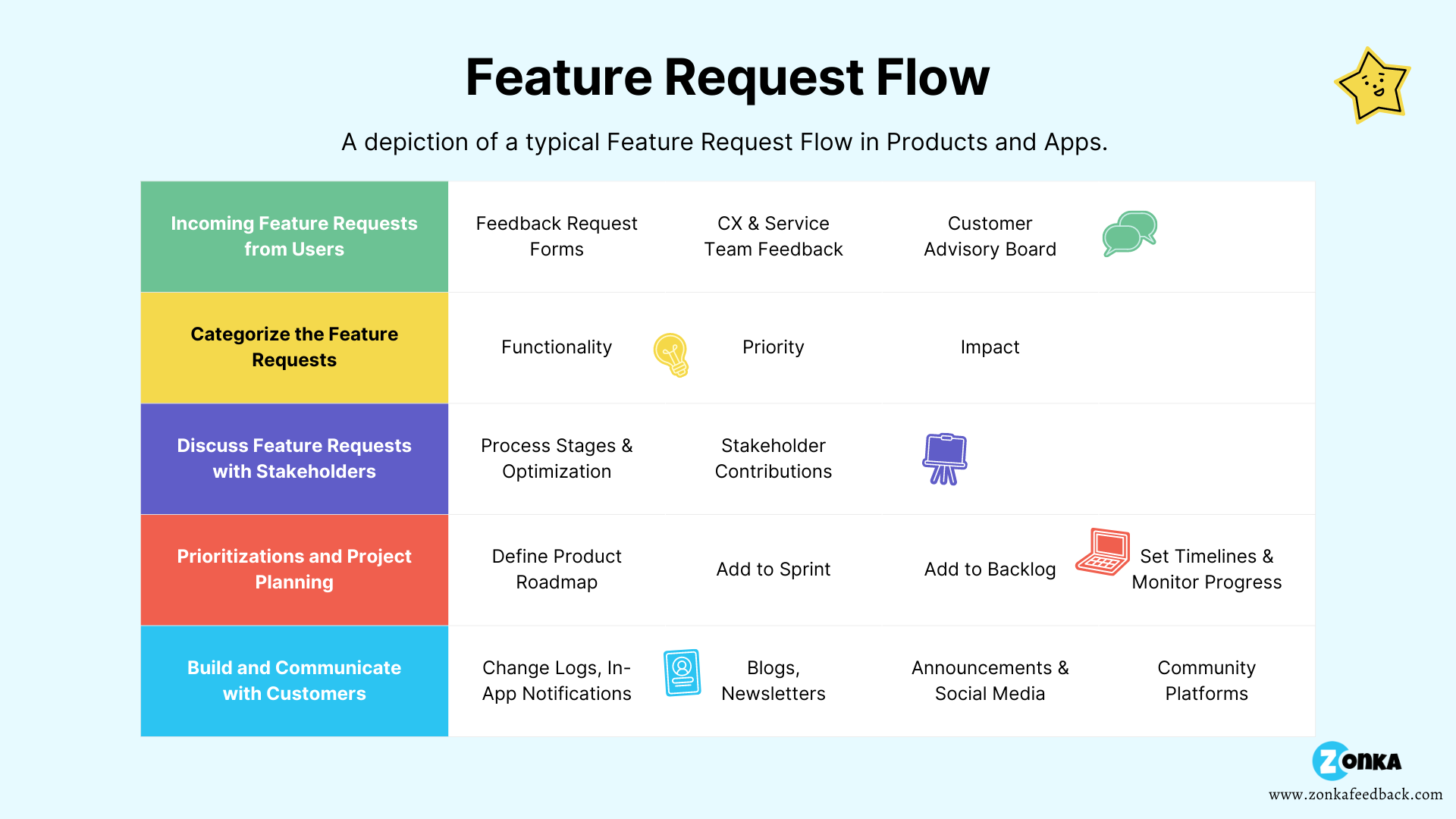 Tips and Best Practices for Getting Product Features Requests
A recent study found that 77% of customers view companies more favorably when they actively listen and integrate their feedback into their products.

Top product-led growth companies like Slack, Zendesk, and Hubspot know that their customers are their biggest assets, so they use customer feedback to drive product improvements and deliver new features. Your customers hold the key to unlocking your product's full potential as they know it deeply and have a wealth of ideas on how to make it even better.

Let us look at some practical ways in which you can get feature requests from customers, manage the requests and build a product that can meet customer needs and align with your business objective.
1. Create a Product Feature Request Form
When you start to take in product feature requests, remember that your customers start to expect some action on it. Product Feature Requests are a two-way street. So it may be a good idea to target and display your feature request forms to specific customers only.
For example, you may have both free and paid version in your product, but are looking at taking feature requests from your paid customers. Similarly, within your product, you may want that instead of all users, only admin users see the feature request form and can share their ideas. More importantly, you may only want to show feature request forms to more active users, or users who have been using the platform from over a year.
This is all possible with User Segmentation. Segmenting users into smaller groups based on specific criteria such as type of customer, usage, plan, geography, language, or revenue potential, you can gain a better understanding of their needs, preferences, and pain points and use this information to drive feature requests that align with their unique requirements.
Dynamic Segments in Zonka Feedback can be created based on:


Contact Attributes: Language, Country, Plan, Create Date, Onboarding Date, Subscription Date and so on
Visit Analytics: Pages visited, number of pages visited, visited source
Survey Score: Last or Average NPS, CSAT, CES scores
Survey Interactions: If any particular surveys were viewed, not viewed, answered, not answered, on different channels
With Segmentation, you're able to target your Feature Requests forms to specific users.
3. Embed Product Feature Request Form on Website, Platform, In-App
Once you have created your feature request form, the next step is to embed it in your product or in-app, where it is easily accessible to the customers.
With Zonka feedback, you can seamlessly embed your feature request form into your website or in-app. You can generate a code snippet or use Mobile SDK and place it on your website or app wherever you want to display your feature request. The embedded survey is customizable, so you can choose how the survey appears on your website or app. You can customize your feature form with your brand's logo to fit effortlessly into your product.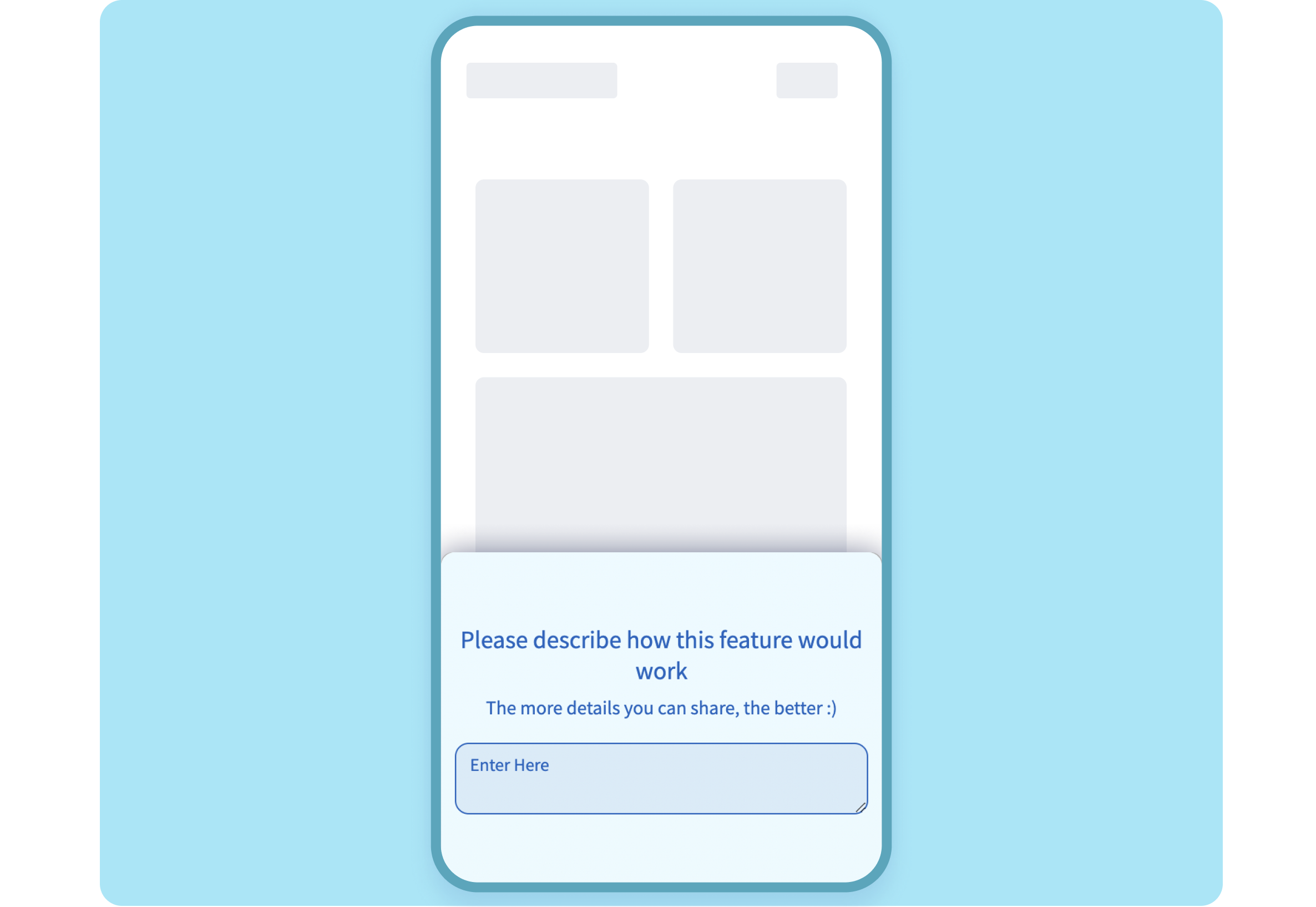 Things to consider while adding your Feature Request Forms in your Website, Platform and In-App:
Add a clickable button on your platform, in-app
Place it in a location where it is easy to access
Ensure that the button design matches the overall design of the website or app
Set up notifications to alert the appropriate team when a new feature request is submitted
4. Bring your Product Feature Requests to One Place
When you start getting feature requests from customers, they can easily get scattered across multiple sources like spreadsheets or conversations. Keeping feature requests in a single location that is easy to use interface would help you track customers' requests and identify common themes or trends.
That's where Product Feedback Tools come in. Using a Product Feedback Software, you can create, distribute and view all your feature requests in one place. In Zonka Feedback, we call this the Response Inbox. It lists all your incoming feedback together and with analytics and reporting, you can also see insights for closed-ended questions.
This gives you a clear view of your feature requests, track who the requests are coming from, filter based on contact attributes, type of requests, date of requests and so on. You can do it by leveraging Zonka Feedback to keep track of all your feature requests in a centralized place.

In addition, you can use integrations to sync your feature requests to other tools you use.
5. Categorize and Prioritize Product Feedback Requests
While many SaaS companies opt for spreadsheets to keep track of feature requests suggested by customers, the major challenge in using this feature, especially when you receive a lot of feature requests, is the manual sorting of type and frequency to avoid duplication. This process can be very time-consuming and difficult to manage.

Therefore, opting for a feedback tool that offers auto-tagging based on keywords or labels can help streamline incoming feature requests. Zonka Feedback allows tagging feature requests based on matching keywords or phrases.
By defining the feature request theme, which can be the category the user selects from given options, you can prioritize which feature request is most requested and needs immediate attention by the product development team.
Categorize Product Feature Requests based on Type
Suppose you run an e-commerce website that sells clothing, and you want to add a feature request form to your website. Using Zonka Feedback survey builder, you create a feature request form and include a checkbox where customers can indicate the category the feature request belongs to, such as "Checkout Process," "Shipping," "Product Search," and like.
When a customer submits a feature request through the form, the auto-tagging feature analyzes the text of the request and identifies relevant keywords, which would be the type of feature request.
Prioritize Product Feature Requests based on Customer Type
Not all customers are equal, so it's essential to prioritize feature requests based on the needs of your target audience. If an enterprise customer suggests a feature, it should be given a higher priority.
Similarly, if many customers request a particular feature, it clearly indicates that it should be prioritized to improve customer satisfaction.
6. Discuss Product Feature Requests with Stakeholders and the Product Team
When customers directly communicate with the team responsible for product development, the chances of getting feature requests automatically increase. Your product team can evaluate requests, ask follow-up questions, and prioritize feature development based on customer needs. This approach can increase customer loyalty, satisfaction, and retention.
Consider these important points to discuss with your team before finalizing the features to add in your roadmap
Do we have the resources to build out this feature?
Why exactly haven't we built out this feature until now?
Are there any obstacles we need to prepare for before taking any steps?
Is this our most pressing need right now?
Are there other requested features we can develop that'll offer the most benefit overall?
How relevant is this to our end users? Is it just a wish, or a critical, need-to-have, deal-breaker feature?
7. Integrate into Project Management Tools
By connecting feature request forms to software tools, you can make the process of gathering and managing feature requests more efficient, collaborative, and transparent.
Pros of integrating feature request forms into project management tools:
Streamlined communication and collaboration across all teams
Improved prioritization of requests based on their impact on the product roadmap and business objective
Provides real-time updates on the status of feature requests
Reduced chances of missed requests or miscommunications
Zonka Feedback can be integrated with Google sheets, Zapier, and other software that can be useful in getting feature requests for your product without a hassle. You can set up a trigger in project management tools that can detect when a new feedback response is received through Zonka Feedback.
It can then automatically create a new feature request in integrated software using the mapped data from the feedback response. This feature request can be assigned to a team member, given a priority level, and tagged with relevant keywords to help with organization and searchability.
8. Engage with your Customers
Engaging with customers increases the chances of getting feature requests and gathering feedback as customers feel their feedback is valued by your company. Through newsletters, announcements, and in-app notifications, you can keep customers informed about new features and updates. You can also solicit feedback on existing features and ask for ideas on new features your customers would like to see.
Personalize the Customer Experience
Based on the usage patterns and interests of your users, you can personalize your customers experience and show them relevant notification through newsletters, and in-app notifications to increase engagement. It will ultimately increase your chances of receiving feature requests in your product as they will be more open to giving suggestions.
Why is this important?
It develops a sense of trust and loyalty
Creates emotional connection and increases brand advocacy
Increases satisfaction as customers get tailored experience
Enhances customer experience with relevant content
Ways to engage with your customers:
Run polls to prioritize new product features: Creating a poll is a direct way to engage customers by asking about the features they want in a product. If you already have a feature in mind, you can proactively create a feature adoption survey for upcoming releases and run a poll with a list of planned features to ask users which feature they would most like to use.
Maintain a public roadmap: A public roadmap provides customers with transparency and insight into the company's plans and priorities and also facilitates collaboration between the company and its customers. By maintaining a public roadmap, you can invite customers to provide feedback on the roadmap and suggest new features or improvements, which can
Share email updates on planned and new product features: It is essential to notify customers when a new feature is released and keep them updated on the progress of their requests, whether potential, active, or churned customers have suggested it. By sending the right notifications to the right customers and keeping them informed about the latest developments in your product, you can improve customer satisfaction and loyalty.
Getting Started with Product Feature Requests in your Business
Getting product feature requests from customers is crucial to improving your product and enhancing customer satisfaction. Leveraging various methods like creating polls, embedding feature requests on the website or in-app, connecting to software tools, using auto-tagging to create a segmentation, and, most importantly, looping in your product team can be some ways to get feature requests in your product effectively and efficiently.

Listening to your customers and keeping them informed about the status of their requests can help you build a loyal customer base and improve your product. With the right tools and strategies, you can prioritize feature requests and stay ahead of the competition in the ever-evolving market.

Sign up for a 7-day free trial on Zonka Feedback to explore the features that can help you collect and organize feature requests in real time. It has robust integrations and reporting capabilities, providing a seamless user experience.