Experiencing high customer churn and bounce rate? Work on the reasons behind the exit by capturing their feedback with effective exit intent survey.  
57% of shoppers will abandon the cart if they have to wait more than three seconds for a page to load. 38% of users say that they will exit a website if the content is not engaging or the layout is unattractive.

There could be several reasons why users leave your website without making a purchase, signing up for your newsletter, and even sending a query. And it can be incredibly frustrating when you invite potential customers through intelligent marketing campaigns and they exit the website without making a transaction. But if you know what the exit intents of users are, you can resolve the issues and increase conversions.

This brings us to the question…
Engage your Abandoning Customers with Exit-Intent Surveys 🔥
Collect Feedback from your abandoning customers with effective Exit Surveys and leverage it to build feedback-driven experiences for your customers to prevent losing more of them.
What is Exit Intent?
Exit intent is the purpose of website visitors to leave a website without making a purchase or completing a transaction. And this can be captured using Exit Intent Surveys to help businesses understand the cause of a low or below-expected website conversion rate.
What is an Exit Intent Survey?
An Exit Intent Survey is triggered and pops up on the screen when any of these conditions are met:
visitors are about to exit your website without making a transaction. They can help make even your non-converting or bouncing audience an important source of insights by asking them directly what's driving them away. Here's an example of an Exit Intent Survey question: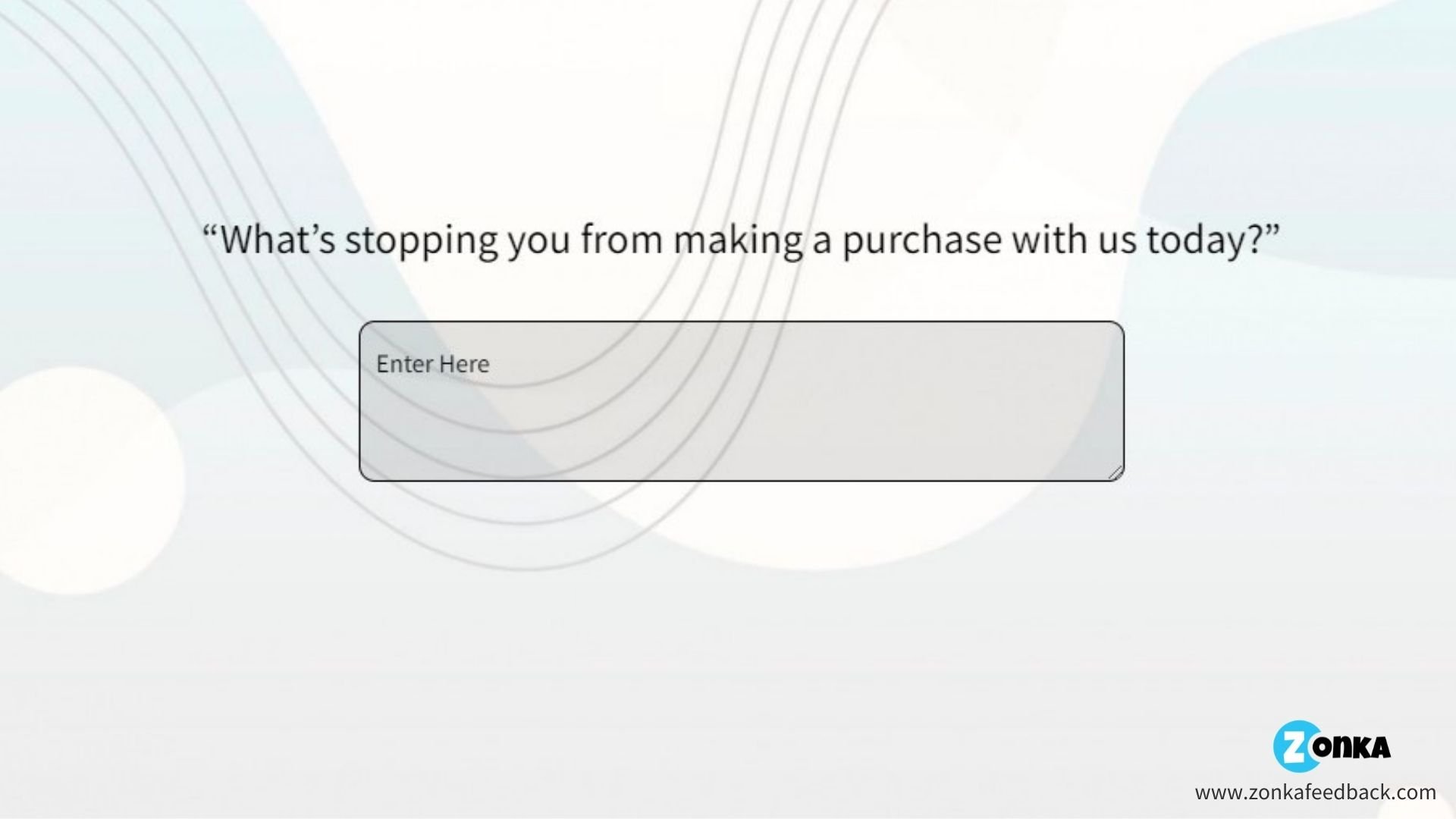 The answers from your website exit survey help in understanding why you're not able to reach your purchase or page-specific goals, which can then enable you to fix what's not working.
How Does an Exit Intent Survey Work?
An Exit Intent Survey appears on the screen when the visitor moves towards the upper side of the browser or the 'close' button. The exit intent technology gauges when the visitor is about to switch tabs or exit the page and displays a survey that is aimed at understanding why visitors leave early or without completing a transaction.
Asking the right exit intent survey questions can help businesses capture valuable insights from their customers right when they've made up their minds to leave. An engaging and interesting question, asking about their opinion, can help identify areas of improvement.
Why Do You Need to Use Exit Intent Surveys?
Exit Intent Surveys are website feedback surveys that are conducted even before visitors become customers. They enable understanding how visitors interact with your website and can tell a lot about what you're lacking that's affecting your goals. Exit Intent Surveys are the simplified means to know the same. Let's understand why you should use an Exit Intent Survey on your website.
1. To Listen to the Voice of Customer
By the year 2040, 95% of all purchases are estimated to be through eCommerce, according to Nasdaq. Sending feedback surveys to existing customers to measure satisfaction is a popular practice. But what about website visitors who could have been converted? Website Exit Intent Surveys can help you tap into this area and further improve your Voice of Customer program.

With the help of website Exit Intent Surveys, you can find out what your visitors expect and what you can do better to make them stay and make website transactions and purchases. Here's an example of how you can understand visitors' expectations:
2. To Increase Website Conversions
Digital browsers are quite impatient today. They can quickly lose interest if brands fail to engage them immediately. Moreover, 80% of these people may never return to your website. And this certainly impacts the conversion rate.
Exit Intent Surveys empower you with data and enable you to align your website experience with visitors' expectations. As a result, you can achieve your conversion goals, such as signing up for the newsletter, making a purchase, or downloading a lead magnet.
3. To Reduce the Loss of Time and Effort
When visitors leave your website without making a purchase or making a transaction, you don't just lose a potential client; you also end up losing time and resources put in running paid ads, creating content, optimizing the website, etc. But with the help of Website Exit Surveys, you can figure out what's working and what's not. For example, users may wish to pay through their digital wallets or may be leaving because of the insufficient descriptions of products. With the help of an Exit Feedback Survey, you can capture complaints and make all the right decisions to optimize resources.
Popular Use Cases of Exit Intent Surveys
Website Exit Intent Surveys are a great source to collect insights on what causes bouncing visitors and incomplete transactions. Let's understand where these insights can provide the most value.
1. Shopping Cart Abandonment Surveys
Research says that over 69% of website visitors abandon their shopping carts. There could be several reasons behind this, such as high shipping prices, long forms, an unexpected rise in price, etc. With a website Exit Intent Survey, you can find out why these people didn't end up completing their orders.
To target people who exit from the shopping cart or order summary page, you can embed Exit Surveys into these screens. With an advanced approach, you can also target people who specifically added products to their shopping cart and left without making a transaction.
Shopping Cart Abandonment Survey Questions
What was the reason you quit shopping?
What would prompt you to complete your order?
Do you need any support or additional information to complete your order?
2. Pricing Abandonment Surveys
Many visitors may leave your website from the pricing page without even adding products to the cart. To highlight those visitors and to dig deep into pricing issues that need addressing, you can opt for pricing abandonment surveys.
You would think that the pricing of your product(s) may be the only issue. But with the help of Exit Intent Surveys, you can uncover other price-related problems and convert visitors into customers.
Pricing Abandonment Survey Questions
What prevented you from adding the product to the cart?
Do you need a pricing breakdown to make to clearly understand the pricing?
Do you need any additional support or information to understand our product pricing?
Compared to similar products, are our prices lower, almost the same, or higher?
Do you have any questions about the shipping cost?
Do you wish to create a customized plan with more flexible pricing based on your requirements?
3. Goal Completion Survey
There may be various goals or transactions you may want your visitors to complete, such as signing up for the newsletter, downloading an ebook, making a purchase, sending a quote request, etc. So, to increase the conversion or check why people are not achieving the transaction goals you have set for them, you create an Exit Intent Survey and add it to the transaction screen.
Transaction Completion Survey Questions
Did you read our blog post? If not, why?
Are you facing any problem downloading our ebook? What can we do to help?
We see that you didn't complete your purchase. Can we help?
What can we do to help you complete your goal of visiting our website?
4. Landing Page Bounce Surveys
Driving qualified traffic through Adwords or other marketing campaigns can significantly improve your conversion rate since the content is tailored to the interests of your target audiences. However, the bounce rate from landing pages is higher than average. With the help of an Exit Intent Survey on your landing page, you can figure out why your audience isn't taking the desired action, such as sharing their contact information, downloading a piece of content, or signing up for a membership.
You can get insight into what changes you need to make to improve landing page conversions, such as simplifying the page, improving the design or layout, or adding more information to the page.
Landing Page Bounce Survey Questions
Is there any information missing on this page?
What can we do to improve this web page for you?
What stopped you from downloading our resource?
What would help you build trust in us and share your contact information?
Did you find what you were looking for? If not, please share your requirement.

Exit Intent Survey Use Cases Across Industries
Exit intent surveys can be used across various industries, from e-commerce to healthcare to education. In each industry, the purpose of the survey may differ, but the ultimate goal is the same: to better understand why visitors are leaving a site or canceling their subscriptions and to use that feedback to improve customer experience and increase customer retention.

Here are some popular use cases for exit intent surveys across different industries with their use cases:
E-Commerce
Product Feedback: Exit surveys can be used to ask visitors who abandoned their cart about their experience with the website, product, or checkout process. This can help identify issues with the website or checkout process and improve the overall customer experience. For example, an e-commerce website selling electronics could ask the visitor if they found everything they were looking for and, if not, what product they were looking for but could not find.
Customer Satisfaction: Exit intent surveys can gauge customers' experience with the website or buying process and attempt to understand overall customer satisfaction, which can be worked upon based on the feedback.
Software
Feature Feedback: By inquiring customers who are about to cancel their subscription or uninstall the software about which features they found useful and which could be improved, you can understand the most popular features and areas where the software could be improved. For example, a project management software company could ask users which features they used the most and which they would like to see added.
User Experience: Whether the software is intuitive and easy to use or meets user requirements, it can be used to identify areas where the software could be made more user-friendly.
Healthcare
Patient Feedback: With website exit surveys, you can ask patients who are about to leave the website or after their visit to provide patient feedback on their experience with the website or clinic. For example, a hospital website could ask patients how they would rate their experience with the website and if they found it easy to find the information they needed.

Treatment Feedback: You can show an exit intent survey to patients who have completed their treatment to provide feedback on their experience with the treatment, medication, or therapy. Doing this can detect any issues with the treatment process and improve patient satisfaction.
Travel and Hospitality
Booking Experience: If users have abandoned their booking or want to know about their experience with the booking process, including any difficulties they encountered or information they needed but could not find, you can leverage exit intent surveys.
Guest Feedback: You can inquire to guests who have completed their stay to provide feedback on their experience with the hotel or resort in the exit intent surveys. Based on customer feedback, you can work on areas where the hotel or resort could be improved to meet guest needs better.
Education
Student Feedback: Exit intent surveys can be useful to ask students who have dropped out of a course or are about to drop out to provide feedback on their experience with the course. Through the student feedback survey, you aim to find any issues with the course structure or content and improve student outcomes. For example, an online learning platform could ask students who have dropped out of a course why they chose to leave and if they had difficulties understanding the material.
Instructor Feedback: Requesting feedback from students who have completed a course can help identify areas for improvement in the instructor's teaching style and feedback quality, leading to an enhanced student learning experience.
Using Exit Intent Survey Responses
Studies have shown that exit intent surveys can help to increase conversion rates by up to 53%.
Once you have collected the exit intent survey responses, you can leverage them to improve the customer experience. Whether it is about enhancing website design or adding new product features, you can utilize the exit intent survey responses to drive growth and expand your customer base.
Here are some ways how you can use exit intent survey responses for maximum benefit:
Reporting & Analytics
Reporting and analytics are critical to understanding the data you have gathered through exit intent surveys. By analyzing exit intent customer feedback, you can locate trends, patterns, and other key insights, which can be used to improve your underperforming segment and increase customer satisfaction.
To transform your raw data into valuable visualized data, you should have different types of reports, such as snapshot summaries, insights reports, trends, and text analytics.
Identify Areas of Concern
The purpose of collecting exit intent surveys is to gauge deeper into why your customers opt out of your service. Only when you know the reason can you make strategies to eliminate it for an enhanced customer experience.
Here are two most popular ways that can help you identify the customer pain points:
Through Reports
By analyzing the reports generated from exit intent survey responses, you can identify areas of concern, such as technical issues with your website, product availability, or customer service problems. This information can help you to prioritize which issues to address first and take targeted resolutions.
Through Tagging
By tagging the exit intent responses, you can streamline the feedback analysis process and identify specific themes or issues. It will help you recognize the most prominent ones and allow you to work on them urgently. If you notice that most customers are churning out due to competitive pricing, you can adjust that based on market standards.
Loop in Stakeholders
Once you have identified areas of concern, you must ensure that all relevant stakeholders know the insights gained from exit intent surveys. Alerts and notifications can help you to keep everyone informed and up-to-date.
Here are some best practices that you can follow while looping in stakeholders based on exit survey responses:
Use automated alerts to notify relevant stakeholders, such as customer support teams or product managers, of negative feedback or concerns raised in exit intent surveys
Encourage stakeholders to provide feedback and suggestions on how to address the concerns raised in the surveys
Regularly review and update the stakeholders to ensure that they are aware of the progress made in addressing the issues
Use a centralized platform to store and analyze the exit intent survey data, making it easily accessible to all relevant stakeholders
Take Action
Using the insights gained from exit intent surveys, you can take action to address the issues that have been identified. Prioritize issues based on their severity and impact on the customer experience and then develop an action plan that includes timelines, responsible teams, and clear objectives.
Communicate with Customers
It is essential to let your customers know about your actions in response to their exit intent feedback. This can help to build trust and loyalty and demonstrate that you are committed to improving their overall experience with your brand. You can leverage social media or drop a personalized email to close the feedback loop effectively and convey that you put customers at the heart of your business.
Conclusion
Exit Surveys have the potential of dramatically improving the conversion rates on your website. What you need is a solid strategy and a powerful survey tool.
Zonka Feedback survey tool is your one-stop solution for all your survey needs from creating Exit Intent Surveys in a simplified dashboard to viewing and analyzing the automatically generated reports.
Moreover, you can set custom alerts for your team so that feedback is promptly acted on. You can also use our customized template and create surveys with just a few clicks.