Patient satisfaction serves as both a compass and a destination on the journey towards better healthcare outcomes. But how can a healthcare provider gauge patient experience and measure the satisfaction of their patients accurately? The answer is, by collecting patient insights through surveys.
In this article, we will explore what patient satisfaction surveys are, their types and benefits, examples, and some questions to include in these surveys. Further, we will discuss some best practices to create effective surveys using powerful patient feedback software to ensure satisfaction.
TL;DR
Patient satisfaction is the measure of patients' happiness with their experiences with a hospital, clinic, or healthcare center. A patient satisfaction survey helps to measure this satisfaction.

There are two types of patients - inpatients and outpatients. Questions are the core of any survey, so you should choose your patient satisfaction questions wisely for both inpatients and outpatients. You can share surveys through various channels - website, email, SMS, in-app and offline surveys.

Patient satisfaction surveys help to build a base of loyal patients, track staff performance, attract new patients, and minimize the risk of litigation.

To improve patient experience and satisfaction, you should ensure smooth processes, less wait time, cleanliness and hygiene of the premises, quality interactions with doctors and other medical personnel, and avoid unnecessary costs for patients. To create effective patient surveys, you should follow some best practices - create short and unbiased surveys, use survey logic and metrics like CSAT & NPS, respond to every feedback, and use a good feedback tool.

Zonka Feedback is an effective patient feedback system that can help you create powerful surveys with its amazing features. You can try it for free for 7 days and or schedule a demo to see how it works for your healthcare business.
Measure Patient Satisfaction & Insights
With Patient Feedback Surveys, understand what patients expect and learn ways to satisfy them.
What is Patient Satisfaction?
Patient satisfaction is the measure of how happy and content are patients with their healthcare experience, comprising factors such as quality of care received, communication with healthcare providers or doctors, access to services, and overall hospital or clinic experience.
Patient experience at all touchpoints like appointment booking, waiting, doctor's interaction, hospital staff interaction, bill payment, etc. have a direct impact on it.
What are Patient Satisfaction Surveys?
A patient satisfaction survey is a structured questionnaire that is used by healthcare businesses to gain insights from patients for measuring the overall satisfaction of the patients or their family members with each aspect. Let's learn about the two main types of patient surveys.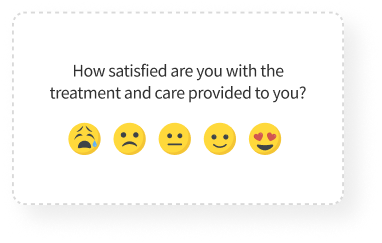 Types of Patient Satisfaction Surveys
There can be different types of surveys to gauge patient satisfaction depending on the healthcare services you provide and the kind of feedback you're looking for. Here are the patient survey types that you can explore:
1. Inpatient Satisfaction Surveys
Inpatients are individuals who are admitted to hospitals or healthcare centers and receive medical treatment, care, or other medical facilities and services while staying overnight or for an extended period.
Inpatient surveys are surveys designed to gather feedback from inpatients about their experiences and measure their satisfaction with the treatment, care, and related healthcare services at the hospital.
In the inpatient experience surveys like hospital surveys, patient satisfaction questions are asked about various aspects like:
Registration and admission process

Treatment and medical care

Cleanliness of the rooms

Frequency of the doctors' visit

Behavior of the medical staff

On-premises facilities like pharmacy, laboratories, and quality of meals

Billing and payment process

Discharge process
2. Outpatient Satisfaction Surveys
Outpatients are those individuals who receive medical consultations, treatment, and related services at a clinic or hospital without staying overnight. They visit the healthcare facility for treatment and return home on the same day.
Outpatient surveys are used for gathering feedback and measuring patient satisfaction of the outpatients with their experience of getting consultations, diagnoses, treatment, and related services.
In outpatient experience surveys like clinic surveys or hospital surveys, patient satisfaction questions are asked about various aspects like:
Appointment booking experience

Waiting time for the appointment

Interaction with the physician

Doctors' knowledge and diagnosis of the ailment correctly

Availability of pharmacy and lab test services

Satisfaction with the charges or fees

Accessibility of the location of the clinic

Comfort at the waiting room

Cleanliness of the clinical surroundings
Why use Patient Satisfaction Surveys?
Patient experience surveys are important in terms of collecting patient insights, ensuring satisfaction, and attracting new patients to your hospital or clinic. Let's understand this by exploring its benefits.
Let's understand this by exploring its benefits.
Higher Loyalty among patients

- Healthcare is a competitive industry because patients nowadays are smarter and more aware than before. Asking patient perspectives and taking actions to enhance satisfaction boosts patient retention and loyalty, and they choose you again whenever they need you.
Way to keep track of your staff performance - Patient feedback surveys enable you to track the performance of your healthcare staff be it doctors, nurses, ward boys, facilities, or any other staff.

Attracting new patients

- Patients share their experiences in the form of word of mouth and online reviews. Research suggest that more than 70%

of patients look for online reviews before trying new doctors or healthcare provider.

Patient satisfaction surveys help you to build satisfying patient experiences thereby creating good reviews and word-of-mouth recommendations for you which attracts new patients to your healthcare business.
Minimizing the risk of litigation - Negative medical outcomes may lead to legal actions against your doctors, hospital, or clinic. However, by leveraging feedback surveys, you can provide better treatment to your patients. If you make the best efforts to treat the patient and provide patients with a great experience, it minimizes the risk of such legal actions.
Let's explore the different channels you can use to share surveys.
Channels to Share Patient Surveys
When it comes to sharing surveys, it is good to use multiple channels to cover the maximum of your patients and collect their valuable feedback, and make better decisions for your healthcare organization. Here are the channels that you can use.
1. Website surveys
You can also share hospital satisfaction or clinic surveys on your official website. You can use feedback widgets like popups, slide-ups, bottom bars, and feedback buttons for this purpose.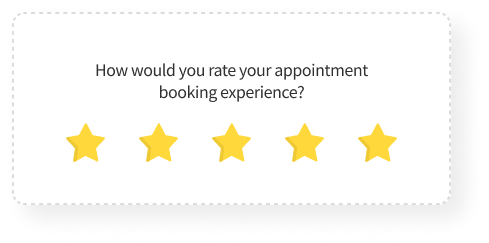 Popup survey appears in the middle of the screen of your webpages with certain user actions or triggers, prompting the users to take a feedback survey.

Slide-up survey and bottom bars slide in from a side or bottom of the web pages on user actions or triggers set, inviting the users to take the survey.

Feedback buttons are non-intrusive feedback widgets appearing as small tabs displayed with words like 'Feedback' giving users an opportunity to share unsolicited feedback.
2. In-app surveys
In-app surveys are a great way to collect patient insights when you have a healthcare application that people use to book appointments, get medical reports, and receive personalized healthcare information.
If you have such an app, you can easily integrate surveys into it to measure satisfaction of patients with respect to various touchpoints and experiences.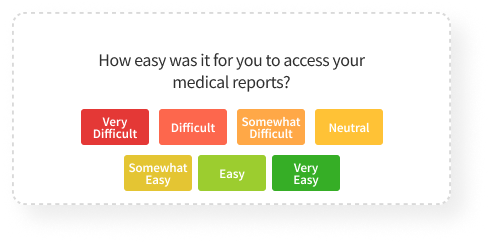 3. Offline surveys
Offline surveys can be shared with your patients or guardians at your healthcare facility. You can set up kiosk devices or use hand-held devices like iPads, Android tablets, and smartphones at various locations like reception, inside the room, waiting area, billing counter, pharmacy, and cafeteria where they can easily approach the kiosk and share feedback.
You can use offline surveys with the help of a good offline survey app that allows you to collect survey responses without the internet save the data collected for weeks, and sync them automatically as soon as your devices get internet connectivity.
4. Email surveys
Email surveys are also a great way to gauge patient satisfaction. They can be sent as embedded email surveys, email surveys with hyperlinks, and signature email surveys.
Embedded email surveys are sent with an email message along with the first question of the survey embedded and displayed in the email body itself. As the patients respond to this question, their response gets recorded and it takes them to the full survey or the next question.
Email surveys with hyperlinks are sent a normal email message inviting the patients to take the patient satisfaction survey followed by a hyperlink to the survey.
Email signature surveys are embedded below the signature of regular emails used for communications like sharing medical reports or receipts to collect unsolicited feedback from the patients.
5. SMS surveys
In an SMS survey, a survey invitation text is sent to the patients followed by a survey link which your audience can open to take the survey and submit their responses. With a good feedback tool, you can trigger SMS surveys at various touchpoints.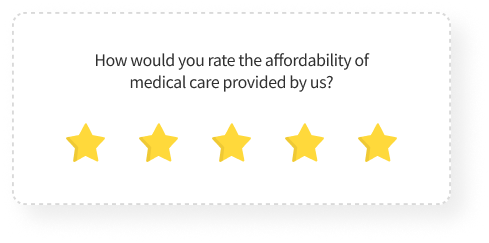 6. QR code surveys
You can also use QR codes to share your satisfaction surveys and collect patients' feedback about their experience at your hospital or clinic by placing them on brochures, posters, flyers, and digital screens. Your patients can easily scan them through their smartphones and take the survey.
Let's explore some patient survey examples to better understand what a patient survey looks like.
Some Patient Satisfaction Survey Examples
Here are some sample surveys that can be used to measure patients' happiness and evaluate their experiences. You can use these patient satisfaction examples as direct templates or you can modify them as per your survey needs.
1. Post-Consultation Survey for Hospital (for both inpatients and outpatients)
This survey template is a sample survey for hospitals and can be sent to the patients after they have visited or consulted the doctor in the hospital. A survey like this will help healthcare providers gauge patients' satisfaction with respect to the interactions they just had.
You can use the healthcare patient satisfaction survey template here:
2. Post-Visit Survey Template for clinics or other healthcare facility (for Outpatients)
This detailed patient satisfaction survey template is the perfect patient survey example designed for clinics to collect feedback from outpatients about their entire visit to the clinic or healthcare center and all interactions. This patient satisfaction survey questionnaire will help you gather feedback about your healthcare facility and its processes.
3. Patient Feedback about Doctor Survey
Patient feedback about doctor survey templates can be used to gauge feedback about patient interaction and experience with the doctor can be an invaluable tool for clinics and hospitals. This patient satisfaction survey template can cover a wide range of aspects related to the patient-doctor interaction.
For example, in a sample patient satisfaction survey, you can ask patients to rate the doctor's communication skills, bedside manner, and the extent to which their concerns were addressed. Additionally, the survey can inquire about the patient's overall satisfaction with the doctor's expertise, knowledge, and treatment recommendations.
Let's explore some patient survey questions that you can use to gauge patient experience.
Top Patient Satisfaction Survey Questions
Effective questions are the core of any survey when it comes to collecting patient insights. So we have worked and made three categories of questions to help you choose the appropriate ones as per your survey needs.
1. Patient Satisfaction Questions to Gauge Experience with Medical Treatment and Care
The purpose of these patient survey questions is to evaluate the quality of patient care and doctor's treatment provided at your hospital or clinic and how satisfied are patients with it. These questions can be commonly used for inpatients as well as outpatients.
How would you rate the overall care and quality of treatment provided at the hospital/clinic?

How would you rate the knowledge of the doctor?

How would you rate the diagnosis of the ailments done by the physician?

How would you rate the behavior of the doctor?

How would you rate the behavior of the hospital/clinic staff?

How well were you provided with all the details about your ailment, medication, and treatment instructions?

How satisfied are you with the effectiveness of the medication and treatment provided to you?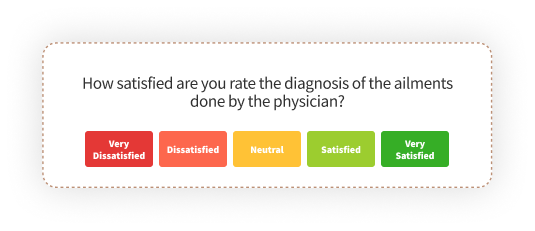 2. Patient Feedback Questions for Outpatients
Outpatient feedback can be on various aspects of healthcare like the staff's helpfulness, the waiting duration before the appointment, ease of booking an appointment, doctor's knowledge, availability of pharmacy and lab test services, etc.
These questions are mainly to gather feedback from outpatients.
How would you rate your

appointment booking experience?

How would you rate the accessibility of our facility in terms of location?

How would you rate the knowledge and diagnosis of our doctor?

How satisfied are you with the treatment?

How would you rate the knowledge of our medical staff?

How would you rate the attentiveness and proactiveness of the healthcare provider?

How friendly and helpful were the medical experts and the staff?

How would you rate the extended medical care facility provided by the health care center?

How would you rate our efficiency in conducting health examinations and lab tests?

How would you rate the cleanliness and hygiene at the medical facility?

How satisfied are you with the food quality and cafeteria services?

How would you rate the payment options at our clinic/hospital?

How would you rate the affordability of medical care provided by us?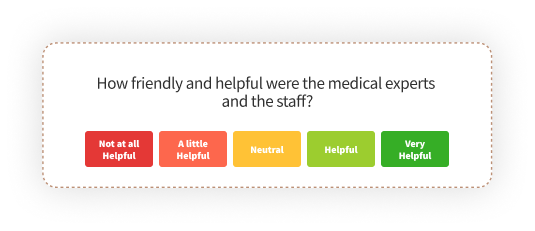 3. Survey Questions for Inpatient Feedback
Inpatient surveys are one of the key health survey questions that can be used to measure inpatient satisfaction in terms of not just treatment but also the patient's stay in the hospital during the treatment. In cases of inpatient treatment, factors like the cleanliness of rooms, the technology used, frequency of doctors' visits, on-premises facilities like pharmacies and laboratories, quality of meals, etc., can influence the patient experience.
You can include these hospital survey questions in a post-discharge survey to gauge the patients' overall experience.
How would you rate the admission process of our hospital?

How satisfied are you with the latest technology at our facility?

How would you rate our operating rooms/patient wards?

How satisfied are you with the quality of care during the transition from hospital to home/another facility?

How satisfied are you with the treatment provided?

How would you rate the frequency of the doctors' visits while you were admitted?

How would you rate the quality of meals for patients?

How would you rate the quality of food available in the cafeteria for visitors?

How would you rate our staff members' efficiency in conducting health care examinations and lab tests?

How would you rate the availability of all the necessary medical services?

How would you rate the staff members' knowledge and assistance with respect to health insurance plan and copay?

How effectively did our staff explain the payment options?

How satisfied are you with the overall billing experience at our hospital?

How satisfied are you with the discharge process at our hospital?
4. Facility Feedback Patient Satisfaction Survey
A facility feedback survey has to be one of the most important healthcare surveys because facility and infrastructure play a huge role in patients choosing your services. An unkempt building with a lack of on-site facilities can be no good since people rarely compromise when it comes to health.
Here are the top healthcare feedback questions that you can include in this survey:
How would you rate the cleanliness at our facility?
How would you rate the seating space and arrangement in the waiting room?
How would you rate the food preparation and quality in the cafeteria?
How to Improve Patient Satisfaction?
If you want to make sure that the patients in your hospital or clinic are satisfied with your services, you have to take an active part in safeguarding the interests of the patients and providing them with world-class services.
Here are some best practices that can help you in improving patient satisfaction and happiness at your hospital or clinic.
Make your processes easier and simpler

- As the patients are already struggling with their health issues, the first step should be to save them from complex and lengthy procedures. Be it appointment booking, admission, medicine purchasing, hospital bill payment, or assistance to get health insurance claims; ensure that all processes are simple and smooth for them.
Reduce waiting time - Long waiting times can ruin a major part of the patient experience. Therefore, ensure patients are given appropriate and most accurate timings of appointment so that they don't have to wait for long. If you have a high number of patients, hire more doctors and other medical staff.
Improve the quality of doctor-patient interactions - Make sure that the doctors are not only good in terms of swift diagnosis and treatment, but they are also caring and compassionate towards the patients so patients feel good and recover speedily.
Keep highly trained staff - Make sure that the hospital or clinic staff you have is well trained and decent in terms of behavior along with their responsibilities of taking good care of the patients.
Ensure cleanliness of the premises - All areas of your premises must be hygienic and clean be it the waiting area, doctor's cabin, cafeteria, or washrooms. Ensure that your facility doesn't have a foul smell and take appropriate measures like sanitizers to avoid the spread of infections.
Avoid burdening your patients with unnecessary costs - Avoid overburdening your patients with unnecessary blood tests, x-rays, ultrasounds, etc. Ensure that your doctors' diagnoses are good and accurate and follow the best practices of doing healthcare business.
Collect feedback and take action on it - Always collect patient insights to let them know that you care about how patients feel, their opinions, and experiences, and timely action on feedback to improve their experience and avoid any negative experiences in the future.
Let's learn how you can create effective patient surveys with Zonka Feedback.
How to Conduct a Patient Satisfaction Survey with Zonka Feedback?
You can create powerful patient feedback surveys easily with Zonka Feedback.
Use Survey Builder to choose your question types, and survey design with themes and colors.
You can also use ready-to-use templates and customize them as per your survey needs. You can choose among various types of healthcare surveys like inpatient surveys, outpatient surveys, health risk assessment surveys, and patient registration forms.
Use survey logic, answer piping, and question branching to make your surveys dynamic. Use variables and prefills to pass the patient data that you already have, in the survey forms.
Share surveys through various channels like offline surveys through kiosks, iPhones, iPads, Android tablets, and smartphones; SMS surveys, email surveys, and website surveys through feedback widgets.
View real-time responses and reports like comparison reports, and metrics scores like Net Promoter Score and patient satisfaction score after your patients have taken the surveys.
Take action on feedback, and make feedback-driven decisions to improve patient experiences and enhance satisfaction.
Here are some simple tips that you should follow while creating your feedback surveys to make them effective enough to collect valuable feedback from your patients and ensure patient happiness.
Create short and simple surveys - Always make your surveys concise to avoid overwhelming your patients with long surveys. Use ready-to-use survey templates, and closed-ended and open-ended question types with Zonka Feedback to create short, yet powerful patient satisfaction surveys.

Avoid leading or biased questions - Follow a fair approach when surveying your patients. Avoid questions that lead to a certain answer. Also, avoid double-barreled questions and ask about a single aspect in one question as to avoid confusing the patients and ensure accurate survey results.

Leverage satisfaction metrics to gain quantitative feedback - Utilize Satisfaction metrics like CSAT, NPS, and CES to get a quantitative measure of patient happiness.

Add logic to your surveys - Make sure that your surveys sound logical to your patients and that appropriate questions are asked of them. With Zonka Feedback's feature of survey logic and question branching, you can create dynamic surveys and provide personalized survey experiences to your patients.

Cover all aspects of your healthcare business - Make sure to cover all aspects of your hospital or medical facility so that no issues are left unheard. You can use surveys like microsurveys to target each area and different departments separately with short surveys.

Respond to feedback - Always respond to every patient's feedback whether it is positive, negative, or neutral feedback. Pay special focus to negative feedback by taking immediate actions to improve the patient's experience. Zonka Feedback's real-time alerts notify you at the right time about the feedback received so that you can take instant action on feedback and close the feedback loop effectively.

Choose a good patient survey tool - Always use a good patient feedback tool to create effective surveys and share them with your patients. Zonka Feedback is a powerful tool that helps you collect actionable feedback, and measure and improve patient happiness by taking action on feedback at the right time by closing the feedback loop. It also offers a free trial.
Try Zonka Feedback for free for 7 days and see how it works for you to boost your healthcare business.