Patients always share their experiences with their known ones and advise them to either choose or stay away from a particular physician, hospital, or healthcare center. And now this is increasing as today's patients are becoming from aware and tech-savy. They not only share Feedback with people through word of mouth but also post reviews on online platforms. Being in the healthcare industry, you cannot afford to ignore online reviews about you as they significantly affect your reputation and goodwill in the industry. Studies suggest that 71% of the patients look for online reviews to find a new doctor.
Measure Patient Feedback and Satisfaction👩‍⚕️
Create your healthcare surveys and questionnaires and gauge feedback from patients in real-time.
With this fact, you can estimate how a bad review can harm the reputation of a doctor or a healthcare provider. Patients always need good treatment and quality care. Moreover, patients nowadays also evaluate based on the facilities provided in a hospital, staff behavior, cleanliness of the premises, waiting-time, billing experience, and everything that patients or their family members undergo while undergoing treatment. Moreover, the growing competition in the healthcare industry has made it vital for healthcare professionals to know and understand patients' needs and expectations deeply.
The best way to know what patients want is to build a Patient Feedback System that focuses on collecting real-time patient insights and improving the various aspects of this business. An effective Patient Feedback System will help identify the shortcomings of your healthcare services, which will help you improve your services and foster Patient Satisfaction. Increased Patient Satisfaction will result in Patient Loyalty and a good reputation in the industry which will attract new patients and ultimately grow your healthcare business.
Objectives of Patient Feedback System
When we talk about the objectives of a Patient Feedback system, the core objective should always be to improve Patient Experience, enhance Patient Satisfaction, and eventually grow your healthcare business. However, to attain this ultimate objective, we can divide it into small objectives, or we can say milestones through which you can achieve the ultimate goals like:
To collect feedback from the inpatients and outpatients.
To know what patients feel about the healthcare services they get.
To understand what patients expect from the healthcare providers.
To see how the hospital staff is working, including doctors, nurses, and other staff like billing, reception, pharmacy, cleaning, facilities, etc.
To make improvements in the healthcare services as per Patient Feedback.
To ensure Patient Satisfaction, improve overall Patient Experience, and ultimately have success in the healthcare business.
How to set up a Healthcare Patient Feedback System?
A Patient Feedback system is not confined to simply sending a survey to the patients and asking them for Feedback. Instead, it is a whole system that strives to establish such a communication between the patients and the hospital providers that the patients can convey what they need and what they feel. At the same time, the healthcare providers should understand it, fulfil it, and the patients also think being heard.
While implementing a Patient Feedback system, there are some essential steps to follow to ensure you collect valuable and accurate insights from your patients and make the most of them to take your healthcare business to the next level. Here are the steps you should follow.
1. Form a group
The foremost step is to form a group of people responsible for collecting and working on the Patient Feedback. The group would consist of some staff members, the upper management, and one or more doctors who will brainstorm on the entire plan to develop and implement the system.
They would be deciding the touch points where you should take Feedback like waiting areas, billing, after an appointment with the doctor, at the reception, pharmacy, hospital cafeteria, or testing laboratory. They will identify whom you should survey (visitors, patients, or their family members dealing with various staff, etc.) and decide how to connect them (channels like email, SMS, tablets, or kiosk surveys) and address their issues. They will be responsible for end-to-end feedback management.
2. Choose a Patient Feedback Tool
With the array of tools available in the market, selecting the right Patient Feedback tool that fits your requirement becomes a daunting task. The key is to look for a Patient Feedback Software that possesses the necessary features that suit your business needs and help you accomplish your goals of establishing the whole Patient Feedback System. The Patient Feedback tool you use must have these features:
It should have the ability to collect Feedback through multiple channels both for inpatient and outpatients through ways like SMS, Email, and on-premises survey channels like iPhone, iPad, Android tablets, smartphones and setting them up as kiosk surveys devices.

It should have the ability to create multilingual surveys because customers can be of different cultures, languages, and backgrounds.

It should have the ability to track Feedback across different areas or locations from a centralized location

.

It should have the ability to create customized surveys for different patients. You should be able to white-label your surveys and add your brand name with your styling and colors.

It should have the ability to set up triggers for sending surveys automatically after various touchpoints like an admission, a bill payment, a discharge, an interaction with the physician, etc.

It should have the ability to provide instant alerts and notifications for

Patient Feedback especially Negative Feedback so that you can take immediate corrective actions to improve Patient Experience and close the feedback loop.

It should have the ability to provide reports of Patient Feedback in real-time.
Overall, you need to choose the software that helps collect Patient Feedback and enables you to work on it and improve Patient Experience.
3. Set up your surveys and ask the right questions
The next step is to create your surveys. For this, you need to look at the touchpoints for which you are preparing surveys. You may need to develop separate surveys for different touchpoints to gauge the experience with the doctors, the billing staff, the food at the cafeteria, the waiting time, the billing experience, and so on.
The core step is to decide on the questions. The success of any survey depends majorly on the type of patient feedback survey questions that you ask. You need to ask different questions for inpatients and outpatients. An effective Patient Survey Software can help you for this purpose.
Good Patient Survey tools nowadays provide multiple templates and health assessment survey question types for different types of surveys, which will help you create engaging and user-friendly patient surveys in no time and boost response rates. You should follow the best practices to create effective surveys to receive a good response rate and work on Patient Feedback to improve Patient Experience.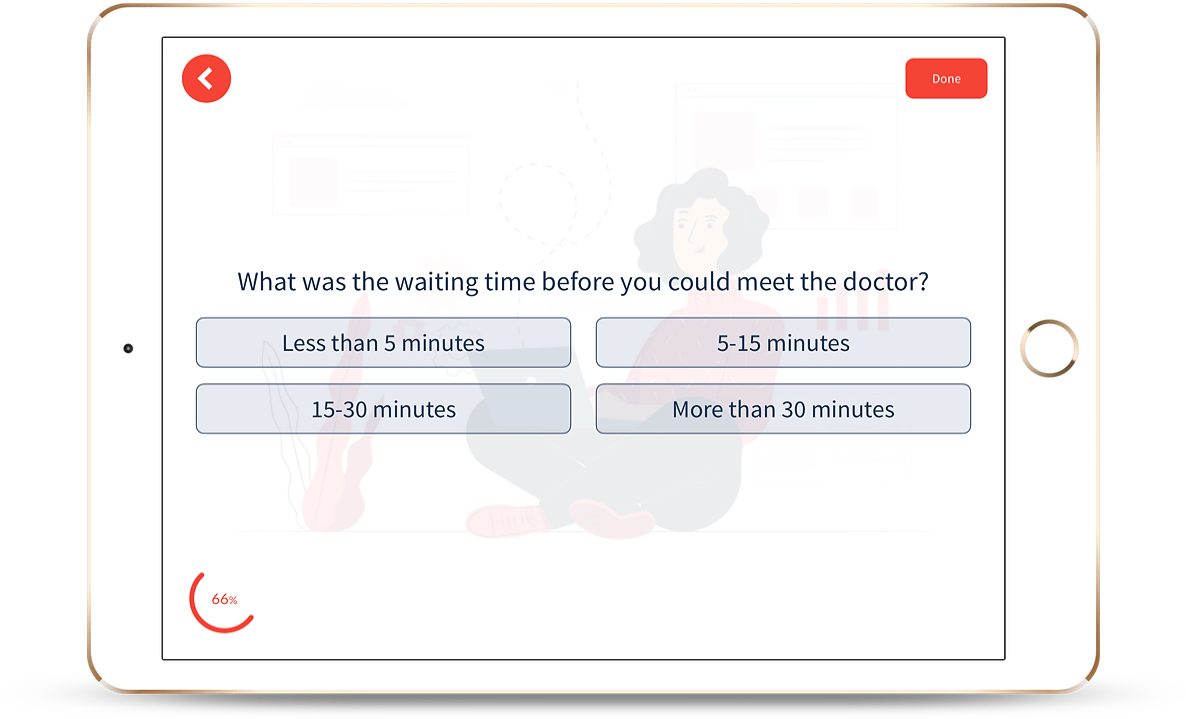 4. Choose the Right Channel
The next step is to choose the way you want to survey your customers. You can collect Feedback on multiple channels like Website, Email, SMS, iPad, Tablet, Smartphone, iPhones, and Kiosks. The key is to be omnipresent, i.e., you need to be on multiple channels wherever your customers are available and are willing to share Feedback.
Patients nowadays prefer to do tasks such as booking an appointment, checking their medical reports or personal health records online through apps and portals. Researches suggest that 81% of the patients prefer to book appointments with doctors through a secure web service. When it comes to sharing Feedback, it is evident that it is necessary to have a presence on several online channels like email and website and platforms like social media to collect this valuable information.
Moreover, there would be different channels suitable for inpatients and outpatients. You can use devices like iPads, tablets, or smartphones or set them as kiosks to collect in-the-moment feedback for outpatients. For inpatients after their discharge, you can send survey invitation links or embed surveys via email or send one-click surveys via SMS, which the patient can fill at their convenience as inpatient feedback forms and surveys can be a bit lengthier.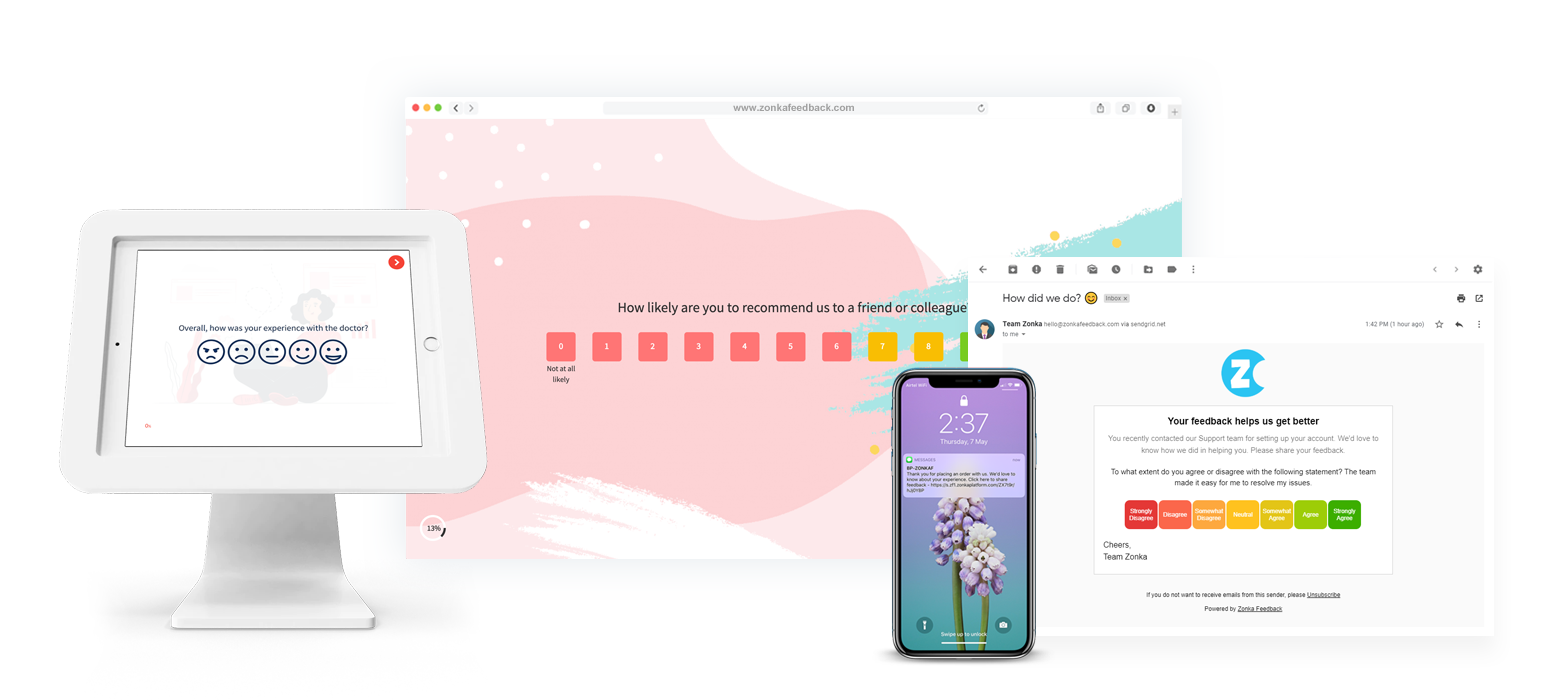 5. Set up Alerts for Stakeholders
With the help of good Patient Feedback Software, you can easily set up instant alerts for every Feedback in real-time. These real-time alerts and notifications will help you take immediate action on the Feedback. When you set up these alerts, you will start receiving instant alerts and email notifications for every Feedback.
In this way, you get to know and address your patients' concerns and satisfy them before it's too late and they switch to another doctor or healthcare provider.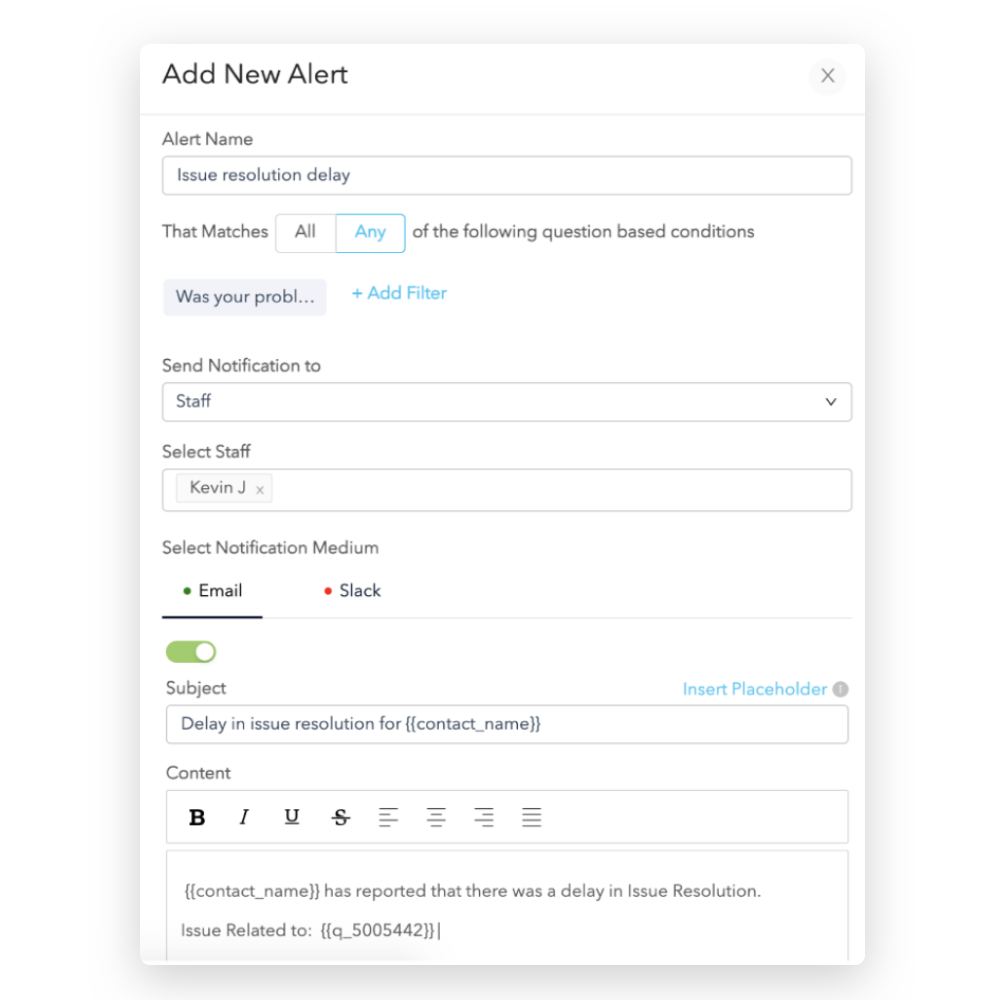 6. Resolve Patients' Issues
Taking timely action on the feedback received is as important as collecting it in the first place. Researches suggest that 52% of the patients who posted negative reviews on even the most popular websites like Google say the medical professionals never contacted them to address their concerns. This is the main factor that provokes your patients to switch to another healthcare provider.
Whereas, if you address patients' concerns properly, it can double their satisfaction. Always follow up with your patients to know where things went wrong, and do the maximum to resolve their issues. Doing this will prevent your patients from churning and avoid lousy word of mouth and negative reviews about your services in the industry.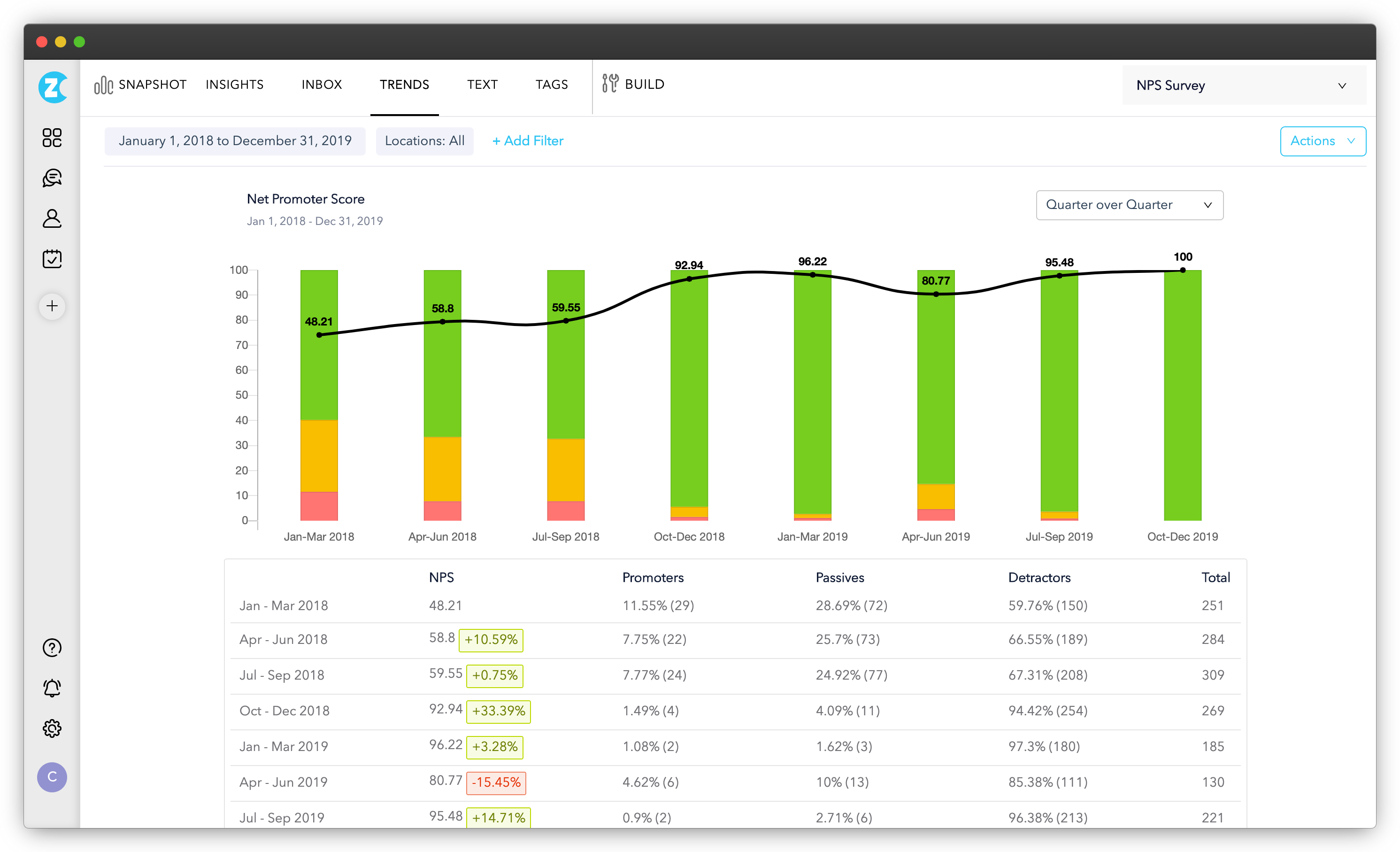 7. Continue measuring feedback
Capturing Feedback is not a one-time process. You can utilize its effectiveness only if you keep measuring it after every interaction or touchpoint and gauge Patient Satisfaction. You will be able to improve your score by understanding the reasons behind patient dissatisfaction. It will not just make your patients happy but make them feel heard and valued.
You should employ the right strategies to improve your processes and train your staff to improve the services and provide better care to the patients. With the help of good Patient Feedback Software, you can also track your improvements with the help of reporting and analysis.
Conclusion
Every healthcare organization faces different kinds of patient issues, and to address them timely and adequately, gathering Patient Feedback is important. You need to pay heed to the voice of your patients that can make a significant impact in building long-lasting and meaningful relationships with your physicians. The best way to deal with them is to collect real-time Feedback with the help of patient surveys, manage them effectively, and respond to both negative and positive feedback to enhance and deliver unmatchable patient experience and quality care. Apart from keeping track of responses, make sure to inform your patients from time to time about the modifications that you have incorporated to improve your services, care, and practice.
Learn more about the Patient Feedback