Consider this – you go to an event and are asked to share feedback after the event by typing in the URL in your phone. Or you may be asked to wait in line to share feedback on a kiosk device. Chances are, you would not be willing to share feedback because does anybody even put so much effort anymore just to share feedback?
This common problem is resolved by Quick Response (QR) code surveys.
QR code surveys make customer data collection a breeze and enable collecting huge quantities of insightful in-the-moment feedback.
TL;DR
QR code surveys refer to a method of conducting surveys or collecting customer feedback using Quick Response (QR) codes. A QR code is a two-dimensional barcode that can store information, such as a website URL or text. In the context of surveys, a QR code is often generated and linked to an online survey or feedback form.
There are several reasons why businesses should incorporate QR codes to take surveys. They help streamline feedback collection —easy, in-the-moment feedback on the go, increasing participation, reducing costs, and facilitating unlimited data collection.
Quick response codes can be used for a variety of applications like asking retail survey questions, collecting product feedback, having event or conference feedback, employee feedback, and more.
Zonka Feedback, a versatile tool, offers readymade templates, code-free survey building, and intelligent reporting for a comprehensive feedback solution. You can sign up for a free 7-day trial or schedule a demo to understand the product's QR code survey process.
Collect Instant Customer Feedback with QR Code Surveys 🔥
Leverage QR Code Surveys to collect in-moment Customer Feedback wherever your customers are.
What is a QR Code Survey?
A QR code survey is a feedback methodology that collects customer or prospect information via a survey link embedded into a QR code. To initiate the survey, the participant must scan the feedback QR code using their phone and then click the survey link that appears on the screen.
A QR code survey is a quick and efficient feedback methodology since you can practically embed any survey link in your QR code and share it with your target audience. QR code surveys are multifunctional and enable collecting customer feedback, student feedback, employee feedback, event and workshop feedback, patient feedback, guest feedback, etc.
How Does the QR Code Questionnaire Work?
When it comes to collecting feedback using QR codes, there is a mechanism that most organizations follow. They get started with survey software that lets them create survey QR codes and distribute them across different survey channels.
Here are the steps that you can follow:
Create a QR Code:

A survey or feedback form is created using an online survey tool or a QR code generator.
The survey tool generates a unique QR code image associated with the survey.

Distribution:

The QR code is then printed or displayed in places where the target audience is likely to see it. This could be printed materials, posters, product packaging, business cards, or even digital screens.

Scanning the QR Code:

Participants who are interested in taking the survey use their smartphones or tablets to scan the QR code.
Most smartphones have built-in cameras or QR code readers that can scan bar codes. Users can also use dedicated QR code scanner apps.

Accessing the Survey:

Upon scanning the QR code, the user is directed to the online survey or feedback form. This can be a webpage optimized for mobile devices.

Completing the Survey:

Participants can then proceed to complete the survey or provide feedback through the online form.
Benefits and Advantages of Using QR Code Surveys
There are many benefits of using QR or quick response code surveys that businesses across various industries can leverage. Let's discuss each in detail.
1. Quick and Easy to Use
Participants can simply scan the QR code with their QR code reader on their smartphone to access the survey, which makes it convenient for them to share feedback on the go. This eliminates the need for participants to manually enter a URL or search for the survey online, which can save time and make the process more convenient. Additionally, QR code surveys are mobile-friendly and can be completed on a smartphone or tablet, which makes it easy for participants to complete the survey on the go.
2. In-the-Moment Feedback
Let's say you visit a restaurant and place an order. Unfortunately, the service in the restaurant isn't up to the mark, for example, the food is delayed or the waiter isn't nearby when you have to ask for something. You would instantly make a mental note of not visiting the restaurant again.
But if there's a feedback QR code printed on all the tables in the restaurant, you can scan the code and share feedback while you wait.
What QR code surveys do is encourage your customers to share in-the-moment feedback, which means customers can share feedback while they are interacting with your business. And this can have two huge benefits:
You get the most genuine and insightful feedback fresh from customers' current experience with your brand.
You get the opportunity to act instantly on the feedback and retain customers by providing a solution before they make an exit.
These benefits apply to different industries and situations.
3. Increased Participation
Anybody can scan the feedback QR code where they are For example, in a retail store, customers can share feedback on their shopping experience while they are on the premises using the quick response code. Customers of a food delivery brand can scan the QR code on the food packaging and share feedback on the delivery service as soon as the order is delivered. The thing is customers do not need to go the extra mile to share feedback; all they need is their own phones with a QR code reader. And this reduced effort is what may possibly increase the survey participation rate dramatically.
4. Reduced Costs
You can use QR Code Surveys to collect feedback at reduced costs. For example, on-premises feedback, displaying QR Code Surveys at simply various touchpoints will capture feedback, so you do not need to lock in devices like a kiosk, mobile, or tablet. And this can save you the cost of devices that you may use only to collect feedback.
Similarly, QR code surveys facilitate self-service since customers can scan the QR code that comes easily to them, so you may not need to hire a survey facilitator. This may further save you significant costs. QR codes are safe and can be generated reliably using a QR code generator.
5. Ease of Distribution
You can distribute surveys via QR code effortlessly while capturing customers via different channels. For example, the QR code can be printed on flyers, posters, or other physical materials and distributed in public places. It can also be shared digitally, for example via email, social media, or through a website or app. This makes it easy for organizations to reach a wide audience and gather data from a diverse group of participants.
Learn more ways to distribute surveys via QR Codes.
6. Unlimited Data Collection
A QR survey can be shared with any number of people via email, SMS, flyers, brochures, pamphlets, invitations, handout material, etc. And if your survey sample is huge, you are more likely to get more responses. It is the ease of sharing QR code surveys that makes it a popular unlimited data collection tool with unlimited responses.
Real-life Applications & Use Cases of QR Code Survey
QR code surveys can help you collect feedback irrespective of the industry. Let's understand with a few use cases.
1. Retail Experience Feedback
In any retail destination from lifestyle to tech space, there are several things that can make or break the experience of visitors, such as the availability of products, waiting time, payment mode, customer service, etc. If you do not survey all your visitors to find out the challenges they face, you may end up losing potential customers and never knowing what drove them away.
You may resort to mobile app surveys, tablets, and kiosk surveys or feedback stations to survey customers. However, it is unlikely for customers who left without shopping to stop and share feedback through any of these channels. So, you can use the matrix barcode so that all they would need to do is scan the code through their phone cameras and fill in survey answers on their way out.
To make it easier for customers and even visitors in your retail store, you can embed a survey link into a QR code and print it on exit doors, billing counters, standees, banners, etc. Make sure to cover various touchpoints where visitors are likely to interact with your brand.
2. Product or Service Experience Feedback
In the case of product experience, your customers would be willing to share feedback only once they have used the product. And in all honesty, this is the only way to get genuine feedback. But since there's a chance that your audience may miss email, SMS, or in-app survey requests, you can ensure getting their feedback by printing the survey QR code on the product packaging.
For example, a food delivery brand or restaurant can print a survey QR code on the food package to prompt customers to share feedback. Similarly, in the case of products other than food, you can print QR codes on instruction manuals, guides, product assembly guides, warranty cards, packaging boxes, etc., and even directly on the products, such as washing machines, refrigerators, etc.
In the case of service experiences, you can share survey QR codes on pamphlets, visiting cards, invoices, payment receipts, etc.
3. Event, Conference, and Workshop Feedback
When you're hosting an event and looking to collect feedback, sending customer feedback surveys to the attendees after the event is over may not be helpful since the experience wouldn't stay fresh in their minds. Rather, it is suggested to collect feedback both mid-event and post-event while your attendees are still on the premises.
Now you may hand out physical feedback forms or share a survey URL where attendees can take the survey. In both cases, it can be a lot of work for them, which can poorly affect the quality of feedback and participation rate.
A great alternative to this is QR code surveys that can easily be printed on standees, tent cards, banners, presenter slides, printed on cardboard boxes, etc. All that the attendees will have to do is scan the survey QR code using their phone cameras and they will be directed to the survey screen.
4. Employee Feedback
Anonymous employee surveys are extremely important if you wish to get access to the most honest feedback. You would notice that some employees wouldn't like being seen sharing feedback at the kiosk station on the premises. And email survey requests may get lost among other work-related emails.
A QR surveys can come in handy since they allow sharing of feedback quickly and effortlessly. Moreover, it can encourage instant feedback, preventing insightful information from getting lost in monthly or quarterly surveys. You can print the survey QR code in washrooms, waiting areas, cafeterias, elevators, employee handbooks, etc. This would ensure that feedback is shared every time employees come across a challenge.
5. Student Feedback
In colleges and universities, you can print survey QR codes across the premises, such as entry & exit gates, cafeteria, student brochures, classrooms, laboratories, library cards, test papers, presenter slides, banners, course material, etc. This again will ensure instant and insightful feedback. Moreover, displaying survey QR codes across the campus will create a culture of consistent feedback, where students will not need to reach out to HODs or wait for quarterly surveys to resolve issues.
6. Healthcare Feedback
In healthcare, people may not care to visit you again after having a single bad experience and forget to share unsolicited patient feedback. They may not even take time out of their busy schedules to open your email survey request or download your hospital website to share feedback. Your best bet in such cases is to ask for feedback while they are still on the premises.
You can print QR codes on various touchpoints where patients are likely to share their challenges or good patient experiences. For example, if you think patients or their families may experience challenges while understanding the insurance payment plan with your hospital, you can print a survey QR code on the billing counter so that patients can share their experience instantly.
Similarly, you can print QR codes on bills, hospital forms, brochures, etc. You can also print it across the premises, such as washrooms, patient wards, cafeteria, pharmacy counters, waiting areas, etc., to gauge feedback from patient satisfaction surveys
7. Restaurant & Hospitality Feedback
In hotels and restaurants, there is a high chance of guests writing a review for you online instead of taking your email or SMS surveys. You can give them a chance to vent or to share what they liked, right while they are on the premises. QR code surveys make it simpler. In restaurants, you can print survey QR codes on menus, tent cards, doors, tables, trays, bills, payment receipts, parking receipts, etc.
In hotels, you can print survey QR codes on local maps, postcards, check-in & check-out counters, guest rooms, restaurant table tops, concierge, gift shops, parking tickets, entrances of activity zones like spa, pool, golf, yoga, and other print media.
8. Travel and Entertainment Feedback
Let's say that you wish to collect airline feedback from passengers. Instead of sending out survey requests after the journey, you can ask them to take a survey on the flight itself. For example, you can print the QR code on the in-flight drink and food menu, behind the seats, boarding passes, tickets, etc.
Similarly, in a movie theatre, a bowling alley, etc., survey QR codes can be printed on menus, tickets, standees, etc., to gather feedback instantly.
QR Code Surveys with Zonka Feedback
Zonka Feedback is a multichannel feedback tool that features the most intelligent and attractive surveys that can be used at different points throughout the customer journey. It is ideal for creating and distributing surveys, for both small and large-scale businesses. Here are the top features that you can use with this 360-degree feedback tool:
Readymade Templates

: Over 500+ customizable survey templates for different industries and feedback goals

Question Types

: 30+ question types, including Likert scale, MCQs, open-ended questions, polls, quizzes, etc.

Code-Free Survey Builder

: Easy-to-use, code-free survey builder that doesn't require technical or domain-specific knowledge

Intelligent and Attractive Surveys

: Aesthetic surveys that can be customized as per brand tones; survey logic to create the most relevant and interactive surveys

Automated Surveys:

Automatically triggered surveys based on triggers like purchase completion, completion of a subscription, etc.

Integration with BI Tools

: Survey tool integration with CRMs, communication, marketing, and other business software, for example, Salesforce, Zapier, Zendesk, Freshdesk, Gupshup, Mailchimp, Intercom, etc.

Reporting and Analysis

: Access to intelligent reports that highlight overall customer satisfaction, survey success, leading challenges, trending complaints, customer sentiment, etc.
How to Create a QR Code Survey with Zonka Feedback
QR code surveys can be created and shared easily all through a single survey tool. You do not need a separate tool generator; you can create an attractive and intelligent survey and generate the QR code for the same to share with your audience. Let's understand using the Zonka Feedback survey tool.
Step 1: Go to the survey list view and choose a survey template suited for your industry.
Step 2: Edit the survey design and text as per your requirements.
Step 3: On the navigation bar at the top, click on Distribute.
Step 4: Now select Survey Link. Click on the QR Code icon next to the link for which you'd like to create the QR Code.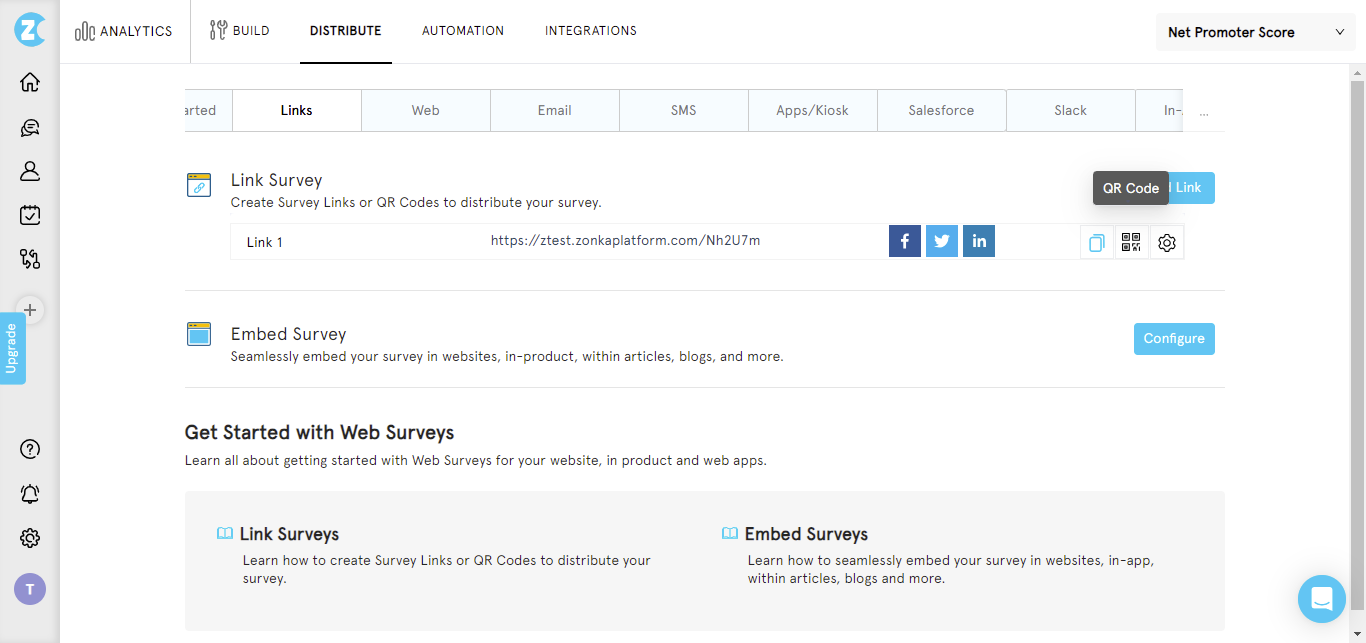 Step 5: Download the QR code in the format you prefer.
Step 6: Print the QR codes that you want your audience to see.
Zonka Feedback is one of the most popular platforms that you can use to create and share surveys with QR codes. You can create surveys to gauge feedback at various real-life instances like doctor's offices, retail stores, at eateries by restaurant owners, outside events and exhibitions, and much more.
You can sign up for a 7-day free trial if you want to try our QR Code Surveys to better understand this feedback solution.