Surveys are the best way to collect information regarding how your customers feel about the products and services you provide them. There exist many ways to collect Customer Feedback. You can do it through email surveys, SMS Surveys, website surveys, or set your devices like iPad, iPhones, tablets, and smartphones as kiosks at your location. One of the most useful among them is to gather survey responses through Android Survey Apps.
Take Feedback & Gather Data anywhere with the Offline Survey App🔥
Run surveys on any device in offline mode, even in remote locations and get real-time alerts, responses and insights.
Why Android Surveys?
With the increase in Android devices and smartphones, the usage of apps has considerably increased over the past few years. Studies suggest that in the second quarter of 2020, there is an average of 200 hours spent on Android apps globally. Android apps have become a part of people's daily lives. Be it studying, gaming, entertainment, or connecting with people at distant places, apps play a significant role in people's lives.
When we talk about conducting surveys and capturing feedback, there is no reason for Android apps to stay behind. Android surveys help conduct both on-premises and off-premises surveys. You can use Android survey apps in multiple ways:
You can take real-time feedback by taking your Android tablets or smartphones to the customers in person and requesting them to take the survey while they are at your premises.
You can also set up your Android devices as unattended kiosks where the customers can take the survey without any assistance required.
You can take Android devices on the go and capture survey responses anytime, anywhere.

You can also conduct

offline surveys

on patchy internet at your location and field surveys at the remotest of locations.

You can also

send links to the Android surveys

to the customers to open on their smartphones as per their convenience and take the survey.
This article will talk about some great Android Survey Apps that you can use to survey your customers and collect valuable feedback from them.
Best Android Survey Apps
For collecting Customer Feedback, there are many apps available on the PlayStore for Android devices. The best way is to choose such apps that are the most suitable to serve your purpose. Let's explore the best Android apps you can use in 2023 to collect feedback from your customers.
Best Android Apps for 2023
Let us explore how these apps are helpful for you.
1. Zonka Feedback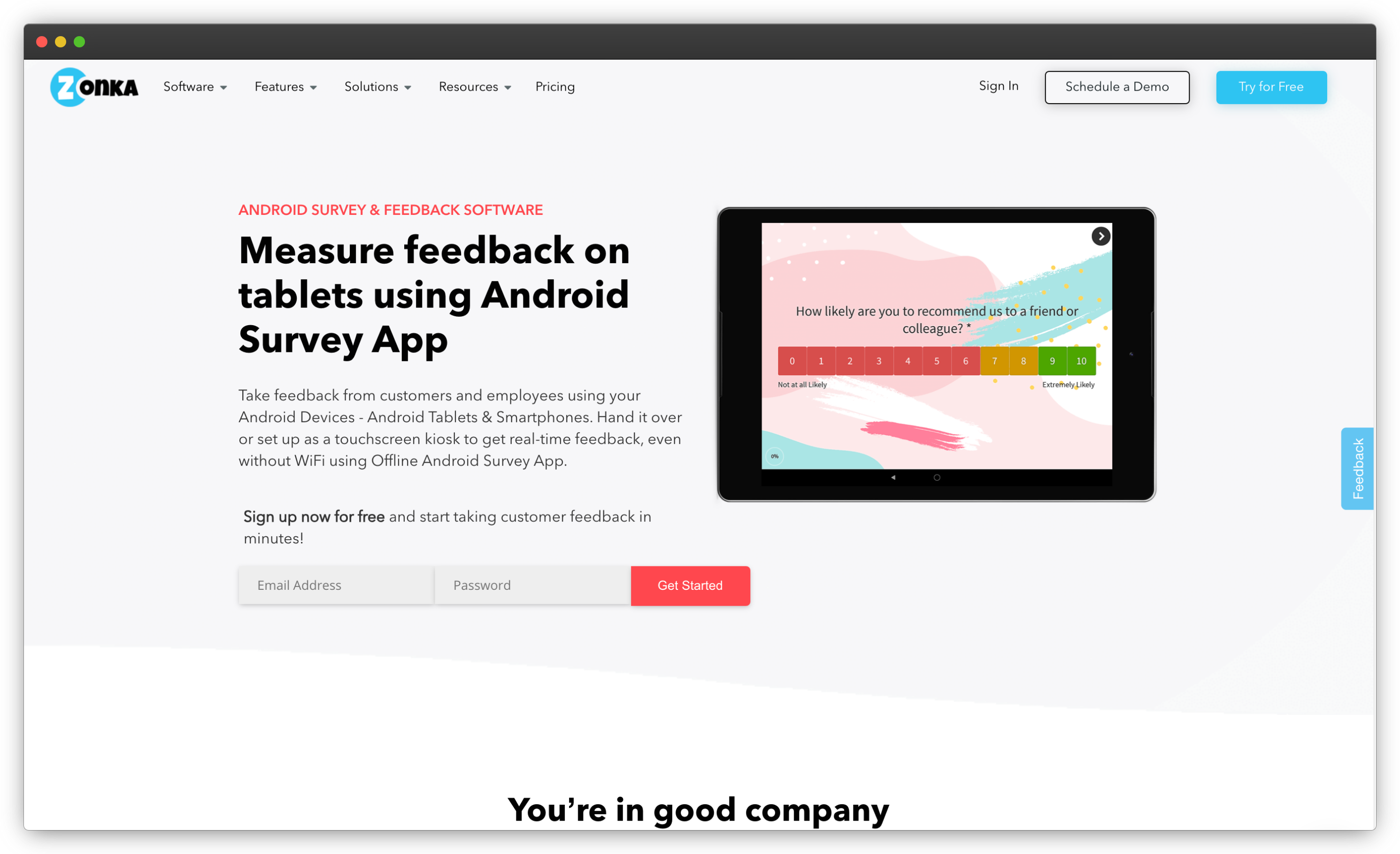 Zonka Feedback is one of the best and most useful apps to collect Customer Feedback with the help of your Android Devices. It is effortless to use and is helpful to gather and manage Customer and Employee Feedback. From creating surveys to sending them and taking action on the responses received to Close the Feedback Loop, Zonka Feedback helps in everything from end to end.
It helps you create fully customized surveys with 40+ ready-to-use survey templates of different industries and metrics like NPS, CSAT, and CES. You can add or remove any questions and can also choose to start a new survey from scratch.
It allows you to white-label your surveys to add your style, colors, themes, and branding.

It is

multilingual software

that enables you to connect with your customers in their languages and collate responses in your one common language.

It also allows you to collect Offline Feedback, i.e., it works without an active internet connection, which means that you can carry your Android tablets and smartphones on the go for obtaining survey responses anytime and anywhere without the internet. When your device gets internet connectivity, it automatically syncs all the data thus collected while offline.
You can also set up your Android devices as unattended kiosks at your location so that the customers can approach them freely and take the survey without requiring any additional assistance.
It is very easy to set up and use. You can set it up in 2 minutes and start creating your surveys.
It enables you to manage responses at different locations from a centralized location.
It provides real-time feedback alerts that enable you to take immediate actions on the feedback and Close Feedback Loop effectively.
The app is equipped with powerful integrations like Slack, Mailchimp, Google sheets, and more, thereby making your experience working on this app even smoother.
Pricing
There are different membership plans available for Zonka Feedback. You can choose as per your requirement.
Professional - $79/month
Growth - $169/month
Enterprise - $ 429/month
Custom - Customized quote
It also offers a free trial for 7 days.
2. SurveyMonkey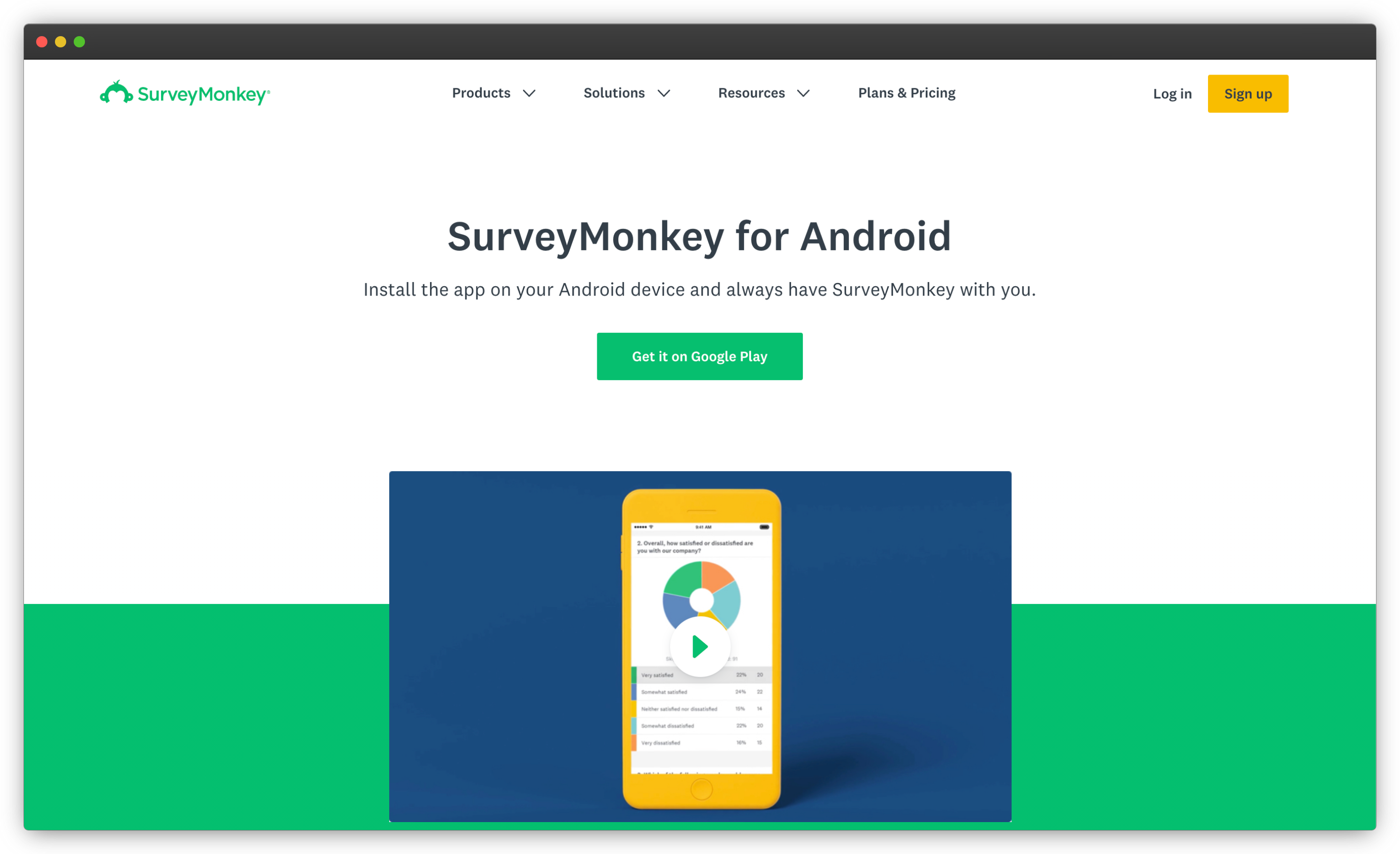 SurveyMonkey is another popular Survey App that is useful with Android mobile devices. You can take your device anywhere to capture feedback from your customers. Here are some features of this app.
It provides you real-time updates with the help of push notifications so that you can analyze and take action in real-time.

You can apply filters on your survey results to get the data according to your need,

analyze the results, and share

all or part of the response data.

From its more than 100 templates, you can create customized surveys, and you can also choose to create new surveys from scratch.
It also provides you the option of sharing the survey draft with your stakeholders before sending it to your potential respondents.
It has GDPR-compliant features to protect your data along with the security measures designed for business.
It also works offline to capture responses without an active internet connection.
Pricing
Business Plans:
Multiple Team Advantage - Rs 1550/user/month
Team Premier - Rs 3880/user/month
Enterprise - Customized Plan
Personal Plans:
Standard Monthly - Rs 899/month
Advantage Annual - Rs 1999/month
Premier Annual - Rs 4999/month
Basic Plan is available for free.
3. QuickTapSurvey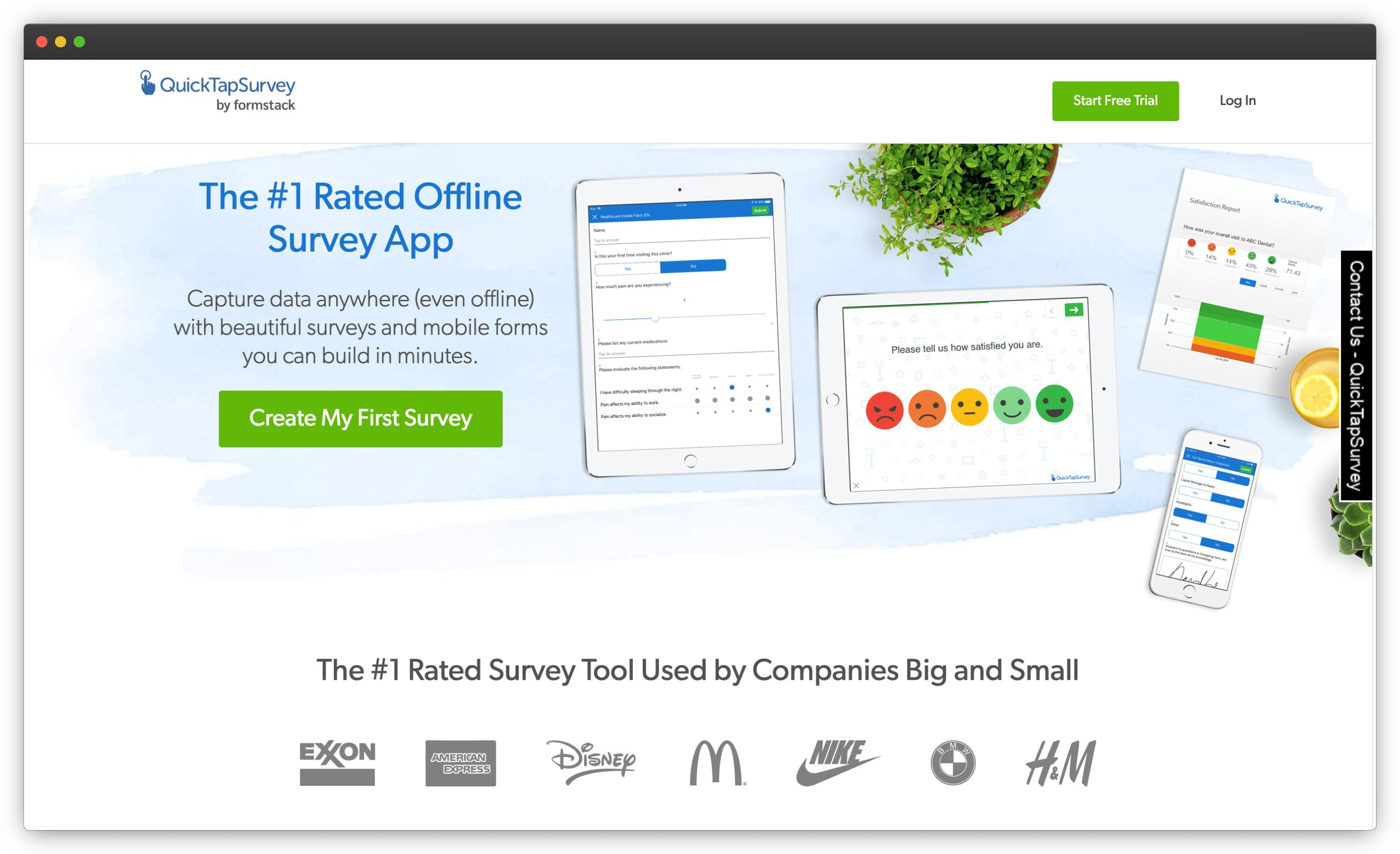 QuickTapSurvey is also a good app for capturing data online, offline, and anywhere with Android devices like tablets and smartphones. You can capture survey responses, research data, or leads at events.
The app

enables customization

to design beautiful mobile-friendly surveys so that you can capture all the response data through mobile forms.

It has 35+ ready-to-use question types that you can include in your surveys.
The mobile forms thus created work well without the internet. So you can capture survey response data offline also.
With this app, you can capture survey response data face to face by directly connecting with the customers with your Android or iOS device.
You can send mobile forms to your customers to fill the survey at their convenience of time.
You can also set up your Android tablets or smartphones as independent kiosks at your premises.
The app has integrations like Zapier, Mailchimp, Salesforce, and more.
It also provides automated alerts and notifications based on the survey responses received.
Pricing
Pricing is feature-specific for this app. It starts at $19 per feature per month.
Free Trial is available for 14 days.
4. SoGoSurvey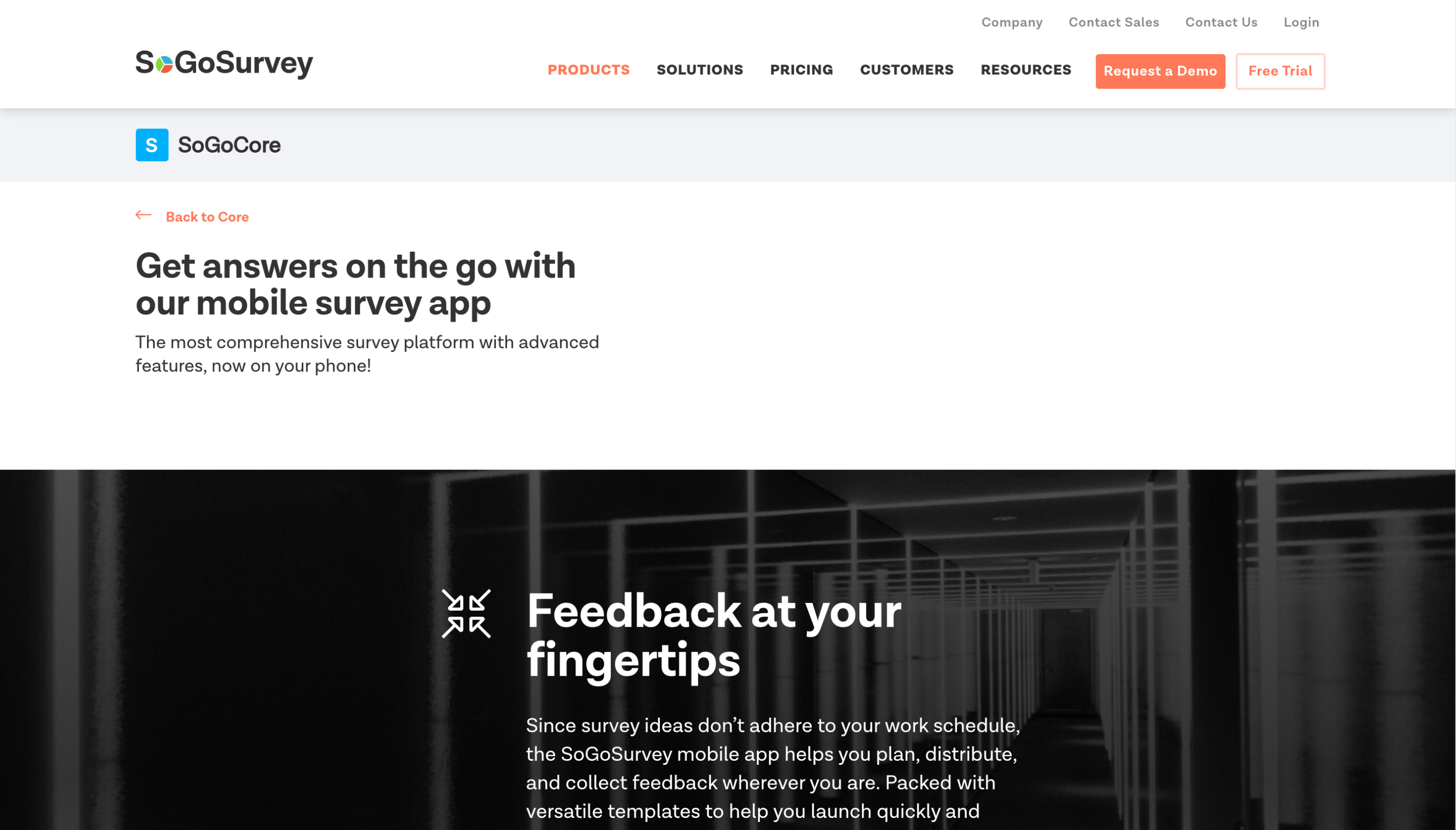 SoGoSurvey is another Mobile Survey App that allows you to collect survey responses through mobile devices like Android tablets and smartphones. It is a comprehensive survey platform with advanced features.
It offers you like versatile professional templates to create engaging surveys.
It gives you the ability to add your branding to the surveys.
It allows you to connect directly with your contacts and monitor response.
With SoGoSurvey, you can also set up automated reminders to remind your potential respondents

about the unfilled survey.

You can also view response trends reports according to the trends from anywhere and share them with your colleagues across different platforms.
The app also has features like natural language processing to understand the respondent's sentiments and the prevailing response patterns and trends over time.
Pricing
Individual
Plus - $25/month
Pro - $66/month
Premium - $99/month
Enterprise - Custom
Business:
Free Plan is also available.
Free trial is available for 10 days for Plus, Pro, and Premium plans.
5. Survicate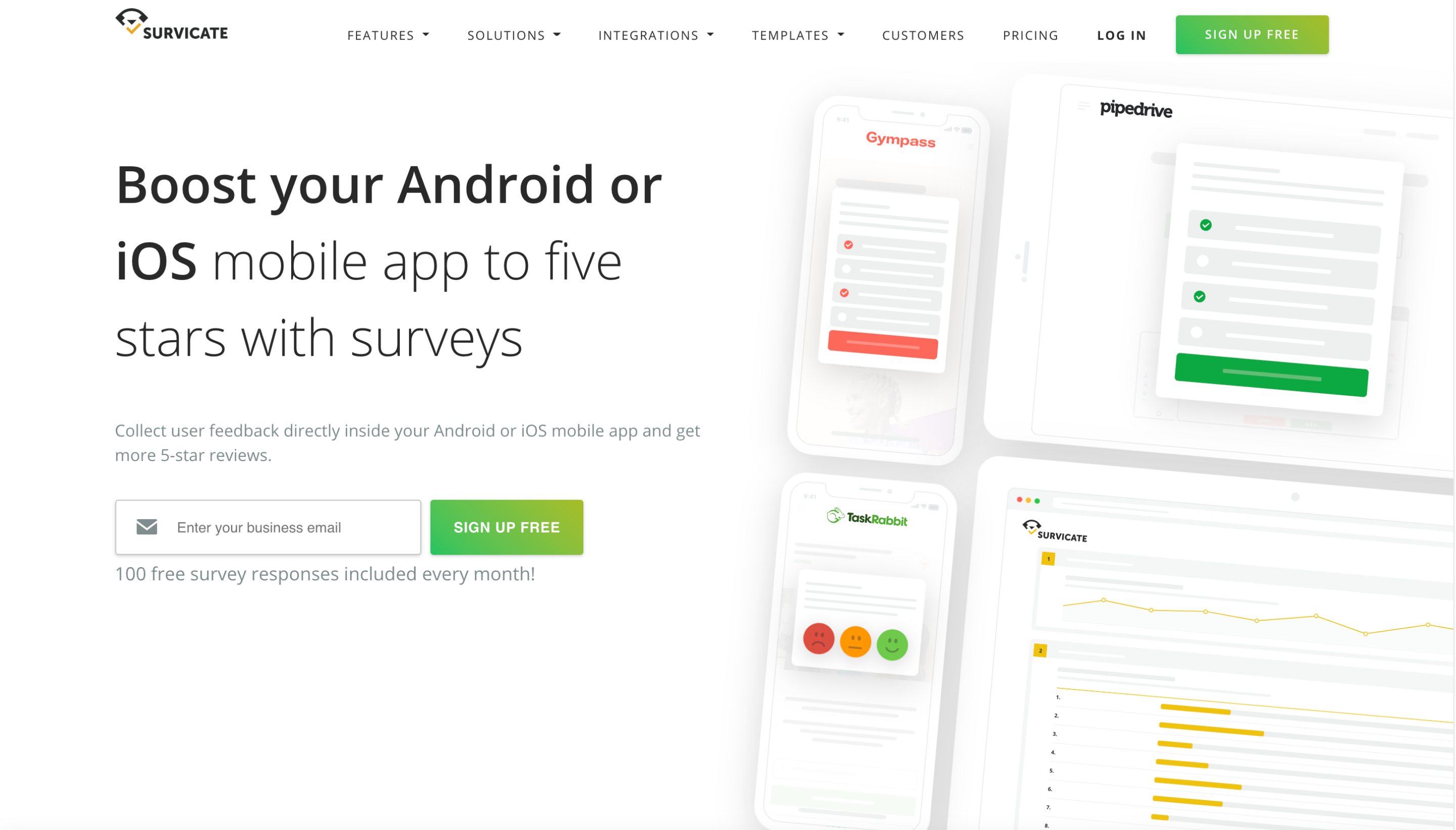 Survicate is a Mobile Survey App that helps to collect user feedback about your apps on Android or iOS devices. This app enables you to find how users would rate your app, and thus you can make improvements to it. You can gather feedback in the customers' own words and capture negative reviews before appearing in the app stores.
It has an easy-to-install Survicate mobile SDK that helps to collet use feedback.
It allows you to choose from various question types, including metric questions like NPS, CES, and CSAT survey questions for creating your surveys.
It also lets you set triggers to present surveys based on various events or user actions on the app.
It will enable you to customize the colors and themes of the surveys you create to fit inside your app and look like they are part of it.
You get the options to display your surveys as both dialog boxes or on full screen and to display surveys at the right time, on the right screen, and with the correct user actions on your app.
6. LimeSurvey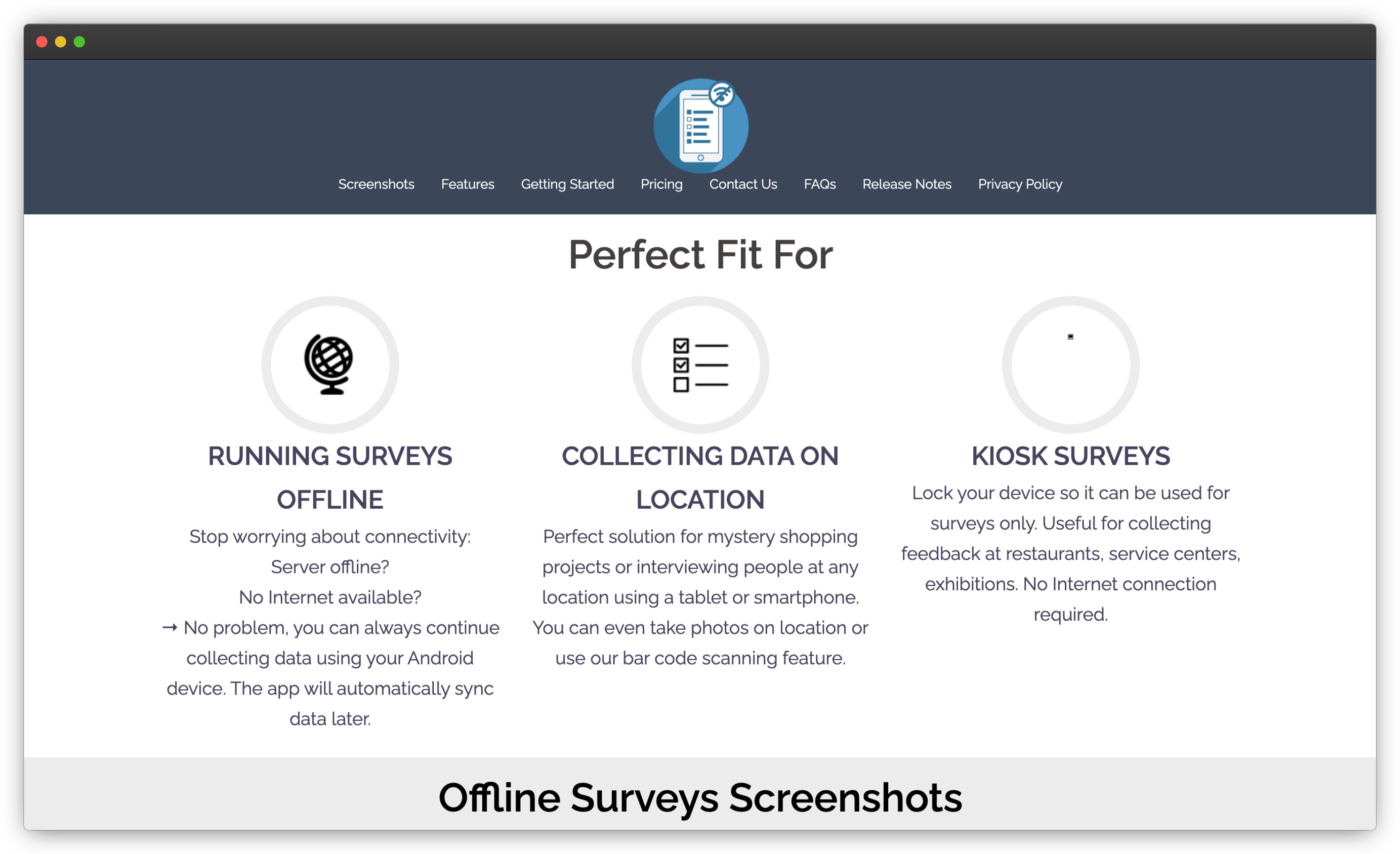 LimeSurvey was released in 2003 and is one of the most popular Open Source Survey Tool that
It enables you to create comprehensive surveys with 30 different predefined question types to choose from.
It allows you to create surveys in 80 different languages to send personalized surveys to your customers in their language.
It helps you utilize the full potential of your android device by enabling you to take photos, recording voice notes, reading barcodes, storing locations on a map, and displaying pictures and text menus while taking surveys.
With this app, you can also export responses to a CSV file and send them through emails to your staff or teams.
The app also works offline. You can take your device any time anywhere and capture survey responses without the internet.
It also has a feature of partial submission which means the users can continue their partially filled survey from where they left it.
It has native integrations like Intercom, Hubspot, and more.
Some Limitations:
The facility of setting up your device as a kiosk is available only in the Pro version.

The automated syncing of response data collected offline on receiving internet connectivity is available with only its Pro Version.
Pricing:
Free - Free basic plan with 100 survey responses every month
Essential - $89/month
Professional - $159/month
Ultimate - $149
7. QuestionPro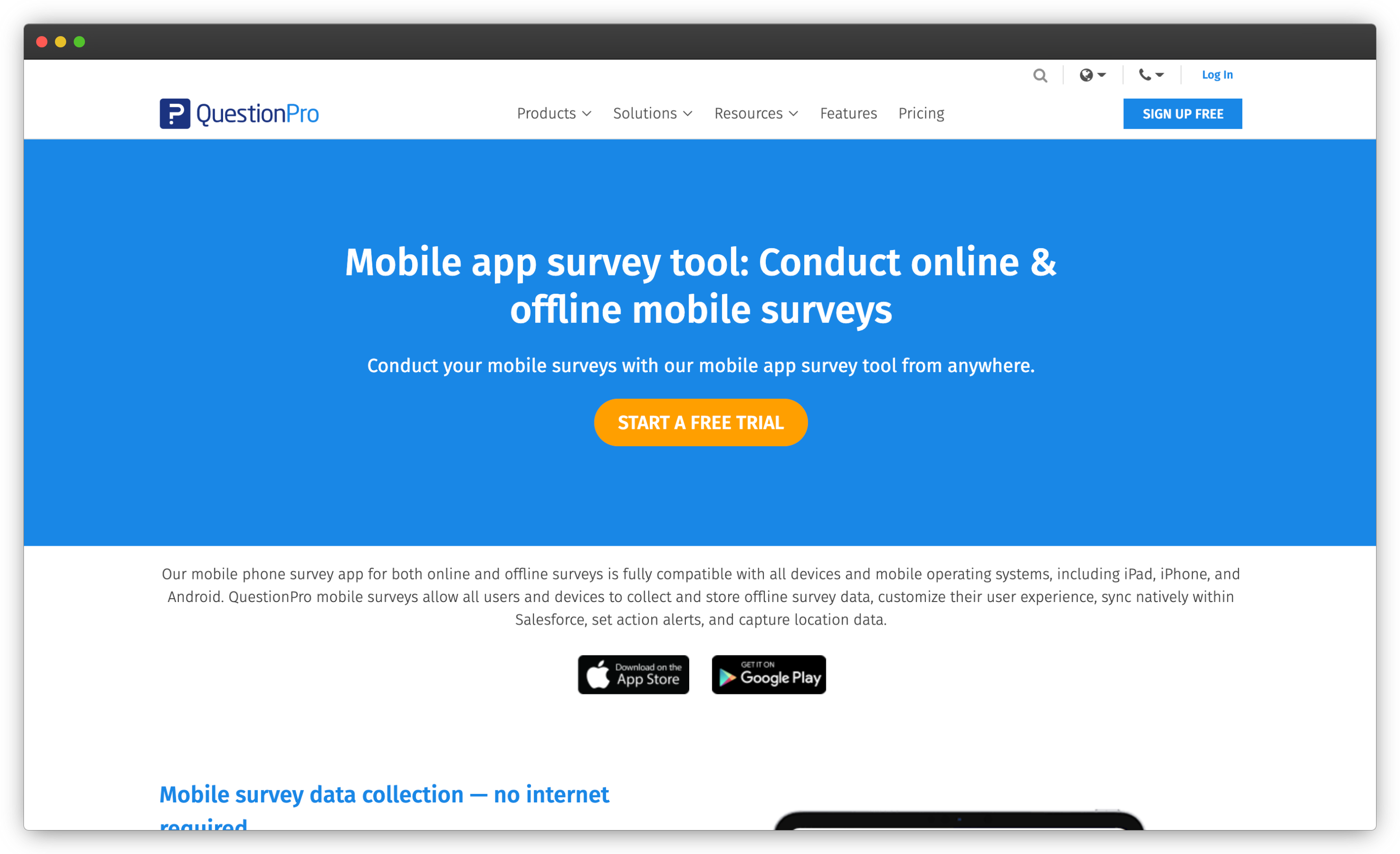 QuestionPro is another Mobile App Survey tool that helps you to conduct online and offline mobile surveys from anywhere.
It offers 80+ question types, and you can customize and distribute your surveys within minutes with QuestionPro.
It has features that enable you to collect unlimited audio, video, images, or other multimedia offline.
The app works offline. Whether you are at your location or capturing survey responses on the go, the app works everywhere to capture survey responses.
You can also use this app to set up your devices as kiosks at your locations.
It has features like browsing restriction and automatic lockdown options, inactivity time-out, and device auditing.

It also has the facility of

GDPR Compliant Location Tracking

, and it helps you understand the specific locations of your respondents and determine where the data is coming from. This facility enables you to research well on the choices and preferences of the customers varying at different locations.

The app has integrations like Salesforce and Microsoft Dynamics.
Pricing
Essentials - Free
Advanced - $85/month
Team Editions - Custom
A free trial of 10 days is available for the Advanced plan.
8. FynzoSurvey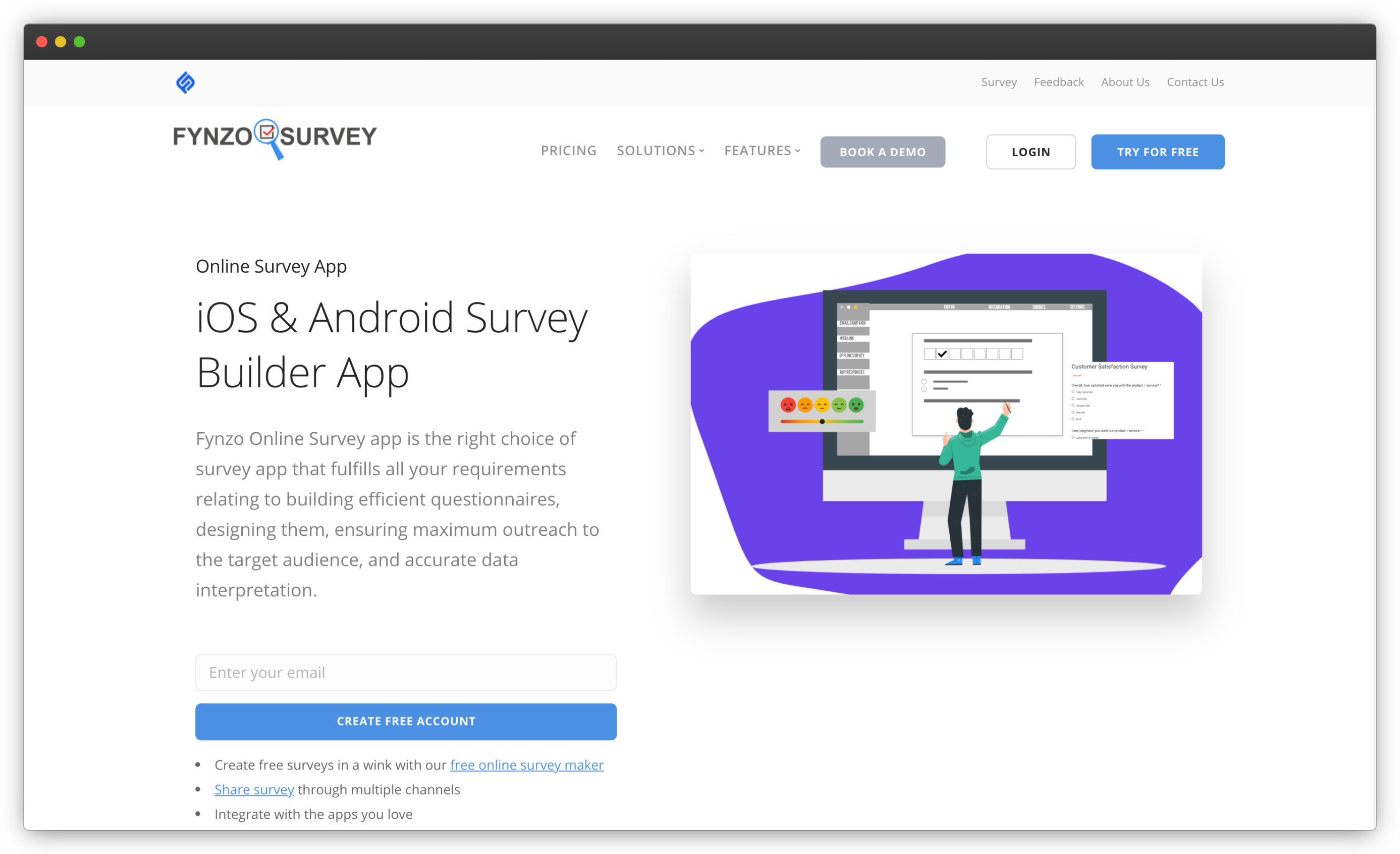 FynzoSurvey is a Survey App for Android and iOS devices. This app helps you build efficient questionnaires, send them to the target audience, and interpret the response data.
Features
It provides you predefined questionnaire templates in this app for different industries like hotels, restaurants, hospitals, NPS surveys, and more.
It allows you to use different types of questions like open-ended, closed-ended, statement questions, long-answer questions, drop-down, and checkboxes.
It also allows you to include pictures, videos, and gifs in your surveys that depict the theme of the research.
It enables you to make changes in your questionnaire even when offline. The changes will get saved and automatically update the survey form when your device is online.
It also allows you to collect survey responses offline or with an unstable network. When you connect your device to the internet, it automatically syncs the data collected offline.
It alerts you with notifications whenever a survey is responded to, which helps you track the time to reach your audience.
It enables you to download the survey results and survey data analysis in pdf format or excel sheet format and send them if you want to share this data.
It sends the privacy and security alerts as and when any other engagement with data is detected so that you can change the accessibility options as required.
Pricing
Starter - $17/month
Standard - $32/month
A free trial of 14 days is available.
9. MoreApp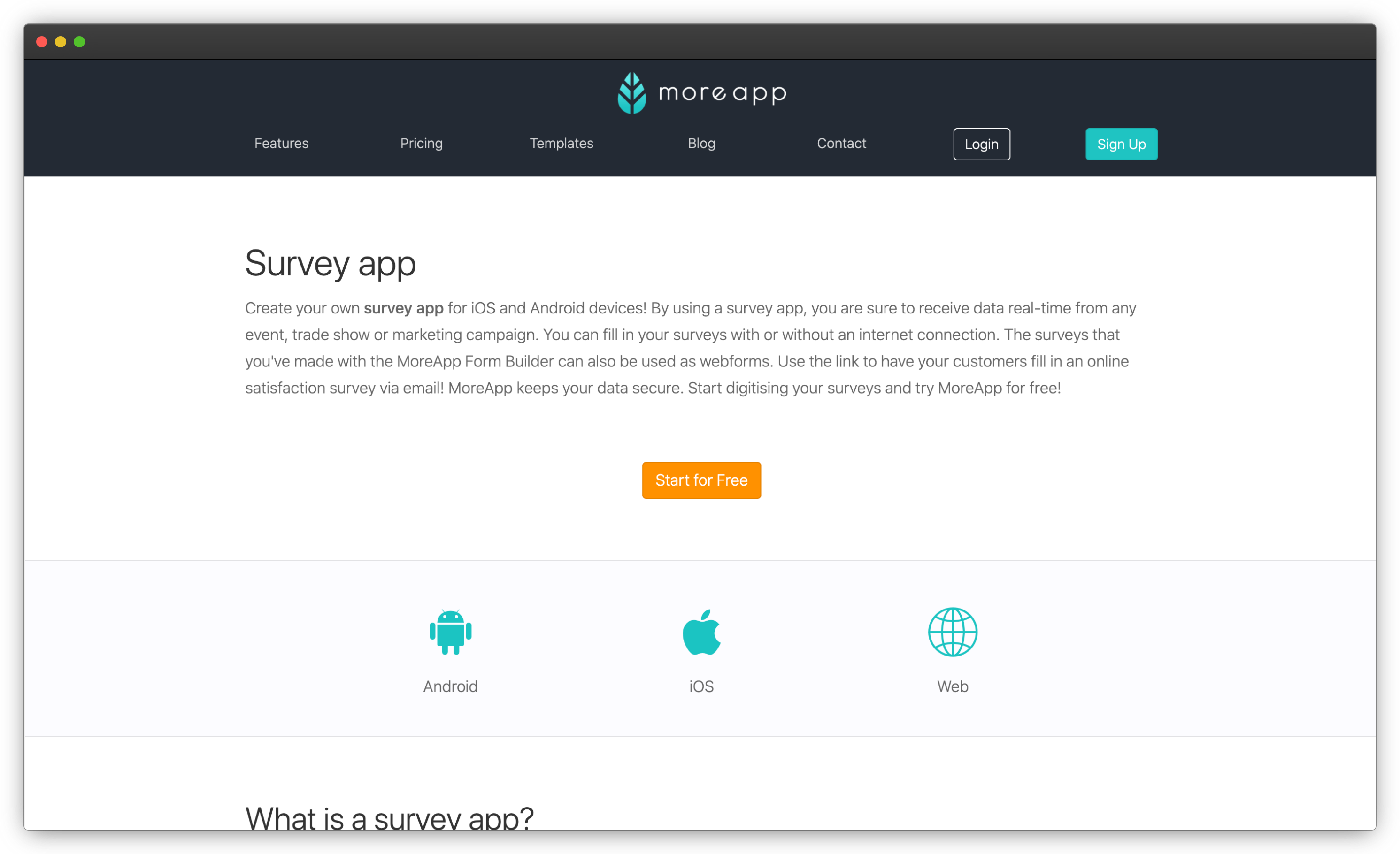 MoreApp is a platform that gives you the access to create your surveys for Android and iOS devices to get data from a real-time event, trade show, or marketing campaign. It provides complete control over your surveys.
You can use the surveys made with MoreApp Form builder as web forms, of which you can also share the links with your audience.
You can use smileys or stars to capture customers' feelings through multiple-choice questions. You can also add pictures and signatures to your surveys.
You can analyze the data in real-time and also export the collected data to have more valuable insights.
The app works offline too.
Limitation
It does not have the feature of skip logic.
Pricing
Leaf (create professional forms) - $41.49/month
Branch (advanced data processing)- $171.90/month
Tree (for the entire company)- $586.82/month
Forest (For enterprises) - Customized plans
10. Surveyapp
Surveyapp is a multichannel Survey App that works as a Tablet Survey App for iPad and Android Tablets.
It enables you to create familiar, visual, and intuitive surveys for your audience to make the experience more engaging.
It allows you to add your branding by displaying your logos and adding images with customized themes and layouts.
It enables you to gather the response data face to face, as well as you can set up kiosks via hand-held devices.
It lets your device work well offline. It keeps collecting the data in case of patchy or no internet and automatically syncs it to your cloud-based reporting system later.
It provides real-time notifications.
It also provides a Manager App and Case Management System that enables you to flag issues and collaborate with your teams to resolve them on an urgent basis.

It automatically creates statistical and text analytics using your analytics suite so that you can track your performance and trends over time.

It allows you to choose to get scheduled reports by simply selecting automatic reports and specifying what you want to receive and at what time interval (daily, weekly, monthly, etc.).
Pricing
Basic - $7.99/device/month
Standard - $23.99/device/month
Premium - $31.99/device/month
11. Qualaroo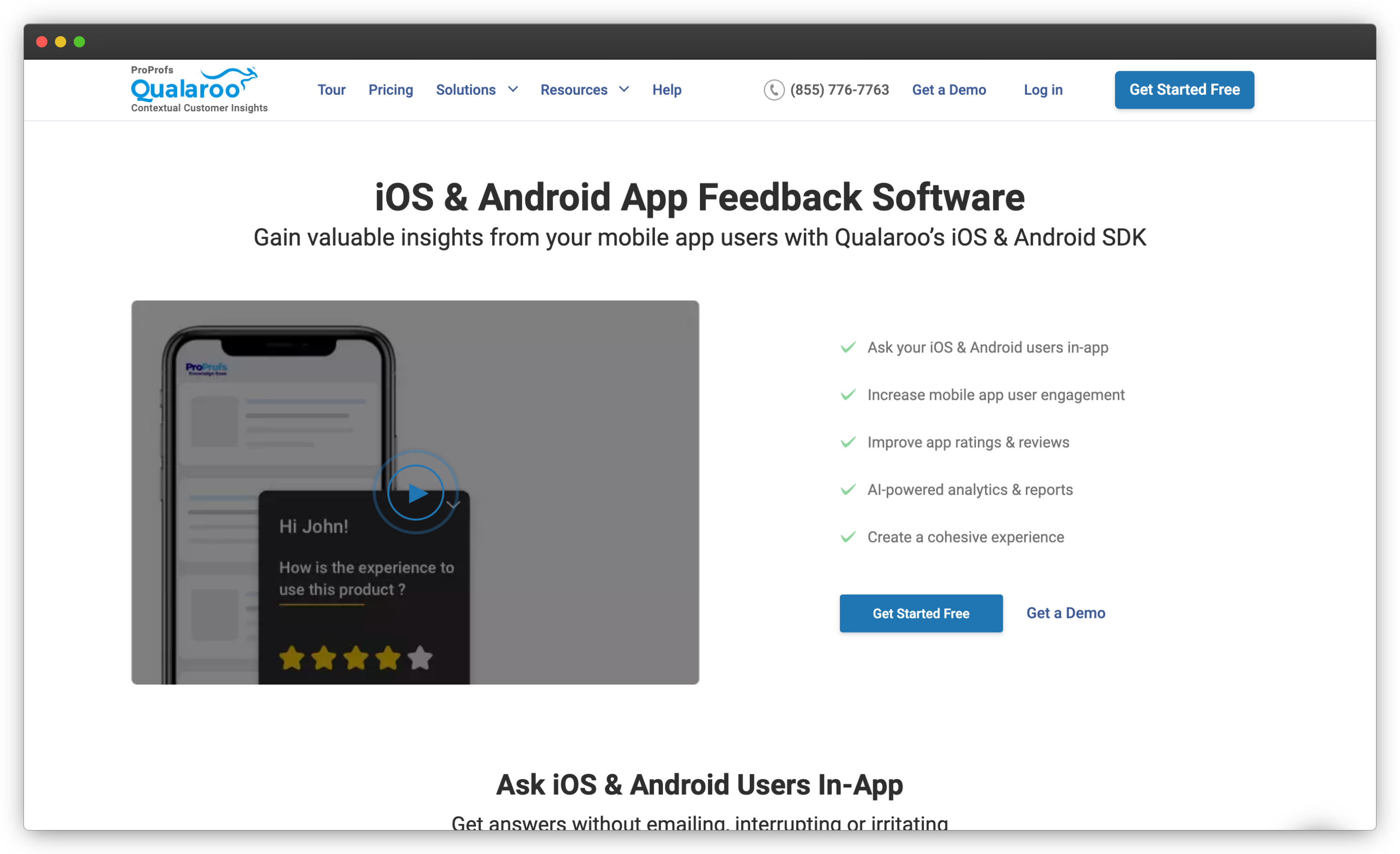 Qualaroo is another Android Feedback App that helps you gain valuable insights from mobile app users with its SDK. It aims to help you manage reviews and ratings of your app on the app stores. With this app, you can ask for feedback within the app from your app users without sending any emails or texts.
It empowers your surveys with question branching and Skip Logic to ask the right questions from the right users.
It lets you include the survey as a part of your app and doesn't slow down the working of your app.
It equips you with 20 proven survey templates that you can readily use to create your surveys.
It provides you real-time feedback about your app so that you can make improvements and avoid negative reviews on the app stores.
It also enables you to direct your promoters to put positive reviews on the app stores.
It is powered by IBM Watson, Sentiment Analysis that helps you turn free-form text into organized data, thus enabling you to track mood metrics and keywords across all customer responses.
Pricing
Essentials - $80/month
Premium - $160/month
Enterprise - Custom
12. GoSurvey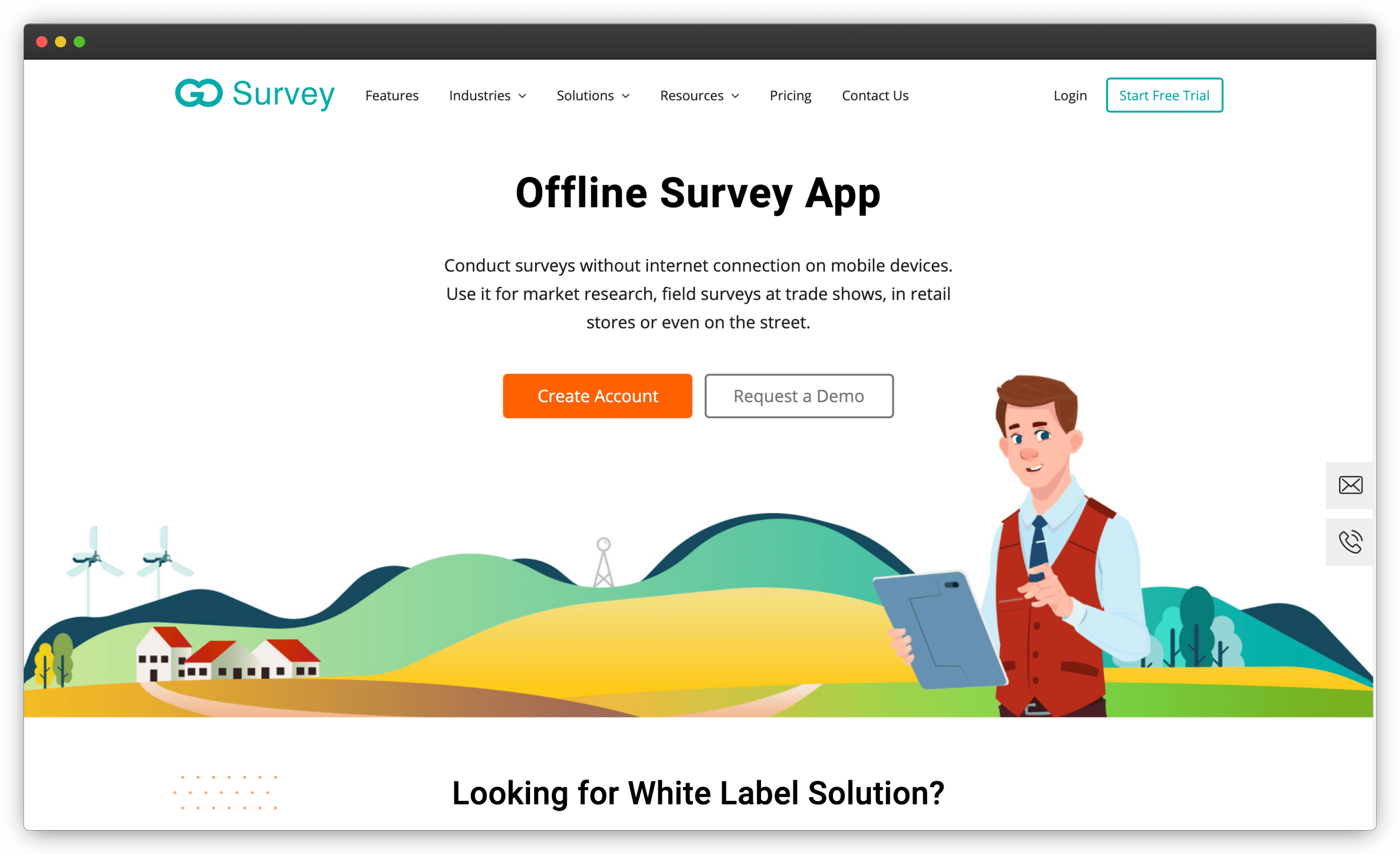 GoSurvey is another good Survey App serving around 3000 businesses globally for the last seven years. You can use this app for trade shows, market research, and collecting feedback from customers, employees, and students.
It allows you to white-label your surveys to add your branding and style to them.
It is a multilingual app that allows you to create surveys in multiple languages to engage with customers of different languages.
It also provides you with a feature of creating subforms, especially for the questions asked repetitively. It is helpful when users want to collect information that gets repetitive with each response.
It allows you to collect your survey responses offline too, anywhere, and anytime. When your device receives an internet connection, the app will automatically sync the data so collected.