In an age of data-driven decision-making, understanding the real world, whether it's the needs of your customers, the state of a market, or the challenges in a specific environment, can be the key to success. Leveraging field surveys can be the most effective move for your business as it helps to research the audience with a real-time approach and provides insights that no spreadsheet or desk research can deliver.
In this blog, we will explore how to collect data through field surveys, explore effective survey questions, and unveil the top tools that streamline this process. Without any further ado, let's get started!
TL;DR
Field surveys are an important component of field data collection that is used for gathering data from various sources, providing valuable insights across industries and applications.

Leveraging different kinds of feedback forms like lead capture, market research questions, inspection forms, checklist forms, etc., can enhance your ability to gather specific, targeted data.

Field survey questions can be used to analyze customer experience, conduct research, collect patient feedback, and understand employee engagement.

Some of the most popular field surveying software include Zonka Feedback, Forms on Fire, and Fulcrum. Other noteworthy survey tools include Jotform, SurveyMonkey, Magpi, and more.

With Zonka Feedback, you can perform field data collection and sync the information automatically. You can customize field surveys with survey logic and branching and white label them. Sign up for a free trial or book a demo to get started with this versatile surveying software.
Collect & Measure Customer Feedback with Field Surveys 🔥
With Field Surveys, understand what customers need and learn ways to delight them even in remote areas.
What are Field Surveys?
Field surveys are a specific type of field data collection method that involves systematically gathering information, observations, or responses by physically visiting a specific location or area. They capture respondent data, both qualitative and quantitative, with methodology tailored to research questions and context.
Field surveys are used for various purposes and in different fields to gather specific, real-world data and insights and help in significant error reduction. These include:
Market Research: To gather data on user preference and market trends and then develop marketing strategies

User Experience (UX) Research: To understand how users interact with products in real-world settings

Healthcare: To collect patient feedback regarding the quality of care and facilities

Education: To collect data on student performance, teacher effectiveness, and educational practices in schools and universities

Hospitality and Tourism: To gather on-site feedback from guests about their experiences

Retail: To collect in-store customer feedback and improve the shopping experience and store operations
How to Collect Data with Field Surveys?
Data from the field survey can be collected online like website and email surveys, or offline surveysusing kiosks, and user interviews. However, there's one mode that bridges the gap between the two which is mobile forms. Many survey software are now equipped with offline information collection capabilities. Surveyors can collect responses on mobile devices on the premises without an internet connection and later sync the data when online.
To maximize field data collection, you can create different types of field survey forms based on your requirements and share them with your target audience for field data collection. Here are some popularly used field survey forms that you can create for the data collection process.
Lead Capture Forms: If you are attending events, exhibitions, or trade shows, lead capture forms on mobile devices are your go-to solution. You can easily collect and manage leads, ensuring you never miss a potential connection.

Market Research: If you want to delve into market research, you can utilize the power of market research forms to gather vital insights efficiently.

Incident Report Forms: These are great for quickly reporting and recording incidents with relevant information ensuring timely response and accurate records.

Inspection Forms: Field service data collection for inspections and audits becomes effortless with inspection forms enhancing workplace efficiency.

Checklist Forms: With these data collection forms, you can monitor activities, capture essential data, and stay organized so that nothing is overlooked.

Trade Show Booth Sign-Ups: At trade shows, visitor engagement is crucial. Therefore, you can implement sign-up forms so that visitors can leave their details and stay connected.

Feedback Forms: These can be tailored to capture feedback, measure CX metrics like NPS, CES, and CSAT, and improve overall customer satisfaction.
50+ Best Field Survey Questions to Ask
Field surveys can be conducted across industries for various purposes and having a well-crafted set of questions is crucial to gather meaningful insights. Here are the top field survey questions to ask, tailored to your specific objectives.
1. Market Research
Field survey questions for market research involve gathering real-world data on consumer preferences, behavior, and market trends so that you can make informed decisions and tailor your strategies to meet the ever-evolving demands of the target market.
How did you first hear about our brand/product/service?

What do you consider a fair price for our product?

What are the most desirable features you look for in a product?

How well do you think our product compares to competitors in the market?

What improvements or additions would you like to see in our offerings?

2. Customer Experience
Customer experience survey questions help you gain valuable insights into the satisfaction levels and preferences of your customers. By asking the right questions, you can identify areas for improvement, measure loyalty, and make data-driven decisions to enhance your products, services, and overall customer experience.
How would you rate your overall experience with our service/product during your visit today?

Did our team members or staff meet your needs and provide quality service?

Were you provided with prompt and effective solutions to any issues or concerns you raised?

Did you encounter any challenges or issues during your visit that you'd like us to address?

Did you find the pricing of our products/services reasonable and competitive?
3. Site Inspection Surveys & Audits
Site inspectors and auditors can keep field surveys handy while going around the site. Whether it's a construction site, a manufacturing facility, or a public event, physically being on-site allows professionals to assess, monitor, and ensure compliance with regulations and standards. With site inspection surveys and audits, it's not just about ticking off a checklist; it's about understanding the nuances of the environment, recognizing potential risks, and ensuring that everything aligns with safety protocols.
Can you provide a brief description of the site's activities?
Are there any safety hazards present on-site?
Are there any regulatory compliance issues observed during the inspection?
Are all relevant permits and licenses up-to-date and easily accessible?
Have there been any recent quality issues or deviations from standards?
Are all equipment and machinery in good working condition?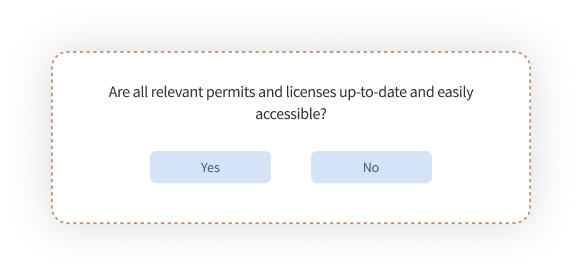 4. Incident Reporting
Incident reporting is the swift and accurate documentation of unexpected events. It's not just about recording what happened; it's a vital tool for learning, improvement, and prevention. Incident reports are like storybooks—narrating the who, what, when, where, and why of an unexpected occurrence. By analyzing these reports, organizations can identify patterns, weak points, and areas for improvement, transforming each incident into an opportunity for growth.
Please provide a detailed description of the incident, including the date, time, and location.
What type of incident occurred?
Was a formal investigation conducted to analyze the root cause of the incident? If yes, please provide details.
Describe the immediate actions taken in response to the incident.
On a scale of 1 to 10, with 10 being the most severe, how would you rate the severity of the incident?
What follow-up actions or preventive measures have been initiated based on the incident investigation?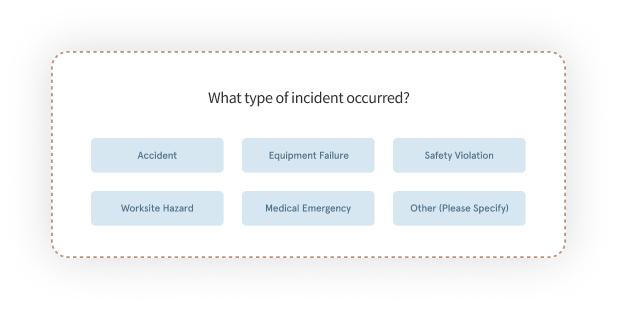 5. Lead Capture
Lead capture field survey questions can help you identify and engage potential customers effectively and save time. By asking questions tailored to their needs and interests, you can not only gather crucial contact information and tailor your marketing strategies and sales approaches, ultimately increasing your conversion rates and growing your customer base.
Are you interested in learning more about our products/services?

What specific products or services are you most interested in learning about?

What is the preferred method of contact for follow-up discussions or information sharing?

Is there anything you'd like to share with us to help us better understand your needs or preferences?
6. Patient Feedback
Feedback survey questions pertaining to patient feedback can help you improve healthcare services, enhance patient satisfaction, and ensure the best possible healthcare outcomes. It also enables you to identify areas for operational enhancements and strengthen patient-provider relationships.
Were the facilities and amenities comfortable and conducive to your care experience?

Did you experience any challenges or issues with the scheduling and appointment process?

Were you provided with clear and understandable information about your condition and treatment?

Did you experience any delays or long waiting times during your visit?

What suggestions do you have for improving the patient experience and care quality?
7. Employee Engagement
Employee engagement fosters a motivated workforce, enhancing productivity and contributing to a positive workplace culture. It also results in increased job satisfaction and reduced turnover rates.
Are you provided with opportunities for professional growth and development?

How well do you think your ideas and feedback are considered by management?

How satisfied are you with the work-life balance and job flexibility in this organization?

How effective is the communication between employees and management in your workplace?

What suggestions do you have for enhancing employee engagement and satisfaction?
8. Education
Field survey questions in the education domain help educators gather student feedback, evaluate instructional effectiveness, and make data-informed decisions to enhance learning experiences and student outcomes.
How satisfied are you with the quality of education provided in this institution?

Do you feel that your educational needs and expectations are met in this institution?

What challenges, if any, have you encountered in your educational journey at this institution?

How well do you believe your teachers and instructors support your learning and growth?
9. Hospitality & Tourism
Field research and survey questions in the hospitality and tourism industry help in assessing guest satisfaction, preferences, and the overall travel experience. This data helps to tailor your services, improve customer experiences, and attract more visitors.
How satisfied are you with the services at our resort?

Did you find our staff members courteous and helpful during your visit/stay?

Were there any areas where we could improve or provide a better guest experience?

How satisfied are you with the cleanliness and ambiance of our facilities/destination?

Did you find the pricing of our services and amenities reasonable?
10. Retail
In retail, field survey questions are essential for understanding customer preferences, shopping behaviors, and overall satisfaction with the shopping experience. These retail feedback help in determining store layout, improve customer service, and optimize inventory which ultimately drives sales and fostering customer loyalty.
What factors influence your decision to choose our store for your shopping needs?

Were you able to find the products you were looking for during your visit today?

Are there specific product categories or brands that you prefer to purchase from our store?

How do you typically learn about our promotions, discounts, or special offers?
11. Facility Surveys
Every physical place, be it a mall, airport, shopping complex, educational institution, workplaces, healthcare facilities, and other place, have facilities. The survey questions typically cover a range of topics such as cleanliness, safety, accessibility, amenities, hygiene, and overall comfort. This can include feedback on the condition of the infrastructure, the functionality of equipment, the comfort of common areas, and the effectiveness of safety measures.
How satisfied are you with the temperature and climate control within the facility?

Are the lighting conditions in the facility sufficient for your needs? If not, please specify areas that need improvement.

How would you rate the accessibility of the facility for individuals with disabilities?

Have you noticed any issues with the furniture or equipment in the facility? If yes, please provide details.

How would you rate the overall cleanliness and maintenance of the facility on a scale of 1 to 10, with 1 being poor and 10 being excellent?

Have you encountered any safety concerns or hazards within the facility? If yes, please describe them.

Are the restroom facilities well-maintained and adequately stocked with essentials such as soap, toilet paper, and paper towels?
Top Field Survey Tools to Capture Actionable Data
Let us look at the top field survey tools along with their key features that can help capture actionable data.
1. Zonka Feedback's Omnichannel Field Data Collection
Zonka Feedback is a powerful and complete field survey software designed for efficient data collection in the field. With its user-friendly interface and versatile features, it simplifies the process of gathering valuable insights and measurements from diverse locations. This software also offers the functionalities needed to conduct efficient, accessible, and secure collected data in various field-based scenarios.
Key Features
100+ pre-designed templates with 30+ question types with customizable forms as per your brand

Offline information collection for seamless field data collection process in remote areas

Customizable survey design mobile forms that can be easily deployed on tablets and smartphones

Geolocation data capture to track survey locations and enhance the accuracy of field-based research

Real-time reporting and notifications to make informed decisions on the spot

Multichannel survey distribution through website, email, SMS, or QR codes, reaching a broader audience

Secure data storage and privacy option to protect sensitive information collected in the field

In-depth analytics and reporting tools for gathering field data

2. Forms on Fire's Mobile Field Survey App
Ideal for conducting land survey through its ability to capture geolocation data. This software performs field data collection exercise with offline functionality, GPS integration, and robust data validation, making it a comprehensive solution for the field survey.
Key Features
Drag-and-drop form builder to create customized survey forms

Customizable form templates for various purposes

Offline data collection for sites with limited to no internet

Create dynamic forms for personalized experience

GPS and location services to capture and record the geographical data

Integrate Forms On Fire with other systems and databases

Automated workflows to route and process survey data efficiently

3. Fulcrum's Versatile Field Survey Software
Fulcrum is a cutting-edge field survey tool that goes beyond just offering customizable forms, GPS tracking, and real-time data visualization. With its advanced features and intuitive interface, Fulcrum is the ultimate solution for location-based surveys where data accuracy and location tracking are crucial.
Key Features
Create highly customizable forms that can be tailored to fit the specific needs of any survey

GPS tracking feature to accurately track the location of each survey response

Real-time data visualization

Facilitate real-time collaboration among team members

Visualize collected data on maps and perform spatial analysis

Create customizable dashboards

Additional Field Survey Software to Consider
In addition to the field survey software mentioned earlier, there are several other powerful options worth considering for the field data collection procedure. These survey tools and resources are designed to streamline the field data collection process and offer a range of options tailored to various field research scenarios:
Jotform: One of the most comprehensive field survey tools that simplifies the process of creating, customizing, and managing a wide range of forms. Its user-friendly drag-and-drop interface and extensive set of options make it a go-to form builder for you if you are looking to collect and organize data seamlessly.

SurveyMonkey: One of the best online survey tools that allows you to create, distribute, and analyze the field survey for various purposes, including market research, product feedback and testing, and enhancing overall customer experiences. You can use this tool to measure CX metrics like Net Promoter Score (NPS) and Customer Satisfaction (CSAT) Score to collect quantitative customer feedback.

Magpi: Designed for global health and development work, it includes features like offline data collection, GPS tracking, and SMS data entry, making it suitable for remote and resource-constrained environments and on job site.

Go Canvas: Offers a wide range of features for the field survey, including mobile data collection and media capture, cloud-based storage, and real-time data sharing for improved efficiency.

Paperform: While not mobile-based, it allows for the creation of custom forms with data validation, conditional logic, and reporting, making it suitable for surveys in areas with reliable internet access.
Conclusion
There are several methods to collect data in the field, either through paper surveys or specialized software and equipment. Still, an essential aspect of field research is to acquire accurate data and quickly convert it into formats that can be used for analysis.
Zonka Feedback is a multi-purpose field survey software that helps users collect accurate data in the field quickly and easily. This platform enables you to generate inspection forms and perform audits using a mobile device or tablet. Additionally, you can benefit from its automatic data backup, pre-made templates, data analysis and insights, real-time collaboration, and offline data collection.
Sign up for a 7-day free trial for a streamlined data-gathering process and perform effective feedback analysis to maintain a smooth customer experience and close the feedback loop in no time.