While communicating with customers to gather feedback has always being an important aspect of any business, the way to communicate with the customers have been typically changed since last year due to the ongoing pandemic. This was the time when all the entities of society had to adapt to the evolving situations due to COVID 19.
Be it customers or sellers, all are avoiding direct contact with anybody. Therefore, the non touch survey options are gaining precedence for the post pandemic era. One of such great non touch options for surveying your customers is SMS Feedback survey.
SMS surveys are a great option for collecting feedback remotely. Do you know that 5 billion people across the world send and receive messages? This means that 65% of the world population uses SMS.
On the top of it, the open rate of SMS is 98%, and 90% of the text messages are read within 3 minutes. Moreover, the response rate of text messages is 209% higher than other channels like email and famous social media platforms like Facebook. You can imagine the potential of SMS how effective SMS surveys would be. All you need to do is to use a good SMS Survey Software.
Selecting a Good SMS Survey Software
Selecting a good SMS Survey Software can be a daunting task which you must be going through currently. Finding the best SMS Software is tricky. For doing this task, you need to look for the features of various tools.
Every software company claims their tool to be the best and every good software has some or the other great features, but you need to select the one that meets your needs and business requirements. Let's explore some great SMS Survey Software available in the market.
Zonka Feedback
Delighted
QuestionPro
Survey Sparrow
Survey Monkey
GetFeedback
SimpleTexting
SMS-Track
SurveyMill
Let's explore and see what features they provide, how different they are from each other. and how they can be helpful for your business.
1. Zonka Feedback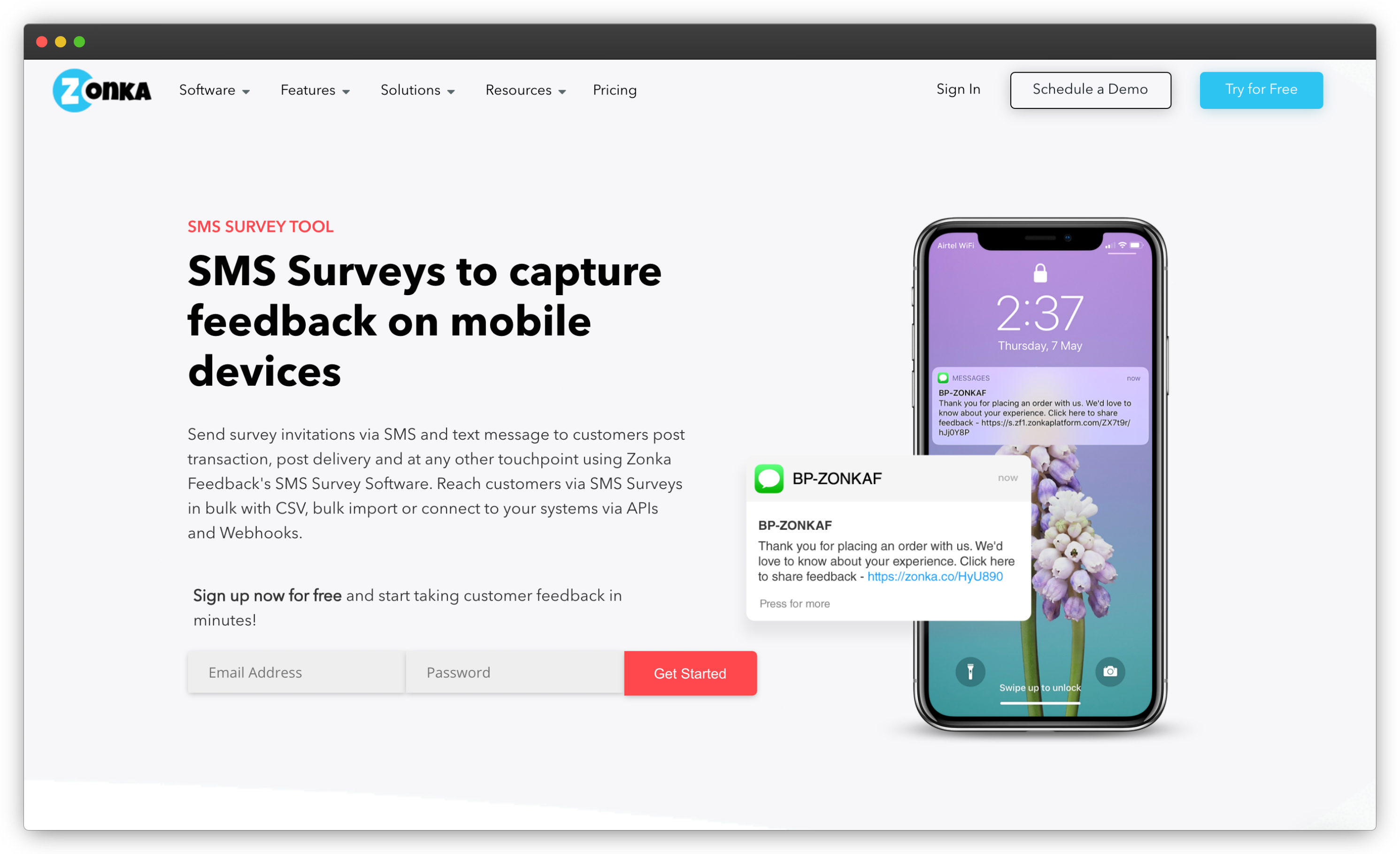 Zonka Feedback is one of the best SMS Survey Software available in the market. It helps you to create comprehensive Customer Feedback Surveys and send survey invitations via SMS at various touchpoints of the customer journey. You can create customized surveys in your own design, colors, background and white label them and apply your own branding and style.
It has 40+ templates that offer you to create various types of surveys for capturing Customer Feedback, Patient Feedback, Employee Feedback, post-purchase surveys, cart abandonment surveys, post flight passenger surveys, NPS and other metric surveys easily with its predefined list of questions. The tool enables you to send SMS Surveys via CSV, bulk import, contact lists or easily connect to your systems via APIs and Webhooks.
You can set triggers to schedule your SMS Surveys to be sent at different touch points or events of the customer journey like post-purchase, visit, bill payment, delivery etc., or at different intervals like monthly, quarterly or annual surveys. The tool also helps to Close the Feedback Loop effectively by enabling you to receive custom alerts and notifications in real-time so that you can take instant action and satisfy your customers.
Moreover, the tool provides you advanced reporting capabilities to get effective customer feedback reports and team performance reports. It works offline as well. It can save the feedback data for days and sync them automatically when connected to the internet.
Integrations
Slack, Mailchimp, Google Sheets, Pipedrive, Airtable, Front, Shopify, Zendesk, Freshdesk, APIs and Webhooks
Rating Score
Ease of Use: 9.6/10
Quality of Support: 9.7/10
Ease of Setup: 8.6/10
Support Options Available
Live chat, phone email and knowledge base
Free Trial
Available, free trial for 7 days.
Cost
$24/month - Essential Plan
$79/month - Professional Plan
$169/month - Growth Plan
$429/month - Enterprise Plan
2. Delighted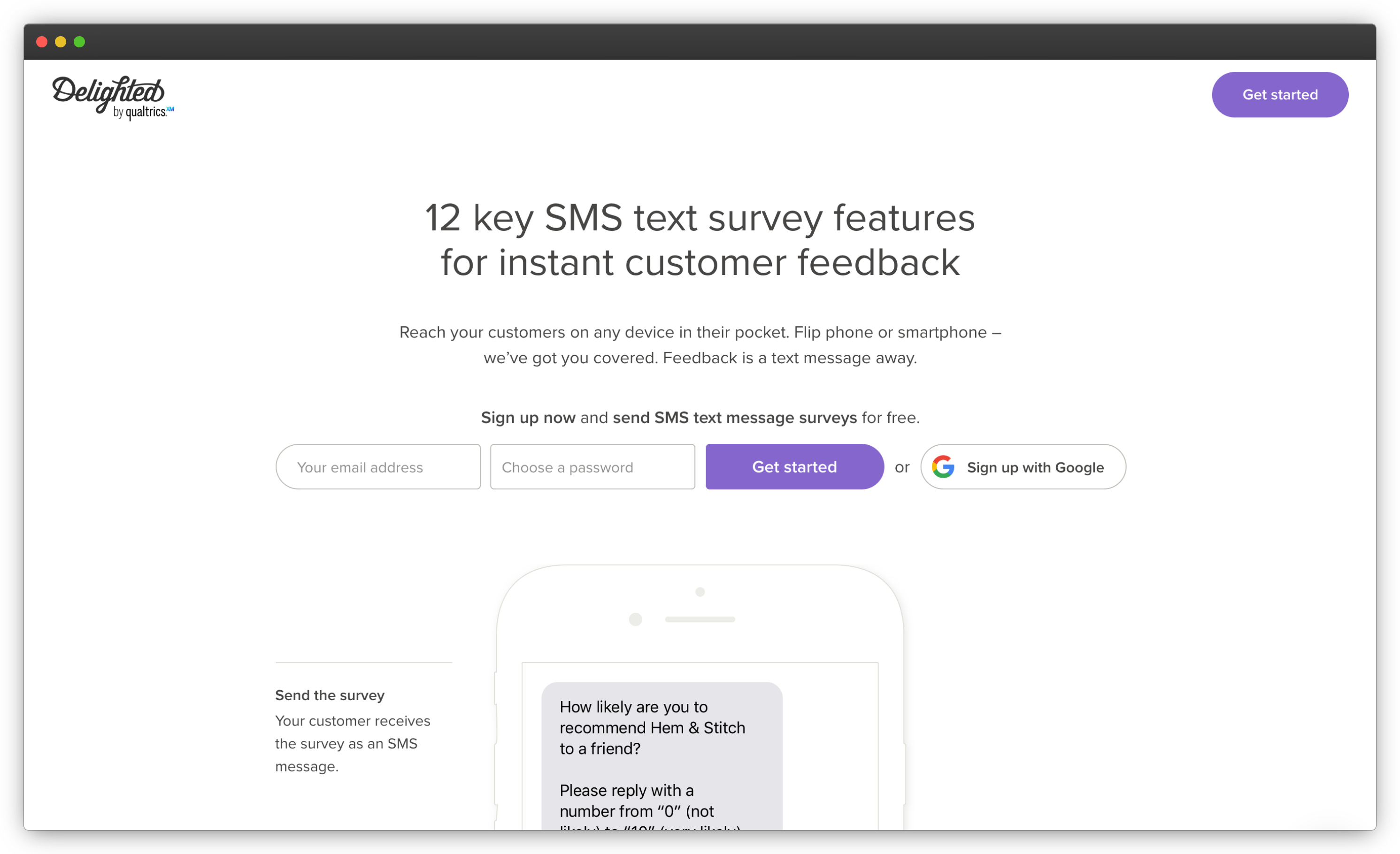 Delight is another good and one of the most user-friendly SMS Survey Software that helps you gather Customer Feedback with SMS Surveys within minutes without requiring you to have a good technical knowledge. It is a simple software suitable for businesses of all sizes. It has a feature of Smart scheduling that helps you to schedule your survey SMS in such a way that they receive the text message of survey invitation during the day time only.
The surveys can be sent both on flip phones as well as smartphones with 100% text without requiring any data plan.
Code-free Customization of this tool helps to create simple surveys without involving and messy coding to customize your surveys. You can easily customize the questions and language of the survey. It also has the Autopilot feature automatically surveys your customers by sending them SMS surveys within a regular interval of time specified by you.
The feature of Rest API helps to set triggers to send survey text messages at various events of the customers' journey like a check-out, a delivery, or a support interaction. With its feature of localizing your phone number, you can make your survey SMS appear to be sent from the customer's region as the customers are more likely to answer a survey from a number that looks familiar.
Integrations
Shopify, Salesforce, Slack Zapier, Chatdesk, Zendesk, Webhooks, Intercom
Rating Score
Ease of Use: 9.7/10
Quality of Support: 9.6/10
Ease of Setup: 9.6/10
Support Options Available
Live Chat, Email, and Knowledge Base
Free Trial
Available
Cost
$0/month - Free Version
$224/month - Premium Plan
Customized - Premium Plus Plan
3. QuestionPro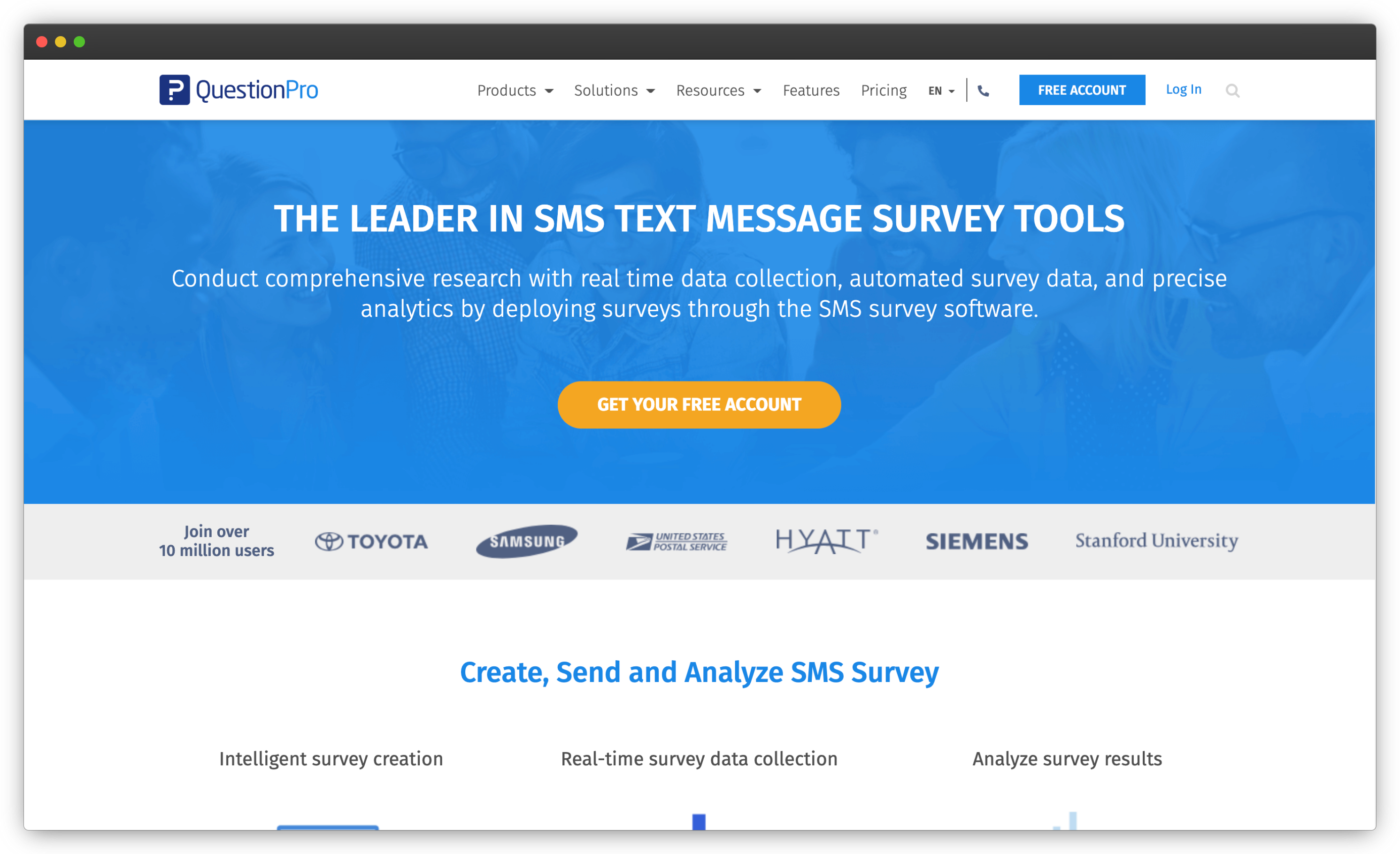 Claiming to be the leader in SMS Text Message Survey Tools, QuestionPro helps you to create and send SMS surveys, collect real-time data and analyze effectively. It provides 350+ survey templates with 40+ standard question types. Its advanced survey logic and branching helps you to provide your customers a smooth survey experience with advanced logic like skip logic, text piping, survey looping and branching.
It also provides a visual dashboard that enables you to filter the survey responses on the basis of multiple attributes.
Its advanced reporting offers you to get reports like real-time survey reports, GAP Analysis, Trend Analysis and TURF Analysis. You can download your reports in formats like Excel, Powerpoint, CSV raw data and PDF format and share with your teams.
It provides 2 Factor Authentication, a security feature to eliminate false respondents. Once the respondents sign up, they are shared a unique code through SMS after inputting which, their number is verified and they can take the survey.
Integrations
Intercom, Slack, Zoho, Mailchimp, Salesforce, Zapier and more
Rating Score
Ease of Use: 8.7/10
Quality of Support: 9.0/10
Ease of Setup: 9.1/10
Support Options Available
Live Chat, Live Chat, Online
Free Trial
Available, Free 10-day trial.
Cost
$0/month - Essentials (Free Version)
$85/month - Advanced
Customized - Enterprise
4. SurveySparrow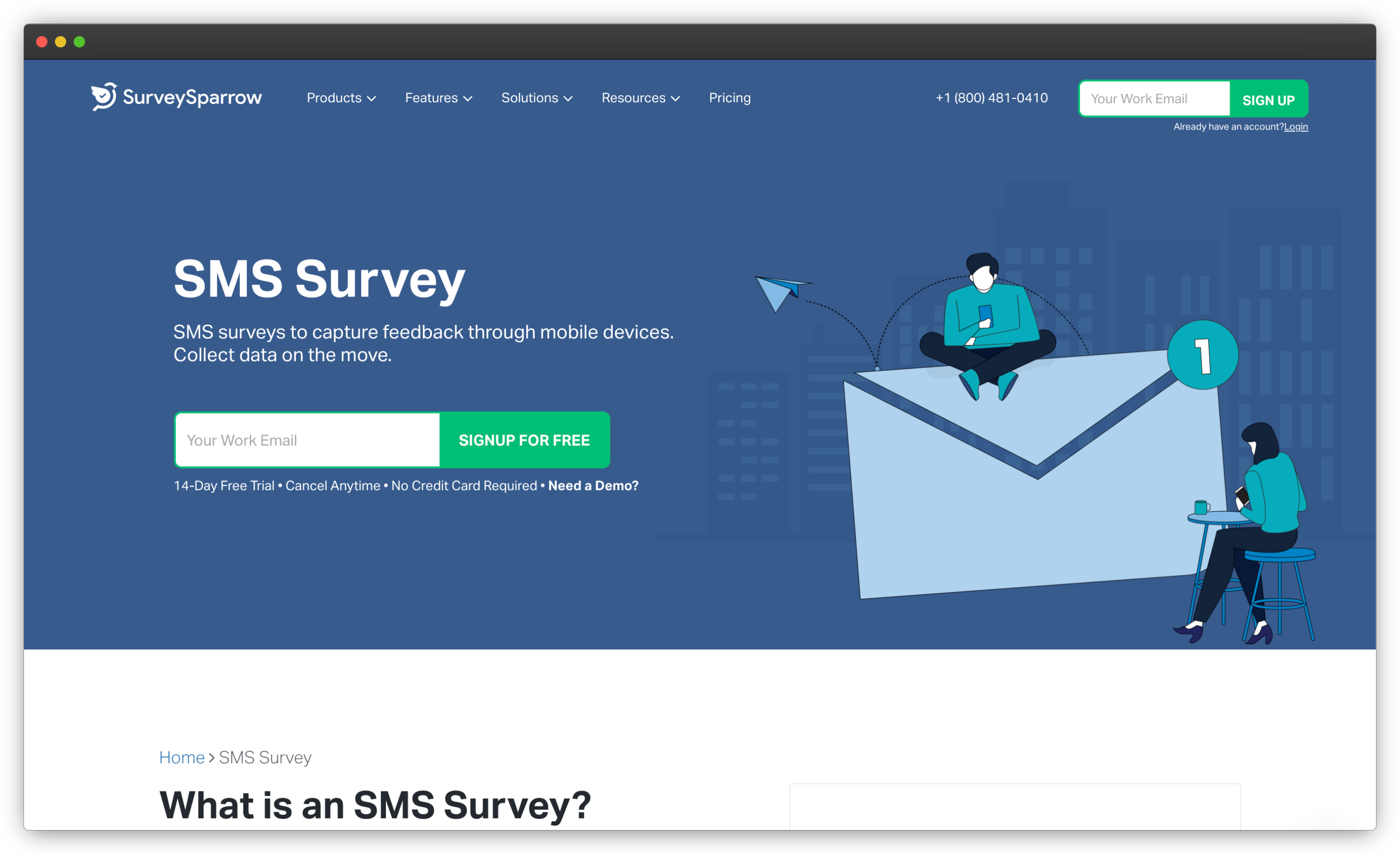 SurveySparrow is another great software that helps you create engaging surveys for gathering Customer Feedback and send them to your customers via text messages. It enables you to create conversational and engaging survey forms that can bring high response rates on your surveys. You can customize your surveys with different designs and themes. You can white-label your surveys and add your own branding and style to the surveys and the survey URLs. Its customization helps you to make the surveys clear, crisp and to-the-point.
Moreover, you can choose your survey audience from any list or share them directly. SurveySparrow's reporting module helps to analyze the survey data received and track the survey performance easily. You can schedule the survey reports of survey data to be sent to you at regular intervals automatically.
You can apply filters on your survey responses to get the data and report you want and compare your responses with the Compare Feature of the tool. The surveys created are mobile-first surveys and can be easily accessed and responded through mobile phones.
Integrations
Intercom, Slack, Segment, Mailchimp, Salesforce, Zapier and more.
Rating Score
Ease of Use: 9.3/10
Quality of Support: 9.3/10
Ease of Setup: 9.2/10
Support Options Available
Live Chat, Email, Phone, Knowledge Base
Free Trial
Available, 14-day Free Trial.
Cost
$149/month - Business
$249/month - NPS
$449/month - Enterprise
Customized - Elite
5. SurveyMonkey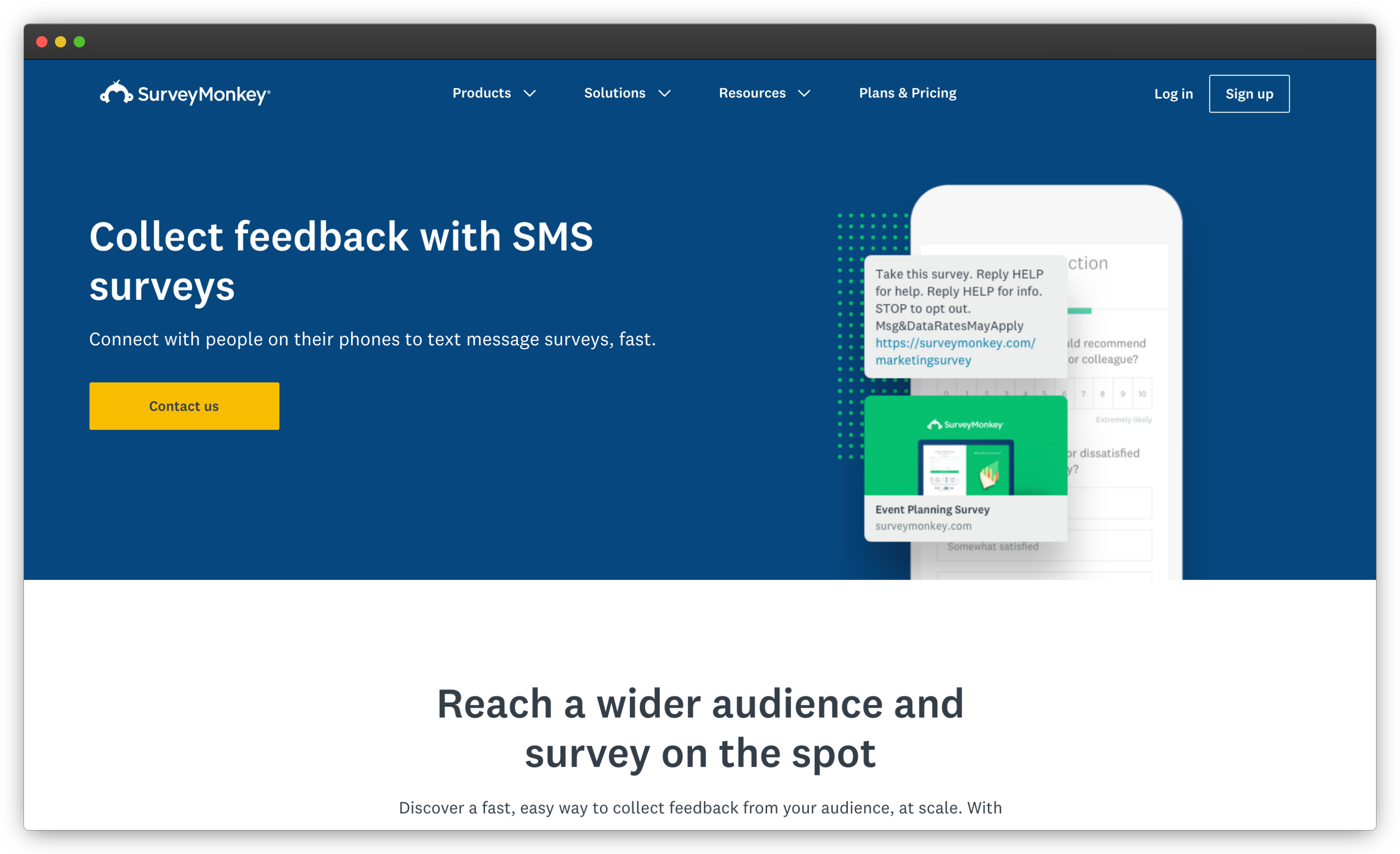 Survey Monkey is yet another popular survey software that provides you a fast and easy way to connect with people on their phones by sending them mobile surveys on the go via SMS. It enables you to send time-sensitive SMS surveys at an ideal time to gather more accurate responses, be it on-premises or post-event.
Set triggers to send post-event surveys like a dining, employees onboarding, a doctor visit or discharge form hospital, or a customer support interaction. You can easily upload phone numbers from a CSV file, Sync with Active Directory, or manually. The tool is affordable and cost-effective and the surveys are optimized for mobile devices to make them easy to open and take the survey through mobile phones.
Integrations
Salesforce, Slack, Promoter API, Zapier, Segment
Rating Score
Ease of Use: 9.2/10
Quality of Support: 8.6/10
Ease of Setup: 9.0/10
Support Options Available
Live Chat, Email, Phone, Knowledge Base
Free Trial
Not Available, only free basic plans are available without much features
Cost
Starting Price - $25/month/user
Business Plans - Team Advantage, Team Premier and Enterprise.
Personal Plans - Standard Monthly, Advantage Annual and Premier Annual
6. GetFeedback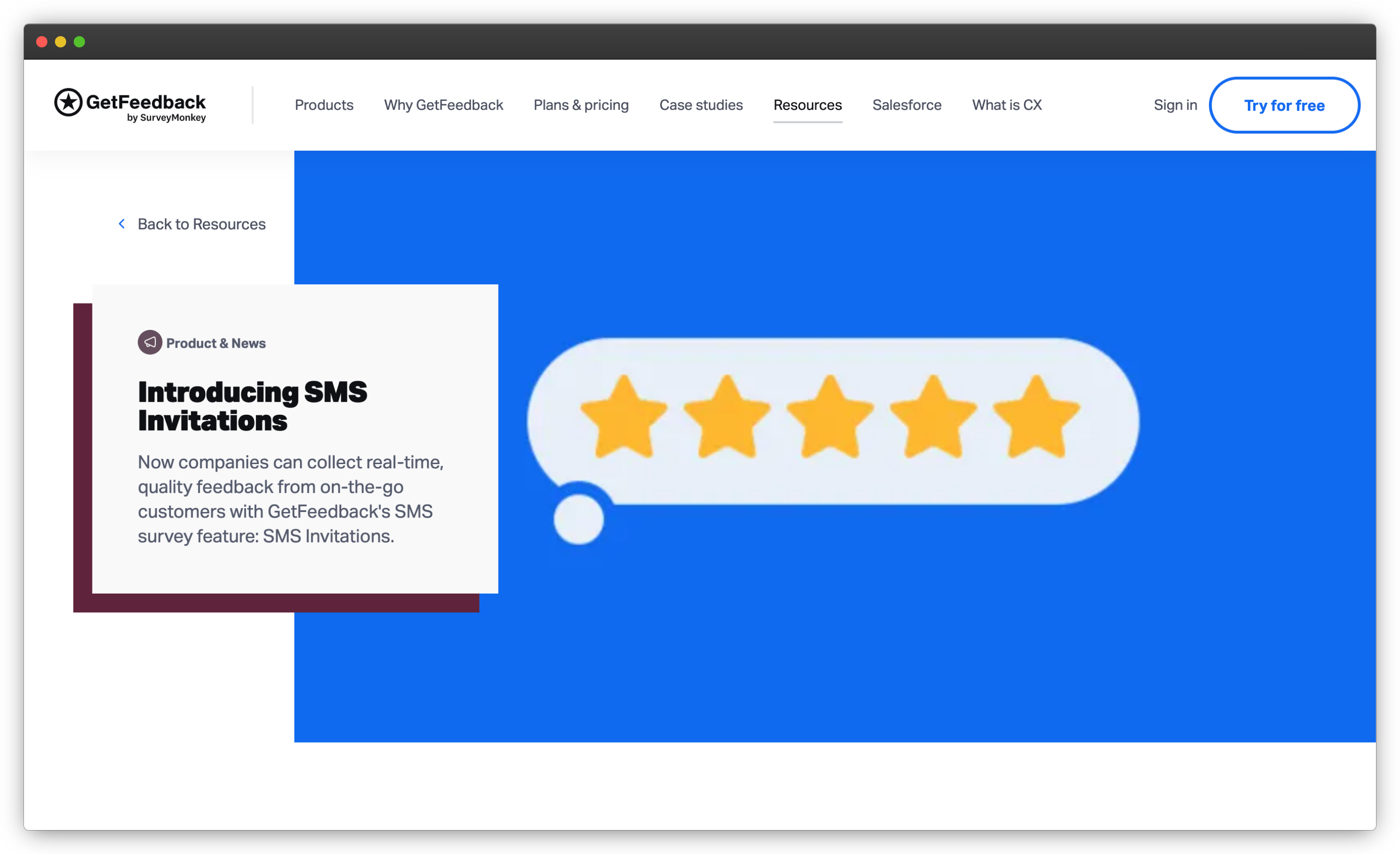 GetFeedback is another tool that helps you to capture real-time quality feedback from your customers by sending them survey invitations through SMS. The Automation in this tool enables the surveys to be sent to the customers automatically after an interaction to prompt real-time feedback.
You can create sleek surveys that are easy to take with your own branding and present them before your customers.
You can also compare the survey response rates with other channels of sending surveys like email to know which channel is performing better for you. Integration with Salesforce helps to take immediate action on the feedback received as the data is piped back into Salesforce. You can send these SMS Surveys right after a purchase, a customer service call, an appointment, an event, or a flight etc.
Integrations
Salesforce Integration
Rating Score
Ease of Use: 9.2/10
Quality of Support: 9.0/10
Ease of Setup: 9.3/10
Support Options Available
Online, Live Chat.
Free Trial
Available
Cost
There are three plans namely Direct, Digital and Complete Plan; but prices not Provided by the vendor.
7. SimpleTexting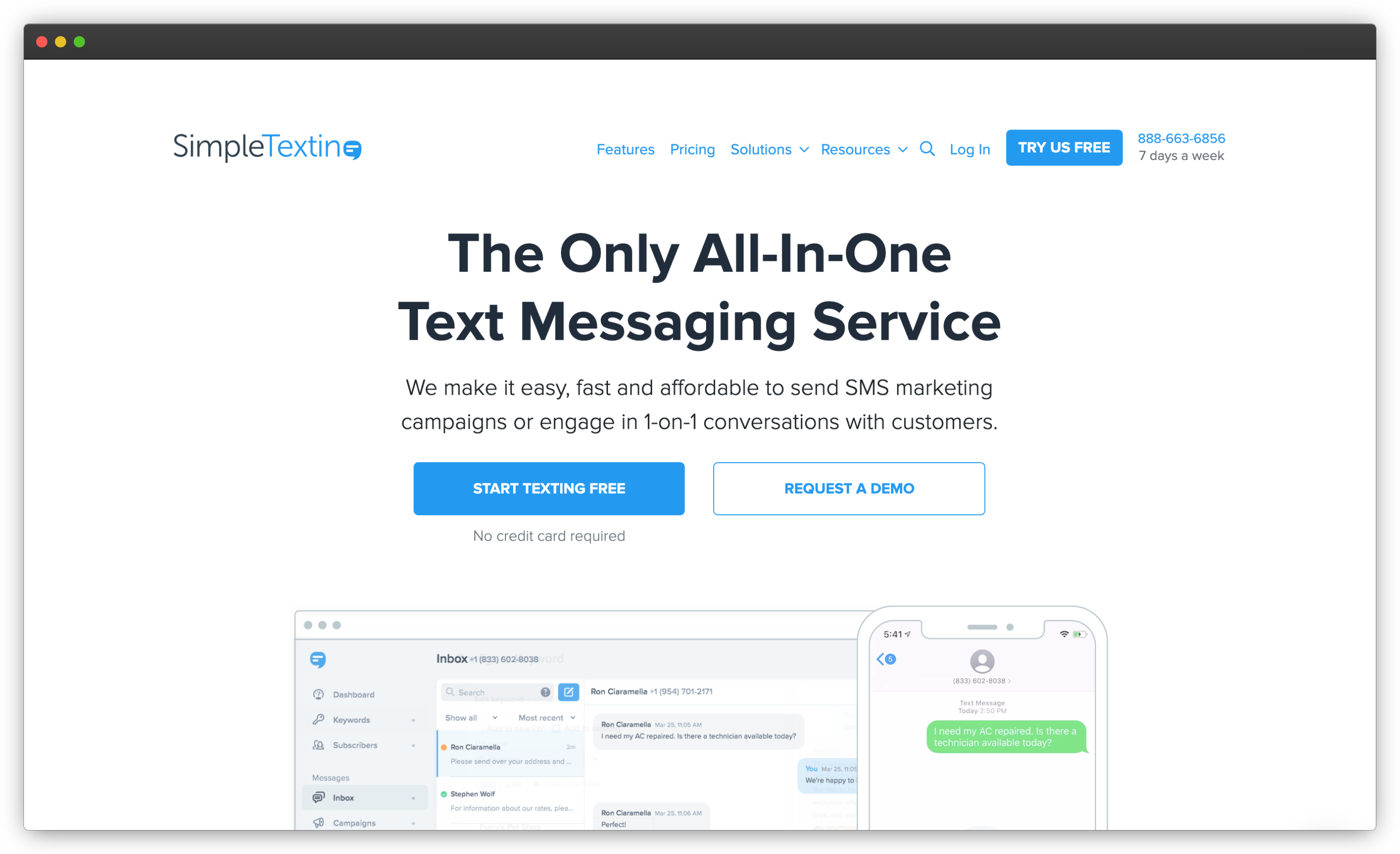 SimpleTexting is exclusively a Text Message Service app designed to send bulk text messages of alerts and surveys. It allows you to easily create text surveys and collect feedback data with those text surveys. You can easily send mobile surveys to groups of people, collect customers' responses or votes and tally results and follow up with the respondents.
If you want to collect customer or employee feedback through simple surveys sent through text messaging only, this app is perfect and an easy and affordable way out. But because this software is a messaging software only, it doesn't allow you to send your surveys through other channels like email or website surveys, neither it has features like sending multilingual (ability to send surveys in multiple languages) surveys.
Integrations
Salesforce, Zapier, Mailchimp, Hubspot, Slack, Shopify
Rating Score
Ease of Use: 9.3/10
Quality of Support: 9.5/10
Ease of Setup: 9.1/10
Support Options Available
Live Chat, Webinars, Knowledge Base
Free Trial
Available, 14-day Free Trial
Cost
(Price depends on the number of messages you get ranging from 500 to 50000.)
500 credits - $25/month
50000 credits - $625/month
8. TextMagic
TextMagic is another easy-to-use SMS Survey tool that helps you improve Customer Experience and get valuable feedback from any audience. With TextMagic, you can schedule your SMS Surveys to be sent automatically to your customers at the time you decide. SMS Survey Analytics will help you carefully analyze the feedback data or export the replies and TextMagic Dashboard helps to check the deliverability, responses and performance of the surveys.
The tool also provides you six predefined survey templates for various purposes. It enables you to personalize your surveys by adding merge fields. Also, you can generate automatic replies based on essential keywords in the customers' responses. Its Preview tool helps to test the survey you created by taking and filling your own surveys first.
Integrations
Zapier, APIs
Rating Score
Ease of Use: 9.6/10
Quality of Support: 9.1/10
Ease of Setup: 9.2/10
Support Options Available
Customer Care
Free Trial
Available
Cost
$0.04 per text
9. SMS-Track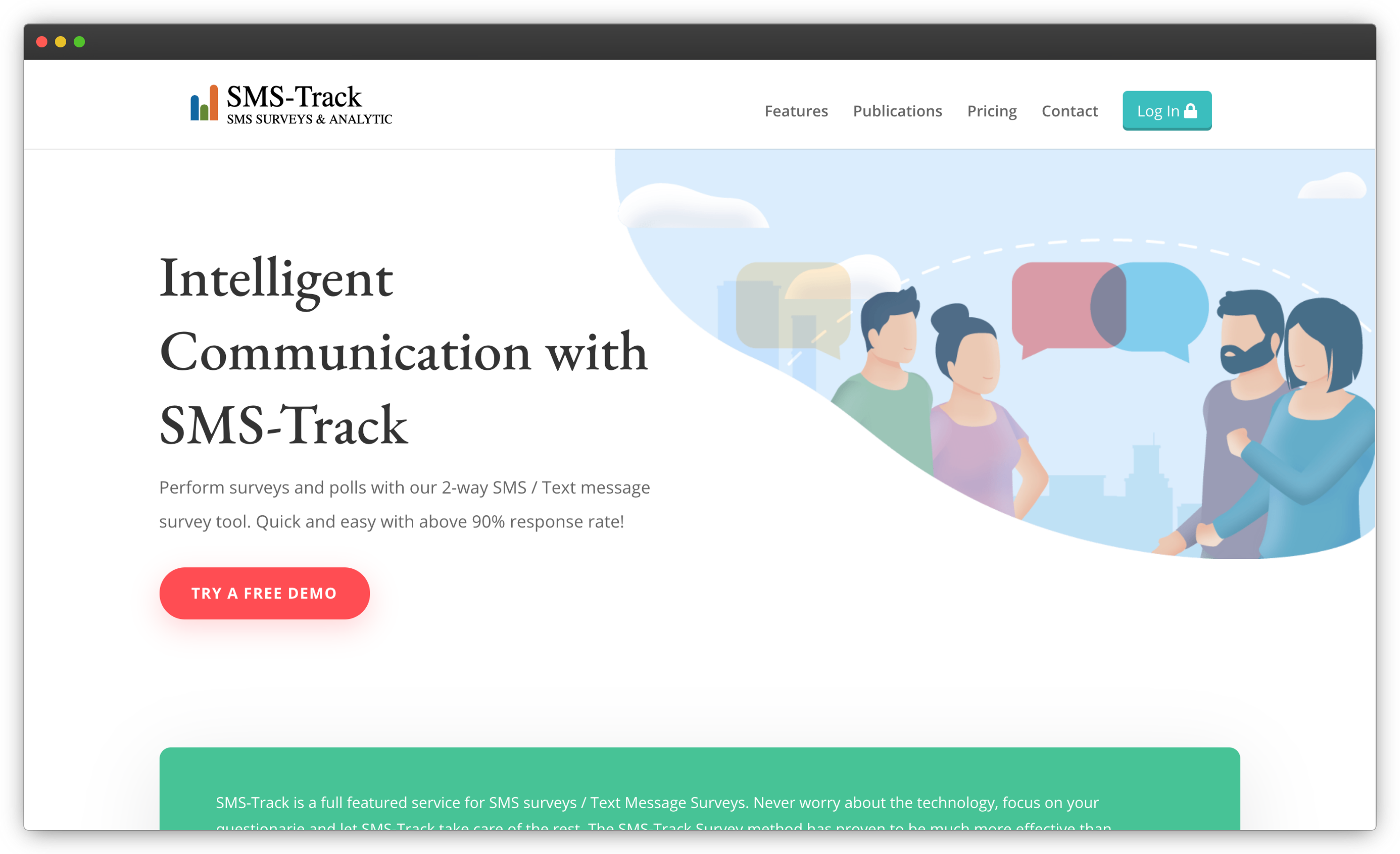 SMS-Track is a 2-way SMS Survey tool that focuses on SMS Communication and helps you perform surveys and polls and get a good response rate. The company claims the response rate of its surveys to be 90% or even more. The tool allows you to integrate the text surveys with the web surveys. It helps to monitor the customers' responses in real-time and revert to your customers within seconds.
Moreover, It helps to present your survey results with a set of predefined graphs. You can easily create your own feedback reports and also export the feedback data to your own data analysis software. Schedule your SMS surveys to be sent as per your requirements of time.
Integrations
R, sTaTa, SAS and APIs
Rating Score
Not Provided
Support Options Available
Live Chat, email, Contact form
Free Trial
Available
Cost
Customized
10. SurveyMill
SurveyMill is a UK based SMS Survey Software that helps in creating and sending fast and effective SMS Surveys. With this tool, you can send up to 13 questions per survey, which is fair enough for an SMS Survey. You can put any type of questions including yes-no type questions, ratings and plain text.
With SurveyMill, you can see response statistics for every question, including top 10 words from the responses and the dropouts from the surveys. The opt-out feature lets your customers opt-out of your surveys so that you can see who has opted out and keep your contact lists up to date. You can anytime download survey reports in excel format and analyze it for other references.
Moreover, it offers advanced credit facilities. You get a dedicated shortcode when you move to a credit account. You can use auto top-up feature to keep running smoothly and never run out of credit and also share your top-up balance.
Integrations
No Integrations listed
Rating Score
Overall Reviews: 4.2/5
Support Options Available
Email, Contact Form, Customer Support: 9:30 am to 5:00 pm UK Time
Free Trial
Available
Cost
4.5p per message, per contact. Can be as low as 2p depending on the volume.
Software

Price

Free Plan

Customer Service and Support

Overall Review Score

Ease of Work

Zonka Feedback

$24/month - Essential Plan

$79/month - Professional Plan

$169/month - Growth Plan

$429/month - Enterprise Plan

No Free Version




Free Trial Available, free trial for 15 days.

Live chat, phone email and knowledge base

Quality of Support: 9.7/10

Ease of Use: 9.6/10

Ease of Setup: 8.6/10

Delighted

$0/month - Free Version

$224/month - Premium Plan

Customized - Premium Plus Plan

Free Plan Available





Live Chat, Email, and Knowledge Base

Quality of Support: 9.6/10

Ease of Use: 9.7/10

Ease of Setup: 9.6/10

QuestionPro

$0/month - Essentials (Free Version)

$85/month - Advanced

Customized - Enterprise

Available, Free 10-day trial

Live Chat, Live Chat, Online

Quality of Support: 9.0/10

Ease of Use: 8.7/10

Ease of Setup: 9.1/10

SurveySparrow

$149/month - Business

$249/month - NPS

$449/month - Enterprise

Customized - Elite

Available, 14-day Free Trial

Live Chat, Email, Phone, Knowledge Base

Quality of Support: 9.3/10

Ease of Use: 9.3/10

Ease of Setup: 9.2/10

Get Feedback

There are three plans namely Direct, Digital and Complete Plan; but prices not Provided by the vendor.

Available

Online, Live Chat

Quality of Support: 9.0/10

Ease of Use: 9.2/10




Ease of Setup: 9.3/10

SimpleTexting

Price depends on the number of messages you get ranging from 500 to 50000.

500 credits - $25/month

50000 credits - $625/month

Available, 14-day Free Trial

Live Chat, Webinars, Knowledge Base

Quality of Support: 9.5/10

Ease of Use: 9.3/10




Ease of Setup: 9.1/10

TextMagic

$0.04 per text

Available

Customer Care

Quality of Support: 9.1/10

Ease of Use: 9.6/10




Ease of Setup: 9.2/10

SMS-Track

Customized

Available

Live Chat, email, Contact form

Not Provided

Not Provided

SurveyMill

4.5p per message, per contact. Can be as low as 2p depending on the volume.

Available

Email, Contact Form, Customer Care: 9:30 am to 5:00 pm UK Time

Overall Reviews: 4.2/5

Not Provided

Learn more about the SMS Surveys