The effectiveness and value of your product or service in the marketplace are defined by the kind of experience you are giving to your customers. That's why good Customer Service is key to a successful business. No matter how good of a product or service you offer, one bad customer experience could mean losing them forever.
Over 96% of customers believe that Customer Service is an important factor in brand choice and loyalty to it. For many businesses, it is becoming increasingly important to measure Customer Service Performance to improve customer experience. This is where Customer Service Surveys come into play. By capturing customer feedback, they allow you to find loopholes in your processes by asking the customers directly.
Providing positive experiences to customers begins with the time when they first land on your website and goes well beyond the moment they turn into your customers. Most businesses make the mistake of focusing on gaining loyalty and acquiring new customers while not putting so much effort into improving the experience of existing ones.
Measure Customer Service Performance
Improve your customer service and grow your business with real-time feedback
Significance of Customer Service Surveys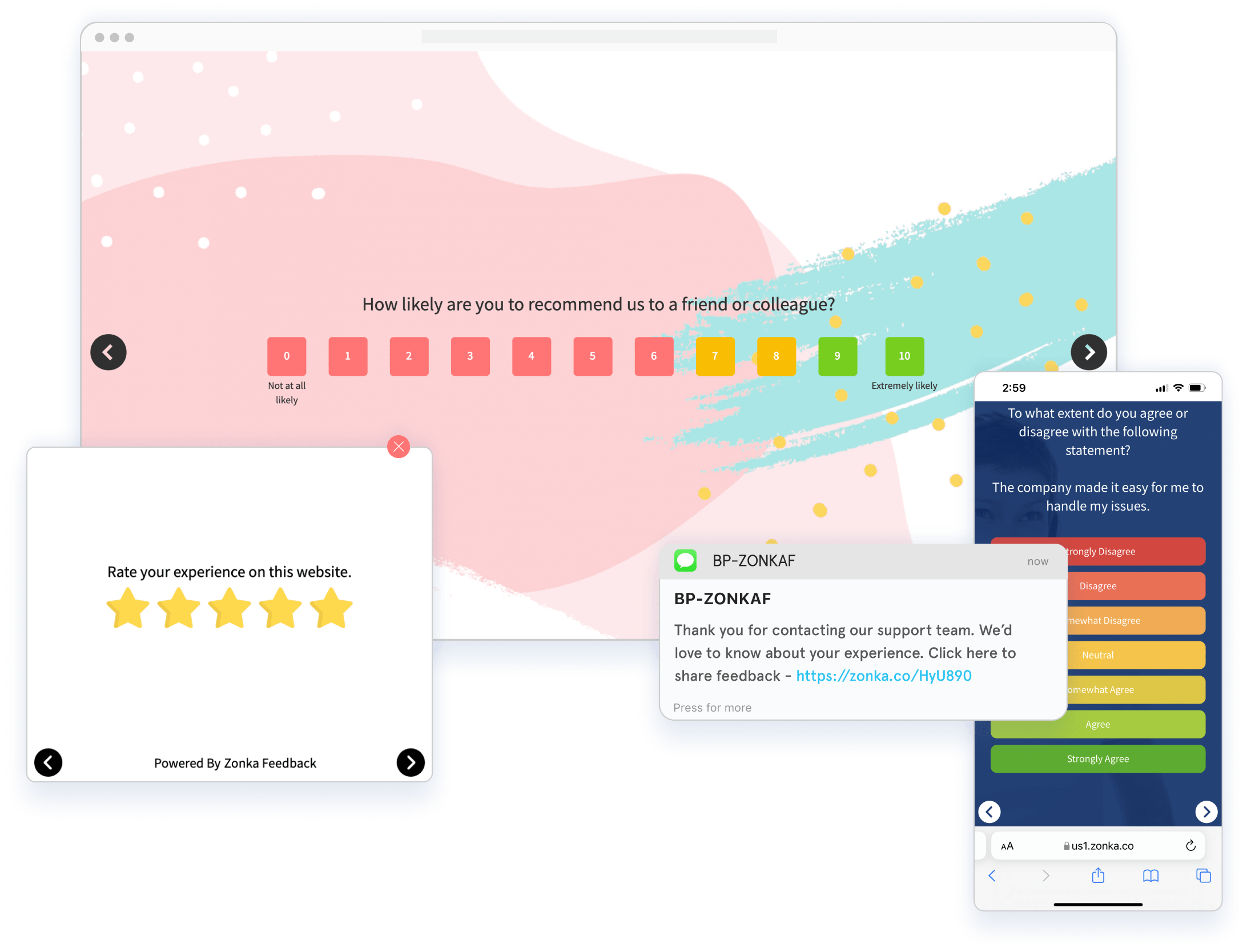 Conducting Customer Service Surveys can offer plenty of benefits to a business that aims at winning customers and keeping its growth at an incline. Here are a few ways in which measuring the Customer Service Metrics you can improve your business using surveys -
1. Lower Churn Rate
Conducting frequent Customer Service Surveys can help you track your agents' performance and the performance of your Customer Service processes. It can help you deliver enhanced services or products to the customers, resolve their queries more quickly, and improve their overall satisfaction with your business.
2. Find Areas of Improvement
Surveys to measure Customer Service Performance can uncover those areas and processes in your workflows that need improvement. Whether it is a bug in your product, unavailability of required agents per ticket, improved knowledge base, or poor training, you can use the Product Feedback results to bring the much-needed changes that can increase customer satisfaction.
3. Increased Referrals
When you manage to deliver excellent customer service to a customer, they remember. Taking customer feedback into consideration, implementing changes, and keeping customers informed can go a long way in gaining their loyalty. Loyal customers are more likely to refer your business to their friends, colleagues, or family.
4. Set High Standards for Customer Service
Conducting Customer Service Surveys can help you keep a track of your customer's satisfaction with your services and products and how your agents are performing. Doing this frequently enables your organization to keep high standards of customer service and ensures maximum customer satisfaction.
Customer Service Survey Questions You Should Ask
1. Were you able to find the information you were looking for on our website?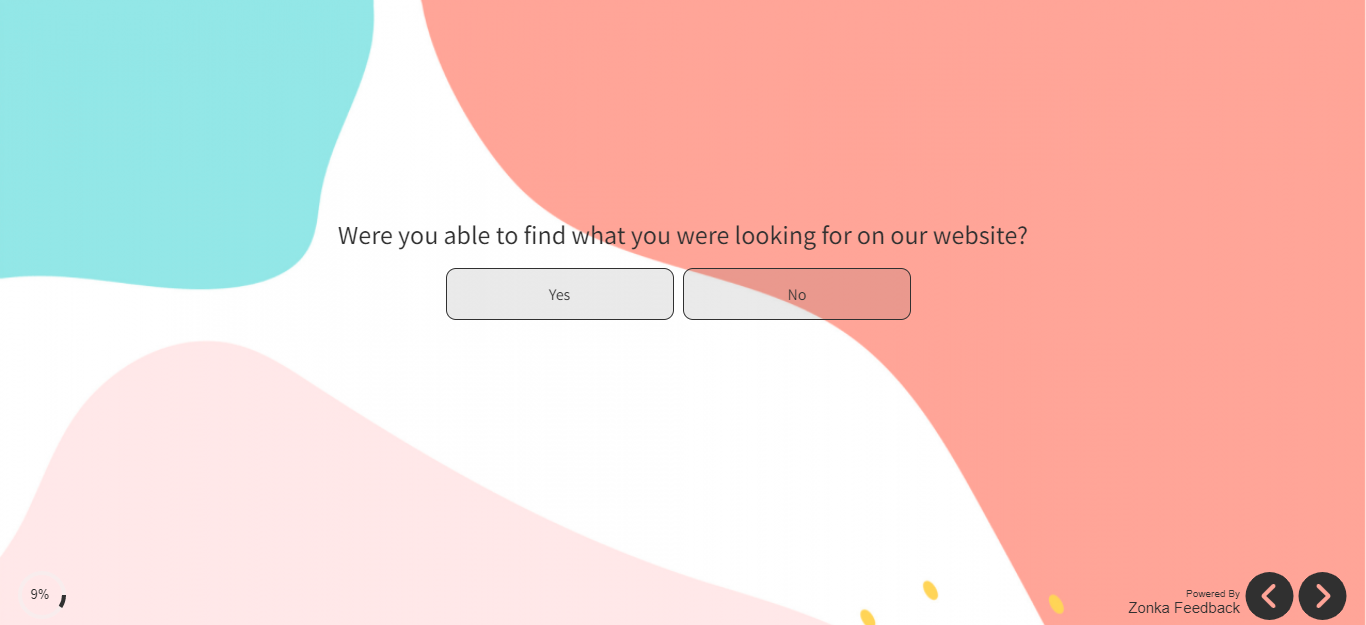 Asking this question in your Customer Service Surveys is more than just a courtesy; it can help you measure Customer Service Performance and how effectively tickets are getting closed. If the customers are able to find what they came looking for on your website, their chances of returning increase exponentially.

If the customers are not satisfied with the navigation, you can ensure that all the help and support-related resources are available to them on the go. It can be done by either adding a quick-access button specifically for such resources or adding another section to the menu that directs them toward that particular page.

2. How easy was it for you to navigate our website?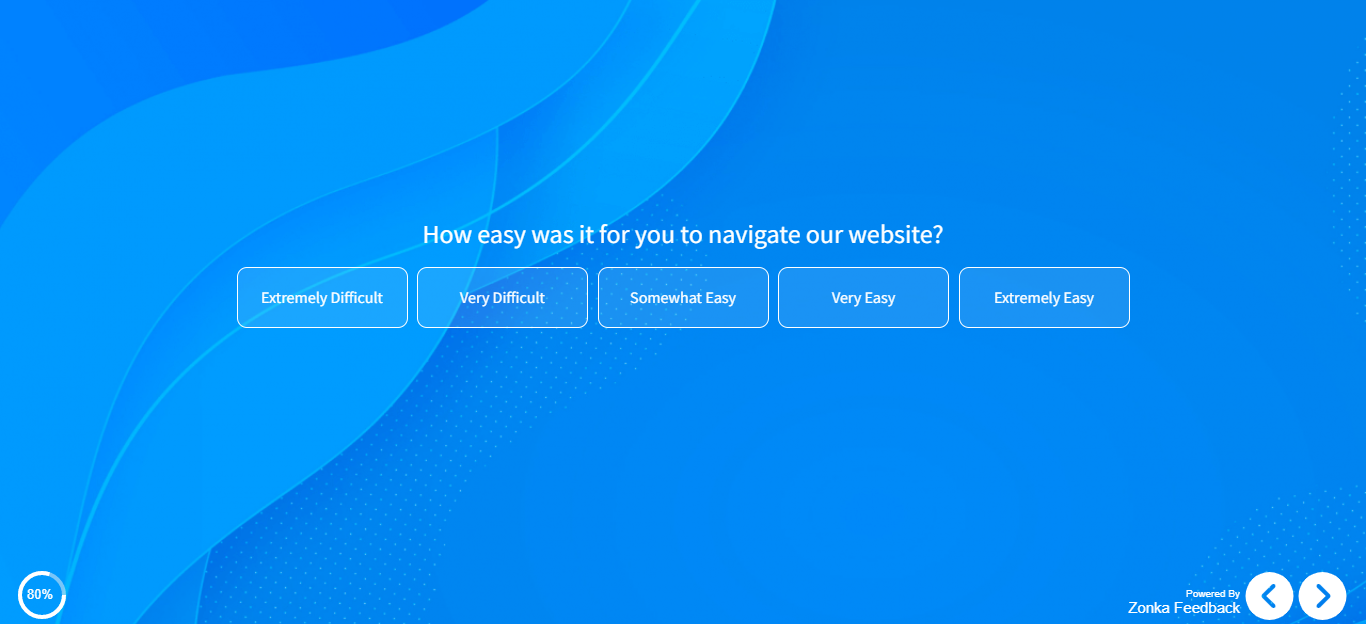 It is another crucial question to ask your customers to know how easy or difficult it is for them to navigate your website. It becomes even more important to ask if you have made any new changes to your website. The goal is to make your website as user-friendly as possible, and what better way to do that than by asking the customer themselves?
Make sure that you take every feedback into consideration because the unheard voices of customers can lead to an inclining churn rate.
3. How much effort did you put into getting your query resolved?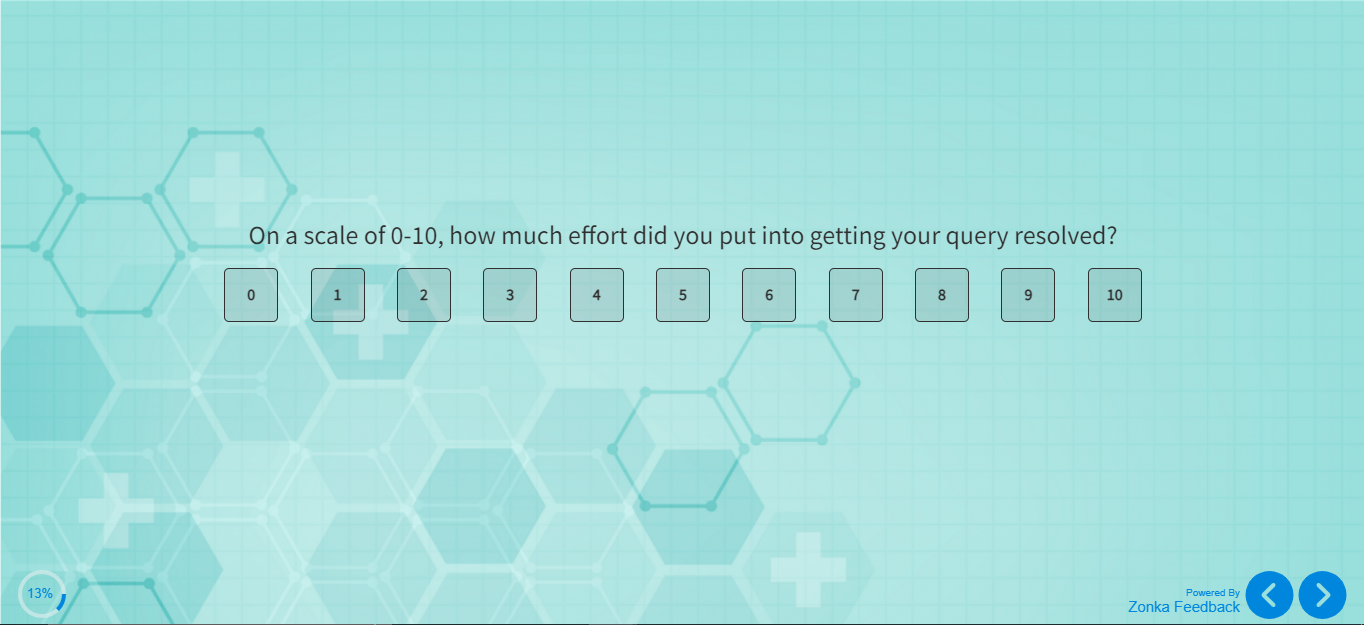 Customer Service Surveys can help you identify the amount of effort put in by the customers to get their queries resolved. The less effort they put in, the happier they'll be with your business.
In fact, less effort from customers not only means that they are able to get quick support but also indicates that your workflows are smooth. It can eventually lead to an increase in the retention rate.
4. How responsive have we been in answering your concerns regarding our product?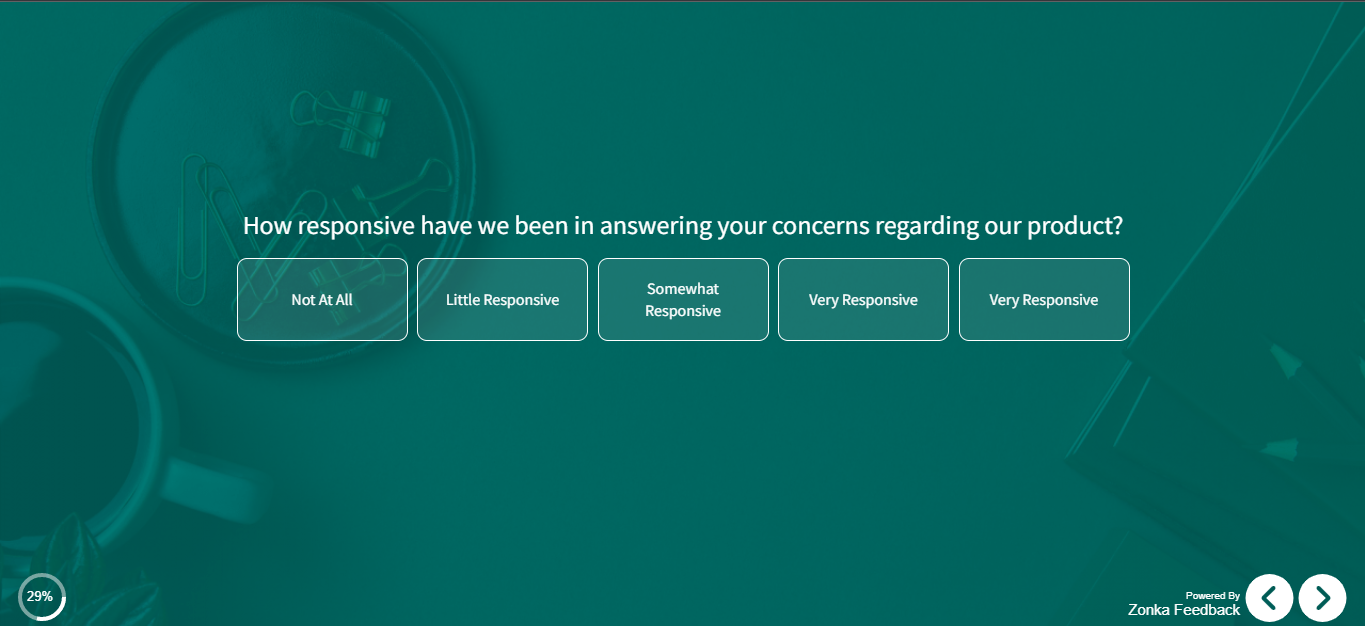 This question is generally asked immediately after customers' interaction with your Customer Service Team. Asking this question creates a perspective that you care for your customers and value their opinion and feedback.
5. To what extent do you agree with the following statement: The company made it easy for me to handle my issue.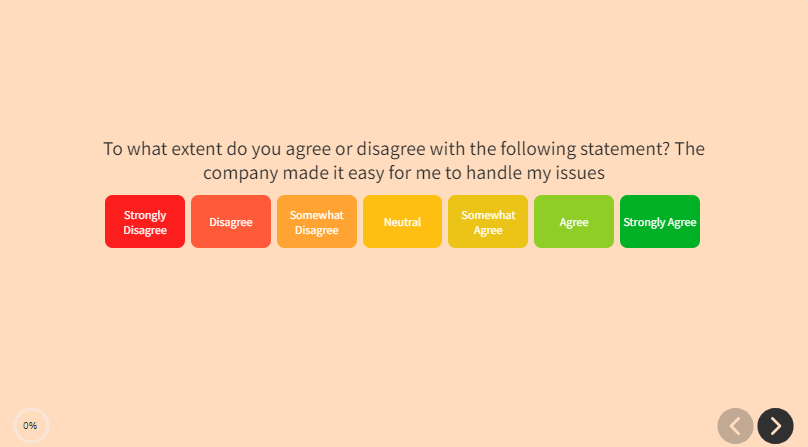 Questions like these allow you to assess multiple areas of your business. You can figure out the effectiveness of your product or service, find out issues that are more complex to solve, know if the Customer Service Agents have adequate training to handle customer queries, and so on.
6. Based on your recent support call, how easy or difficult was it to interact with our agent?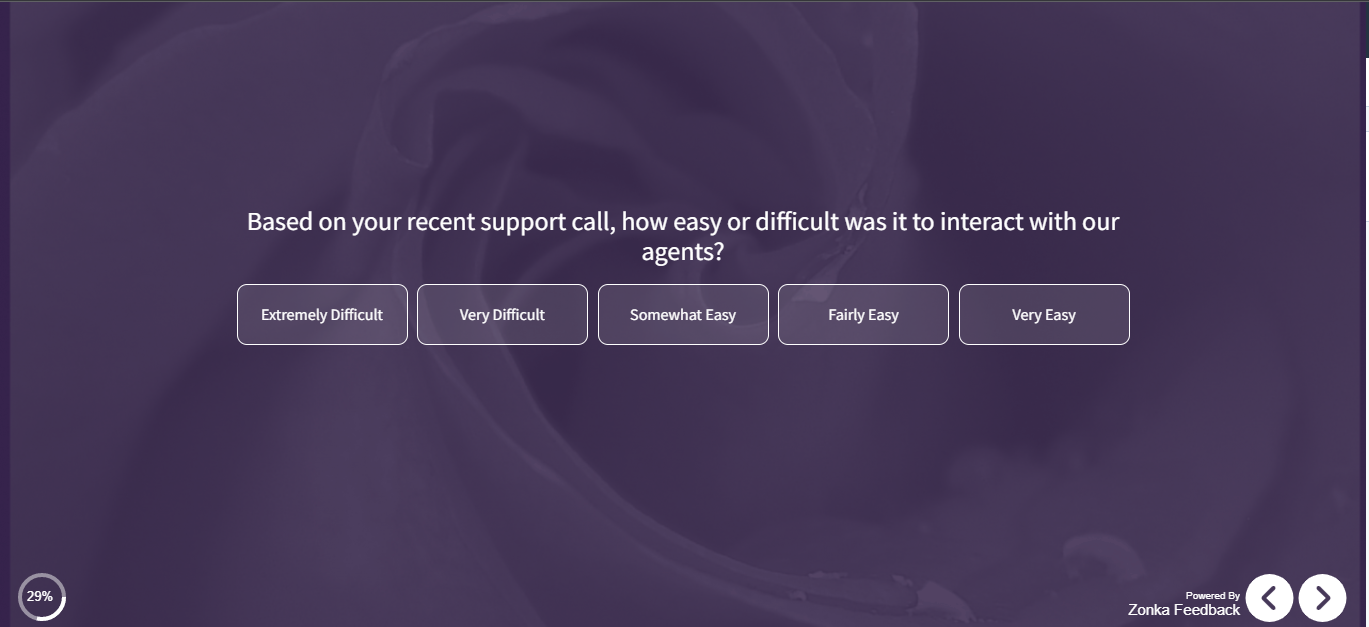 Questions like these allow you to measure the performance of your Customer Service agents and their efficiency in handling client concerns. Also, it can be an indicator of the efficiency of channels used for client communication.
Measure Customer Service Performance
Improve your customer service and grow your business with real-time feedback
Other Important Customer Service Surveys Sample Questions to Ask
Customer Service Surveys - Questions with Yes or No Options



1. Did our representative resolve your issue to your satisfaction?
2. Was the customer service representative friendly and helpful?
3. Did you find it easy to get in touch with us?
4. Was our Customer Service representative knowledgeable?
5. Is your issue resolved?
Customer Service Surveys - Customer Satisfaction Questions
6. How satisfied are you with the service provided by our agent?
7. Please rate your overall satisfaction with our Customer Service Agent
8. How well does our Customer Service meet your needs?
9. How knowledgeable would you say our service team member was?
10. Based on your recent interaction regarding (insert incident), how satisfied or dissatisfied were you with the self-help option?

Customer Service Surveys - Customer's Loyalty-Based Questions
11. How likely are you to recommend our company to a friend, family or colleague?
12. How likely are you to buy from us again?
13. On a scale of 1-10, how likely are you to recommend us to someone like you?
14. What would you say to someone who asks about us?
15. Is there anything else you would like us to know?

Getting Started With Customer Service Surveys
When equipped with the right tools, Customers Service Surveys can be easy to conduct, and so is analyzing their results. There are a few tips you can follow to improve the effectiveness of your customer Feedback Survey.
There's no point in conducting surveys if you don't know what you're trying to achieve with them or what to do with the responses. Setting clear goals like tracking Agent Performance Metrics, Efficiency of the Help Desk, Customer Satisfaction, etc., can help you maximize the value of your surveys. Make sure you have processes that can help you compare trends and analyze the survey results.
While conducting Customer Service Surveys, be clear about your intentions regarding what you're trying to achieve and let them know how long it will take to complete the surveys. It will bring you one step closer to getting favorable responses.
Time is precious for everyone, and no one wants to spend 20 minutes filling out a survey form that might not even give them any instant value. So, keep your surveys short and to the point by asking only relevant questions. Reduce the number of open-ended questions and make it as easy as possible for the respondents to fill out the survey within a few minutes. Doing so can maximize customer engagement and ensures that customers complete the survey.
You can also avoid Survey Fatigue with Survey Throttling. It ensures that the customers are not sent surveys in a selected duration. Using Zonka Feedback, you can set up Survey Throttling in your account and that will apply to all the campaigns and surveys you plan on running. Based upon the requirement, you can choose the frequency of distributing surveys, for example, you can schedule it for monthly, yearly, or selected dates every month.
Focus on Right Distribution
Your goal should be to make your Customer Service Surveys accessible to your customers by distributing surveys on channels relevant to your customers. For instance, if your customers interact with your service team via the website's live chat, sending a survey via SMS won't gather as much engagement as a Website Popup Surveys. Leveraging channels relevant to customers encourages more participation and drives instantaneous action.
On top of all the above factors, the most crucial factor that can maximize the value of your surveys is robust feedback software. An effective tool can office you flexibility and ease of distributing & handling survey responses. For instance, with Zonka Feedback, you can easily create engaging surveys and distribute them quickly via channels, including website, SMS, email, mobile, offline, and third-party integrations. It also offers in-depth analytics and survey reports on the collected data by turning them into actionable insights that can help improve your customer experience.
Ready-to-use Survey Templates
Zonka Feedback offers a plethora of pre-built templates to build your Customer Service Surveys. Here are 9 ready-to-use survey templates to help you get started. Here are some Examples of Customer Service Surveys to get you started:
1. NPS
Quick NPS Template:
NPS with Key Indicators:
Detailed NPS Template:
2. CES
Quick CES Template:
CES with Key Indicators:
Detailed CES Template:
3. CSAT
Quick CSAT Template:
CSAT with Key Indicators:

Detailed CSAT Template:
How Successful Brands Use Customer Service Surveys

1. Slack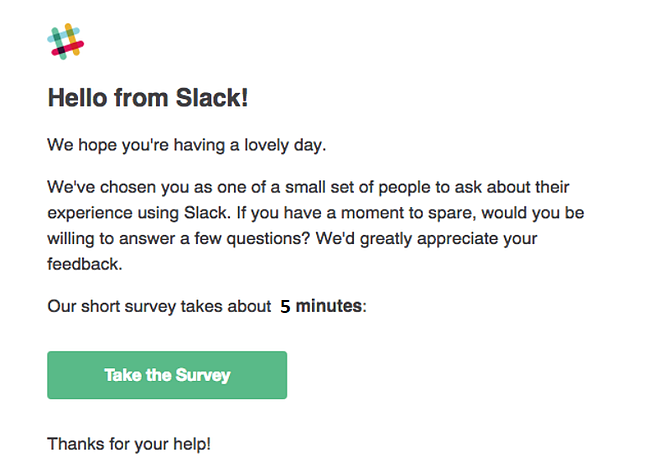 Slack is among the top platforms that know how to get good customer service surveys as it frequently collects customer feedback to improve its experience. The platform even allows you to raise a ticket to request a specific feature to the Slack Team and focuses on closing those tickets. After a certain amount of interaction, Slack sends an email like the one mentioned above to its users asking them to take a survey to improve customer satisfaction.

2. Amazon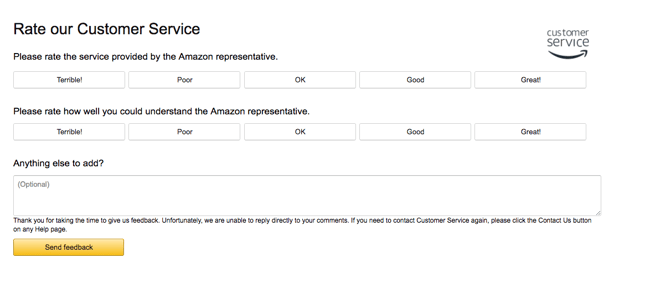 Amazon, being the largest online retailer, also ensures customer satisfaction using Customer Service Surveys. Post every customer service interaction, the company sends the customers a survey as shown above to get feedback on their representatives and provide superior quality service to improve satisfaction and loyalty.
3. Swiggy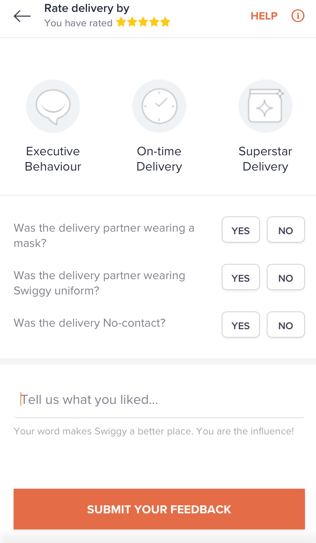 Food delivery platform Siwggy has pretty responsive Customer Service processes in place. Not only does the platform offer in-app feedback on food quality and delivery service quality but it also has a low TAT when it comes to resolving customer complaints and closing tickets. After an order is delivered, the customer is sent a survey shown above.
4. Uber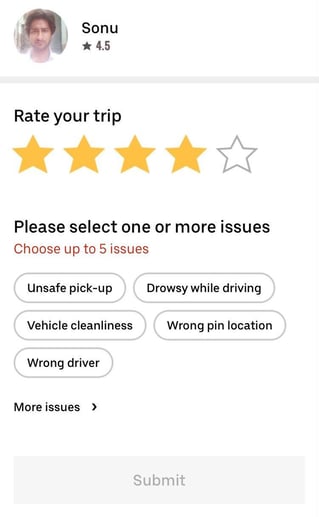 One can always learn how to maximize the potential of surveys from Uber. Their feedback system is pretty transparent that allows the customers to rate their experience based on different factors.
Passengers can easily provide feedback on their trip and so can the driver who can rate the passengers themselves. This promotes self-improvement and helps the company in keeping its customers satisfied.
Conclusion
Improving customer experience starts with taking their feedback at various touchpoints of their customer journey. When you conduct Customer Service Surveys and work on the collected insights, you can make your customers feel valued. Most importantly, when you optimize and Improve Agent Performance, your customer satisfaction improves drastically.
Your Customer Service Agents are the face of your company, so it's important to track their performance and the way your customers are being dealt with. You can keep the above-mentioned Customer Service Surveys Examples in mind to get the responses you need to bring the change.
With Zonka Feedback comprehensive Customer Feedback Software, you can easily create and distribute surveys to capture feedback from your customers about your services. You can track agent performance and get detailed Survey Reports. Zonka Feedback makes it easy to conduct Customer Service Surveys by helping you choose from 500+ customizable pre-built templates or create your own. Get started now!
Measure Customer Service Performance
Improve your customer service and grow your business with real-time feedback