Patient Satisfaction is crucial to be successful in the healthcare industry. Without satisfying your patients, you cannot expect your healthcare business to grow. A high level of patient satisfaction not only helps you establish a lasting relationship with your patients but also attracts new patients through the happy patients' good word of mouth. On the other hand, dissatisfied patients avoid coming back to your healthcare facility and also suggest others not to consult your doctors or brand.
You try to provide the best healthcare services to your patients, but do you know how much your patients are satisfied with these services, the overall treatment they get at your hospital or clinic and the health outcomes achieved as a result? Here comes the need for measuring patient satisfaction.
In this article, we will explore how you can measure patient satisfaction, why it is important to measure it, and touchpoints where you can leverage patient satisfaction surveys to measure and improve patient satisfaction. Let's get started!
TL;DR
Measuring patient satisfaction is crucial to knowing how your patients perceive your healthcare services and how satisfied they are with the overall treatment and medical facilities provided at your healthcare facility.

You can measure patient satisfaction by using patinet satisfaction surveys, and sharing them at various touchpoints of the patient journey through multiple channels - email surveys, SMS surveys, kiosk surveys, and website surveys.

Placing kiosks in important areas of your hospital or clinic can fetch you instant offline feedback. Also, keep a check on online reviews and ratings, use satisfaction metrics like NPS, CES, and CSAT, and analyze your feedback data to measure patient satisfaction.

Measuring patient satisfaction is important for various reasons - to provide quality care to patients, to measure healthcare staff performance, to increase patient retention, and to foster quality improvement of the overall patient care.

You should measure patient satisfaction by sharing patient surveys at crucial touchpoints - after appointment booking, post-admission, post-discharge, post-consultation, cafeteria, and pharmacy.

Always use a good patient feedback software like Zonka Feedback that not only helps you measure patient satisfaction but also enables you to take instant actions to improve it. It also offers a free trial for 7 days.
Measure Patient Feedback and Satisfaction👩‍⚕️
Create your healthcare surveys and questionnaires and gauge feedback from patients in real-time.
How to Measure Patient Satisfaction?
The best way to measure patient satisfaction is to collect feedback from your patients through patient feedback surveys. With the help of a good patient feedback software, you can easily create patient satisfaction surveys and share them with your patients at multiple touchpoints.
Let's learn how you can do this.
1. Create patient surveys with a good patient satisfaction tool
The first step is to deploy an effective patient satisfaction software or app for creating a patient satisfaction survey. An effective tool provides you ready-to-use templates to create powerful surveys for collecting valuable patient insights. Use these templates, and customize them as per your survey requirements.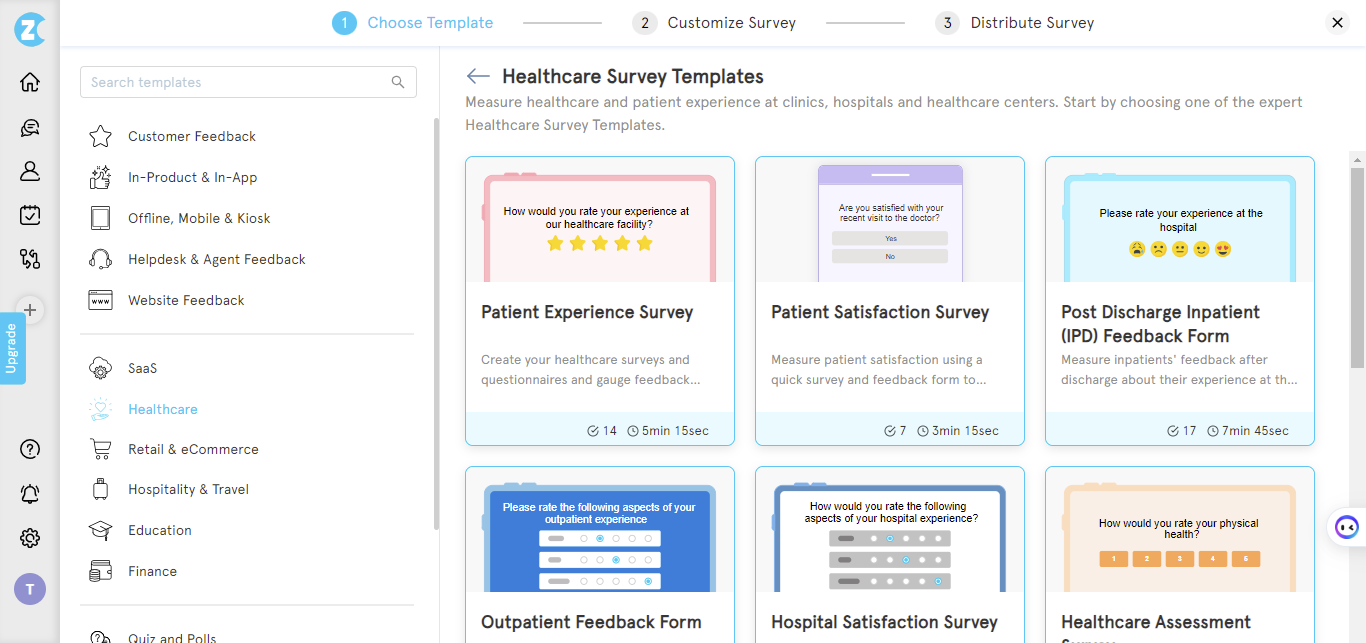 Choose a patient survey template which fits best to your survey needs.

Add or remove feedback and healthcare assessment questions to your patient satisfaction questionnaire as per your requirements.

Add your brand, colors, and styling to your survey.

Use different question types and metric questions like Net Promoter Score and Patient Satisfaction Score questions.

Use features like skip logic and question branching to make your patient satisfaction survey dynamic to the patients' responses.
2. Share surveys to collect feedback at various touchpoints of the patient journey
Create and share surveys to collect feedback from your patients at various touchpoints of the patient journey like appointment booking, wait times for the appointment, post-consultation, admission, post-discharge, and more. Collecting feedback at all touchpoints will help you identify the key areas you need to focus on in order to enhance patient satisfaction and deliver better patient experiences.

3. Apply survey kiosks at various touchpoints of the healthcare facility
You can use various channels to share your patient surveys like email surveys, SMS surveys, website surveys, and more; but do focus on collecting feedback through offline surveys with the help of kiosk devices. This will help you gain valuable feedback from your patients at the right time while they are at your premises.
Use unattended kiosks in areas like the waiting area, cafeteria, pharmacy and other important touchpoints of your healthcare facility. This will enable patients and their family members to take the patient satisfaction surveys without any supervision and provide you instant feedback regarding their experiences.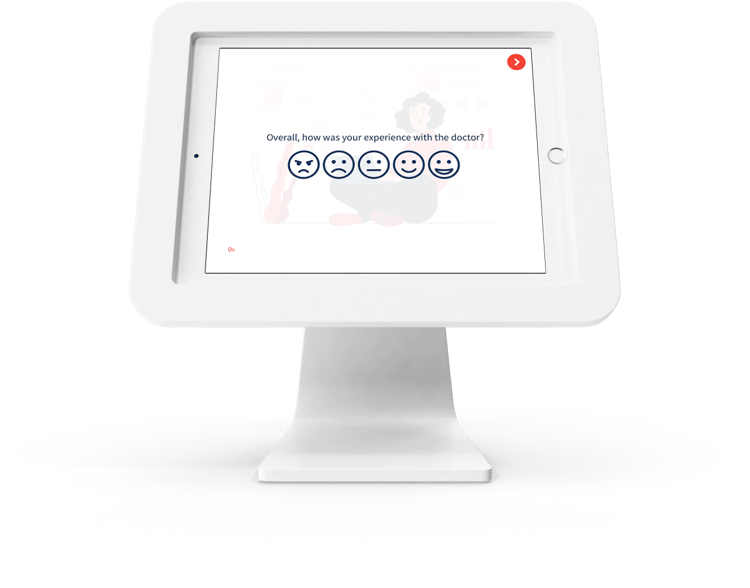 4. Check for online reviews and ratings
Also keep a regular eye on online reviews and ratings of your hospital, clinic and doctors on various aggregator platforms and social media platforms. Patients often share online reviews about healthcare facilities and new patients refer to those reviews before trying an unknown doctor or healthcare facility. So it is important to check and consider the feedback reviews posted on such platforms.
5. Use metrics like NPS and Patient Satisfaction Scores
Popular metrics like Net Promoter Score and Patient Satisfaction Score help you not only collect feedback from your patients and measure the level of their satisfaction and loyalty but also let you know the position of your healthcare brand in the industry. This enables you to set the right goals for your healthcare business, and work in the direction of achieving them and improving your health services.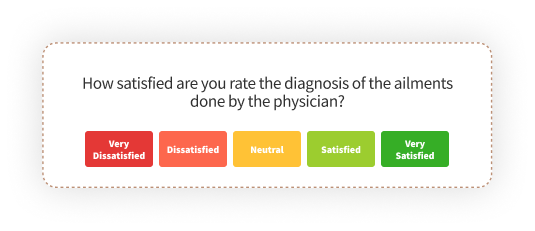 6. Analyze the feedback received and derive conclusions
Analyze the feedback you receive to get meaningful insights and conclusions from them. A good patient feedback tool like Zonka Feedback can help you analyze the feedback data with its advanced reporting and analysis feature.
Analyze feedback, see trends, and identify the areas you need to take action on for improving patient satisfaction and overall experience. Measuring patient satisfaction will enable you to deliver quality services and build great patient experiences.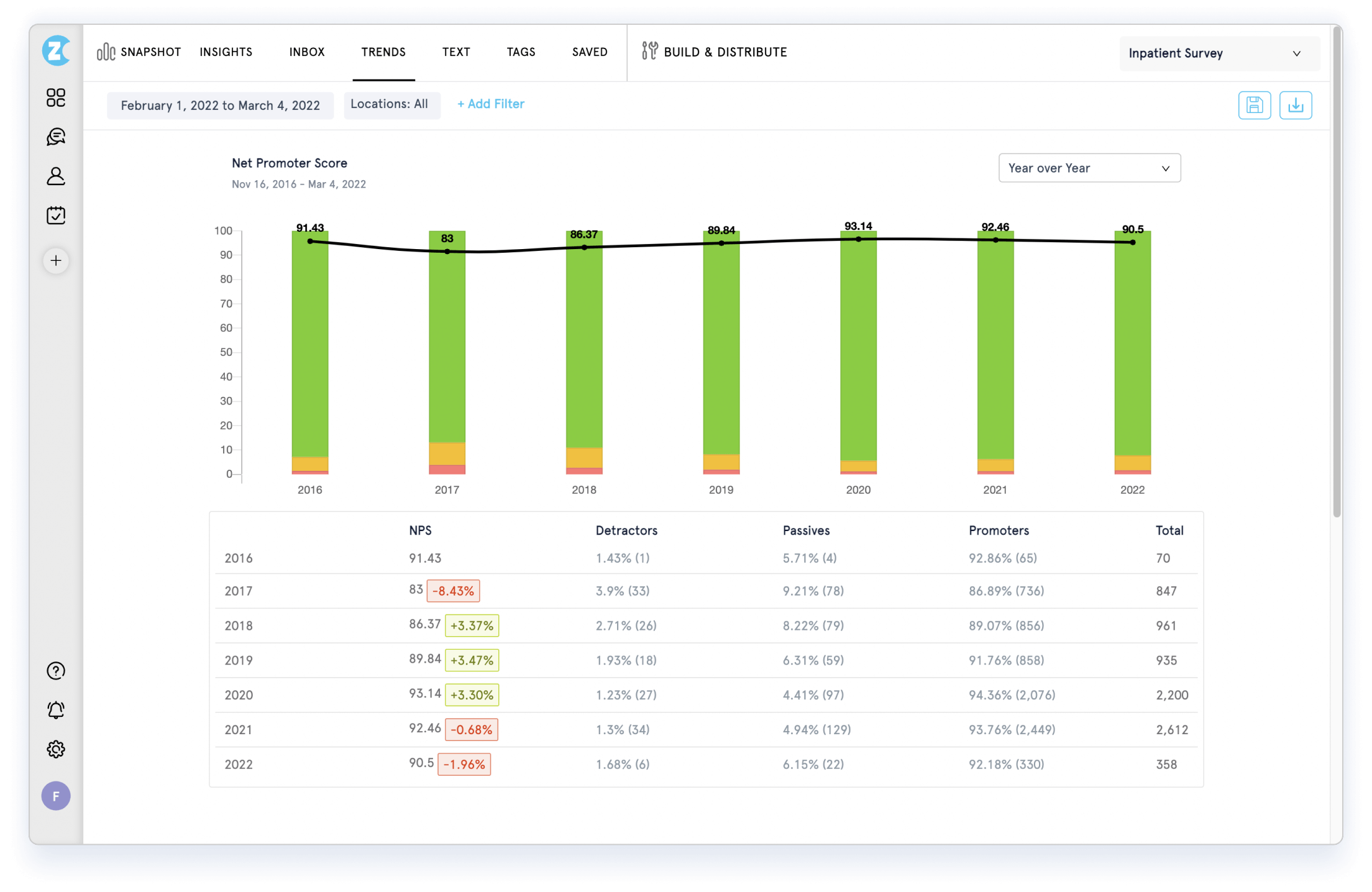 Let's explore some reasons to understand why measuring patient satisfaction is so essential for your healthcare business.
5 Reasons Why Measuring Patient Satisfaction is Important
Measuring patient satisfaction is necessary to know how your patients perceive your healthcare services and the overall treatment they went through in your hospital or healthcare centre. It is useful to assess the overall healthcare quality of your facility. Measuring patient satisfaction by collecting patients' feedback can help you achieve your goals of delivering a great patient experience with enhanced satisfaction.
Let's explore the top five reasons that make it essential to measure the satisfaction of your patients.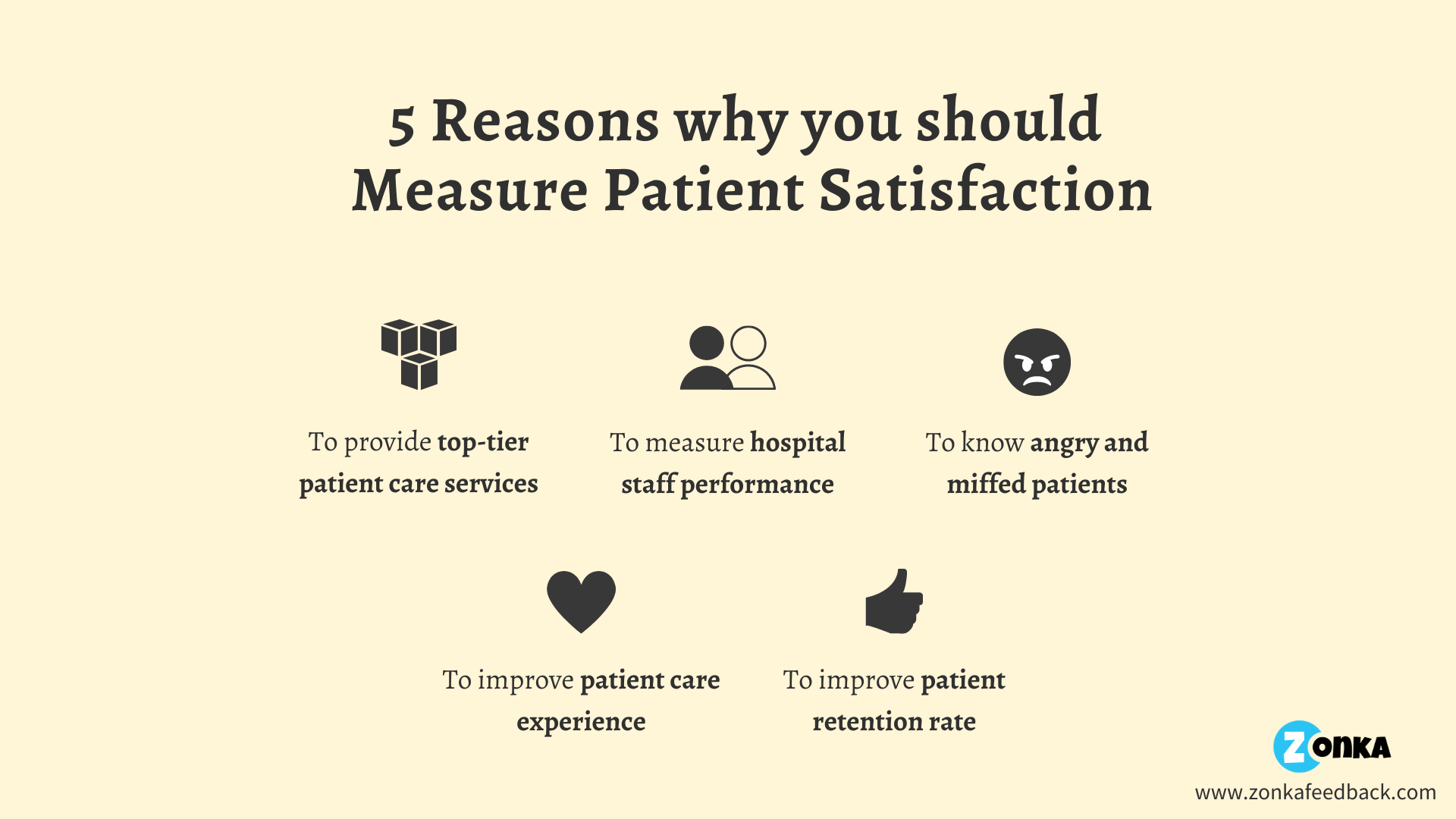 1. To provide top-tier patient care services
Measuring patient satisfaction tells you areas of improvement and focus to provide patient-centered care services. Achieving high levels of satisfaction is directly dependent on the healthcare quality and the quality of services provided by the team of specialized doctors and hospital staff.
The entire staff must treat patients with warmth from the receptionist who schedules your appointment, doctors providing the right treatment, to the nurse taking vital stats of the patients. According to a survey conducted by Accenture, 65% of patients say transparency about the cost of health and medical services is very important to their overall satisfaction.
To ensure all this, you first need to measure patient satisfaction to know the current position of these services and the satisfaction that patients are able to service from them.
What can you do to improve Patient Care services?
Follow the correct way to diagnose the illness at the right time

Increase and improve access to physician

Suggest the right treatment

Offer cost-effective treatment plans

Ensure patient safety

Provide quality care post-discharge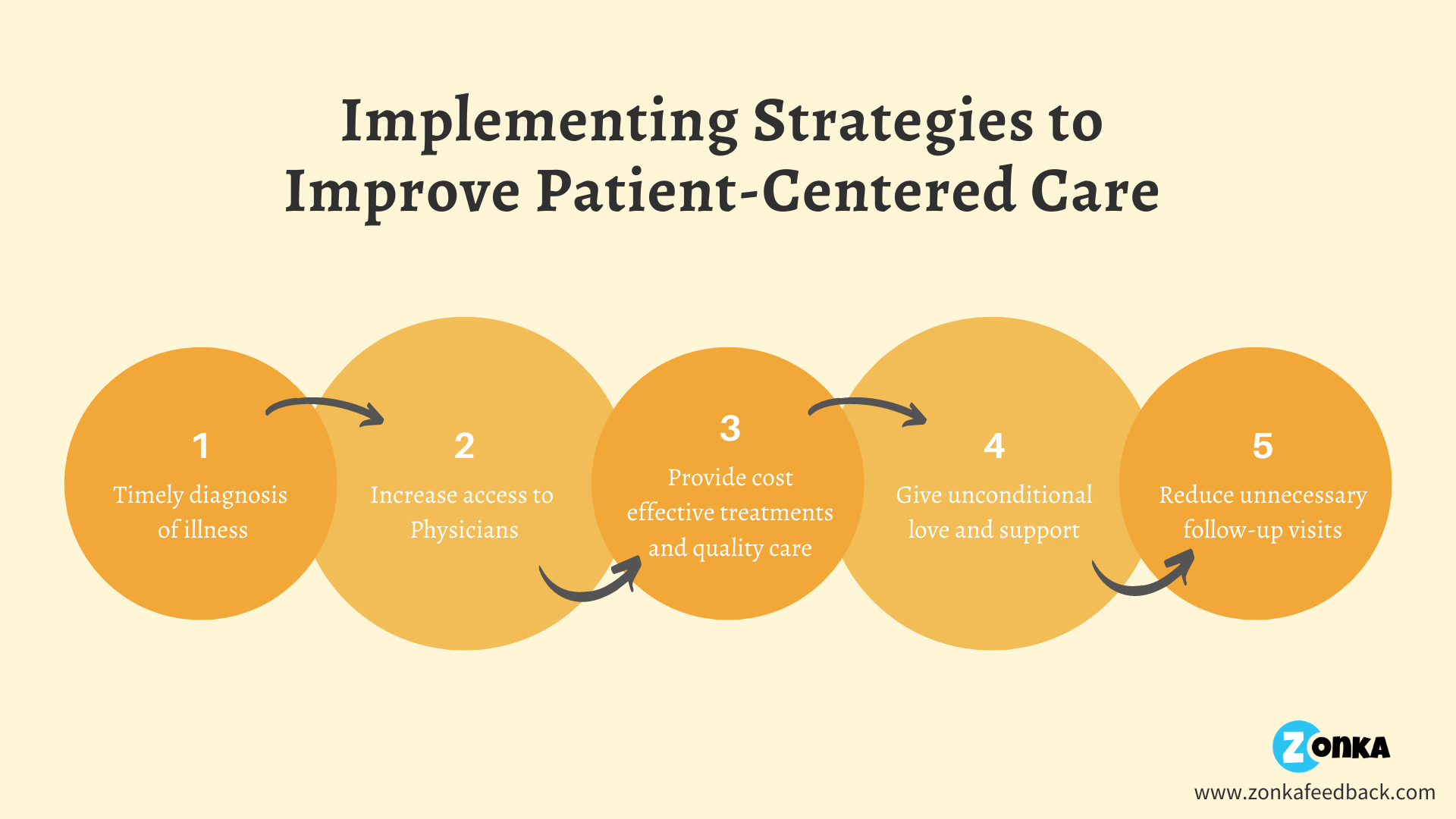 2. To know the performance of the Hospital Staff
It's important to keep a pulse on your hospital staff's performance at frequent intervals. If patients are not pleased with their visit, there's a probability that patients will not return and switch to other healthcare providers. Therefore, it's imperative to listen to your patients and ask them to rate the services provided by the hospital staff through satisfaction surveys.
This will help you track and improve the performance of your healthcare staff and ensure that they do their work well and serve the patients to the best possible extent.
What can you do to improve your staff performance?
Create a workable and friendly atmosphere for your staff

Ensure hospital staff understand their responsibilities

Conduct hospital employee satisfaction surveys

Motivate non-performers to improve their performance

Reward best-performers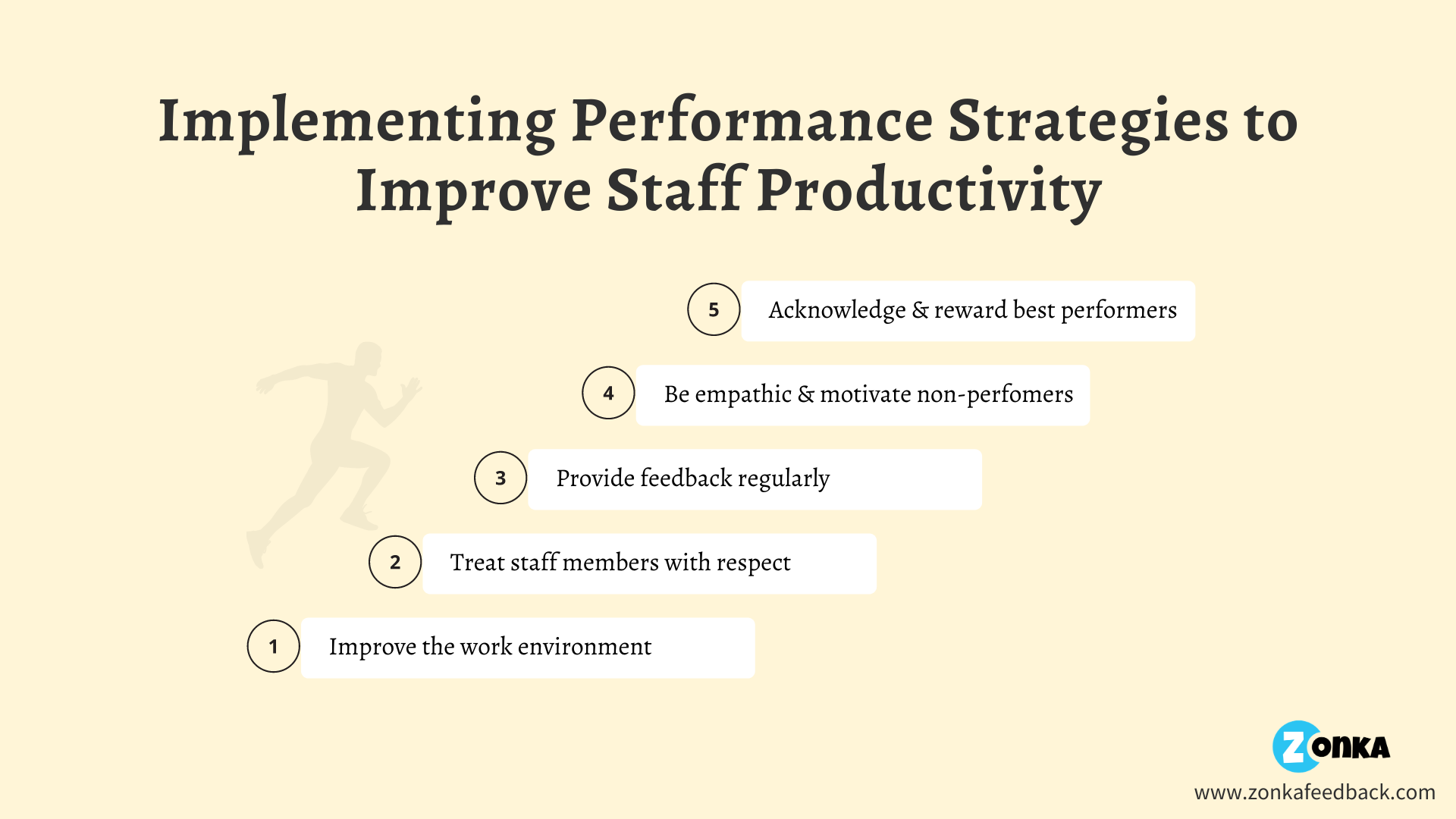 3. To identify miffed and dissatisfied Patients
Every hospital comes across a situation where they have to deal with angry patients. It's a daunting task to deal with them and especially when they take out their frustrations on you. They can be upset because of numerous reasons like a delay in appointments, long patient wait times, wrong diagnosis and treatment, lack of quality care, and a lot more.
Studies show that 43% of patients say wait time is the most frustrating part of visiting the doctor.
If you don't address these issues at the right time, you can not only lose your loyal patients but may also receive legal threats from them. You can't ignore such situations, so it's better to learn how to deal with them. As a care provider, you need to recognize the warning signs and take control of the situation before it gets worse. You need to create best practices and follow them to handle agitated patients.
What can you do to deal with angry patients?
Take a deep breath and try to remain calm

Collect all the details about the patient's disease and treatment given to them

Spend quality time with them to find out the reasons behind their outburst

Show empathy and try to resolve their issues

Avoid indulging in any arguments and defend yourself against threats

Protect yourself legally by carefully documenting clinical and administrative complaints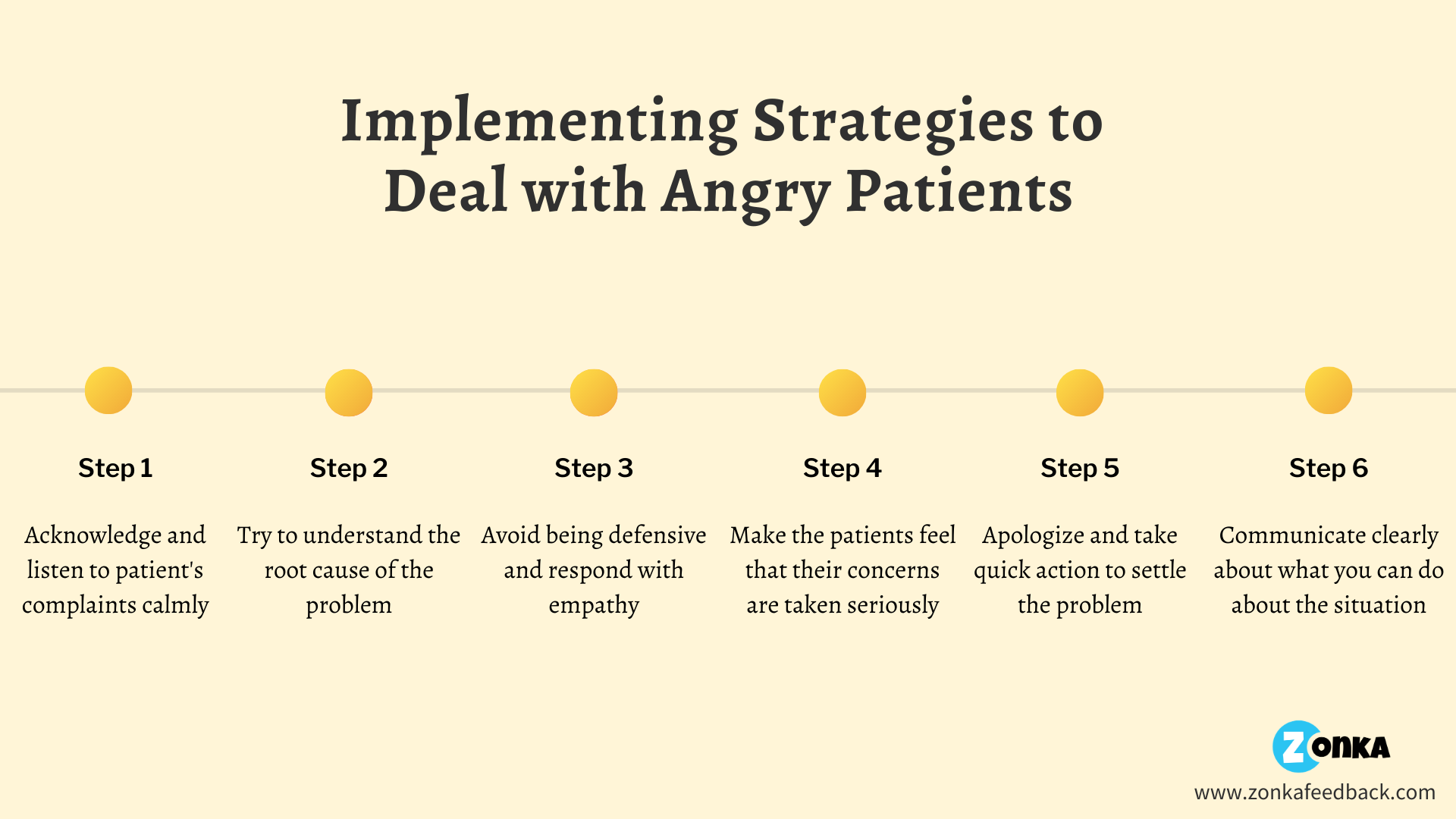 4. To improve Patient Experience
Most doctors have a short span of time in which they need to complete numerous tasks from catching up with patients, understanding their concerns, and providing the relevant treatment. In such situations, it would be difficult for them to address all the issues of their patients.
Without getting answers to specific queries like did you provide the desired care? Did you give the right advice? It would be difficult for hospitals to improve the patient experience. One of the best ways to improve it is by engaging with your patients and addressing their issues promptly after every interaction.
According to NRC, 73% of patients want to be asked for feedback within a few minutes to a few hours after they receive care.
What can you do to improve Patient Experience?
Implement a centralized hospital information system to streamline hospital processes – patient registration, appointment scheduling, generating bills, publishing lab test reports setting up reminders, etc.

Focus on each patient and deliver personalized patient care

Reach out to patients and engage with them on different channels

Conduct feedback surveys to collect valuable feedback

Try to understand how patients perceive the quality of care given

Discuss with stakeholders and employ quality measures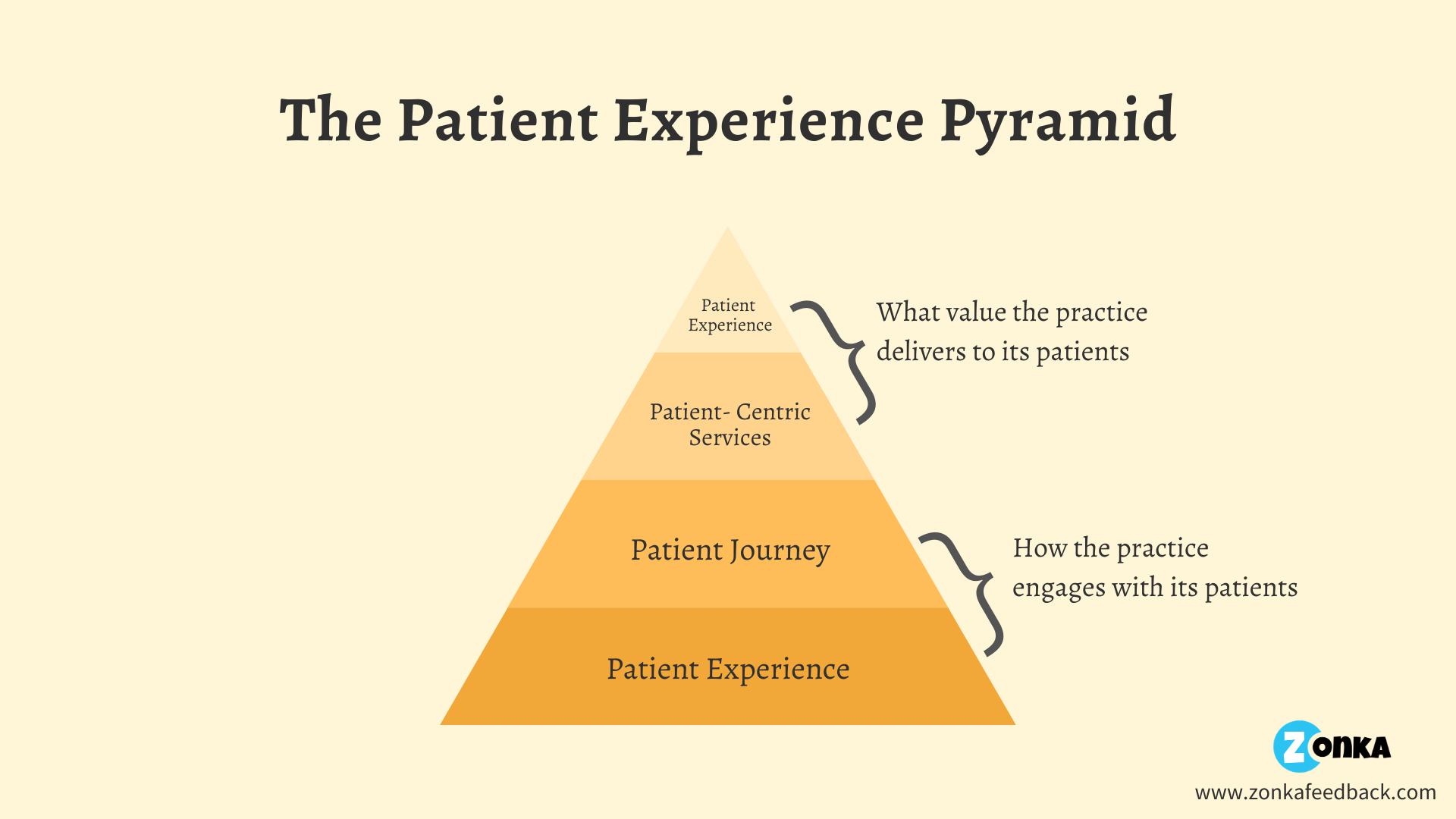 5. To improve Patient Retention
It's more cost-effective to retain old patients than to get new patients. Returning patients will result in greater ROI and happy and satisfied patients can be your best advocates. They will keep coming back to opt for your services and even recommend you to their friends and family. Apart from providing quality health care, employ some of the best patient retention strategies to make your patients feel valued.
What can you do to improve Patient Retention?
Create a comfortable and inviting atmosphere in the hospital

Inform the patients in advance about the treatment procedure

Surpass patient's expectations and provide the best treatment

Conduct follow-up surveys after the visits

Educate and inform your patients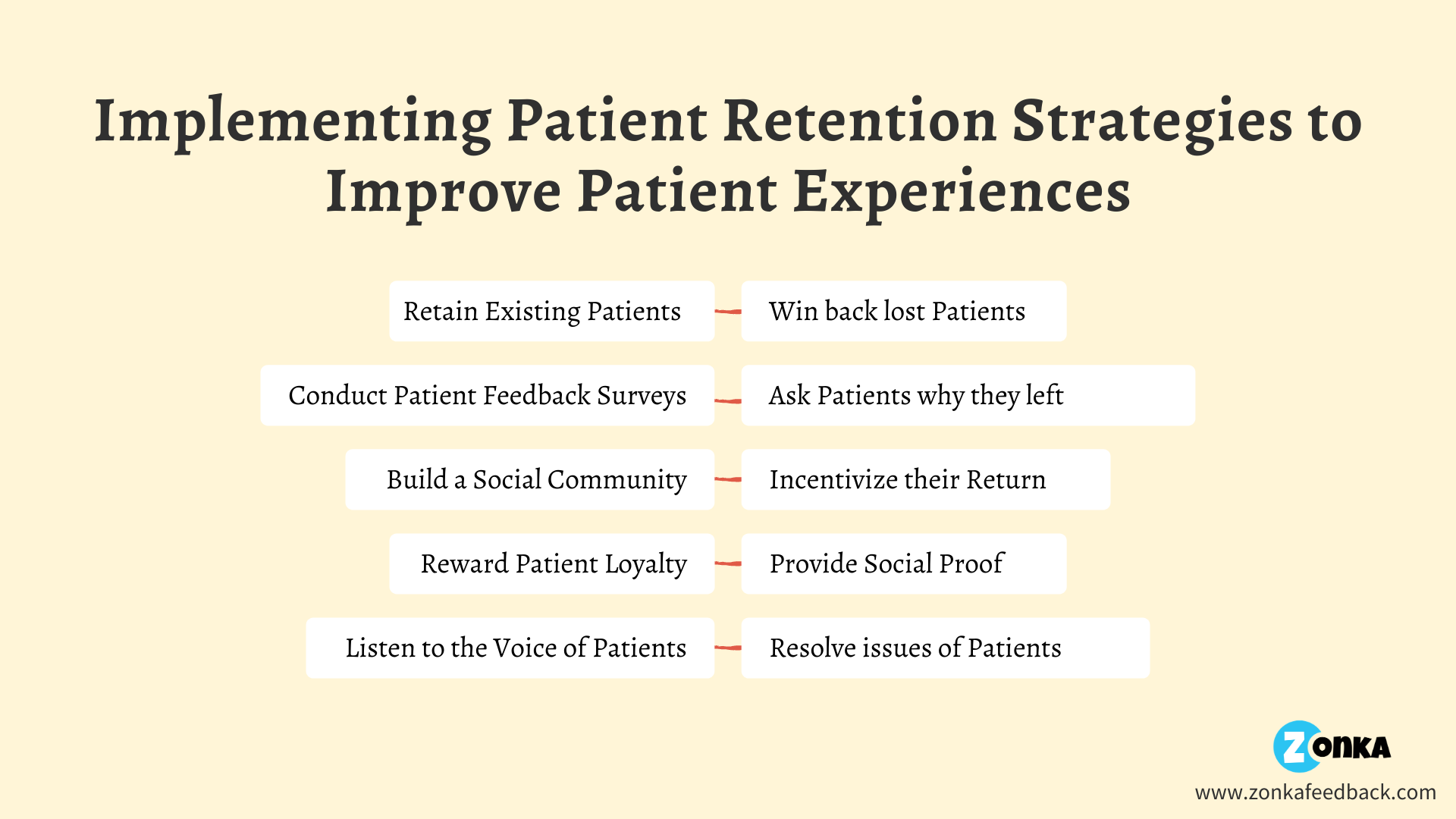 Let's explore where you can measure patient satisfaction through surveys.
Touchpoints where you can measure Patient Satisfaction
Measuring patient satisfaction at different touchpoints helps you identify the pain points of your patients and make the right decision and action for improving your health care and medical services. You can collect patient feedback at various touchpoints like:
Post-Appointment booking - You can use SMS surveys and website surveys to collect feedback about the appointment booking process. Ask the patients how easily they were able to book appointments through the website or call.

Waiting Time - Waiting time is a crucial part that affects patient satisfaction. Ask the patients if they had to wait for long for their appointments and how satisfied they are with the accuracy of the timings of the appointments.

Post Consultation - Collect feedback about your doctors and physicians post-consultation to know how satisfied your patients are with the diagnosis and the overall interaction with the doctor.

Post Admission - If you are running a hospital, it is essential to have a smooth admission process to provide immediate care and treatment to the patients. Ask your patients how easy and smooth was for them to get admitted to your hospital and how helpful was your hospital staff during the process.

Post-Discharge - Like admission, discharge is also a crucial touchpoint that affects the overall inpatient experience. When your inpatients are discharged from the hospital, you can send patients satisfaction surveys through emails or SMS asking about their satisfaction with the process as well as their overall experience in the hospital.

Pharmacy - Ask your patients about their experience at the pharmacy and whether they were able to procure the medicines they needed. Collect feedback about pharmacy staff, availability of medicines, pricing, and billing process at the pharmacy.

Cafeteria - Deploy survey kiosks at your cafeteria to collect feedback and measure satisfaction with important aspects of your cafeteria like food, cleanliness, and overall services at the cafeteria.
Conclusion
Understanding patient preferences and their health issues is the key to creating better patient experiences. It's invaluable for your facility to know how your patients feel about our healthcare and medical services. Communication is one of the biggest challenges in the healthcare industry. To overcome this challenge and boost engagement, patient satisfaction surveys are the best way out.
With a good patient feedback app or software, you can set up an effective patient feedback system and can easily create customized and engaging healthcare surveys to find out the pain points of your patients, where you lack, whether there's any room for improvement, and what measures you can implement to enhance your care and services. Additionally, it ensures that your patients understand that their opinion matters to you and can help you improve your online reputation.
Zonka Feedback is one such patient feedback software that you can use for this purpose. With its features like real-time feedback alerts and notifications, it not only lets you measure patient satisfaction but also enables you to take instant action on feedback to close the feedback loop and improve patient experience before it's too late.
It also offers a free trial. Try Zonka Feedback for free for 7 days and see how it works to boost your healthcare business.