More often than not, I browse online eCommerce websites for no reason at all, with little or no intention of buying. I am sure you all do the same. It's like online-window-shopping.
Fuel Business Growth with Customer Feedback 🔥
Collect real-time, in-moment feedback at all touchpoints in customer journey and leverage feedback insights to transform customer experience.
This is the cause why most online merchants facing the problem of Cart Abandonment. When the shoppers choose certain items to be added to their online shopping carts but exit the process without making any purchase transaction, we call it Cart Abandonment and the goods thus added to the cart but not bought are considered as 'abandoned' goods.
Are you also one of those involved in the eCommerce industry and wondering about the issue of Cart Abandonment? Nothing to worry about! You would be surprised to know that nearly 70% of the carts for online shopping get abandoned by the shoppers.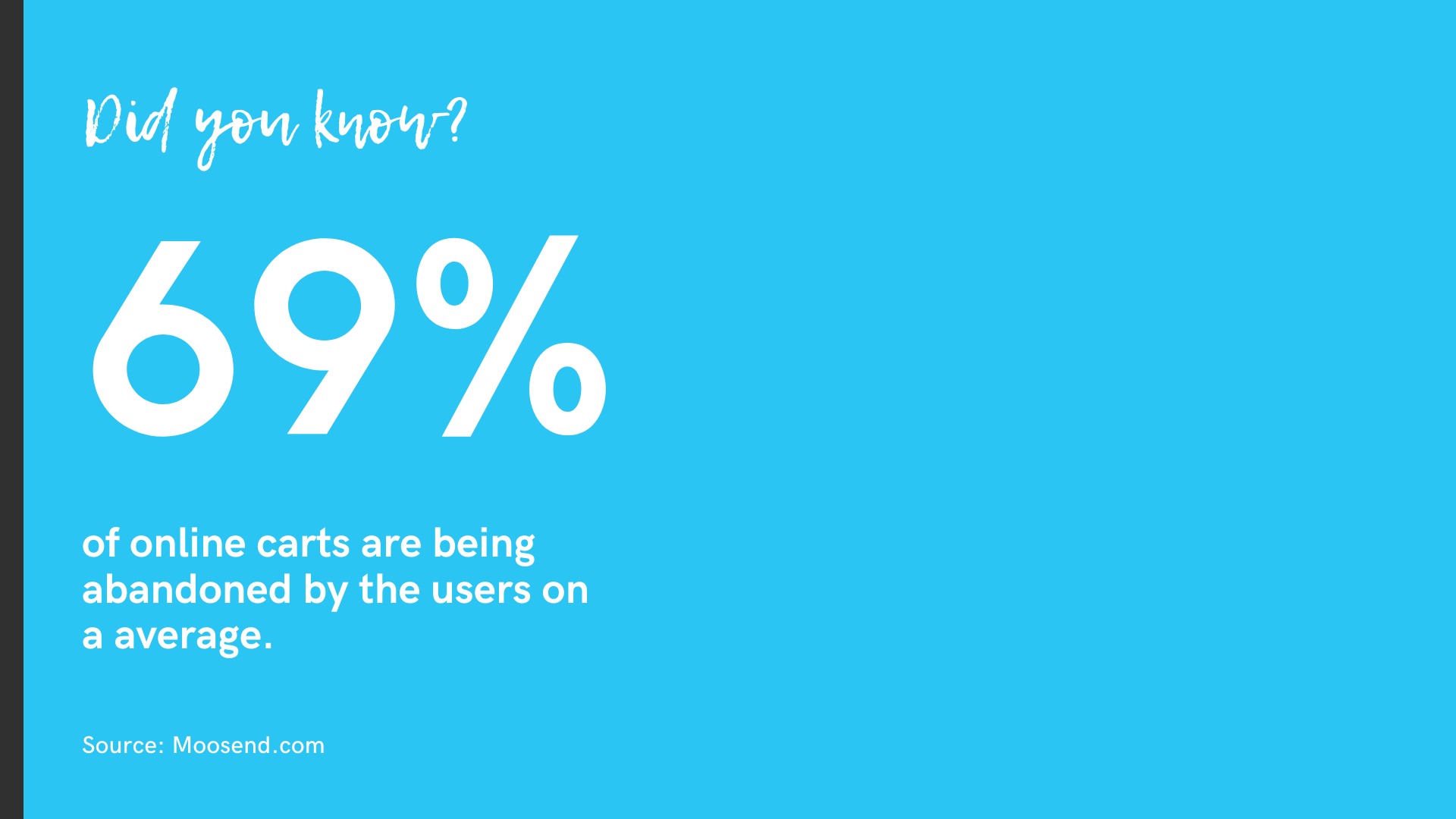 The fact is that it is not always an issue. Rather, it is a normal process which most of the customers follow. But the merchants feel disappointed to see abandoned carts on their website. The reasons for this abandonment may vary from common and natural reasons which you cannot avoid to those reasons which can exist due to your own negligence or lack of providing a great Customer Experience. Let's explore some most common reasons for Cart Abandonment.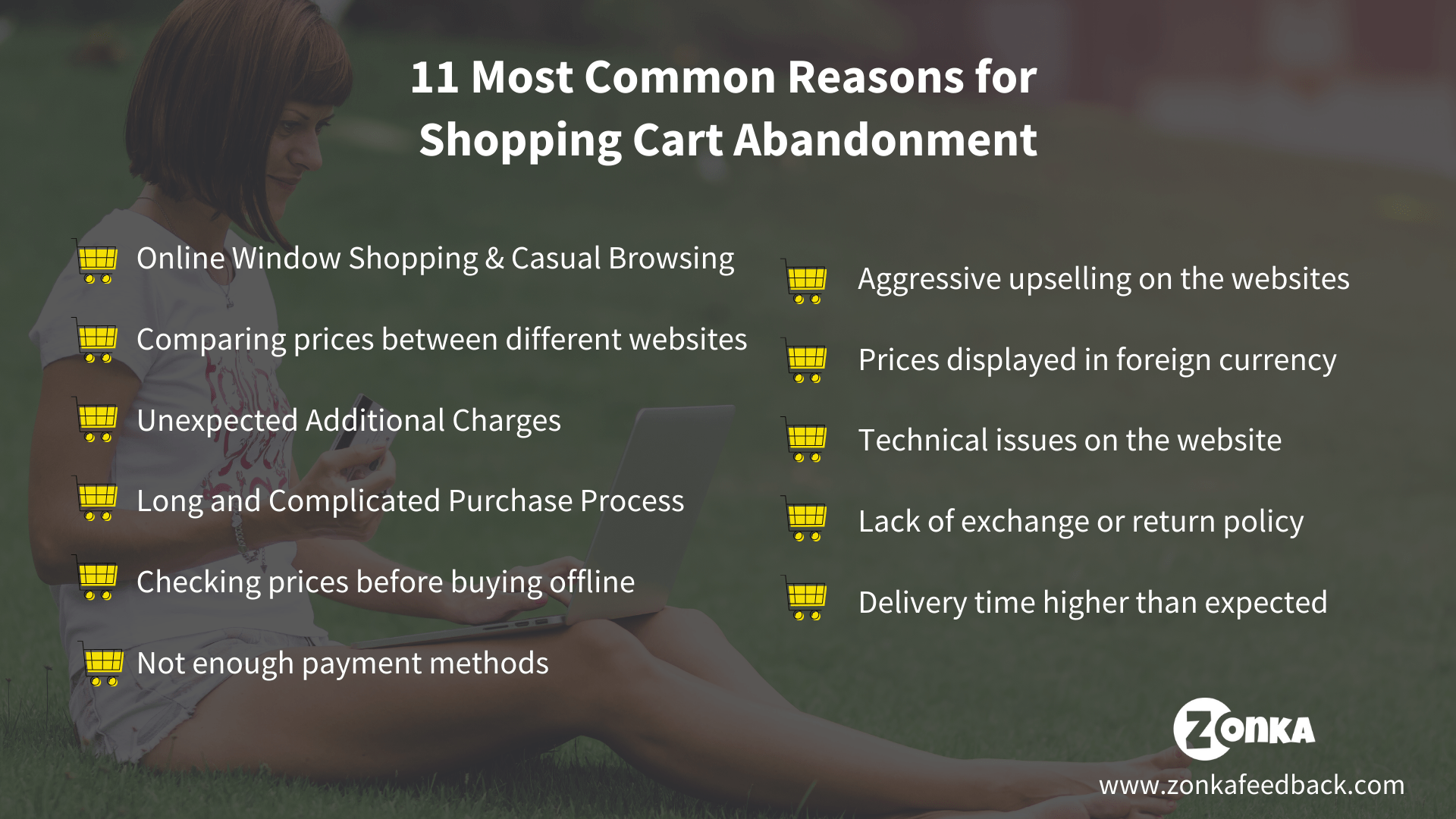 Let's review how these reasons can cause Cart Abandonment on your website and how you can avoid them.
1. Some customers are just browsing to research for available products
Not all people visit online shopping websites for actually purchasing some commodities. Some people are just there to know about the products available in the market and to explore some information about the newly launched products.
They have not made a purchase decision yet, so they look for the products, add them to their wish lists or carts and abandon when they are done exploring. This is a common and natural thing which you cannot avoid unless a product is so attractive that a customer makes a mind to purchase it instantly.
2. Some customers are just comparing products on different websites
Customers buy a commodity from one place but before making a decision to spend their money, many of them explore different shops. Same is with online shopping. Customers explore various online websites and maybe stores also to compare the features and prices of a product, but they cannot buy from every site or store.
They put in the carts in several websites to know the final price, but buy from one website. For instance, if a customer wants to purchase a mobile phone online, he will explore different websites and their final prices but will buy only from one. For all other websites, he would abandon the cart.
This is also a natural reason which you cannot avoid, so why worry? Even if the price offered by you and your competitors is same, the customer will buy from one website only and abandon carts on rest of the websites, it maybe yours or any other website.
3. Some customers check for features and prices online but purchase at stores only
Some people explore all the information of the product they want to buy, but actually do not trust online shopping websites in terms of quality or other aspects like after sales services etc.
To avoid spending too much time in the market, such people explore the features and check prices of their favorite products online at the ease of sitting at homes and decide which product to choose but buy them from the stores in the market.
4. Unexpected additional charges
Imagine you want to buy a product online and you explored different websites to get the best price, and decided to buy from one of them which was giving you the best price. But as soon as you add it to your cart and about to pay for it, you notice that the amount you need to pay has suddenly increased and the price is no more the best price. How would you feel? Irritated, isn't it?
Same do your customers. Unexpected additional charges often lead to people abandoning carts. Sometimes, they choose the products to purchase, but when they add to the cart, the price of the product increases due to additional charges like shipping charges or processing fees. If the customers feel these charges to be higher than expected, they many times change their decision and abandon their carts.
To avoid such situation, you must take care that you take a fair shipping charge on your website and do not indulge in the tricks of offering discount earlier on a product and then charging more in the name of additional charges. The customers are aware and get easily annoyed with these tricks. In this way, they tend to loose trust on your website.
Moreover, you should explore the market. If your competitor is giving free home delivery, why would a customer choose to pay extra charges on your website?
5. Long and complicated purchase process
Sometimes, long and complicated buying procedures also lead to Cart Abandonment. Would you ever like to spend long hours buying a single product online? Never, I guess!
Long processes of registering with a website, creating an account, linking a bank account etc. can irritate your customers too which results in Cart Abandonment.
Ensure that the buying process on your website is easy and your websites do not ask for unnecessary details wasting customers' precious time. Moreover, the web pages should open within a second without consuming much time and irritating the visitors.
College students may shop online more frequently due to the convenience and ease of access to a wide variety of products and services. However, some may be difficult to link to an online shopping platform, which can be a barrier to making purchases. This may be due to concerns about security or a lack of familiarity with the process.
Remember that the main reason for most of the customers doing shopping online is to save their time. But if they feel that it is not serving this purpose, they will not do it.
6. Unavailability of customers' preferred payment mode
Payment of online shopping is done in various ways like through a debit card, credit card, cash on delivery, applications like Paytm, Google Pay etc. Sometimes, customers preferred mode of payment is not available on certain websites which can lead to Cart Abandonment.
To avoid this, you should ensure that all common modes of payments are enabled on your websites so that customers can easily do the payment through the mode of their choice.
7. Aggressive upselling on the websites irritates the customers
Imagine you visit a store to buy a pair of jeans, but the salespersons are concentrating on showing you their new variety of shirts again and again and trying to convince you buy one, when you are actually in need of something else. Wouldn't that be an unpleasant experience?
Likewise, some online merchants prefer to do upselling of certain products on their websites. Although, this is a good way to promote sales on a website, but if something is overdone, it loses its value and does more harm than good.
More and more sales popups and advertisements on a website irritate the customers and can drive away the customers even before completing their buying process. So make sure not to do too much aggressive upselling on your website.
8. Prices displayed in foreign currency
Sometimes prices are displayed on the website in a foreign currency. All the customers do not have enough time and ability to do currency conversions before buying a product. So when they see that the amount in the cart is not displayed in their local currency, they straight away leave the website thus abandoning the cart.
To avoid this, make sure that the price and the final amount is displayed on your website as per the country location of the visitor. You can also give options of currencies where the customers can select themselves the currency they want to get displayed.
9. Technical issues on the website
Sometimes, despite being willing to complete a transaction, customers have to abandon cart because of technical or processing issues on the website. To avoid such reasons for Cart Abandonment, ensure that your site and web pages are all working fine.
Capturing Customer Feedback about the customers' experience of your website can help you be aware of such issues and do required improvement if needed.
10. Lack of exchange or return policy
Online shopping always involves a risk of product quality or products like apparels or shoes etc. not properly fitting the customer. This makes it a need to provide the online shoppers an option of exchange or refund of the products.
If you do not provide such options to your customers, they can leave the website without making a purchase. So, you need to provide such facilities on the required type of commodities.
11. Delivery Time Higher than Expected
A much higher delivery time than expected can also result in Cart Abandonment. For instance, a customer has selected to buy a gift for his wife on her birthday. He selects the product, adds it to the cart but notices that the delivery date falls after her birthday, he would certainly abandon the cart and prefer to go to market to buy the product on time.
In order to avoid such cases, you should try to minimize the delivery time. You can also provide solutions like taking a nominal additional charge from the customer for immediate delivery.
All these reasons lead to Cart Abandonment. The key to avoid it is to obtain Customer Feedback which enables you to know where the problem exists and you can do the improvement. You can send Cart Abandonment Surveys with the help of a Customer Feedback Software to know the problem and work on them.