Excellent customer experience and high levels of customer satisfaction are of paramount importance for businesses to be successful. And to know how satisfied your customers are, the best way is to survey them and gather customer feedback.
While there are many ways to survey your customers and collect their feedback nowadays like in-app surveys, website surveys, tablet, mobile, and kiosk surveys, one of the most common and classical, yet effective ways is email surveys. Although emails may seem outdated to some people, however, they are still an official form of written communication accepted worldwide.
In this article, we will understand what email surveys are, how they are beneficial, and how you can send email surveys effectively. Let's get started!
TL;DR
An email survey is one of the most common, old yet effective way to survey your customers and collect valuable feedback from them. An email survey is sent through emails with a message inviting customers to take a survey, followed by the survey link which the customers can easily open and take the survey, and then submit their responses.

Email surveys are cost-effective, and an easy & speedy method to collect honest feedback from your customers.

To create and send email surveys effectively, you should understand your objectives and target audience, choose a good email survey software, and then with its help, create and send your email survey. You can also schedule a survey to be sent periodically or at specific touchpoints of the customer journey.

You should also follow some best practices while conducting email surveys - use personalization, clearly communicate the purpose of the survey, use an engaging subject line, avoid over-surveying your customers, and ensure that your surveys are optimized for mobile devices.

Zonka Feedback is an effective email survey software that you can use to create and send effective email surveys. It also offers a free trial for 7 days.
Get Started with Email Surveys
Send Email Survey Invitations, Embedded Email Surveys, In-Signature Surveys, and measure Customer Feedback remotely, in real-time.
Understanding Email Surveys
An email survey is that which is sent to the customers via email to collect their feedback or any other information that you want to obtain from the customers. In a survey email, a survey invitation message is sent to customers followed by a survey link, clicking on which the customers can take the survey and submit their responses.
Email surveys can be of mainly three types, viz., email survey invitation with a hyperlink, embedded email survey, as well as, email signature survey.
Survey email with hyperlink are the typical survey invitation emails we have talked about earlier, in which the email body contains a survey invitation message followed by a survey link, which the customers can open to take the survey.

Embedded email surveys are those in which the first question of the survey is embedded and displayed in the email body itself. As the respondent answers the first question, the response gets recorded and the full survey or the next page of the survey opens on the customers' screens.

Email Signature Surveys are those which are embedded in the signature of emails used for regular communication with customers.
Survey invitation emails are an effective way to capture feedback from customers at any touchpoint and help you grow your business. Let's explore how they can prove to be beneficial for your business.
Benefits of Sending Email Surveys
Here are some benefits of using email surveys:
Cost Effective - Email surveys are cost-effective as it takes very little cost to send a survey email. You don't need to do any major setup to capture customer feedback or survey responses. With the help of good email survey software, you can create surveys and send survey invitations to multiple customers without needing to spend much of your resources.

High Speed - Survey email can be sent to a large audience instantly. You can create effective survey invitation emails in minutes and they can reach your audience in any corner of the world as soon as you send a survey. In addition, surveys are interesting and thought-provoking, so you can use them in your first email to your targeted audience located through a LinkedIn email finder.

Easy data collection - You can create email surveys with ease and share them with your customers in a matter of a few clicks. You can also set up triggers to send survey invitation emails after various touchpoints like a purchase, bill payment, or any other touchpoints. This will help you collect responses easily.

Anonymity and Honesty - Sometimes customers are not comfortable sharing their feedback through offline surveys in person. But email surveys can fetch you honest feedback from your customers which increases the accuracy of your survey responses.

Easy Reminders and Tracking - Unlike on-premises surveys, you can easily track responses and remind your customers to respond to your surveys through survey invitation reminder emails. You can send a survey reminder email after a considerable time like a week after you have sent the survey.
Let's learn how you can send email surveys and harness their power to collect feedback from customers effectively.
How to Send Email Surveys
Sending email surveys is not a tough process, especially when you are using an effective email survey tool like Zonka Feedback. Here are the simple steps you need to follow to send your email surveys and collect valuable feedback from customers.
1. Understand your Objective and Target Audience
Before you embark on sending email surveys, the first step is to have a crucial understanding of your objectives for surveying your customers. The core objectives of these surveys can be to collect feedback but be more specific about your goals. You may have different objectives for different surveys like:
To collect regular feedback through annual surveys to track your relationship with the customers

To gather customer insights about a particular touchpoint or aspect of your business.

To measure customer loyalty, level of satisfaction, or efforts to get a job done or an issue resolved.

To track the performance of your customer service agents.

To find a numerical value of customer loyalty and the position of your company in the market.

Conducting market research to understand customers' choices and preferences.
Based on these objectives, you should decide on which type of email survey you should use to gather customer insights.
At the same time, it is important to understand your target audience, and their characteristics, preferences, and expectations so that you can create better surveys and obtain accurate responses on them. If you have customers from different language backgrounds, you can use multilingual surveys to ask them questions in their own language.
Analyze the demographic details of your customers like age group, culture, and location and decide on your questions accordingly.
2. Create a List of Survey Recipients
The next step is to create the list of audiences you want to survey. You can create this list from your customer database, or subscriber list. Ensure that the list is up-to-date, accurate, and appropriately segmented if you have various categories of customers. A well-organized recipient list will enable you to send surveys to the right people, thereby increasing the chance of more meaningful responses and a better response rate.
3. Choose the Email Survey Tool
The next and one of the most crucial steps is to choose an email survey tool for conducting these surveys. Choosing the right tool can be tricky in the market where so many of them are available each climbing to be the best. To make the right decision, you should prioritize your requirements, and ensure that the tool you choose has the features to fulfill your requirements.
A good email survey app or software should have these features:
Customizable templates to create the type of surveys you need.

Multilingual feature to survey customers of multiple language backgrounds.

Features like skip logic and question branching to make your surveys logical and dynamic.

Ability to white-label your surveys and add your own branding and style to them.

Ability to send surveys through multiple channels in case you want to try other channels too.

Ability to embed survey in emails so that you can create embedded email surveys if needed.

Real-time feedback alerts to notify you regarding negative feedback and take instant action on feedback.

Automated workflows and ability to close the feedback loop effectively.

Feedback analysis and reporting capabilities to analyze survey data, survey results, and feedback trends, and rise and fall in customer satisfaction.

Ability to integrate with popular and useful tools like your CRM and your email service provider.
Evaluate the features of the tools, take a free trial of the email survey app or software you choose or intend to choose, ensure how well the price of the tool matches your budget, and then finally invest in the tool.
4. Create your Survey for Email
The next step is to create the surveys that you want to send through survey email.
Choose the right question type - Choose the question type and rating scale as per your survey needs. You can choose multiple choice questions, Likert scale survey questions, and rating questions to let your customers rate their experiences. You can choose metric survey questions like NPS survey question to measure customer loyalty, CSAT survey questions to measure customer satisfaction, and CES survey question to measure customers' perceived efforts to get a job done.

Craft Effective Questions - Design the survey questions carefully. Ensure that they are clear, concise, and relevant to your objectives. Use mostly closed-ended questions but do include one open-ended question also to let the customers share their exact feelings and rich feedback.

Choose Email instead of Survey for Distribution - When you get options to send your survey, choose the option 'Email' instead of 'Survey for Distribution' to send your survey through emails.

Choose whether you want to embed the survey as a question in email or send it as a button or hyperlink - A good email survey tool like Zonka Feedback allows you to choose between sending a link to the survey or embedding the survey within the survey email itself, or sending it as a button. Decide which method is most suitable for your survey. Choosing the embedding option is usually better than distributing the survey link, as an embedded survey email straightaway engages the customers as soon as they open the email.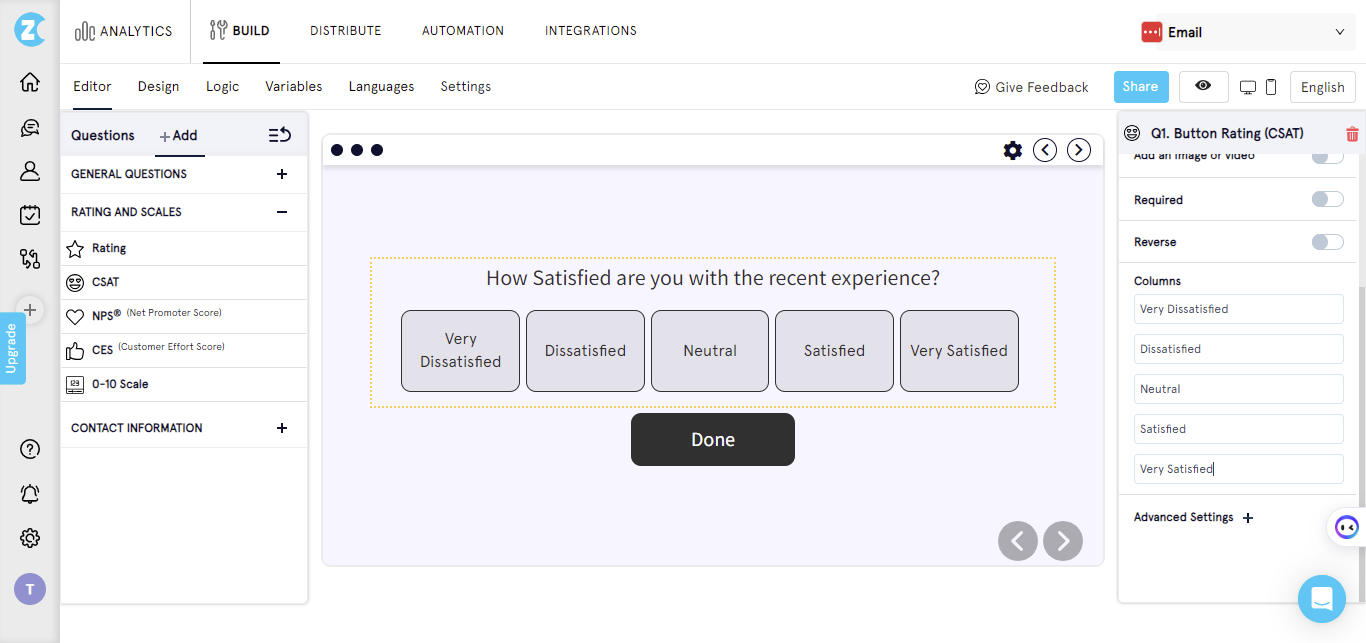 5. Choose Recipients
The next step is to choose and add the recipients to whom you want to send your survey email. There are three ways to do this.
Add Manually - You can manually add recipients by inputting their email addresses and relevant information. This is useful for small-scale surveys or when you have a limited number of recipients.

Select from Contract Segment - A good email survey app or software allows you to create a list or segment of customers and use it infinite times. If your email survey tool integrates with a CRM or customer database, you can also select recipients from specific segments. This allows you to target specific groups, such as customers who made a recent purchase or new subscriptions to your product.

Import CSV - If you have a large list of recipients, it's often more efficient to import a CSV file with their email addresses and any additional data. This method saves time and minimizes errors.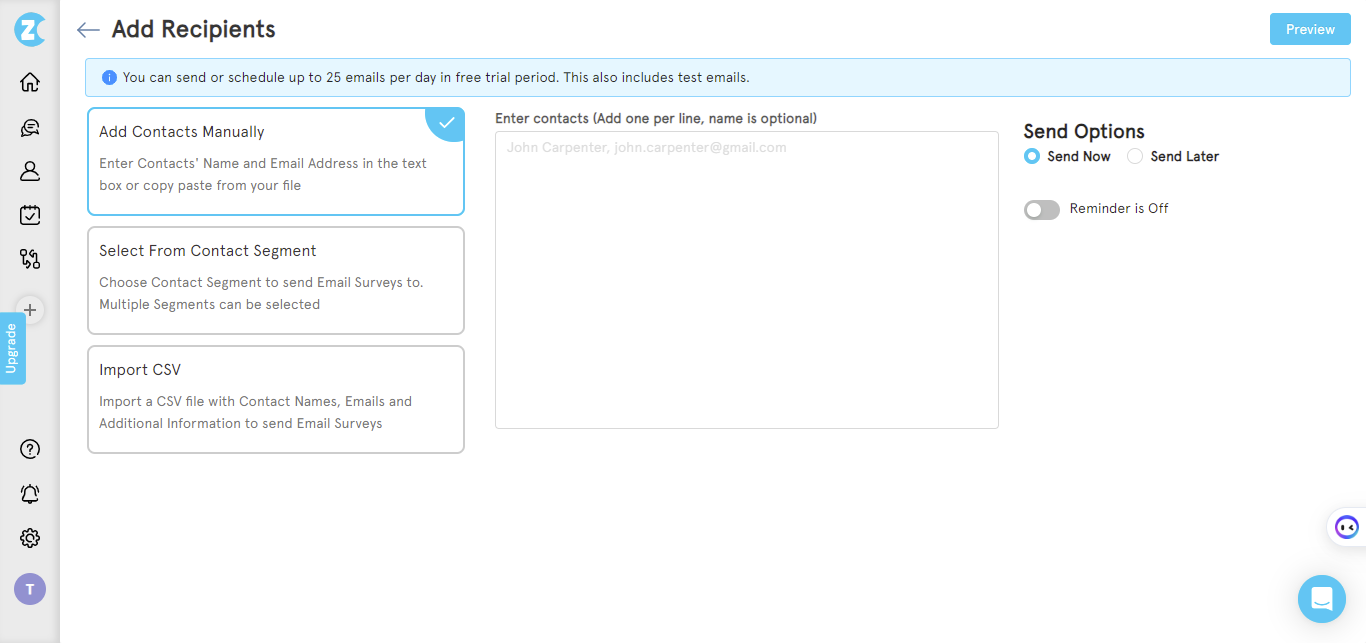 6. Send Survey via Email
Once you are done with creating your survey and adding the recipients, you can finally send the surveys via survey email. You can choose to send the survey immediately or schedule them to be triggered at the right time either with a particular customer action or schedule the survey to be sent in the future.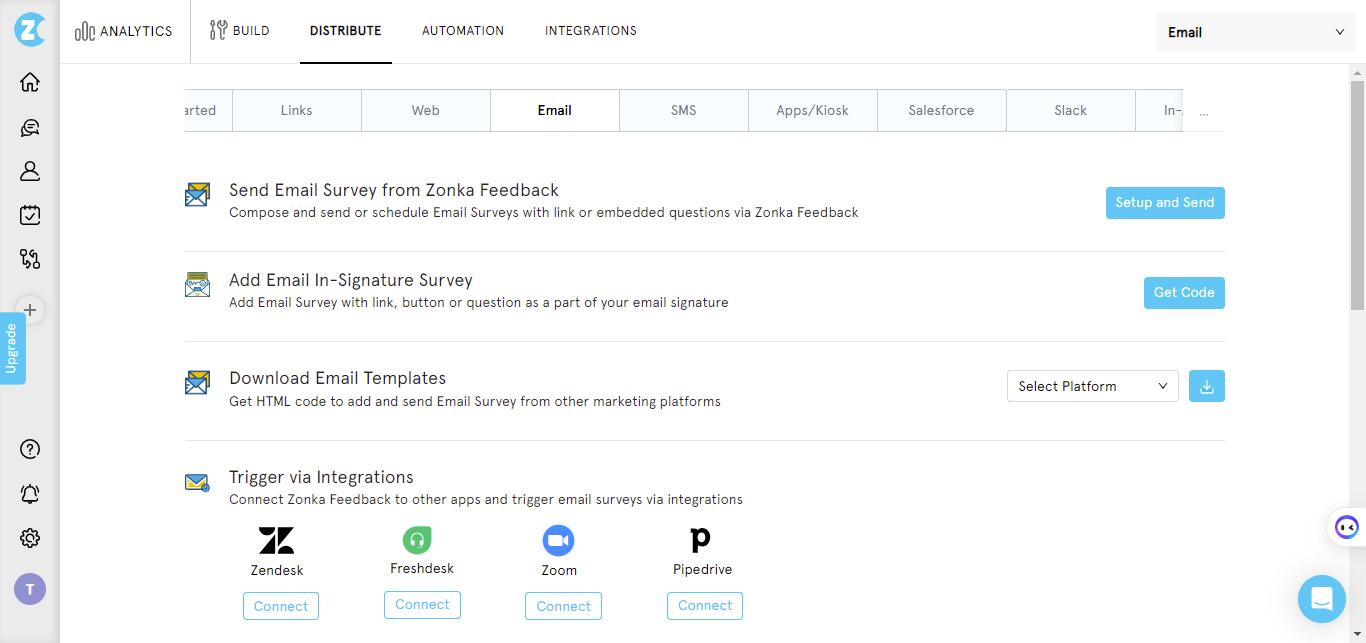 7. Schedule Survey
If you want to send the survey afterwards, you can schedule it to be sent later. This Scheduling option allows you to Communicate with people in different time zones. It is best to send emails when they are most likely to be read.
Moreover, you can also schedule to trigger the survey based on various customer actions like a purchase, a bill payment, or an issue resolution. You can also trigger periodic surveys like annual, quarterly, or monthly surveys to ensure a good ongoing relationship with your customers.
Let's learn some best practices to send email surveys to your customers.
Best Practices for Sending Email Surveys
For creating and sending effective email surveys to obtain valuable customer insights, it is recommended to follow the below best practices to get a good response rate to your survey.
Personalize Your Email Surveys - Personalization has a positive effect when it comes to marketing or communicating with customers. Studies suggest that around 76% of customers agree that personalized communications prompt them to consider the brand more seriously. So personalize your email message and subject line to have a good open and read rate. Moreover, you can also implement personalization in your questions by making them dynamic through features like skip logic and question branching.

Be Clear in Communicating Purpose - Clearly communicate the purpose of your email survey through a compelling survey invitation email message. Use sentences in your message or subject line like 'help us to serve you better by taking this short survey' or 'share your feedback through this short survey so that we can provide better products and services for you.'

Use Captivating Subject Line - Use an engaging subject line to motivate your customers to take the survey. A subject line like 'Share what you feel about us through this 2-minute feedback survey' can serve the purpose. You can also use the first question of the survey as your subject line like 'How happy are you with the performance of our product?'. This will act as an effective survey invitation directly engaging the customers in a conversation and helping you get more survey response rates by increasing the open rate of the email through an effective subject line.

Optimize Distribution - Ensure that you don't send survey invitation emails too frequently. Over-surveying your customers can cause them survey fatigue and make them less likely to respond to the surveys. Rather, trigger surveys only on specific touchpoints like a purchase or ticket closure, or periodic surveys like annual or quarterly surveys so that you can collect regular feedback without frustrating your customers with a high number of surveys. Features like survey throttling help you do this.

Audience Segmentation - Segment your audience into different groups or categories and send surveys accordingly to various segments. Use questions that are relevant to particular segments and also keep your distribution rate optimized as per different groups of customers.

Mobile-Optimized design - 85% of the users use smartphones and mobile devices to access their emails. So it is essential to make sure that your survey designs are mobile-friendly and that they can work well on mobile devices the same way as on desktop. Use an email survey tool that helps you create and share mobile-optimized surveys.
Conclusion
Email Surveys are a great way of collecting feedback and insights from customers about your product, services and organization. A good email survey software or app enables you to easily create powerful surveys, and share them with your customers in different ways like embedded email surveys, surveys with hyperlinks, button surveys, or email signature surveys.
So you should use an effective email survey software and follow best practices to create and send email survey with the customers.
Zonka Feedback is one such tool that helps you easily create and share effective mobile-optimized email surveys with your customers. It is loaded with advanced features and reporting & analytical capabilities and helps you carefully analyze survey results and take timely action on feedback to improve customer experience.
It also offers a free trial. Try Zonka Feedback for free for 7 days and see how it helps you harness the power of email surveys and collect valuable customer insights.