More than 6 billion smartphone users are part of the mobile app ecosystem which is expanding at a CAGR of 11.5%. Your mobile app is just one of 2.87 million Android apps and/or 1.96 million iOS apps. And what will set you apart will be - the customer experience tools that you have in your mobile apps, and that's why it isn't a surprise that almost every successful app today collects in-app feedback from its users.
For example, in a food delivery app, customers can quickly select an emoji on the survey scale right within the app to best describe their experience. Similarly, mobile app users may share in-app product feedback with respect to a particular feature right inside the app while using the feature in question. With this, not only users' feedback experience improves dramatically, but businesses too end up collecting more data and insightful feedback. After all, who today has the time to open separate feedback requests and fill out lengthy surveys, especially when the experience is not so recent anymore!
This brings us to the very important question – how to collect feedback with a product feedback tool?
Collecting feedback within your mobile app is fairly quick and easy. All you need is the right tool. There are some super reliable and intelligent in-app feedback tools out there that you can use to collect both generic and action-specific feedback. But with so many options available, getting your hands on just the perfect tool can be like finding a needle in a haystack.
So, to make your research faster and more effective, we have shortlisted the top tools that you can use to capture in-app user feedback. But before we go ahead and discuss each with its features, rating, and pricing, let's briefly understand:
What do in-app feedback tools do? What is in-app feedback? And what are its advantages?
Let's get started.
Elevate your PX with User Insights 🔥
Measure user feedback within your app at all touchpoints and get effective user insights to transform and improve your product experience.
What Do In-App Feedback Tools Do?
An in-app feedback tool simplifies the feedback process by allowing mobile app users to share in-app feedback without having to open survey requests on a different platform to share feedback.
This brings us to the next question,
What is In-App Feedback?
In-app feedback is collected from product users directly in the app. This means that they can share their experience in terms of a transaction or the product as a whole directly through short surveys in the mobile app.
For example, food delivery apps collect feedback directly in the app through quick rating scale surveys. Also, you don't need your app users to visit Play Store or App Store to rate your app or share feedback; they can share feedback directly in your app through:
In-app popup surveys
Feedback Button
Feedback widget
Embedded surveys
In-app chatbot surveys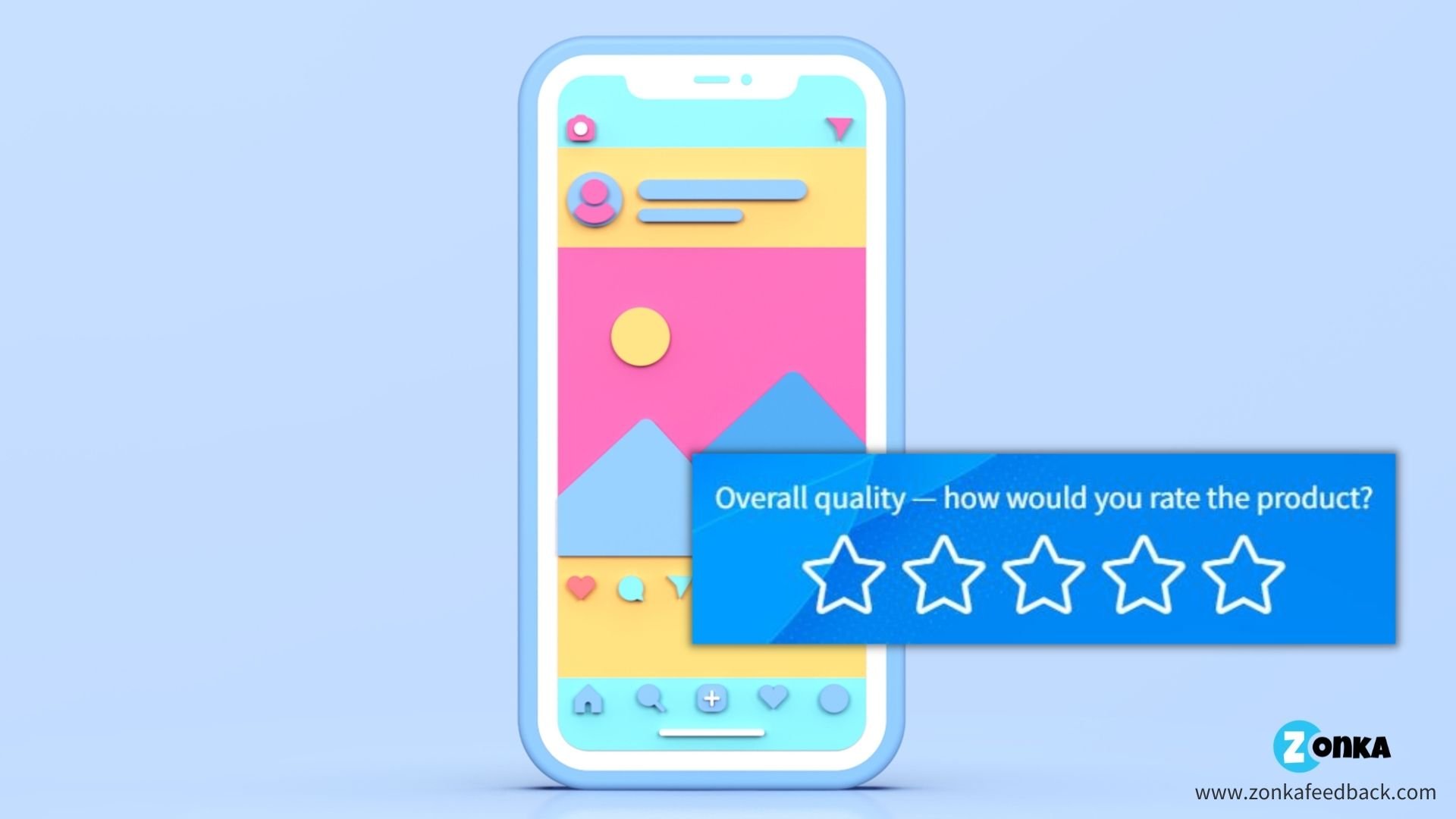 Software that Uses In-App Feedback Tools
Smartphone applications that use in-app feedback are:
Native Mobile Apps – Apps designed for Android, Windows, and iOS
Mobile Websites – Mobile-responsive websites that scale to the size of smartphone devices
Native Apps with Webview – Apps that open the browser to perform some action
Here's a product purchase experience survey template that you can use to better understand in-app feedback surveys.
Why Do You Need an In-App Feedback Tool?
There is a huge importance of an in-app feedback tool. Here are some of its benefits:
Faster Feedback Collection

- Collect feedback instantly right within the mobile app.

Improved Feedback Experience

- Make submitting feedback easier for your app users by reducing their effort of opening separate survey requests to share feedback.

Instant and Relevant Feedback

- Get informed about bugs and app challenges instantly through real-time notifications as your users submit a survey.

Maximum Feedback

- Increase the chances of your mobile app users taking the survey by reducing their effort to do so.
Top In-App Feedback Tools
There are various customer feedback tools that you can use based on your business requirements for in-app user feedback. We have put together detailed information on top in-app feedback tools to help you in your research.
1. Zonka Feedback
An omnichannel survey app, Zonka Feedback allows collecting feedback across different CX metrics, including NPS, CSAT, and CES right within your mobile app. Whether you want the survey to appear in a popup or wish to embed the survey on specific app pages, this in-app feedback tool allows using any website feedback widget or embeds surveys directly into the app.
You can create surveys from scratch and also use customizable feedback forms that look native to your mobile app. Moreover, real-time reporting and survey response analysis enable brands to act on the feedback quickly and retain app users and customers.
Key Features
In-app feedback for both Android and iOS
500+ customizable survey templates, including product purchase experience survey template, NPS survey template, CSAT survey template, mobile app feedback survey, etc.
25+ survey question types, including MCQs, Likert scale, rating scale, emoji scale, drop-down menu, etc.
In-app feedback widget and embedded surveys
Surveys in 30+ languages
Real-time notifications
Report analysis with filters and response comparison
Relevant surveys and audience targeting
Survey logic, white labeling, and survey branding
Integration with different business tools
Automated workflow and response-based actions
Rating
4.8/5
Pricing
Professional Plan: $79/month
Growth Plan: $169/month
Enterprise Plan: $429/month
Lifetime Free Plan and Custom Plan Available
Try Zonka Feedback's mobile app feedback survey template to collect user feedback on different aspects like functionality, speed, navigation, content, appearance, etc.

2. Qualtrics
Qualtrics is one of the best in-app feedback tools which is compatible with both Android and iOS devices to collect user as well as internal product feedback. You can set up in-app intercept surveys or embedded surveys. You can also set the target for your survey to open in a browser window. You can also customize your surveys to pop up at the right time to collect relevant and useful feedback.
Key Features
250 survey templates
Omnichannel surveys
Panel management
Reporting/analytics
Code-free survey builder
User research analysis
Rating
4.8/5
Pricing
Starting from $1500/year
Free Plan Available
3. Qualaroo
Qualaroo is a customer experience and in-app feedback tool that offers pop-up surveys to capture contextual user insights. You can use templates for multiple surveys like NPS, CSAT, and app ratings. Surveys can also be triggered to appear at a specific time or when specific conditions are met.
Key Features
With advanced targeting features like branching and skip, you can target the right users at the right time.
Supports 130+ languages.
No-code setup
Advanced reporting for real-time feedback analysis
Has IBM-powered Sentiment Analysis to collect qualitative user insights.
Automatic NPS calculator and dashboard.
You can launch Omni-channel surveys on apps, websites, and web apps.
Rating
4.7/5
Pricing
Essential plan starts at $69/month (billed annually)
Premium plan starts at $149/month (billed annually)
Business plan starts at $299/month (billed annually)
4. QuestionPro
QuestionPro is one of the first in-app feedback tools that allow running surveys in the mobile app, both embedded and trigger surveys. Trigger surveys capture in-the-moment feedback by intelligently triggering surveys at the right time. Triggers can be based on anything, for example, the number of times the app is opened, purchases, sign-ups, etc.
Key Features
20+ survey themes
Geolocation surveys when the user comes into a pre-specified vicinity
Skip logic branching
Survey branding
Real-time response collection
Automated reminders
Integration with business tools
Rating
4.7/5
Pricing
Advanced Plan: $129/month
Team Edition: Customized
Free Plan Available
5. SurveyMonkey
SurveyMonkey is an in-app feedback tool that allows the integration of surveys in your mobile app. You can use its mobile SDK for Android and iOS. You can capture real-time feedback to make improvements. Moreover, you can embed surveys or use event-specific survey triggers at different touchpoints.
You can also activate offers, rewards, and message-based actions.
Key Features
Quick set up and improved in-app experience
Branded surveys and customization of look and feel as well as product feedback questions
Readymade survey templates
Survey triggers based on user actions
Integration available
Intelligent reports and analysis
Rating
4.6/5
Pricing
Team Advantage Plan: $20/month
Team Premier Plan: $49/month
Enterprise Plan: Customized
Free Plan Available
6. Apptentive
In the mobile app development industry, Apptentive has a great reputation with a higher survey response rate. Like other in-app feedback tools, Apptentive allows collecting insights into the app users' behaviour as well as their transactions on the channel. With the help of qualitative and quantitative data, you can use feedback to improve the app's UX, UI, and overall user satisfaction, And the Python development service can help with that as well. By creating not only applications that are easy to use, but also a pretty good look and a lot of features.
Key Features
Multiple in-app product feedback survey types
In-built sentiment analysis
Targeting based on user activity, behavior, characteristics, location, etc.
In-app broadcast messaging
Response tracking and tagging
Rating
4.3/5
Pricing
Quote Available on Request
14-Day Free Trial Available
7. Mopinion
Mopinion allows improving apps' usability with in-app product feedback. You can use this in-app feedback tool to create powerful app survey campaigns that may not be limited to just the app. You can use other channels to survey your customers, such as email, website, social media, etc.
Key Features
Pre-built survey templates
Drag-and-drop survey builder
White-labelling, skip logic, and auto-language translation
Custom dashboards to analyze feedback
Targeting based on demographics, customer type, behavior, and other attributes
Rating
4.1/5
Pricing
$229/month
Free Plan Available
8. Helpshift
Helpshift is an integration tool that works with live chat to allow app users to share feedback directly within the chat window. It is a tool that also allows offering service assistance and also enables capturing personalized feedback in a conversational tone.
You can also add FAQ translations to help your audiences from different regions.
Key Features
In-chat feedback and leads from the app
Asynchronous messaging; the user doesn't have to wait on the chat
Ready-to-use templates to create conversational flows for chatbot
Feedback monitoring
Integration with other tools
Rating
3.9/5
Pricing
Starter Plan: $150/month
Growth and Enterprise Plan: Customized
Free Plan Available
Conclusion
Product feedback or in-app feedback is extremely critical for customer-centric businesses to be able to align their mobile apps with user requirements. It facilitates consistent development without a lot of rework and scope of error. So, in-app feedback shouldn't be an afterthought; surveys should be incorporated into your business app right from the beginning.
If you haven't already selected a feedback tool or decided on the best survey apps that offer feedback collection, we are sure this article would help you tremendously.