When your survey says: "Hey there! Have 10 minutes to complete this online survey?" It is not compelling at all. No one likes to fill out long, boring forms.
Customers are unlikely to go with this survey.
Nowadays customers are fidgety and it's getting tough to get feedback from them. As gathering customer feedback depends on your customers.
Microsurveys are the answer. They have a huge advantage over longer surveys because they get higher response rates.
And this article looks at what is microsurvey & its benefits.
Get the User Insights to Elevate your PX
Use targeted microsurveys in your product and website to get the right user insights and grow your business with user feedback.
What is a Microsurvey?
Microsurveys are short surveys that take 1-2 minutes to complete. It is like a traditional survey but shorter. Here are some characteristics of a microsurvey:
One question, with space for comments and feedback.
Context-Specific.
Microsurvey can have many use cases. The most popular are
Customer satisfaction
Feature requests
Competitor research
Personalization
Churn feedback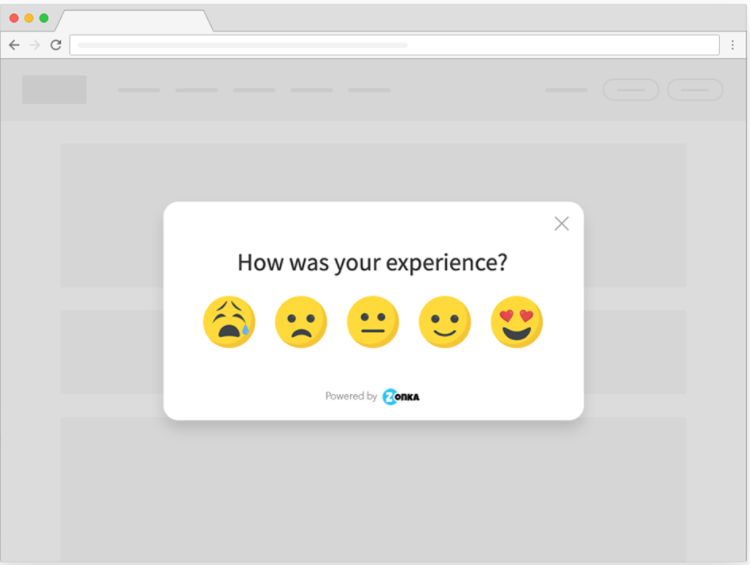 NPS surveys are the best example of microsurvey. And this is the reason why they became popular over the years. They are short and simple, with a single rating prompt with optional text comments.
Let's look at an example:
Benefits of Microsurveys
There are reasons to use microsurvey tools for your business to collect feedback. Let's see them:
Ensure the Collection of More Data
Enable Continuous Feedback Loop
Target Audiences and Get Specific Feedback
Lowers Drop-Off Rates
More Mobile Respondents
Ensure the collection of more data
In the past, collecting data and feedback was using traditional surveys via email. The issue is that not everyone will open the email and for those who do, not everyone will click on the survey. That's why microsurveys are so effective.

They appear in-app, meaning you get a higher submission rate and survey responses. It helps you to get more data when it comes to making product decisions.
Enable continuous feedback loop
Today, users want instant service, 24/7. The product needs to be built having the user's needs in mind. A stronger feedback loop helps your product-led growth marketing efforts and A/B testing allows you to understand the users.

Microsurveys help you build ongoing in-product user feedback that helps to close the gap between what your product delivers and what your users expect.
Target audiences and get specific feedback
There's no point in asking irrelevant questions to website users or customers who have not had a certain experience. It only irritates the respondents and affects the survey data quality.

Microsurvey feedback solves this problem because microsurveys are context-specific and get triggered based on the user's interaction with the website or mobile app. For example, if a customer cancels your subscription, they can share the cancellation reason via the feedback survey on the cancellation page.
Lowers drop-off rates
A survey participant may begin to engage with a lengthy survey, but become distracted, resulting in high dropout rates which can skew your results. With a microsurvey, dropoff rates get lowered as it requires a brief time commitment.
More mobile respondents
Nowadays, most people tend to check emails on their mobile devices. Lengthy surveys can be difficult to complete on your smartphone. Microsurvey is responsive and sharing feedback is easier for the customers.
Use Zonka Feedback & Get the Best out of Microsurvey
With Zonka Feedback you can create microsurvey forms with ease. It is more than an onboarding platform. It offers NPS functionality with the ability to add forms to your product.
You can choose the survey start and end time. Zonka Feedback provides you with the following options;
Appear only once, even if the visitor does not take the survey.
Appear even after the visitor takes the survey.
Keep appearing until the visitor takes the survey.
Zonka Feedback helps you create branded surveys. You can do it by customizing your survey design with your brand theme and logo. You can insert the brand logo, select your brand's color template, insert images, and choose a relevant background to personalize your surveys and improve brand recall.