Looking for an alternative to Hotjar? Here are some of the most powerful Hotjar competitors you can switch to in 2023!
When it comes to analyzing user behavior, optimizing conversions, and improving the overall user experience on your website or application, Hotjar has long been a popular choice. Started in 2014, Hotjar offers a suite of features, helping businesses make data-driven decisions to improve conversions and enhance the overall user journey.
While it applies a customer-centric approach to web analysis, it also has its limitations. For instance, its ask tool is limited to on-site surveys, link surveys, and feedback forms. Businesses looking for offline surveys or feedback widget options other than the feedback button might also the tool to be quite restrictive.
And that's when they start looking for Hotjar alternatives to find a more comprehensive tool that offers advanced & extensive platform to capture user insights and improve the overall customer experience.
Get Started with Measuring Customer Feedback
With Feedback Surveys, understand what users need and learn ways to delight your customers.
If you're also looking for something simpler, cheaper, or with a different set of features, then this article is for you. In this article, we present a curated list of top Hotjar alternatives that can empower your analytics strategy and help you gain deeper insights into user interactions. part from that, we have also covered other platforms like Medallia alternatives, Typeform alternatives, SurveySparrow alternatives, SurveyMonkey alternatives, and Qualtrics alternatives.
Table of Content
10 Best Hotjar Alternatives for 2023
Hotjar, originally known for its heatmap tool, has now expanded its offerings to include survey collection, feedback polls, survey widgets, and more making it a versatile tool for businesses. Although the platform do offer limited survey-related features, it may not have the same level of specialization in surveys as other platforms like, Zonka Feedback.
With its heatmap feature, Hotjar allows businesses to visualize and analyze user behavior on their websites. This provides valuable insights into how users navigate and interact with the site, helping businesses optimize their user experience. However, Hotjar's evolution into survey collection while takes its capabilities to another level, there's still a long way to go before it becomes one of the leading survey collection tool. So, if you are also looking for the top 10 Hotjar alternatives, we've got you covered.
Top Hotjar Alternatives For Surveys
While Hotjar has plenty of satisfied users, some marketers may also need customer feedback and survey tools that are easier to use, offer more granular, in-depth CX metrics, or offer more flexibility to customer feedbacks. If that's you—and you're looking to replace Hotjar with a solution that better fits your needs—you've come to the right place. Below are a few Hotjar alternatives specifically designed for survey creation, deployment, and analysis, so you can find the right tool for you and your team.
#1. Zonka Feedback- Unlocking Insights for Exceptional Customer Experiences
Zonka Feedback is a powerful customer experience and product feedback platform that is specifically designed for businesses of all sizes to capture and analyze feedback surveys and collect insights from them. However, Zonka Feedback emerges as a strong competitor to Hotjar due to its unparalleled comprehensive feedback management capabilities.
While Hotjar primarily focuses on website heatmaps, Zonka Feedback, on the other hand, has the ability to automate customer experience processes, coupled with endless capabilities to send surveys on almost every survey channel. The tool goes beyond helping businesses to drive customer satisfaction by offering a holistic feedback solution based on the response they receive.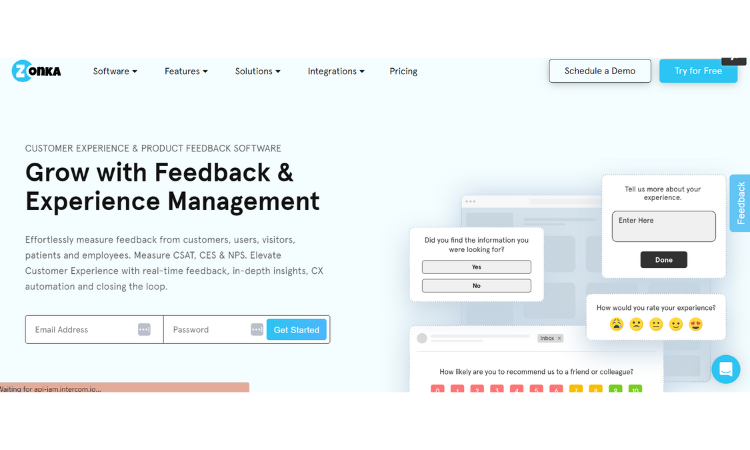 Zonka Feedback allows businesses to collect feedback through multiple channels, such as online and offline surveys, email surveys, SMS surveys, in-product, website surveys, and more.
If we talk about the types of feedback widgets, Zonka Feedback has a lot more options to choose from as compared to Hotjar- embedded surveys, pop-up surveys, slide-out surveys, and feedback buttons. Also, the platform allows businesses with survey customization options that enable them to design surveys that align with their branding. One of the features that make Zonka Feedback a top contender for Hotjar is its robust integration, including some of the popular CRM systems like Salesforce, Hubspot, Zendesk, Freshdesk, and more, enabling seamless data synchronization.
As an all-encompassing customer experience tool, Zonka Feedback offers various types of CX automation abilities to streamline and enhance the customer feedback process. You can set up and automate surveys at predefined intervals or trigger them based on specific events or actions. Also, with its automated workflows, you can follow up with unhappy or critical customers. Thus, with its versatile survey options, customer experience management features, feedback management features, and integrations, Zonka Feedback is a powerful all-in-one feedback solution, differentiating itself from Hotjar as it mainly focuses on website behavior tracking.
Key Features
Pricing
The Essential plan for creating offline surveys starts at $15 per device/month, while the Starter plan starts at $49 per month. You can also try the Zonka Feedback platform for free for 7 days
G2 Rating: 4.8 out of 5
Limitations:
The only limitation differentiating Zonka Feedback from Hotjar is its website behavior analysis and user experience optimization. Zonka Feedback must also work on conversion funnels and feedback polls for in-depth website analysis to enhance website usability.
What makes Zonka Feedback the best Hotjar alternative?
While Hotjar focuses on website behavior analysis, Zonka Feedback goes beyond that by offering a holistic solution for gathering and managing customer feedback. This enables organizations to capture feedback from multiple touchpoints, providing a more complete and diverse understanding of customer sentiments. It has a comparatively cost-effective plans when compared to the pricing plans offered by Hotjar. Additionally, Zonka Feedback offers seamless integration with popular CRM systems and offers a user-friendly interface, making it a powerful alternative to Hotjar for businesses seeking a comprehensive feedback management solution.
#2. Survicate: Elevate Your Customer Engagement Strategy with Data-Driven Surveys
Survicate is one of the top alternatives to Hotjar as the platform is helpful for users to collect feedback and analysis. When compared to Hotjar, Survicate offer a variety of survey formats to get qualitative and quantitative feedback from customers. With 125+ survey templates available, the platform enables users to create polls from scratch. The best part is all the surveys are fully customizable, which allows users to adhere to their brand's style guide.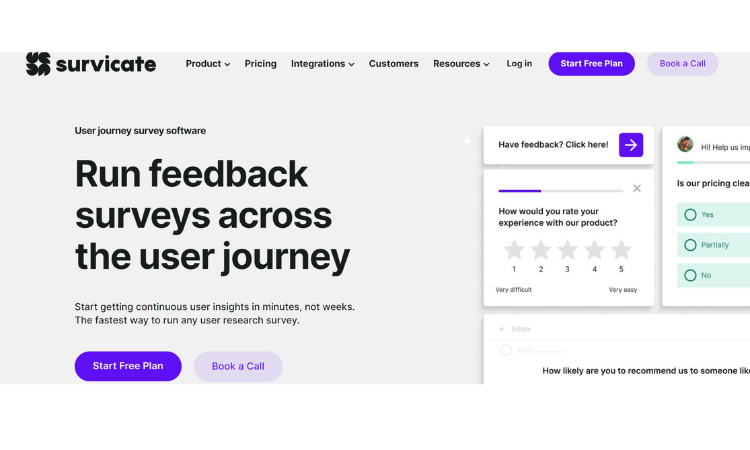 With Survicate, users can even distribute surveys through emails or links apart from the website and mobile app, letting users collect feedback from various touchpoints. Additionally, the platform also integrates with all the CRM and project management tools, including Hotjar.
Key Features
Quickly create targeted surveys and feedback forms from scratch or use pre-build surveys
Get various question types, themes, and customization options to tailor the surveys to specific needs
Gather surveys through the website, email, SMS, or in-app
Get real-time reporting and insights
Seamless integration with all CRMs and PM tools
Use all the surveys types: NPS, CSAT, CES, Customer feedback surveys, and more
Pricing:
The initial plan starts at $89 per month.
G2 Rating:4.7 out of 5
Limitations:
Survicate can work on providing businesses with heatmaps and session recordings to gain deeper insights. Also, if your requirements extend beyond surveys, such as analyzing user behavior patterns or tracking conversions, Survicate isn't a top choice for you.
What makes Survicate the best Hotjar alternative?
Businesses looking to create highly targeted surveys and feedback forms that can be triggered based on specific user behavior or attributes can switch to Survicate as a Hotjar alternative. Its customizable survey design is easy to use that aligns with your brand identity.
#3. Qualaroo: Harness the Power of Real-Time Feedback
Qualaroo is an automated research platform designed to help businesses s collect valuable insights from their users at scale in the quickest and most seamless way possible. When it comes to comparing Qualaroo and Hotjar, Qualaroo offers laser-focused user research options without any coding knowledge. One of the features that the platform allows is users can create targeted surveys for advanced targeting and actionable insights.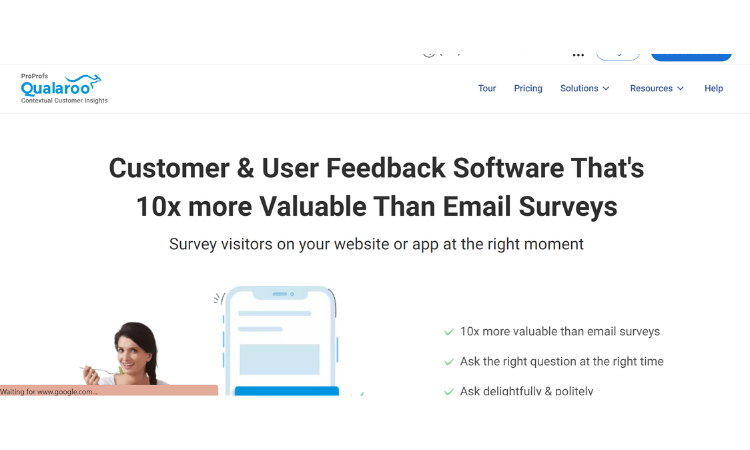 You can also create customizable surveys as per your brand's requirements. You can even get unlimited surveys, Responses, and seats on every plan you choose on Qualaroo. One of the cool features that set the platform apart from Hotjar is targeting customers based on any parameters on your website, as it isn't limited to only URLs or on-page behavior. The platform also offers a multi-language feature, whereas you get 1 language at a time in Hotjar. Qualaroo also supports popular survey types like Net Promoter Score and Customer Satisfaction to help businesses measure customer loyalty and satisfaction levels,
Key Features
Gain highly specific user insights by employing advanced persona targeting
Unlimited surveys, unlimited Responses, and unlimited seats in any plan
Target based on anything you can track on your website
SDK surveys to measure customer satisfaction
Customize surveys as per needs
Get email notifications right into your inbox
Integrate Qualaroo with your favorite CRM or PM tools
Pricing:
The initial plan starts at $69 per month.
G2 Rating:4.4 out of 5
Limitations:
Qualaroo mainly focuses on surveys and user feedback in real-time; however, as a Hotjar alternative, it may not be a good choice if you are looking for advanced features to measure customer behavior on websites. Also, its pricing model may not be suitable for businesses with varying levels of website traffic or those seeking more affordable pricing options.
What makes Qualaroo the best Hotjar alternative?
Those looking to create engaging and more impactful surveys can switch to Qualaroo as an alternative to Hotjar. Its visually appealing user interface sets it apart from other survey tools. Also, the customization that it offers to make surveys more brand-centric is unparalleled.
#4. Appzi: Enhance User Engagement and Retention with Actionable Feedback
Appzi is a web-based platform designed for SaaS companies to gather valuable product feedback directly from their website or application. One of its primary features is user feedback and bug reporting, which differentiates it from Hotjar. It offers an easy-to-use feedback widget that allows users to provide feedback, report bugs, or suggest improvements.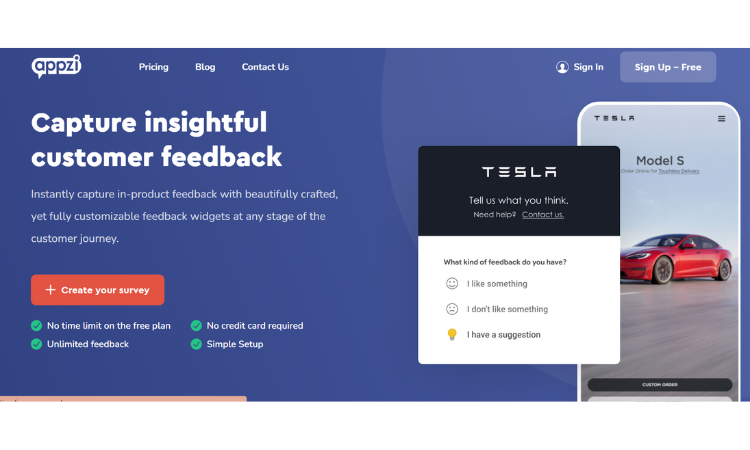 The platform offers several templates for NPS, CSAT, and other types of surveys, but its survey builder has all the questions that Hotjar lacks. Also, it is possible to set multiple questions on the same survey page. You can even customize your surveys and filter the responses based on the set conditions. One of the factors that you don't get with Hotjar is conducting in-app surveys to gather targeted feedback from users using Appzi. As far as its integration with popular project management tools, it is effortless and enables users to get notifications in real time.
Key Features
Quickly add tags to specific feedback responses
Embed easy-to-use feedback widget directly into web applications
Conduct targeted in-app surveys to gather specific feedback
capture and annotate screenshots to highlight visual bugs or design issues
Seamless Integration with Project Management Tools like Jira, Trello
Get real-time feedback, and customize your surveys
Tag multiple feedback responses or set them as "Completed" with a simple click
Pricing:
The initial plan starts at $29 per month.
G2 Rating:4.5 out of 5
Limitations:
Although Appzi primarily focuses on user feedback and bug reporting, it should also work on offerings like heatmaps, session recordings, and conversion funnels to track key performance metrics across the websites.
What makes Appzi the best Hotjar alternative?
With its focus on in-app feedback, visual bug tracking, in-app surveys, and integrations with project management tools, Appzi offers a specialized solution for capturing user insights and improving product experiences. Also, it provides real-time notifications of user feedback and bug reports, allowing businesses to respond promptly and address issues in a timely manner.
#5. Refiner: Streamline Feedback Management and Automate Actionable Insights
Refiner is an online survey platform that enables businesses to enhance their user experience through in-product survey widgets and automated actions. The platform is mainly specialized for providing microsurveys tailored to the needs of data-driven software companies. For those who are looking for specific surveys designed for software teams looking to run surveys inside a web or mobile application, Refiner is the perfect Hotjar alternative for them.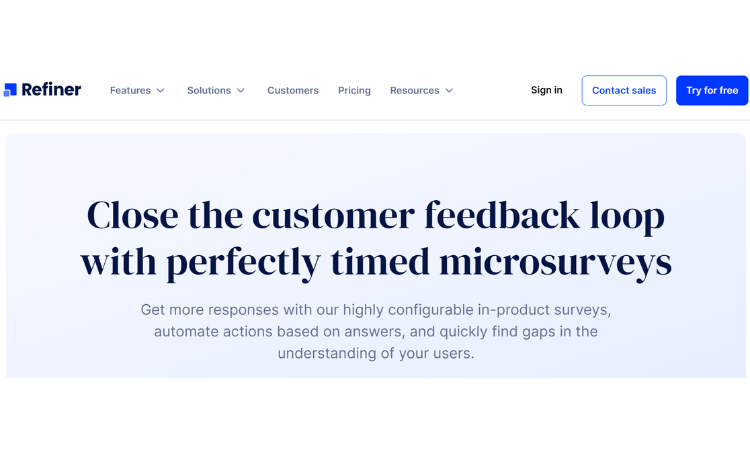 The platform is best suited to target the right people at the right time. You also get rich user segmentation, dive deeper into the survey responses, and follow up with unhappy customers. One can even easily tie survey responses to user profiles and customize the surveys as needed. Integrating Refiner with any CRM or PM tool is effortless. You can even embed questions inside your emails to reach more customers.
Key Features
Highly customizable in-product survey widgets
Allow triggering specific actions or workflows
Get advanced user segmentation capabilities to categorize and group users
Robust analytics and reporting features to derive meaningful insights
Get real-time notifications and take immediate action
Create tailored surveys and questionnaires
Pricing:
The initial plan starts at $79 per month.
G2 Rating:4.8 out of 5
Limitations:
Although the platform offers top survey types like CSAT, NPS, CES, and more, it mainly focuses on in-product microsurveys. If you are looking for a tool to measure user interactions and behavior, then Refiner isn't a good option.
What makes Refiner the best Hotjar alternative?
The fact that Refiner's in-product survey widget is a feature that definitely makes it stand out. Besides that, Refiner has much higher integration capabilities with all types of CRM and other tools.
#6. Marker.io: Streamline Bug Reporting and Visual Feedback
Unlike other tools in this list, Marker.io is a visual bug reporting and customer feedback tool for businesses of all sizes. With its unobtrusive widget option, users can quickly get visual feedback with the technical data to back it up. An interesting part is users can even get feedback records of the last 30 seconds through its easy-to-use Session Replay tab. Once the feedback survey is received, it goes straight into the project management tool like Jira, Trello, Asana, GitHub, ClickUp, and others.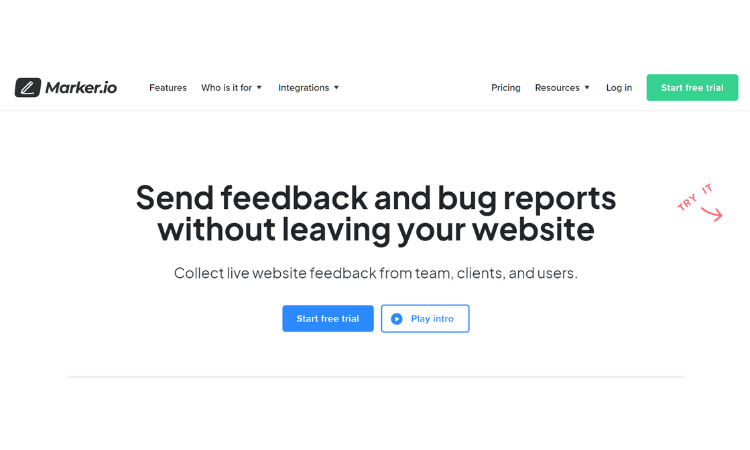 One of the main differences that make Marker.io apart from others in this list is its 2-way sync with your project management software. When an issue is raised, responses are received, or a bug is logged, it goes straight into whichever PM tool users use. Thus it is easier for users to gather all of the important information in one place to simplify client communication.
Key Features
Issue title and link to Project management tool
Screenshot with annotations and any other attachments
Session replay, to check the last 30 seconds before feedback was submitted
Get quick feedback and bug report issue on a single page
Automatic 2-way sync via Marker.io
Get customizable feedback and bug report forms
Automatic environment, console, and network logs capture
Unlimited number of projects/websites and unlimited feedback
Screenshots with every report and annotations with arrows, text, and even emojis
Session Replay on every Team or Company plan
Pricing:
The initial plan starts at$39 per month.
G2 Rating:4.2 out of 5
Limitations:
Marker.io primarily focuses on bug reporting and visual feedback collection, whereas Hotjar offers a wider range of features, including heatmaps, session recordings, and conversion funnels. If your needs extend beyond bug reporting and visual feedback, Marker.io may not be the right choice for you.
What makes Marker.io the best Hotjar alternative?
Marker.io is a strong alternative to Hotjar, particularly for bug reporting and visual feedback collection. However its seamless integration with project management and bug tracking tools like Jira, and Trello, it is a top choice for businesses looking mostly for bug reporting and collaboration between teams.
Top Hotjar Alternatives For Heatmaps And Website Optimization
Hotjar is a popular web analytics platform and conversion analytics platform that helps you collect feedback from your website users and optimize your website via heatmaps and session recordings. While Hotjar applies a customer-centric approach to web analysis, it has its limitations. Although the platform offering for heatmaps and session recordings provide visual representations of user interactions, such as clicks, mouse movements, and scroll behavior, but they lack direct insight into the reasons behind these actions.
Therefore businesses are looking for other Hotjar alternatives. If you're looking to replace Hotjar that better suits your needs in terms of heatmaps and website optimization, then below is a list of tools that we have covered for you.
#7. Freshmarketer: Unleash Your Marketing Potential with Advanced Analytics and Conversion Optimization
The next Hotjar alternative we have is Freshmarketer. Freshmarketer is more of a conversion rate optimization tool. Features like A/B testing, Heatmaps, and Funnel Analysis modules take the limelight, the platform provides a smooth website user experience.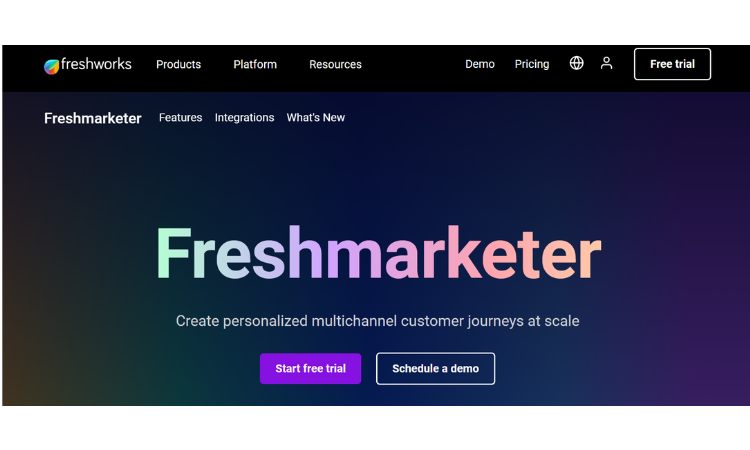 Freshmarketer conversion rate optimization features and advanced website analytics capabilities set it apart from Hotjar. With its heatmaps and session replay functionality, businesses can visually understand user behavior on their websites. Also, the all-in-one conversion optimization tool enables you to create and analyze conversion funnels, providing insights into the customer's journey. You can also try its robust A/B testing capabilities that allow you to experiment with different variations of website content, layouts, and elements for better conversion rates.
Key Features
Get live heatmaps to identify usability issues and areas for improvement.
Quick A/B testing via Chrome plugin
Split URL testing with ease
Robust funnel analysis to improve overall user experience
Website form analytics for better conversion rates
Quick polls and feedback to enhance engagement and conversions
Pricing:
The starting plan starts at $128 per month.
G2 Rating:4.1 out of 5
Limitations:
Freshmarketer's integrations and ecosystem of third-party applications may not be as extensive as Hotjar's, which could limit its compatibility with certain platforms or tools that other businesses may already be using.
What makes Freshmarketer the best Hotjar alternative?
As an alternative to Hotjar, Freshmarketer offers comprehensive conversion rate optimization (CRO) suite and advanced website analytics capabilities. With its user-friendly interface, advanced analytics, seamless integration, and personalization capabilities, businesses can leverage Freshmarketer to optimize their website, enhance user experience, and drive higher conversion rates.
#8. Mouseflow- Uncover User Behavior and Enhance Website Optimization
Mouseflow is an excellent alternative if you consider substituting Hotjar. Being one of the top choices among startups and enterprises worldwide, the platform offers users to optimize conversions of digital products and build different types of heatmaps for better website behavior analysis. One of the features that make Mouseflow stand out is its ability to build various types of heatmaps customized to meet your specific requirements.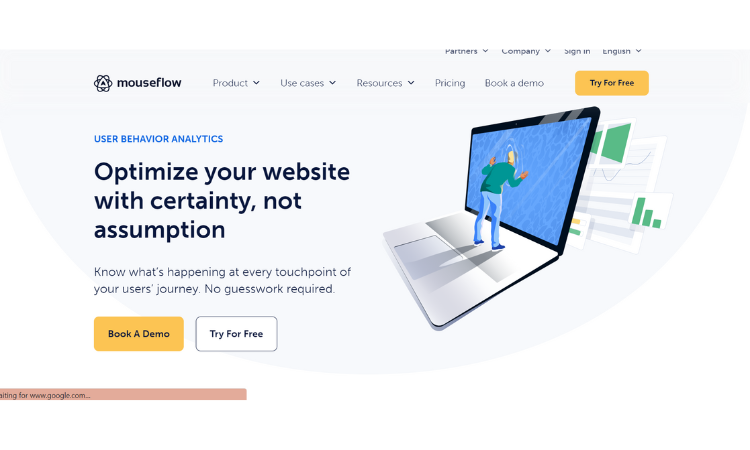 Unlike Hotjar, Mouseflow does not impose any restrictions on daily data capture; therefore with Mouseflow, businesses can capture and record an unlimited number of user sessions each day, ensuring that no valuable insights are missed or compromised. Additionally, Mouseflow provides robust filtering and segmenting options, allowing businesses to narrow down and analyze user behavior based on specific criteria such as device type, browser, location, or behavior patterns.
The best part is you get unrestricted access to an advanced filtering suite across all its plans, as compared to Hotjar, as it restricts access to its filtering capabilities, making it more challenging to pinpoint and focus on specific user behaviors. Also, you get unlimited responses on feedback campaigns with Mouseflow, providing greater flexibility and insights compared to Hotjar's filtering and response limitations.
Key Features
Know users' website actions in real-time
Streamline your workflow and transition seamlessly from a reactive to a proactive approach
Sync your CMS, eCommerce, analytics, and marketing platforms in minutes
Collect and visualize every engagement pattern
Build custom funnels effortlessly
Analyze the field and prevent errors with form analytics
Create and trigger custom-based surveys
Pricing:
The initial plan starts at $31 per month.
G2 Rating: 4.6 out of 5
Limitations:
One limitation of Mouseflow as a Hotjar alternative is that it lacks the same depth of features in areas such as feedback management, user polls, or funnel analysis.
What makes Mouseflow the best Hotjar alternative?
Mouseflow comprehensive toolkit for optimizing conversions and enhancing user experience makes it a standout alternative for Hotjar. Additionally, Mouseflow provides advanced tools for creating conversion funnels and forms, enabling businesses to analyze and optimize the entire user journey.
#9. Fullstory: Gain Unparalleled Insights into User Behavior and Website Performance
FullStory is a powerful software that will help users improve their digital experience of their virtual products by collecting usage data and visitor behavior patterns. Fullstory offers a similar set of features, including session replays, heatmaps, funnels, and conversions, as that of Hotjar. However, choosing Fullstory in comparison with Hotjar is a better choice if the main goal of your studies is to be focused on usability testing.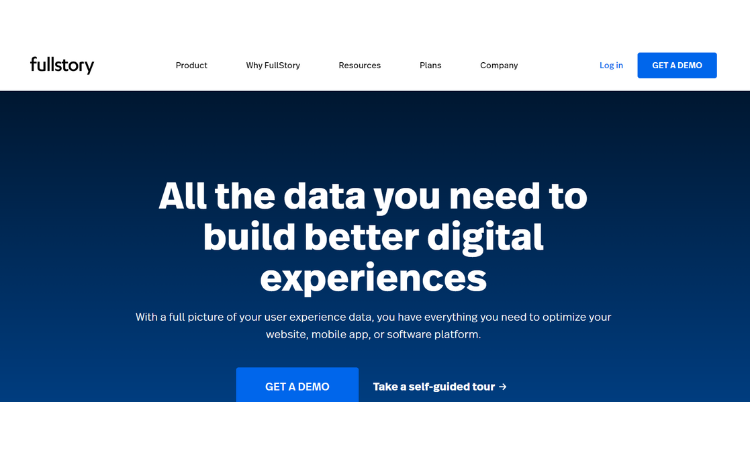 Privacy is a huge part of FullStory's offer, as the company stresses that all the data collected through the app is absolutely legal. One of the features that it offers is tagless auto-capture which gets ahold of all the touchpoints a visitor has with the website or mobile app. The heatmap functionality is the same, but you can also use the session replay tool in addition to heatmaps to uncover specific problems.
Key Features
Monitor user's journey through proprietary auto-capture technology
Quickly identify root causes or opportunities for improvement
Get privacy protections for faster optimization
Seamless integration with all project management tools
Easily pull in custom event data to add additional context
Use features like journey mapping, heatmap feature, session replays, click testing, user segments
Pricing:
You need to connect with their sales team.
G2 rating: 4.5 out of 5
Limitations:
Overall, the tool is highly proficient and offers extensive capabilities. The primary drawback we can identify is the absence of transparent pricing.
What makes Fullstory the best Hotjar alternative?
Privacy is a huge part of FullStory's offer that differentiates it from other tools. The company emphasizes that the data collected through the application adheres to legal standards and explicitly states that it does not capture any passwords or other confidential data.
#10. CrazyEgg: Dive Deep into User Behavior and Optimize Your Online Presence
CrazyEgg is a popular alternative to Hotjar to help businesses observe user interaction and gauge customer engagement. Apart from heatmaps and session recordings, users can use this tool to create scroll maps and A/B tests, which is a great addition to this toolkit as it facilitates better, and more in-depth product usability research.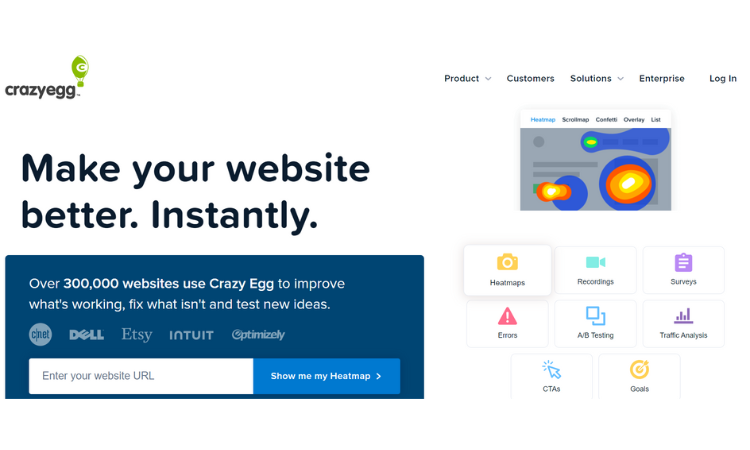 It is also easy to filter clicks to see where on the website your customers are clicking with maximum flexibility. Also, when it comes to sampling, the software makes the user easy to use and allows users to decide when and how to sample or filter as needed. The best part is that you get more flexibility than other tools in the list for A/B testing. Although you can access A/B testing right inside CrazyEgg, users can also integrate with Optimizely, Google Optimize, and other A/B testing tools.
Key Features
Snapshot reporting to unlock page improvements
Heatmaps and scroll maps to leave more about your visitors
Session recordings to give a better idea of your customer's journey
A/B testing for better experienced-based research methodology
Surveys for quick customer feedback
Demo dashboard for quick & easy overview
Pricing:
You need to get in touch with the sales team
G2 Rating:4.2 out of 5
Limitations:
While Crazy Egg focuses more on A/B testing, the tool lacks certain advanced functionalities like conversion funnels, feedback polls, and form analysis that Hotjar offers. Also, its pricing isn't available publicly, which can frustrate potential customers.
What makes CrazyEgg the best Hotjar alternative?
CrazyEgg is a top contender for Hotjar that offers one of the best A/B testing facilities. The tool is a perfect choice for customers looking for heatmaps, session recordings, and A/B testing. With its user-friendly interface, the tool is a great choice for users without any technical background.
Conclusion
As we conclude this in-depth piece, we hope this article has provided you with ample information to select the Hotjar alternative that best aligns with the specific requirements of your business. Although Hotjar is best known for session recording and heatmap, each tool mentioned in the list is a strong competitor for Hotjar.
And if you are still unsure which software to choose, why not try our top alternative- Zonka Feedback? While Zonka Feedback doesn't offer heatmaps, the platform offers a diverse selection of surveys that enable you to capture feedback from your customer effortlessly. You can also sign up for a 7-day free trial to explore the survey platform.