It is not wrong to say that the goal of the entire process of Product Management is Customer Satisfaction by providing them the products that suit their requirements and fulfill their expectations. Product and CX managers' role is to look after an entire product or service within an organization.
Product Management includes multiple responsibilities like setting the product vision, making product development plans, creating product roadmaps, collecting product feedback, and taking action on it. And product managers use various types of Product Management software and tools to fulfill these responsibilities.
If you are looking for a reliable product feedback tool to make your work and life easier and carry on your responsibilities effectively, this article is for you! In this article, we will explore some of the best software and explore each product management tool in detail to help you understand how they can be used in different business functions.
Best Product Management Tools
Product Management tools include a variety of software and apps for various purposes. Let's explore some best tools for Product Management and how they contribute to the success of your business.
Zonka Feedback - Customer Survey Software for Product Feedback
ProductPlan - Product Roadmapping Software
Visio - Flowcharting Tool
Webex - Audio and Video Conference tool to communicate with customers and record conversations
Slack - Team Messaging Tool for communication through messaging, audio, and video calls
PowerPoint - Presentation tool
JIRA - Task Management Software
Gartner - Industry Analysis Tools
Google Analytics - User Analytics tool
Apptimize - Feature flagging software
Inspectlet - Session Reply and Heatmap tool
Google Drive - Collaboration tool
Workast - Project Management Software
Let's learn more about these tools.
1. Zonka Feedback - Customer Survey Software for Product Feedback
Customer Feedback is crucial for every business. And when you are into product management, it becomes necessary to collect product feedback from your customers so that you can innovate, develop, modify, and launch products accordingly. Zonka Feedback is what you can use for this purpose.
It is an in-app and SaaS product feedback tool and experience management platform that enables you to conduct all types of surveys. Whether you want to measure customer satisfaction with the overall product, or a particular product feature, or you want to take suggestions from your users; Zonka Feedback enables you to do all. Here are some of the key features of this product management tool.
Key Features
Create customized surveys and Whitelabel them to add your own branding, colors, theme, and style
Hundreds of ready-to-use templates like a mobile app feedback survey template, market research product survey questionnaire, polls, etc.
Use metric surveys like NPS, CSAT, and CES surveys to collect product feedback and measure customer loyalty, satisfaction, and perceived efforts
Collect feedback across multiple channels like emails, SMS, website, Android tablets, and smartphones
Use feedback buttons, survey links, popups, and embedded surveys on your website to collect product feedback without disturbing your users
Create Multilingual surveys for your customers of different backgrounds, use 30+ languages to create surveys
Do Smart targeting and feedback distribution. You can send surveys to the customers as per their persona and customer journey, manage your surveys, set automatic triggers to send surveys at specific timings, and control survey frequency to avoid sending too many surveys

Use

automated workflows and integrations to make your tasks easier
Use real-time feedback alerts to take action on the feedback at the right time and close the feedback loop effectively
Set up automatic follow-up emails to apologize for negative feedback and thank customers for the positive feedback
Pricing
It offers multiple plans.
The professional plan costs $79/month
The growth plan costs $169/month
The Enterprise plan costs 429/month
The Custom plan at customized prices as per business requirements
Zonka Feedback offers a free plan and a free trial for 15 days.
Streamline Customer Feedback Management with Actionable Insights
Build omnichannel experience for your customers and collect feedback throughout customer journey to improve satisfaction, loyalty, and engagement with Zonka Feedback.
2. ProductPlan - Product Roadmapping Software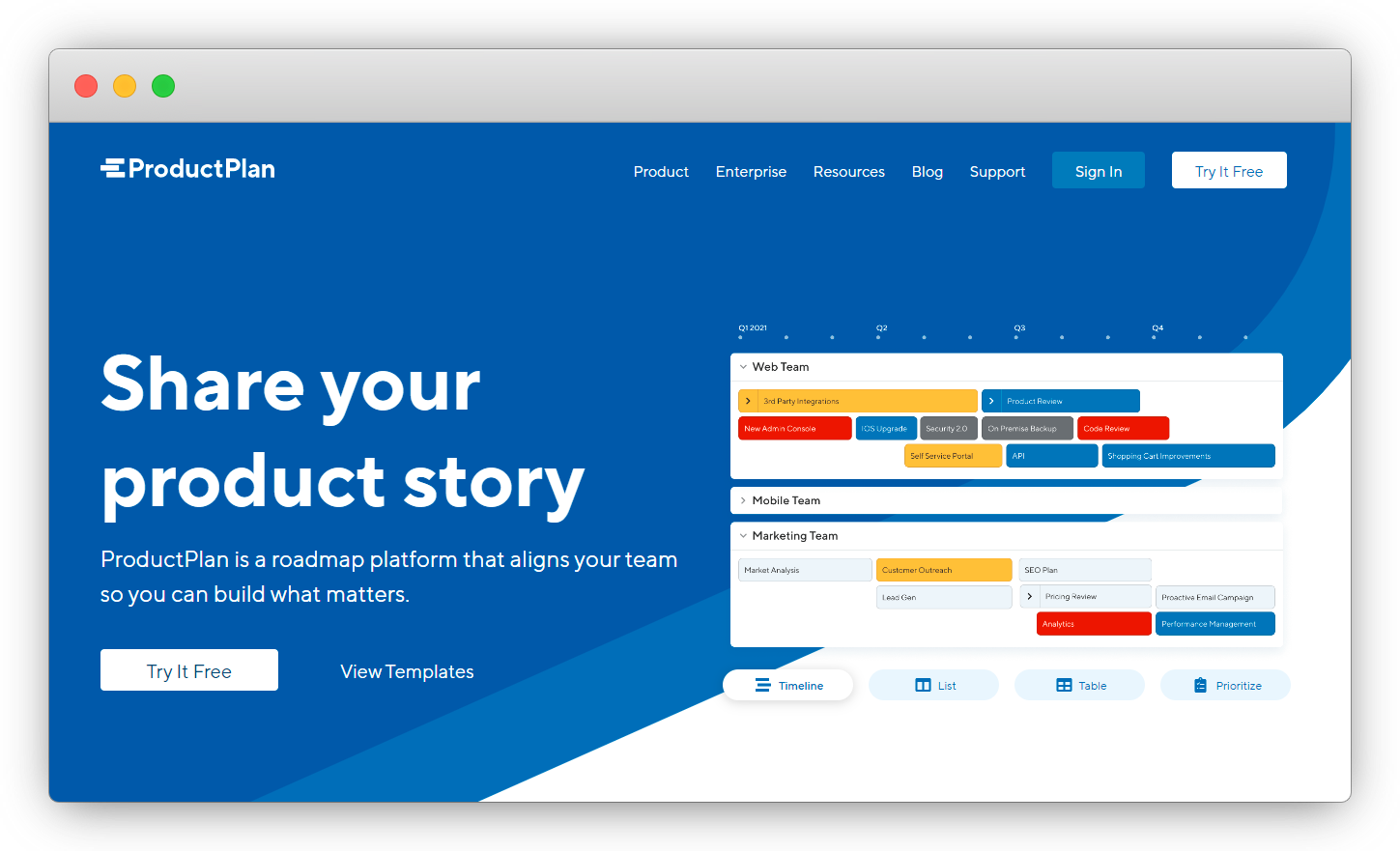 ProductPlan is a product management roadmap tool where you can do product roadmapping to align your teams with the vision, direction, priorities, development, and progress of the product over time. If you want to plan your actions and align your teams as per your product plans, this is the right platform for you.
Key Features
Create customized roadmaps within a matter of a few clicks and share them with your teams
Simple Drag and Drop Builder enables to easily build visual roadmaps
Customizable Layouts enable you to represent your product roadmaps in various forms like list, timeline, table, or portfolio layout
You can create and share an unlimited number of roadmaps and share access with unlimited viewers to view and provide feedback on the roadmap
You can publish your product roadmap with a secure private link to coordinate with external stakeholders
Offers integrations and API to enable custom integrations with other tools
SOC2 Certification and advanced security features to ensure the safety of your data
Pricing
It offers three plans:
The basic plan costs $39/month per editor
The professional plan costs $69/month per editor
The enterprise plan includes custom plans as per your business requirements
It also offers a free trial for 14 days.
3. Visio - Flowcharting Tool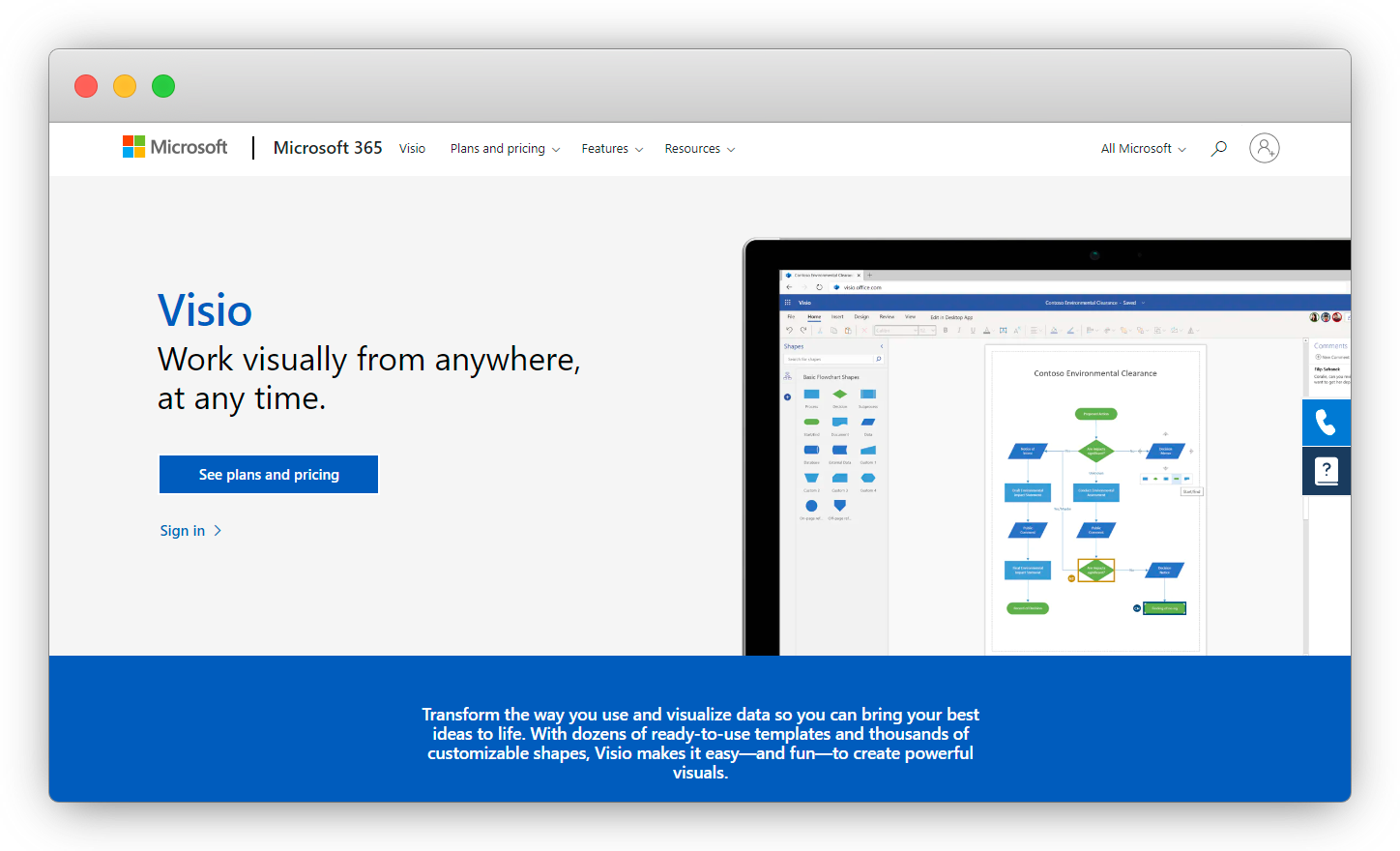 Creating a customer journey map is a great way to have a crystal clear view of your customers' complete experience with your business. Visio is one of the flowcharting tools that help you create customer journey maps to have a view of all the touchpoints your customers had in their journey beginning from coming in contact with your sales representative to buying and using your product.
This helps to better understand your customers and serve them in a better way. With Visio, you can create professional diagrams anytime, anywhere.
Key features
Dozens of prebuilt templates like CSAT survey template, NPS survey template, etc.
Use starter diagrams, and stencils to choose from in Visio Desktop and the web app
You can view data-connected business process flows with a host of integrated features of Microsoft 365
You can create, edit, view, and coordinate regarding Visio Diagrams from Microsoft Teams
Supports various Accessibility features like Narrator, Accessibility checker, and high-contrast support to make Visio diagrams accessible for everyone
High-end security and privacy with all security features of Microsoft 365 apps including Information Right Management
Provides Visio web app and Visio desktop app, you can choose as per your business requirements. Visio Desktop app is available only with Plan 2
Pricing
It offers two plans:
The Visio Plan 1 costs $5/month per user
The Visio Plan 2 costs $15/month per user
You can also go for a one-time purchase, and choose among the below two plans:
Visio Standard 2021 plan costs $309.99
Visio Professional 2021 plan costs $579.99
4. Webex - Audio and Video Conference tool to communicate with customers and record conversations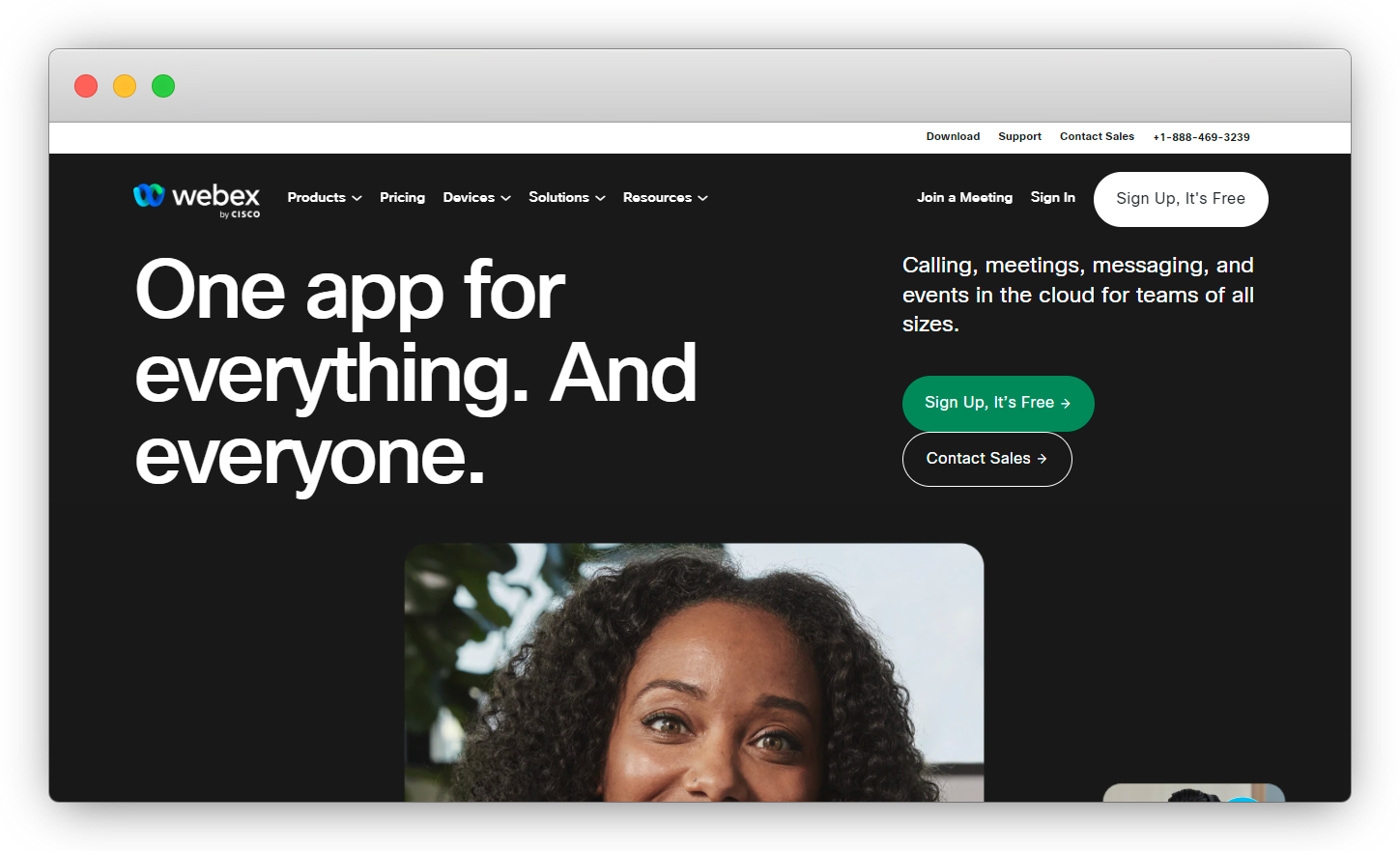 Effective Communication is an essential part of effective Product Management. Webex by Cisco facilitates calling, messaging, meetings, and events in the cloud for teams of all sizes. Trusted by 95% of Fortune 500 companies, it is a flexible environment that supports a hybrid working environment and provides you a platform to communicate with your teams effectively.
Key Features
Calling from any device with a complete cloud phone system
Meetings, video conferences, and Virtual representations in HD video from anywhere with features like noise removal, gesture recognition, and automatic transcription, in multiple languages (e.g. Spanish transcription services) and custom layouts
Individual and team messaging with file sharing for both external and internal teams
Polling and Q&A to make your meetings more interactive and engage everyone
Host events up to 100,000 audiences from different corners of the world
Enables recording of all your calls, virtual meetings, presentations, and video conferences
Offers integrations with 100+ industry-leading apps to enable smooth workflows
Advanced security features like idle time-out and forced PIN-lock to secure every recording
Pricing
It offers multiple plans.
Starter plan costs Rs. 1049/month
Business plan costs Rs 2099/month
Enterprise plan is custom plan, price varies as per business requirement
It also offers a Free trial plan.
5. Slack - Team Messaging Tool for communication through messaging, audio, and video conferences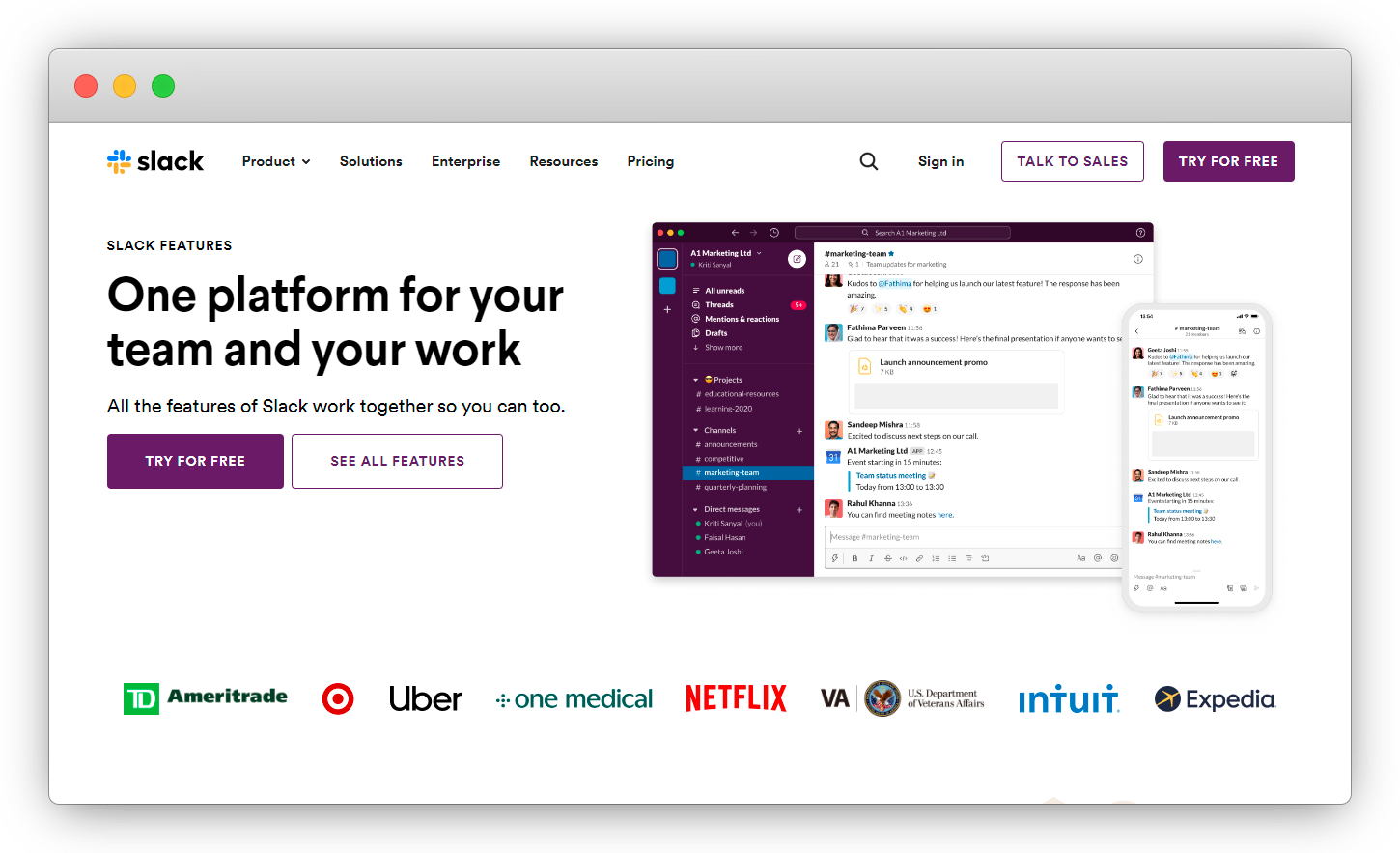 Slack is another messaging platform specifically designed for workplace communication for teams of any size. Developed by Slack Technologies, and now owned by Salesforce, Slack provides features to create chatrooms and channels organized by private groups, topics, and direct messaging
Key Features
Automate routine actions and communication with Workflow Builder
Easy Search of content in previous conversations
Easy file sharing with individuals and groups
It is integratable with over 2,200 other services like Google Drive, Office 365, and more
It offers security and Enterprise key management facilities to control the access to your data using your own encryption keys
Pricing
It offers multiple plans with different prices when billed yearly and monthly.
Pro plan costs Rs 500/month when billed yearly and Rs 600/month when billed monthly
Business+ plan costs Rs 938/month when billed yearly and Rs 1125/month when billed monthly
Enterprise Grid plan is a custom plan, the price of which depends on your business requirement
6. PowerPoint - Presentation tool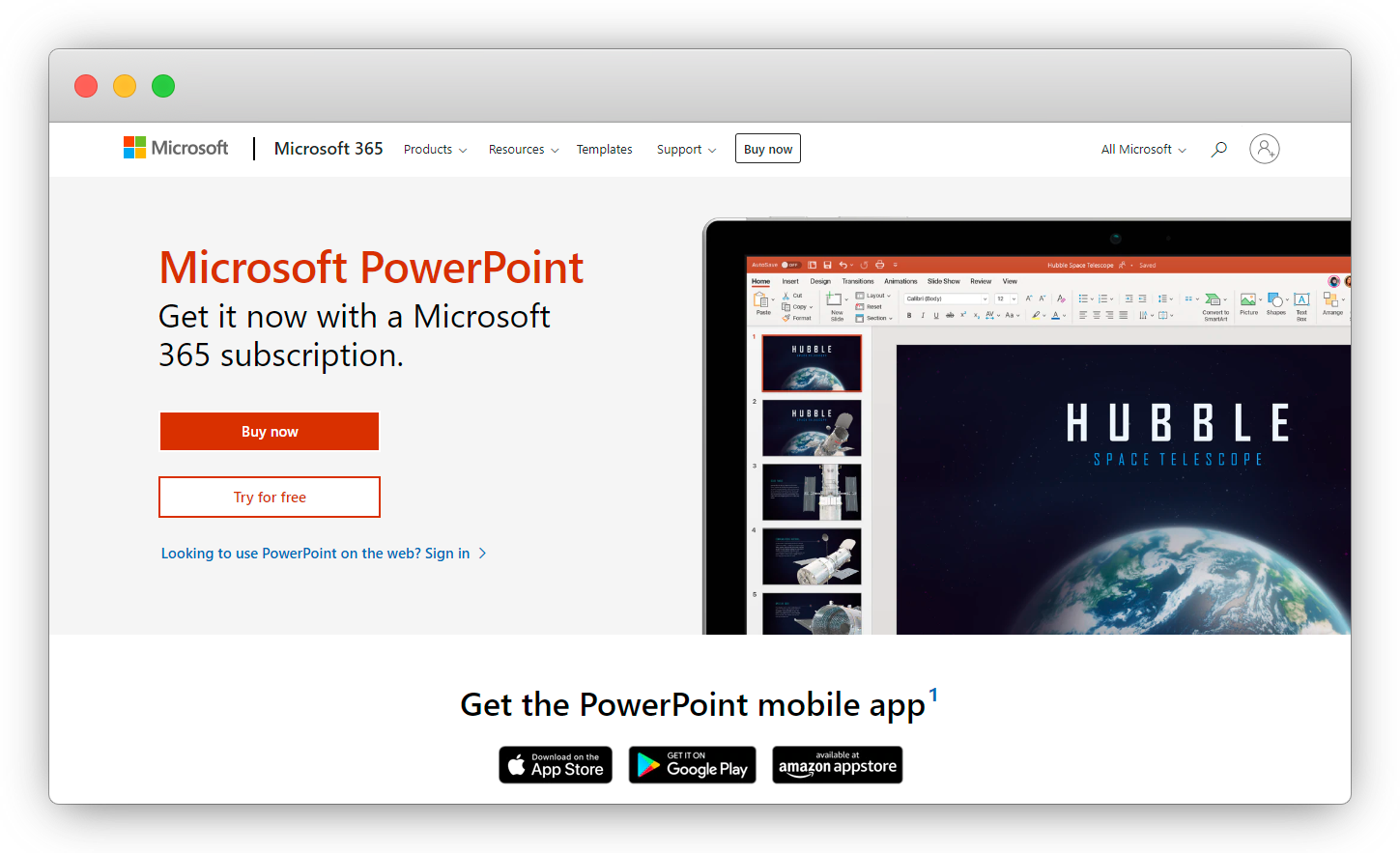 PowerPoint is a popular presentation tool that is helpful in Product Management to make presentations and slides to represent your work related to product ideas, innovation, development, modification, and anything that you want to present to your teams or colleagues. It is owned by Microsoft and you get it with Microsoft 365 subscription.
Key Features
Designer and Ideas in PowerPoint help you create free impactful and well-designed slides
Insert 3D objects like 3D pictures and animations in your slides from your own files
With its advanced features, you can also write into slides and then convert the notes into text
Powered by AI, its speech feature Presenter Coach enables you to practice your speech and get suggestions related to word choice, speech pace, and more
Track recent changes made by others on your deck with the feature 'While you were away'
Pricing
You need to take a subscription to Microsoft 365 to get PowerPoint. Microsoft 365 offers multiple plans for Home and Business use. Business plans include the following:
Microsoft 365 Business Basic plan costs Rs 125/month per user (GST extra)
Microsoft 365 Apps for business plan costs Rs 595/month per user (GST extra)
Microsoft 365 Standard plan costs Rs 660/month per user (GST extra)
Microsoft 365 Business Premium plan costs Rs 1585/month per user (GST extra)
It also offers a free trial for one month.
7. Jira Software - Task Management Software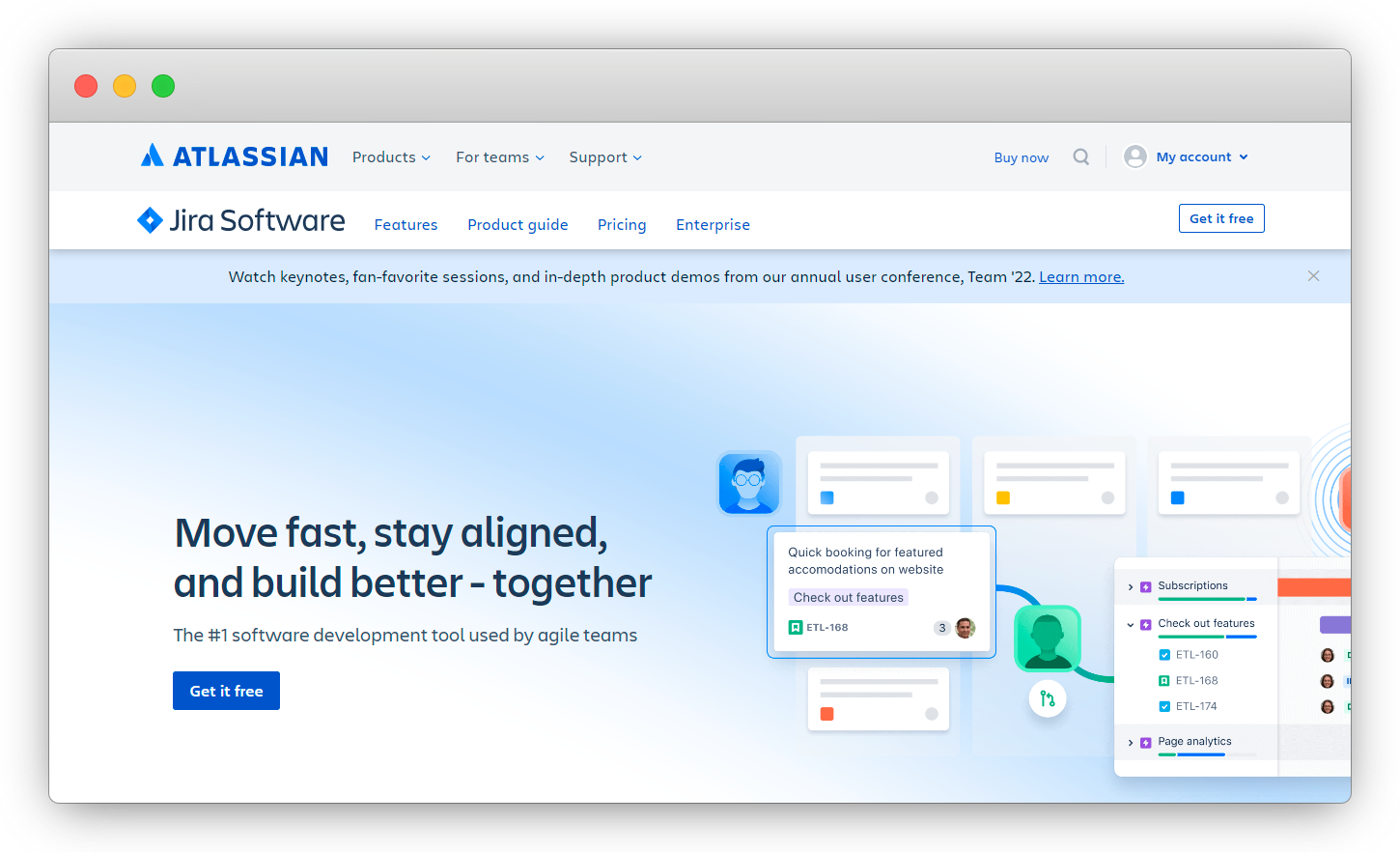 JIRA, developed by Atlassian, is a popular Product Management tool that is used by product managers for Task Management, bug tracking, and agile project management. The Task Management Software enables you to stay aligned and keep your team aligned with the task assignment, work-in-process, and completion. There are many product management tools like Jira, but Jira is mostly used in this category and easily integrates with different tools.


Key Features
Powerful agile boards - Scrum Boards to break large projects into smaller tasks; and Kanban Boards to visualize workflow, limit WIP and maximize team efficiency
View Roadmaps to keep your teams in sync in giving full visibility of the tasks
Reports and dashboards in the software provide insights into the team's performance
You Get Project flexibility for all workflows, you can choose between company-managed and team projects
Easy drag-and-drop automation
Allows customization of workflows as per your style of work
The tool can be integrated with 3000+ apps
Pricing
It offers multiple plans.
Free plan is always free for up to 10 users
Standard plan costs $75/month for 10 users
Premium plan costs $145/month for 10 users
Enterprise plan is billed annually and its price varies as per your requirement
It also offers a free trial for 7 days for Standard and Premium plans.
8. Gartner - Industry Analysis Tools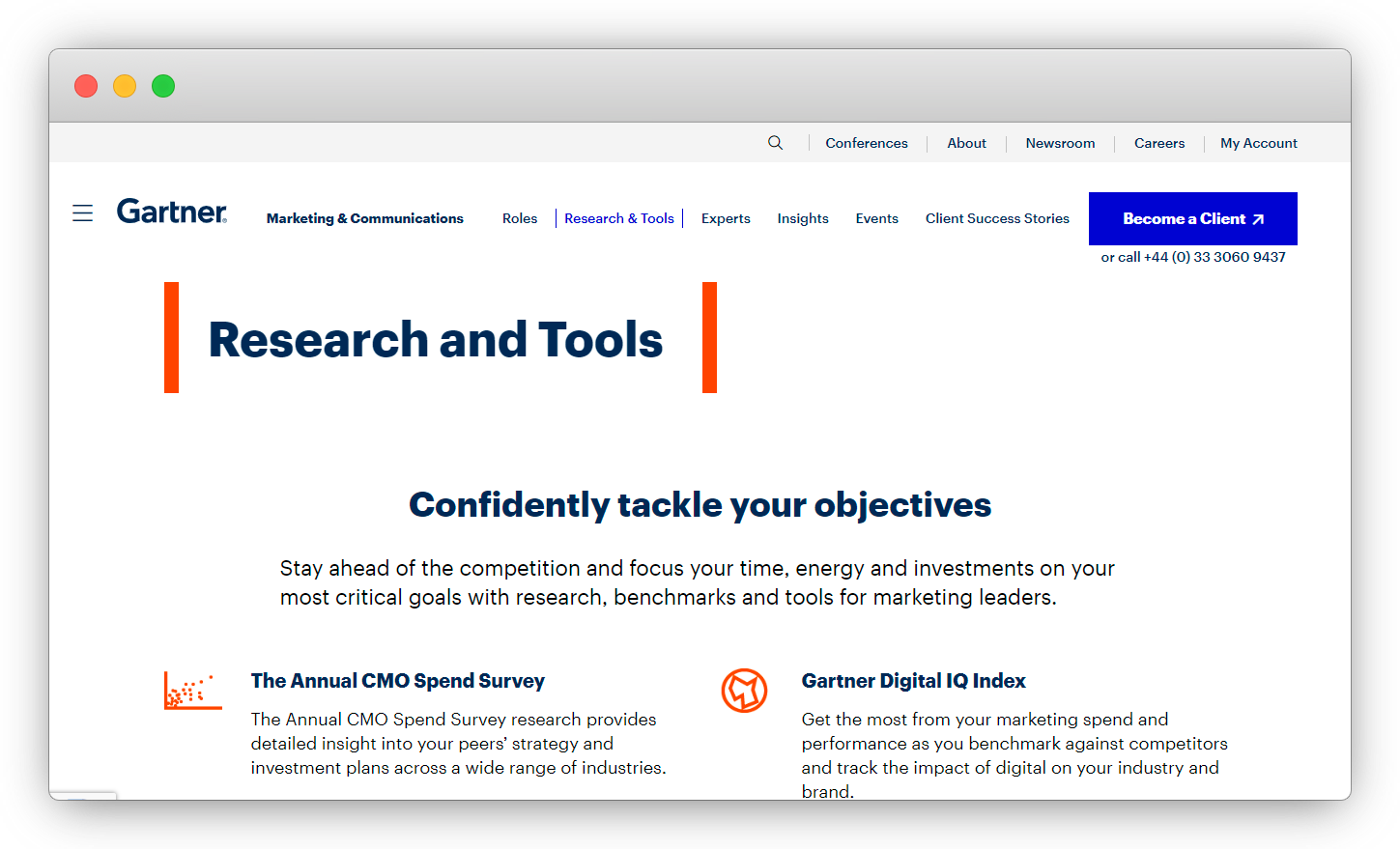 One of the main objectives of Product Management is to stay in line with the competition in the ongoing market. For this, you will need to analyze the industry and do market research. Gartner is a perfect Product Management tool for this. Businesses and marketing leaders use it for purposes like industry research and benchmarking. Here are the key features and functions of this tool.
Key Features
Get detailed insights into your competitors' investment plans and strategies across various industries through the Annual Spend CMO Research
Set benchmarks against your competitors, track your performance, and keep a watch on the digital impact on your industry and brand with Gartner Digital IQ Index
How-to guides, toolkits, frameworks, and other knowledge-sharing material to get qualitative and quantitative insights
Consumer and Cultural insights to better understand your customers, their demographics, and geographies for better targeting
Benchmarks and Diagnostics to set targets for your business and drive growth
Identify areas of growth and efficiency through the best Cost Optimization features
Hope Cycle helps to see the evolution of technologies over time and gives you an idea about the weightage of your investment options and minimizes the risk
Magic Quadrant is a great feature that shows the competitive position of digital technology and its service providers in the form of charts and graphs so that you can optimize your goals accordingly
Pricing
Customized quotes as per your business requirement.
9. Google Analytics - User Analytics tool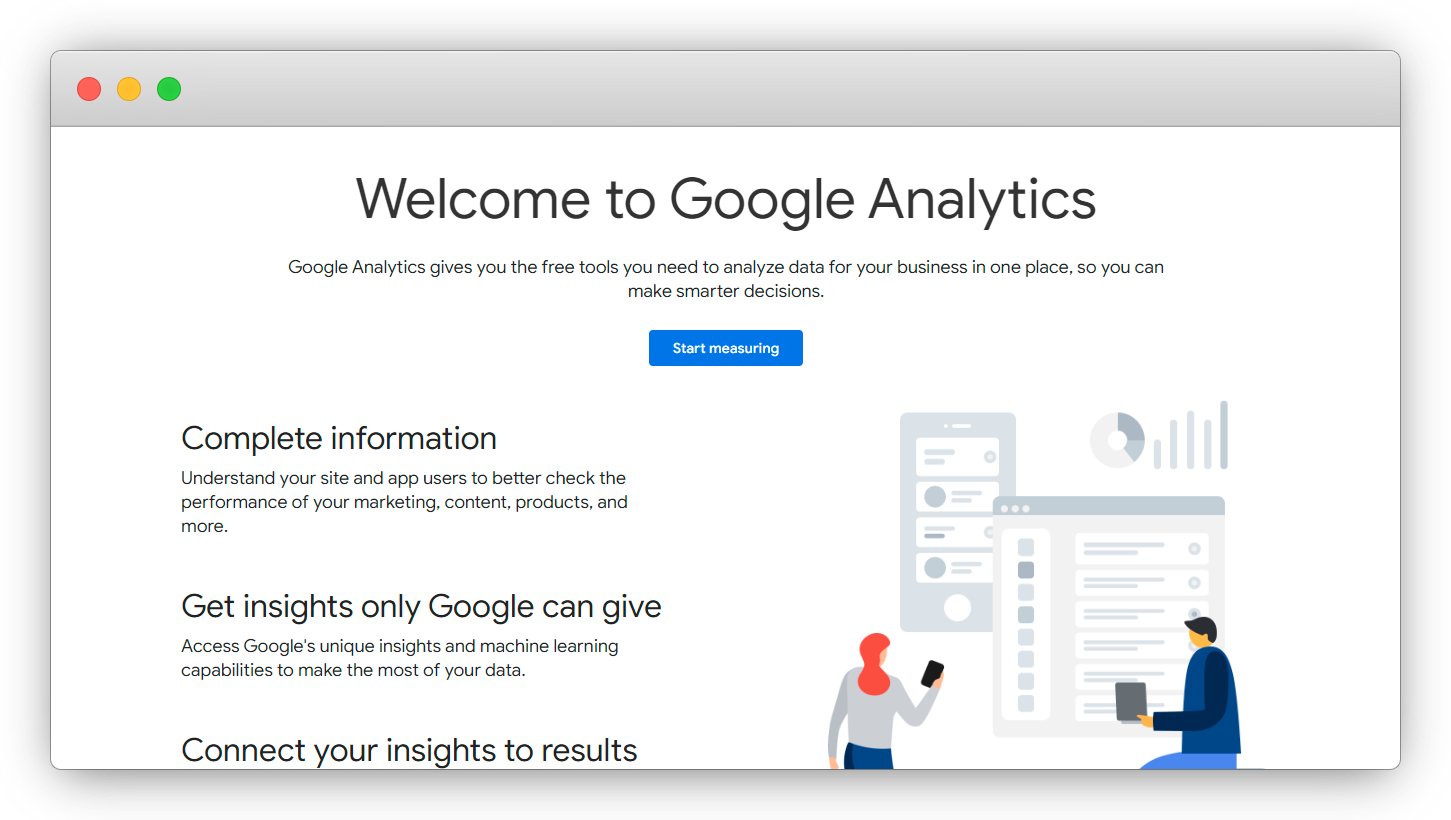 When you are dealing in SaaS products like apps, you need to validate your product hypothesis to make product changes by analyzing user behavior through data-driven reports. Google Analytics is the perfect Product Management tool for this purpose. With the Google Analytics tool, you get a report about all active users, their demographics, interests, behavior, and the overall flow of how their usage of your app. Google Analytics 4 (GA4) enables tracking of individual users across multiple devices and sessions with unique IDs (and there are more differences between Universal Analytics and GA4).
Key Features
Use Google Analytics' Audience Report to get direct, actionable insights of your users. Audience reports like Interests help you discover what products your users are more likely to be interested in and target your users accordingly
Use Flow Visualization Graphics like Behavioural Flow report to know the flow of traffic on your website and SaaS products, which helps you focus on the right channels
It allows you to do Custom Reporting to make your own reports as per your business goals
Use your insights to deliver results as Google Analytics also works with Google advertising and publisher products
Pricing
It offers two plans.
It offers a Free plan
360 plan, the cost of which starts from $12500 per month and $150.000/year
It does not offer a free trial.
10. Apptimize - a Feature flagging software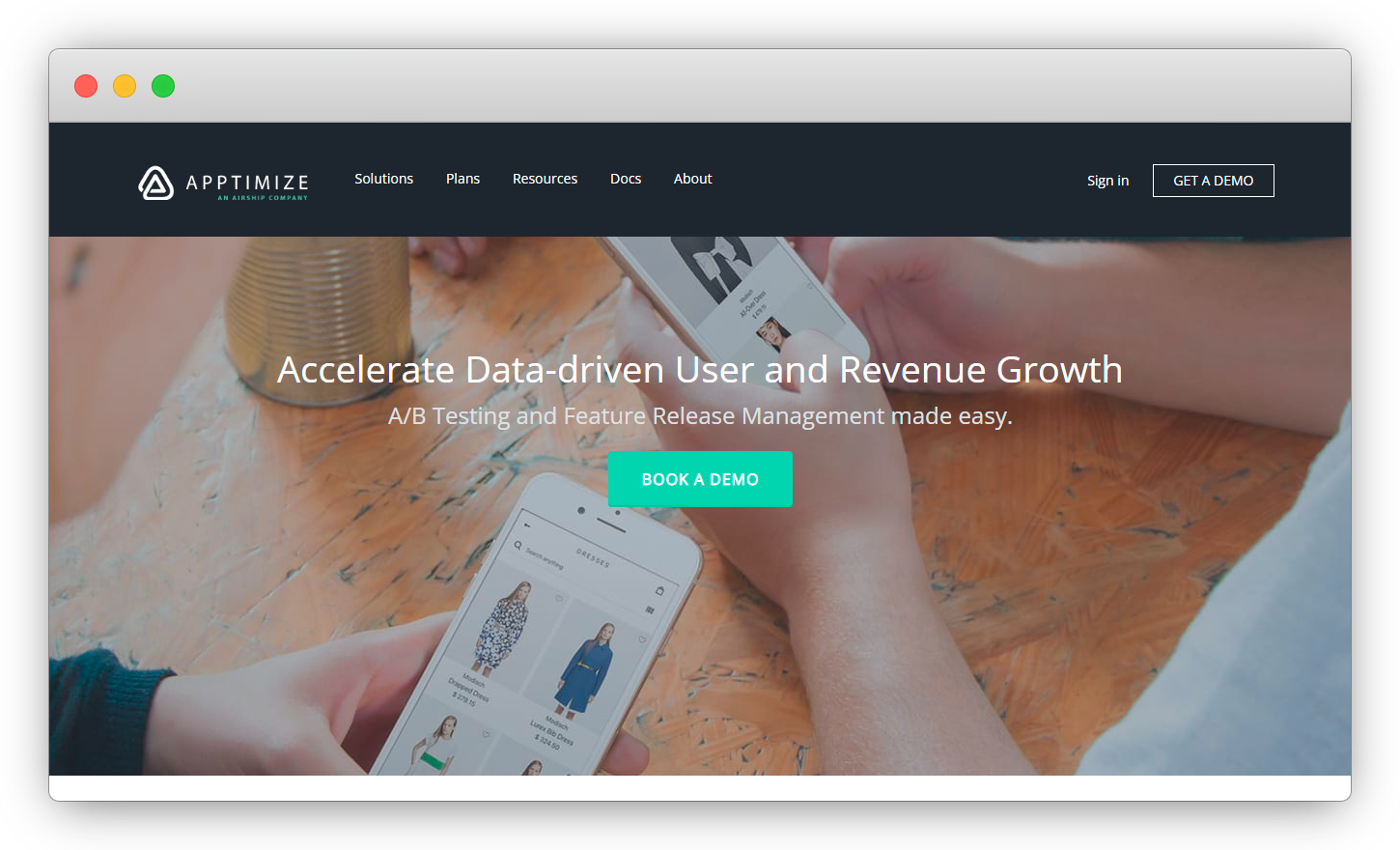 Feature Flagging is a technique through which product managers can use to turn certain functionalities on and off, without needing to deploy a new code. If you want to manage your products' functionality, a feature flagging tool like Apptimize is the best option.
The product management tool is mobile-friendly and delivers the best mobile experimentation and optimization experience
You get adequate support from the customer success teams at all digital touchpoints
You get easy-to-deploy SDKs, a centralized dashboard, and an intuitive web app
The app offers powerful integrations. It integrates with your data, analytics, and CRM automatically
With easy A/B testing and refined processes, you can track each customer's journey and the impact of any feature update through all channels
You get full control of product and feature releases to lessen the risk
You can launch new updates in your apps instantly without needing to launch a different version of your product
Its Robust WYSIWYG Visual Editor enables even non-technical users to launch experiments related to copying CTAs, images, navigation items, and more in a few minutes
Pricing
It offers three plans
Free plan with Standard Feature flags
Custom plan with Advanced Feature flags
Customer plan with Enterprise A/B experiment+Featue flags
Price is not disclosed. It also offers a free trial for 30-days of all the features.
11. Inspectlet - Session Reply and Heatmap tool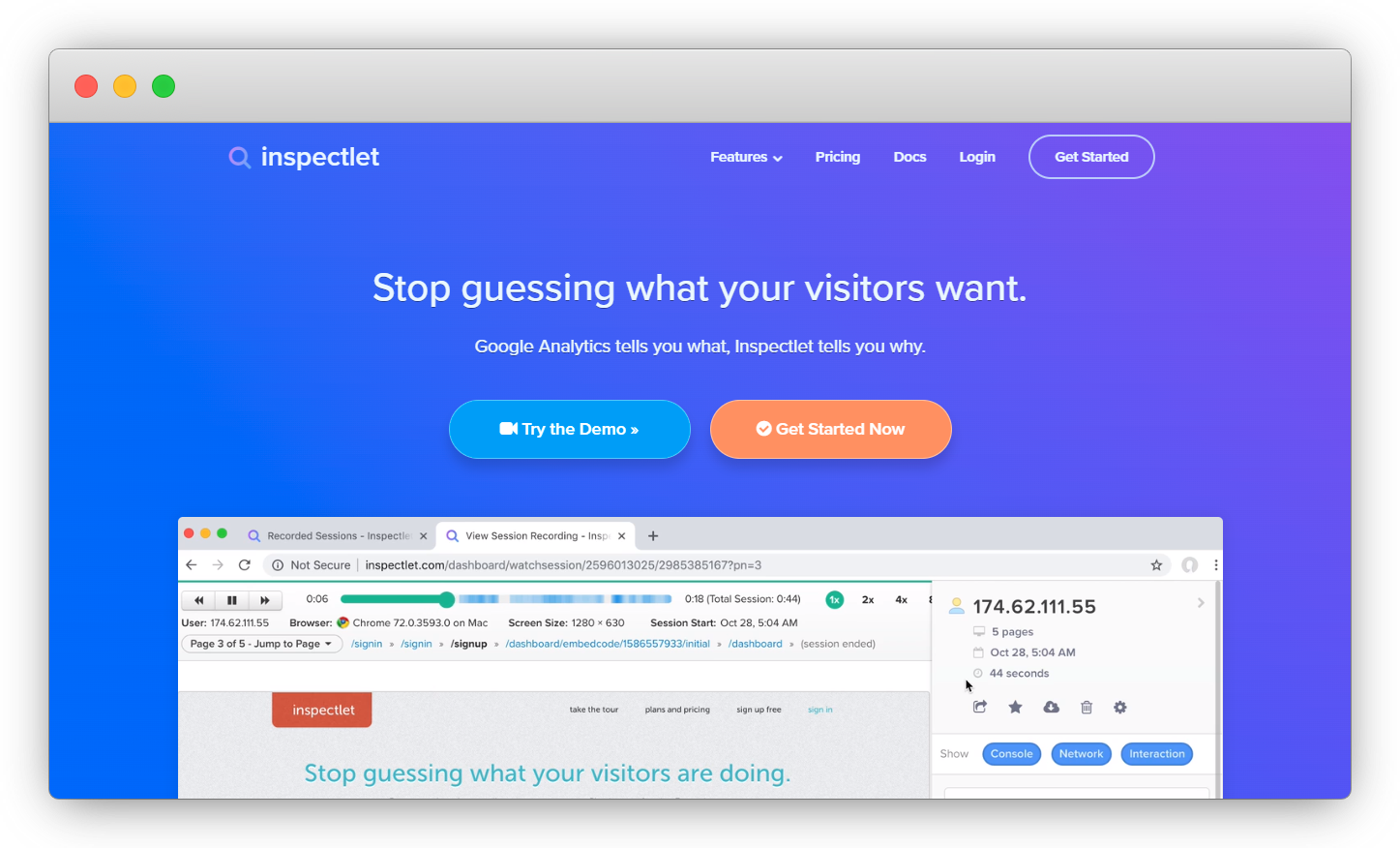 It will be useful for a product manager to know how your customers are using your product and what experience they are getting, whereas website heatmap tools are helpful to understand user behavior. Inspectlet is the right Product Management tool that can help you serve both of these purposes.
Key Features
You can record videos of the users using your product
You can clearly track every mouse movement of your users including a scroll, click, and keypress
You can also understand the user mindset by having a view of what they were looking for, where they get confused, and what makes them signup for your product
You can also get videos of new visits and track cart abandonment with this tool to know the reasons for it and work to improve your conversion
You get eye-tracking heatmaps to understand which part of your website/app grabbed more attention from the users as eye movements and mouse movements are correlated
Track which buttons are working for you and help you get more conversions, and use the data to increase sales
You get scroll heatmaps to know which part of your website or app was uninteresting for the user and which part grabbed attention
Pricing
It offers multiple plans:
Micro plan costs $39/month
Startup plan costs $79/month
Growth plan costs $149/month
Accelerate plan costs $299/month
Enterprise plan costs $499/month
12. Google Drive - Collaboration tool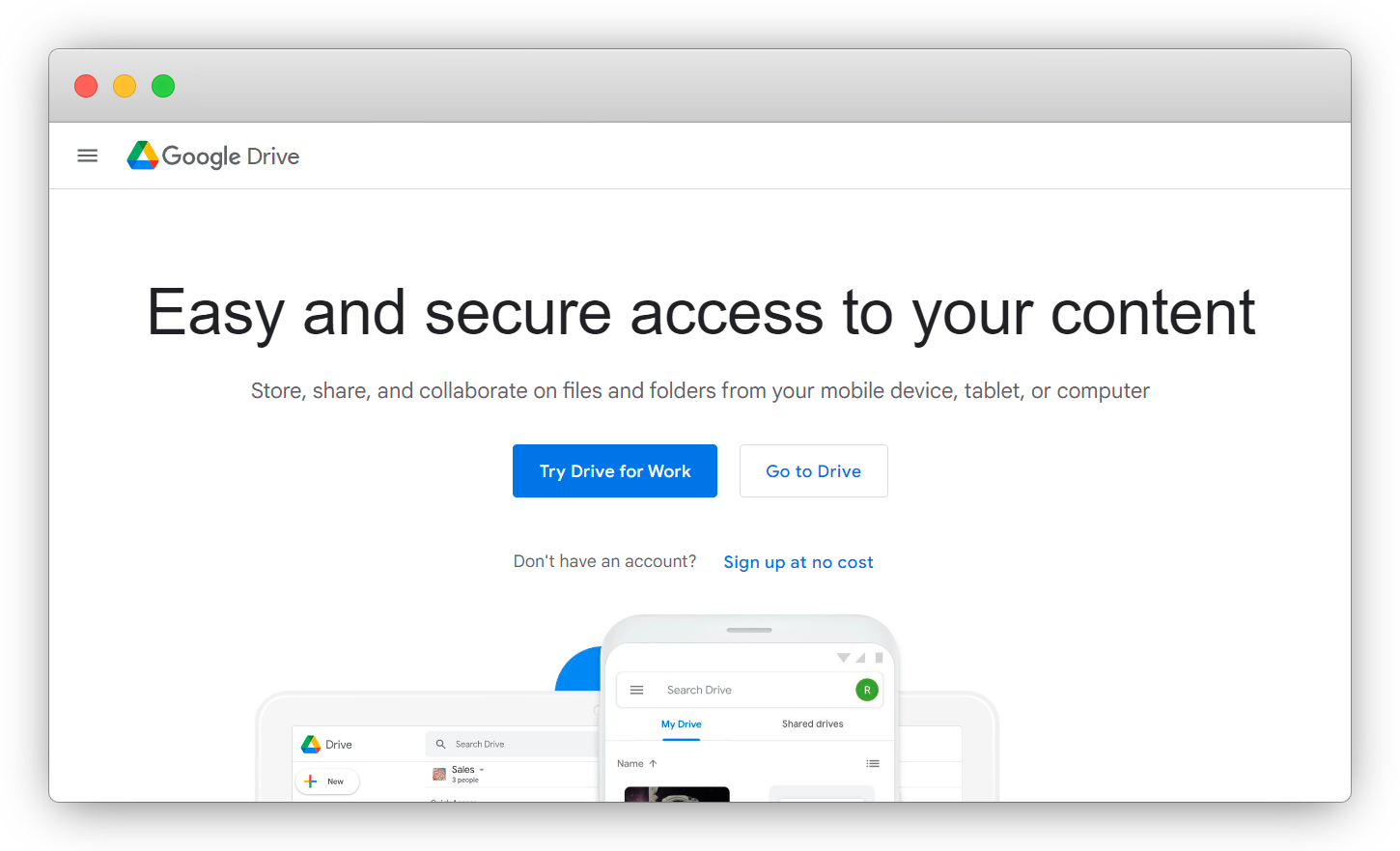 Product Management requires you to store your data with security and collaborate with your teams to edit and manage your data. Google Drive is the most popular Product Management tool for this purpose. It helps you with collaboration tools like Docs, Sheets, and Slides.
Key Features
You can upload files of different types and formats on Google Drive, and save them for future use
You can create Shared drives for your teams to share your data that is to be used by multiple persons
You can collaborate with your team members in real-time, you get the options to add comments and tag members in them
Google Drive supports 100+ file types, you can sync with files like Microsoft Office files and collaborate with your teams on those files without having to convert formats
You can access the version history of your files to avoid any version conflicts. You can clearly track when and which team member made which changes in the files
Pricing
It offers two plans:
Personal plan is free of cost and gives you 15 GB of storage per user
Business Standard plan costs $12/month per user giving you 2 TB of storage per user
13. Workast - Project Management Software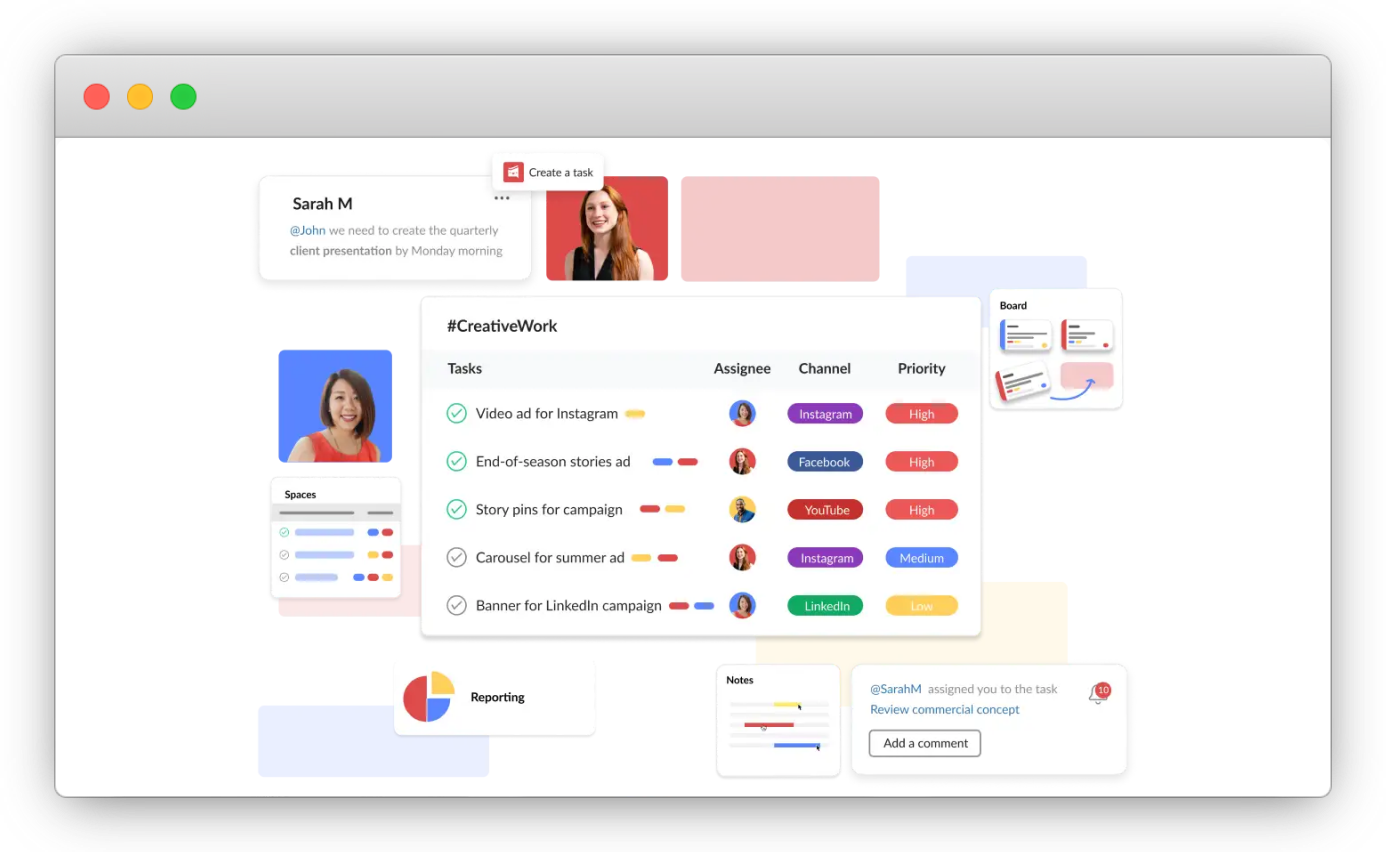 Workast is a project management app for small teams. With Workast, you can easily organize and prioritize your tasks, track project progress, and monitor to-do lists in one convenient location. One of the best things about Workast is the integration with Slack and Webex, two of the most popular communication tools teams use. Workast can help you increase productivity and stay focused on what matters most, whether in a remote team or an office.
Key Features
Plan, deploy, and complete any project or task: Spaces help you organize work to suit your specific needs. You can include templates for repetitive events, invite team members, define privacy settings, and customize them with extensions, further enhancing its functionality. Add lists, tasks, and comments to keep everyone in the loop, working towards the same goals.
Keep your ideas in one place, always at hand: Notes help you capture thoughts, reminders, and to-do lists on the go without the need for a pen and paper. Notes can include images, videos, links, and files to create a clear, easy-to-follow workflow accessible from any device.
Manage your resources in one central location: The Google Drive extension helps you to access all your files stored in Google Drive directly within Workast to add them to your tasks, subtasks, or comments. You can also upload files directly from your computer, ensuring all relevant files are stored in one place.
Collect essential data effortlessly: Forms help you create custom questionnaires to collect feedback, deploy surveys, and track incidents. The intuitive form builder allows you to customize fields, add instructions, and set validation rules and privacy settings. Once the form is ready, you can share it via a link. Team members and clients can fill out the form on any device, and their responses will be instantly organized in a centralized database.
Maximize productivity from scheduling to execution: Meetings help you collaborate seamlessly with team members. Include dates, times, locations, and email reminders to attendees. Set an agenda, take notes, and track the process in real time. Afterward, access a comprehensive outline of the key points, action items, and decisions to assign tasks directly from the meeting's summary page.
Pricing
It offers three plans:
The Essential plan is free forever for unlimited users with Slack and Webex.
The Standard plan is $39/month. It includes 8 users.
The Professional plan is $49/month. It includes 8 users.
It also offers a free trial for 14 days.
Conclusion
Product Development involves various stages, functions, and responsibilities for the product managers. When you use the right tools to carry on these tasks, much of your burden is reduced, and you get a good insight into what your customers expect from you. In this way, you can deliver the best products to your customers and achieve high success.
Streamline Customer Feedback Management with Actionable Insights
Build omnichannel experience for your customers and collect feedback throughout customer journey to improve satisfaction, loyalty, and engagement with Zonka Feedback.