Product Feedback is an essential component when you want to run a product successfully in the market. Product Feedback is the information that your product users share regarding their experience and satisfaction with your product.
Collecting Product Feedback is an essential approach that Product Managers need to follow in order to create a product that customers love. Today's Product Development moves in a swift way, and it is important that your product has the capability of retaining your customers for a long time and also attracting new customers.
Customers' preferences change and expectations increase with time. New competitor products keep entering the market with improved features and ease of use, to which users get easily attracted. And nowadays, customers are more willing to buy innovative products.
In such a scenario, it becomes crucial to collect Product Feedback from time to time and keep improving your product to satisfy users. In this article, we will explore some actionable ways to collect Product Feedback through various channels and survey types. But before that, let's explore some more reasons to collect Product Feeback to understand better why Product Feedback is a necessity for your business.
Measure Product Feedback & User Insights 💻
With Product Feedback Surveys, understand what users need and learn ways to delight your customers.
Why Collect Product Feedback?
To be able to develop a successful product, it is important to keep your product in sync with customers' needs. Customers' needs and expectations are ever-evolving and to understand them better, it is crucial to get insights into how they feel about the product and what they feel an ideal product should be. Product Feedback helps you exactly do that.
Here are some reasons to understand why collecting Product Feedback is necessary for the success of your product.
Reasons to Collect Feedback
To know the likes and dislikes of Product users
To measure customer satisfaction
To prevent customer churn
To identify issues and resolve them
To Sync Product Vision with Customers' needs
Let's learn more about these reasons:
1. To Know the Likes and Dislikes of Product Users
When you obtain feedback from customers about your product, you get to know various customer perceptions regarding it. Your customers may like some particular aspects and features of your product, and at the same time, they may hate some of the other aspects or shortcomings of the product. With Product Feedback, you get to know exactly what the majority of your customers like and you get to know what works and what doesn't.
This helps you to realize your product's strengths and weaknesses, and you can make better decisions to take action on the various aspects of your product.
2. To Measure Customer Satisfaction
Customer Satisfaction is the core of the success of your product and the overall business. Without satisfying your customers, you cannot attain your goals like more subscriptions, high revenue, and high profits. Collecting Product Feedback helps you measure and ensure customer satisfaction.
You can use various types of surveys for this purpose like metric surveys like NPS, CSAT, and CES to get a quantitative measure of customer satisfaction.
3. To Prevent Customer Churn
As Product Feedback lets you know user insights and measure customer satisfaction, you get to know about the miffed customers at the right time. When you leverage this valuable information, you take the required actions to improve your product and services and thus user experience.
When you take action on feedback at the right time, it greatly improves customer experience which can bring back the miffed customers and can even change negative feedback into positive.
4. To Identify Issues and Resolve them
Your product users may face several issues, bugs, errors, and other interruptions while using your product and all of this can ruin the entire user experience. Collecting feedback helps you identify these ongoing issues and resolve them by taking timely actions and thus making your product better for the customers.
5. To Sync Product Vision with Customers' Needs
You may have done great market research when you launched your product and made your vision accordingly. But as the market evolves, and customer needs change, your product vision may not be in line with the customers' requirements and expectations.
With regular Product Feedback, you get to know the latest mindset of the customers. What your customers need, what they desire, what they expect, and how they perceive your product to fulfill all of them - all this information can be fetched from feedback data and you can work on it to align your product vision with the users' needs and fulfill them better.
Let's explore some great ways to collect Product Feedback.
Ways to Collect Product Feedback
Product Feedback is something that you can't avoid. Whether you collect it or not, users will definitely share their feedback when they have some strong feelings about your product. They will share it in the form of requests, complaints, tickets, ratings and reviews on aggregator platforms, likes or dislikes and comments on social media, etc.
But when you collect feedback, you give them an opportunity with a proper channel to share feedback where they can vent out their feelings, both positive and negative. The best way to collect user feedback is to share product Feedback Surveys with your users and request them for feedback. Let's explore some ways through which you can share Product Feedback Surveys and provide your customers with an opportunity to share feedback.
Ways to Collect product Feedback
Collect Website Feedback
Send Email Surveys
Send SMS Surveys
Use Live Chat
Use Feedback Metrics
Collect Open-ended Feedback
Social Media Handles
Extract Feedback from customer tickets and requests
Let's learn more about how you can collect feedback through these ways.
1. Collect Website Feedback
Collect Product Feedback by sharing your feedback surveys on your website. You can share your surveys through multiple ways on your website like survey popups, and feedback buttons. A survey popup appears on your web pages triggered via visiter action like opening a webpage or scrolling it down.
A feedback button is an option to share feedback placed on your website where it is clearly visible to your visitors without taking up much space or interrupting your users.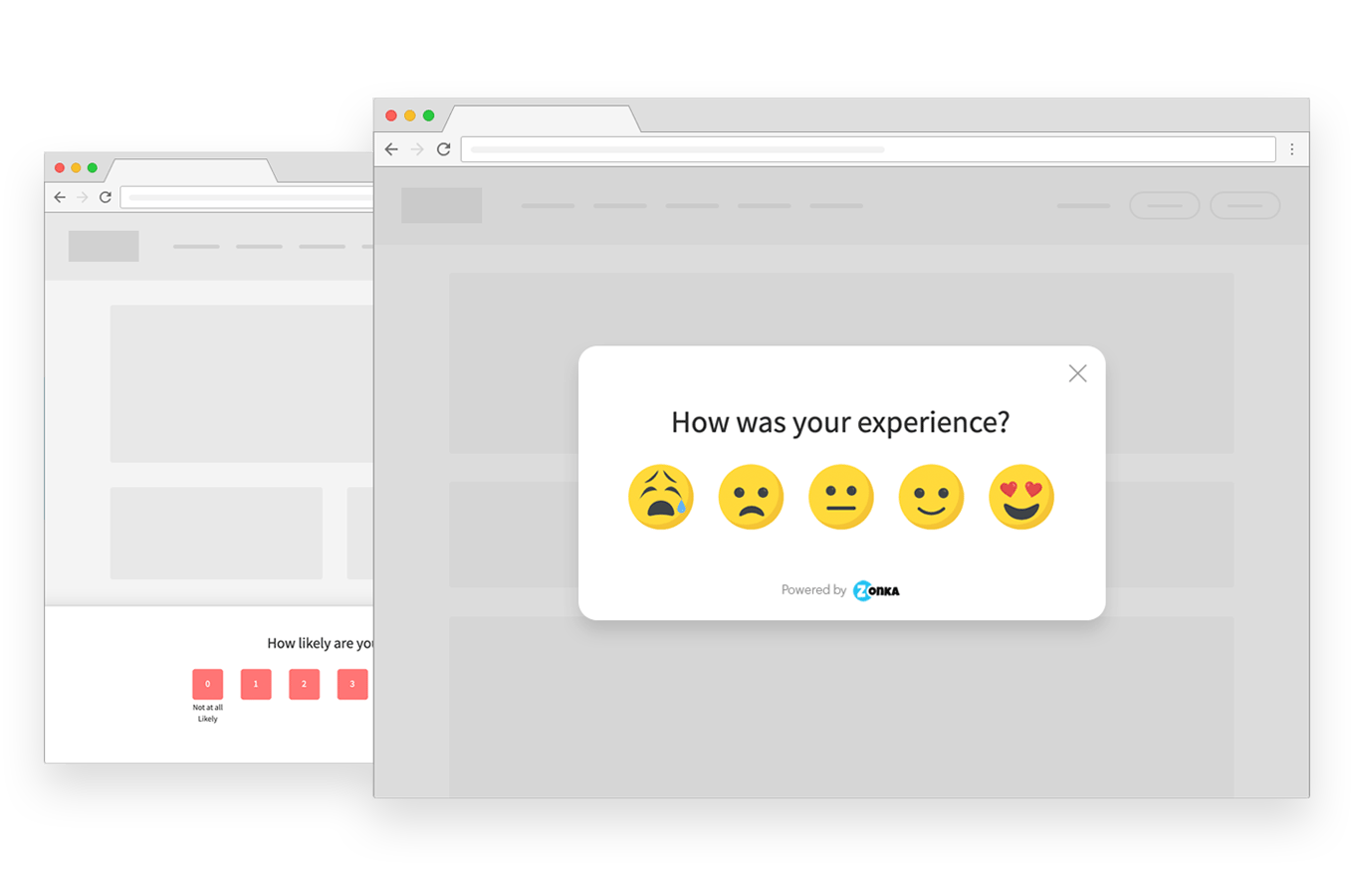 2. Send Email Surveys
Email Surveys are one of the most common ways of asking for feedback from your customers. In an email survey, you send a survey invitation asking users to share their feedback, followed by a survey link. Ensure that the survey link opens in seconds and the survey form quickly appears on the screen.
You can also choose to send Embedded Email Surveys in which the first question of the survey is embedded in the email body and is clearly visible without opening any separate survey link. When the respondents respond to the first question, it saves the responses and at the same time, the survey form opens and the next question appears on the screen.
3. Send SMS Surveys
You can also choose SMS as a medium to send surveys to your product users. In an SMS Survey, a text message is sent to the product users requesting them to take the feedback survey and share feedback, followed by a survey link. When the users click on the link, in no time it takes the users to the survey form where they can respond to all the survey questions
4. Use Live Chat
Live Chat is a great way to provide an opportunity for your product users to share their feedback. In the live chat, your customers can chat with your agents and share feedback, raise issues, make requests, and ask for answers to their queries. Additionally, utilizing live chat software enables you to streamline the communication process, allowing your agents to handle multiple chats simultaneously, and providing a more efficient means of addressing customer concerns. You can use live chat data to know exactly what your users talk about their experience with your product, and take action on it.
5. Use Feedback Metrics
Feedback Metric Surveys are an effective way to collect quantitative feedback from your product users and measure their experience. You can use popular metrics like NPS, CSAT, and CES to measure customer satisfaction, loyalty, and perceived efforts to get their job done through your product or customer service.
Net Promoter Score (NPS) Survey is used to gauge customer loyalty. It asks the likeliness of the customers to recommend your product to their friends and known ones.
Customer Satisfaction (CSAT) Survey asks the users how satisfied they are with your product and its various aspects, and thus measure customer satisfaction
Customer Effort Score (CES) asks the customers how much they agree that your product and company helped them to get their job done and issues resolved, and thus measures users' perceived efforts.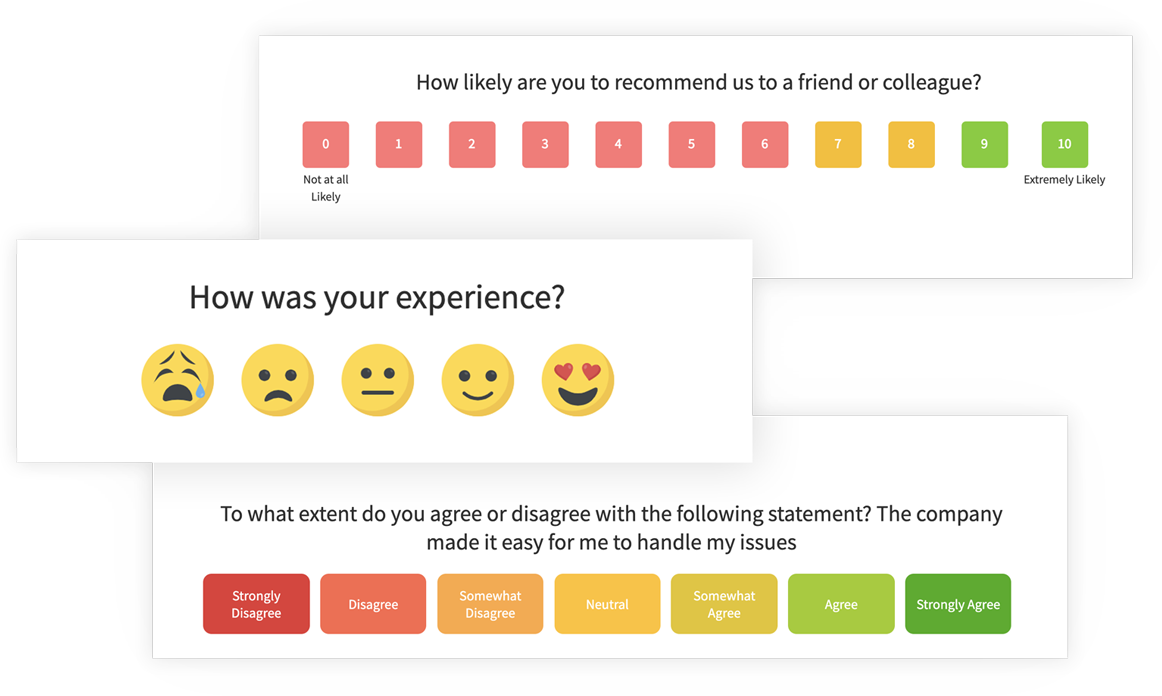 The main questions of the surveys are followed by a follow-up question asking customers why they rated the product the way they did.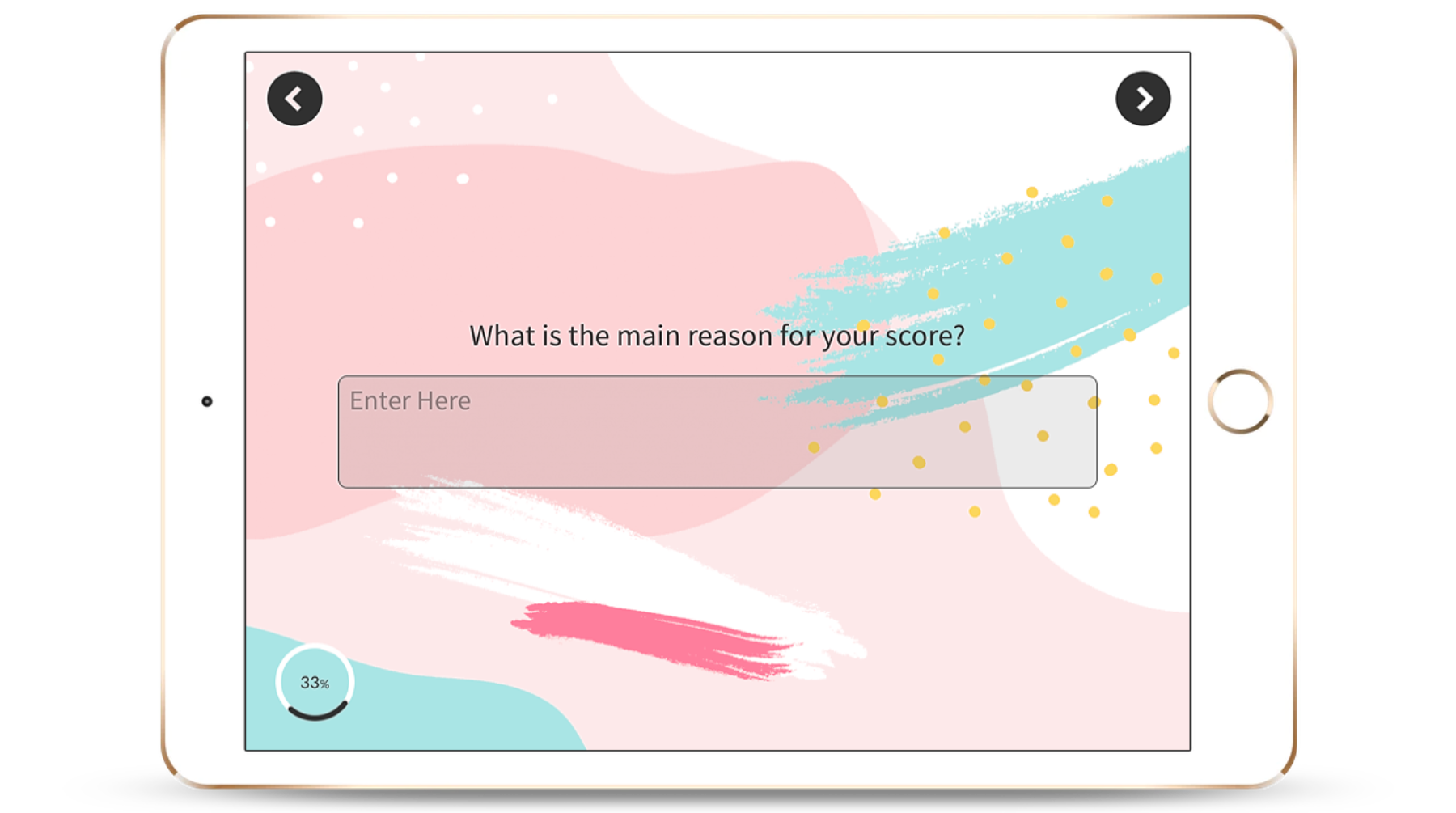 6. Collect Open-ended Feedback
It is a good way to make it simple for your product users to answer questions by selecting one of the available options. However, many customers need an open space to share exact feedback about their experience with the product. Open-ended questions provide such a medium to your product users and save your reputation from getting ruined on social media with negative reviews going viral.
Don't make the open-ended questions mandatory to take the survey, but it is useful to provide such an option to your product users so that they can share in detail their experience, expectations and product reviews.
7. Social Media Handles
Sharing accurate and a good amount of feedback requires you to follow an omnichannel approach. One of these channels is Social Media. You should be present on popular social media platforms to collect feedback from your customers. For this, you need to have your social media handle in the form of official web pages on popular social media websites. This enables you to collect feedback on your own web pages and know about it rather than your name going viral on social media with negative feedback.
If you use social media handles to collect feedback, make sure you respond to every comment and thread and make your customers feel that you care for them and that their feedback matters to you.
8. Extract Feedback from customer tickets and requests
Another way to collect product Feedback is by extracting it from your customer tickets and requests. To know user insights and requirements better, you should keep track of the tickets, queries, issues, and requests raised by them.
With these tickets, you get good information about the whole customer journey. What issues do your product users frequently face, what features they require, and what queries or complaints did they raise - your customer tickets are a good source of all this valuable information and you can leverage this information to get into user insights and your product roadmap and make important product decisions accordingly.
Conclusion
Regular Product Feedback is mandatory to keep your product in line with the customers' evolving needs and expectations. With accurate Product Feedback, you can get exact user insights and accordingly align your product vision, create a product roadmap, and make effective product decisions.
The key is to be omnipresent, i.e., to be available on all channels like email, SMS, phone service, website, live chat, request tickets, and social media so that users can share feedback in the way they are comfortable. You should use an effective Product Feedback Tool for this purpose.
Zonka Feedback is one of the best Product Feedback software that you can use to create and share surveys with your product users through multiple channels, and collect actionable feedback. It also enables you to take timely actions on the feedback and close the feedback loop to satisfy your customers and prevent churn. Try it for Free and see how it works for you.