AskNicely is popular for motivating the frontline team, helping businesses build better connections, and reaching customer experience standards.
It is a brilliant tool for data collection if you want to measure Net Promoter Score; however, AskNicely might hold you back if you are trying to collect data using other CX metrics. It's no surprise to see enterprises looking out for AskNicely alternatives that tick all the boxes and help them delight their customers across every aspect- customer satisfaction, loyalty, effort, and more.
Luckily there are several options available today for businesses looking for alternatives to AskNicely. In this blog, we have compiled a list of the top 8 AskNicely competitors that are perfect for enterprises looking to capture CX beyond NPS.
TL;DR
Many enterprises might look for alternatives to AskNicely due to its outdated interface, less advanced features, limited question options, expensive pricing plans, and more.
There are several competitors that will fit the feature and price bucket for users. Our eight AskNicely alternatives include Zonka Feedback, Medallia, Qualtrics, InMoment, Forsta, GetFeedback, Cisco Webex Experience Management, and SurveyMonkey enterprises.
Apart from that, we have also covered other platforms like Medallia alternatives, Hotjar alternatives, SurveyMonkey alternatives, Qualtrics alternatives, SurveySparrow alternatives, Typeform alternatives, GetFeedback alternatives, and Jotform alternatives.
Zonka Feedback acts as a powerful competitor that offers enterprises an all-around platform to delight their customers based on the feedback they share. You can sign up for a free 7-day trial to explore the tool or book a demo to know how it can fit your business requirements!
Measure Customer Feedback & User Insights
Try the best AskNicely alternative & competitor to understand what users need and learn ways to delight your customers.
#1. Zonka Feedback
Zonka Feedback is the perfect platform for enterprises seeking AskNicely alternatives and competitors. Its powerful online survey software and comprehensive customer engagement strategy help businesses foster growth. That's because Zonka Feedback's powerful features allow you to expand and make customized surveys and collect feedback across multiple channels if you want to.
With more than 200+ global brands and a presence in 30+ countries, the platform is one of the most trusted alternatives to AskNicely. The omnichannel feedback and online survey tool is designed to hear the Voice of Customer from wherever they are and at every touchpoint for a seamless experience.
Data security plays a pivotal role in selecting enterprise feedback management software, and Zonka Feedback's enhanced security features ensure the secure synchronization of data across large organizations and various devices within a centralized database.
Besides that, some notable growth+ features of Zonka Feedback include SSO sessions, the ability to import contacts, designate custom roles and permissions, set custom SMS gateway, custom integrations, NDA, signed agreement, and importing of historical data.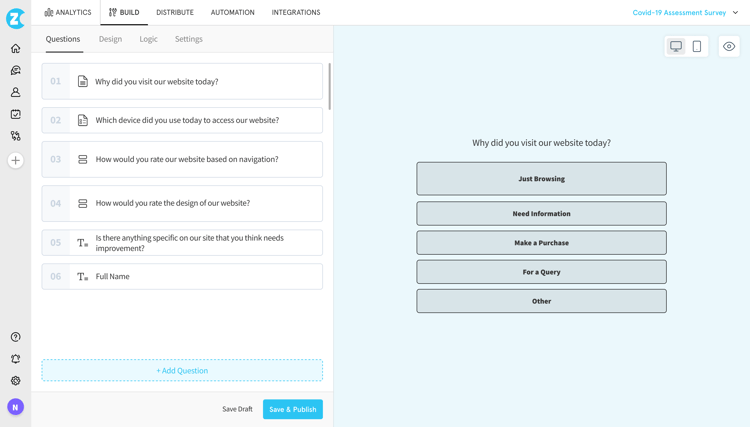 Zonka Feedback Features
Get real-time feedback alerts to quickly close the customer feedback loop
Omnichannel signal collection to get a 360-degree view of customers
Capture experience signals in real-time from direct and in-direct feedback
Setup your brand through multiple channels and customer feedback management from a single platform
Get and create custom reports in a single click
User segmentation tools to better target current and future customers
Measure through the right feedback metric- customer satisfaction, net promoter score, customer effort score
Get enhanced security features for enterprises
Integrate with popular CRMs POS, SMS Gateways, Email Gateways, and others
Get custom billing and payment options or choose your own billing cycle
Pricing:

Custom plans for enterprise users with Growth Features+. Works on all survey channels - Website Feedback, email surveys, SMS survey, In-app surveys, mobile app surveys, and Offline surveys.

You can also try Zonka Feedback for free for 7 days.
#2. GetFeedback
GetFeedback stands as an incredibly versatile and powerful feedback management and collection software, enjoying popularity among both mid-size businesses and large enterprises.
The tool plays a vital role in keeping you well-informed by using surveys and feedback forms and delivering timely insights and information derived from responses. Users can also access GetFeedback's Salesforce CX program, once they launch the software.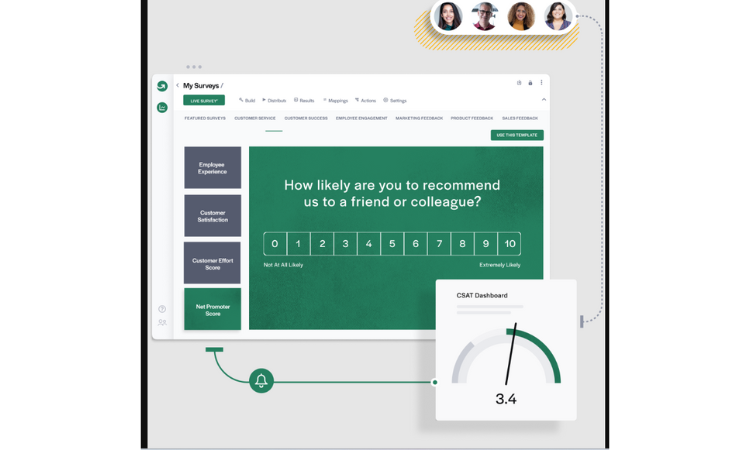 GetFeedback Features
Collect data through customer feedback management and quickly iterate digital experiences.
Get feedback anywhere on any device with a mobile-optimized feature
Close the feedback loop faster with real-time alerts
Increase adoption of products or services through the CX program
Win loyalty by actively listening to customers
Pricing: You need to connect with their sales team to compare features & plans.
GetFeedback's complicated UI, limited integration options, and steeper learning curve may force you to look for its alternatives. Check out the GetFeedback competitors that can meet your requirements.
#3. InMoment
When it comes to top AskNicely alternatives among various industries, InMoment is the best known. The platform is a leader in employee and customer experience as it helps users gain significant insights from customer and employee feedback.
Using this instant feedback and data, InMoment for large businesses to make data-driven business decisions. The tool is powered by business intelligence features to deliver a comprehensive solution for the clients of large businesses.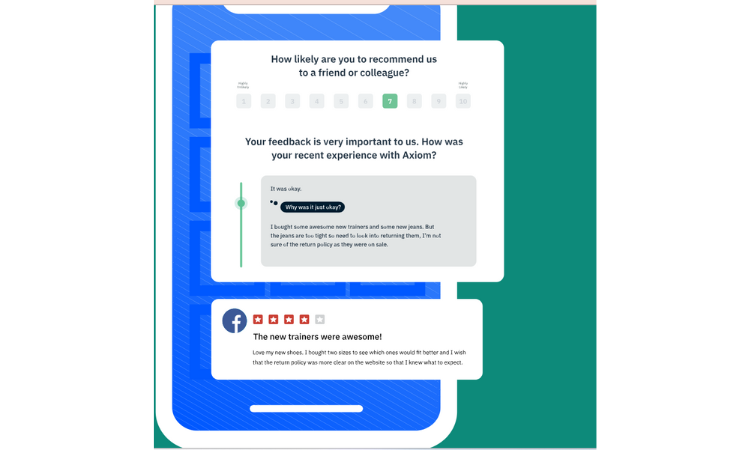 InMoment Features
Provides comprehensive analytics and prescriptive actions
Ensuring service-lapse recovery – fixing problems so they don't recur
Collects CX from every social media, video, web session, and in-store
Execute data-identified learnings, socialize feedback, track customer cases
Get future-proof customer data and high-security standards
Pricing: You need to schedule a demo to learn about their pricing plans.
#4. Forsta
As a customer and experience management tool, Forsta is one of the alternatives to AskNicely. The popular CX survey software collects data to help users create surveys that enterprises need to fully understand their customers.
As an end-to-end platform, Forsta enables users to gather data, integrate seamlessly, and act on data collected from any audience, be it from small teams to global communities.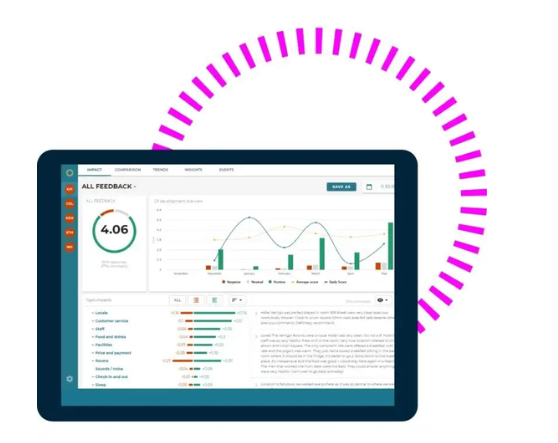 Forsta Features
Use customizable alerts and template emails to get the right insights
Track your performance by a line of business, product, region, or category.
Interactive dashboards to give you a customer's eye view of every contact
Use advanced analytics to deep dive into your enterprise data
Pricing: You can either create your account or continue as a guest to know about their plans.
#5. Cisco Webex Experience Management(formerly CloudCherry)
Cisco Webex Experience Management aims to empower every single person within the organization by providing them with accurate data-driven insights and creating engaging feedback surveys as a key driver of growth and profitability.
The platform helps its users understand Voice of Customer, create free surveys online, and capture omnichannel feedback collecting data across the customer's journey.

Cisco Webex Experience Management Features
Empower your agents with full visibility of customer journey experiences
Advanced text analytics using artificial intelligence (AI) and machine learning (ML)
Close the feedback loop with real-time alerts
Make informed decisions through data capture feedback on customer experience
Understand the full customer journey by breaking down data silos
Pricing: You need to contact the sales team for their custom price plan.
#6. SurveyMonkey Enterprise
SurveyMonkey is arguably one of the oldest online survey tools available today. The best thing about this AskNicely competitor is its AI-powered guidance, logic, and many question types.
Being one of the top contenders for AskNicely alternatives, SurveyMonkey Enterprises enables you to gather holistic feedback and even secure sensitive data as the platform offers robust data governance features.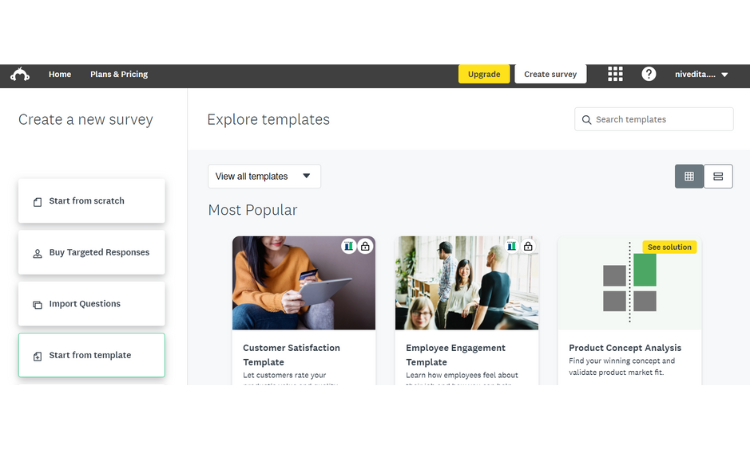 SurveyMonkey Enterprise Features
Gather multilocation feedback from the right audience at the right time
Capture useful feedback throughout the customer journey
Conduct market research to identify new areas of growth
Secure sensitive feedback data with SSO, data encryption, and more
Uncover customer insights using AI
Pricing: You can choose the plan that works for you.
SurveyMonkey falls short when it comes to question types, advanced features, and pricing plans. If you also searching for the best SurveyMonkey alternatives then check out the SurveyMonkey competitors that can meet your requirements.
#7. Medallia
Medallia is a customer experience management platform with advanced survey tools, enabling enterprises to measure customer loyalty at every touchpoint. This omnichannel market research platform uses highly engaging online surveys to capture responses combining experience data, and market research templates.
The survey tool also goes beyond feedback results and traditional responses to fully analyze surveys and understand customers.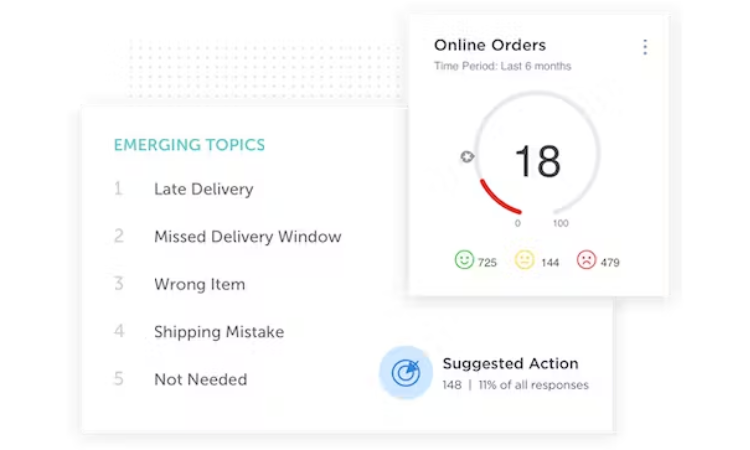 Medallia Features
Drive loyalty at every point along the customer journey
Capture the Voice of the customer and capture suggestions on the customer experience
Create a rich experience profile for every customer to gain a 360° view
Apply AI and machine learning to predict customer behavior
Pricing: You can schedule a consultation or request a demo.
Medallia can be complex in terms of its learning curve, complicated and clunky features, and high costs. You can check out the list of our top Medallia competitors that best suit your requirements.
#8. Qualtrics
Qualtrics is a leading name when it comes to AskNicely alternatives. Trusted by some of the some of the biggest brands, the platform is primarily known for customer experience management.
Qualtrics' software works with data collection, a prominent feature in promoting omnichannel communication to collect customer data effectively.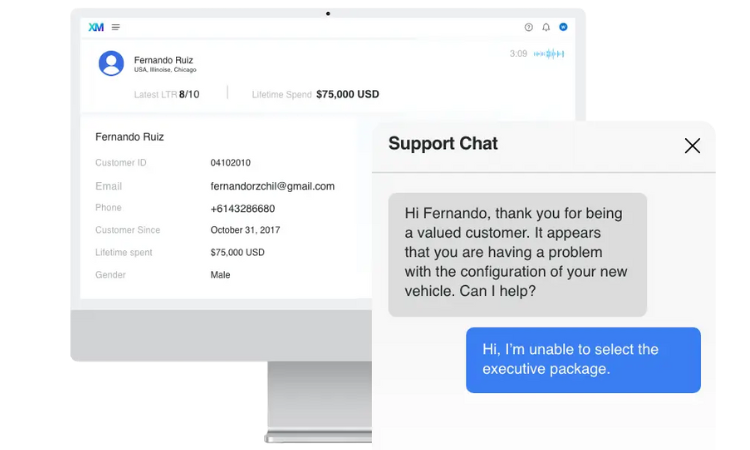 Qualtrics Features
Get quick and faster insights with enterprise survey software
Manage data collection rules with advanced governance
Get Qualtrics iQ as your automated expert to provide recommendations
Prevent unauthorized personally identifiable data
Pricing: No pricing is available publicly. You can ask for custom plans.
Qualtrics has become too complex for enterprises looking for specialized services. Check out some of the top Qualtrics competitors that you can switch to for quicker implementation.
Why Are People Switching From AskNicely?
While AskNicely has some great features such as workflow automation, a user-friendly approach, and improved customer experience, the platform still has a few drawbacks.
There are numerous factors that are driving the shift towards AskNicely competitors that offer a better fit for the business growth strategies. Here are a few limitations to look at:
You need an online survey tool that allows you to create all kinds of surveys, not just NPS surveys.

Some customers found AskNicely's interface relatively less appealing than other survey tools.

Most users find AskNicely's pricing to be too expensive.

There are no NPS or database alerts nor is it visually efficient.
Conclusion
AskNicely is a great tool for customer experience if you aim only to collect it using NPS tools. Also, it lacks some of the advanced features required for enterprises.
Since future-proof customer data, advanced security, and a 360° view of customers are needed for excellent customer experience, make sure to choose a tool that better fits your needs.
If you're still confused about which one to choose from this above list, then you can try Zonka Feedback. The platform is an excellent way to reach your audience and drive business decisions with enterprise-grade features.
So what are you waiting for?
Try Zonka Feedback for a 7-day free trial before going for a paid version.