In today's competitive business landscape, offering unmatched customer experience has become a paramount focus for companies striving to build strong customer relationships and provide customer satisfaction. No wonder over 150,000 companies are using a CRM tool like HubSpot to track and manage each interaction they have with their customers throughout the customer journey.
When it comes to assessing their experience within the journey, deploying a survey tool or customer feedback software is one of the few levers brands can pull to differentiate themselves in crowded and competitive marketplaces.
In this blog, we have covered the top survey tools for HubSpot that can help you gauge customer feedback and identify ways to delight them. We will dig deep into the list of tools that offer survey integration with HubSpot their integration with HubSpot, allowing businesses to optimize satisfaction and enhance their overall customer experience.
TL;DR
Integrating your HubSpot CRM with survey tools can help identity gaps in your customer experience throughout the customer journey and find how the customer feel at each touchpoint.
The blog lists top survey tools for HubSpot based on integration, feedback, automation, and pricing. Each tool is evaluated for measuring satisfaction, triggering workflows, and improving overall customer experience.
After careful analysis, we have come down to the list of top tools comprising Zonka Feedback, AskNicely, SurveySensum, Retently, and many more.
You can find the features that these tools offer when integrated to the HubSpot CRM and how you can integrate them with your account, their pricing, and the reviews.
Zonka Feedback is a popular survey app and tool that enables you to create and send surveys in a matter of minutes through HubSpot. You can sign up for a free 7 day trial or schedule a demo.
Measure & Improve Customer Experience In HubSpot
With Customer Experience Surveys, understand what users need and learn ways to delight your customers.
Top Survey Tools For HubSpot
As a CRM platform, HubSpot's capability extends beyond basic contact management. It encompasses functionalities such as lead generation, email marketing, sales pipeline management, customer support ticketing, and analytics. By integrating HubSpot with your survey software, you can effectively manage customer interactions, drive revenue, and deliver exceptional customer experiences throughout the entire customer lifecycle.
Let's take a look at the top survey tools for HubSpot.
#1. Zonka Feedback
Zonka Feedback's survey builder lets you segment customers, convert leads, and get your buyers to talk about you. It lets you create HubSpot surveys to measure CSAT, Net Promoter Score (NPS), and Customer Effort Scor (CES).
It enables you to predict how happy your customers are with a recent experience they had with your brand. With this survey tool, you can collect, measure, and improve your experience by taking real-time customer feedback. You can also track their satisfaction at the very moment and take immediate action simultaneously.
Although Zonka Feedback is flexible with most CRM platforms like Pipedrive, Salesforce, Zendesk, Freshdesk, and more, we are going to focus on Zonka Feedback and HubSpot integration.
The best part of Zonka Feedback and HubSpot integration is that it is available on all plans and doesn't add any extra charges apart from Zonka Feedback and HubSpot. You can also start utilizing it with a 7-day free trial before you go for the paid version. You can also use the free Customer Satisfaction Survey Template to get started with creating your CSAT Surveys on this HubSpot customer feedback software and integrate them into your HubSpot account to measure your experiences.
Integrating Zonka Feedback with HubSpot, you can measure complete customer experience and track Voice of Customer to gauge their satisfaction levels. One of the interesting features you get with HubSpot integration is that you can empower your teams with real-time data synced in HubSpot contacts, ensuring your business has access to accurate, consistent, and up-to-date information. You can also use CX automation to run workflows that let you reach out to unhappy customers and turn satisfied customers or detractors into promoters to effectively close the feedback loop.
Another interesting feature you get with Zonka Feedback and HubSpot integration is that you don't need to ask for the contact's personal details every time in the survey, as Zonka Feedback automatically links the responses to the HubSpot contact. You can capture feedback at all key touchpoints within the journey through different survey collection channels by sending email surveys, SMS surveys, website surveys, in-app surveys, and more.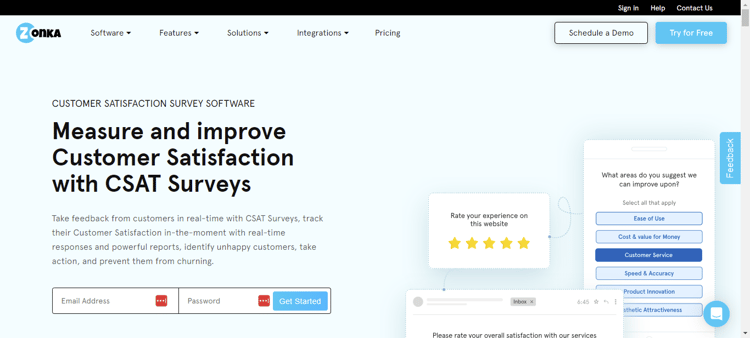 Why choose Zonka Feedback as your survey tool for HubSpot?
Zonka Feedback is one of the most popular HubSpot survey tools that provide its users with professional survey templates. Besides the CSAT tool, there are many other tools, such as Net Promoter Score (NPS), Customer Effort Score (CES), and more, you can try out for your business. With Zonka Feedback and HubSpot combined, you can seamlessly integrate HubSpot contacts, and survey respondents, send surveys based on HubSpot lists, and trigger HubSpot workflows according to responses.
Here are some features you can get with Zonka Feedback and HubSpot integrations:
Measure customer feedback across all key touchpoints in the customer lifecycle
Set triggers to send automated email or SMS surveys based on changes in your HubSpot workflow
Get real-time feedback by syncing CX metrics, comments, and feedback from Zonka Feedback surveys to HubSpot contacts instantly
Instant visibility of customer feedback alongside the corresponding HubSpot Contact
Send automated customer satisfaction surveys to customers to collect reviews and client referral
Create smart contact lists based on CX metrics score for detractors and unhappy customers.
Get notifications for any negative feedback, send automated from HubSpot for low scores, and reduce churn
Set conditions using filters to map survey fields and responses to HubSpot contact properties and sync data in real-time
Pricing:
Survey & CX platform with Front starts from $49/ month
Offline surveys platform with Front starts from $15/month
Product Feedback platform with Front starts from $39/month
You can also try the Zonka Feedback platform for free for 7 days
G2 Rating: 4.8 out of 5
#2. SurveySparrow
SurveySparrow, a known SurveyMonkey alternative, is a popular online survey software that makes it easy for businesses to start collecting feedback in a fraction of a second. The SurveySparrow and HubSpot integration lets you do all the needful contact-HubSpot mapping and syncing offered by other survey software.
You can capture new leads and map survey question responses to different HubSpot properties. You can quickly create and share a highly personal and engaging survey for your respondents in HubSpot. As a survey tool for HubSpot, you can also use SurveySparrow to trigger surveys automatically when a ticket is closed in HubSpot.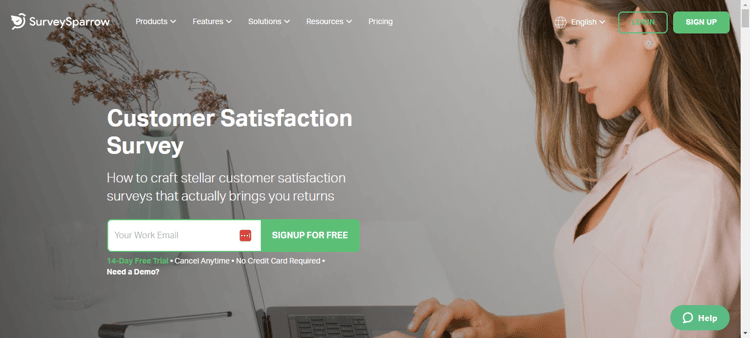 HubSpot and SurveySparrow combined bring together surveys & inbound marketing right under a single roof, opening up a plethora of possibilities. Additionally, you can also keep a constant check on customer views and requirements. The standout feature that you get from combining SurveySparrow with HubSpot is that you don't have to juggle between different software and manually entering survey responses into your database. You can view your survey responses right within the HubSpot contact database and keep a pulse on customer trends.
Why choose SurveySparrow as your survey tool for HubSpot?
SurveySparrow is a platform that empowers businesses to improve employee engagement and customer satisfaction. With 1514 customer reviews on G2, the platform offers a smooth interface but lacks customization options.
Here are some of the top features you get with SurveySparrow and HubSpot integration:
Trigger a feedback survey to your customers once a deal is lost
Identify customer pain points, reduce churn, and build strong relationships
Keep track of customer views and requirements within your HubSpot Contact details
Trigger personalized emails to your prospects from SurveySparrow
Capture new leads and get more knowledge about your contacts
Merge your marketing campaigns with feedback surveys to enhance engagement opportunities
Pricing: Starts $99/month
G2 Rating: 4.4 out of 5
#3. AskNicely
AskNicely is one of the oldest survey tools that has been helping businesses to send surveys to their customers for years. AskNicely is a strong contender in terms of its NPS software. With its focus on industries like healthcare, financial services, real estate, and property management, AskNicely offers a range of features that contribute to improving customer satisfaction.
With AskNicely integration with HubSpot, you can build an end-to-end customer experience program using the CSAT score to gauge customer happiness. This tool also lets you view your survey responses in the contact timelines as well as the Contact properties on your HubSpot list. Further, you can also exclude certain contacts in your Active Lists that you don't want to send the survey. But, at the same time, the tool also limits you to 2000 Active Lists, you need to remove lists to create more.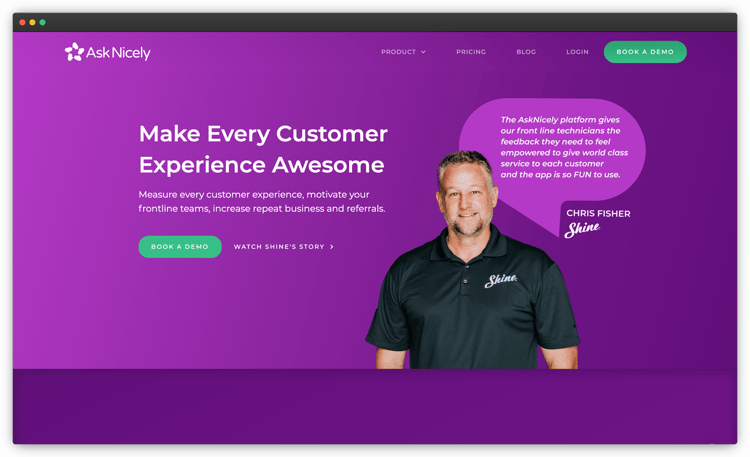 Why choose AskNicely as your Survey tool for HubSpot?
Integrating AskNicely with HubSpot, you can effectively measure and improve customer experience. The seamless HubSpot integration, comprehensive tracking, real-time feedback, automation capabilities, and robust survey reporting make AskNicely a valuable tool for optimizing customer experiences and fostering long-term customer relationships.
Here are some of the top features you can get with AskNicely and HubSpot integration:
Collect, analyze, and take action on customer feedback across different touchpoints or phases in the customer life cycle
Use smart lists to send out surveys along the customer journey

You can also view the scores and comments in HubSpot
Pricing: You need to get in touch with the sales team.
G2 Rating: 4.7 out of 5
#4. Survicate
Survicate is one of the popular customer feedback platforms that enables businesses to collect and analyze valuable insights and boost growth by improving customer experience. Known as one of the best tools for customer feedback, users can just send targeted surveys in a few clicks and have the data immediately available in the dashboard. The HubSpot integration is pretty simple and flexible with Survicate. By integrating HubSpot with Survicate, you can get detailed analytics that make it easy to dig deep into customers' minds and take more meaningful actions.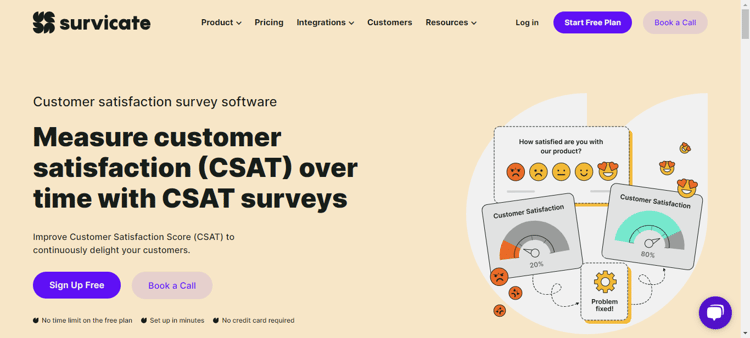 Like many other survey tools, you can also send responses to existing or new contact fields in HubSpot in real time and trigger workflows in the CRM to effectively close the feedback loop. Sending surveys from HubSpot is easy, as it lets you set different parameters to send a survey to a targeted group. You don't need to ask for contact details each time you trigger a survey. You can easily jump to respondents' HubSpot profiles from text answers.
With its workflow automation, you can collaborate and facilitate your team members to streamline feedback management. The good news is HubSpot integration with Survicate is available on all plans.
Why choose Survicate as your survey tool for HubSpot?
Although the integration is flexible, one of the fascinating features it offers is to choose from versatile survey types for personalized customer engagement. It's workflow automation and robust reporting features make the platform a top choice for many businesses.
Here are some of the features that you get with Survicate and HubSpot integration:
Trigger HubSpot workflows based on the CSAT scores
Achieve high completion rates by integrating surveys into HubSpot emails
Invite unlimited users for better collaboration on Survicate and HubSpot
Leverage HubSpot segments to target the right customers with your surveys
Utilize 15+ question types for survey campaigns
Boost customer experience metrics with customer experience surveys through automated emails or SMS
Trigger workflows in Hubspot when someone responds to your survey
Run web surveys on your website or inside your web app, and follow up on user requests from there
Pricing: Starts from $99/month
G2 Rating: 4.7 out of 5
#5. InMoment
InMoment, previously known as Wootric, is a cloud-based customer survey tool that works well with HubSpot integration. However, you might take a little more time to figure out the surveys once landed on the InMoment website. Regarding its HubSpot integration, you can easily run a voice-of-customer feedback program and close the loop with customers based on scores.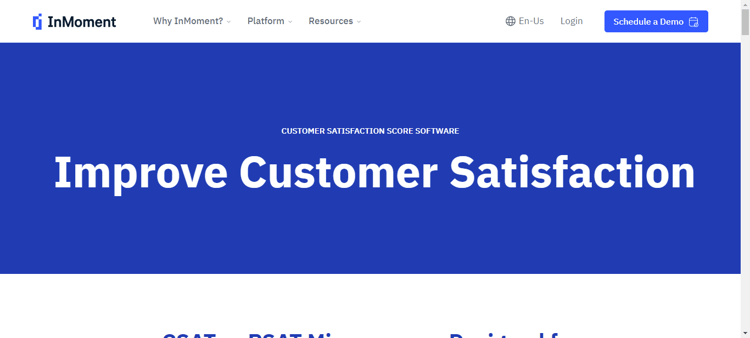 Once integrated with HubSpot, you can quickly respond to detractors or turn happy customers into brand advocates by triggering automated emails through HubSpot. Additionally, you can retain more customers with this survey tool as it provides the latest trends and customer insights. Using the tool offered by InMoment, you can monitor customer sentiment and take action to drive revenue and retention.
You can also send personalized thank you messages based on your agent's performance to close the ticket. Combining HubSpot and InMoment, you can get notified for low scores and act upon them immediately.
Why choose InMoment as your survey tool for HubSpot?
Powered by cutting-edge technology and analytics, the InMoment-HubSpot integration gives you a solution to analyze the customer's journeys, build customer relationships and grow customer loyalty, all through one easy-to-use platform.
Here are some of the features you get with InMoment and HubSpot integration:
Design micro surveys to capture quick score
Send a survey to any list, or trigger targeted journey point surveys using workflows in your HubSpot account
Use score-based smart lists and an automated workflow to notify the support team and take required actions
Create a smart list of respondents, and trigger an email to ask for reviews
Pricing: You need to contact the sales team for better pricing options.
G2 Rating: 4.7 out of 5
#6. Helpwise
With the Helpwise CSAT survey tool, the customer support team can efficiently handle customer queries across various communication and survey collection channels. The customer service platform provides additional features such as a website chat widget and a knowledge base to enhance customer experience. When it comes to integrating it with HubSpot, it requires native integration. The integration lets businesses track real-time HubSpot contacts and deal information directly from the Helpwise account. One can create new contacts or deals in the HubSpot CRM directly from the inbox.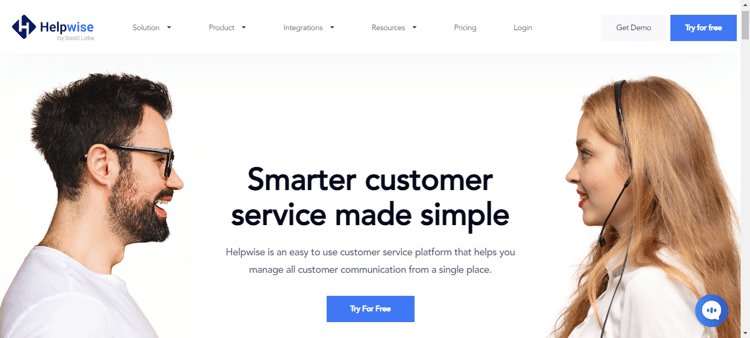 HubSpot integration with Helpwise is simple and effortless. The integration empowers teams to manage their customer support processes more seamlessly and efficiently, allowing them to focus on providing excellent customer experiences.
Gone are the days of manual workflow. HubSpot and Helpwise combined can improve workflow automation, enhance productivity, and ultimately drive growth by building stronger customer relationships.
Why choose Helpwise as your survey tool for HubSpot?
By integrating Helpwise with HubSpot, you can add valuable context to your conversations. You can access all the contact details from your inbox with a single click. The integration can also create new contacts, companies, deals, or activities and edit them in real time, right from your Helpwise account.
Here are some of the features you get with Helpwise and HubSpot integration:
You can assign complete message threads from your Helpwise response and emails to the required team members on HubSpot
Organize the responses or email threads by tagging and labeling them
Use pre-defined responses and send them quickly to respond to common queries
Access all your contact from Helpwise in your HubSpot account and also view each deal easily
Pull key customer details from HubSpot, like contact info, deals, engagements, and company information, easily
Pricing: Starts from $50/month
G2 Rating: 4.6 out of 5
#7. Simplesat
Simplesat offers yet another tool to give businesses the insight they need for real improvements. Thanks to its integration with HubSpot, the customer feedback management platform allows you to update contacts and custom objects with rating details. You can set up automatic survey distribution and follow-up emails based on predefined triggers.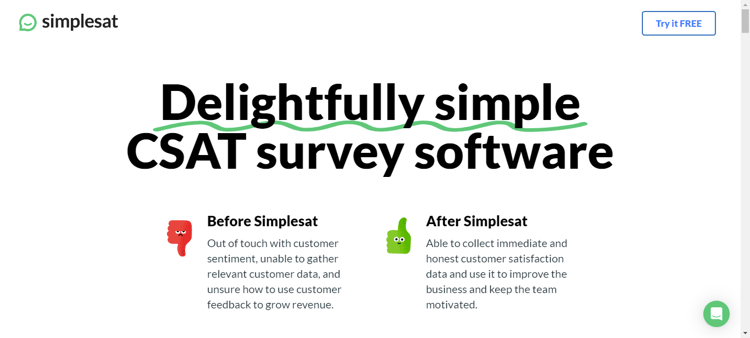 By integrating HubSpot, you can quickly collect customer feedback and give your service team full control over the customer experience and responses. You can also consolidate customer feedback and map Simplesat response details to any contact in HubSpot through native integration.
Another valuable feature is the ability to automate follow-up emails to customers, ensuring a closed feedback loop. Additionally, integrating Simplesat surveys into the HubSpot email template is a breeze, with a quick copy/paste process that takes less than 10 minutes and only needs to be done once. This integration also allows you to track unhappy customers and measure the performance of your agents. With the ability for customers to rate any ticket, your customer representatives can easily send survey emails directly from HubSpot, enhancing the overall customer experience.
Why choose Simplesat as your survey tool for HubSpot?
With features like customizable surveys, real-time analytics, and feedback tracking, SimpleSat for HubSpot enables businesses to gauge customer experience and enhance customer relationships. The integration allows you to update contacts and custom survey objects with rating details, follow-up tickets, and sync ticket details to give your team full control and transparency over the customer experience.
Here are some of the features you get with Simplesat and HubSpot integration:
Capable of updating contact attributes with rating details
Create custom objects on HubSpot from the feedback received on Simplesat
Generate follow-up tickets on HubSpot based on customer feedback
Streamline feedback management process and help businesses stay connected with their customers
Sync the most up-to-date ratings to effortlessly segment customers based on their satisfaction levels
Use rating data in custom fields to generate reports and dashboards in HubSpot
Map Simplesat response details to any contact property in HubSpot
Create a new Simplesat feedback object type to associate responses with contacts and companies.
Automate follow-up tickets to respond to customers and close the loop quickly
Effortlessly add a note to tickets as soon as a contact submits a rating
Link Simplesat response details to any specific ticket attribute within HubSpot's platform
Pricing: Starts from $99/month
G2 Rating: 4.5 out of 5
#8. SurveySensum
SurveySensum is a customer feedback platform specially designed for enterprises. As a complete customer experience platform, SurveySensum empowers brands to transform customer feedback into actionable insights through its survey platform. By integrating it with HubSpot, SurveySensum offers a range of features to meet your diverse needs.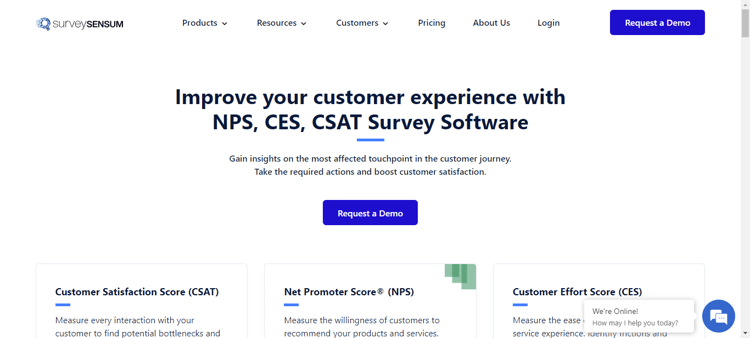 The integration lets you gain insights on the most affected touchpoint in the customer journey to boost customer satisfaction. One of the unique features that it offers is that you can measure every interaction with your customer to find potential bottlenecks and improve your customer experience. Although the integration's capabilities are limited, some additional features can be offered with the scope related to surveys for HubSpot.
Why choose SurveySensum as your survey tool for HubSpot?
SurveySensum is one the leading customer experience management platforms, mostly suitable for enterprise-level organizations. Although its integration with HubSpot is effortless, the platform should provide a clear workflow and basic features to make it more suitable for smaller businesses and startups. Nonetheless, the integration allows you to gain access to advanced survey capabilities, real-time feedback, and reporting features.
Here are some of the features you get with SurveySensum and HubSpot integration:
Track all your responses directly within HubSpot
Create new leads in the HubSpot CRM based on responses received in SurveySensum
Set up questions and contact property mapping in HubSpot integration
Pricing: Starts from $61/month
G2 Ratings: 4.7 out of 5
#9. Delighted
Delighted is one such customer feedback platform that helps businesses to collect customer feedback in diverse formats. The platform provides an extensive range of survey types, including Net Promoter Score (NPS), customer satisfaction (CSAT), Customer Effort Score (CES), star-rating, product-market fit surveys, and more. Although it provides flexible integration with most CRMs like Salesforce, Zendesk, and Freshdesk, today we will talk about its integration with HubSpot.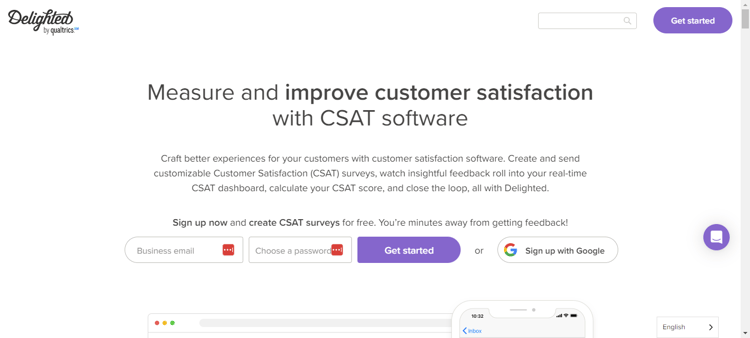 When integrated with HubSpot, you can sync Delighted survey response directly to HubSpot contacts. You can hook up with Delighted and HubSpot to get real-time survey responses. It is easy to get a deeper understanding of overall customer satisfaction while enabling users to improve their customer experiences. Delighted and HubSpot combining can enable you to set up marketing campaigns effortlessly for your vocal and satisfied customers.
Why choose Delighted as your survey tool for HubSpot?
Integrating Delighted surveys with HubSpot offers many benefits of seamless integration, easy survey setup, real-time feedback and reporting, workflow automation, measurement and benchmarking, and customer-centric insights. By leveraging these features, you can effectively measure and improve customer satisfaction, build stronger customer relationships, and drive business growth.
Here are the top things you can do with Delight and HubSpot integration:
Send surveys and seamlessly synchronize responses within HubSpot
Filter survey response and enrich HubSpot contact information with its pre-build dashboard
Automate workflows to act on feedback and improve customer experiences
Easily set up marketing campaigns for your most vocal, satisfied customers based on the CSAT scores
The Delighted and HubSpot integration utilizes an email address-based look-up system to seamlessly sync core response details
Reduce customer churn by leveraging automation in HubSpot to address and resolve issues raised by dissatisfied customers
Limitations
Delighted is a popular platform but it offers limited features when integrated with HubSpot. Also, the tool doesn't allow sending surveys directly from the platform.
Pricing: Starts from $224/month
G2 Rating: 4.7 out of 5
#10. Retently
Retently is a popular survey platform that has been helping businesses since 2016. Initially focused only on NPS, the platform soon started offering CSAT and Customer Effort Score (CES) tools. It provides an effortless integration with most other CRMs, integrating it with HubSpot makes it easier for users to sync their contacts from HubSpot.
You can even send customer surveys triggered by HubSpot workflows, collect and analyze customer feedback, and add it to HubSpot as contact properties. Another interesting fact it offers is that you can send surveys using the custom-based options on HubSpot. It can help you avoid over-surveying potential customers. The integration also allows you to follow up with unsatisfied customers and act on the challenges they're facing.
Why choose Retently as your survey tool for HubSpot?
Choosing Retently as your survey tool for HubSpot offers seamless integration, customizable surveys, automated campaigns, real-time feedback and reporting, user segmentation, and integration with HubSpot workflows.
Here are some of the features you get with Retently and HubSpot integration:
Sync your customers and their properties from HubSpot
Send surveys triggered by changes in the HubSpot workflows
Automatically export survey feedback and score to HubSpot
Sync contacts and lists from HubSpot to Retently easily
Reach HubSpot contacts via automated and highly personalized survey campaigns.
Automatically follow up or send reminder surveys to the ones who did not provide feedback
Pricing: Starts from $299/month
G2 Rating: 4.8 out of 5
Conclusion
The question now arises, which survey integration plan should you opt for with HubSpot? Although there is a slight difference in the use case of each tool, choosing the right tool will depend on your specific needs as a subscriber.
However, our number one recommendation is Zonka Feedback if you're looking for affordable pricing, guaranteed quality, and rich features.
Why? It's because Zonka Feedback has everything that survey users are looking for:
Distribute your surveys and get customer feedback in real-time
Build and customize your surveys in minutes
Choose from different styles of your survey questions
Add logic-based follow-up questions to identify key drivers for the customer experience score
Set up and automate survey-based workflows and actions
Gain amazing insights with Zonka Feedback's real-time feedback reports
Integrate with your existing tools for seamless feedback management.
So get a taste of how powerful HubSpot and Zonka Feedback are together, and sign up to get the best features for your survey tool for HubSpot CRM. You can also sign up for a 7-day free trial to explore the survey software and its various features or sign up for a 7-day free trial.