Combine Net Promoter Score (NPS) with the powerful CRM capabilities of Pipedrive to nurture stronger customer relationships, make data-driven decisions, and boost customer loyalty.
Customer Satisfaction is the cornerstone of any successful business, and understanding your customer's needs and preferences is key to driving growth. In today's competitive landscape, having the right tools to measure and improve customer loyalty is essential. That's where Net Promoter Score (NPS) comes in, and when combined with the powerful CRM capabilities of Pipedrive, it becomes a game-changer for businesses of all sizes.
Try NPS Integration for Pipedrive🔥
Create amazing NPS surveys to create new leads, measure lead quality, and get a 360° view of your customers with Pipedrive and Zonka Feedback Integration.
Using the best NPS tools for Pipedrive, businesses can unlock a process that helps them not just sell but also ensure customer satisfaction to boost customer loyalty and retention. Integrating Pipedrive with Zonka Feedback or other NPS tools lets you put your customer at the center of your business strategy, drive sales, foster customer loyalty, and ultimately, grow your revenue.
Let's find out more about Pipedrive CRM, the need to integrate Pipedrive with the best NPS tools, and what those tools are by delving deep into this blog.
Table of Content
What is Pipedrive CRM?
Pipedrive is one of the widely used pipeline CRM or Customer Relationship Management tools that align sales processes with customer relationship building. With the help of Pipedrive, businesses can import their leads, assign them to the designated salesperson, and ensure that they move strategically across different stages in the sales cycle.
Managing customer interactions can be a hassle. With a platform like Pipedrive, businesses can manage their sales pipeline, prioritize leads, schedule follow-ups, and collaborate effectively throughout the sales process. The main reason behind using a CRM tool like Pipedrive is to facilitate sales teams with a simplified process and valuable insights to drive sales performance.
Why Integrate Pipedrive with NPS Tools?
Businesses using Pipedrive for CRM can integrate with the best NPS tools to effortlessly incorporate customer feedback into their sales processes. It can provide a holistic view of the customer journey and help you analyze their feedback and insights to improve the process. Here are some of the reasons for integrating NPS tools with Pipedrive:
Gain a holistic view by measuring customer satisfaction and loyalty

Tailor the approach to customer interaction based on segmentation for the NPS survey score

Improve the conversations with prospects to address their concerns and dissatisfaction

Generate insightful survey reports by combining NPS data with CRM data

Automate actions based on NPS Scores and set up workflows to trigger specific follow-up activities
Top NPS Tools For Pipedrive
By leveraging NPS integration with Pipedrive, businesses can seamlessly gather valuable feedback from customers and measure their loyalty and satisfaction levels. Pipedrive's robust CRM capabilities enable the efficient tracking and management of customer interactions, while NPS provides a standardized metric to gauge customer sentiment. This integration allows for automated NPS surveys to be sent to customers directly from Pipedrive, capturing their feedback in real time.
Sounds interesting for your business?
Let's have a look at the list of top NPS tools for Pipedrive.
1. Zonka Feedback
NPS is one among the several CX metrics you can easily evaluate in Zonka Feedback. And with its Pipedrive integration, it has become even quicker and easier to gauge your lead's likelihood to recommend your brand at every touchpoint of the sales cycle.
One key feature that sets Zonka Feedback apart from other NPS survey tools for Pipedrive is its seamless integration with CRM and workflow automation. The integration allows businesses to implement CX automation to distribute NPS surveys to customers directly from Pipedrive and capture their responses. But that's not all - Zonka Feedback NPS surveys aren't limited to just a simple NPS rating and follow-up question. Instead, you can extend your surveys and measure other CX metrics through CSAT surveys, CES surveys, and other rating or 1-10 opinion scale surveys, providing a more comprehensive understanding of your customers' experiences.
Notably, the Zonka Feedback NPS tool allows you to customize your surveys with your own branding while still utilizing the visually appealing gradient color palette of NPS surveys. This is a feature that is not commonly offered by other NPS tools. Through its integration with Pipedrive, Zonka Feedback also offers personalized emails, automated follow-ups, lead and deal updates, lead quality measurement, and a comprehensive 360° view of your customer base. The Pipedrive integration with Zonka Feedback additionally empowers you to capitalize on CX automation, enabling you to streamline your workflows and improve your customer satisfaction metrics.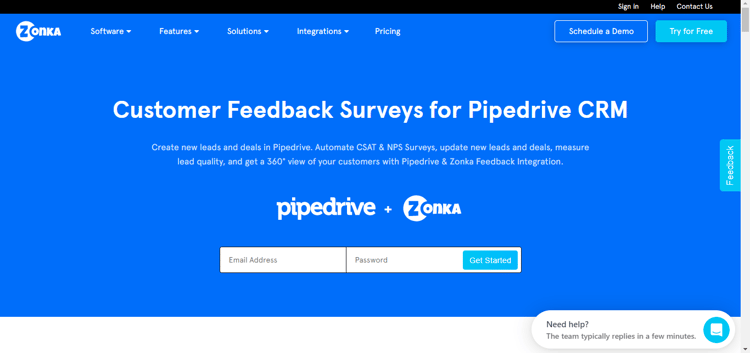 The data is directly accessible within Pipedrive, empowering your sales and customer support teams to have a comprehensive view of customer sentiment alongside their sales data. The NPS data can then be analyzed within Pipedrive, enabling businesses to track loyalty trends and prioritize follow-ups for promoters and detractors while closing the feedback loop. By centralizing customer data and feedback in one place, this NPS integration with Pipedrive can help improve sales conversations and customer service interactions.
What can you do with Zonka Feedback NPS + Pipedrive Integration?
Tigger surveys after the deal are won or lost
Create any deal or fewer stages in Pipedrive and set up the change of stage as a trigger
Send email or sms surveys
Create new deals and leads for new responses
Sync scores and feedback to Pipedrive deals and leads
Sync Pipedrive agents to Zonka Feedback and view their Analytics
Insert signature survey in Pipedrive conversations - so take feedback in every email
Why choose Zonka Feedback as your NPS Tool for Pipedrive?
Gathering leads, creating deals, and collecting feedback for interactions with leads and contacts, the Pipedrive-Zonka Feedback integration does all this and more! Further, it allows data syncing in both ways. While most platforms offer triggering surveys only for deals lost or won, with Zonka Feedback, you can set up any triggers. Syncing back the data to Pipedrive gives visibility to the sales team about customers' feedback and pivots in directions to win customers, close deals, and prevent churn. Here is what you can do more with Zonka Feedback and Pipedrive integration.

Create NPS Surveys with follow-up questions, key drivers, and logic based.
Dig deep into why your detractors are unhappy, how passives can be won over, and get your promoters to promote you.
Distribute surveys via emails and SMS through Pipedrive integration.
Also, trigger surveys and measure feedback offline, on the website, in-app, and in the product.
View NPS Analytics and insights
Run CX automation - automatically send messages to customers, tag responses, and more
Pricing: The minimum price starts from $49/month if billed annually. However, you can also ask for more details about the Enterprise plan from the Zonka Feedback sales team.
G2 Ratings: 4.7 out of 5
2. Jotform
Jotform is an online form builder that allows you to create customized NPS surveys to capture data. While Jotform is pretty flexible, its forte is not feedback. In fact, the NPS question that Jotform offers is a 1-10 scale which isn't the ideal NPS survey scale (which actually ranges from 0-10).
However, with Jotform's Pipedrive integration, your custom lead-gen form will instantly sync with new contacts and deals straight into your sales pipeline. Also, users can send information from Jotform to the Pipedrive workspace as soon as someone fills out and submits a form. Additionally, preselected data is exported to fill in key details to eliminate the need for manual data entry or a third-party software tool. Integration Jotform NPS with Pipedrive you can also:
Create a deal
Create a person
Create an activity
Add a note to deal, person, or activity
Upload files to your workspace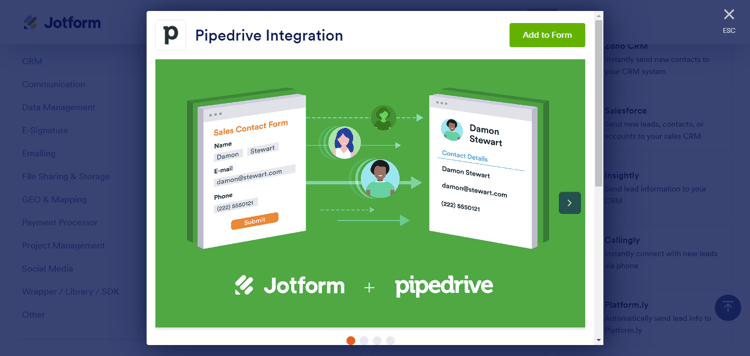 Why Choose Jotform as your NPS Tool for Pipedrive?
Better leads mean better business, and by integrating Jotform with pipedrive, users can quickly collect contact details and business info online. To get started, one can easily customize a free form template, embed it on the website and watch as submissions automatically generate new contacts or deals in the Pipedrive account. No matter your product, you'll also be able to convert leads into closed deals even faster than usual! Here is what you get when you choose this integration:
Add new contacts and update existing ones
Add new deals automatically on your website without the need for any configuration.
Track sign-ups and know how customers are engaging with your website.
Create a contact on Pipedrive CRM in real time.
Pricing: Although it offers free services after you log in, the best would be connecting with its sales team for enterprise pricing.
G2 Ratings: 4.7 out of 5
3. Nicereply
Nicereply is another NPS survey tool that you can use to gain more information about your passives, promoters, and detractors. s a platform, Nicereply enables businesses to be honest and forthcoming about what customers liked and didn't like about their products/ services. This tool can seamlessly integrate with Pipedrive to help you immediately check customers' feedback within the CRM. While the platform doesn't have much out of the box when it comes to distributing NPS surveys, it does work really well when integrated with Pipedrive.
For example, you cannot send NPS email surveys directly from Nicereply. However, by integrating with Pipedrive, you can easily send out emails through the CRM with your NPS surveys efficiently.
Also, by integrating Nicereply with Pipedrive, you can:
See all the ratings in the relevant deal and set automation based on it
View your rating feed, where all feedback is linked to the rated deal
Customize the look and content of your surveys
Get a quick overview of your team's performance through an all-in-one dashboard featuring CSAT, CES, and NPS ratings, trends, and charts.
Measure (CSAT), (NPS) and (CES) per agent, team or company-wide
Distribute surveys for deals from specific Pipelines or with specific labels
Set goals, track KPIs, generate reports and more.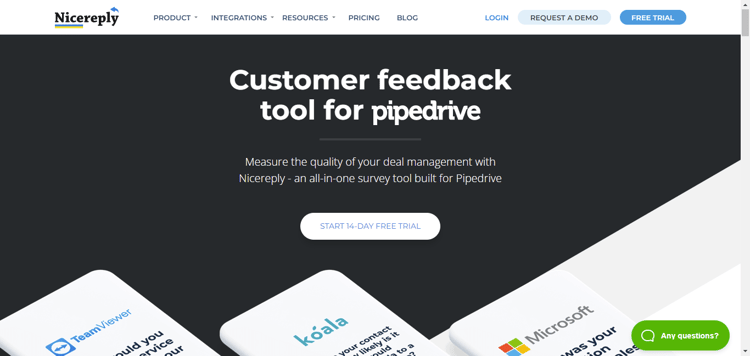 Why Choose Nicereply as your NPS Tool for Pipedrive?
Nicereply allows users to evaluate customers' experience as a whole, identify promoters with Net Promoter Score, and send surveys as per the defined time. However, when integrated with Pipedrive, Nicereply users can gather feedback while the customers still remember the interaction with its sales team. It takes a few seconds to add NPS surveys within Pipedrive emails and signatures and sync all data back to Pipedrive. You also get some of the other features as:
See contact ratings and feedback as a note on the related deal.
You can also sync the rating as a custom field in the rated deal for easy sorting and automation.
Identify feedback in context with a direct link to the related deal.
Sync all your Pipedrive users to Nicereply in one click
Add customer names automatically based on the deal ID, so you don't need to ask for a name on your surveys.
Set automation workflows based on the rating values.
Pricing: Pricing for NPS tools for pipedrive starts from $59 when billed annually.
G2 Rating: 4.5 out of 5
4. Typeform
Typeform allows its users to stand out from the crowd and connect with the customers. Its easy, stylish, and conversation-like forms make data collection seamless for businesses. With its user-friendly interface, users can check the most relevant questions to gather better data. One can sync this gathered data with the CRM or workflow.
With its simple and easy integration with Pipedrive, users can attract new contact with ease using its beautiful forms, and then follow-ups become quick and effective. Pipedrive integration with Typeform also allows users to trigger NPS surveys at different stages of the customer journey based on their activity. It can include instances such as:
You can send leads instantly from Typeform to Pipedrive.
You can easily start a conversation with potential customers via an engaging lead form.
You can customize the fields in the Deal that you send the Typeform data.
Customize your Typeform to send new responses straight to any lead stage in Pipedrive.
Get more leads, get better leads, and close deals faster with Pipedrive integration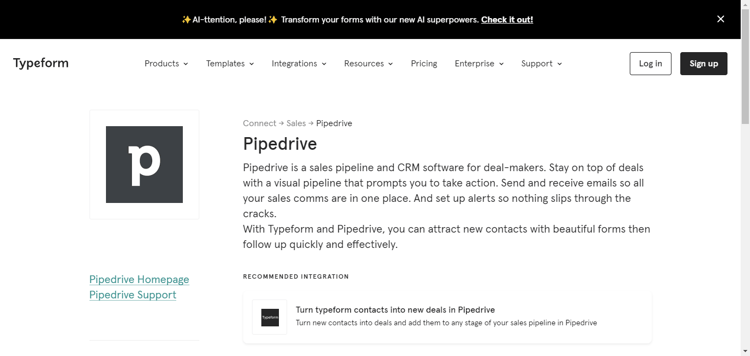 Why Choose Typeform as your NPS Tool For Pipedrive?
Pipedrive and Typeform integration enables users to stay on top of the deals, identify trends, spot areas for improvement, and take data-driven actions to enhance customer satisfaction. The integration also allows you to:
Automatically send people to the next stage with custom Thank You screens and redirects.
Choose from hundreds of survey templates with zero coding or onboarding needed.
Get personalized data for a better experience.
With its drag-and-drop interface, it is easy to use without coding knowledge.
Design your template theme with a pre-built theme builder.
Pricing: The basic price starts from 25 USD/ month when billed annually; you can also choose their business plan according to your needs.
G2 Rating: 4.5 out of 5
5. Simplesat
Simplesat isn't a survey tool, but it's a customer feedback management platform specially built to give businesses the insight they need to make real improvements. Thanks to its integration with Pipedrive, users can be creative, intuitive, and unique with their surveys that will resonate with the brand and vision. Although the process for integration is simple and flexible, it allows users to embed directly in the existing email templates and workflows. Users can either opt for a one-time option or select the autopilot mode by emailing customers directly from Simplesat.
You also get personalized email options to stand out from the crowd. While users can go through the page about its integration with Pipedrive for a better understanding. Here is what you get more when integrating Simplesat with Pipedrive.
Just need to click on the authentication button to start.
Easy to add or update customers in Simplesat every time you add or update a person in Pipedrive.
Map Simplesat response details to any contact field in Pipedrive.
Automatically update contacts with a note after your customer provides a rating.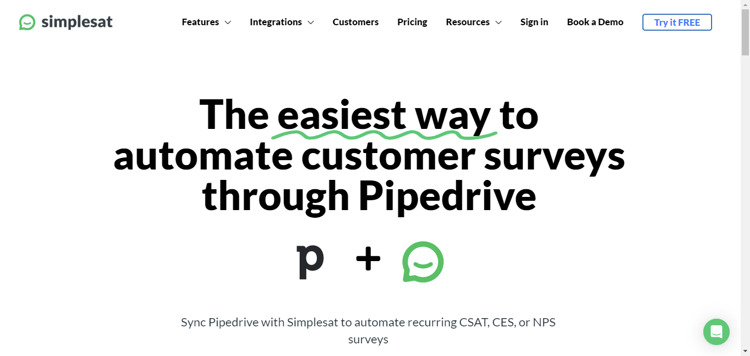 Why Choose Simplesat as your NPS Tool for Pipedrive?
With features like customizable surveys, real-time analytics, and feedback tracking, SimpleSat NPS tools for pipedrive enable businesses to effectively gauge customer sentiment and make data-driven decisions. Integrating Simplesat with Pipedrive, you can also:
Have a customization logo, background color, and rating icons.
Get support from multiple brands in a single account.
Survey customers in any language.
Direct integration with Pipedrive.
CSAT and NPS metrics both are available to embed.
Send from your own email domain
Choose the time of day, day of the week, and sending frequency
Pricing: You can take a 14-day free trial first and then choose the plan according to your needs.
G2 Rating: 4.8 out of 5
6. Retently
The customer satisfaction survey platform has been helping businesses collect and analyze feedback since 2016. Initially focused only on NPS, the platform soon started offering CSAT, and CES tools. Although the platform offers flexible integration with most of the CRMs, integrating it with Pipedrive makes it easy for users to drive personalized experiences and share the data across teams and platforms. Integrating Pipedrive with Retenty, you can also:
Import your Pipedrive contacts to Retently
Send customers emails for NPS, CSAT, CES scores.
automatically export survey responses as people and organization properties and notes.
Quickly Export survey data to Pipedrive.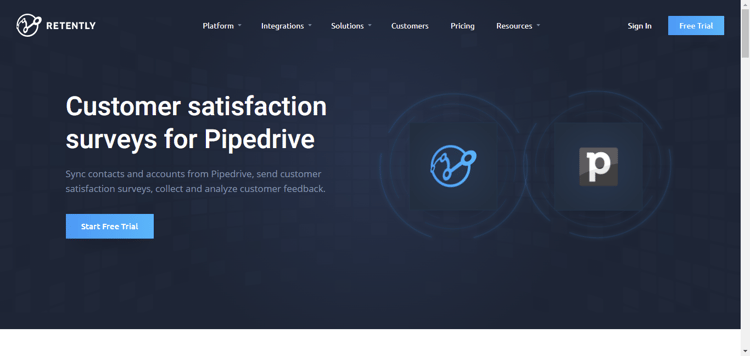 Why Choose Retently as your NPS Tool for Pipedrive?
With Retently, users can automatically sync their data and automate workflows. Users can also import data into Retently and create better-targeted surveys for more accurate responses without even lifting a finger. Apart from this you also can:
Collect valuable experience NPS data
Analyze sentiment, easily spot trends, and understand the key drivers
Drive personalized experiences with real-time data
close the loop on critical feedback.
Pricing: The plan starts from $299 per month for Pipedrive integration. However, users can also pay $269 per month if billed annually.
G2 Ratings 4.8 out of 5
7. Survicate
Survicate is a customer feedback platform that enables businesses to collect and analyze valuable insights from their customers. Known as one of the best tools for NPS, users can just send targeted NPS surveys in a few clicks and have the data immediately available in the dashboard. Apart from NPS surveys, Survicate provides detailed analytics that makes it easy to dig deep into customers' journeys and makes it easier for businesses to take meaningful actions based on every observation.
When it comes to integration with Pipedrive, you can get it up and running with a few clicks. With Pipedrive and Survicate combined, you can seamlessly integrate contacts and automatically create new deals based on survey responses received. This saves users time and ensures that no opportunities are missed. Plus, it makes it easy to track progress and follow up with customers. Here is what more you can do with Survicate and Pipedrive integration.
Update person contacts in Pipedrive with their Survicate responses.
You can create Pipedrive deals from new Survicate responses.
Streamline your workflow and ensure that every new lead is followed up on in a timely manner.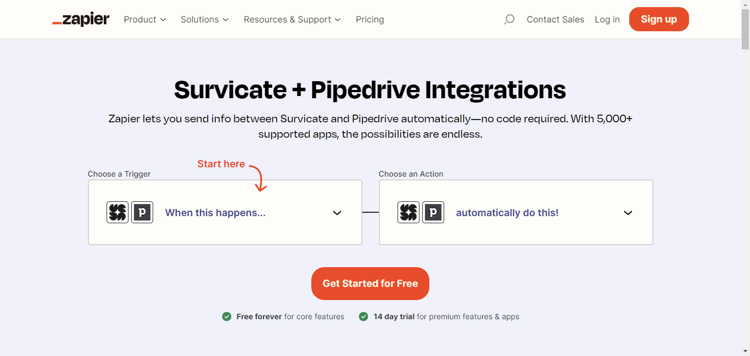 Why Choose Survicate NPS Tools For Pipedrive?
Integrating Survicate with Pipedrive provides businesses with the ability to measure customer loyalty and satisfaction through NPS. With its features like customizable surveys, real-time feedback collection, and advanced reporting, Survicate empowers businesses to make data-driven decisions and improve customer relationships. Here is what you can expect:
Get the correct NPS by counting responses even from partially answered NPS surveys.
Target meaningful customer segments for unbiased NPS results
Get more high-quality feedback.
Save time with Pipedrive integration
Keep your survey projects organized in separate folders
Pricing: The basic plan starts at $89/ month. However, you can also choose other plans available for advanced features.
G2 Rating: 4.7 out of 5
8. Trustmary
With Trustmary, companies can gather customer feedback, collect testimonials, and showcase social proof to enhance their brand reputation. When it comes to integrating it with Pipedrive, it can be done with the help of Zaiper. The integration allows businesses to collect high-quality reviews and testimonials and improve lead generation on their website automatically. One can send automated customer feedback surveys after finishing meetings and winning deals. Users can also combine feedback surveys by gathering text and video reviews and supercharge their website's lead generation with social proof from the customers. Integrating Pipedrive with Trustmary, you can also:
Collect feedback from your customers and get NPS feedback.
Gather reviews and testimonials from your customers based on your activities in Pipedrive.
Fully customize the automated flows and surveys to your needs
Measure NPS, CSAT, and CES per sales rep, team, or company
Create automatic dynamic reports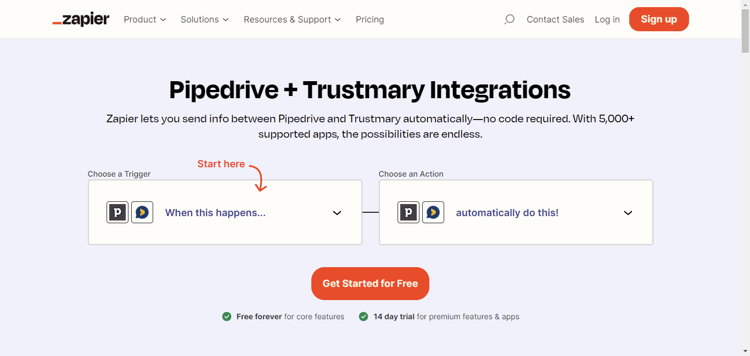 Why Choose Trustmary as your NPS Tool for Pipedrive?
Trustmary NPS tools for pipedrive offer comprehensive features like automated NPS surveys, sentiment analysis, real-time reporting, and testimonial collection enabling businesses to effectively measure customer loyalty, gather actionable insights, and leverage positive feedback to strengthen their brand. You also get a few more advantages when integrating Pipedrive with Trustmary.
Create/update Trustmary contacts from new activity matching filters in Pipedrive
Use different templates to integrate customer data from Pipedrive to Trustmary
With this integration, you can add new contacts automatically in Trustmary.
Integrate customer data from Pipedrive to Trustmary based on new activity filters.
Pricing: It is best to get in touch with their sales team for better pricing.
G2 Rating: 4.6 out of 5
9. Surveysparrow
Survey Sparrow is a popular online survey platform that makes it easy for businesses to start collecting feedback in a fraction of seconds. One can explore hundreds of questions across different survey types using Survey Sparrow, all designed to get users accurate results one can rely on. Although Pipedrive integration with Surveysparrow is flexible, it enhances the sales process easily. Additionally, it boosts productivity by making it more straightforward for users to switch back and forth within a unified platform. Integrating Pipedrive with Surveysparrow, you also can:
Automate tasks to enhance workflows and streamline productivity
Offers a simple and user-friendly interface with multiple features
Customize pipeline stages as per your business requirements
Capture new leads/deals
Enrich leads/ deals to improve data quality
Trigger NPS surveys after every touchpoint in the sales lifecycle, and map the scores back to your Pipedrive account
Collect survey responses in SurveySparrow and build real-time reports and charts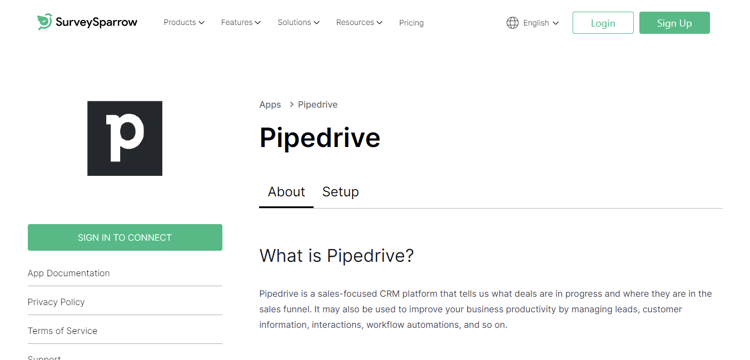 Why Choose Survey Sparrow NPS Tools For Pipedrive?
SurveySparrow lets users collect meaningful insights that matter to their business. Apart from this, the platform lets them run polls, conduct quizzes, and more. Here is what you can expect:
Trigger a Survey when a Deal Stage is Changed or Updated
Create Deals in the Pipedrive App from Survey Responses
Update Deals in the Pipedrive App from Survey Responses
Generate Leads in the Pipedrive App from Survey Responses
Pricing: You need to get in touch with the sales team to know about their pricing plans.
G2 Rating: 4.4 out of 5
Final Thoughts
The right NPS tools for Pipedrive can maximize the sales representative's productivity, speed, and sales cycle and boost productivity. Before you choose any tool, make sure to take your time to ensure it meets your business needs, goals, and budget. In this blog, we have listed the top NPS tools for Pipedrive for better understanding and solutions. Choosing the right NPS tool for Pipedrive can be time-consuming, but if you do it right, you can leverage it and scale your business