Unable to find the best NPS tool for Zendesk to measure your customer loyalty & retention in your CRM? Checkout this blog to find the list of the top 10 NPS tools you can use. 
Just imagine what if you lose 30% of your loyal customers? What if they leave you because of a bad experience? According to research, 70% of customers walk away from a brand after several bad experiences. And this may be the same with your brand if you're not measuring and working on improving your customer loyalty.
Collect & Measure NPS Feedback
With NPS Surveys, understand how willing your customers are to recommend your business, product, or service to others.
NPS, as we all know, is a customer experience metric to measure the loyalty of the customers through Net Promoter Score surveys sent at certain moments in the customer journey. But how to multiply your NPS scores? By integrating CRM solutions like Zendesk. By integrating Zendesk with your NPS tools, you can easily collect and understand customer insights. The integration allows you to gauge the sentiment of your customers. And when your customer support agents choose to talk, they will know exactly how to personalize their conversations and win customers over via this simple integration. If you're looking for an NPS tool that can integrate best with Zendesk, then we have shared the list below.
Table of Content
Top NPS Tools For Zendesk
Delivering exceptional customer experiences is at the core of every successful business. To achieve this, organizations can integrate Zendesk with their NPS tools to streamline customer service operations and make data-driven decisions. Let's check out these best NPS tools for Zendesk.
#1. Zonka Feedback
Zonka Feedback offers a robust NPS platform where you can easily measure your customer loyalty and their willingness to recommend your company, brand, product, or service. With Zonka Feedback Zendesk integration, you can assess the sentiments behind why your customers would or wouldn't recommend your brand. The best thing- you get Zendesk integration available with every plan offered by Zonka Feedback.
Integrating Zendesk with Zonka Feedback will make you realize how easily you can simplify the twisted threads of the entire customer loyalty system. Embedding surveys directly in your Zendesk customer emails is one of the interesting features you get with Zonka Feedback. You can choose different styles to collect the NPS survey- directly ask the NPS survey question, embed an NPS website feedback button, or a hyperlink to gauge your customer's Net Promoter Score.
Once integrated, you can set up different conditions in Zonka Feedback based on which a Zendesk ticket would be automatically created upon receiving responses on the NPS survey.
With the Zonka Feedback NPS tool for Zendesk, you can also trigger email surveys or SMS surveys automatically to measure contact's satisfaction level and their experiences with the service agent. You can even set up the delay duration after which you want to send the NPS survey to the customers, a feature not every NPS tool offers.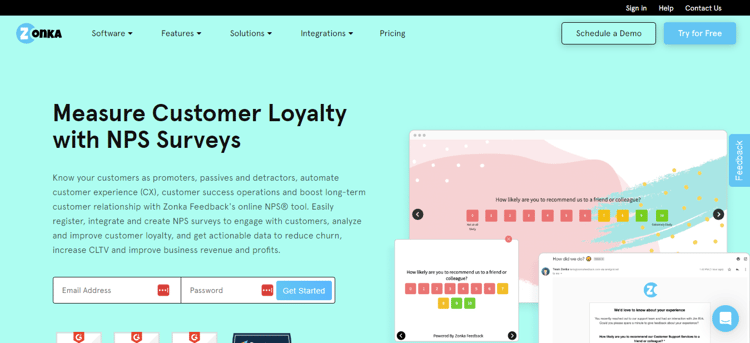 Why Choose Zonka Feedback as your NPS Tool for Zendesk?
By integrating Zonka Feedback for Zendesk, you can tie your survey responses to the agents and find out the ones that are doing great or the ones that require training based on the customer's likelihood to recommend their service. Zonka Feedback also offers endless customization to create and send NPS surveys to customers through its native integration with Zendesk.
Here are the top features available for Zonka Feedback and Zendesk integrations:
Measure NPS by triggering automated Surveys after a ticket is updated or solved.
You can trigger a ticket in case of any delays, bug reports, or low feedback.
Insert your NPS survey question in your email signature or email Survey templates while communicating with your customers in Zendesk.
The choice to sync the NPS score or the complete survey response to your Zendesk CRM
Get feedback for every conversation in real-time from customers
Set rules and conditions to add tickets in Zendesk based on Survey Responses automatically.
Add survey responses to get added as comments and custom fields in Zendesk.
Enable customer agents to take action based on new tickets added automatically after Survey is responded to.
View all your Customer Responses and Feedback Data without leaving Zendesk.
Get all survey response data, and CX Metrics automatically sync to Zendesk after a Survey completes.
Full HTML downloadable for email is available.
Get surveys based on your agent's performance- satisfaction/resolution
Check from where the response came, along with the name of the agent who interacted with them.
Pricing:
Offline survey platform with Zendesk Integration starts from $15/month.
CX Survey platform with Zendesk Integration starts from $49/month
Product Feedback platform with Zendesk Integration starts from $39/month
G2 Rating: 4.8 out of 5
#2. Survicate
Survicate is a survey software that helps you get into your customer's mindset and uncover actionable insights. Creating a new survey is as easy as choosing a template and making a few edits in Survicate. One of the unique features it offers is the survey builder option to build surveys from scratch. Its integration with Zendesk is also effortless; you can send NPS surveys to your customers easily. Once integrated, you can send automated surveys and start measuring NPS in Zendesk.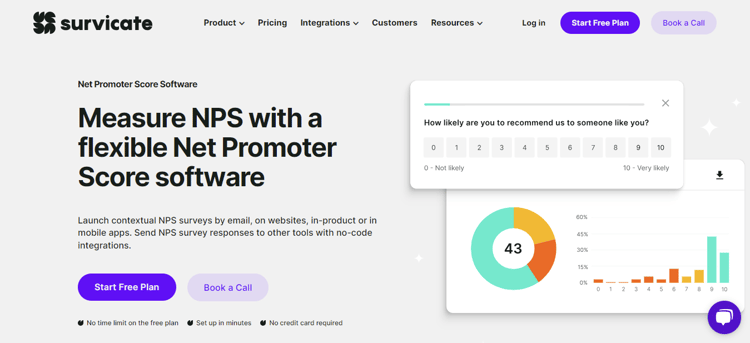 Why Choose Survicate as your NPS Tool For Zendesk?
Sending surveys and getting responses back to the ticket is extremely easy when you integrate the Survicate NPS tool with Zendesk. You can also immediately update the ticket priority in case the CSAT score is low, so it gets escalated quickly. Although Zendesk integration is flexible, it is available on all plans. Here are the top features you get when integrating Survicate with Zendesk:
Send surveys once you solve a ticket, resolve a chat or finish a talk
Include surveys into Zendesk automation and triggers
Get responses together with customers' emails, agents, and other attributes
Set up automatic update of your existing tickets once new feedback arrives
Apply multiple conditions: when a client complains- change the ticket's priority to high and assign it to a leader
Easily update the ticket template.
Enable Slack notifications, send survey results to Hubspot, and connect other tools you love
Distribute Survicate surveys with Zendesk emails
See the email addresses of respondents in the Survicate analysis panel
Act upon your customers' loyalty ratings by replying to all or chosen respondents straight from the Zendesk platform.
Save every single answer – even if your customers don't complete the entire survey
Limitation
While Survicate is a top contender in the list of top NPS tools for Zendesk, it can work on improving customer service through targeted NPS surveys. Further, users have also complained that it has restrictions in terms of maximum responses per month.
Pricing: Starts from $19/month
G2 Rating: 4.5 out of 5
#3. Nicereply
Nicereply is one of the oldest and most popular survey software when it comes to capturing Net Promoter Score. And while it has a number of features and functionalities to capture NPS, it doesn't have a platform to send email surveys. In simple words, it allows you to send emails using Zendesk. However, it doesn't provide a separate option to send emails from Nicereply. As its main offerings, you get NPS, CSAT, and CES tools.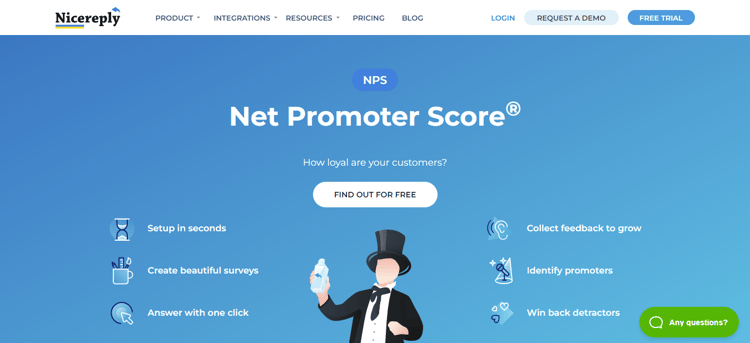 Why Choose Nicereply as your NPS Tool For Zendesk?
While it might seem a basic NPS tool as a standalone platform, Nicereply works wonderfully when integrated with other tools, especially with Zendesk.-Captures score, Agent name, Comments, and Measures customers' loyalty after resolution or interaction. Here are the top features you get when integrating Nicereply with Zendesk.
Add surveys to your Zendesk ticket responses
Include survey triggers in your macro templates.
Set up NiceReply surveys to be automatically sent out in emails after a ticket is resolved.
Choose different surveys to go out in your emails as per issue, department, and agents.
Choose the number of days when to send surveys.
Get an option to delete abuse, spam, or irrelevant ratings.
Send your customers a post-resolution survey in a separate email.
Limitation
Nicereply works pretty well when integrated with external tools, but as a standalone product, it has a lot of limitations. When using Nicereply, you don't get a platform from where you can send your email surveys. You need to download the HTML and can send it from Zendesk only.
Pricing: Starts from $39/month
G2 Rating: 4.7 out of 5
#4. Qualtrics
Out of all the tools on the list, Qualtrics is the most suitable one for enterprises due to its advanced customer experience platform. It also comes with Zendesk integration that can help you automatically update Zendesk tickets based on survey collection. This can help your customer support resolve tickets faster and improve efficiency. However, Qualtrics hardly offers any support with its integration to Zendesk.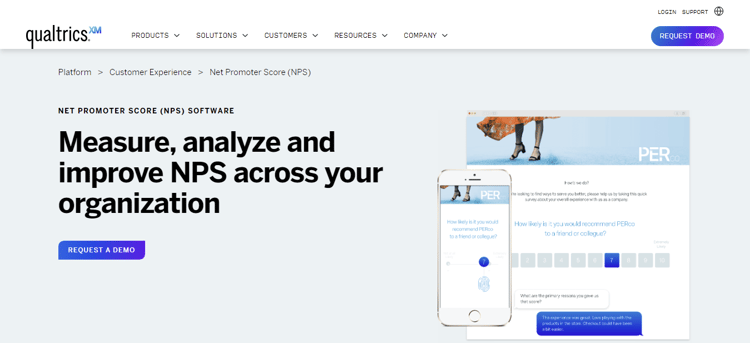 Why should you choose Qualtrics NPS tools for Zendesk?
Qualtrics is a top-notch customer experience platform that excels in serving enterprise-level businesses. Its Zendesk integration can help you streamline your customer support system by automatically updating Zendesk tickets based on survey responses. Nonetheless, here are some of the top features you can expect from Qualtrics and Zendesk integration:
Closing the customer feedback loop

when customers provide experience feedback in a Qualtrics survey and enable your customer service team to provide fast, actionable support.
Streamline the inbound ticketing process by automatically creating and updating tickets upon survey completion.
Improve customer experience by closing the loop faster and helping drive conversion and satisfaction.
Gain deeper insight into the customer service experience.
Trigger Surveys based on Zendesk events
Optimize ticketing processes by automatically triggering new tickets or updating records in Zendesk.
Enhance workflow and maintain productivity by taking action in real-time and gaining deeper insights into the customer experience.
Limitation
Due to their advanced features and higher price point, Qualtrics NPS tools for Zendesk are better suited for enterprise-level businesses rather than startups and small businesses. There are many Qualtrics alternatives you can look for to collect NPS in Zendesk.
Pricing: No pricing is available publicly.
G2 Rating: 4.4 out of 5
#5. SurveySparrow
Considering itself the best SurveyMonkey alternative, SurveySparrow is a modern, comprehensive survey tool. One of its interesting features is it comes with a wide range of survey types, including some popular tools such as NPS and CSAT. Although its Zendesk integration is flexible, it isn't as good as the ones in Zonka Feedback. While the integration page explains everything pretty nicely, it offers basic functionality as compared to its competitors. Also, when it comes to its pricing, it is not publicly available, and Zendesk integration is only available in business plans.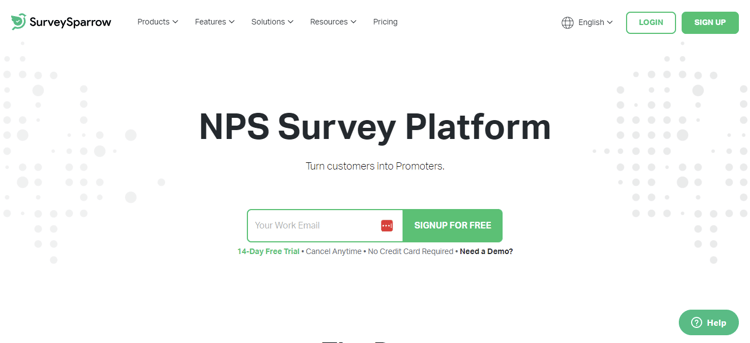 Why Choose A SurveySparrow NPS Tool For Zendesk?
SurveySparrow's highly conversational interface provides a unique and engaging experience for survey respondents. The platform uses chat-like surveys that mimic real conversations, making it easier for respondents to share their thoughts and opinions. This conversational approach also helps to reduce survey fatigue and increase response rates. Additionally, SurveySparrow's interface is designed to be mobile-friendly, allowing respondents to take surveys on the go. Here are the top features you get when integrating SurveySparrow with Zendesk:
Create/update new contacts or tickets on your Zendesk account directly
Create/Update Tickets on Zendesk from Survey Responses
Map survey responses to the Zendesk fields
Trigger NPS surveys when the ticket status is solved or updated
Share your NPS surveys, and start getting responses in real-time.
Quickly choose from the Zendesk Object and Action from the dropdown, and map it according to the required field.
Create a custom variable under the Global Variables section for the existing users.
Build a survey questionnaire with 20+ advanced question types, polls, scores, expressions, logic, and more.
Switch from a static conversation to a dynamic in just a few clicks, effortlessly.
Identify promoters, passives, and detractors of your brand, find ways to convert detractors into promoters, and grow your business significantly, all within a single question and a follow-up.
Limitation
It is important to note that SurveySparrow's NPS integration with Zendesk is only available in their business plans. While it does provide the NPS score, the reporting may not be as extensive as other tools, which may limit your ability to improve the overall customer experience.
Pricing: Starts from $99
G2 Rating: 4.4 out of 5
#6. Promoter.io
Promoter.io is a great survey builder for e-commerce businesses or those using BigCommerce and Shopify. Its focus on the same audience as Zendesk makes it a go-to for CSAT, NPS, and other survey types. Plus, distribution through the website, SMS, and email is a breeze. However, its integration with Zendesk is only available through Zaiper, which means that in addition to Promoter.io and Zendesk, you'll have to pay for a Zaiper account. While not necessarily a bad thing, it does mean that you'll incur extra charges.
However, this connectivity enables the automatic sending of surveys when a new ticket is created, making it a great option for e-commerce businesses. Despite not being comparable to other NPS tools for Zendesk on the list, this integration provides significant support for Promoter.io and Zendesk users.
Why Choose A Pomoter.io NPS Tool For Zendesk?
By combining Promoter.io and Zendesk, you can not only automate your daily survey tasks but also seamlessly share data between the two platforms. With this integration, you can create tickets based on survey responses or closures, among other offerings. If you're an e-commerce business using BigCommerce or Shopify, Promoter.io's integration with Zendesk could be a great option for automating survey tasks and sharing data between platforms. Here are some of the top features you get when integrating Promoter.io and Zendesk.
Create a ticket in Zendesk when respondents to your survey give certain answers.
Create a ticket when the customer is unhappy or planning to stop using your service.
Create a ticket if the customers are likely to be contacted, and your customer support can call them.
Create a ticket every time a new group is created in Zendesk.
Create a ticket when an internal note is created in Zendesk.
Create a ticket when a new organization is added to Zendesk.
Create a new ticket when the ticket is updated or modified for any existing users.
Limitations
Despite its strengths in e-commerce and survey distribution, Promoter.io has some limitations when it comes to integration with Zendesk. Its integration is only available through Zaiper, which means extra charges for users. Additionally, its reporting capabilities may not be as advanced as other tools on this list, which could limit your ability to gain insights and improve the customer experience.
Pricing: $100 per month
G2 Rating: 4.5 out of 5
#7. Typeform
Typeform may not specialize in survey creation like the other tools on this list, but it offers a versatile form builder that allows you to create a range of content, including quizzes, polls, tests, and surveys. One of the benefits of Typeform is its sleek and modern survey design, which can enhance the survey-taking experience. Additionally, Typeform offers a plethora of templates for various content types, making it a great option for those seeking design inspiration.
However, Typeform falls short in terms of its Zendesk integration compared to its competitors. Unlike the other NPS tools for Zendesk tools on this list, Typeform cannot be directly integrated with the CRM. It requires the use of a Zaiper account at an additional cost. Despite the easy integration process, the extra expense may be a deterrent for some users.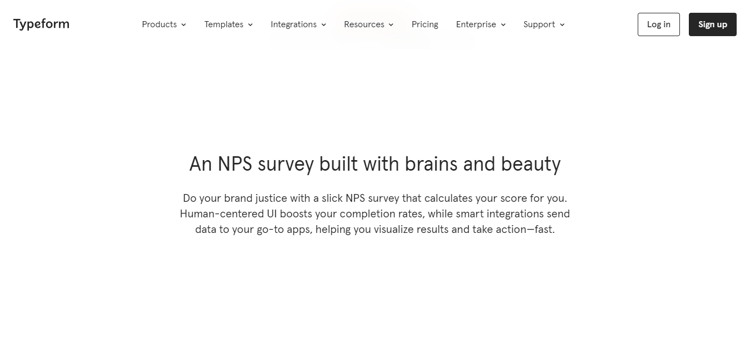 Why Choose Typeform as your NPS Tool For Zendesk?
Typeform offers a sleek and modern survey design with a conversational feel, providing a great user experience for survey takers. Its minimalistic design and various templates make it a top choice for those seeking inspiration for their survey content. Here are the top features you get when integrating Typeform with Zendesk:
Create a Zendesk ticket from Typeform entries.
Easily create slick surveys, lead capture forms, and quizzes for more responses.
Sync all new Typeform responses automatically
Create personalized surveys and follow-ups.
Automatically get info about your customers with Zendesk integration.
Get a personalized option for better data collection.
Choose from 100+ templates with zero needed.
Automatically create new tickets in Zendesk from new Typeform responses.
Respond to your customers automatically through Zendesk.
Limitations
It doesn't have a native integration with Zendesk. You will Zapier account to integrate the two.
Pricing: $25 per month for 100 responses
G2 Ratings: 4.5 out of 5
#8. SurveyMonkey
SurveyMonkey, a pioneer in the field of survey tools, has been helping businesses send surveys to their customers for years. With a wide range of survey types available, SurveyMonkey is a well-known name in the customer feedback arena. In addition to its integration with Zendesk, SurveyMonkey can also integrate with other top integrations. However, its Zendesk integration is pretty basic and offers limited features. Although SurveyMonkey is not expensive, one of its drawbacks is that it is unclear which plan includes Zendesk integration.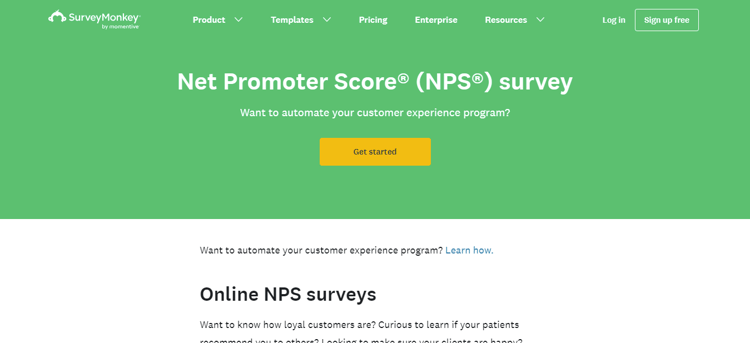 Why Choose A SurveyMonkey NPS Tool For Zendesk?
SurveyMonkey is a well-known name in the customer feedback arena, offering a wide range of survey types and many out-of-the-box templates. It is also very easy to use and offers excellent research capabilities, making it a top choice for businesses seeking customer insights.
Here are the top features you get when integrating SurveyMonkey with Zendesk:
Map response data to customer records
Capture more focused feedback by sending surveys using customer segmentation
Capture and view the voice of your customers in Zendesk
You can organize customers and contacts into lists and send surveys to your target audience.
You can send customizable emails, making SurveyMonkey unique for each customer.
You can gather feedback in real-time.
You can also use the integration to save survey data in custom fields on contacts.
Limitation
Unfortunately, SurveyMonkey's pricing isn't publicly available, which can be frustrating for potential users. Additionally, the platform doesn't offer extensive options for analyzing the feedback you collect, which may limit your ability to gain valuable insights.
Pricing: $22 per month
G2 Rating: 4.4 out of 5
#9. InMoment
As we head toward the end of our list, InMoment is one such tool that works really well with Zendesk integration. However, you may take a little time once landed on the InMoment website, as it might take you a bit to figure out what the surveys that the company offers are. When talking about its Zendesk integration, it offers two ways- you can feed data to Zendesk and get data out of it to InMoment.
Once integrated, you get customizable triggers for the groups to be surveyed depending on the Zendesk data. You can also trigger customized surveys once a ticket is closed with this survey tool for Zendesk. You can also send personalized thank you messages based on your agent's performance to close the ticket. As survey responses come in from InMoment, you can get notified for low scores and immediately act upon them.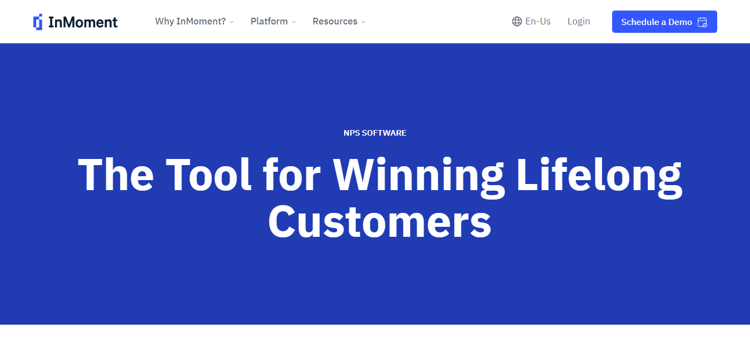 Why Choose An InMoment NPS Tool For Zendesk?
The best part about InMoment NPS integration with Zendesk is that it lets you filter out the agents. With InMoment's NPS integration with Zendesk, you can filter out agents and customize triggers. This results in real-time notifications and workflows that make it easier to follow up with customers promptly and address any concerns they may have.
Here are the top features you get when integrating InMoment with Zendesk:
Ask for feedback details through Zendesk.
NPS survey responses flow back into ticket records in Zendesk.
NPS responses are visible on the Zendesk ticket record in real-time.
Follow up with detractors to learn more, or invite happy customers to your referral program.
Customizable dashboard and reporting so you can get the answers you need.
Identify opportunities by the agent or any business driver.
Monitor & improve the support experience with NPS surveys.
Send customized surveys with the agent's name included in them.
See NPS survey responses in Zendesk and take quick action.
Win back at-risk customers before it is too late.
See scores, feedback, themes, sentiment, and trends in real-time using their dashboard.
Limitations
When it comes to pricing, InMoment's closed model can be a double-edged sword. On one hand, it may be more expensive than other NPS tools for Zendesk on this list, and the lack of transparency in pricing can be frustrating for potential users. On the other hand, the closed pricing model may provide greater value for businesses that require more customized solutions and support. Ultimately, it's important to weigh the costs and benefits of InMoment's pricing structure before committing to the platform.
#10. GetFeedback
GetFeedback, the final tool on our list, is a comprehensive customer experience platform that offers real-time alerts. With its range of surveys, including CSAT and NPS, you can collect feedback from your customers immediately and take action when needed. However, while GetFeedback's Zendesk integration is flexible and easy to set up, it lacks advanced features. Despite a dedicated page outlining its integration process and uses, businesses may find it lacking compared to other NPS tools on this list.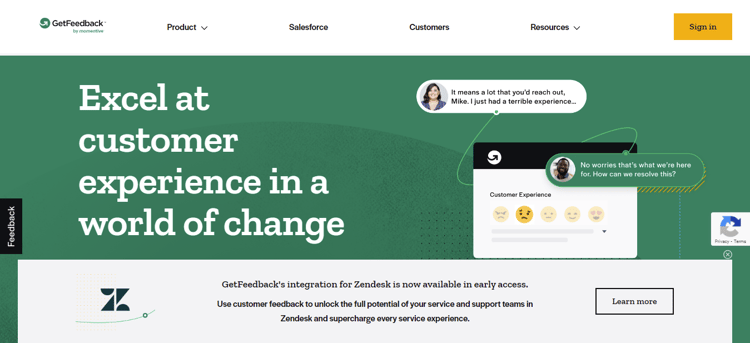 Why Should You Choose A GetFeedback NPS Tool For Zendesk?
With GetFeedback's NPS tool for Zendesk, businesses can create a complete customer feedback profile, complete with automated actions and task creation, to efficiently and effectively close the feedback loop. Here are the top features you get when integrating GetFeedback with Zendesk:
Send a survey automatically when a ticket's status changes in Zendesk.
Send personalized emails based on your response rates with beautiful embedded questions.
Quickly pull all data from Zendesk.
Set a timer to allow your recipient to be able to view and take the survey.
Create an automation or trigger to send your surveys.
Customize the branding, questions, and feel to match your company's needs
Personalize every customer survey using fields from Zendesk
Use custom-branded, mobile-friendly designs optimized for email and

SMS surveys

.
Aggregate all customer feedback into one place to spot trends by channel.
Notify agents and set tasks in real time for follow-up based on customer feedback.
Automate relational and transactional surveys across the entire customer lifecycle.
See your Zendesk ticket data, KPIs, and metrics in GetFeedback for greater analysis and action
Limitation
While GetFeedback may be the best NPS tool for Salesforce due to the mastery it has achieved, it could improve its integration with Zendesk. Unfortunately, pricing for this tool is not available, so it may be a factor to consider for businesses looking for a cost-effective solution.
Pricing: We need to get in touch with the sales team
G2 Rating: 4.5 out of 5
Wrapping Up
The NPS is a crucial metric when measuring the health of your business. However, the possibilities are endless when it comes to Zendesk integration. When choosing an NPS tool for Zendesk, you need to make sure it offers native integration, a flexible setup, and no extra added cost. It should also allow you to capture feedback and improve your customer service, all while learning which part of your business needs improvement.
If this sounds interesting to you, why not try Zonka Feedback? With Zonka Feedback and Zendesk integration, you can capture customer feedback and run surveys across devices. Being one of the great alternatives to some of the bigger names from this list, Zonka Feedback has all the most popular survey types, and it lets you run surveys online and offline. One thing that makes Zonka Feedback stand out is its flexible Zendesk database connectivity so that you can tie survey responses to specific agents. Thus it is an excellent way to judge who has great survey scores and who needs some additional training. The pricing is affordable and a solid choice for a lot of integration options.