In a world where attention spans are shorter than that of a goldfish (3 seconds), reaching your audience and grabbing their attention is the key to unlocking valuable insights.
With an impressive read rate of 98%, SMS or text messages can be an effective medium to connect with your target audience. And if that's not enough to grab your attention, consider this: a whopping 90% of SMS messages are opened within the first three minutes of delivery.
No wonder, businesses are harnessing the power of SMS surveys to gather feedback and data. Imagine, tapping into a survey medium that not just gets noticed in the first go but also boasts of a high read rate.
TL;DR
Despite its age, SMS surveys remain a powerful tool for customer engagement.

Benefits include high response probabilities, effective post-transaction use, quick 90-second response times, and easy management with SMS survey tools.

But when you get started with creating SMS surveys, there are certain things that can help maximize responses. From introducing your brand and keeping messages short to choosing optimal timings and avoiding survey overuse, there are several tips and tricks that can help you get more responses.

Zonka Feedback is a powerful SMS survey software that you can use to create and send text message surveys in a more personalized manner. Sign up with this survey software to get a 7-day free trial or schedule a demo to talk to an expert and find out how you can set up and start collecting customer feedback using SMS surveys.
Measure Customer Feedback & Insights
With SMS Surveys, understand what users need and learn ways to delight your customers.
What are SMS Surveys?
SMS surveys are a convenient and efficient way to collect survey data using the Small Messaging Service feature on mobile phones. These surveys are sent as short messages with a survey link that, when clicked, opens an online survey in the mobile phone browser. It's a seamless and user-friendly method for gathering valuable feedback.
Although, there are several channels to collect customer feedback - email surveys, kiosk surveys, website surveys, telephonic surveys, offline surveys, or face-to-face surveys; SMS surveys have proven to be an extremely effective and efficient method to get feedback, simply because of the open rate statistics.
They're hard to beat, really!
You may be surprised to know that SMS has a read rate of 98% which is nearly 5 times than email. And people are not only reading the SMS, they are in fact, responding to them. 45% of the recipients reply to branded text messages, and clicking on a link to share feedback, would be even faster.
Types of SMS Surveys You Can Create and Send
SMS surveys have become a popular and effective way to collect customer insights and feedback. They offer a convenient and cost-effective medium for businesses to engage with their customers. In this blog post, we will explore different types of SMS surveys that you can create and send.
1. Periodic SMS Survey
For collecting customer feedback through CSAT surveys and NPS, text messages are the best medium to go for. Surveys like NPS and CSAT are something that is done periodically to gauge customer satisfaction and customer loyalty respectively.
It is the tendency of the people to read every message and with its cost-effectiveness and more access power, periodic SMS surveys are a great source to know customer insights on a timely basis.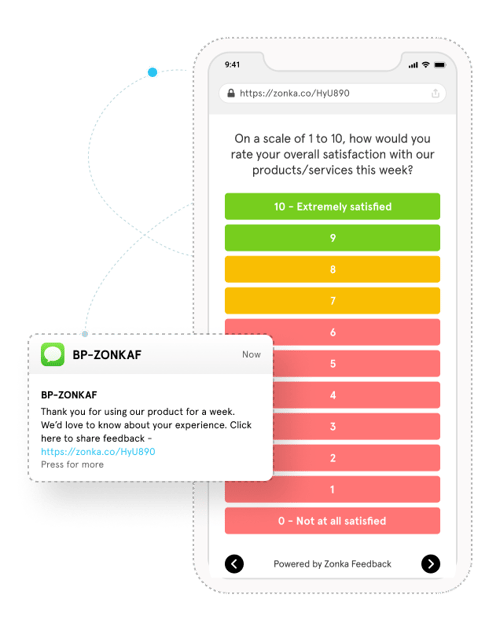 2. Event-Based SMS Surveys
Event-based messages are those which are triggered through an event or transaction. For example, bank customers receive messages regarding their banking transactions whenever any transaction occurs in their bank account.
Likewise, instant messages on payments of mobile bills and electricity bills also are examples of event-based messages. You can utilize these messages further for taking an SMS survey by adding a one-liner like "Rate your experience by clicking on the link" followed by a survey link. In this way, event-based SMS surveys can be conducted.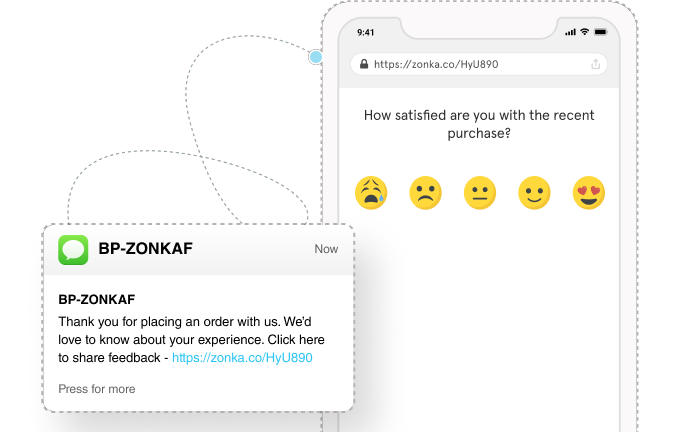 3. SMS Surveys for Churned Customers
SMS should be used to reach old customers who purchased some products or services from a brand but for a long have not purchased or enquired about any product or service.
SMS survey is an effective source to perform a churn analysis of such customers and ask them what went wrong. It will help to get their feedback and appropriate actions can be taken to change their perception about the brand and convert negative feedback (if any) into a positive one.
For instance, you are running a pizza outlet and there is a customer who usually places an order every weekend or fortnight but for three months, you haven't received any order from that customer. You can approach such customers through texts like-
"We noticed that you didn't order pizzas for a long time. Would you like to let us know how can we serve you better?"
It can be followed by a survey link enabling the customer to write his comments.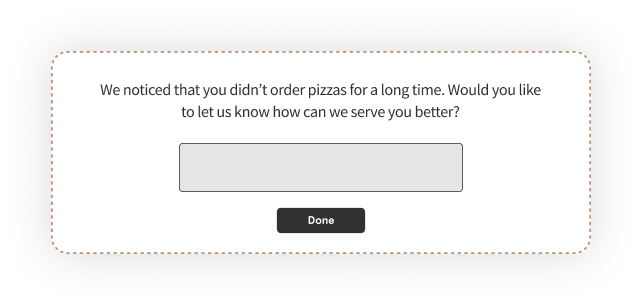 4. Campaign-based SMS Surveys
Campaign-based Customer surveys through SMS can be used for the promotion of a new product, a new service, a newly launched range of products, and an ongoing or upcoming event and simultaneously asking the customer what he feels about the same and providing a survey link which enables him to write his perspective.
For instance- A customer bought a pair of shoes. Now for those shoes, an SMS can be sent to ask for his feedback and at the same time promote a new product like a new upcoming range of t-shirts or any discount concession on other products. This will serve as a very good marketing strategy and will also help to receive a better response.
Learn how to Get Started with SMS Surveys.
Benefits of SMS Surveys: Reasons to use Text Message surveys
Businesses are increasingly using SMS survey messages to encourage their customers to share feedback. There are a lot of benefits of creating SMS surveys. These include:
It is Cost-Effective: SMS is cost-effective and eliminates the need for additional staff or special devices. With just a mobile device and an SMS value pack, you can easily send surveys to multiple customers through bulk messaging while using survey software.
It can be sent to any Mobile Phone: You can create SMS surveys to send to any mobile phone, regardless of whether it is a smartphone or a traditional mobile phone without internet.
It has a Wide Reach: The reach of the SMS survey is too broad, as wide as the reach of mobile phones. In fact, research suggests that over 5.9 billion people would be sending & receiving text messages by 2025.
It is Easy to Create SMS Surveys: Creating and sending SMS surveys is an easy setup. You don't require a large team or heavy devices for this. With the help of SMS survey software, you can easily send surveys to multiple customers within minutes in a matter of a few clicks.
It has an Excellent Open Rate: As mentioned earlier, the open rate of SMS is 98%. And people open it within minutes. Research suggests that 66% of Americans check their phones 160 times a day. When they check their phone and notice an SMS received in the inbox, they cannot avoid opening it.
It is a quick way of sending surveys and getting responses: SMS surveys provide a quick and instant way to get customer responses. When people receive an SMS notification, they tend to check it immediately. By including a survey link in the message, customers are more likely to click on it, fill out the survey, and submit their responses promptly.
Best Practices to Create SMS Surveys
While using any feedback and survey channel, it is important to use some best practices to ensure its effectiveness. The same is true for SMS Surveys as well. If used the right way, you can get a great response rate and engage your customers using SMS Surveys. So here are some sure-shot tips to create SMS Surveys.
Top 10 tips to create effective SMS Surveys
Mention yourself or your brand
Keep it short & simple
Send it at the appropriate time
Avoid overusing SMS facility for survey
Personalize your messages
Take care of permission and laws
Use a mobile-friendly survey
Do a follow-up
Have a crystal clear CTA
Use a shortcode to send SMS Surveys
Let's review how these best practices when followed can help you attain a good response rate and make your text surveys a success.
Tip #1. Introduce Yourself or your Brand
Always remember that your customers are receiving a lot of messages on a daily basis, and that too, many of them are unnecessary and spam. Therefore, it is very important to tell the customers from where are they receiving the survey SMS.
So, do mention your brand name at the beginning of the survey message so that the customer gets to know that you are sending the SMS survey and it's not a spam message.
This not only creates a good impression of your brand but also develops the interest of the customer to read the message and take the survey.
For instance, if you're sending an SMS survey post a meal, it can say "Thank you for dining with us at Pizza Junction today. We'd love to know your feedback."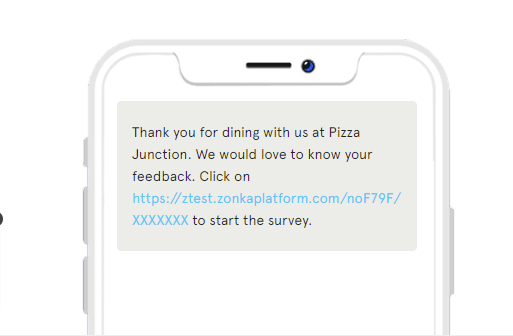 Tip #2. Keep it Short and Simple
SMS itself means Short Messaging Service, then how can creating a long message benefit you? SMS has a limit of 160 characters. So make sure that the SMS you are sending is short and simple, otherwise, it will be divided into parts and your customer will be receiving small chunks of SMS which doesn't seem nice anyway.
Just introduce yourself, and invite the customer to the survey with a motivating survey message followed by a survey link which should open quickly in a single click. Also, take care that the link should not be too long. This is easy if you're using an SMS survey tool as most good tools will shorten the link automatically.
Tip #3. Send it on Appropriate Timings
It is also one of the best practices to send a survey SMS at the right time because the time you choose to send an SMS survey determines to a large extent whether the customer responds to it or not. To choose the best time to send a survey SMS, you need to check the demographics of the customers and their local time zone.
You can also test sending SMS surveys at different timings and then consider which time suits you best and yields you a better response rate. Some tips you can keep in mind -
Don't send SMS surveys at late night or early mornings
Add a delay to sending your SMS Survey wherever relevant, for example, after a purchase, if you want to take Customer Feedback about how the customer found the product then it may be a good idea to send the SMS survey after a few days. This will allow the customer to have some experience with the product purchased.
Send immediate SMS Surveys wherever relevant. For instance, if you're seeking feedback about the speed of delivery, about a meal, or any other interaction, it may be a good idea to send the SMS survey immediately so customers can respond to it quickly.
Tip #4. Avoid Overusing SMS facility for Surveys
You must ensure that you are not sending too many surveys through SMS. The increased number of SMS surveys on the customers' mobile phones will only lead to a reduction in the importance of your surveys in the views of the customers.
Unless it is a transactional SMS asking for a customer satisfaction survey, which is sent every time the customer makes a purchase or does any relevant activity; any other survey sent again and again will do bad rather than good.
An increased frequency of the survey messages can lead to customers opting out of your messages which will only reduce the number of your respondents thus affecting your response rate and the authenticity of the survey.
Tip #5. Personalize your Messages
Personalization of your messages will help a lot to maximize responses to your SMS surveys. It is a common tendency of people to respond to those things which are exclusively meant for them.
You can personalize your messages by:
Take the first name of the customer at the beginning of the message
Segmenting your customers based on their demographic details
Sending messages to the customers as per their history with the brand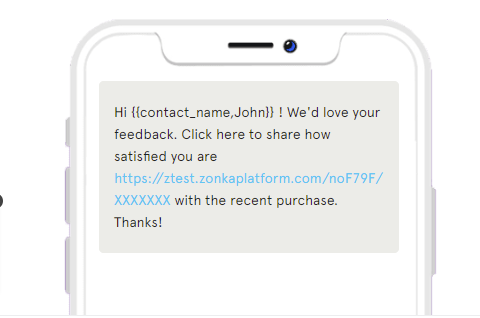 Tip #6. Take care of permission and laws
Sending SMS also involves some laws that stop organizations from sending unwanted messages to the common people. There are legal bodies like TCPA for the regulation of sending SMS which give guidelines for sending official SMS. Make sure to follow the guidelines whenever you are sending SMS surveys to your customers.
Never send messages to those people who have opted out of your messages because legally, you can only send messages to those customers who permit you to send them SMS.
Tip #7. Use a Mobile-friendly Survey
Last but not least, always use a mobile-friendly survey, the link of which you are sending to the customers through SMS. The customers must be able to open the survey on their mobile phones which they will do, as the medium you are using is SMS which is only a mobile channel.
Therefore, it is essential to create a mobile-friendly survey with the help of a power Survey tool that enables you to create and customize mobile-responsive surveys.
Tip #8. Do a Follow-up
At times, it is possible that your customer read your survey invitation SMS once, but could not pay much attention to it due to some urgent work, thus leaving your SMS unattended. Sending a follow-up message helps in such cases.
Don't forget that everybody is busy nowadays with his own stuff and an SMS can be easily forgotten and left without any action even after reading it. A follow-up survey SMS in these cases reminds the customers about the survey and motivates them to take the survey.
Tip #9. Use a Crystal Clear CTA
When you are sending SMS surveys to your customers, your CTA or Call To Action must be clear. The customer should be able to know what exactly you want to do and what you expect them to do. Imagine somebody giving you information but not telling you how it is relevant to you and what you should do with it. It would definitely irritate you, isn't it?
Similarly, customers would feel good only if you give them a clear CTA so they can take action and perform their tasks without wasting their precious time and energy to understand what to do with your SMS.
This will definitely increase your responses on the SMS Survey as the customers will take the survey and complete it without having to spend much of their time wondering what it is all about and eventually leaving it in between.
Tip #10. Use a Shortcode to send an SMS Survey
A Shortcode is a special number usually a 5 or a 6-digit number through which you can send and receive SMS from mobile phones. It is shorter than a mobile number and your customers can easily remember them and send their responses whenever they want without requiring them to search for your number in their contacts every time.
These shortcodes are specially used for commercial purposes and provide a much faster delivery experience than the messages sent through regular mobile numbers.
These SMS Survey Tips and Best Practices are very handy in sending SMS Surveys and increasing your Survey Response Rate. You can also use SMS Survey Software to manage SMSes, track SMSes sent, and give you real-time responses, and advanced reports to analyze your feedback.
Creating and sending SMS Surveys with Zonka Feedback
Zonka Feedback offers a pool of features that helps you collect feedback from your customers in real time, determine the areas of improvement, and measure customer experience metrics – NPS, CSAT, and CES 2.0. You can integrate the SMS survey tool into any platform and automate sending SMSes.
Sending SMS Surveys from the SMS Platform
You can manually send the SMS Surveys from the platform directly. It is very simple and takes less than 5 minutes to send.
With the SMS Platform, you have two options —
Send the SMS Surveys immediately
Schedule the SMS Surveys to be sent at a later time
The steps to sending SMS Surveys manually from the SMS Platform are as follows:
Create and customize your Survey: There are no restrictions to the type of survey you can send via SMS using Zonka Feedback. Choose from any expert template and customize it to your preference or create a survey of your choice from scratch.
Choose SMS as a Survey Distribution Channel: From the different channels available for distribution, choose SMS Surveys.
Choose the option to send SMS from the SMS Platform: You will see two options for sending SMS Surveys in this SMS survey software - Send SMS Now/Later or set up APIs and Integrations. Choose the first one to send text surveys from the platform.


Compose your SMS: Customize the message of your SMS Survey. Share the purpose of the survey to your audiences so they know the reason for the survey. Also, personalize the surveys by inserting placeholders like Contact Name, or any other attributes.


Add Recipients: There are four different ways you can add recipients to your SMS Surveys to send them quickly. These include:

Add manually: Add the contact phone numbers with or without their names manually in the recipient's box to send SMSes. Ideal if you're looking at sending to a few people.
Import CSV: Import a CSV with the contact phone numbers as well as names to Zonka Feedback. Ideal when you're sending surveys via text message in bulk to a lot of people.
Import CSV with additional data: If you want to pass additional data in your Survey (without the Contact filling up that extra information), you can upload a CSV with additional data. For instance, if you're doing an employee survey and want to add a Department Name, or while doing a post-flight survey, you want to add the Flight Number, or in an eCommerce survey, you want to add the Order ID.
Add from Contact List: People you send SMS and Email Surveys to as well as people who respond to a survey get added as a Contact in Zonka Feedback. These contacts can be put together in a Contact List. While sending SMS Surveys, you can choose any Contact List to send the Survey to.



Preview and Send SMS: Once you've sent the SMS Surveys, you can track deliveries and view SMS Survey Logs. Once the Contacts start filling out the surveys and feedback forms, you can view the responses in real time, along with detailed, in-depth reports.
Triggering SMS Surveys after an event or interaction via Integrations
Often you want to trigger SMS surveys based on a certain event, interaction, or transaction, like sending an SMS Survey after a purchase, delivery, or after the flight. These are called transactional SMS surveys and can be set up very easily in the Zonka Feedback SMS surveys tool by integrating with your favorite apps.
These apps, once integrated with Zonka Feedback, will notify Zonka Feedback once the event has occurred and the SMS survey will be triggered. You can trigger these surveys via helpdesks, CRMs, and other tools.
Create SMS Surveys & Collect Feedback Now
SMS Surveys are a powerful data collection tool that every business should use to improve their performance. They can help you build long-term relationships with your customers and give you deeper insights to make informed decisions about your business.
Use Zonka Feedback as your SMS survey tool to create and send your text message surveys. It lets you send surveys via integrations, APIs, your own SMS gateway, and through Zonka Feedback's SMS gateway. You can even schedule your message surveys, white-label them for branding, and even send anonymous surveys.
Sign up for a 7-day free trial or schedule a demo with the Zonka Feedback team to understand how you can use this survey app to create SMS surveys and send them to your target audience.