In the cut-throat business environment of today, the experience you provide to your customers can either make or break your success. Great customer experiences not only attract repurchases but also build brand reputation in the market and attract new customers. Whereas poor experiences lead to customer churn and loss of goodwill in the market.
This makes it necessary to know how customers perceive the experience you provide them, and customer experience software and apps help you just do that! The challenge lies in choosing the right CX software for your business in the realm of so many CX tools each claiming to be the best. So we are here to make this task easier for you!
In this article, we will explore some of the best customer experience tools that you can implement in 2023 to collect customer feedback, measure satisfaction, and improve the overall customer experience to ultimately grow your business. Let's get started!
TL;DR
Customer experience software is a specialized tool or platform that businesses use to gauge, analyze, and improve customer experience by collecting, analyzing, and taking action on customers' feedback about their experiences with the products, services, and overall business.

These CX platforms help businesses measure and enhance customer satisfaction and deliver better experiences to the customers.

Some of the best CX platforms to use in 2023 are Zonka Feedback, SurveySparrow, SurveyMonkey, Zendesk, Jotform, Medallia, Qualtrics, and Sogolytics.

When selecting the top CXM platforms, various criteria were taken into consideration, such as essential features, pricing, and user reviews.

To select the right customer experience software for your business, you should consider your business goals and ensure that the tool you choose has all the features that help you achieve those goals. Moreover, you should consider important factors like pricing and scalability to choose the tool that suits you the best.

Zonka Feedback is an omnichannel tool that helps you create and share surveys to collect feedback, and take instant action on feedback to improve customer experience. It also offers a free trial for 7 days.
Fuel Business Growth with Customer Feedback 🔥
Collect real-time, in-moment feedback at all touchpoints in customer journey and leverage feedback insights to transform customer experience.
Understanding Customer Experience Software
Customer experience software is a cloud-based solution that facilitates the management of customer interactions along the entire customer journey. Customer experience is emerging as a primary brand differentiator to enhance customer retention and is overtaking considerations like price and product. Companies that invest in customer experience management can expect increased customer satisfaction, loyalty, and ultimately, revenue.
Businesses can utilize a customer experience tool to obtain valuable insights into customer behavior and preferences, which can help them provide exceptional customer experiences.
Top Customer Experience Platforms To Transform your CX Game
There are several types of customer experience tools available for businesses, each serving a different purpose in the customer experience journey. The most important among them is customer feedback and experience management software, which helps businesses gain insights into customer sentiment and preferences by collecting and analyzing feedback.
These CX software and apps help businesses create feedback surveys and forms to gather valuable feedback and insights from the customers. They help to manage the overall feedback from creating and sharing surveys to collecting and taking action on feedback and ultimately improving customer experience and satisfaction.
Let's explore some of the best customer experience management software that you can use for your business in 2023 to measure and improve customer experience.
Top Customer Experience Management Platforms in 2023
Examining the top CX software provides businesses with insights into the best available tools to streamline their customer experience management process and deliver exceptional customer experiences.
These CXM platforms offer distinct features and capabilities that can assist businesses in optimizing their customer experience, ultimately leading to improved customer satisfaction and loyalty. Here are some of the best CX platforms.
1. Zonka Feedback: CX Automation & Management
Zonka Feedback is a comprehensive, multi-channel feedback survey and customer experience management tool. It allows businesses to collect feedback on various platforms such as in-app, website, email, SMS, iOS deices, Android tablets, and smartphones.
Zonka Feedback is known for its real-time feedback reporting and actionable insights, helping businesses to improve their customer experience strategies based on immediate customer responses.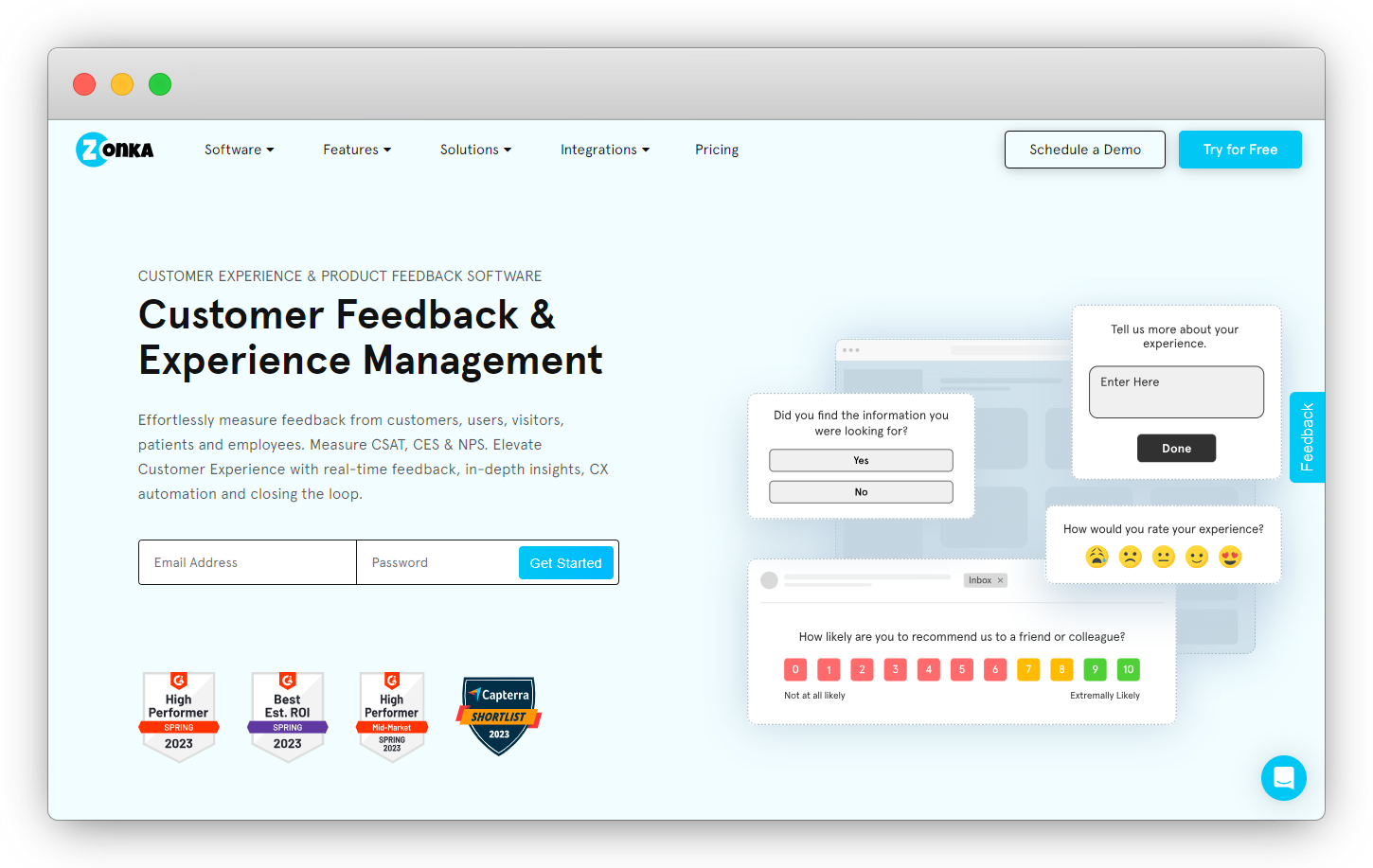 Key Features
Pricing
The starting price of Zonka is $49/month. It has a free version too with limited functionalities and also offers a free trial for 7 days for its paid plans.
2. SurveySparrow: Customer Experience Platform with Conversational Interface
SurveySparrow is a versatile survey and customer feedback software that transforms the traditional form-based survey process into a conversation. It offers features like recurring voice of customer surveys, embedded surveys, and NPS, making it easier for businesses to collect and analyze customer feedback.
This customer experience platform's user-friendly interface and rich analytics help businesses understand their customers better and improve their services to build better customer experiences.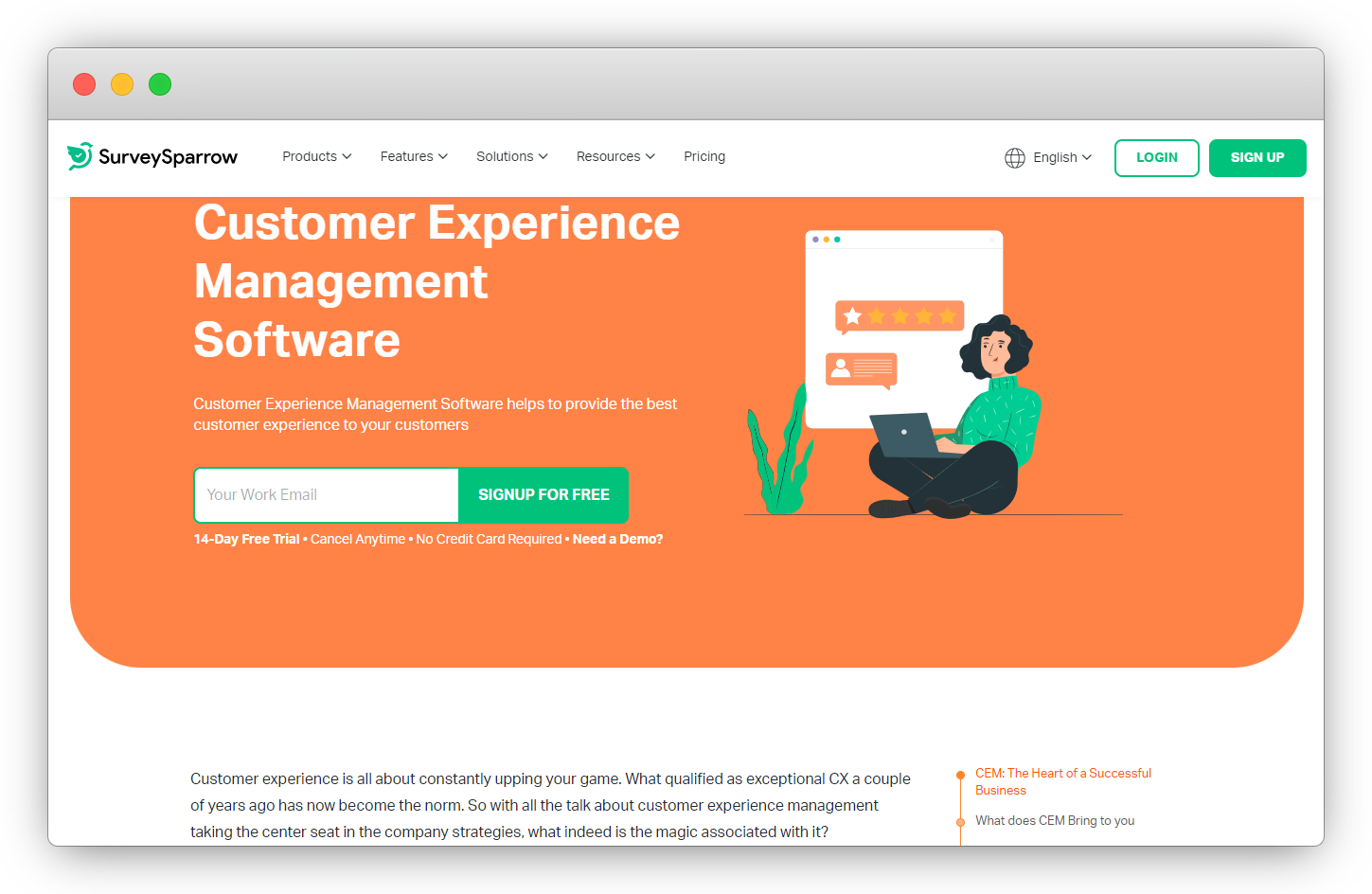 Key Features
Executive dashboard for instant reporting, in-depth analysis, and tracking CX metrics.

Customer journey mapping to identify connections, visualize customer journeys, and map the source of data.

Metric surveys including NPS, CSAT, CES, and customer exit surveys.

Intuitive survey builder with question types including videos, emoticons, and GIFs.

Survey sharing with multiple channels - email, SMS, link embedding, QR codes, and social media channels.

Real-time feedback collection and reporting with advanced filters.

Personalized survey forms with CSS white-labeling, answer piping, skip and display logic.

Ability to collect payments along with feedback through secured payment gateways.

APIs, webhooks, and integrations with tools like Zapier, Aweber, Facebook Pixel, and more.
Pricing
SurveySparrow pricing starts from its Individual Basic plan which costs $19/month per user. It also offers a free trial for 14 days.
While SurveySparrow offers extensive features in terms of survey building and reporting, today's large majority of businesses are looking for an all-encompassing customer experience management tool that lets businesses not just capture feedback but also take actions based on the feedback at specific instances in the customer journey. For this, you can check out SurveySparrow alternatives and find a tool that better suits your needs.
3. Jotform: Powerful Form Creation & Customer Experience Platform
Jotform Enterprise is one of the most robust online survey tools, form builders, and data collection tools. It offers features like advanced form fields, integrations, and enhanced security measures.
With this customer experience platform's enterprise plan called Jotform Enterprise, businesses can create custom forms, collect data in a centralized place, and streamline their workflows, enhancing their overall customer experience.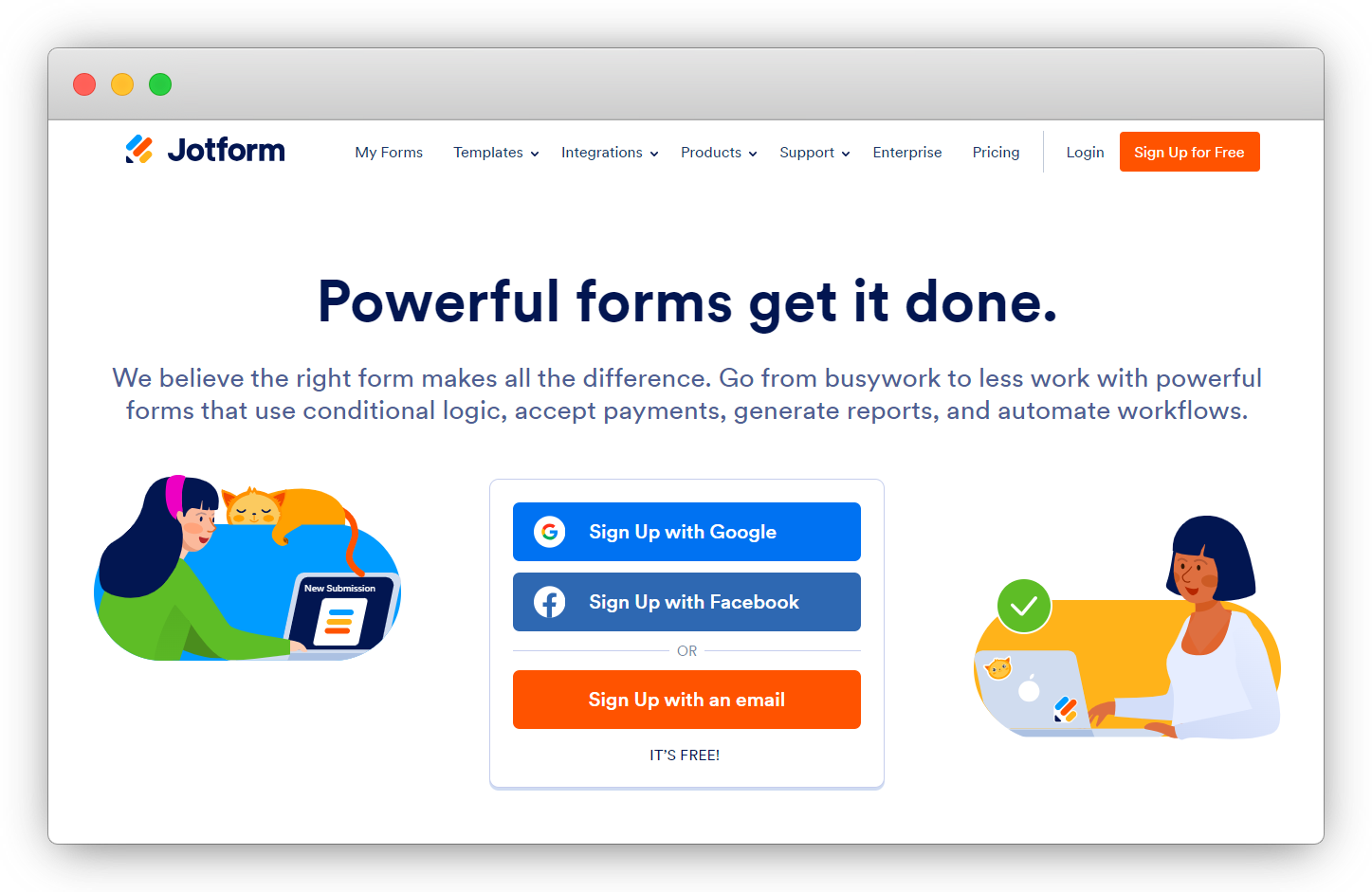 Key Features
Powerful form builder.

Prebuilt survey templates to create survey forms with questions to collect feedback about products, services, or brand images.

Conditional logic to skip, hide, or show questions according to responses to previous questions.

Report generation with your survey response data.

Automated workflows to ensure collection, tracking, and analysis of feedback.

Low-code table databases with easy drag-and-drop operations.

Special apps and integrations to provide a smooth workflow.

Dedicated Support team to provide assistance for Enterprise plans.
Pricing
Jotform's pricing starts from $34/month, and its Enterprise plans are custom plans. It also offers a free plan with certain limitations.
Jotform, despite its popularity, may not fully align with every business's needs due to certain limitations in widget placement, form positioning challenges, and a somewhat complex user interface. If you're seeking customer feedback software with a similar objective but a more tailored experience, you should check out our curated list of leading Jotform alternatives.
4. Zendesk: Experience Management Platform for Service Teams
Zendesk is a customer service software that offers a range of tools to improve customer satisfaction. It provides a unified workspace where businesses can track customer interactions, offer support across multiple channels, collect customer feedback and use analytics to improve their services and build better customer experiences.
This experience management platform's user-friendly interface and powerful functionalities make it a popular choice for businesses of all sizes.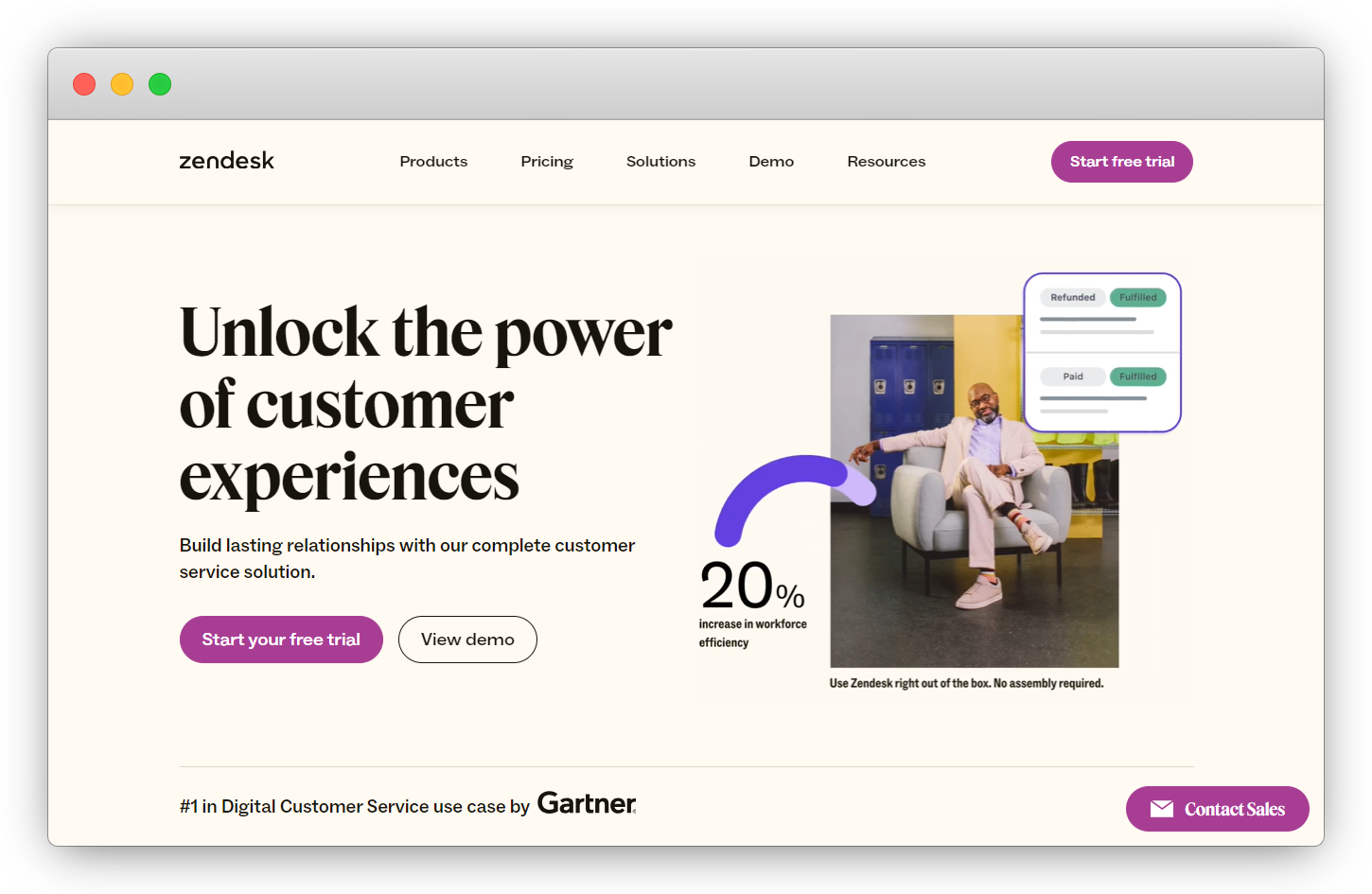 Key Features
Ticketing system to manage and prioritize customer enquiries, issues, and support requests.

Workflow automation to assign tasks to relevant employees.

CSAT surveys to measure quantitative customer satisfaction.

Complementary tools like knowledge management tools, to create articles based on frequently asked questions.

Analytics and reporting to measure, track, and improve customer experience.

Support for multiple languages.

1600+ apps and integrations.
Pricing
Pricing of Zendesk starts from $19/month per agent. It also offers a free trial for 14 days.
5. Medallia: Enterprise-level Experience Management Platform
Medallia is another leading customer experience management software that empowers businesses to build great customer experiences through its powerful suite of tools. This platform excels at capturing, analyzing, and translating customer insights into actionable strategies.
This experience management platform offers a range of tools and features to collect feedback from various channels and provides actionable insights for improving the customer experience.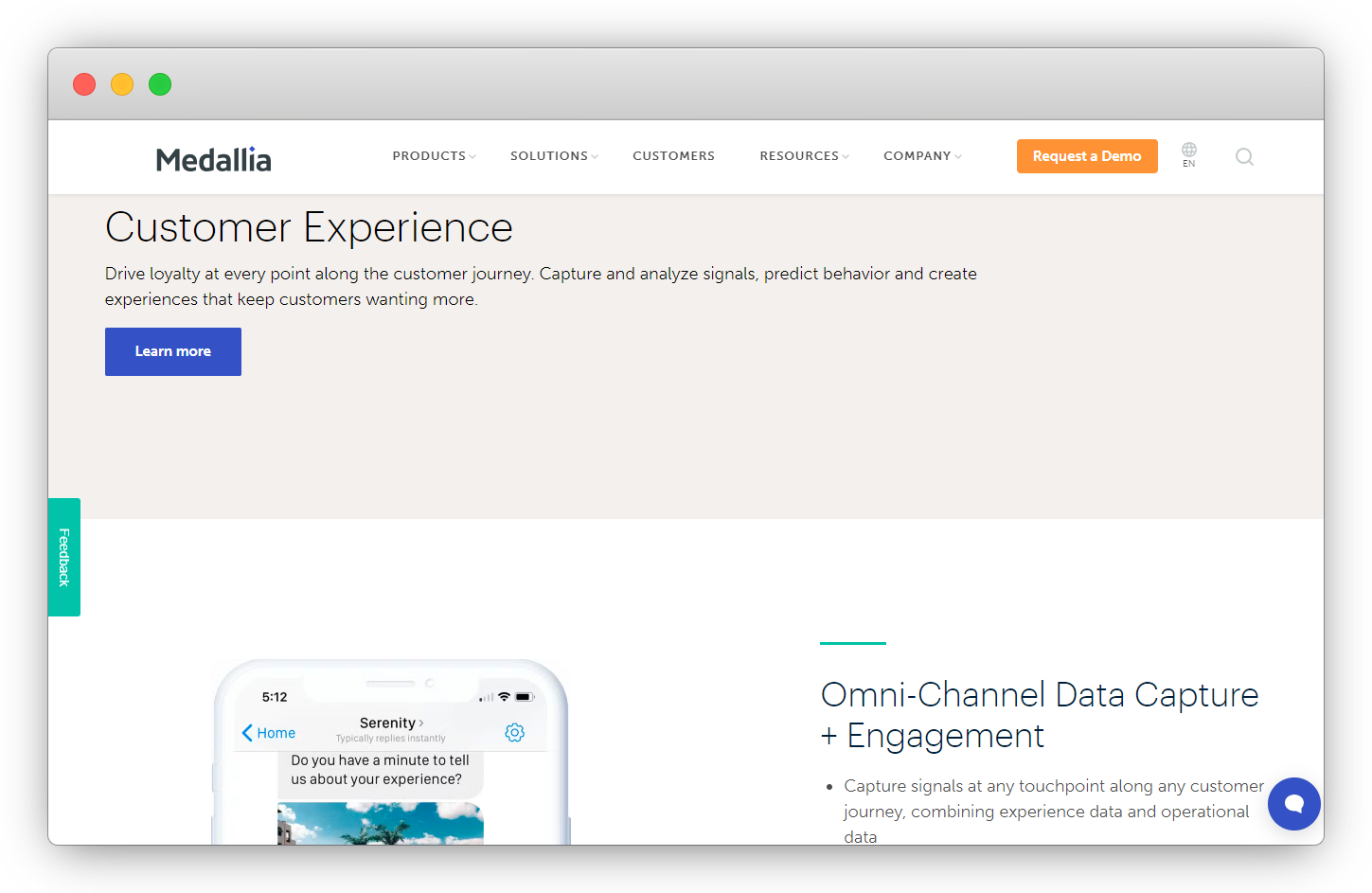 Key Features
360 view of customers with social media, transcripts, speech analytics, ticketing systems, and digital behavior.

AI-powered analysis of structured and unstructured insights to uncover what customers care about, prioritize actions, and predict their behavior.

Personalized surveys with survey questions, designs, translations, logic, conditioning, and distribution.

Multiple web based survey distribution channels - email, mobile, Business IVR, SMS, and WhatsApp texts, Wechat, and Facebook Messenger.

Multiple languages in translations.

Customizable designs and questions to choose.

Video capture options to capture emotions beneath the voice of customers.

Reporting capabilities with Text Analytics to view insights and survey results.

Ask Now feature to capture point-in-time feedback regarding a business decision.

Smart Sample feature to mitigate selection bias and fetch accurate customer insights.

Anti-cheating engine to identify suspicious surveys and fraud scores
Pricing
Medallia follows a custom pricing model. You need to contact their sales team to get the pricing quotes.
Medallia is a well-rounded tool, but it is a bit complex and involve high cost of features which all businesses don't use. So you can also explore our curated list of Medallia alternatives and find a tool that better suits your business requirements.
6. SurveyMonkey: CX Software with Feedback Management
SurveyMonkey is a household name when it comes to being a CSAT software and feedback solution. With its intuitive interface and user-friendly design, it's a top choice for businesses looking to gather customer insights through surveys and questionnaires.
You can use this CX tool to measure metrics like Net Promoter Score (NPS) and Customer Satisfaction (CSAT) Score to collect quantitative customer feedback. Being a good option among website feedback tools, it also allows you to use website feedback widgets to collect website feedback from your visitors.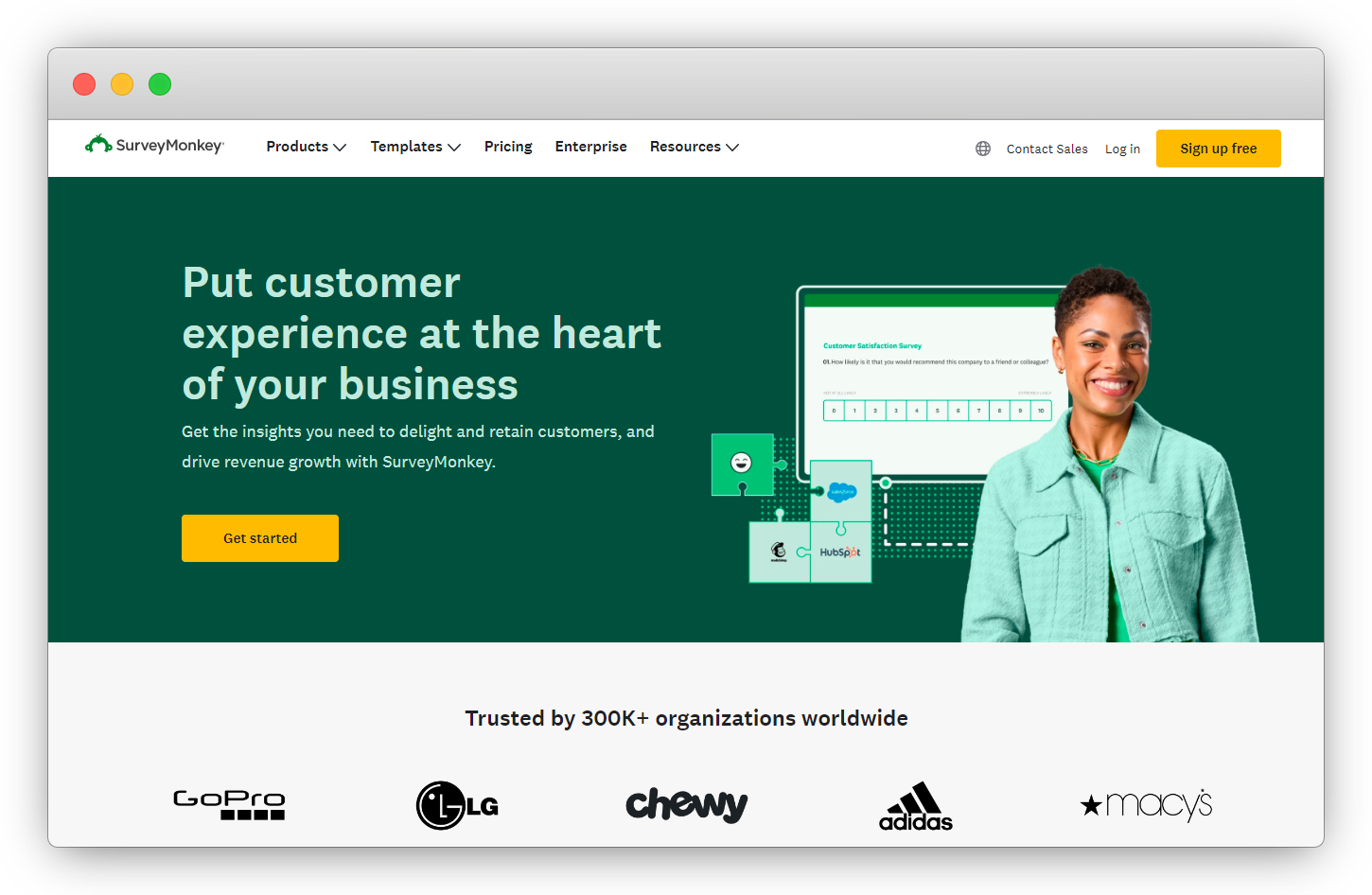 Key Features
Inbuilt survey templates to get started with creating surveys and collecting feedback.

CX metric surveys like NPS, CSAT, CES, and customer service feedback.

Skip logic, answer piping, and question branching to make your survey conversational.

Feedback analysis, closing the feedback loop.

Product, feature, and concept testing with target customers.

Team collaboration on one platform.

120+ integrations with tools like Maketo, tableau, and Salesforce.

Multiple survey distribution channels - email, social media, web links.
Pricing
Pricing starts from its Individual Standard Monthly plan that costs ₹899/month. It also has a free Basic plan.
However, it may not encompass all the features required for your specific needs. If you are looking for robust features and capabilities such as advanced reporting and display logic support at a lower price, you should explore SurveyMonkey alternatives.
7. Qualtrics: All-in-one Customer Experience Software
Qualtrics is a comprehensive experience management software designed to help businesses understand and improve every aspect of the customer journey. Known for its versatility and robust capabilities, Qualtrics is a go-to choice for enterprises seeking to excel in customer experience.
It enables businesses to survey their customers at the moment across multiple channels and see real-time data on a single platform.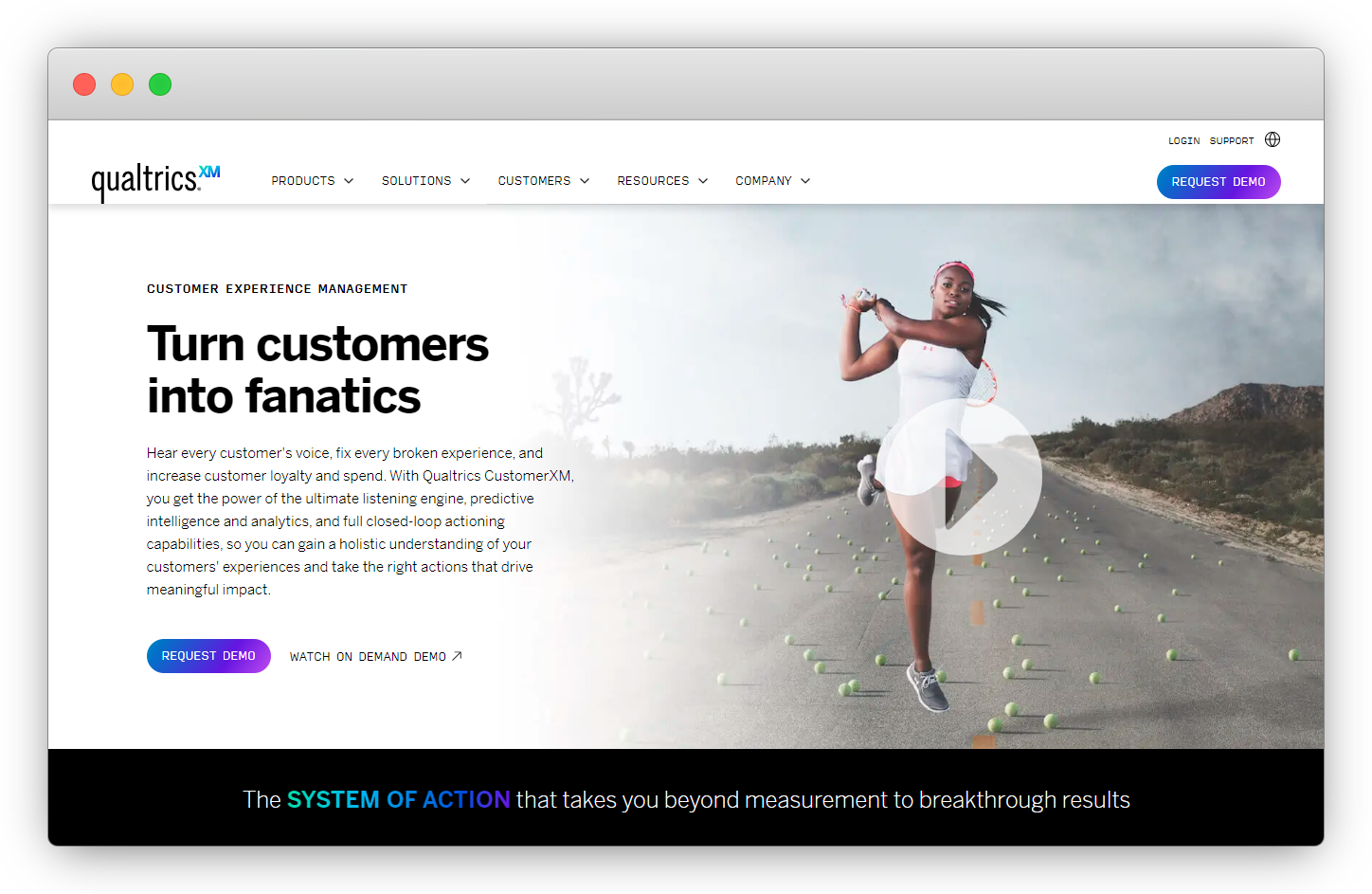 Key Features
Intuitive survey builder with skip logic, branching, and custom question types.

360-degree feedback collection from customers, stakeholders, employees, and partners to give you a holistic view of the experience ecosystem.

Powerful analytics and reporting to dive deep into customer feedback data collected.

Customer journey mapping to identify the pain points and areas of improvement.

50+ expert customizable survey templates and question types.

Predictive analysis to predict customers' future needs and behavior.

Built-in closed feedback loop process with automated conditional ticket assignment.

Multiple survey distribution channels - email, chatbot, SMS, contact management, web, social media, QR codes, and offline surveys.

Integration Hub offers a vast array of integrations to ensure smooth workflows.
Pricing
Pricing details are not provided on the website. You can contact their sales team for this. However, some sources suggest that the starting price is $1500/month.
Many customers feel that this tool is overpriced. So if you are looking for a budget solution, you can explore the top Qualtrics alternatives to find the best deal for you.
8. Sogolytics: Experience Management Software for Delightful Experiences
Sogolytics is another effective customer experience platform that focuses on transforming customer experiences and providing exceptional experiences every time the customers interact with your product, people or processes. The tool supports automated processes to ensure less effort and smooth workflows.
This experience management software helps to collect feedback through multiple channels, analyze and leverage it to identify at-risk customers, take corrective action, and enhance customer retention.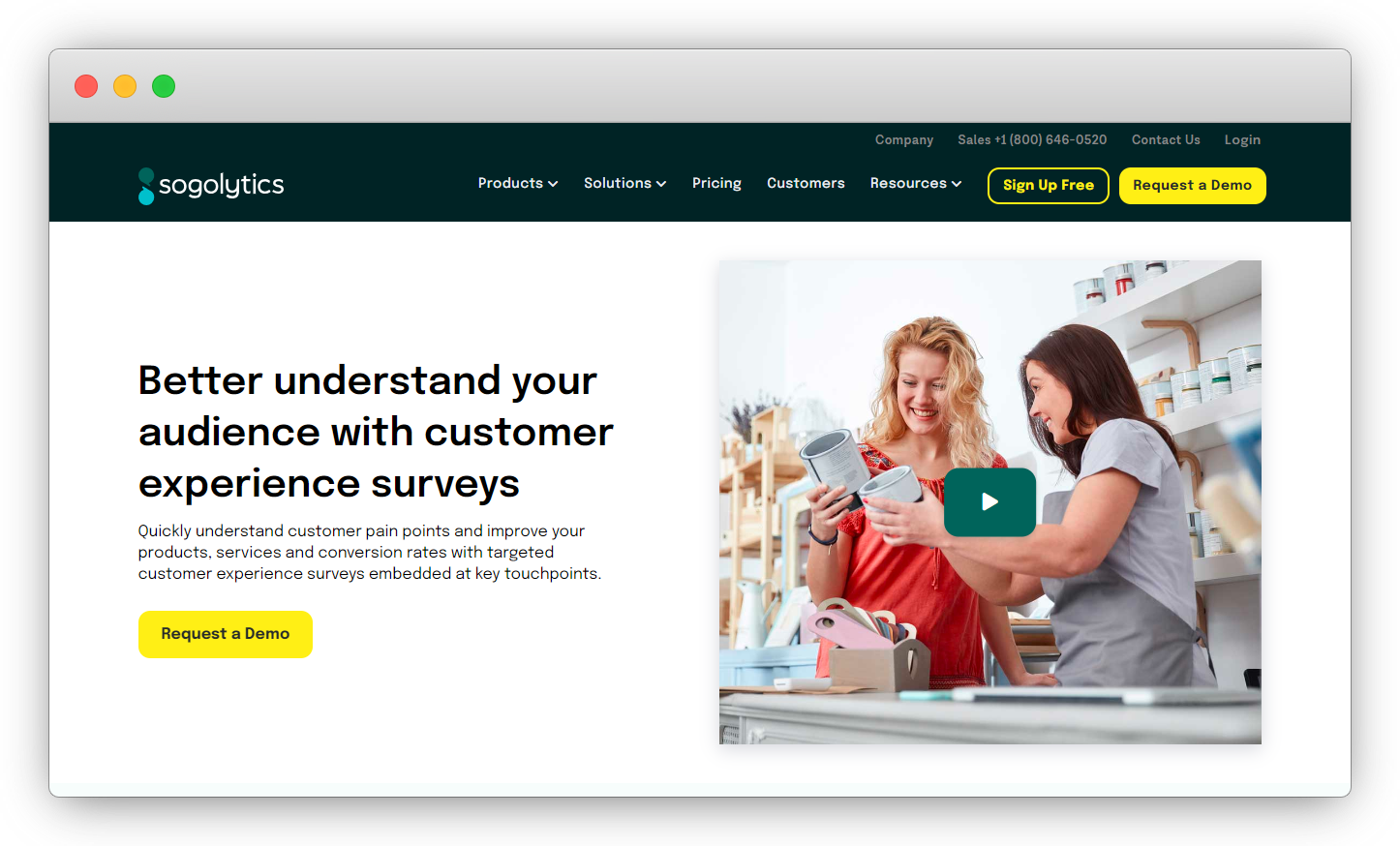 Key Features
Ready-to-use survey templates to build intuitive surveys to collect feedback.

Survey logic and question branching to make surveys dynamic.

Multiple survey distribution channels - email, SMS, social media, kiosks, QR codes, website embedding, and popups can be used like in-app feedback tools.

The tool works offline without the internet.

Metric surveys - NPS, CSAT, and CES to measure customer experience, satisfaction, and loyalty.

Dashboard and reports to track feedback trends through metric scores.

Automated processes to assign issues to the relevant teams and close the loop.

Feedback prioritization to enable you to handle critical issues first.

Predictive analytics to identify future issues through feedback trends.

Integrations with popular technology platforms like Salesforce, Microsoft Dynamics, Hubspot, Zoom, and more.
Pricing
Pricing starts from $25/month. It also offers a free trial for 10 days.
Let's explore some other good options of CX platforms that you can choose for your business for feedback management as well as various other purposes.
Expanding the List: Top 15 Customer Experience Platforms of 2023
To provide a comprehensive overview of the best CXM platforms available in 2023, we have expanded the list to include the top 15 tools. In addition to the top 8 platforms mentioned earlier, here are some other options in the expanded list.
1. Hiver - Hiver is a collaborative email management tool designed for teams that use Gmail, allowing them to manage and track emails efficiently. This CX tool is a supportive tool in customer experience management as it allows you to create shared email inboxes so that teams can collaborate and take action on emails or feedback.
2. Hubspot - HubSpot is an all-in-one inbound marketing, sales, and customer service platform, offering tools for CRM, marketing automation, sales, and support, making it a comprehensive solution for customer engagement. You can also integrate HubSpot with Zonka Feedback and other survey tools to measure and boost customer experience.
3. ProProfs Survey Maker - ProProfs Survey Maker is one of the most popular user-friendly voice of customer survey tools and CX software that enables businesses and educators to create, distribute, and analyze surveys effortlessly to gather valuable feedback and insights.
4. TextMagic - TextMagic is a versatile business texting platform that allows organizations to send SMS and receive messages, facilitating customer communication and engagement through text messaging. You can use it to send customer experience surveys as text messages and collect customer feedback.
5. Trustmary - Trustmary is a customer feedback, testimonial, and CX platform that helps businesses collect and showcase authentic customer reviews and testimonials to build trust and credibility.
6. Delighted - Delighted is a customer experience platform that is known for its NPS (Net Promoter Score) surveys, which enable businesses to measure customer loyalty and satisfaction through simple and effective surveys. Although it supports other metrics like CSAT and CES, the NPS survey is its specialty. You can also explore best Delighted alternatives and competitors to look for other similar tools.
7. Birdeye - Birdeye is a customer experience tool and online reputation management platform that helps businesses manage customer reviews, gather feedback, and enhance their online presence to attract and retain customers.
Each of these CX platforms offers unique features and capabilities that cater to different aspects of customer experience management.
By exploring each of these top 15 customer experience management software, you can gain a deeper understanding of the customer experience and feedback survey tools available and make informed decisions on which platform best suits their needs.
What To Look for in a Customer Experience Tool?
Customer experience tools offer various key functions to help businesses improve their customer experience management. One essential function of CX software is collecting feedback, which allows businesses to gather valuable insights into customer sentiment and preferences by analyzing customer responses.
Customizable dashboards are another crucial feature, enabling businesses to:
Tailor their customer experience management software to their specific needs

Track key performance indicators

Monitor customer interactions

Analyze customer data
Closed-loop systems, a vital component of customer experience tools, ensure that feedback collected from customers is used to drive improvements in products or services. This continuous feedback loop ultimately leads to enhanced customer satisfaction and loyalty.
Finally, analytics are an essential aspect of a customer experience tool, providing businesses with data-driven insights to make informed decisions. Advanced techniques offered by some CEM tools include AI-based sentiment analysis, text analytics, and a centralized message center.
Our Selection Criteria for Choosing the Customer Experience Management Software
When selecting the top CX platforms, various criteria were taken into consideration, such as analyzing user reviews, assessing satisfaction ratings, and evaluating essential features for customer experience management software. These factors contribute to the overall effectiveness, efficiency, and adaptability of the customer experience management software.
Each business has unique customer experience management requirements, which is why it's crucial to consider various attributes of the tools like:
Features

Pricing

Usability

Integrations
First of all, you should consider your business goals and objectives to using customer experience management software. These include not only today's needs but also when you scale up your business in the near future.
The tool you choose should be able to fulfill those needs within your budget.
A careful evaluation of these criteria can help you find the ideal customer experience management software to enhance customer satisfaction and loyalty.
Benefits of Customer Experience Software
Using customer experience software is beneficial for your business in many aspects. Let's explore some benefits you can derive from CX software.
Improved Customer Satisfaction - CXM software helps you better understand your customers' needs and preferences through feedback. This helps you serve them in a better way which enhances overall customer experience and satisfaction.

Increased Customer Loyalty - When you are able to improve customer experience, it encourages customers to stay loyal to your brand and recommend it to others.

Identification of Customers' Challenges - There can be unknown challenges that your customers may be facing like poor service from your customer service teams or bad product performance. CX tools help you identify these issues and resolve them as soon as possible.

Better Decision-Making - Feedback data collected through CX tools help make data-driven decisions to prioritize customer issues and offer better products and services as per customer demands.

Better Reputation of the Business - When you work on continuous improvement and deliver better customer experiences each time, it creates a positive image for the customers. This fosters a strong reputation for your business in the market.

Lower Customer Churn - With the help of CX platforms, you are able to identify at-risk customers and address & resolve their issues at the right time thereby preventing churn and increasing retention.

More Revenue and Business Growth - Enhanced customer satisfaction and loyalty achieved with the help of customer experience solutions translate into increased revenue. Satisfied customers are not only likely to make repeat purchases but also advocate for your brand, driving new business growth.
To truly maximize the benefits of CXM platforms, businesses must focus on two primary aspects: enhancing customer satisfaction and streamlining support operations. Understanding customer needs and identifying bottlenecks in the customer journey allows businesses to deliver personalized experiences that enhance customer satisfaction.
In terms of streamlining support operations, customer experience software offers various features and capabilities that can help businesses gain visibility into customer interactions, fix routing rules, and identify training opportunities for their team. This increased efficiency can lead to decreased response times and ultimately, higher customer satisfaction.
Conclusion
In today's competitive business environment, exceptional customer experience is more critical than ever. By leveraging customer experience software solutions, you can gain valuable insights, and leverage them to improve customer experience and grow your business.
As you consider the various customer experience platforms available, always consider your primary goals and then evaluate features, pricing, usability, and integrations, as well as potential return on investment to choose the right software for your business.
Always take a free trial of the software you want to use and then make an informed decision to invest in it.
Zonka Feedback is one of the best customer experience platforms that helps you not only to create effective surveys and share them through multiple channels to collect feedback but also enables you to take instant actions on that feedback to deliver exceptional customer experiences.
It also offers a free trial. You can try it for free for 7 days and see how it works for your business.