Customer Experience is the sum total of all the interactions and incidents that customers go through while dealing with a business. It is the perception that gets built in their minds about you and your company based on all interactions and events in their customer journey. However,
33% of customers switch to other brands with just one instance of poor CX.
Therefore, customer feedback is critical no matter the stage your business is at.
If your focus is CX management and improvement directly through Salesforce without the whole back and forth between your CRM and the survey software, the ultimate solution is Salesforce CX surveys. This means that you can automate your Salesforce surveys and automatically get survey response data synced back to your database.
In fact, you can create a holistic CX program with Salesforce that includes both your customers and employees.
Using Salesforce Surveys is fairly easy. All you need is a solid one-time setup, and then you can run your feedback program smoothly. But,
We have covered all of it in this detailed article. Read on.
Measure CX at all touchpoints with Salesforce Surveys
Send surveys and get 360° view of your customers right within Salesforce with Zonka Feedback
Key Elements of a Successful Salesforce CX Program
1. Business Objectives and Position
When creating a Salesforce CX program, you first need to evaluate where your business stands currently and what your objectives are. Your objectives can be high sales or more profits. It can be delivering high quality, or delivery products at low cost. And they are always on the basis of your current position in the market. Obviously, you would set your CX goals to grow higher and reach a better place than your current market position.
2. Customer Journey and History
Your customer service reps and customer success teams should know the customer history and the overall customer journey to be able to serve your customers well. One of the Salesforce survey examples to explain this would be the use of customer feedback by two teams, such as customer support and marketing. For instance, if a customer has given a poor survey score, the support team can view the centralized data and make a follow-up call. Similarly, the marketing team can view the customer feedback so they pause the marketing emails for the same customer until their issue is resolved.
Access to centralized data improves customer experience and their overall journey with your brand.
3. Customer Feedback and VOC
Customer Feedback tells you about how your customers perceive your products, services, and their overall experience with your brand at various touchpoints. For example, you can use our eCommerce Website Feedback Survey Template to capture post-transaction feedback from your visitors on the order confirmation page.
Voice of customer programs helps you capture information about customer feedback, their likes, dislikes, and analysis of reports of the customer insights.
4. Employee Experience
Employee Experience also affects your CX to a great extent. Ensure employee satisfaction and empower your customer-facing employees to take some small decisions like giving a small discount or waiving off late fees, independently without going through a long approval mechanism, so that they can serve and satisfy the customers.
If you take care of your employees, they will take care of your customers and the business will take care of itself. - J. W. Marriott
For an effective CX program, it is a prerequisite to focus on the above CX elements and ensure that they are in the right place. Now let's explore the steps to run a successful Salesforce CX program.
Steps to Run a Successful Salesforce CX Program
Set Clear Objectives
Integrate your Survey Software with Salesforce
Create Dynamic Surveys
Set Triggers to send Automated Surveys
Analyze Survey results and Take Action to Close the Loop
Let's learn more about these steps and how to follow them practically to run a successful Salesforce CX program.
1. Set Clear Objectives
The first thing you should do before starting your Salesforce CX program is to determine the objectives of the whole program. Objectives are usually derived from the issues and challenges you face. It can be low sales, unhappy customers, less customer loyalty, customer churn, and anything that affects your business.
Depending on your goals, you can decide your CX strategy and accordingly survey your customers. For instance, if you see customers who don't stay for long and your business lacks loyal customers, you can decide to measure the Net Promoter Score of your business through NPS Surveys. Likewise, if you feel that our customers seem unhappy or dissatisfied, and churn is increasing, you can measure the Customer Satisfaction (CSAT) score with CSAT surveys to know the reasons behind that dissatisfaction and churn.
If you want to achieve some quantifiable targets like a good NPS or CSAT score, you should first measure your current scores. Then you can take them as the base score and decide on a target score to reach through your CX program. This will give your CX program a direction to move ahead and climb the ladder of success.
2. Integrate Survey Software with Salesforce
Next, you need a good Salesforce Survey tool that integrates with Salesforce and allows syncing data so that you and your team can view and use customer data directly in the CRM. Your survey tool must allow data mapping to sync scores and detailed responses.
You can do all this with Zonka Feedback using two Salesforce survey mapping types to map your survey response data to the Salesforce platform. You can do:
Custom Mapping, and
Managed Mapping
Custom Mapping is where you can sync all the survey response fields to the attributes of your Salesforce objects manually. As soon as a survey response is received, it will be synced to the Salesforce data and the survey response fields will be filled as per the response field mapping you have done.
Managed Mapping is a convenient mapping option where you don't need to map your survey response fields to Salesforce manually. Rather, you get an easy-to-install package of Salesforce that automatically syncs your survey response fields to Salesforce contact. For this, you need to have a Growth or higher package of Zonka Feedback.
3. Create Personalized and Dynamic Surveys
Now comes the core of your customer experience Salesforce program, i.e. collecting Customer Feedback with surveys. For improving customer experience, you need to ask your customers how they perceive the experience you provide them now, and how they expect you to improve it. Also, the survey experience you provide should also be a personalized experience.
Moreover, the surveys you create should be dynamic in nature i.e., the relevant flow of surveys as per customers' responses to the previous questions. This is done using Skip Logic, Hide Logic, and Survey Redirection - survey features that improve feedback experience and response data quality.
Zonka Feedback offers all these features and enables you to create personalized and dynamic surveys to collect valuable customer insights. It offers hundreds of ready-to-use survey templates to create the most specific surveys with different question types. Also, you can customize the surveys as you like and add your own branding, style, colors, and themes to them. You can create multilingual surveys, i.e., surveys in different languages so that you can survey your customers of different backgrounds and languages.
4. Set Triggers to send Automated Surveys
The key to a successful survey is the right survey timing. To capture accurate and maximum customer insights to understand their needs and expectations, sending the right surveys at the right time is crucial. For this, you should have automated workflows to trigger surveys at the right time automatically.
One of the Salesforce survey examples can be a retail store customer feedback form template which can be sent right after a customer exits your store to collect fresh and insightful feedback.
Similarly, you can set triggers to send a survey email to gauge customer experience just after the customers have made transactions.
Likewise, you can set triggers at various touchpoints of the customer journey to send surveys automatically and capture customer insights about their diverse experiences at different touchpoints. This strategy will let you know the strengths and weaknesses of your business and the areas where you need to improve. As your software would be already mapped to Salesforce, all your customer feedback data will be automatically synced to Salesforce, thus providing you and your teams a 360-degree view of the customers to understand their insights better.
76% of the customers expect businesses to understand their requirements.
5. Analyze Survey Results and Take Action to Close the Feedback Loop
The next and essential step of your CX strategy should be to analyze the survey responses from customers and take action on their feedback. For analyzing your survey results, you can create various types of Salesforce reports with Zonka Feedback like Trends report, Text Analysis, and metric reports like NPS, CSAT, and CES reports to understand more about customer loyalty, satisfaction, and their perceived efforts to get a job done with your business.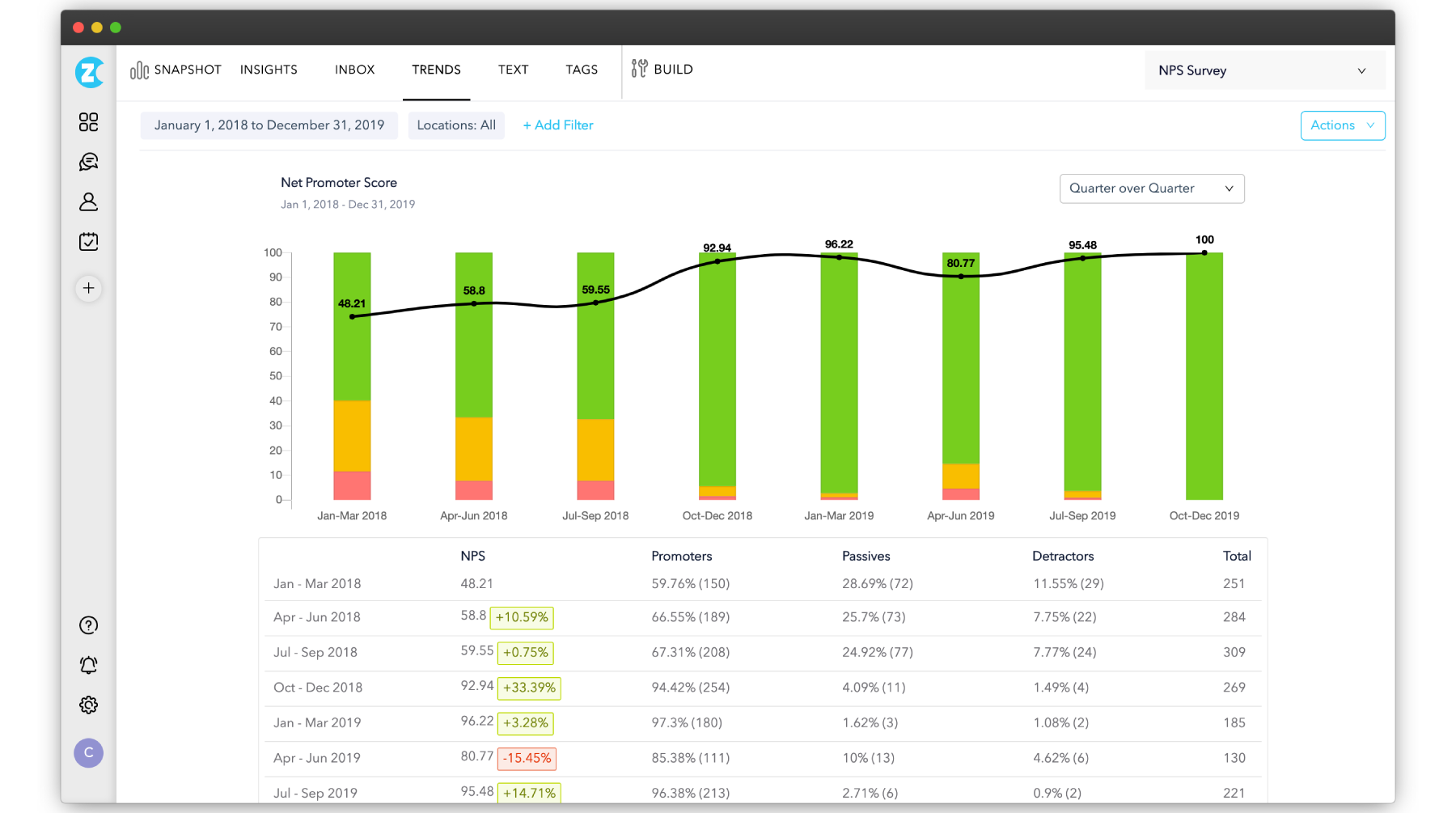 Feedback is valuable only when you analyze it and take action on it to close the feedback loop. With Zonka Feedback survey reports, you can analyze all your customer feedback. Zonka Feedback for Salesforce enables you to make these survey response reports available on your Salesforce customer experience platform so that you and your teams can analyze them and take action anytime and at any touchpoint of the customer journey by having a holistic view of the entire customer database.
You can follow up with your customers as per their feedback and also assign tasks to your teams accordingly through automatic workflows. For instance, if you use an NPS survey template by Zonka Feedback, you can set workflows to respond with a Thank You Email if the score is 9-10, a follow-up survey if the score is 7-8, and a follow-up call by an agent if the score is 6 or less.
In this way, you should take action on customer feedback and close the feedback loop effectively to ensure Customer Satisfaction and make your CX strategy successful.
Conclusion
Integrating your platform with the right Customer Survey Software like Zonka Feedback enables you to map your survey responses with your Salesforce system and take action to improve customer experience and enhance customer satisfaction. This way, you can follow the right steps to make your Salesforce CX program successful.
Measure CX at all touchpoints with Salesforce Surveys
Send surveys and get 360° view of your customers right within Salesforce with Zonka Feedback