Surveys are a great way to collect Customer Feedback and know what your customers feel about their experience with your products, services, and organization. When you get this vital information, you can improve your business, follow customers' opinions to make the right business decisions, enhance your strengths and USPs, work on your weaknesses, resolve customer issues, and prevent churn.
Elevate CX with Customer Feedback🔥
Collect real-time, in-moment feedback at all touchpoints in customer journey and leverage feedback insights to transform customer experience.
But you cannot do all this by merely sending your surveys and getting responses. Instead, you work on the feedback to improve Customer Experience and enhance satisfaction. To work on feedback, you first need to analyze your survey responses and feedback. This is where you need proper Survey Reports.
With Zonka Feedback, you get advanced analysis and survey reports. This article will explore some great features of Zonka Feedback that help you analyze your survey responses and prepare accurate Zonka Feedback survey reports in the way you want. These features are:
Filters
Saving
Scheduling
Turning off Graphs and Tables
Drill Down
Downloading
Reading Graphs well with Mouseover Popup
When you get the survey responses, they get saved in your Zonka Feedback account. Let's learn how you can create and view different reports with these advanced features.
1. Filters in Zonka Feedback Survey Reports
The Filter option is a handy feature to compare your survey responses across locations, time slots, and more. With this feature, you can apply Filters to the survey response data to be able to view survey reports based on different parameters. The report will display the data corresponding to the selected attributes, like location, feedback scores, devices, etc.
For instance, if you have deployed multiple survey devices like kiosks, smartphones, or tablets, you can view the data separately collected through each device. In this way, you can get the information as to which area or device is best to collect survey responses from your customers. Accordingly, you can decide to remove some or deploy more devices to survey your customers.
Likewise, if you have multiple business locations, you can view survey responses collected separately from each site. This way, you will get feedback from customers of different areas and demographics. You will get to know at which location your customers are satisfied and which location needs improvement. You can see the variation of your customers with this, do better segmentation and targeting of customers, and also track your staff's performance at multiple locations.
Similarly, you can also apply filters based on the feedback scores you have received, like NPS, CSAT, or CES scores, to know how many detractors, promoters, or passives you have. You can also filter your survey responses by time to see the variation of survey responses in different time slots. You can use a filter to view responses collected on a particular period, like a day, week, or time slot.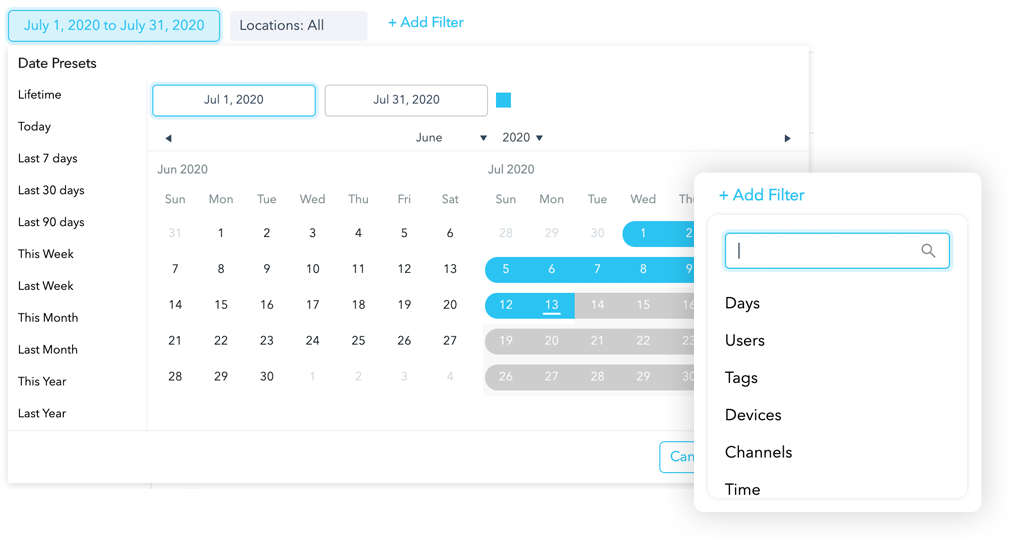 2. Saving Zonka Feedback Survey Reports
The Saving feature of Zonka Feedback enables you to save your reports in your Zonka Feedback account for future reference. When you filter your responses to create and view a particular report, and you feel that you may need that report in the future with the same parameters and filters applied, this feature enables you to save that report in your account.
For instance, you have taken an important business decision, like adding a new feature to your products, adding a new variety of products, giving a special rebate on your services, or anything else. Now, you want to keep a record of how that specific decision affected your customer feedback and satisfaction. In such cases, you can use this feature to save the report based on the filters you applied.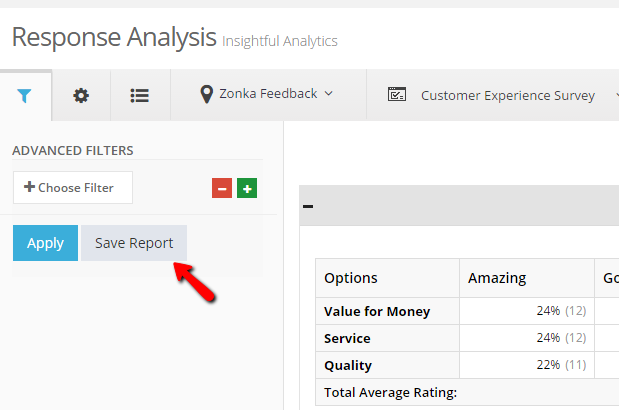 3. Scheduling Zonka Feedback Survey Reports
When you want to regularly get a response report based on some parameters, you can use the Scheduling feature with Zonka Feedback. With this feature, you can schedule reports after a defined interval like daily, weekly, monthly, quarterly, or annual reports.
By doing this, reports based on the criteria you selected which can include metrics reports like CSAT, CES, and NPS Reports also, will be created and delivered to your inbox automatically on a regular basis. You can view them anytime you want.
4. Turning Off Graphs and Tables in Survey Reports
Zonka Feedback Survey data shows you response data in a combination of numbers, scores, graphs, charts, and tables. But it doesn't force you to view them all. With the feature of Turning Off Graphs and Tables, you can view your response data and reports without any graphs or tables.
You can simply do this by unchecking the checkbox of the format you don't want to see. For instance, if you wish to view your data in the form of graphs and no other tables or charts, then you can uncheck the checkboxes with the options of different forms of data other than graphs. Similarly, you can view your response data and reports in other formats or just as numbers or scores by using this feature of Turning Off Graphs and Tables.
5. Drill Down Reports
Drill Down is a feature that enables you to get rapid information on survey responses in real-time and pinpoint the reasons behind the figures. You can drill down to apply any filters and create and view Drill-down reports of survey responses as per the criteria you set.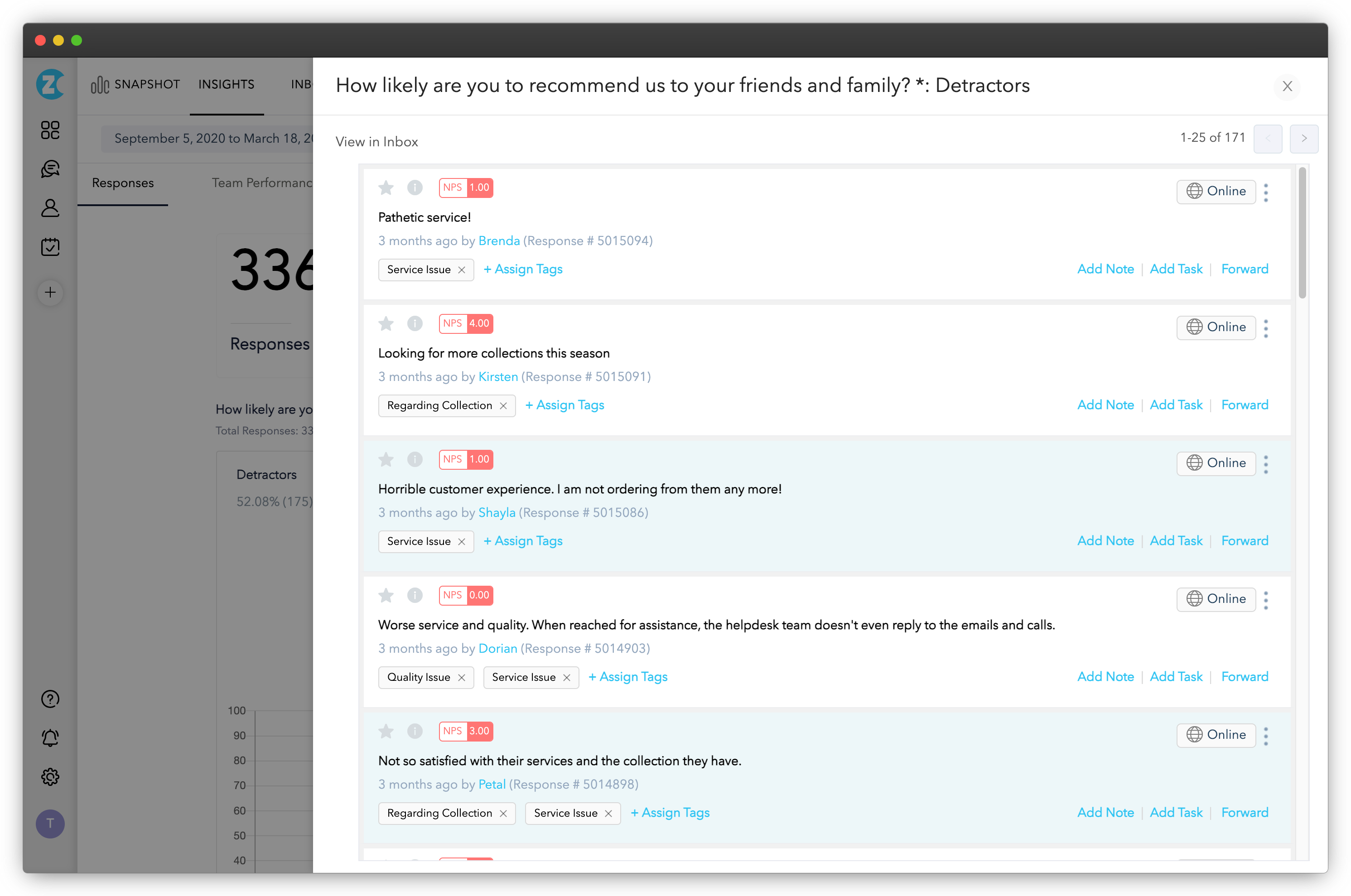 6. Downloading Zonka Feedback Survey Reports
You may need some reports to be available and viewable for you anytime, anywhere, even when you are offline. For this purpose, Zonka Feedback provides the feature of Downloading your reports in two ways. One is a PDF download, and the other is the Snapshot report. Let's learn more about both of these reports.

1. PDF Download
You can simply download your survey response report from your account in the form of a PDF and keep it for future reference. You can then view and share the PDF anytime and with anybody to use the information saved in it.
2. SnapShot Report
The Snapshot report is the overview of your survey responses. In a snapshot report, you get information about total responses, completion rate, and the average time taken by the respondents to fill the survey. You also get the scores of Customer Feedback metrics like NPS, CSAT, and CES, a consolidated list of the last ten responses, and response trends. This report also includes the number of responses received through each channel among the multiple channels used, across each location, and on particular dates.
You can download all this data in a Snapshot report so that the information will be available for you both online and offline.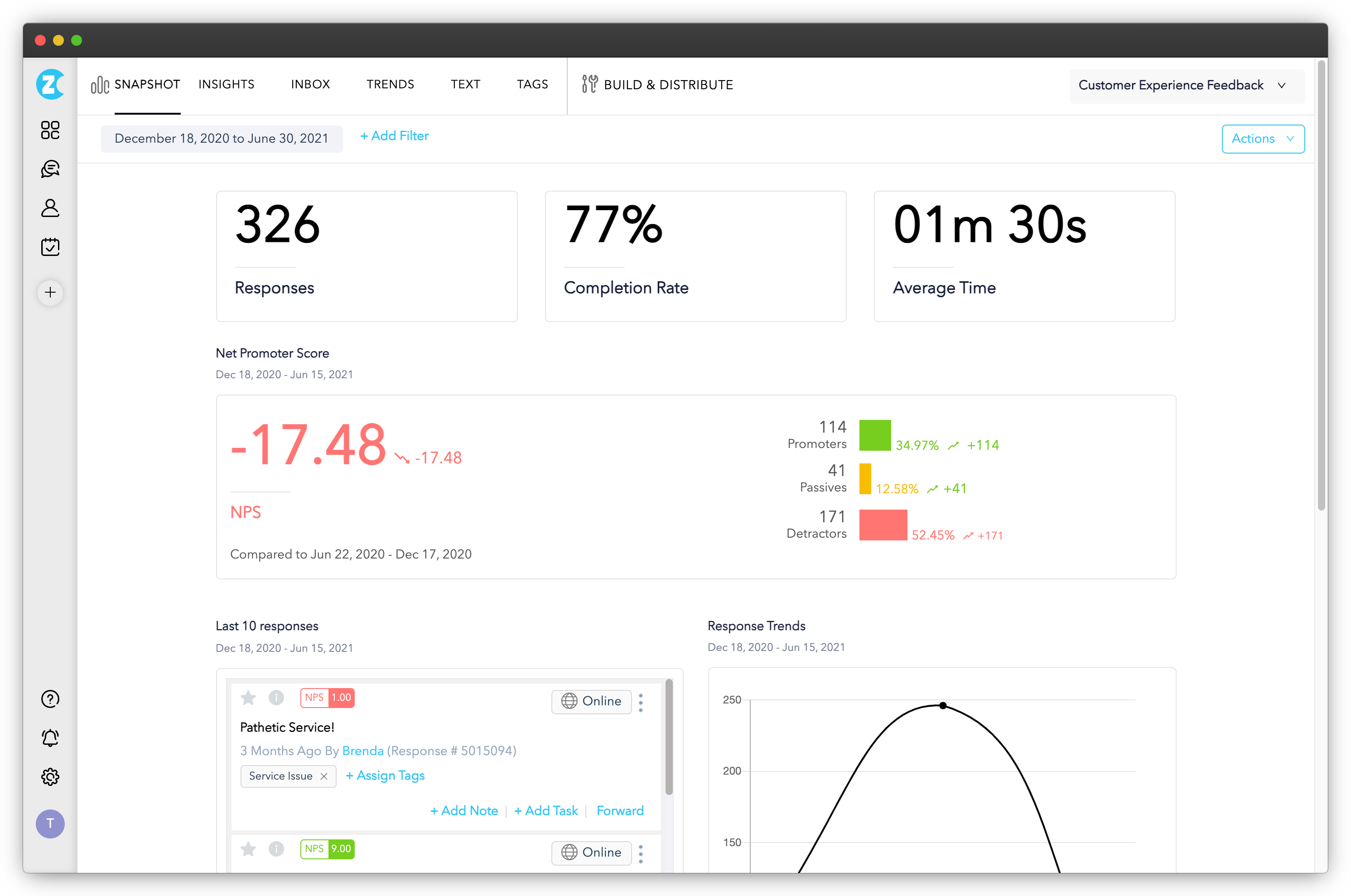 7. Reading Graphs well with Mouseover Popup
This feature enables you to study all the graphs you get in your reports. When you take your cursor to a graph or table displayed in the report, the scores and summary of that graph are displayed on the screen in the form of readable scores. This feature enables you to understand and better analyze each graph in your reports.
Conclusion
Surveys responses and Customer Feedback can be utilized for the betterment of a business only when they are analyzed and required actions are taken. For doing an analysis of your survey results and taking action, it is necessary to have proper reports in place. Zonka Feedback's advanced reporting features help you to create various reports based on survey responses and feedback ratings and analyze the survey response data the way you want so that you can get the most out of Zonka Feedback survey reports.