As a product owner, you're bound to get a lot of incoming feedback. Customers will always have opinions, suggestions, and requests about the product and its features. Streamlining and analyzing incoming feedback is crucial and can be the key to the success of your product. After all, great products are not developed in isolation.
It is, therefore, essential to know what your product users are thinking and to be able to use that effectively in product development and roadmap.
Measure Product Feedback & User Insights 💻
With Product Feedback Surveys, understand what users need and learn ways to delight your customers.
In this article, we will learn what Product Feedback is and how it is beneficial for your business. We will also explore various types of product feedback and how you can collect it.
What is Product Feedback?
Product Feedback is any information, opinion, or feedback that your users share regarding their experience and satisfaction with your product.
Product Feedback can include:
Any appreciation that customers give for having a good experience.
Any problems, issues, or complaints that customers raise in the functioning of your product.
Repots about any bugs that occur while using the product.
Reviews about the product feature that users like and feel are helpful.
Negative reviews about the product feature that users don't like.
Any feature which the customers feel is missing and would like to see in the near future.
Customers' views about the product's price and if the product is worth the price.
Any special or unusual experience that your customers had with your product or service.
How Do you Get Product Feedback?
When you want to collect Product Feedback, the best way is to ask your customers for it. Feedback can be solicited as well as unsolicited feedback.
Solicited Feedback is when you reach out to the users through various means usually through different types of surveys usually through a Product Feedback Tool.
Unsolicited Feedback is what your customers share without you asking for feedback. Customers share unsolicited feedback in the form of bug reports, reviews and ratings on aggregator platforms, or social media channels.
It is always better to provide solicited ways to your customers to collect feedback and work on it to improve customer experience rather than finding your name going viral with wrong reviews and negative word of mouth.
Let's explore some more reasons to collect Product Feedback.
Why Collect Product Feedback?
Product Feedback tells is the only way to know what your product users are going through and what they feel about their experience with your product. Feedback drives product success. Let's understand this better by exploring the benefits of Product Feedback.
Benefits of Product Feedback
Lets Customers know that their Feedback matters
Build an Effective Product Roadmap
Get Feedback about Existing and new Features
Identify Issues and effectively Resolve them
Align Product Vision with Customer Requirements
Prevent Customer Churn and Improve Retention
Let's learn more about these benefits.
1. Lets customers know that their feedback matters
Asking for Product Feedback from the customers conveys to them that you care for them. Taking action on it shows that their feedback matters which poses a good impression of your brand and drives customer loyalty and satisfaction.
2. Build an Effective Product Roadmap
Taking customer feedback helps you get a better understanding of how customers are using your product and what use cases are they resolving. It allows customers to give you suggestions and feature requests which can be used to build an effective feedback-driven product roadmap with features that your customers are looking for.
3. Get Feedback about existing and new features
Let's suppose you have added a new feature to your product. Is the feature easy to use? Is it easy to customize? Is it effective in helping customers achieve their goals? By taking feedback from the customers who have been engaged in the particular product feature, you can gather exact insights about their experience with the feature and get answers to all the above questions. In this way, you can know what is working and what's not working for your customers.
4. Identify issues and effectively resolve them
Feedback and bug report forms are quick ways for customers to convey to you the issues they're facing and you can loop in your team to resolve them effectively and in time. In this way, you improve your product to make it smoother and smarter for the users.
5. Align Product Vision with Customer Requirements
Feedback gives you a clear understanding of what customers require and how they expect your product to fulfill those requirements. When you get such clear insights, you can align your product vision with the customers' needs and develop your product accordingly.
6. Prevent Customer Churn and Improve Retention
Product Feedback lets you know any issues that customers face while using your product and dealing with your business. Apart from product issues like bugs, or improper functioning of your product or a product feature, there may be other types of issues that you may never know without feedback.
Bad service or support from your customer service teams and employees or any such issue is among them and can cause your customers to churn. As we all know it is very important to track daily activities of your employees if you run a company or an organization. It makes easier to increase productivity.
When you get real-time information about the issues through feedback, you can take timely actions on them and improve customer experience. In this way, you can prevent potential churn and increase overall customer retention.
Let's explore what is a Product Feedback Survey.
What is a Product Feedback Survey?
A Product Feedback Survey is a questionnaire that companies share with their product users asking for feedback to collect their insights about the experience they went through while using the product.
Product Feedback Survey can be conducted at any touchpoint to collect feedback about a particular aspect of the product. You can also use regular product feedback surveys to keep a track on your customer relationships and ensure that our customers receive good experiences.
Types of Product Feedback
You can collect Feedback of various types and of various aspects through Product Feedback Surveys. Here are the different types of Product Feedback you can collect.
1. Product Market Fit
A Product Market Fit survey is aimed to know how much your product is able to satisfy the customers in a good market and how many people are talking about your product. In this survey, you can ask the customers how your product suits them and benefits them, and primarily how would they feel if your product no longer exists in the market.
2. Free Trial Survey
Free Trial Survey is to collect feedback from your potential customers just after they have taken a free trial. In this survey, you can gauge users' experience of signing up, setting up, and using your product during the free trial. Feedback collected from a Free Trail Survey lets you know why your free trial users convert or do not convert.
3. Onboarding Feedback
An Onboarding Survey is an interactive set of questions that you ask your customers to know how well they were introduced to the product and how well was the Onboarding process when they bought the product subscription. Onboarding Feedback helps you gain insight into your onboarding process and make the process smooth and easy for the customers.
4. Product NPS
Product NPS Survey helps you gauge customer loyalty to your product and find the Net Promoter Score. It is a short survey that includes just a couple of questions. The first question is the Ultimate Question of the NPS Survey which asks about the likeliness of the customers to refer the product to their friends and known ones on a scale of 0 to 10. The second one is the follow-up question to ask the reason behind their rating.
5. Product CSAT
Product Customer Satisfaction (CSAT) survey asks the customers to rate their satisfaction with the experience they had with the product and its features on a five-rating scale followed by a follow-up question asking the reason for their rating.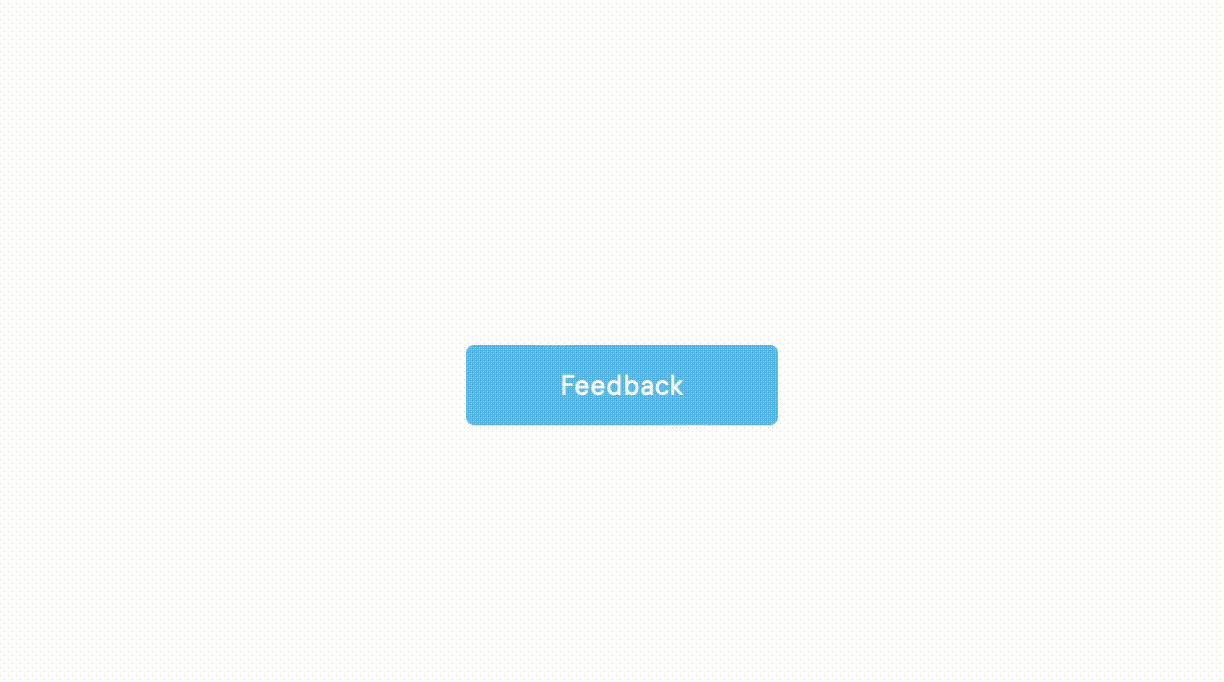 6. Product CES
Product CES surveys are used to gauge customers' perceived efforts with the product and related services to get their work done and issues resolved. This survey not only collects feedback about your product but also regarding your support and service teams. The main question of the survey is:
To what extent do you agree or disagree with the following statement. "The company made it easy for me to resolve my issues."?
Seven rating options are given to the customers to choose their level of agreement with the statement, viz., Strongly Agree, Agree, Somewhat Agree, Neutral, Somewhat Disagree, Disagree, and Strongly Disagree.
This question is also followed by a follow-up question asking the reason for the customers' rating.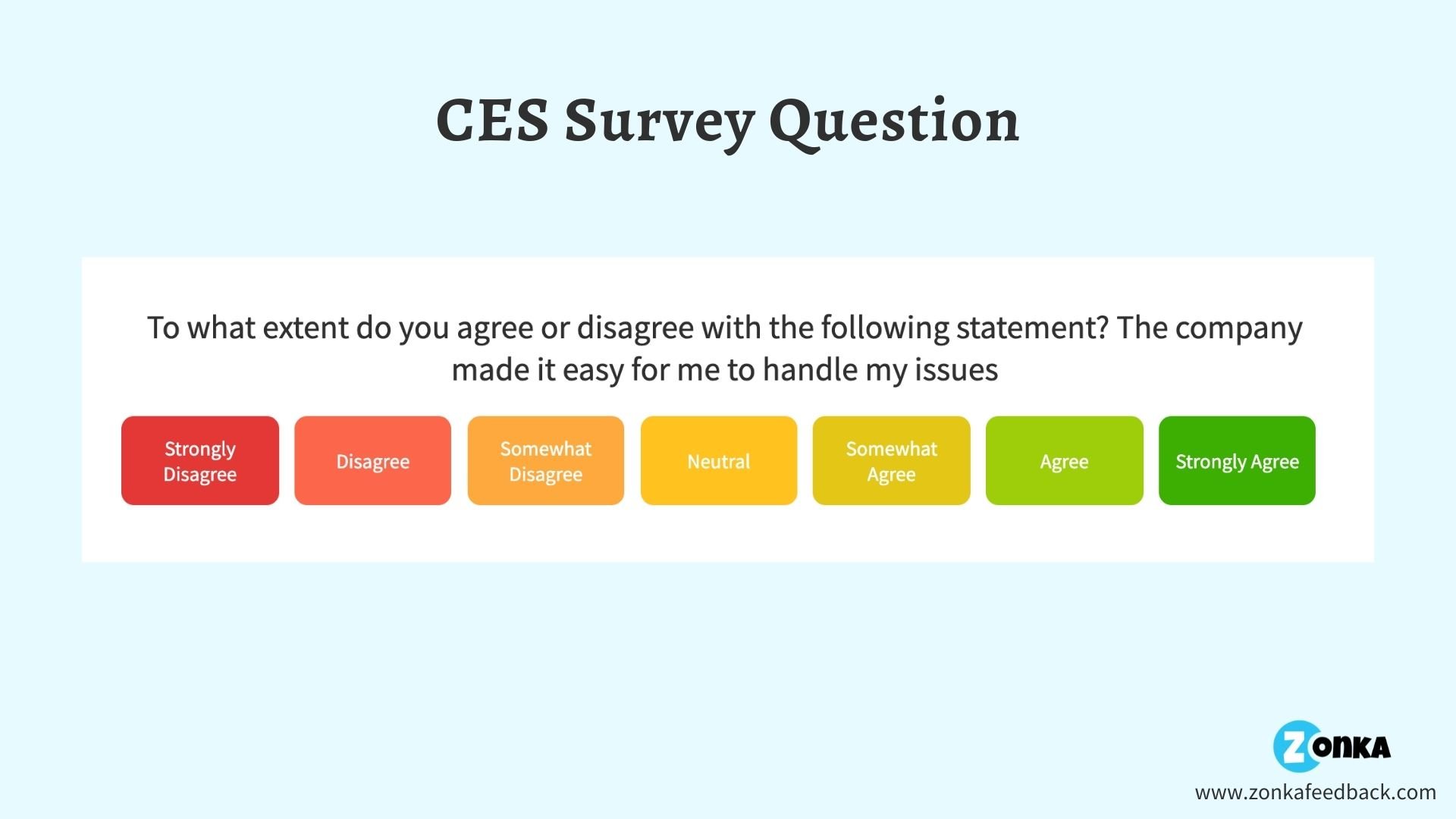 7. Product Strength and Weaknesses
This survey is aimed to know what customers like or dislike about the product. In the survey, you can ask about their favorite feature, the feature they disliked, and their reasons for it.
8. Feature Feedback
This survey is aimed to gauge customer satisfaction with a particular feature of your product. It is very helpful in instances where you introduce a new feature into your product and want to know whether customers like it or not.
9. Feature Request
Feature Request Survey asks the customer whether they feel any feature is missing in the product. This survey is a way for the customers to request adding a feature and an opportunity to give open-ended suggestions regarding product features.
10. Bug Report
Bug Report Survey allows customers to report a bug they encounter while using the product.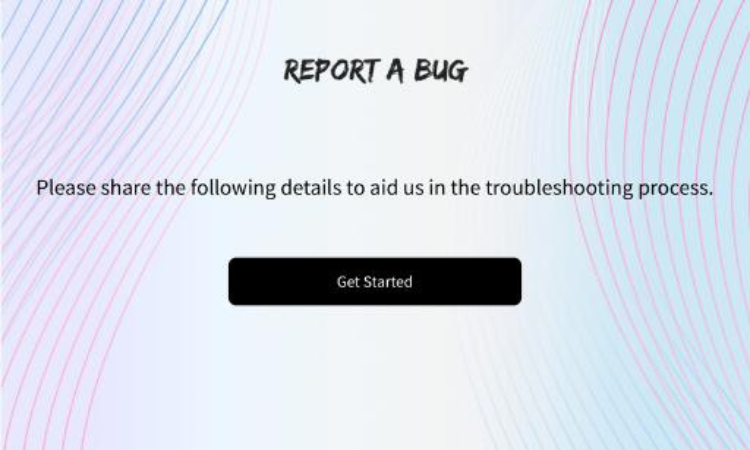 11. Product Churn
Product Churn Survey is sent to those customers who cancel the product subscription. The survey asks for feedback about the product and reasons for opting out so that you can make improvements in your products and services to prevent other customers from churning, and bring back the churning customers if possible.
12. Demo Request
Demo Request Survey asks the customers if they would like to get a demo of your product. It is also used to take details of the customers to go ahead and provide them a product demo.
13. Marketing Attribution Survey
Market Attribution Survey asks the customers where they got to know about the product. Basically, it helps to know which marketing channels are working well for you and which are not.
14. Product Review Request
Product Review Request form collect Product Feedback from the customers and simultaneously requests the happy and satisfied customers to share their product reviews on aggregator platforms. If they agree, it directly takes them directly to the appropriate web pages of the review platforms where they can share their reviews.
What is a Product Feedback Loop?
Product Feedback Loop is the strategy that businesses use to develop and improve their products and this development and improvement is based on Customer Feedback.
The process starts from asking customers for feedback, continues with getting their responses, analyzing the feedback, taking action on it, making data-driven improvements to your product, and finally informing the customers about the product improvements you have made.
The process can be explained in four steps.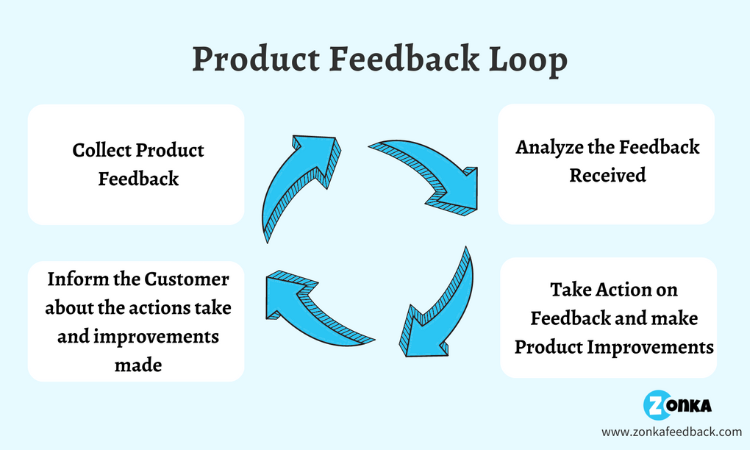 1. Collecting Product Feedback
The first step involves creating Product Feedback Surveys and sharing them with your customers to collect feedback. An effective Product Feedback Software can make this task easier for you.
2. Analyzing the Feedback
When you receive the feedback in from of survey responses, the next step is to analyze it and fetch meaningful information from the feedback received. Your feedback data can include praises, complaints, or suggestions. Analyze the feedback and see what you can do to improve your product.
2. Taking Action and Making Product Improvements
The third step is to take action on feedback. Thank the customers who shared a positive feedback. Dig deep to find out suggestions from the customers and find resolutions for the customers' issues. Take action and resolve their issues and see what you can improve in your product to avoid such issues in future.
Make changes and improvements to your product to make it better for the customers and avoid common issues in the future.
4. Informing the Customers
When you have resolved customers' issues, or made changes to your product as per customers' suggestions or to avoid product issues in the future, do inform to the customers about it. This helps to prevent customer churn and drives customer loyalty.
Start Measuring Product Feedback Today
Getting product feedback regularly is crucial for all companies. The ideal way to get effective product feedback is to use Product Feedback Software like Zonka Feedback to easily create different surveys, show them to customers at the right times, analyze and organize feedback, gain product insights and build amazing products.
Sign up for a free trial to launch your first product survey and start getting real-time feedback from your product users. Setting up your survey on Zonka Feedback requires no technical knowledge and is extremely easy and user-friendly. Turn your user opinions and suggestions into actionable data in just a few simple steps.