Choosing the right product feedback tool is crucial to understand your users' expectations and improving customer experience based on product feature requests, beta testing reports, feature feedback, and more. With so many options available options in the market to choose from, deciding on the one that suits your requirements could be challenging.
In this article, we will explore the 18 best product feedback tools that you can use to collect product feedback from your users and take action on it to improve their experience. You can learn about each product feedback software and choose the one that suits your business requirement the most.
TL;DR
Product feedback tools help you find out what users really like about your product and what they think could be improved.

There are various survey collection channels that you can leverage to collect user insights, such as your website, emails, in-app, or right within the product.

Selecting the perfect product feedback tool requires assessing features, pricing, ratings, and reviews. Our top 18 picks simplify this process, ensuring a seamless collection of valuable customer insights.

Best product feedback tools are leveraged across industries. In software, they prioritize bug fixes and features; in e-commerce, they refine products and experiences. Healthcare optimizes software and patient care, and hospitality improves hotel services with these tools.

You can sign up for a free trial or book a demo to create product surveys, share them through different channels, and measure feedback so that your customers would love the product you create.
18 Best Product Feedback Tools
Let us jump straight into the popular product feedback tools and explore why they're the optimal choice for gathering user opinions about your product.
1. Zonka Feedback's Omnichannel Experience
Zonka Feedback is one of the most intuitive and easy-to-use software that helps you to collect and analyze product feedback and bring user insights into your product development. The tool facilitates omnichannel feedback collection at every touchpoint in the customer journey through online and offline channels.
It offers microsurveys that can be deployed in-app or in-product through which you can gather real-time product feedback from customers at key moments, ranging from the initial onboarding experience, through the stages of active subscriptions, and even during moments of exit intent or subscription cancellation.
The advanced user segmentation and workflow automation facilitate categorizing and automating processes that can seamlessly integrate into existing tech stack and project management tools for addressing customer pain points, taking action, and closing the feedback loop.
Packed with features such as dynamic survey logic and branching for personalized user questioning, automated feedback tagging, and location-based redirection, Zonka Feedback is one of the best product feedback software that simplifies the process of creating product feedback surveys, collecting quantitative and qualitative data and caters to your specific requirements with efficiency.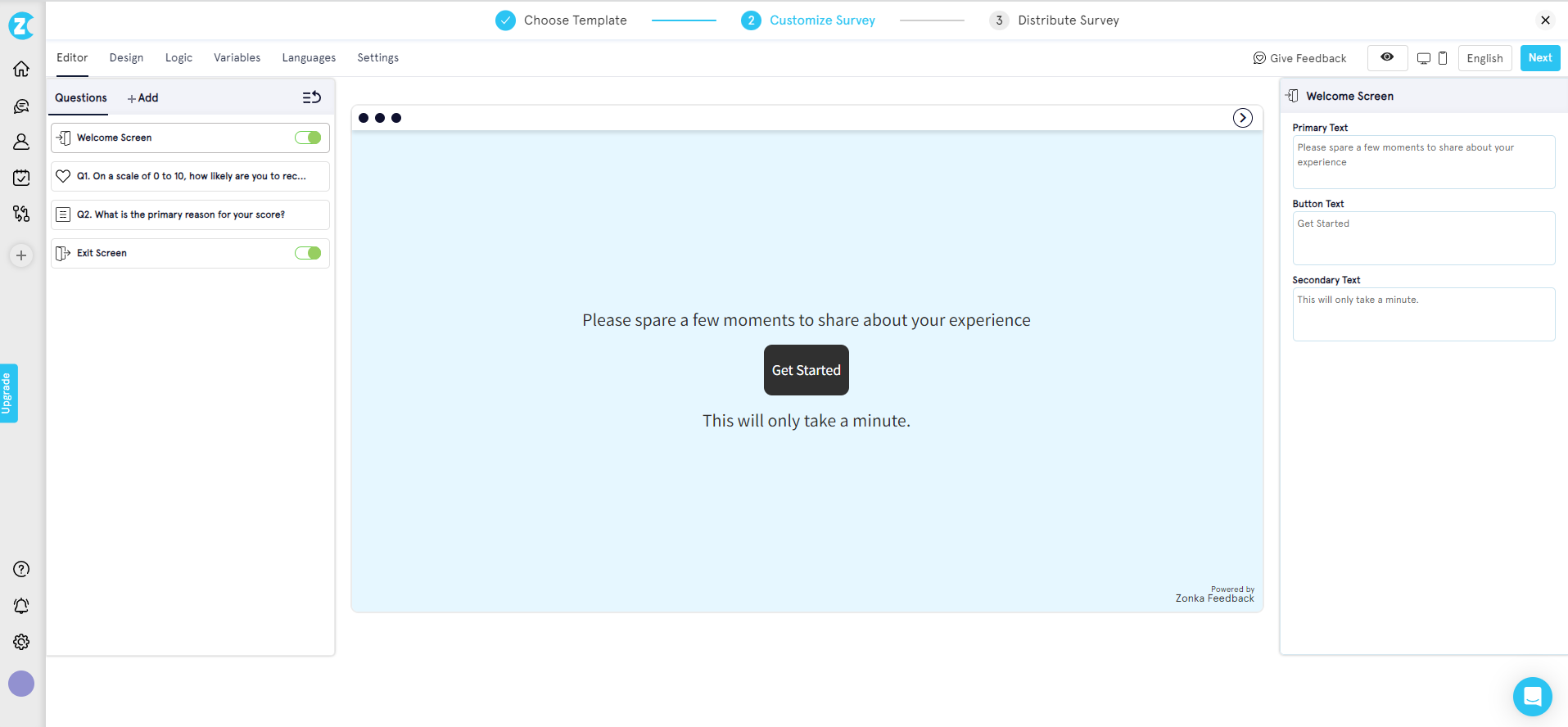 Top Features
100+ customizable ready-to-use survey templates as well as dedicated product feedback forms, including mobile app feedback survey template, market research product survey questionnaire, beta testing survey template, market attribution survey template, subscription cancellation survey template, etc.

CX metric surveys like NPS surveys, CSAT surveys, and CES surveys for measuring customer loyalty, satisfaction, and perceived efforts

Feedback widget and intercept surveys, including pop-over, popup, slide-up, and live chat surveys, as well as embedded surveys for SaaS products and mobile apps

Powerful integration with business tools like Salesforce, Zendesk, Freshdesk, Zapier, Slack, Google Analytics, Mailchimp, AirTable, Intercom, Zoom, Webex, and more

Advanced reporting and analytics for top primary metrics as well as detailed response analysis

Real-time feedback alerts and notifications for feedback and negative feedback (or based on the criteria you set)

Survey targeting and feedback distribution management to control who sees your survey when, and how many times.

White labeling for personalized, relevant, and branded surveys
Pricing
Professional plan costs $99/month

Growth plan costs $199/month

Customized enterprise plan with personalized quotes and pricing as per your business requirement is also available

Free Trial for 7 days available
Rating
G2: 4.7/5
Capterra: 4.8/5
GetApp: 4.8/5
Use If
You are seeking an affordable all-encompassing product feedback software for collecting feedback. It's an affordable yet compelling option that seamlessly blends flexibility, collaboration, user-friendliness, and exceptional features into one comprehensive package.
Real Life Use Case
Damas has used Zonka Feedback surveys to enhance its post-transaction customer interactions and gathered vital customer feedback to improve their overall shopping experience.
😍What Customers Say About Zonka Feedback?

"Zonka Feedback surveys are easy to set up and customizable for different needs. Creating customized surveys with "if" and "then" actions is a big help. I think one of my favorite features is being able to use their app on my iPad so I can get instant feedback from clients instead of emailing them later. A lot of integrations! - Promising roadmap! - Very nice and fast communication with the support on the chat." -G2 review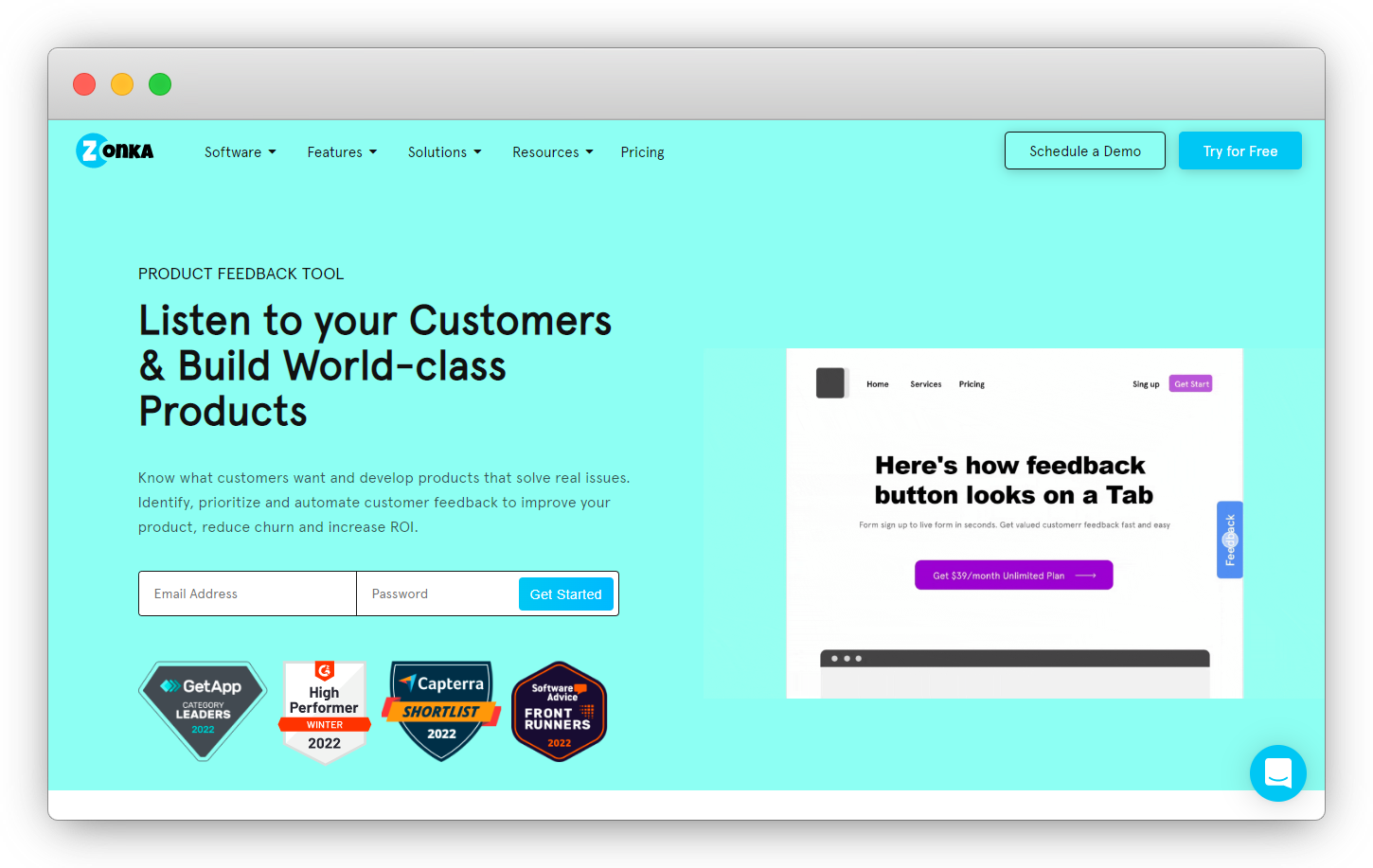 2. Hotjar's Product Experience (PX) Insights
Hotjar allows collecting visual feedback through heatmaps that visually represent where users click, move, and scroll on a webpage. This allows you to identify areas of high engagement, user drop-offs, and sections that may need improvement.
You can easily capture in-product feedback using Hotjar's survey and even record user interaction to identify potential user frustrations if any with the product.
Top Features
Customize incoming feedback by providing feedback on specific elements of a webpage

Forward incoming responses to the support team via email

Receive comprehensive feedback with on-site surveys and feedback widgets

Set up conversion funnels that you want users to navigate through and track progress

Create NPS, CSAT, and microsurveys using checkboxes, radio buttons, and text fields

Evaluate feedback responses to product updates by contrasting pre- and post-release metrics within the dashboard
Pricing
Hotjar offers different pricing tiers for its feature sets. Here's the breakdown:
Hotjar Observe offers heatmaps and recordings that starts for free and goes up to $171/month

Hotjar Ask has surveys and feedback that starts for free and goes up to $128/month

Hotjar Engage helps with user interviews that starts for free and goes up to $440/month
Rating
G2: 4.3/5
Capterra: 4.7/5
GetApp: 4.7/5
Use If
You're in search of a specialized product feedback tool that not only gathers targeted website survey feedback but also provides visual insights into user interactions with your product.
💡What Customers Say About Hotjar?

"Hotjar is an easy-to-use platform that is also easy to deploy. I like the features like the form for incoming comments and heatmaps." -G2 review
3. Qualaroo's Customer Feedback Software
Qualaroo enables capturing feedback while the users are looking at the product. It consists of customizable questions that you can send just at the right time. It also has a user sentiment tool that helps to organize feedback into quantitative data.
You can also perform advanced targeting based on user action by leveraging its Nudge technology. It allows segmenting its users based on how long they have been a customer making it easy to send the right product survey question to the right audience.
Top Features
Create customized microsurveys using different survey question types and ready-to-go templates

Perform feedback mining, keyword and emotion identification and semi-automatic feedback closing using analytics dashboard

Offers question branching, white-labeling, and design customization to collect product feedback
Pricing
Essential plan starts at $69/month

Premium plan starts at $149/month

Business plan starts at 299+/month

It also offers a free trial for 15 days
Rating
G2: 4.4/5
Capterra: 4.7/5
GetApp: 4.7/5
Use If
You're seeking a specialized website survey solution with AI-powered analysis. While it offers unique features and a specialized approach, its growth has slowed since its acquisition by ProProfs. It's important to assess if it aligns with your specific requirements and budget before making a decision.
Real Life Use Case
Udemy has leveraged Qualaroo to enhance its caption-editing tool, making courses more accessible to a global audience that speaks various languages, thus improving its product to meet customer expectations.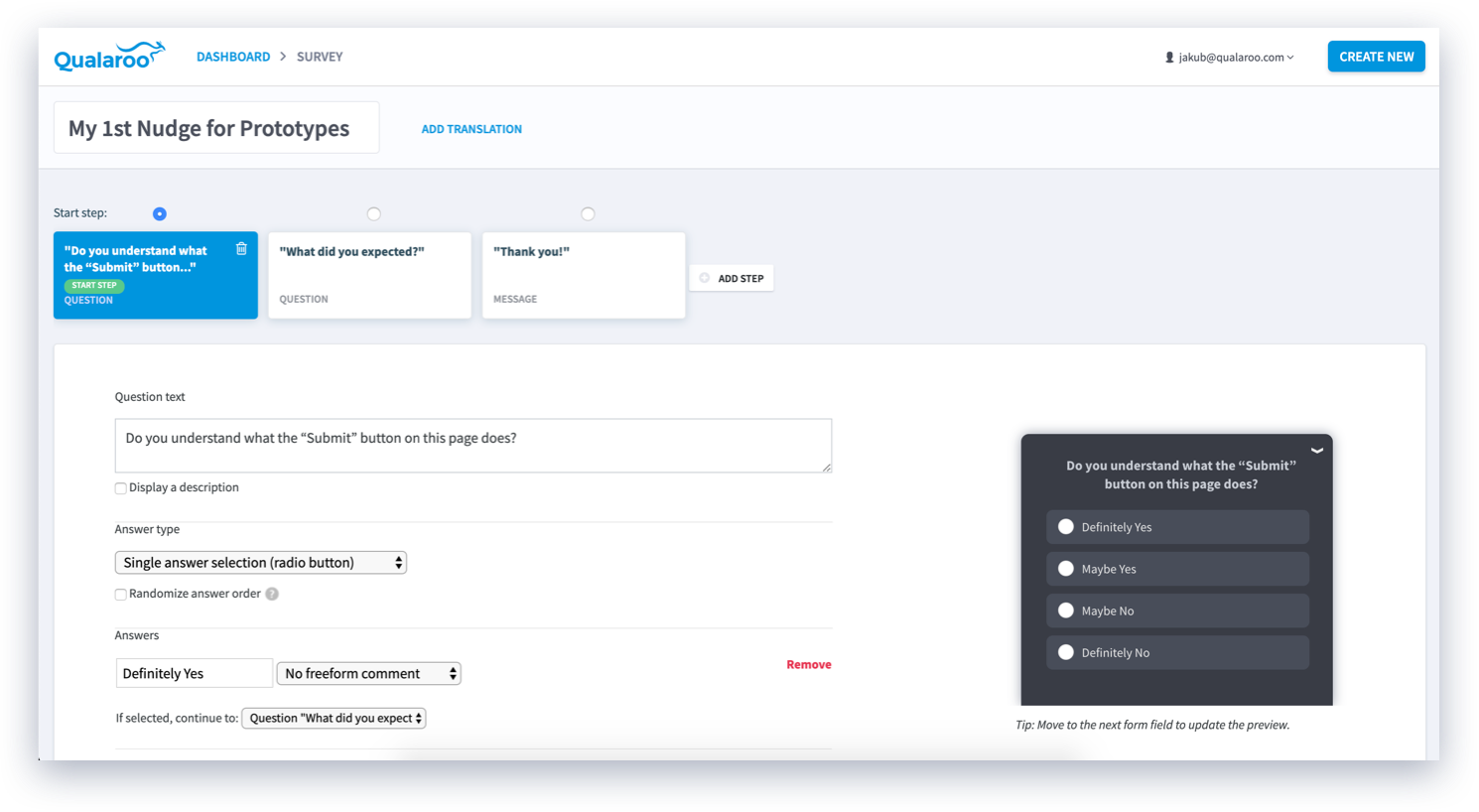 4. TypeForm's User-friendly Forms and Surveys
Typeform consists of embedded product feedback forms as well as intercepts to collect user feedback. It boasts friendly forms that users are more likely to fill out. Moreover, it consists of readymade survey templates so you can start collecting product feedback right away.
It provides surveys with conditional logic and a video task tool for face-to-face user interviews. Additionally, its no-code chatbot builder engages users and offers personalized feature recommendations.
Top Features
Ability to add icons, photos, and videos to different kinds of surveys including multiforms, quizzes, etc.

Personalized and branded surveys and templates for lead generation, research, user feedback, etc.

Integrations with tools like Slack, Google Analytics, Mailchimp, Zapier, ActiveCamaign, and more.

Simple analytics to track feedback and user insights quickly

Live Preview mode allows you to view changes in real-time

AI-based chatbot website wizard
Pricing
Basic plan starts at $25/month

Plus plan starts at $50/month

Business plan starts at $83/month

Enterprise plan can be obtained by connecting with sales team
Rating
G2: 4.5/5
Capterra: 4.6/5
GetApp: 4.6/5
Use If
You aim to design visually appealing forms, especially if lead generation is crucial, and you don't require complex data analytics.
💡What Customers Say About TypeForm?

"Typeform is a total game-changer when it comes to surveys and forms. Seriously, this tool has blown me away! It's super easy to use, looks amazing, and has all the cool features you need to create interactive surveys that people actually enjoy." -G2 review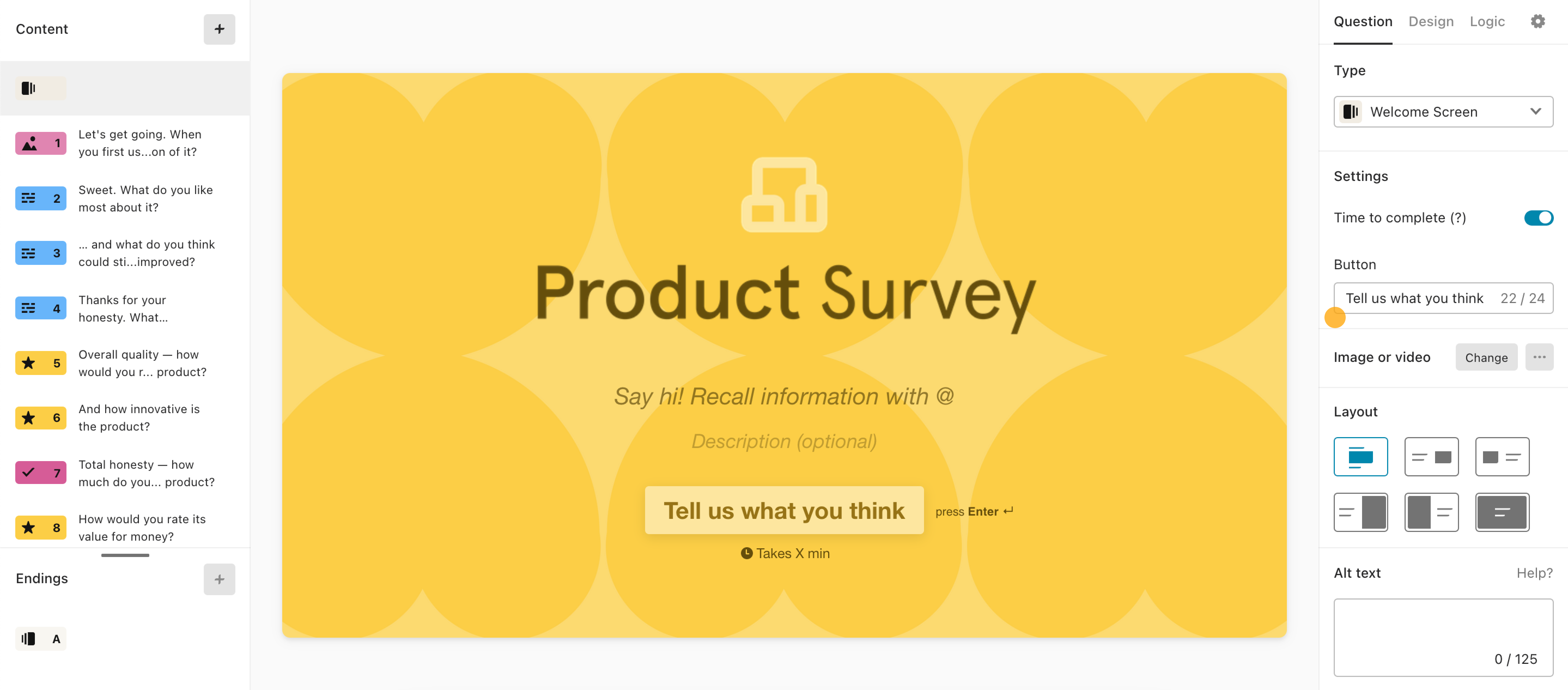 5. UserReport's User Engagement Tools
UserReport helps track users and their activities while they use your product or mobile app. It is based on two simple widgets – a feedback widget and a survey. The feedback widget helps in capturing product feedback and feature requests, bug reports etc., while the surveys run as an integrated part of your product and allow you to have direct interaction with your users.
Whether you need to connect with a CRM system or another analytics tool, UserReport's ability to integrate with third-party tools and platforms facilitates a seamless flow of customer data and insights.
Top Features
Ability to discover user demographics to drive your marketing and product strategies

Feedback across metrics like NPS to gauge customer loyalty and satisfaction

Google analytics integration for enhanced comprehensive view of user preferences

Customizable and localized feedback widget to match your brand identity and create versions in multiple languages to cater to diverse user groups.

Beautiful sales kit for increased chances of converting prospects into customers

Data reporting and analytics to visualize user feedback trends, track changes, and identify user patterns
Pricing
Both customized plans and free plan available
Rating
G2: 4.6/5
Capterra: 4.5/5
GetApp: 4.5/5
Use If
You aim to leverage a simple product feedback tracking tool that can help collect feedback mainly on websites and apps.
Real Life Use Case
Tipsbladet has used UserReport to understand user satisfaction with respect to the content they were delivering and witnessed 44% increase in traffic and customer engagement.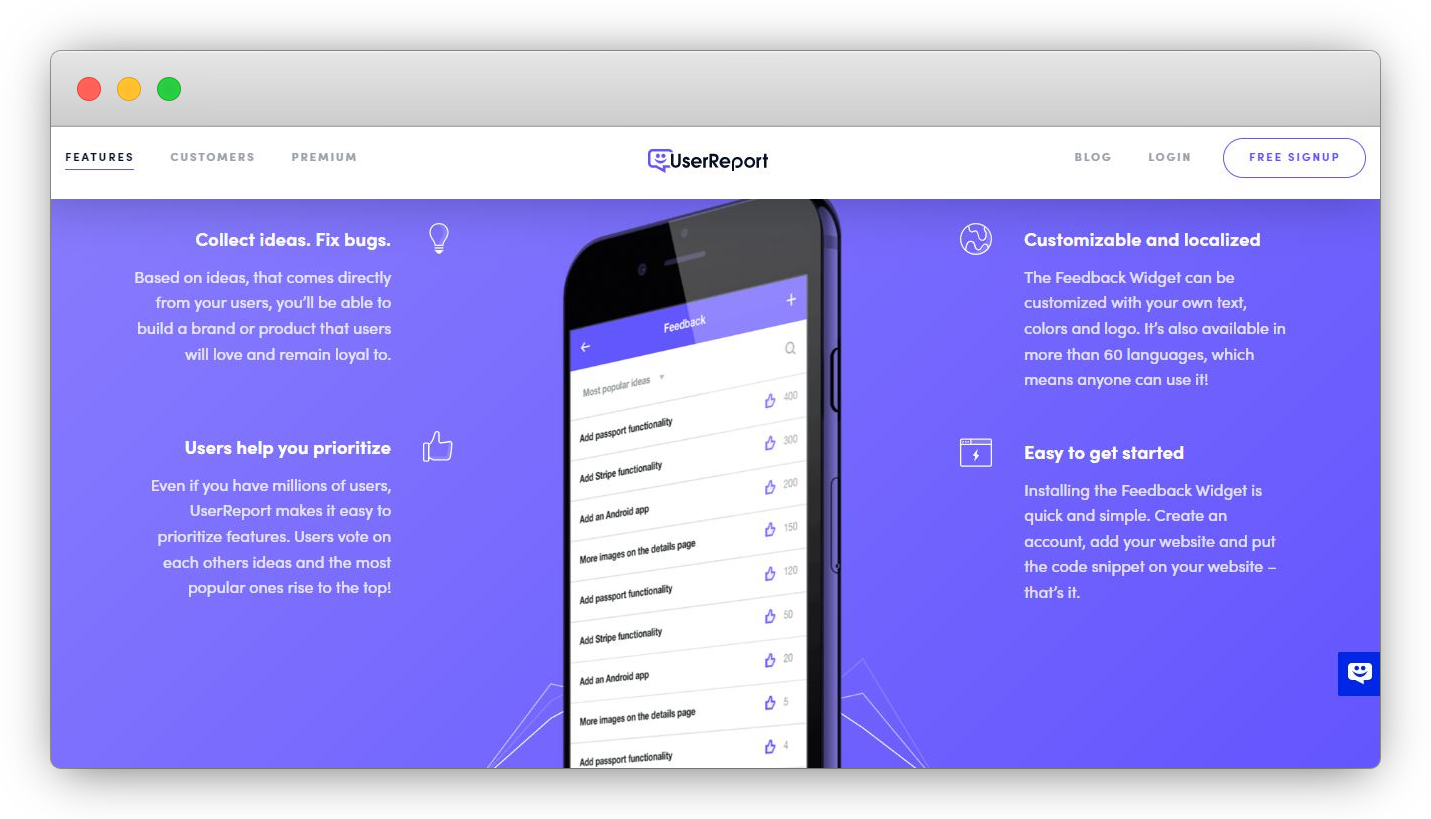 6. Usersnap's User Feedback Platform
Through Usersnap your users can prioritize product feedback and feature requests, share opinions and suggestions, and report bugs and product issues. It not only lets your users alert you by reporting these issues, but also enables them to share screenshots, videos, and annotations as references with the feedback to give you a clear picture of the product issue.
Top Features
Feedback collection from in-product raters with NPS, CSAT, and CES surveys

Easy installation by placing global snipper to HTML code or with WordPress plugin

Split-screen to let you work on feedback with one clear view

Report creation of particular time frames to track issue frequency

Allows integrations with other workspace tools for managing feedback data

Notification setting for each project
Pricing
Starter plan costs $69/month

Company plan costs $129/month

Premium plan costs $249/month

Enterprise plan is a customized plan as per business requirements

It also offers a free trial
Score On
G2: 4.4/5
Capterra: 4.7/5
GetApp: 4.7/5
Use If
You're seeking to gather product feedback and collect new product ideas without the requirement for advanced analysis tools or too many feedback form templates.
Real Life Use Case
Usersnap addressed Pocketprep's challenge of missing technical information in support tickets by automating system info captures and screenshots, leading to more effective communication and faster issue resolution.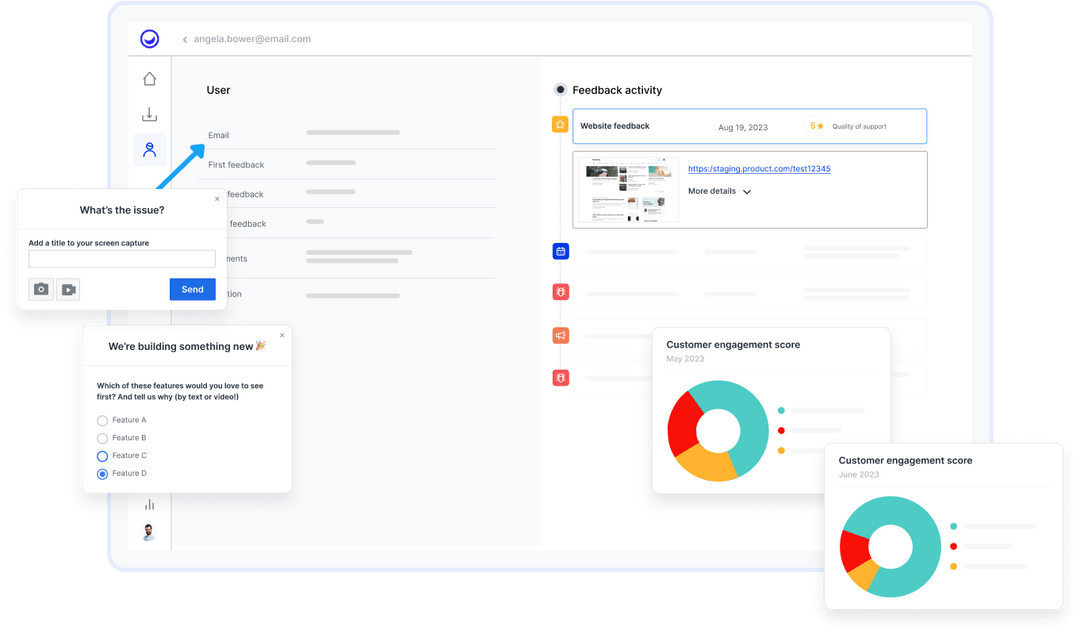 7. Pendo' Digital Adoption Solutions
Pendo is a Product Feedback and Analytics tool that businesses use to capture and prioritize customer feature requests at scale, and build the product that customers love. You can let your users upvote their suggestions on the dashboard and develop your product accordingly.
With Pendo's in-app surveys, you can group users based on their activity and ask them about certain product features. For example, if they used a new or updated feature, you can send them a survey to know how it went.
Top Features:
Track how users interact with your product using analytics and use this data to guide your decision-making

Increase response rates with surveys targeted to specific user segments and product interactions

Segmentation of users and feedback to identify the most common suggestions

Showcase the status of customer requests to let them know they are being heard

Integrations with everyday tools like JIRA, Salesforce, Zendesk, Hubspot, and more
Pricing
It offers a Free plan for up to 1000 users. It also offers other plans viz., Growth, Portfolio, and Premium with personalized pricing.
Score On
G2: 4.5/5
Capterra: 4.5/5
GetApp: 4.5/5
Use If
You are primarily looking for in-app product feedback tool that can help you drive product roadmap with customer feedback.
Real Life Use Case
Symantec uses Pendo to collect user insights and improve its cloud app. They fixed issues early on and helped users switch using in-app guides.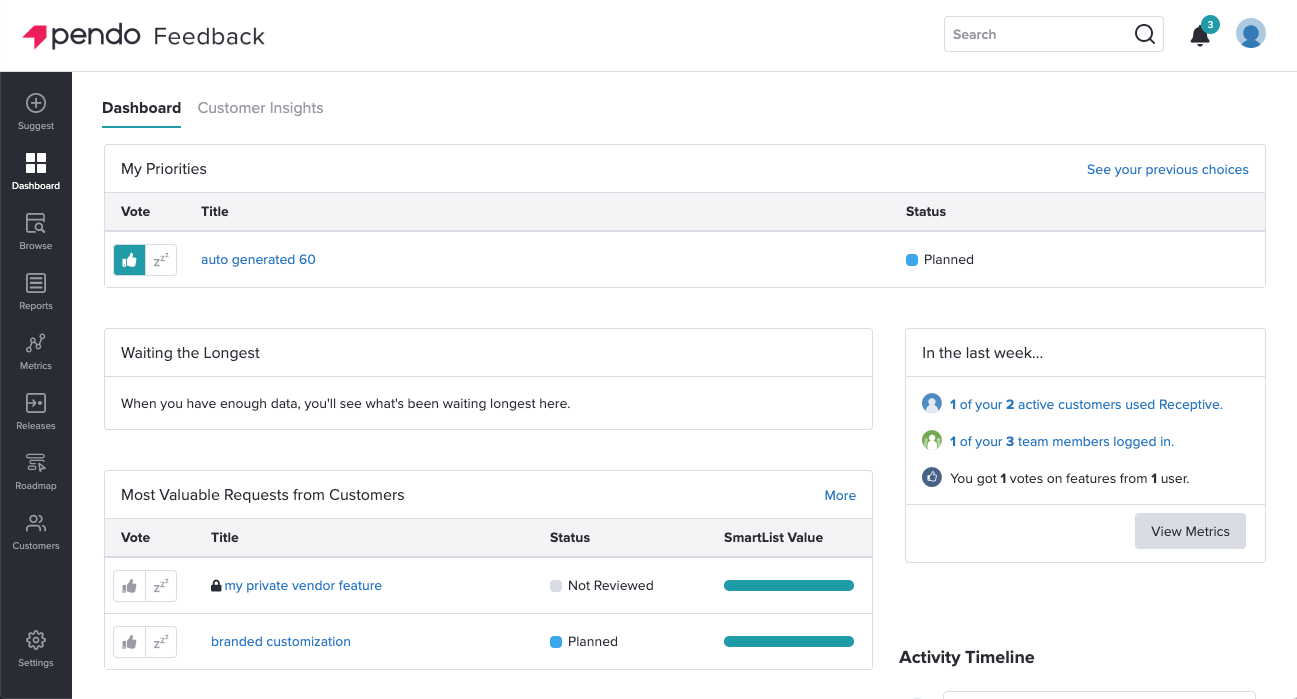 8. UserPilot's Product Growth Platform
Userpilot helps product teams to increase user adoption by analyzing user behavior and behavior-driven experiences. With Userpilot, you can track product usage of different customer segments, and provide smooth onboarding and personalized experiences to your users at every touchpoint.
Top Features
Net Promoter Score widget for NPS Surveys

Microsurveys to help you provide personalized experiences as per user requirements

Dashboard with all NPS survey responses

Customization features and branding of surveys

User segmentation and behavior-driven triggers to identify the most relevant users
Pricing
Starts at $249/month

Growth and enterprise plan can be obtained by contacting the team

It also offers a free trial
Score On
G2: 4.6/5
Capterra: 4.6/5
GetApp: 4.6/5
Use If
You are primarily looking for a feature packed product feedback management software that can increase your product adoption rate and if you have the budget for it.
💡What Customers Say About UserPilot?

"UserPilot makes it easy to use even for those with little technical experience. You can create interactive onboarding flows without needing to write any code." -G2 review
9. Chisel's Agile Product Management Software
Chisel is another versatile product feedback and project management tool that product managers can use to conduct surveys of various types like Needs Assessment Surveys, and Product and Usability Surveys etc. It has a library of prebuilt survey templates of common survey use cases.
Top Features
Idea Box to let you capture, curate, organize, and prioritize your ideas related to customer feedback, feature, or product enhancement

Idea Portal where your product users can share their feature requests and ideas related to product enhancement

Audience panel to target ideal users for surveys
Pricing
Essential plan is free of cost

Premium plan costs $49/month

Enterprise plan is a personalized plan, the cost of which depends on your business requirement
Score On
G2: 4.8/5
Capterra: 4.9/5
GetApp: 4.9/5
Use If
You're primarily seeking a product feedback tool to drive your product roadmap using user feedback and team's collaboration that also has basic survey capabilities.
Real Life Use Case
TryMata utilized Chisel to tackle integration hurdles following its acquisition of Stitchology.ai. This cohesive approach enabled the product and development teams to stay organized, aligned, and responsive, with the Team Alignment pillar ensuring inclusive collaboration.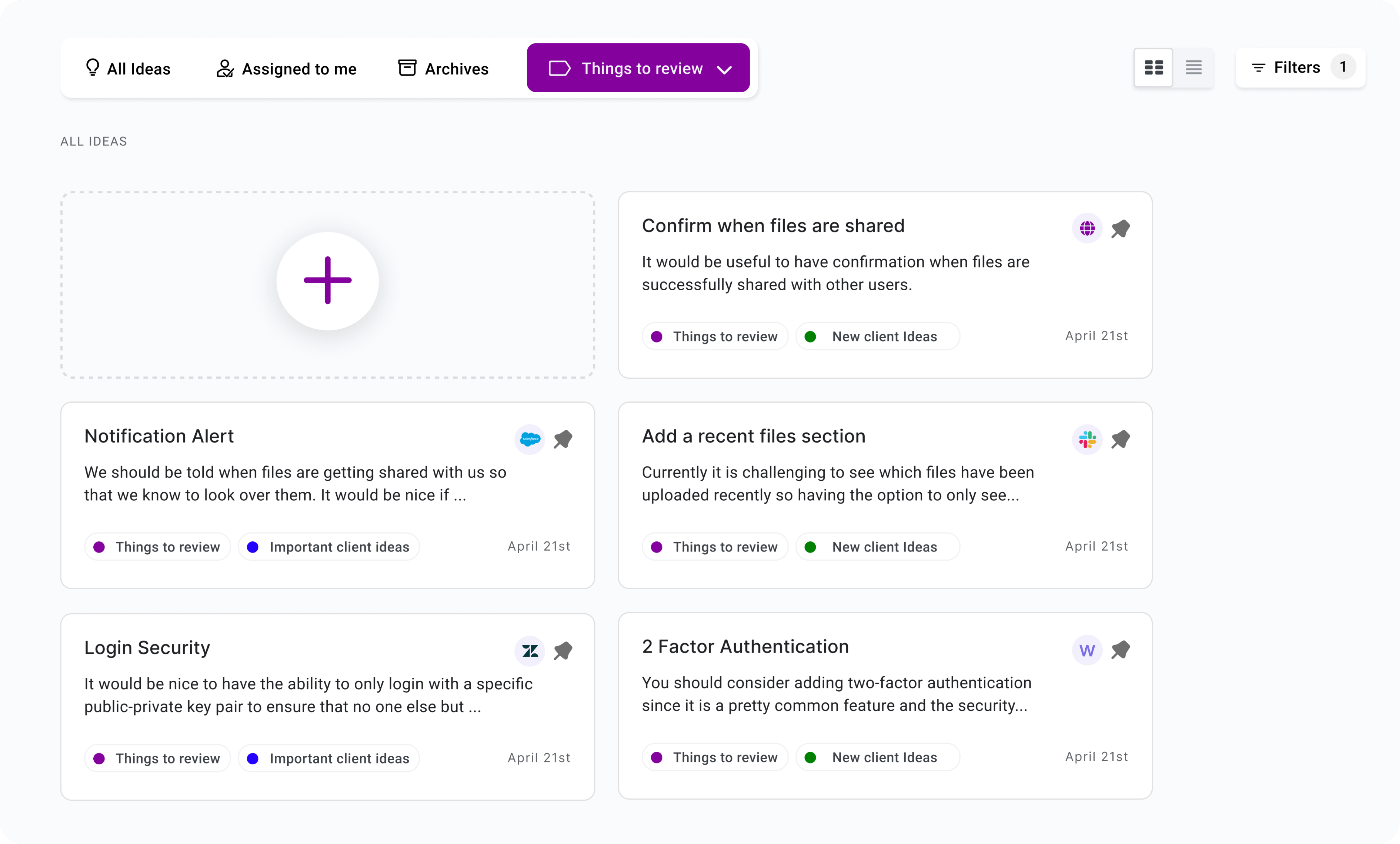 10. Rapidr's Feedback & Feature Requests Manager
Rapidr helps to collect feedback and manage the complete product lifecycle. It allows you to collect feedback from your product users, analyze it, share progress with the product roadmap, and notify the users about the development or change in the product.
Top Features
Feedback portals, and public and private boards to collect feedback. You can also share and embed Feedback Widgets anywhere in the app

Analyze and prioritize feedback by identifying the top ideas and the most common suggestions given by the customers

Public product roadmap to communicate the upcoming features to your product users

Product changelog to announce updates and feature releases

Custom statuses for different types of feedback

Feedback widgets to enable users to share feedback in mobile or web app

Integrations with tools like Slack, Intercom, Zendesk, and more
Pricing
Startup plan costs $49/month

Business plan costs $199/month

Enterprise plan is a customizable plan, and a personalized price quote is provided for this plan

It also offers a free trial for 14 days
Score On
G2: 4.5/5
Capterra: Not provided
GetApp: Not provided
Use If
You are SMB or enterprise business seeking cloud-based solution to collect, analyze, prioritize, and close the feedback loop.
💡What Customers Say About Rapidr?

"On Rapidr, I can change the status of one feedback element, and everyone that has upvoted it will automatically be notified. I also like how roadmaps make your plans visible for your users." -G2 review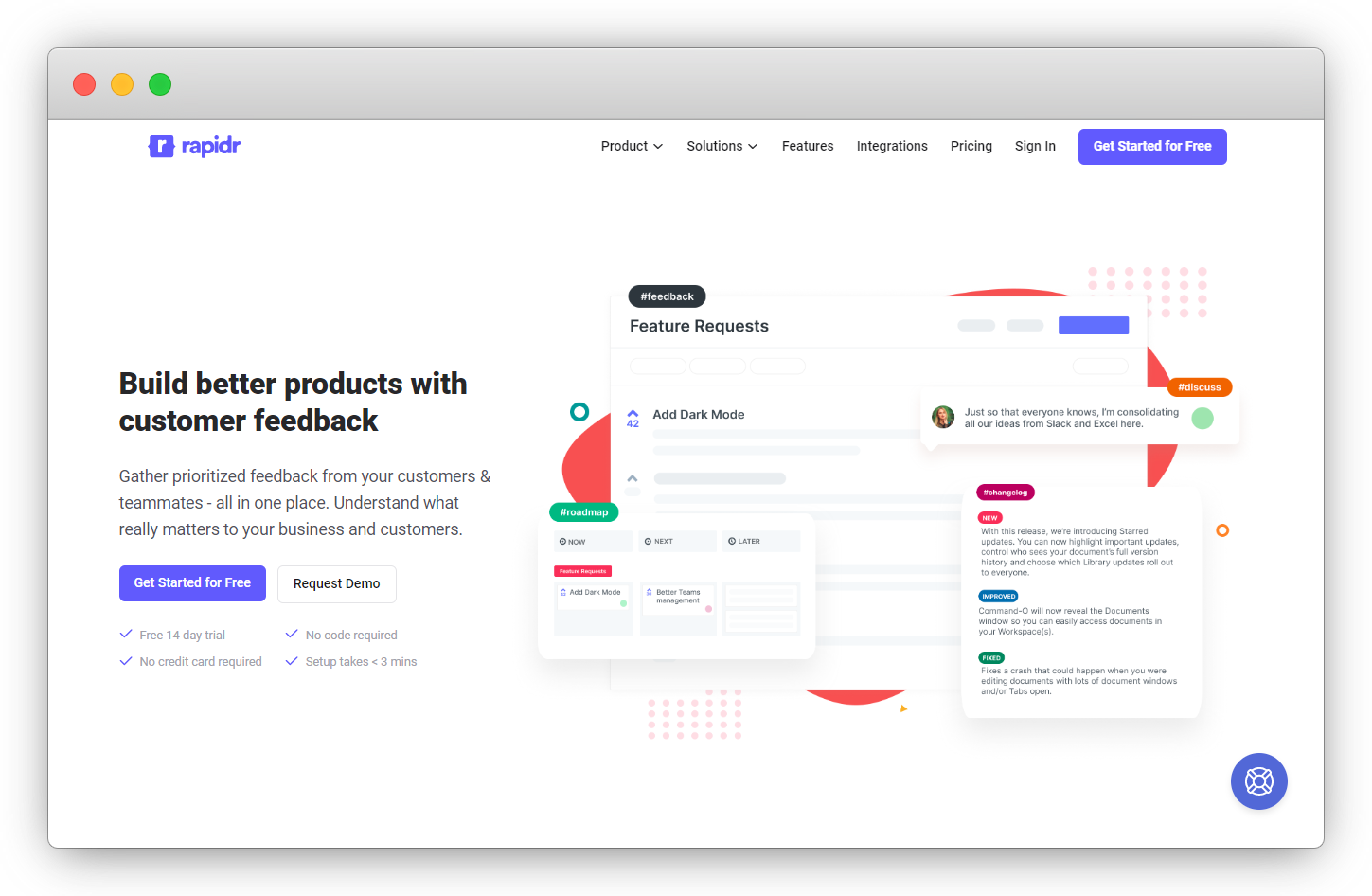 11. ProProfs Survey Maker
ProProfs Survey Maker allows you to create surveys, polls, feedback forms, and questionnaires to collect in-depth feedback from users. You can add the survey to your website, embed it into the mail, and send it as a link to the desired audience.
Top Features
Provides 15+ question types, visual questions, 100+ templates, question branching, and other features

Gathers product feedback via email, pop-ups, website embeds, social media, and feedback sidebar

Utilizes detailed reporting for response analysis and survey campaign tracking

Integrates seamlessly with tools like Mailchimp and Salesforce for enhanced functionality
Pricing
Essential plan costs $20/month

Business plan costs $40/month

Business+ plan costs $200/month
Score On
G2: 4.4/5
Capterra: 4.6/5
GetApp: 4.5/5
Use If
You are looking for a product feedback survey maker with diverse question sets and templates for customer success, feature prioritization, etc., ideal if you don't need extensive customization.
💡What Customers Say About ProProfs?

"ProProfs is packed with all the features that I needed in an assessment software and lets me create super visual quizzes for our employee engagement and awareness programs." -G2 review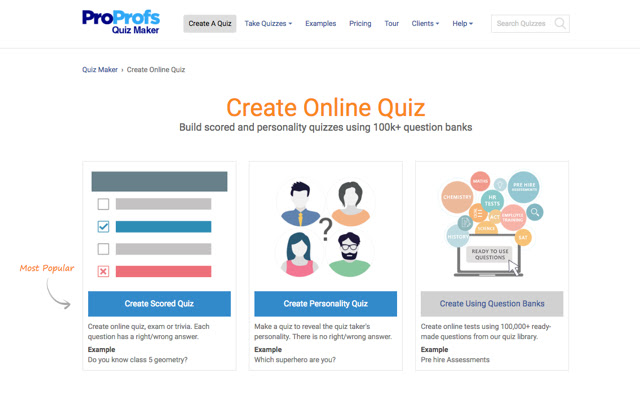 12. Delighted's Intuitive Product Feedback
Delighted is a highly intuitive product feedback collection software tool that lets you collect and analyze feedback in the same place. You can leverage its multi-channel deployment feature to gather feedback from different sources based on where your users are most present.
Top Features
8+ question types for creating surveys with features like survey branching, question randomization, and survey design customizations

Utilize a comprehensive dashboard for tracking and deriving insights from feedback data

Employ filters for gender, custom tags, customer type, and location to segment data effectively

Gauge NPS performance with a dedicated score tracker

Monitor user emotions via built-in sentiment analysis, generating Pivot table reports

Seamlessly integrate with Slack, Segment, HubSpot, Heap, and more
Pricing
It has a freemium model where you have monthly survey limit of 1000 and access to 1 template. Other plans start at:
Premium plan costs $224/month

Premium plus costs $449/month

Enterprise plan available by contacting the team
Score On
G2: 4.7/5
Capterra: 4.9/5
GetApp: 4.9/5
Use If
You desire an intuitive product feedback tool that captures real-time, actionable customer insights. If you're don't want a lot of survey question types, or CX automation, and have no budget constraints, Delighted stands as a strong option.
Real Life Use Case
Bonobos used Delighted to revamp its shipping process and evaluated satisfaction among customers using NPS surveys. The result was shocking due to decreased NPS score so the company rolled back the changes in time.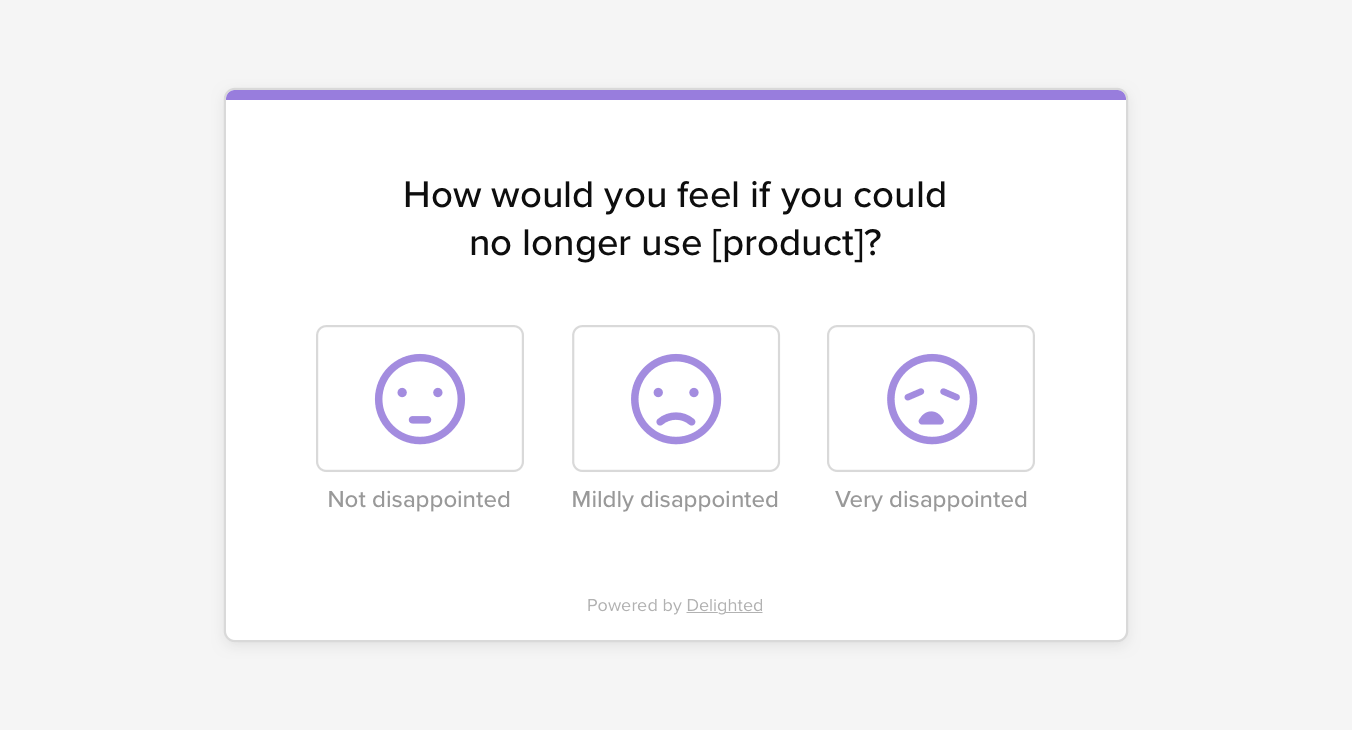 13. Refiner's Microsurveys
Refiner is a microsurvey platform enabling you to craft tailored surveys from over 12 question types. You can opt for pre-designed templates in customer success, product research, and growth marketing, or design your surveys entirely from the ground up.
Top Features
Built-in analytics dashboard with advanced segmentation for survey analysis

Easy integration with product analytics tools for deeper data insights

Close feedback loops, send alerts and share data with research or product management systems.

Offers email and link-based survey distribution
Pricing
Essential plan is for $79/month

Growth plan is for $199/month

Enterprise plan price quote can be obtained by contacting the team
Score On
G2: 4.2/5
Capterra: 4.8/5
GetApp: 4.8/5
Use If
You're a small or medium-sized product-based SaaS business seeking a straightforward, budget-friendly solution for your limited survey requirements.
Real Life Use Case
Castos leveraged Refiner to enhance its onboarding form and could collect user insights into podcast monetization, guiding their product roadmap decisions.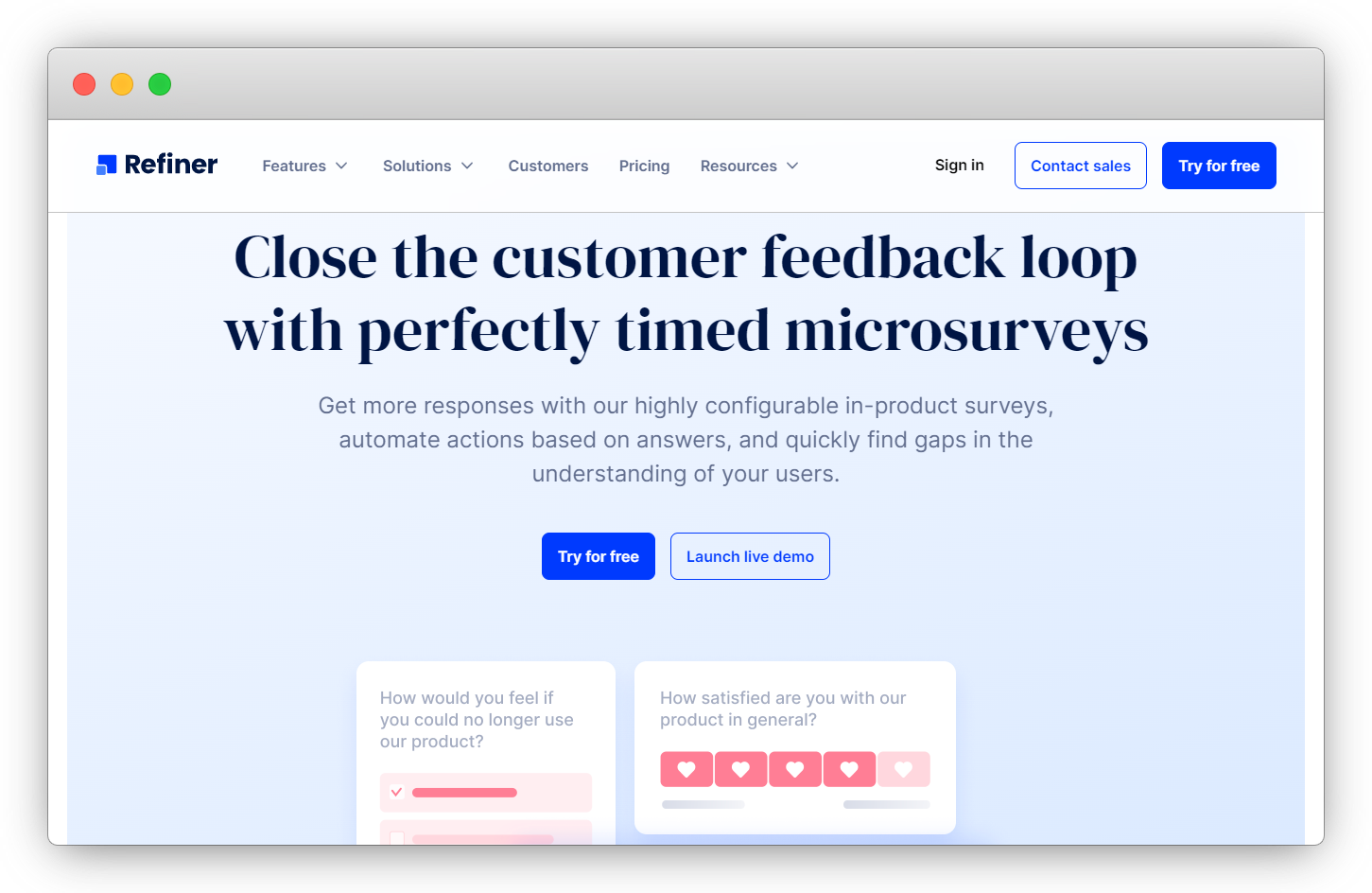 14.UserTesting's Human Insight Platform
UserTesting helps to capture feedback on user experience, analyze results and share findings in a quick way. It provides features to run remote usability tests, live interviews, and screen recordings to collect and analyze real user insights. However, the tool is more centered across a live analysis of user behavior.
Top Features
Here are additional features that UserTesting offers its users:
UserTesting templates to validate concepts, discover needs and get customers' views on your product

Usability tests and A/B testing to test your product features

Ready-to-use templates and designing tests from scratch

Reporting and filter options to analyze feedback

Sentiment Analysis feature to analyze feedback

Integrations with tools like JIRA, Slack, and Trello
Pricing
Pricing not provided
Score On
G2: 4.5/5
Capterra: 4.5/5
GetApp: 4.5/5
Use If
You want to focus primarily on capturing usability testing reports for your product and collecting real-time insights from participants.
Real Life Use Case
Costa Coffee uses UserTesting to conduct usability testing to reach younger customers and has streamlined the checkout experience in the app.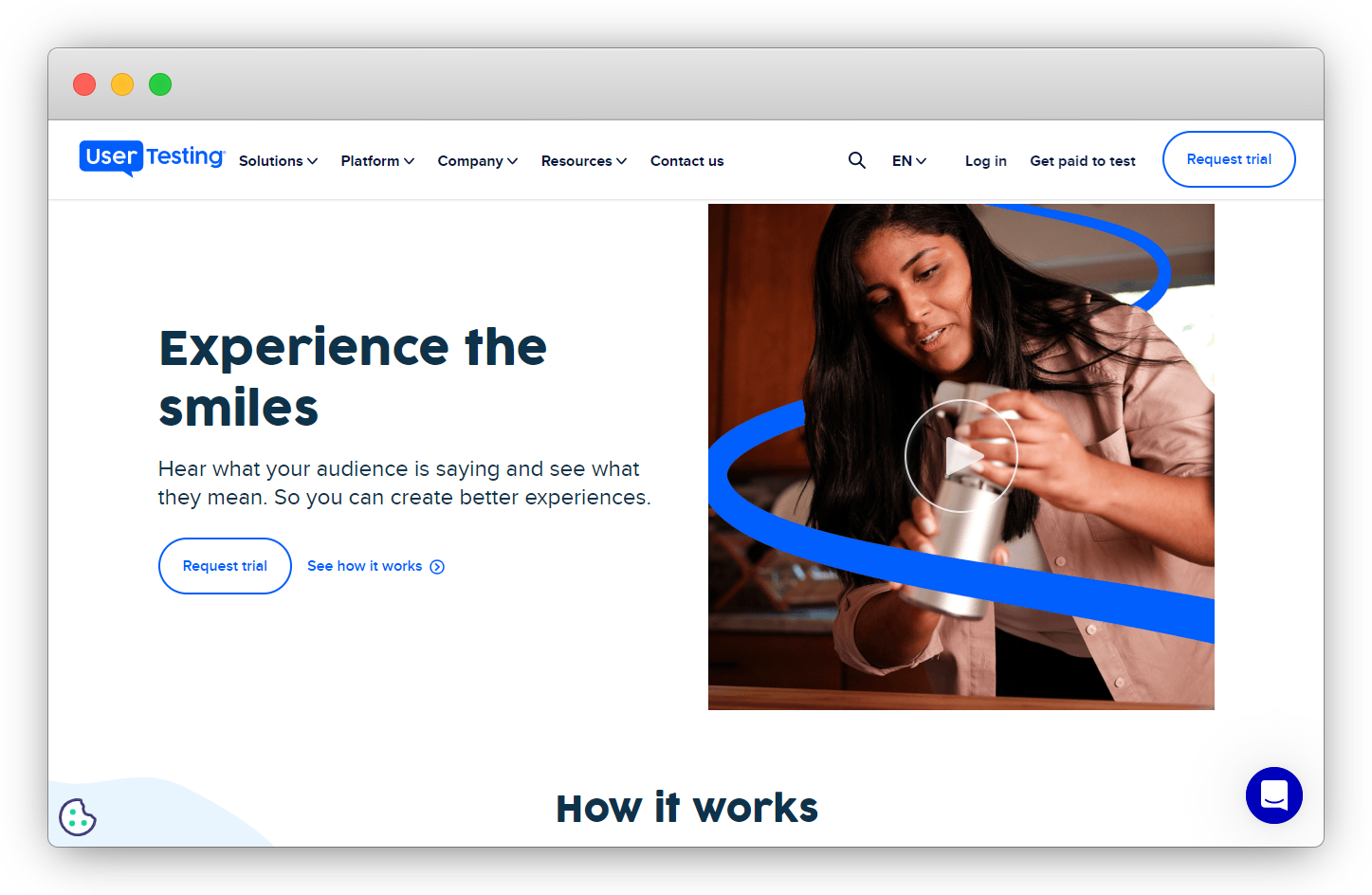 15.Parlor's 'User Relationship Management' System
Parlor, now known as Parative, offers a URM system that has three pillars: User Engagement, Voice of the User (VoU), and User Intent Tracking.
Parlor's User Engagement tool facilitates the collection of customer support tickets, bug reports, feature requests, and the execution of surveys like NPS®, CSAT, and custom surveys. Its VoU pillar consolidates feedback from various sources, aiding prioritization in product surveys based on factors like request volume, revenue potential, and urgency. The User Intent Tracking segments users for insights sharing, alerts product teams to shared feature requests, and notifies customers of updates.
Top Features
Engage users by sharing your product roadmap and inviting feature votes

Assess user sentiment, opportunities, and challenges through survey insights

Seamlessly import customer feedback and data from tools such as Salesforce, Zendesk, and Slack
Pricing
Customizable as per your business requirement
Score
Rating is not available on any of the chosen platforms
Use If
You are looking for an effective product feedback tool that captures in-moment feedback and has unified CX system for scaling NRR through data.
Real Life Use Case
Transparent Language uses Parlor to collect in product surveys and gain insights into customer requirements through segmentation. It assesses the business impact of customer needs and disseminates valuable insights throughout the organization.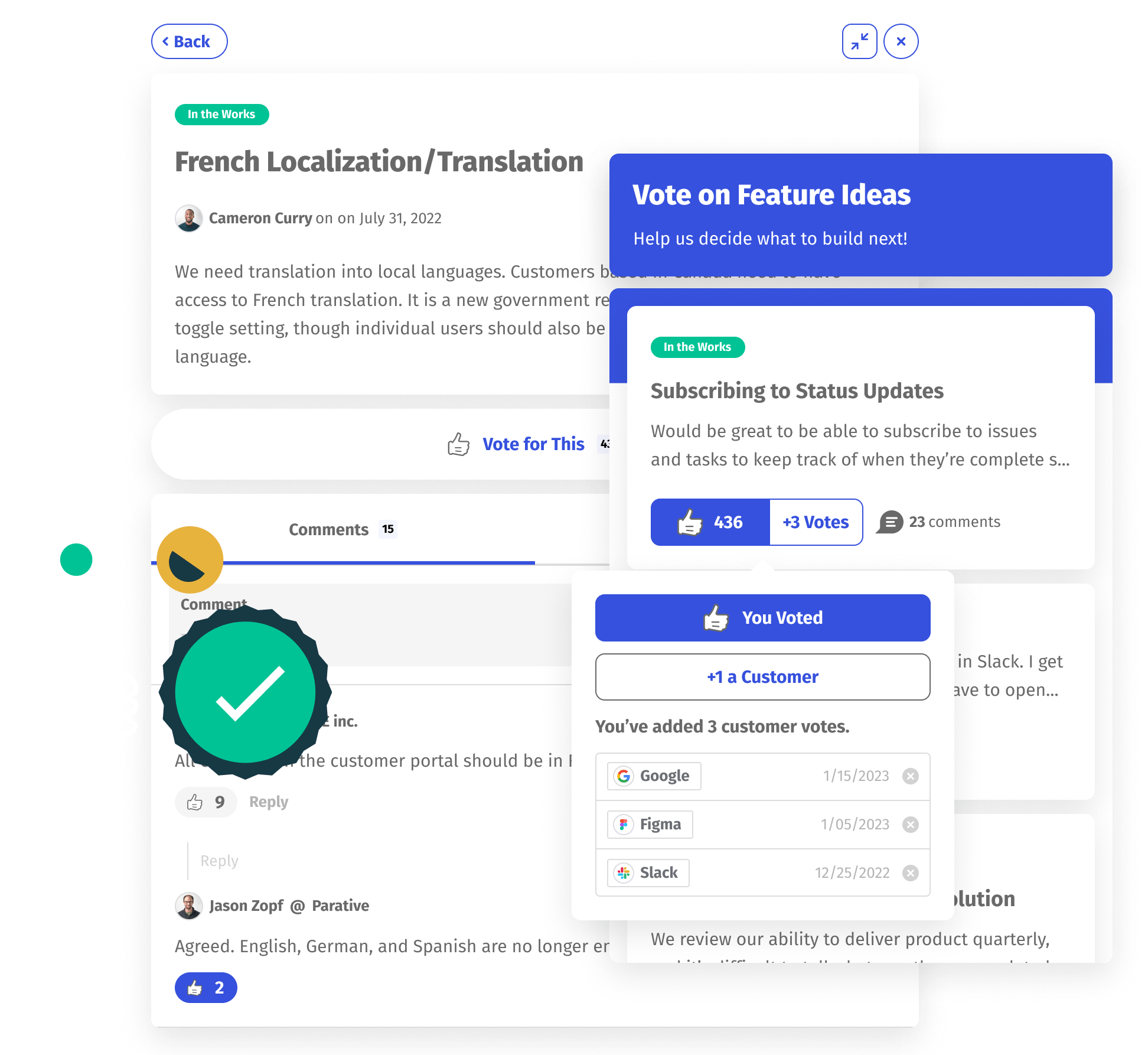 16. Feedier's Insight and Feedback Management Platform
Feedier is designed to improve the end-user experience by consolidating direct and indirect feedback in one place. It enables collecting feedback through surveys and offers a comprehensive reporting dashboard for real-time insights into customer satisfaction and user experience.
Top Features
Enable multiple languages, conditions, 15+ question types, and personalized branding

Create SMS and email campaigns for sending survey prompts to users

Utilize the built-in analytics dashboard to monitor survey performance data

Employ text analytics, live feed, and filters to generate tailored reports
Pricing
You have to contact their team to get the price quote.
Score On
G2: 4.5/5
Capterra: 4.7/5
GetApp: 4.7/5
Use If
You want a product feedback solution that gives you comprehensive and valuable customer feedback and success reports which are visually appealing and easy to understand.
Real Life Use Case
Decathlon Activités utilized Feedier for surveys, tracking NPS and CSAT scores. It leverages Feedlier's interactive widget and analytics for getting user feedback in one place, enhancing user experience. The result was a whopping 84% increase in UX satisfaction rate.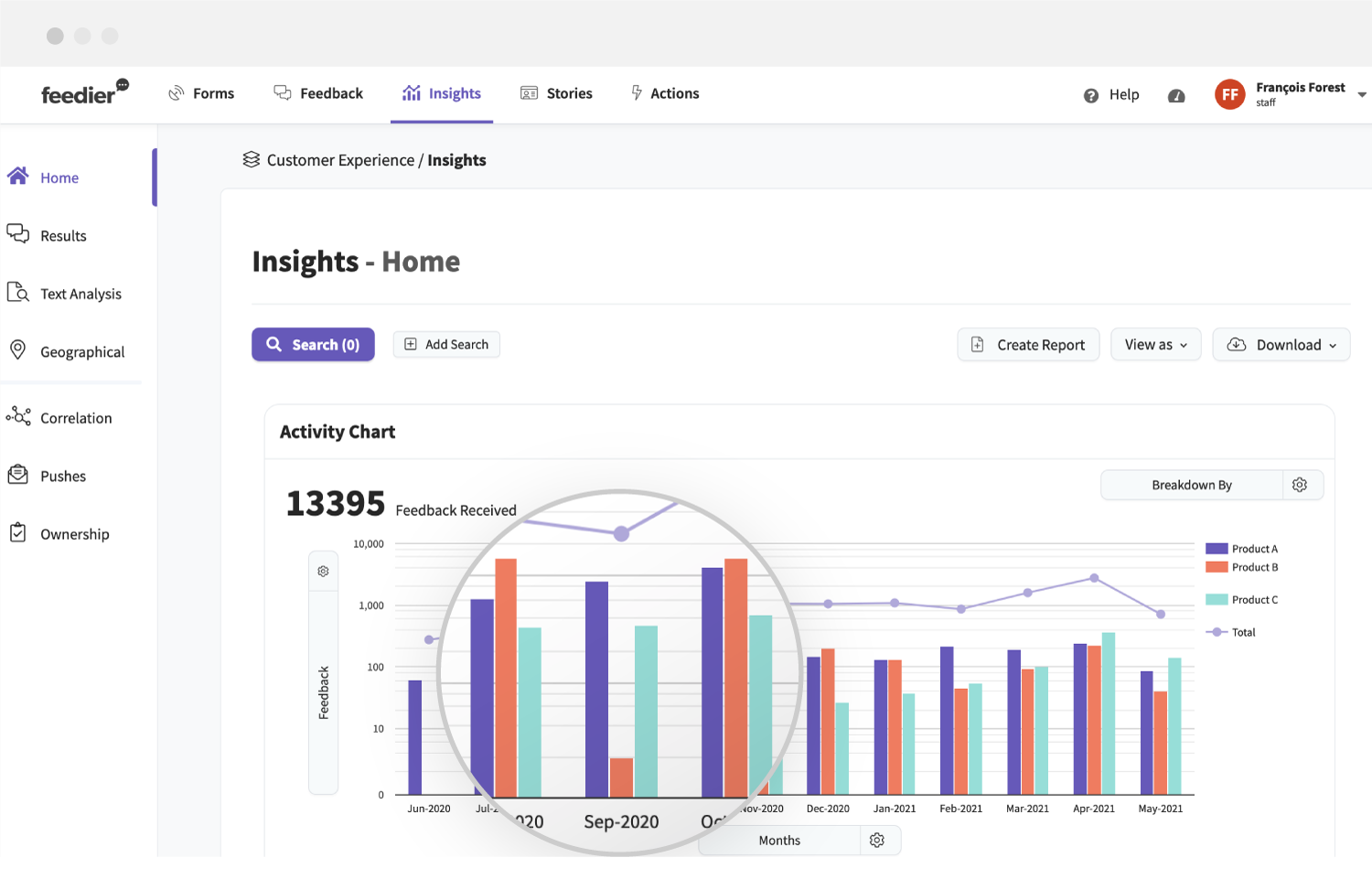 17. Productboard's Product Management Software
Productboard's product management tool helps you build a product roadmap based on customer feedback and leverages AI to gain actionable insights. It offers an automation tool to filter feedback and share it with the relevant internal teams so that immediate action can be taken.
Top Features
Centralize feedback from surveys, sales talks, and support tickets in a unified hub

Gather feedback on future development and solicit fresh ideas from customers

Communicate and rejoice in new product releases together with customers
Pricing
Essential plan costs $20 per maker/month

Pro plan costs $80 per maker/month

Enterprise plan available by contacting the sales team
Score On
G2: 4.3/5
Capterra: 4.7/5
GetApp: 4.7/5
Use If
You are looking for a product feedback solution that helps product teams get the right products to market faster by aligning everyone around the roadmap and if it fit your budget as it comes with a slightly higher price tag.
💡What Customers Say About Productboard?

"ProductBoard is incredibly flexible and allows for a high level of customization. The user interface is exceptionally clean and, in my opinion, ProductBoard is quite intuitive to use." -Microsoft AppSource review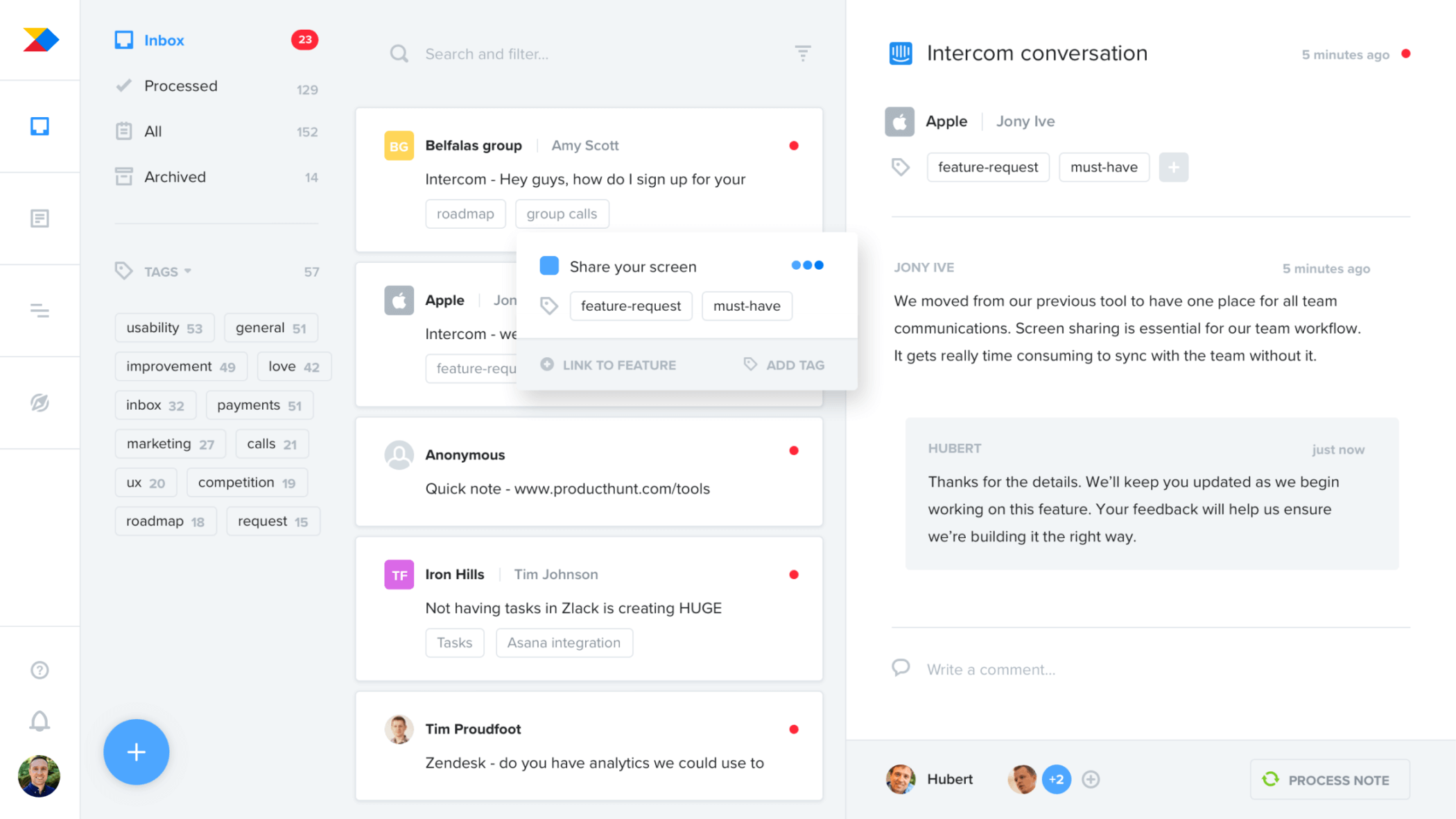 18. Nicereply's Effortless CX Platform
Nicereply's feedback management tool specializes in measuring and improving user satisfaction by capturing transactional Net Promoter Score, Customer Satisfaction, and Customer Effort Score. It helps in collecting customer feedback from various communication channels, including email, chat, and social media.
Top Features
Some additional features of Nicereply includes:
Wide range of integrations, particularly with helpdesk systems, across all plans

Analytics dashboard displays score breakdowns, reports, and enables data sampling and has "Leaderboard" feature that identifies top performers

Offers in-signature email surveys and post-resolution surveys after a ticket is closed.
Pricing
Starts at $14/month

Essential plan is for $119/month

Growth plan is for $239/month

Business plan is for $359/month

It also offers 14-days free trial
Score On
G2: 4.5/5
Capterra: 4.7/5
GetApp: 4.8/5
Use If
You want to empower your customer support team to effortlessly collect product feedback and prefer a tool that excels in integration rather than standalone use.
💡What Customers Say About Nicereply?

"Extremely easy to setup and implement. It allows us to separate sentiment for the agent vs. a product issue. Exporting data is critical - the beta for CSV is critical to put into production - need to be able to analyze data and manipulate how we look at it vs. just printing." -G2 review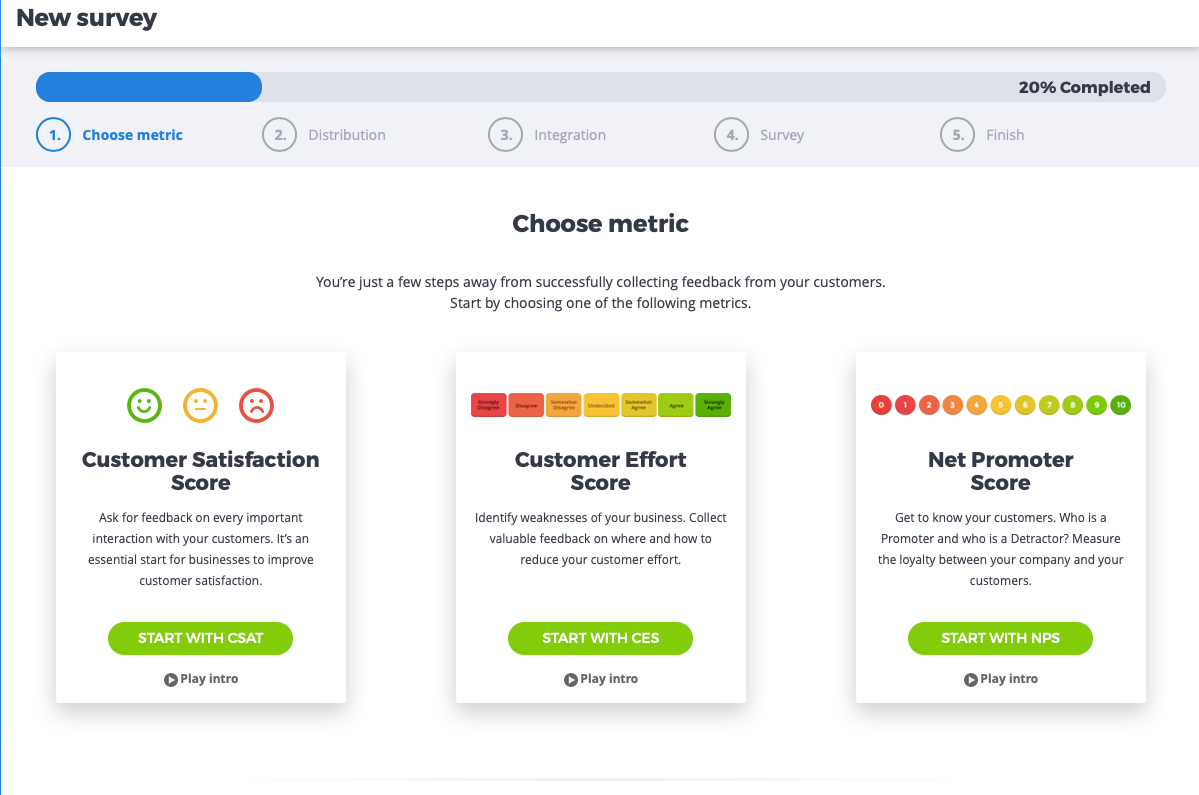 What to Look for in a Product Feedback Tool?
Choosing the best product feedback tools is a critical step in enhancing your product's user experience and making informed decisions. Let's look at what you should consider while finding the right product feedback tool.
1. Feedback Button (Widget) Offered
Choose a tool with diverse feedback widgets like pop-over surveys, feedback buttons, side-tabs, and event-triggered pop-ups for targeted user feedback. Understanding what type of web widgets are offered by the product feedback tool can help you launch surveys based on events and actions within the app. Make sure that the tool you choose offers you to add web widgets to capture feedback using minimal coding.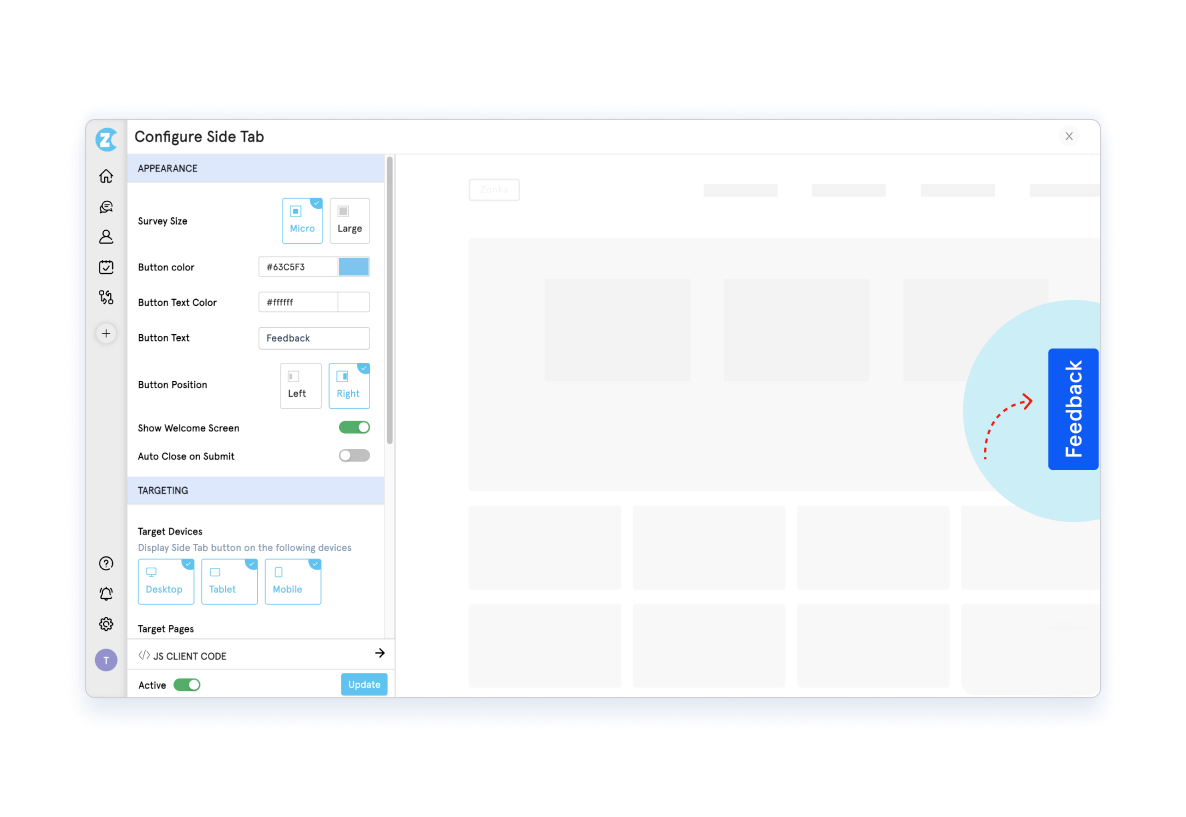 2. Customization Capabilities
Prioritize tools allowing complete form and survey customization, including white labeling for a seamless brand experience. This will convey that all services are coming from the account holder and their product instead of a third-party product feedback tool.
3. Advanced User Segmentation
Opt for tools offering advanced user segmentation based on attributes, behavior, scores, and interactions for tailored marketing strategies. Make sure that you check whether you can segment your users or not in the product feedback tool you choose to give a more precise direction to your efforts.
4. Ability To Close The Feedback Loop
Ensure the tool instantly notifies about negative feedback and enables actions for CX improvement is essential. The product feedback solution that you choose should be able to perform CX automation like sending real-time notifications, creating action tasks, rewarding loyal customers, and helping in improving the overall customer experience.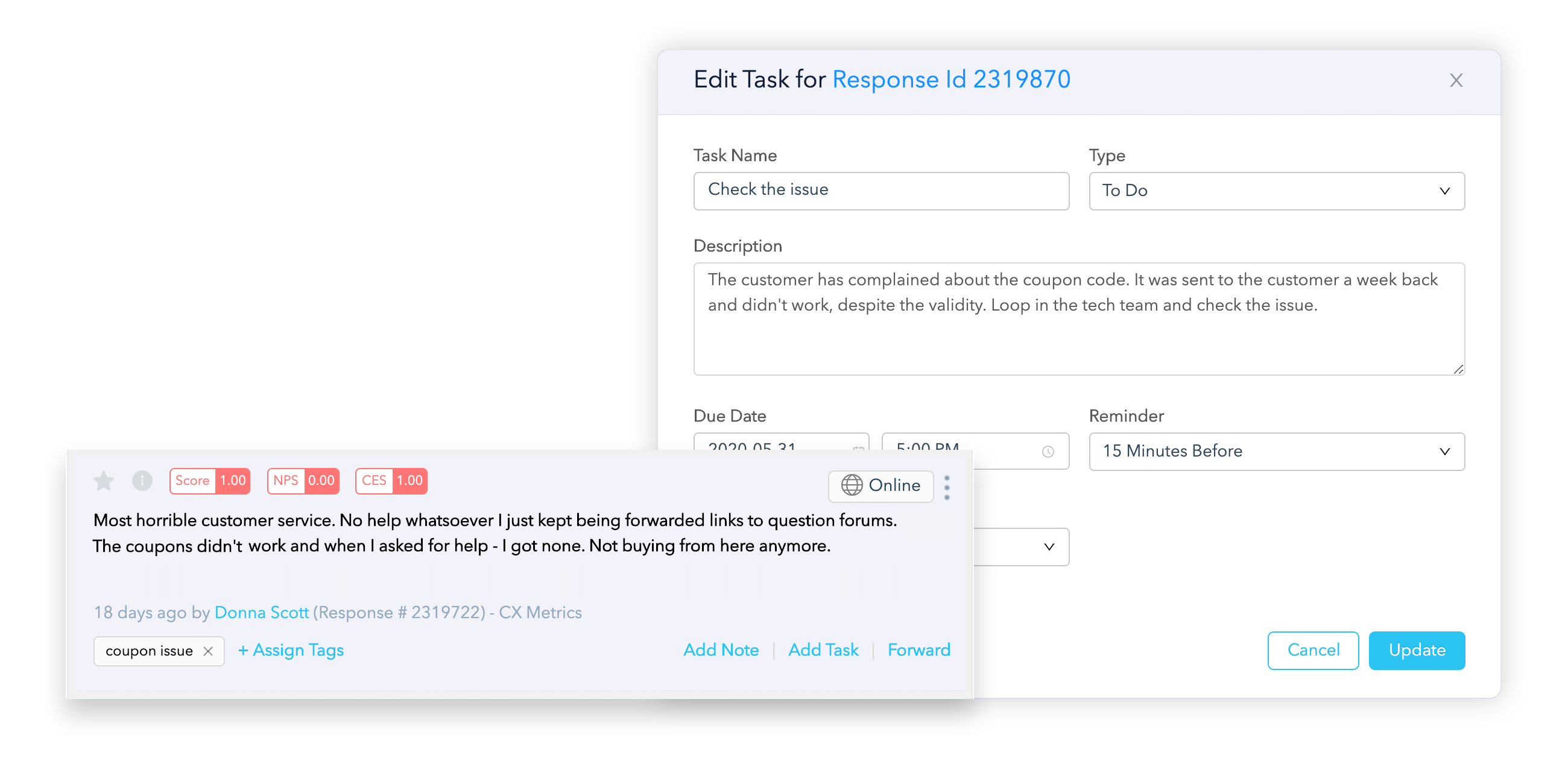 5. Advanced Feedback Data Analysis and Reporting
Select tools with robust data analysis features like Text and Sentiment Analysis, along with periodic and metric survey reports. This will help you extract meaningful information from user responses and drive product-led growth with customer feedback.
6. Channels to Collect Feedback
The key to obtaining maximum survey responses is to be omnipresent and share your Product Feedback Surveys across multiple channels. So the tool you choose must allow you to share your surveys through various channels like in-app surveys, email surveys, SMS surveys, and website surveys of different types like popup surveys and feedback buttons.
7. Powerful Integrations
While choosing your Product Feedback tool, always check which integrations it provides to ensure a smooth workflow. It is necessary that the tool gets integrated with your workspace tools so that you can automate the feedback data flow and easily trigger feedback-driven actions.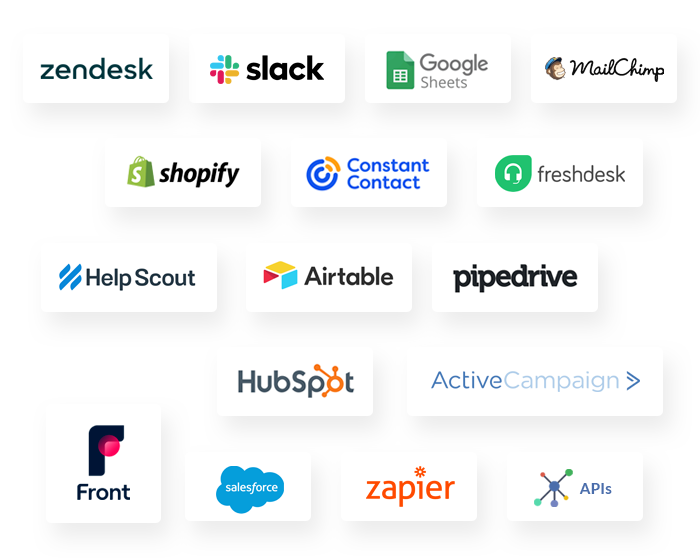 Conclusion
Choosing an effective and comprehensive product feedback tool can become tricky. The key is to first ensure the most important features in the tools you shortlist and then decide further as per your budget and business requirements

Ensure that the tool you choose enables you to provide an omnichannel experience to your customers, and it not only lets you collect and consolidate product feedback but also enables you to analyze the feedback data and take action on it so that you can create products that your customers love.