If you search for an app or SaaS product online for any purpose, you will find hundreds of options to choose from. This supply is fueled by the ever-increasing demand for mobile apps and product solutions. Now, this also means that for every product out there, there is an alternative. Even if you have a beautiful app packed with the latest features, there may be someone who is doing what you're doing in a better way.
The only way to stay at the top is to listen to what your users have to say about your product.
What is it that the users want to achieve with your product?
What are the challenges that they may be facing with your mobile app or SaaS tool?
How can improve your product to make it more aligned with your users' needs and ease of use?
You can get an answer to almost every possible question by directly collecting product feedback from your customers. Product feedback captured via user surveys within apps and SaaS software enables brands to align their product with users' preferences right from their inception stage till the growth and maturity stage.
If executed correctly, your product feedback strategy can fetch you invaluable data that can power different processes and functions. All that is needed is the right product feedback tool.
Why are product feedback tools so important? How can you choose the right software? What are some leaders in the product feedback domain? We have covered all the information in this detailed article. Let's get started.
Measure Product Feedback & User Insights 💻
With Product Feedback Surveys, understand what users need and learn ways to delight your customers.
Why Businesses Need Product Feedback Tools?
There are limitless possibilities of what you can do with your product feedback tool. Let's read about the top reason why you need a product feedback tool.
1. In-Product Feedback
You cannot always rely on email or SMS surveys for a 360-degree product view when it comes to user experience. You must be able to collect quick, in-the-moment feedback at every critical touchpoint right within your product or app. Product feedback tools help you do exactly that. They allow you to run surveys within the product's environment so you can collect feedback that comes from the user's fresh experience with the product.
Here's one of the product feedback examples to explain this:
A user places an order on an eCommerce app, you can collect feedback on the shopping experience right on the order confirmation page. Similarly, if a SaaS product customer is onboarded, you can collect onboarding feedback within the product itself.
Now, in-product is divided into three primary categories:
(i) Internal Product Feedback
The term feedback is often only associated with customer feedback. But product feedback tools enable you to go beyond customer feedback to align the product with user expectations right from the beginning. For example, in the staging environment, you can capture internal product feedback in terms of usability, loading time, functionality, navigation, etc., from the stakeholders of your product as a part of the alpha testing and QA in the ideation phase.
Here's a system usability survey template that you can add to your product and start collecting feedback right away:
These are two primary methodologies to collect internal product feedback:
Popover surveys for a new feature: A pop-up survey is an in-app survey that you can add to your product or mobile app. It consists of a product feedback form inside a popup that triggers when the user performs a pre-specified action. In this case, you can set your popup survey to trigger when a stakeholder tries out a new feature.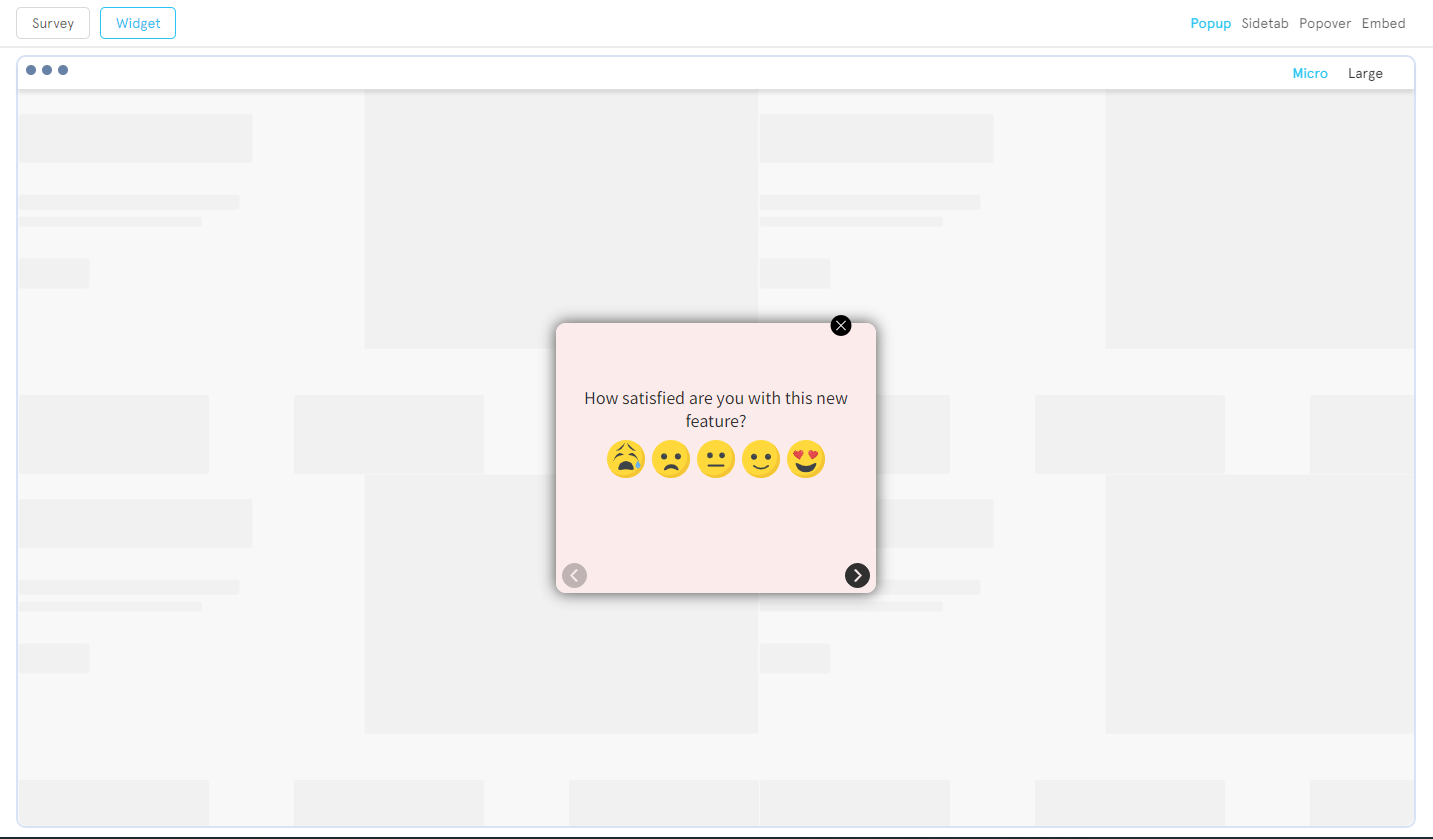 Integration with communication and meeting tools for UX updates: To collect feedback from internal users or stakeholders, you can ask product feedback questions in the internal communication channels with simple integration.
Let's say a new UX update is made to the product or app. Now, the stakeholders can be sent a survey via Slack so they can check out the new UX updates and share feedback before it actually goes live.
(ii) A/B Testing in Beta Launch
In-app or in-product feedback is super useful in the A/B testing phase as well since you can add separate surveys to the two variants of your product and collect feedback on each.
This is the initial phase of production where feedback influences what your final product would look like. With in-app surveys, the process of sharing feedback in terms of bugs, usability, functionality, areas of improvement, etc., becomes easier, which may also increase the response rate.
You can check out our beta product feedback survey template to understand how product feedback forms can facilitate A/B testing in the beta launch:
(iii) New Live Feature Feedback
The process of product feedback is continuous since you can continue running surveys within your product even after it is live. Now let's say you add a new feature to your product, for example, an automated workflow feature in your SaaS survey software. As soon as a user uses this new feature, a popup survey would be triggered asking them to rate their experience of using it.
This ensures streamlined development and enhancement of your product since every item is designed with actual end-user feedback.
2. Omnichannel Feedback Collection
In addition to in-app feedback, product or in-app feedback tools allow collecting feedback across multiple channels, including email, SMS, mobile, website, etc. All feedback is then unified to give you a 360-degree view of your product.
Omnichannel feedback ensures that you can collect all types of feedback both before and after conversion. For example, if a potential customer visits your website to learn more about your product and decide whether or not they wish to buy it, you can use a mobile lead capture form template to get information like name, business name, email address, requirements, etc.
Similarly, if a user of your product or app reaches out to your customer service support team, the agent can send them a detailed CES survey either via email or directly in the chat window to understand their satisfaction with the resolution provided.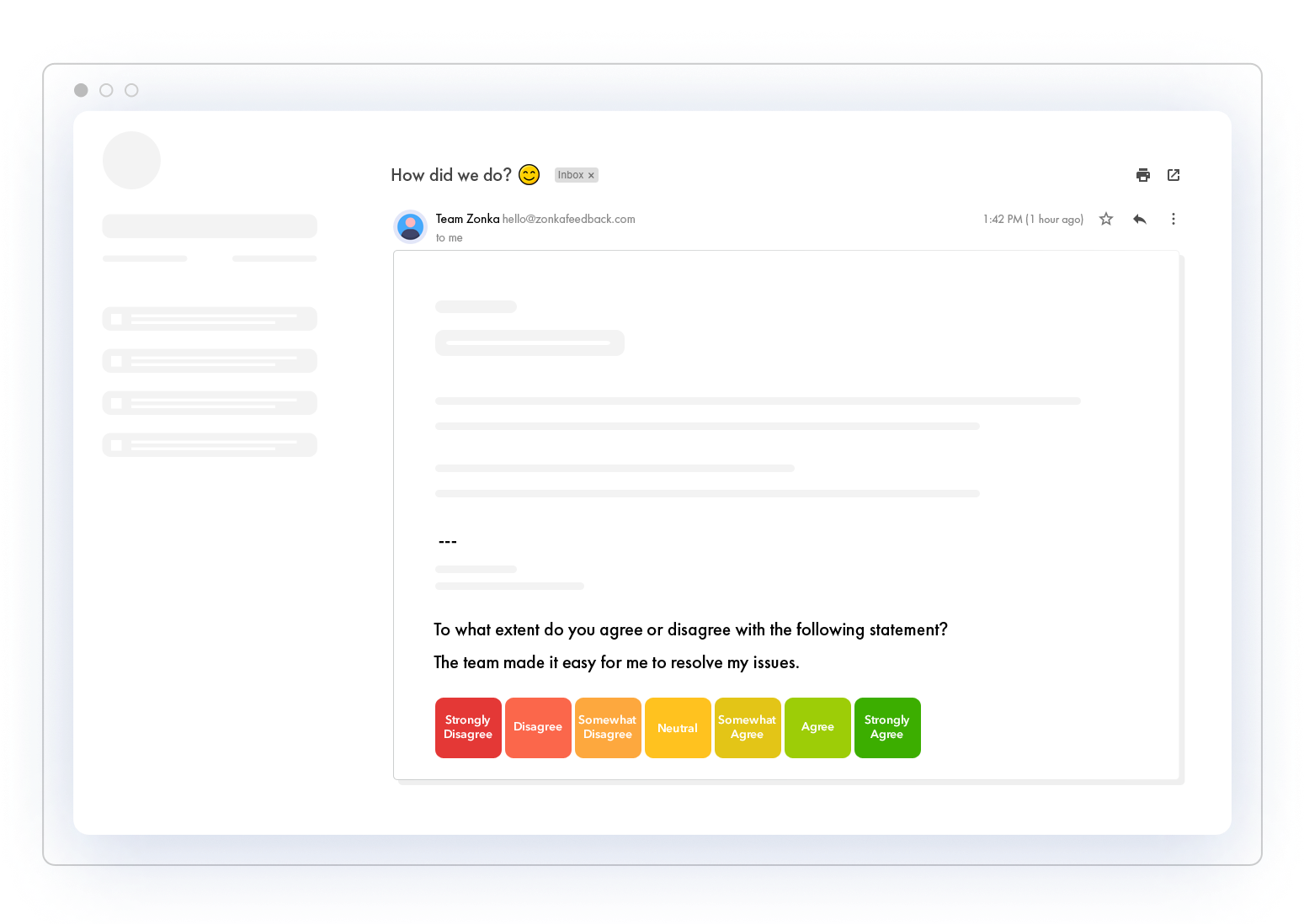 3. Feedback Automation
Technically, survey automation can be defined as an advanced feature in modern survey software which automatically executes conditional tasks like survey distribution, feedback data segmentation & management, and other business-specific actions that follow certain pre-defined events.
But why is feedback automation the need of the hour?
Feedback automation eliminates the repetitive tasks so you can focus on user experience
It helps you retrieve actionable data that can improve one or more functions like product development, customer service, onboarding, etc.
It streamlines processes to help you close the feedback loop faster and improve the overall user experience
Where to Use Feedback Automation?
Feedback automation in product feedback tools helps in both feedback collection as well as feedback management. Let's understand this in a little more detail.
(i) Survey Automation
Imagine having to send your users feedback surveys manually. Not only will this take away a huge chunk of your team's productivity hours, but it will also restrict you to collecting feedback only once in a while. On top of that, you cannot survey your product users on their individual product experiences if you're working at scale. And this cookie-cutter approach can also distract you from your objective of improving user experiences.
However, with survey automation in SaaS feedback tools, you can automate your feedback surveys at different touchpoints like:
Purchase, signup, subscription, etc.
Free trial relationship or free trial end feedback
Onboarding
New feature release
Subscription milestones (monthly, quarterly, half-yearly, and annual surveys)
Customer service calls or live chat support
Subscription renewal, and many others
Depending on the type of touchpoint or where the user is in their lifecycle with your brand, you can choose to either survey them within the product/mobile app or send them separate survey requests via SMS or email.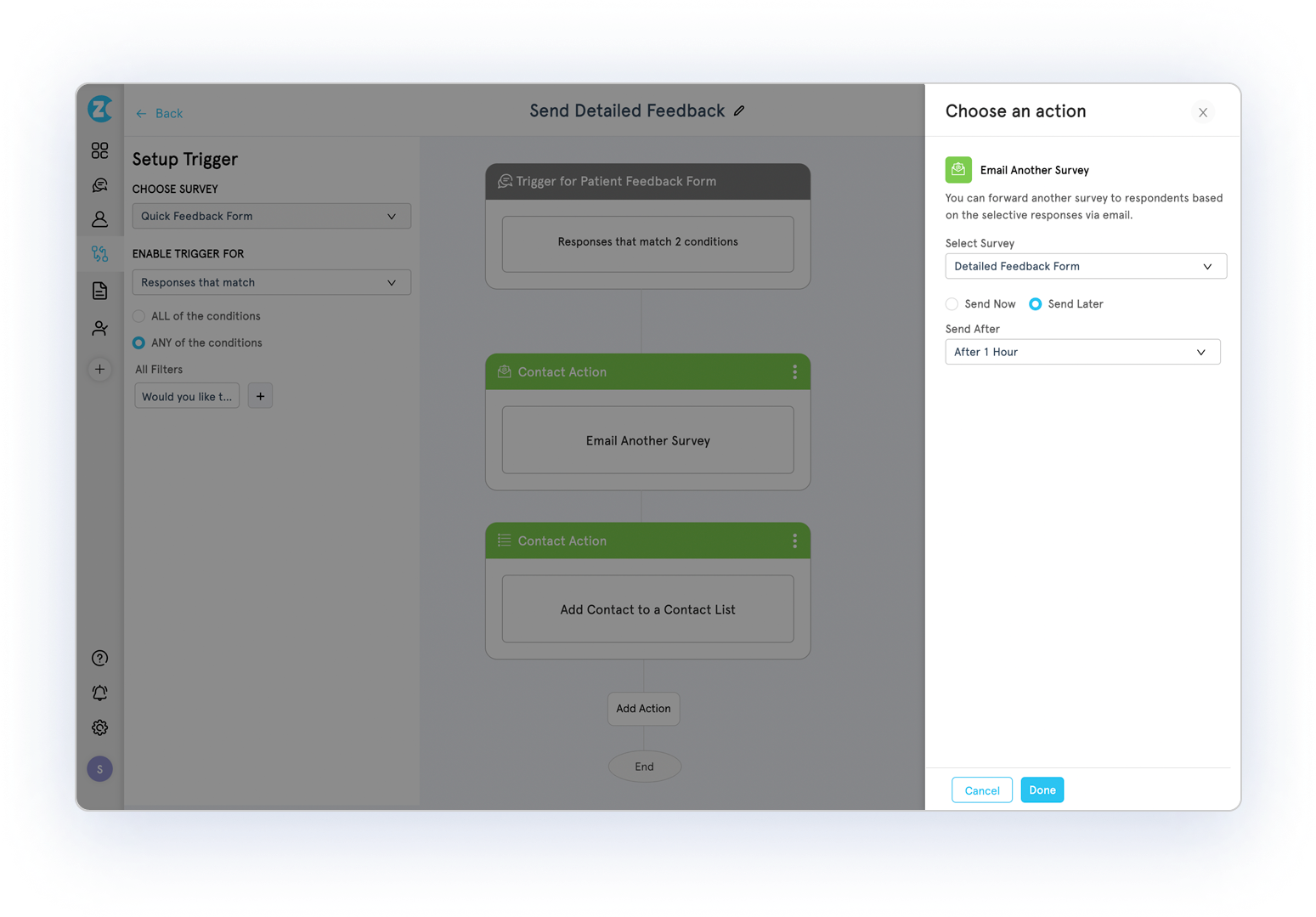 (ii) User Segmentation
Automatic user segmentation categorizes users based on certain parameters so you can serve them better. For example, respondents to an NPS survey can be categorized as Promoters, Passives, and Detractors. This way, the customer support agents can know at a glance how they might have to customize their solution to ensure that even if a user is a Detractor, they leave satisfied with the brand.
Users can be segmented on various aspects such as text/comments, CX metrics, device, location, pages visited, features used, and even keywords in open-ended responses.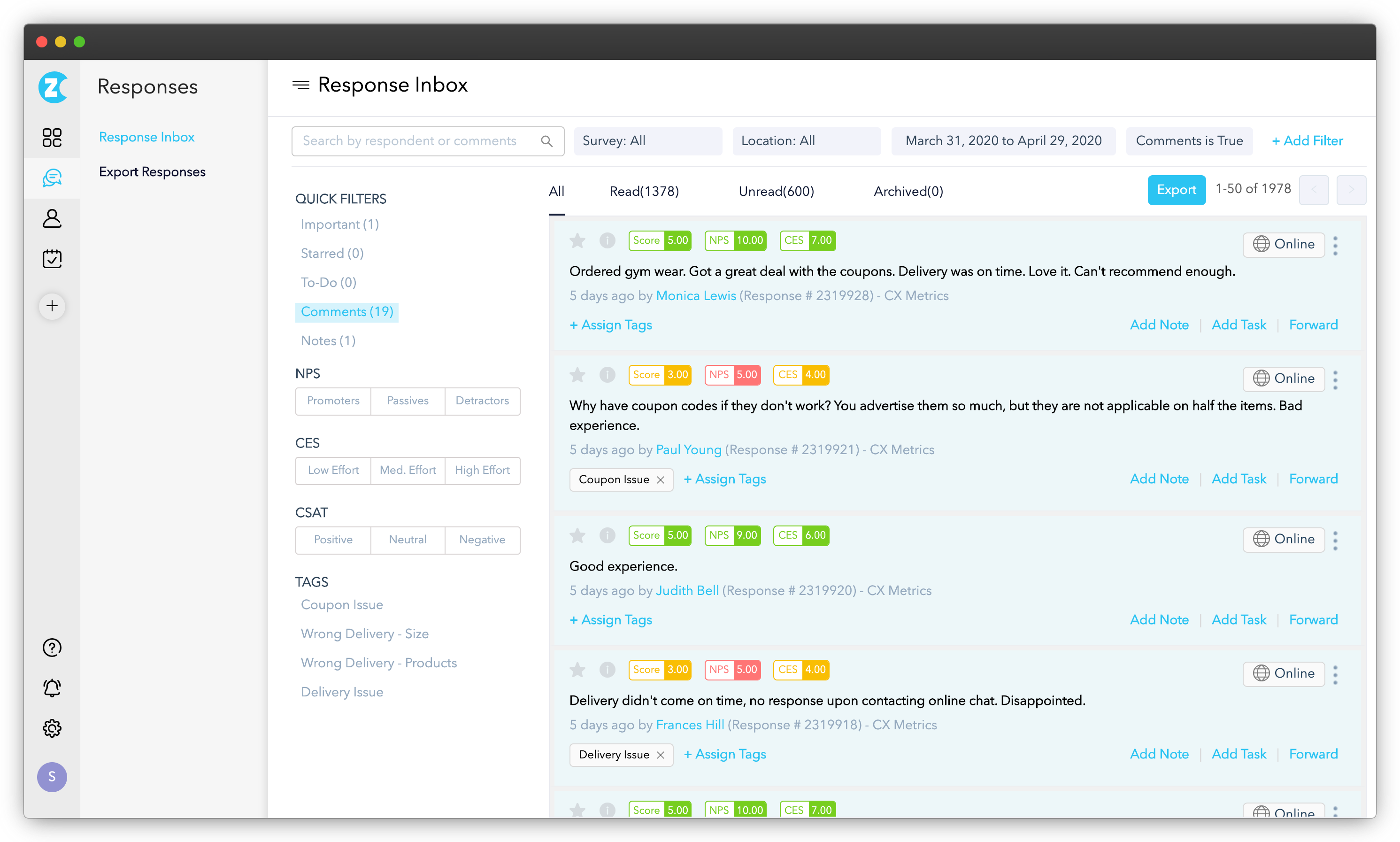 With the help of automatic user segmentation, you can:
Conduct response-based analysis
Compare location-specific performance
Identify product management trends
Offer unique, personalized customer service experiences
Offer quick resolutions, etc.
(iii) Workflow Automation
It makes absolutely no sense to invest your time, money, and effort using an app or SaaS survey tool if you're going to simply end up sitting on the feedback. Feedback data must be acted upon quickly so your users don't have to go around in circles trying to seek resolution before eventually churning.
With workflow automation in product feedback tools, you can make your feedback data more actionable and your teams more efficient. This means that any time a response comes in, it is assigned to the right personnel so they can quickly resolve the challenge reported.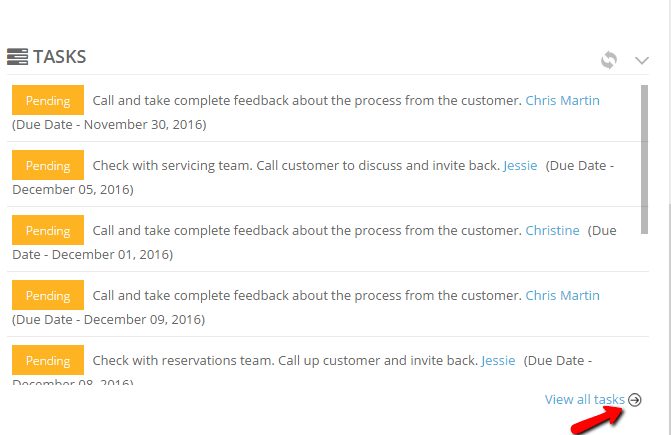 This is done using text analysis or service ticket classification. Here are some examples of workflow automation in a product feedback app or tool:
If a server-related issue is reported, a ticket can be created for DevOps teams
Design-related issues will go to front-end developers
Functionality-related issues will create a ticket for back-end developers
Issues in content, marketing/branding, or help article will notify the content team
Any payment-related issues can be sent to the finance team
Any legal or regulatory issue will be assigned to the legal team
(iv) Customer Service Automation
Product feedback tools enable customer service automation by integrating with customer servicing solutions or helpdesks, for example, Zendesk, Freshdesk, Jira, etc. Here are certain things that you can do with helpdesk and product feedback tool integration:
Embed product feedback surveys within customer service emails
Automatically trigger surveys after a ticket is closed or updated
Sync survey responses as well as scores back to your helpdesk
Create a new ticket based on the survey score
Similarly, product feedback surveys can also be triggered automatically in customer support live-chat and chatbots. Let's say an in-app user speaks to a customer support agent via Intercom live chat. Now as soon as the chat ends, an automatic survey can be triggered within the chat window where the user can rate the answer or resolution provided by the customer service agent. This ensures in-the-moment feedback and is critical to improving the overall customer service standards.
4. Feedback Management
Whether you're collecting mobile app feedback or SaaS product feedback, something that you can't do without is efficient feedback management. Therefore, your feedback tool should double as an efficient product management tool and enable you to centralize all the user data so you and your teams can collaborate and close the feedback loop with customers.
By integrating product feedback tools with your CRM, customer communication tools, and internal collaboration tools, you can give user data access to the relevant team members. This makes way for personalization and overall experience enhancement for your app or product users.
For example, if you collect SaaS user feedback, the responses and scores would be automatically synced with your CRM, where it can be accessible to different business functions. Now, let's say that a Detractor reaches out to your customer support team. The agent can view the feedback information as notes in the chat channel and offer a more personalized solution. This means that if a customer has earlier reported, let's say, a delayed resolution from the customer support team, the agent can review this issue, apologize for the inconvenience and offer a quick resolution as well as a reward/coupon to make up for the bad experience the user has had earlier.
Something like this can convert even the Detractors into the most loyal customers of your brand.
How to Choose the Right Product Feedback Tool?
Before you invest in a product feedback tool, you must verify if the tool is a:
Value Fit
The tool should enable you to achieve the primary objective of creating a feedback strategy. For example, if you wish to understand your product users to create personalized user experiences, your product feedback software should allow the experience management teams convenient access to data so they can create memorable experiences.
Purchaser Fit
Product feedback tools that are a purchaser fit are super important. This means that your feedback software should have features that meet your business requirements like integration, automation, auto-response, data centralization, etc.
Distribution Fit
Product feedback tools that may be the right fit for your brand must also have pricing packages that fit your budget without any compromise. Also, value for money is the mantra!
Top 5 Product Feedback Tools
We know what you are here for. So, we will share all the feature details of the most popular product feedback tools currently along with their entry-level pricing. We will also share a brief of customer reviews about the tools from the top product aggregators like G2, Capterra, Gartner, and GetApp to help you make a data-driven, as well as customer feedback-backed decision.
1. Zonka Feedback
Zonka Feedback is one of the most intuitive and highly-preferred product feedback tools suited for small, medium, and large-scale businesses. Be it in-app feedback or SaaS product feedback, the tool facilitates feedback collection at every touchpoint across channels like email, SMS, website, mobile, tablet, QR code, mobile app, SaaS software, etc. It also enables on-site feedback collection through its offline survey feature.
Top Features
Here are some top features that can help you create an optimized product feedback strategy:
500+ customizable survey templates as well as dedicated product feedback survey forms, including mobile app feedback survey template, market research product survey questionnaire, beta product feedback survey template, market research survey template, subscription cancellation template, etc.
Multilingual and multi-location surveys
Intercept surveys, live chat surveys, as well embedded surveys for SaaS products and mobile apps
Email signature and email embedded surveys
Reporting and analytics for top primary metrics as well as detailed response analysis
Real-time notifications
Survey automation and feedback management automation with features like user segmentation, auto-responses for customers, and workflows for internal team members to close the feedback loop
Integration with business tools like Salesforce, Zendesk, Freshdesk, Zapier, Slack, Google Sheets, Mailchimp, AirTable, Intercom, Zoom, Webex,
In-meeting and post-meeting feedback with collaboration tool integration
Survey logic and white labeling for personalized, relevant, and branded surveys
Pricing
Starts at $79/month
Rating
G2: 4.7/5
Capterra: 4.8/5
GetApp: 4.8/5
What Customers Say About Zonka Feedback?
Zonka Feedback surveys are easy to set up and customizable for different needs. Creating customized surveys with "if" and "then" actions is a big help. I think one of my favorite features is being able to use their app on my iPad so I can get instant feedback from clients instead of emailing them later. A lot of integrations! - Promising roadmap! - Very nice and fast communication with the support on the chat.
2. Hotjar
Hotjar is one of the product feedback tools that allow collecting visual feedback. This can help tremendously in capturing UI and UX issues in products and mobile apps. It segments users based on screen flows and type of device.
The tool allows setting up a recurring analytics process to make data-driven decisions. You can also use the UXCam to identify the top-performing content on your app.
Top Features
Here are the top features of Hotjar:
Recording of all user sessions on the product
Gesture-based heatmaps to analyze user gestures on the app
Ability to customize incoming feedback
Ability to forward incoming responses to the support team via email
Pricing
Basic Plan at $32/month
Rating
G2: 4.3/5
Capterra: 4.7/5
GetApp: 4.7/5
What Customers Say About Hotjar?
Hotjar is an easy-to-use platform that is also easy to deploy. I like the features like the form for incoming comments and heatmaps. However, there is a fear of being spied on since you agree to use it on your terms and conditions. The upgrades are a little costly.
3. Qualaroo
Qualaroo enables capturing feedback while the users are looking at your product. It consists of customizable questions that you can send just at the right time.
Top Features
Here are the top features of Qualaroo:
Real-time feedback
AI-based analytics and reporting
Ability to target specific users
Ready-to-use product feedback questions
Branded surveys
Pricing
Starts at $80/month
Rating
G2: 4.4/5
Capterra: 4.7/5
GetApp: 4.7/5
What Customers Say About Qualaroo?
We can use Qualaroo surveys as part of the discovery agile process and act quickly on the feedback. Great user targeting and white labeling features are available too. However, we cannot see in-depth custom dashboards and charts.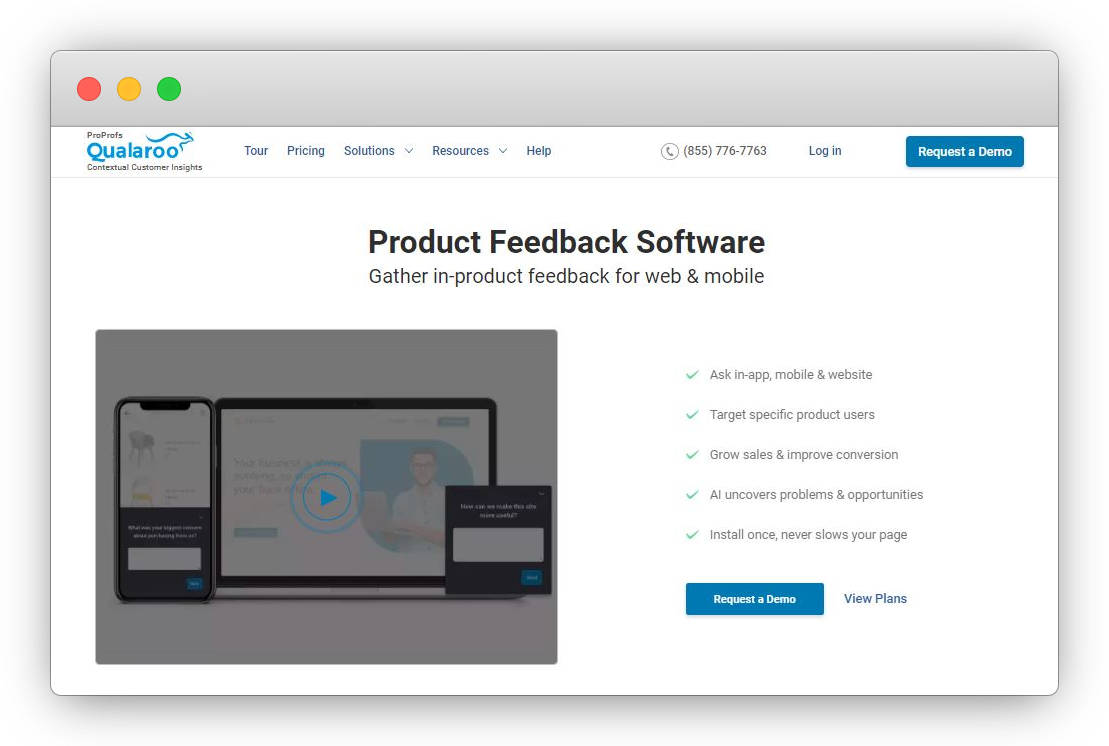 4. TypeForm
Typeform is one of the reliable product feedback tools available today. It consists of embedded feedback forms as well as intercepts to collect user feedback. It boasts friendly forms that users are more likely to fill out. Moreover, it consists of readymade survey templates so you can start collecting feedback right away.
Top Features
Here are the top features of TypeForm:
Ability to add icons, photos, and videos to survey forms
Personalized and branded surveys
Survey templates for quizzes, lead generation, research, user feedback, etc.
Survey logic for more relevant surveys
Integration with business tools
Like HubSpot, CRMs, collaboration tools, etc.
Pricing
Starts at $25/month
Rating
G2: 4.5/5
Capterra: 4.6/5
GetApp: 4.6/5
What Customers Say About TypeForm?
TypeForm helps in increasing inbound leads. It is an elegant tool and consists of reports and data summaries. Surveys are customizable and fit with our branding. But, building long and complex forms can be a headache. Too many features are locked behind a paywall.
5. UserReport
UserReport helps track users and their activities while they use your product or mobile app. It is based on two simple widgets – a feedback widget and a survey. The surveys run as an integrated part of your product and enable brands to have direct interaction with their users.
Top Features
Here are the top features that you can enjoy with UserReport:
Ability to discover user demographics

Feedback across metrics like NPS, user satisfaction

Google analytic integration

Customizable and localized feedback widget

Beautiful sales kit

Data reporting and analytics

Survey poll

Third-party integrations
Pricing
Customized plans; free trial available
Rating
G2: 4.6/5
Capterra: 4.5/5
GetApp: 4.5/5
What Customers Say About UserReport?
I really like the UserReports embeddable feedback widget. You can allow users to file bug reports and submit ideas. Users can easily add ideas and I can communicate with them with my thoughts.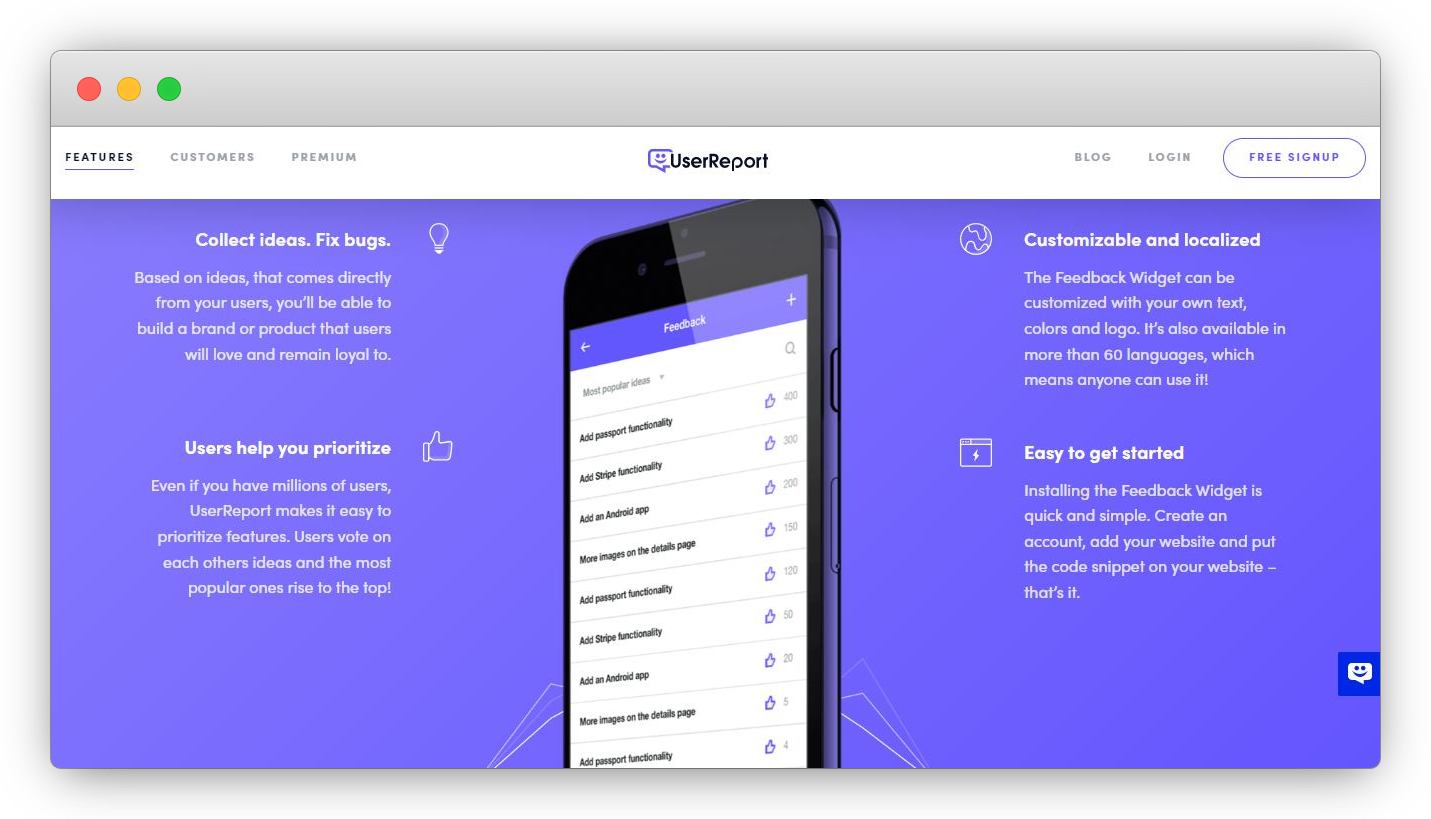 Conclusion
There is no dearth of product feedback tools in the market. But to get product feedback right in the first go, you must select a tool that is as useful to you after five years as it may be now. So, think of scalability, budget, and feature fit before investing in it.
You can use this article as a reference when listing down what you want in your choice of SaaS feedback tool.