Customer feedback, irrespective of the CX platform, has always been critical. In fact, for every customer complaint ignored, 26 customers are lost. Your brand reputation, how actively you listen to your customers, and how you respond –are the things that make you stand out in the noise. Similarly, website feedback is important to know:
What drives sales on your website?
What are the challenges that prevent people from making transactions?
What are the factors that would make people stay longer and browse?
There's a lot you can know about your customers and website visitors through website feedback surveys and use feedback to meet their expectations. And you do not even have to worry about coding surveys into your website. You can simply use a website feedback widget in a free survey maker to instantly start collecting website feedback.
Start Collecting Visitor Feedback Today
Sign up for Zonka Feedback and start asking your users what works for them (and doesn't) on your website.
Using free feedback widget for website is totally uncomplicated; all you need is a reliable free survey tool that enables collecting feedback with various intelligent features like customized surveys, survey automation, response management, closing the feedback loop, etc.
What is a website feedback widget? What is the best tool with free feedback widget for website? What are the types of feedback widgets that you can use? We have answered all the questions in this detailed article.
Let's get started.
What is a Website Feedback Widget?
A website feedback widget is a short code or snippet that can easily be embedded into your live website without any coding or technical skills required. It's like a miniature version of software to enhance the website functionality in terms of feedback.
With a free feedback widget for website, you can improve your users' feedback sharing experience while collecting the most relevant and useful website feedback.
Here's how you can use a free website feedback widget:
Collect feedback on the website's look and feel.
Conduct market research to fulfill your customers' and users' expectations.
Capture leads using feedback forms.
Gauge customer and user sentiment towards your brand.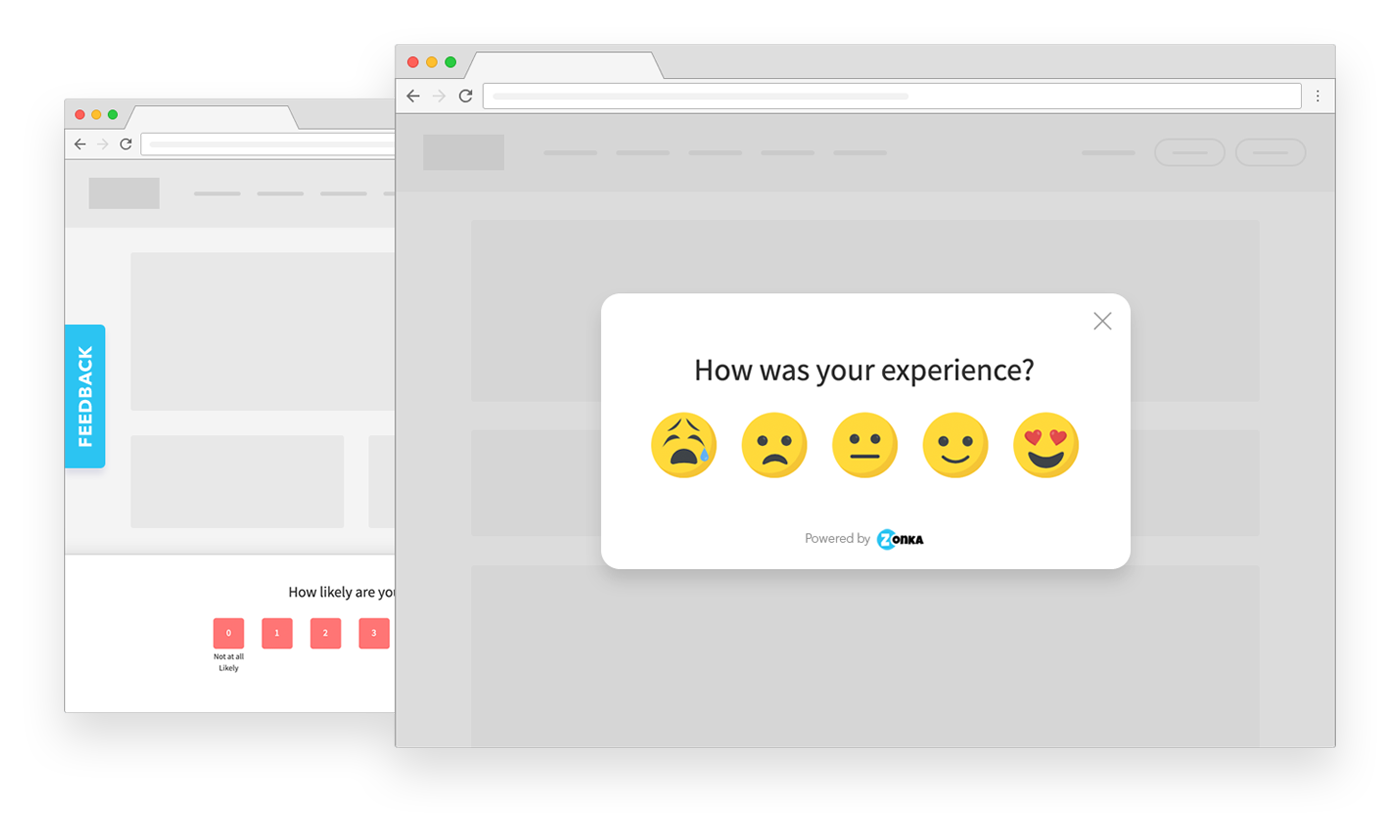 Examples of Free Feedback Widget for Website
There are different ways to use website feedback widget. We have explained each with its use cases below:
1. Feedback Button
A website feedback button can be added to any number of your website pages to collect either page-specific feedback or generic feedback. You can customize your feedback button to open any survey you prefer.
A feedback button doesn't take up a lot of space and constantly appears on the website. This ensures continuous, unsolicited feedback without overwhelming the user.
Here are some use cases of a website feedback button:
Website Usability Feedback: Place a feedback button anywhere on the home page to collect feedback on the look and feel of the website. You can use our website usability survey template that allows collecting feedback on various aspects like navigation, website design, purpose of website visit, overall UX, innovation, etc.
Product Feedback/In-App Feedback: Collect unsolicited feedback on the product or capture suggestions from your website or mobile app users using a feedback button.
Lead Capture: Use a feedback button to open a lead capture form so users can share their details.
You can also use a custom feedback button for the same purposes. It is a free feedback widget for website with the advantage that the feedback button is customized to look native to your website, i.e., like an in-built part of your website. This helps you improve your branding and also captures users' attention in a more effective way.
2. Popup Survey
A website popup survey is a popup with a survey form aimed at collecting event-specific or user-specific content on a website. Here are the different use cases of a popup survey:
Time-Based Feedback: Collect feedback after a fixed time duration to get the most genuine feedback. For example, you can set a popup survey to be triggered after a visitor spends more than 5 minutes on your website.
Exit Intent Feedback: Understand from users what stopped them from making a purchase using an exit intent survey that popups when the visitor is about to leave the website.
Post-Transaction/Event Feedback: Set a survey to pop up right after the visitor makes a transaction or a purchase. This captures feedback in cases of different experiences like purchase, signing up for the newsletter, sending a quote request, etc.

3. Slideout Survey
A slideout survey is designed to slide out from the side of the screen without taking up the entire screen space. Here are some use cases of a slideout survey:
Post-Transaction Feedback: Collect feedback after the transaction by placing a slideout survey button right on the transaction page, for example, the order completion page.
Below is a post-transaction survey template that consists of several closed-ended questions to gauge customers' experience with your product and brand. It also consists of a rating scale and NPS scale to get definitive scores in terms of CSAT and customer loyalty.
Exit Intent Feedback: Capture the exit intent of your users by allowing them to share unsolicited feedback before they leave the website.
Generic Feedback: Capture generic feedback or suggestions on the website by placing a slideout survey button on the home page. This will also help you capture page-specific feedback if you use a slideout survey for each page.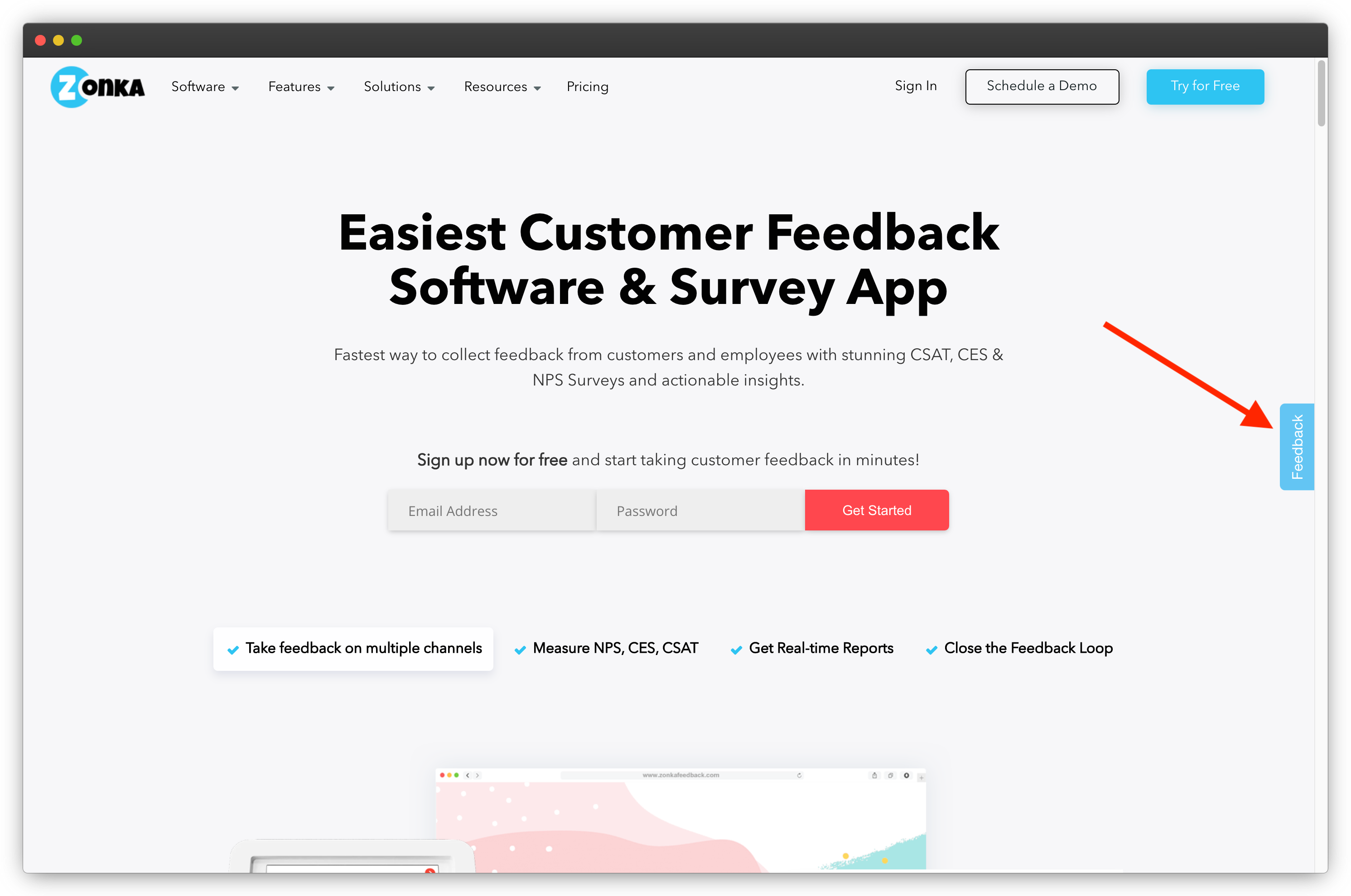 Free Feedback Widget for Website: Top 3 Tools
Although there are multiple free website survey software out there, it is advised to use the best that can help you capture meaningful feedback without much of a hassle.
We have shortlisted the top software with a free website feedback widget.
1. Zonka Feedback
Zonka Feedback is an intuitive tool that offers free feedback widget for website and mobile apps with different widget types. You can create surveys using its code-free survey builder, run surveys effortlessly, and analyze feedback to extract reliable customer data that can enhance the brand as a whole. Here are the top Zonka Feedback website survey features:
Three free surveys with unlimited members and responses
500+ survey templates
25+ question types for feedback across top CX metrics – NPS, CSAT, and CES
Multilingual surveys (30+ languages)
Mobile-responsive surveys for an excellent feedback experience
Real-time notifications for all team members
Reporting, analysis, and easy integration with different business tools
Rating
4.8/5
Free Plan
Available (Lifetime Free Website Surveys)
Free Trial also available for 7 days.
Below is an online shopping experience feedback form template by Zonka Feedback which consists of a rating scale to let visitors rate their shopping experience. It also consists of an open-ended question to let participants share their website experience in their own words.
2. Qualtrics
You can use Qualtrics' free widget for website to add interactive forms to your website. You can trigger these forms at key moments to capture insightful data in the customer journey. You can also leverage Qualtrics easy and effective reporting and analysis features to make the most of your website visitors' data.
Here are the top features that you can enjoy with Qualtrics:
Up to 500 responses
Summary reports and filtering
Predictive analyses
50+ survey templates
8 question types
Rating
4.8/5
Free Plan
All Plans Available for Free for 15 Days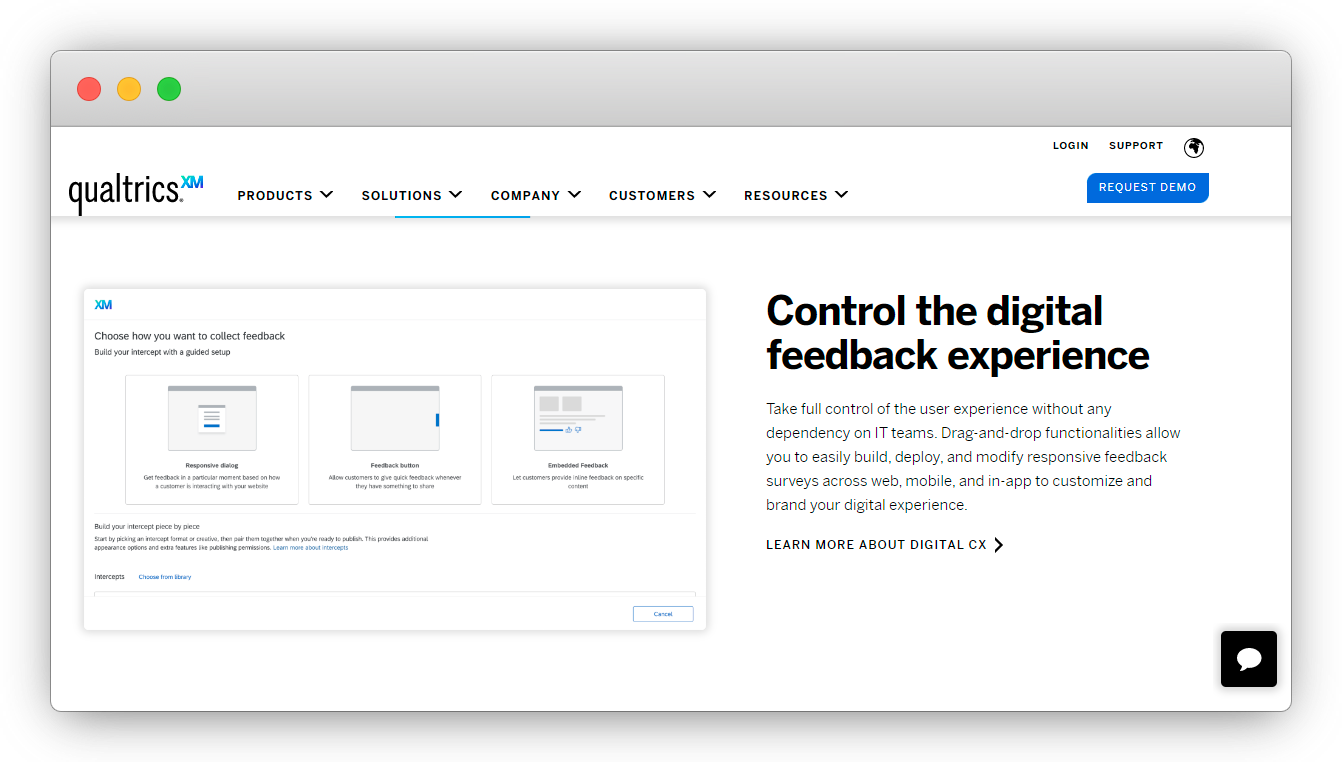 3. SurveyMonkey
SurveyMonkey is an effective, multi-channel survey tool with free feedback widget for website as well as a mobile app. It is an easy-to-use survey tool, so your team can start collecting feedback without any training. The customer data can be easily analyzed and made the best use of with SurveyMonkey's intelligent reporting tool. Here are some top SurveyMonkey features:
Ten questions per survey
Up to 3 team members
40 responses per survey
40+ short survey templates
Response tracking
Reports with one filter
Real-time notifications
Rating
4.6/5
Free Plan
Basic Plan Available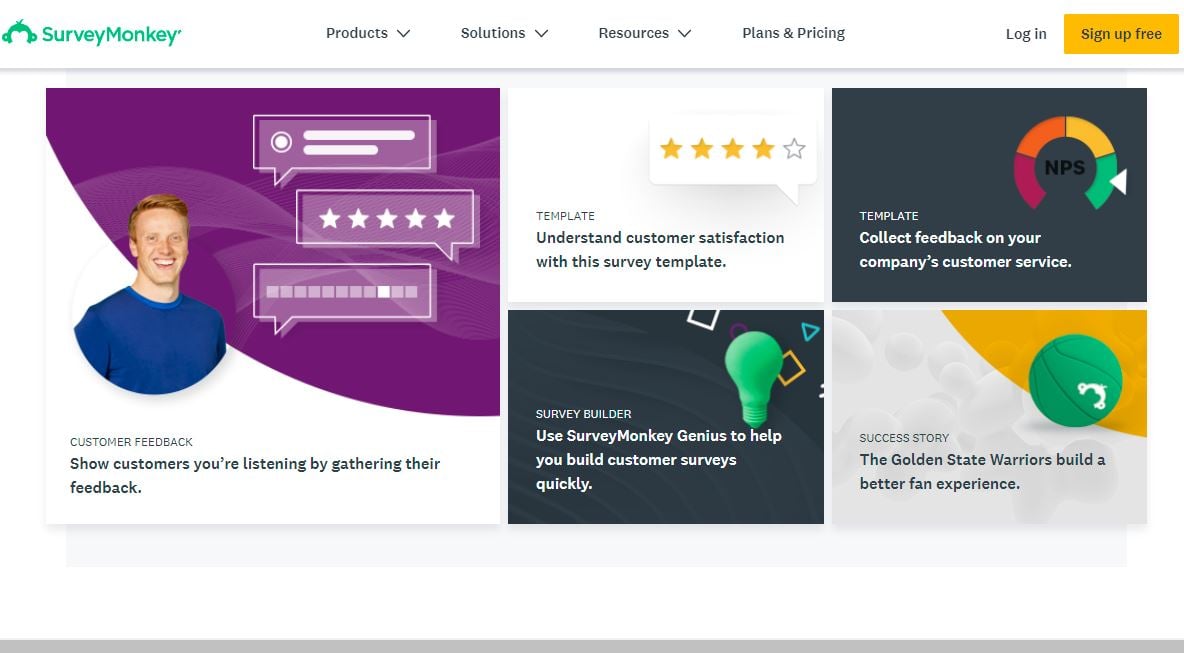 Conclusion
Though different survey tools allow you to leverage free feedback widget for website, the idea is to collect the most reliable feedback in the most effortless way. To make sure you make the right choice, clearly define your requirements, for example, the number of surveys, the number of responses you're expecting, response tracking needs, team collaboration, etc.
This will enable you to select not just the right website survey tool but also the perfect, free feedback widget for website.