Have you ever visited a website, and while you're scrolling through it, a survey button shows at a corner, prompting you to share feedback, let's say, about your browsing experience? These buttons are website surveys that are added on websites or SaaS products to collect visitor and customer feedback. And if you think they cost a lot, well, not really! Almost 2/3 of all website owners use free website feedback widgets, just to have a customer-centric brand image.
These static or floating feedback buttons have a certain code that is embedded into the website. Even if you are a low-code person like me, there's no need to sweat! There are several tools that can make it happen. For instance, if you are using a Wordpress website development or any CMS-website, you can download a plugin to insert the code. Alternatively, you can use Google Tag Manager to do it or simply, ask your web developer to do it for you!
And as the name of this blog suggests, apparently, it isn't a costly affair; in fact, there are some outstanding free survey tools available online, All you need to know is how to get actionable data from your feedback campaigns and if you are new to the entire feedback culture and not in a mood to spend, how to select a survey maker for free!
Zonka Feedback is known for its ready-to-use and 100% customizable online surveys that you can create and deploy in a jiffy. In this article, we will explore how you can use our free survey tool for websites and products, and get the most out of it!
Start Collecting Visitor Feedback Today
Sign up for Zonka Feedback and start asking your users what works for them (and doesn't) on your website.
Free Website Feedback Widget - What is it?
A feedback widget is, in machine language, a code snippet inserted into the website code in order to show a survey to the visitors and store the feedback data they share.
But the devil is in the details and the magic really happens when this miniature looking button on the right side of your website adds to an additional functionality - to take customer feedback!
Website feedback widgets, in general, let your loyal customers and new users to actively participate in enhancing the the experience on your website by giving feedback on website. And this small button-shaped widget is no less than a multi-purpose wizard. It helps in:
Collecting feedback on the service, product, or overall browsing experience.
Conducting market research to create a website (or product) more aligned with audiences' interests.
Capturing page-specific leads for re-targeting.
Measuring the sentiment of your audience or customers towards your brand or a specific blog or product.
Learning more about your customers and target audience by connecting their journey with their feedback.
Here's a Zonka Feedback post-purchase NPS survey template to help you better understand how you can add a feedback widget to your website with a ready-made survey. That's right; no lengthy coding, no technical requirement, and no complicated deployment.
Using Zonka Feedback's Free Website Feedback Widget
Zonka feedback offers different survey functionalities, including website surveys, in its free plan. It allows collecting feedback through its free website feedback widget that is easy to set up and deploy. We explore in detail how to get started with website surveys using our free survey tool.
Step 1: Create a Survey
As soon as you log in to Zonka Feedback, you will get access to our survey builder which is aimed at helping CX teams and managers create attractive and intelligent surveys without the need for coding or any technical knowledge.
Using our free survey tool, you can:
Select the CX metric (CSAT, NPS, and CES) that you wish to collect feedback across.
Choose from different question types like MCQs, open-ended questions, dropdown, Likert scale, emoji scale, rating scale, radio button, etc.
Explore from 100+ templates to find the most fitting surveys for your industry and brand.
Customize the survey to align its look and feel with your brand image. You can add a background image, a photo, survey details, survey time, etc.
Once you are done creating your survey, you can preview it to understand what it would look like.
Step 2: Select the Free Website Feedback Widget
Click on Distribute in the top menu and then select Web. On the next screen, select Widget.
Types of Website Feedback Widget
1. Feedback Button
A feedback button can be added to one or more of your website pages to collect generic feedback from visitors without any targeting. For example, if you add a feedback button to your home page, you can link it to a website design survey. Similarly, if you add a feedback button to the order confirmation page, your customers can click it to share their feedback on the purchase experience.
A feedback button constantly appears on the website and, therefore, encourages unsolicited feedback. It allows your visitors to share feedback instantly when they experience a problem, which saves them the time and effort of callingthe support team.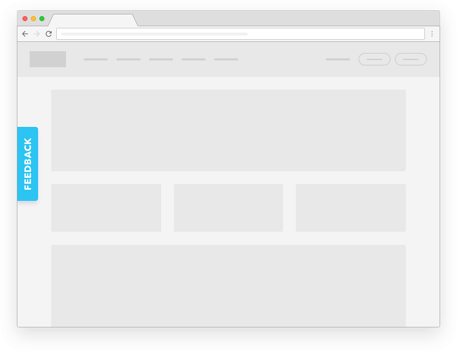 2. Pop Up Survey
A website pop-up survey is used when you're looking to collect specific feedback from specific audiences. For example, if you want feedback on your website's UI only from people who have spent enough time on it to give you genuine feedback, you can set your pop-up survey to be triggered only when the user scrolls through more than 70% of the page.
Similarly, if some visitors exit your website without making a purchase, you can use Exit Intent Surveys to understand what stopped them from making their purchase. This way, you get feedback from people who can actually provide you with insightful data to enhance your offerings.
If you end up selecting a pop-up survey, you can further configure it to create a frictionless feedback experience for your audience. After setting up your survey, you can set its:
Appearance

: Set when you want the survey to appear on the website.

Targeting

: Define who you want to show your survey to.

Behavior

: Configure your survey's behavior in terms of how often the survey pops up or when it stops showing to the user.
Step 3: Deploy Your Survey
Though it may sound all technical, deploying a survey is fairly easy. Once you have set up your free website feedback widget using Zonka Feedback, you will see a code snippet appear on the screen. All you have to do is copy the code and paste it within your website code based on where you want the survey to appear. The survey will go live as soon as you save the changes.
Conclusion
In addition to free website feedback widgets, Zonka Feedback also allows embedding surveys directly into the website so you can collect feedback at every touchpoint on your website.
Moreover, through integration with customer servicing tools, for example, Intercom, your customer support agents can collect feedback while they are talking to the customers. As a result, they can resolve issues before the user exits the website.