chapter 1
Introduction
Customer feedback is powerful.
It can help businesses make informed, intelligent decisions that pay off, both in revenue and branding. Without insights into your customers' experiences, you will have to resort to guesswork, and we all know that it often costs companies.
Your customers' website feedback gives you a piece of their minds and helps you understand how your brand is perceived. With insight into their behaviors and outcomes on your website, you can finally get an answer to the most important question – what drives customers to make transactions on your website?
And Website Surveys are the most effective feature of a survey tool since they allow you to capture data directly from customers. Here's what a website survey may look like: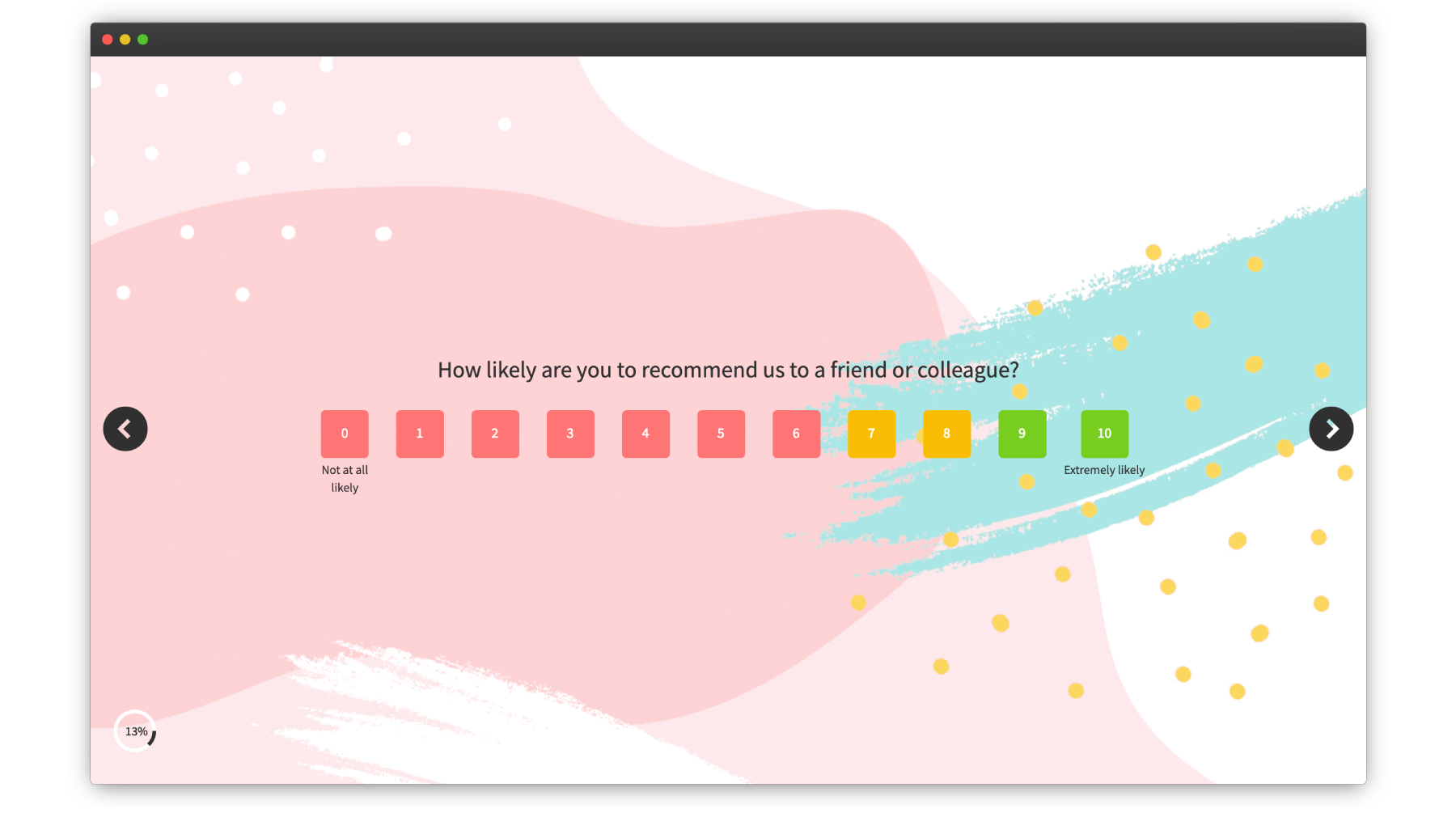 Website surveys have many use cases and can help you make the most effective decisions in not one but several processes.
Fuel Business Growth with Customer Feedback 🔥
Collect real-time, in-moment feedback at all touchpoints in customer journey and leverage feedback insights to transform customer experience.
You can answer questions like:
How to improve the website design to reduce the bounce rate?
Which products are customers most satisfied with?
Which products to discontinue?
How quick and efficient is the website chat support service – and many more.
And you can use website surveys easily without paying a buck out of your pocket. All you need is a reliable survey maker for free with important features to help you get started.
chapter 2
How to Choose Free Online Survey Tools?
To know what you want, you must know what survey features are key to creating sophisticated website feedback forms that drive visitors to share feedback.
We have put together all the critical survey maker free features in detail in this guide to help you make the right selection.
Keep reading…
Free Customer Feedback Software Features You Need
1. Survey Customization
A good survey is not a few questions added to a plain, boring form; you cannot expect your customers to invest their precious time in a feedback form that looks like no effort was put into it.
So what can you do? You can make a survey for free equally attractive by leveraging survey design.
Your free website survey tool should allow you to customize your surveys to align them with your brand image. It must have a customizability feature to let you change the look and feel of your website surveys using your brand's logo, colors, background image, font, etc.
And if you're wondering why it's important to customize your surveys, According to Hitachi Design Center Researchers, the aesthetic appeal of an interface appeals to users and increases their engagement with it.
How to Customize Surveys?
Here are the customizability features that you must look for in your free customer feedback software.
Survey Branding

: Ability to add your company's logo, image, color, or any other elements that represent your brand

Text Formatting

: Ability to use Text and Heading tags, such as H1, H2, H3, etc. to clearly distinguish questions and answer choices, and ability to use description tag to add the survey description on the welcome page

Survey Details

: Ability to add survey duration or the number of questions in the survey
As a result, you can:
Increase brand recall among customers.
Increase the participation rate of your website surveys.
Increase the survey completion rate by keeping customers informed in terms of the time expected to fill the survey.
2. CX Metrics
The three most important metrics to measure customer feedback are Customer Satisfaction Score (CSAT), Net Promoter Score (NPS), and Customer Effort Score. So, if you're looking to make a survey for free, make sure your survey tool allows collecting feedback across these metrics.
CSAT: A CSAT survey allows measuring the satisfaction of customers with a product or service on a 1-10 satisfaction scale. Here are some CSAT questions that you may use on your website –
How would you rate your online shopping experience on a scale of 1 to 10? (1= extremely dissatisfied, 10= extremely satisfied)
How would rate your experience using the free trial of our software on a scale of 1 to 10?
How would rate your browsing experience on a scale of 1 to 10?
NPS: An NPS survey measures customers' loyalty and their likeliness to refer your brand to others on a scale of 1 to 10. Here are some NPS survey questions you can add to your website:
Based on your shopping experience today, how likely are you to recommend our website to others?
Thanks for visiting. How likely are you to recommend our website to others?
Thanks for renewing your subscription. How likely are you to recommend us to others based on your experience so far?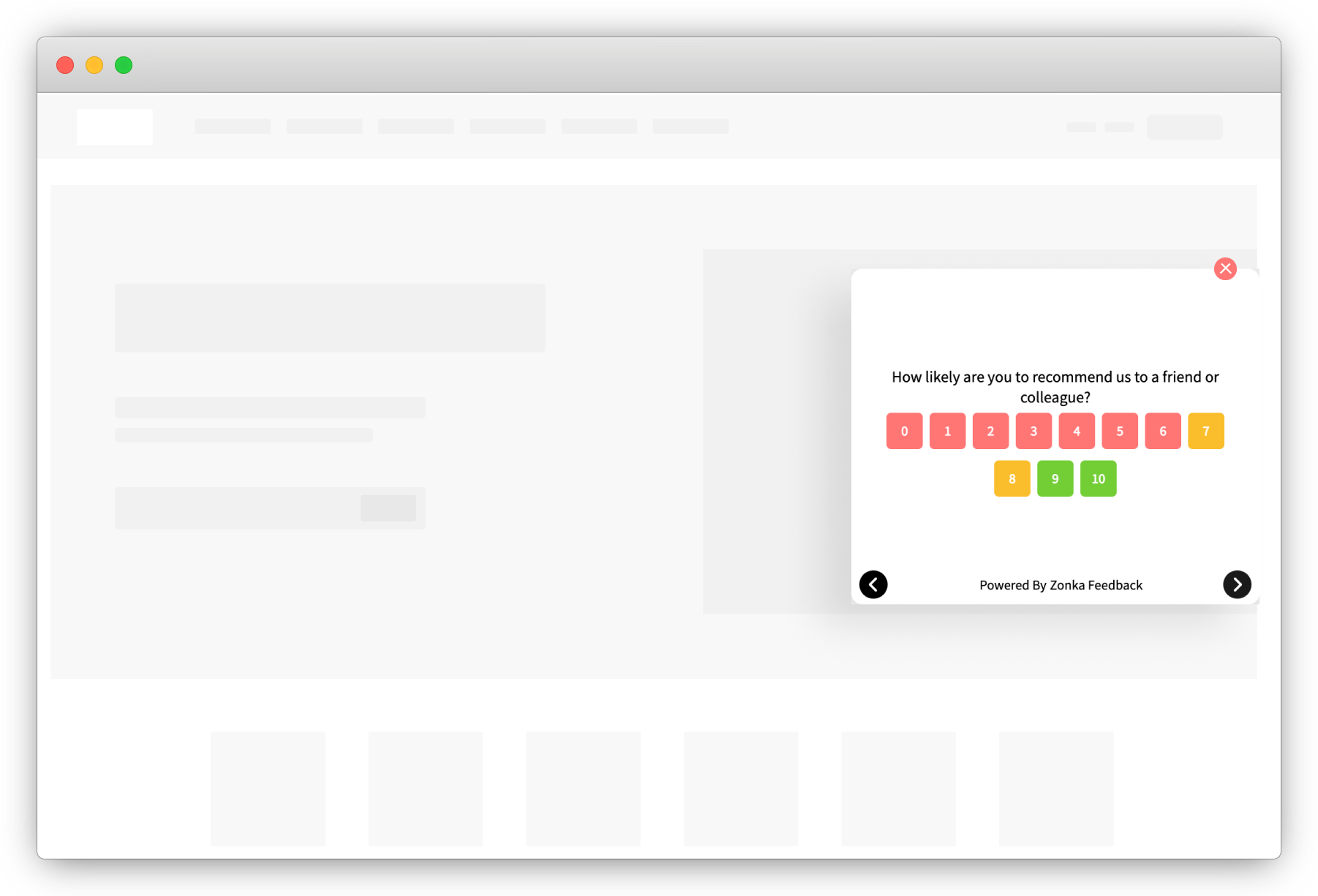 CES: CES surveys are used to measure customers' effort in browsing your website and doing business with you. It can also be used to measure agent performance. The goal of business is to keep customer effort low and create seamless experiences. Here are some CES questions that you can use on your website:
On a scale of 1 to 10, how would you rate your effort to make a purchase on our website? [1=Extremely Difficult, 10= Extremely Easy]
How would you rate the quality of resolution from the chat support agent on a scale of 1 to 10?
How would you rate your effort in reaching customer support on our website?
Please note that customer effort score questions are most useful on the website when used in the website chat window since they collect feedback on the support service.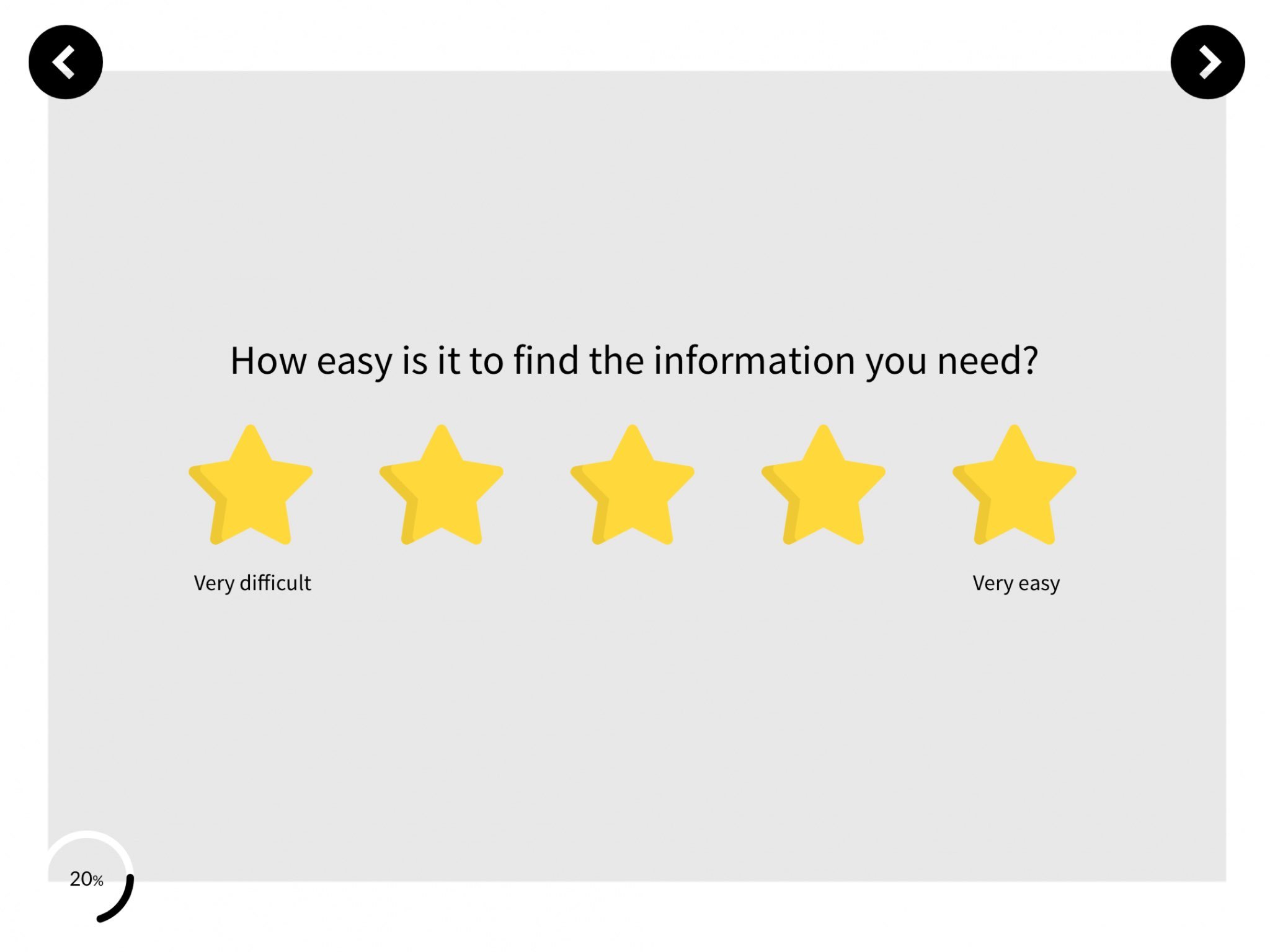 Pro Tip: Begin with measuring these CX metrics if you're just getting started with website feedback.
3. Types of Questions
Your customers are different and so are their demands and expectations from your brand. Therefore, you cannot expect to get insightful feedback if you use a cookie-cutter approach when creating surveys.
Based on their experience with the brand, customers may like to answer survey questions differently. For example, a customer who has had a good experience can simply mark what they liked about it on a multiple-choice question. Similarly, an agitated customer who has had a negative experience with your website or brand may like an open-ended question so they can write their feedback in their own words.
Therefore, one of the most practical survey maker free features is the availability of different survey question types, such as rating scale, Likert scale, open-ended question, radio button, picture choice, emoji scale, etc.
When you're looking to use website surveys for lead capture, your survey software should allow you to use other question types, such as name, phone number, dropdown, birthday, email, time zone, etc. Based on the question types you have at your disposal, you can ask your customers e-commerce survey questions in the most effortless manner.
Fuel Business Growth with Customer Feedback 🔥
Collect real-time, in-moment feedback at all touchpoints in customer journey and leverage feedback insights to transform customer experience.
4. Library of Templates
Let's accept it; it can be taxing to create website surveys very often when you collect feedback continuously. And creating new surveys from scratch can take some time. Therefore, make sure your free website survey software offers free survey templates that you can either use directly or customize as per your requirements.
A good free survey software would have survey templates for different industries like healthcare, hospitality, retail, finance, education, etc.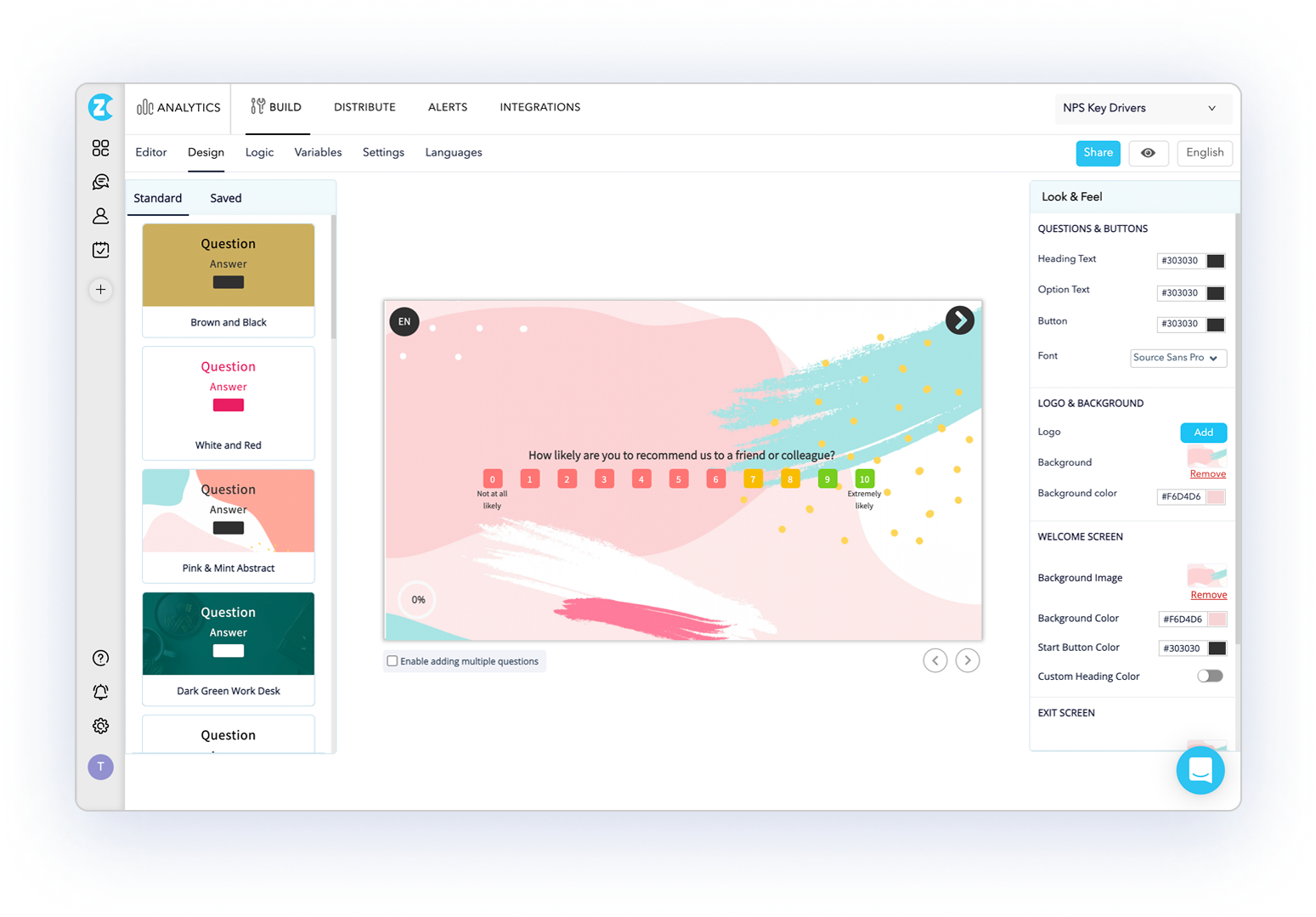 5. Responsive Survey for Mobile Usage
Now, this is a very important feature of a website survey. The m-commerce or mobile commerce sales in 2021 increased 15.2% over 2020 and reached $359.32 billion. And by 2025, it is projected to be double of what it was in 2021.
It is safe to assume that many of your customers would be shopping from their phones. So, you must make sure that your surveys are primed for mobile phone usage.
Moreover, the average monthly active users of e-commerce mobile apps were more than 18 million in the third quarter of 2021. So, if you have an e-commerce mobile app, it is important to create surveys that run smoothly on mobile devices.
Therefore, you need to look for a survey tool that allows for creating mobile responsive surveys that adjust as per the screen ratio. This would help you collect feedback more frequently and quickly. For example, if have a food delivery app, you can take feedback after each delivery. Push notifications further help increase the survey participation rate and collect more rewarding data.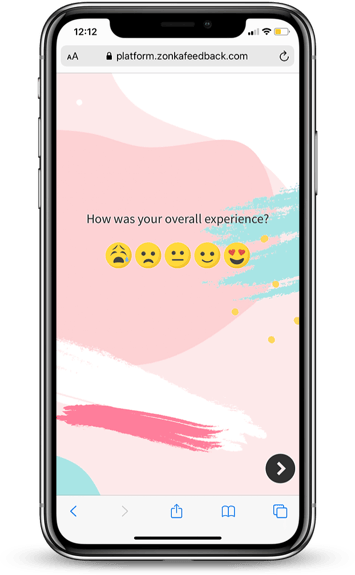 6. Feedback Button
A feedback button is a website feedback widget that encourages unsolicited feedback and communicates to customers that their feedback is valuable to you.
Let's let at it this way. Who are the customers who would be encouraged to share feedback without being asked to? The ones who are either happy or extremely angry with the experience they had on your website. And these are the people who can help you understand the leading challenges customers experience and factors that drive conversions.
A website feedback button is important since it is available on the website for customers or visitors to share feedback any time they want. Therefore, you must look for a website survey tool that offers free website feedback button surveys.
Here are the main feedback button features you will need to look for:
Can be placed anywhere on the website
Can be used as a side tab feedback button
Can be made to appear on the screen constantly even when the users are scrolling (floating feedback button)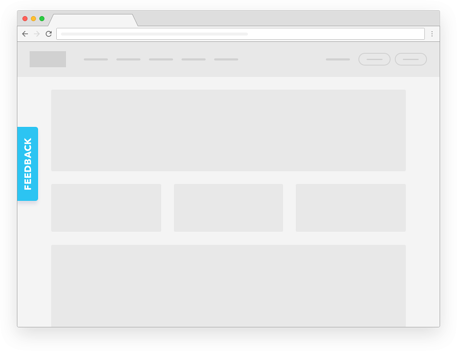 7. Targeted Visitor and Customer Surveys
A feedback button may not entirely help in collecting all sorts of feedback that you may want. For example, some visitors may exit right from the home page without noticing the feedback button. These people can tell you what stopped them from making a purchase. So, in such cases, you set a pop-up survey (Exit Intent Survey in this case) to be triggered right when the visitor is about to exit the website.
Similarly, pop-up surveys can be configured to appear in different events to collect visitor and event-specific feedback.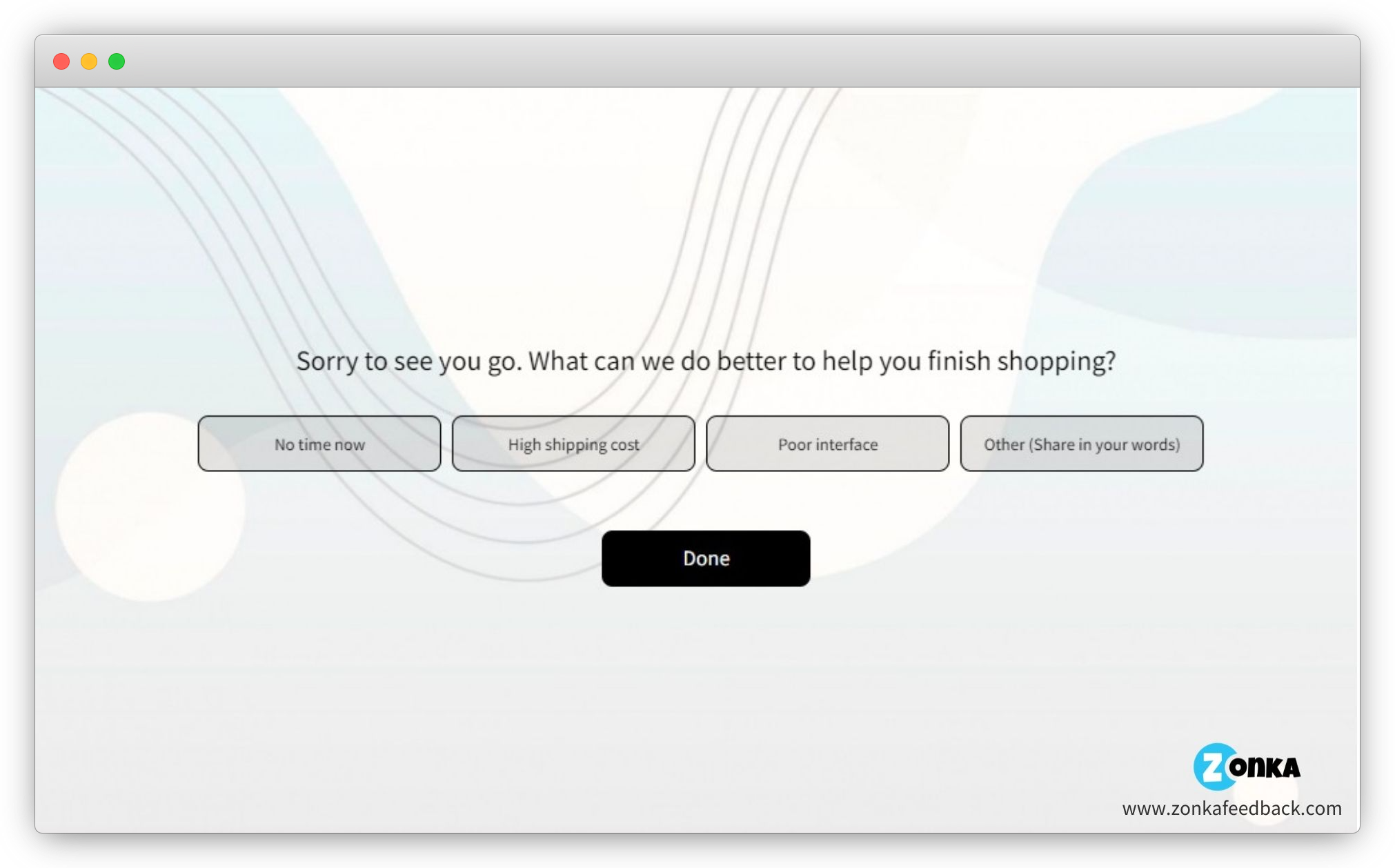 8. Code Free
When you're focusing on collecting customer data and figuring out use cases to make the most of it, the last thing you want to worry about is explaining to a developer your vision of the survey design and function. And this can become a dreadful job if you have to do it more frequently.
Moreover, hiring an engineer to create and deploy surveys can be an unnecessary cost that you can easily avoid.
So, if you're going for a survey maker for free, ensure that it allows for creating website surveys without any coding or technical knowledge. The survey builder should be an intelligent tool to let you select and modify survey elements with just a few clicks. For example, you should be able to:
Add or delete questions without coding
Change the look and feel of the survey without coding
Deploy surveys on the website with a ready-to-use code, etc.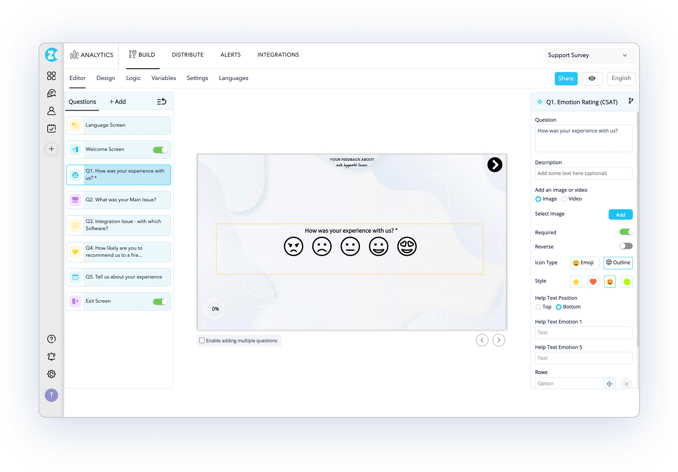 9. Integrations
It has become almost impossible today to manage customer data manually. You cannot think of operating without a CRM or a ticketing tool if you're customer-focused. Brands who take customer servicing seriously also use customer ticketing tools to better manage the data so that it is streamlined as the company grows.
In cases like this, it may be the worst idea to hire a professional whose sole job is to take customer data from the survey software and add it to other tools used in your business.
You need a website survey tool that can be integrated with the business tools you use so that the data can seamlessly flow back and forth.
For example, if you use Intercom to offer chat support on your website, you want your customer support agents to be able to survey customers right in the chat window.
You can pin the survey on the chat window or send surveys post-resolution to measure service and agent performance. This empowers your agents and allows them to modify their approach based on the recent or past feedback from the respective customers.
Integrations let you work seamlessly while also giving your customer experience and support teams great access to customer insights.
You can read our detailed article to understand how you can run surveys in Intercom.
10. Real-Time Response Notifications
Real-time notifications as soon as your customers take your website survey – this feature in your free survey software can let you win back even the most disappointed of customers. Let's look at this example:
A customer who has products added to their cart clicks the chat window and fills the survey pinned to it. The customer shares how they are unable to find a certain product on the website. When your customer support team receives the feedback notification in real-time, they would be able to get back to the customer instantly and resolve their issues right away, if possible.
In this case, a support agent can respond to the customer with the product link so that they can place their order before exiting the without.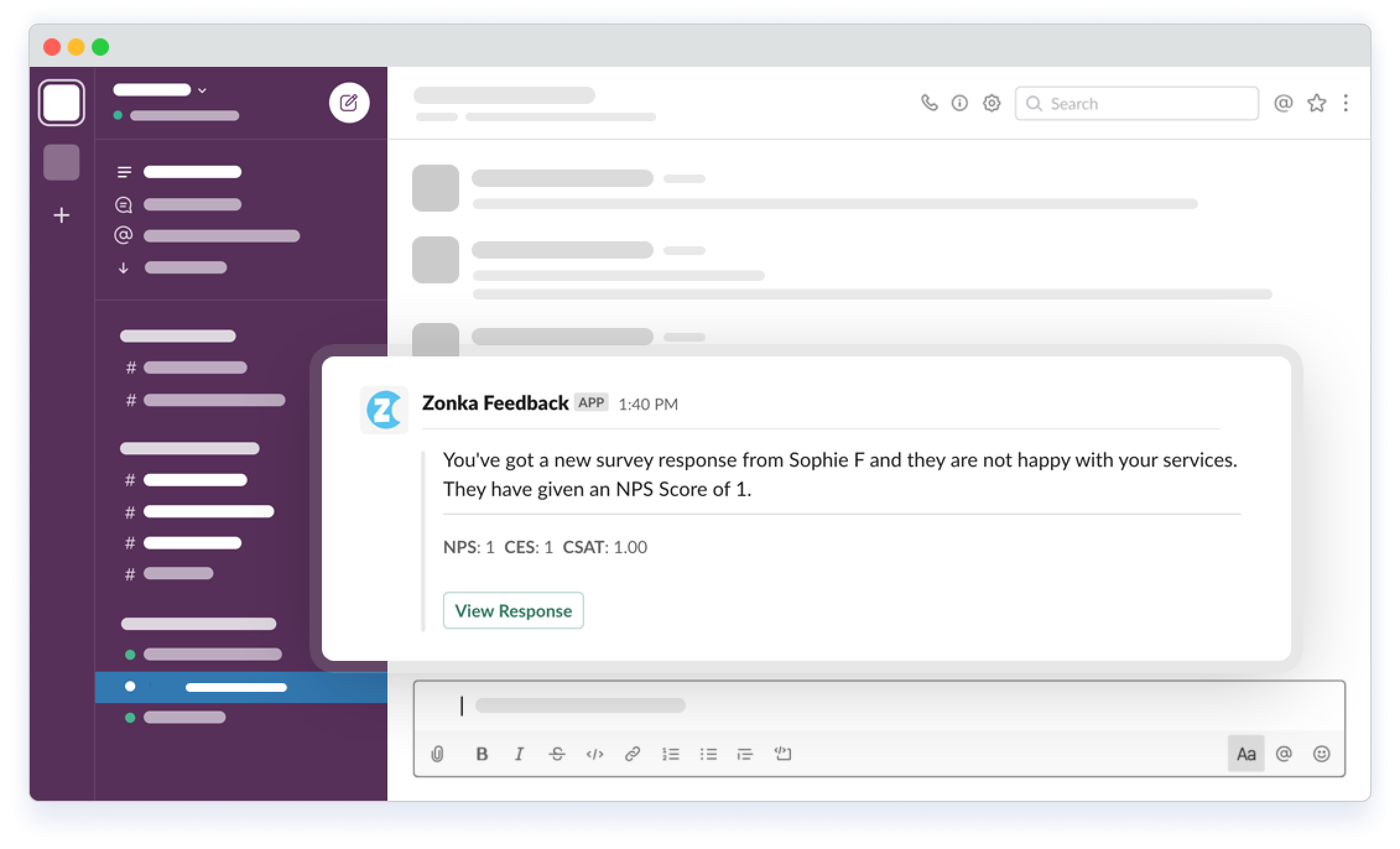 11. Reports
This is a feature you absolutely cannot do without in your free website survey software. Reports help you understand your customers' sentiment toward your product, service, or brand as a whole, based on the purpose of your surveys.
A report presents customer data in a graphic form with graphs and pie charts, which makes it easy to understand customer and complaint trends. So, make sure your survey software allows generating reports that show:
Overview of customer survey data, such as response rate, survey responses, responses analysis for CX metrics
Insight on survey questions and responses
Evaluation of team performance
Dashboard with past and ongoing surveys
These feedback reporting features will give you more control of customer data, and hence, customer experience.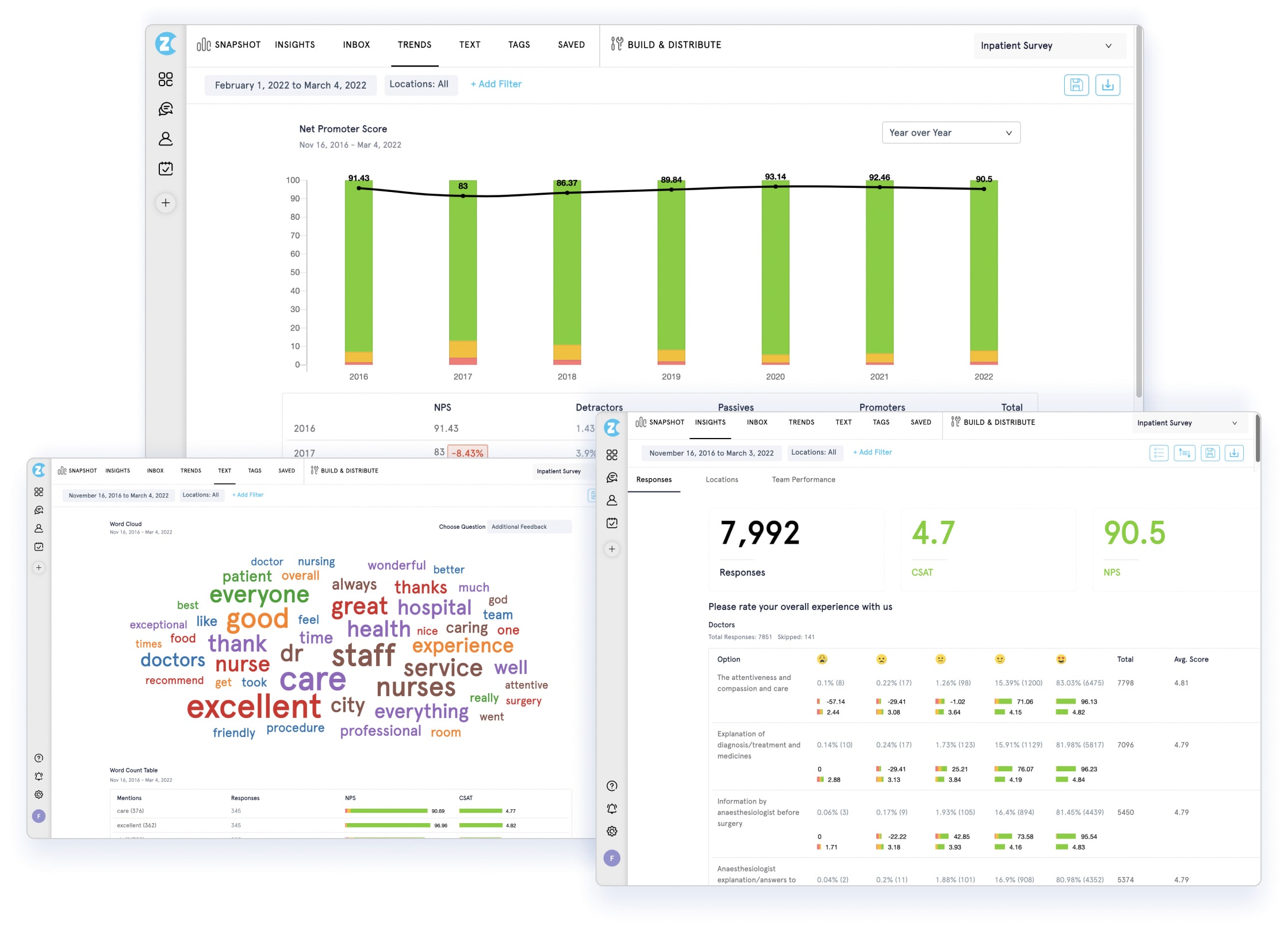 chapter 3
Zonka Feedback – Free Survey Tool
Zonka Feedback is a multi-channel feedback platform that can be just the right fit for your website feedback program. The free version of our survey tool gives you access to all the necessary features that you need to collect and analyze customer feedback on your website.
Here are some features that you would get in your free survey tool:

Easy Survey Builder

: Easy-to-use, self-explanatory survey builder that allows creating intelligent, designer survey forms without any need for coding or technical knowledge.
100+ Survey Templates: Industry-specific surveys from our library of 100+ customizable surveys.

30+ Question Types

: A huge variety of survey question types, including CES, CSAT, NPS, rating scale, Likert scale, emoji scale, comment box, picture choice, legal terms, age, name location, date of birth, radio button, dropdown, multiple-choice questions, etc.

Survey Customization and Branding

: Ready-to-use themes to beautify survey design, look and feel. Survey customizability as per brand image (brand logo, color, font, image, etc.)
Mobile Response Surveys: Surveys that are also compatible with mobile web and mobile apps.

Multichannel Surveys

: Free surveys for different channels, such as website, email, SMS, link survey, etc.

Integrations

: Ability to integrate with customer communication, servicing, ticketing software, etc.; integration with 1400+ apps through Zapier.

Real-time Notifications

: Real-time feedback notifications to all the stakeholders.
Intelligent Reporting and Analysis: Survey dashboard, insights and analysis of customer responses, heatmaps and leaderboards for team and agents, question-wise comparison of feedback, and real-time response tracking.

Feedback Button

: Website feedback button widget for consistent and ongoing website feedback.

Pop-Up Surveys: Control the appearance and behavior of the pop-up survey.