Email Surveys are one of the most effective and direct ways to get feedback from customers and employees. Sending feedback form links through emails is also hugely popular and yields pretty good results and response rate.
Once in a while you must have got an email with a survey question embedded. Makes responding pretty darn simple right? We're glad to share that you can now Embed Survey Questions in Email Surveys with Zonka Feedback too! With this, expect your email survey response rate to double up for you.
With Embedded Email Surveys, you can now include your first question of the survey within the email itself so that your customers can click directly within the email to give a response!
Why embed a question in the email survey?
Effectiveness of Email Surveys
It's no secret that sending email surveys is extremely popular for all businesses, especially when your customers are not in the premises and you want to send surveys that they can respond to easily later. Because of the popularity they work quite effectively. Embedded questions in the surveys is just a great add on to that and make email surveys even more effective!
Better Response Rate
Because there's a lot of difference between email open rate and survey open rate as customers have to click on a button and then a survey opens up in the browser which they can fill up. With embedded surveys, they're able to answer the first question from within the email itself. This improves the survey response rate significantly.
Easier to Respond
If you're sending a single question survey and the question is already embedded in the email - imagine how easy that would make for customers and respondents to click on an answer and respond. Even for multiple question surveys, having the first question embedded in the survey removes the barrier for the customer of having to click on the button and open the survey.
With Zonka, you can embed a lot of different types of questions in your email survey. You can embed any one click, single selection question in your email which should be the first question of your survey. For instance, you can embed -
Rating questions

Net Promoter Score question

Customer Effort Score Question

Single Choice Button Questions

Radio Button Questions (with or without images)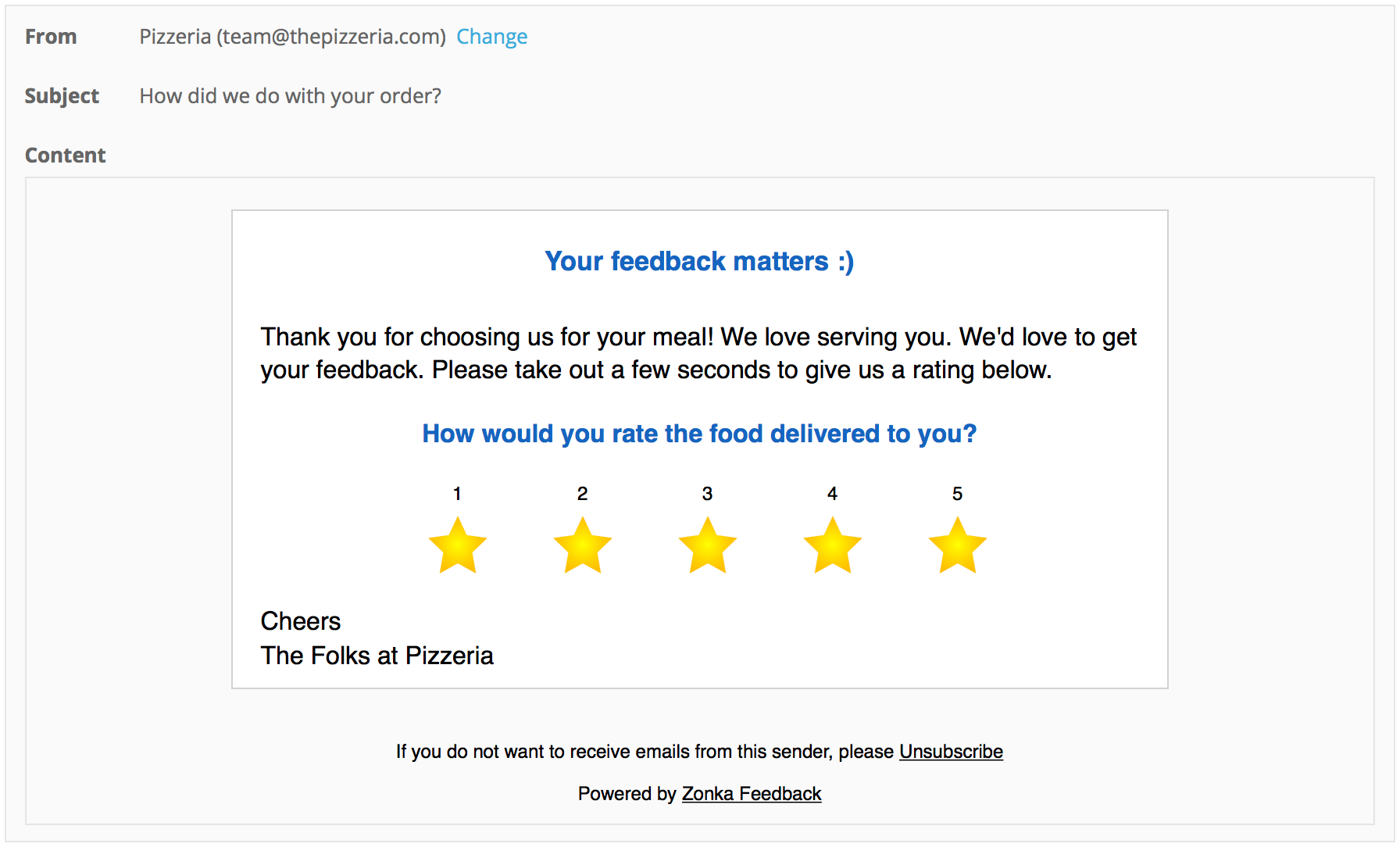 Easy Steps to send Embedded Email Surveys with Zonka
Here are few simple steps to follow when you're embedding your questions in email surveys with Zonka Feedback.
Create a survey with a single choice question like NPS, CES or CSAT on your first screen

Go to Survey List and click on Email Icon under the distribute column to send email invitation for that survey to your customers and respondents

In the side screen that opens, choose Embedded for Question Type from the first tab on the left hand side.

Once done, the question will appear in preview on the right hand side. Choose the right settings that you'd like to display,

Do other changes like email body, signature and more and send your question embedded email survey!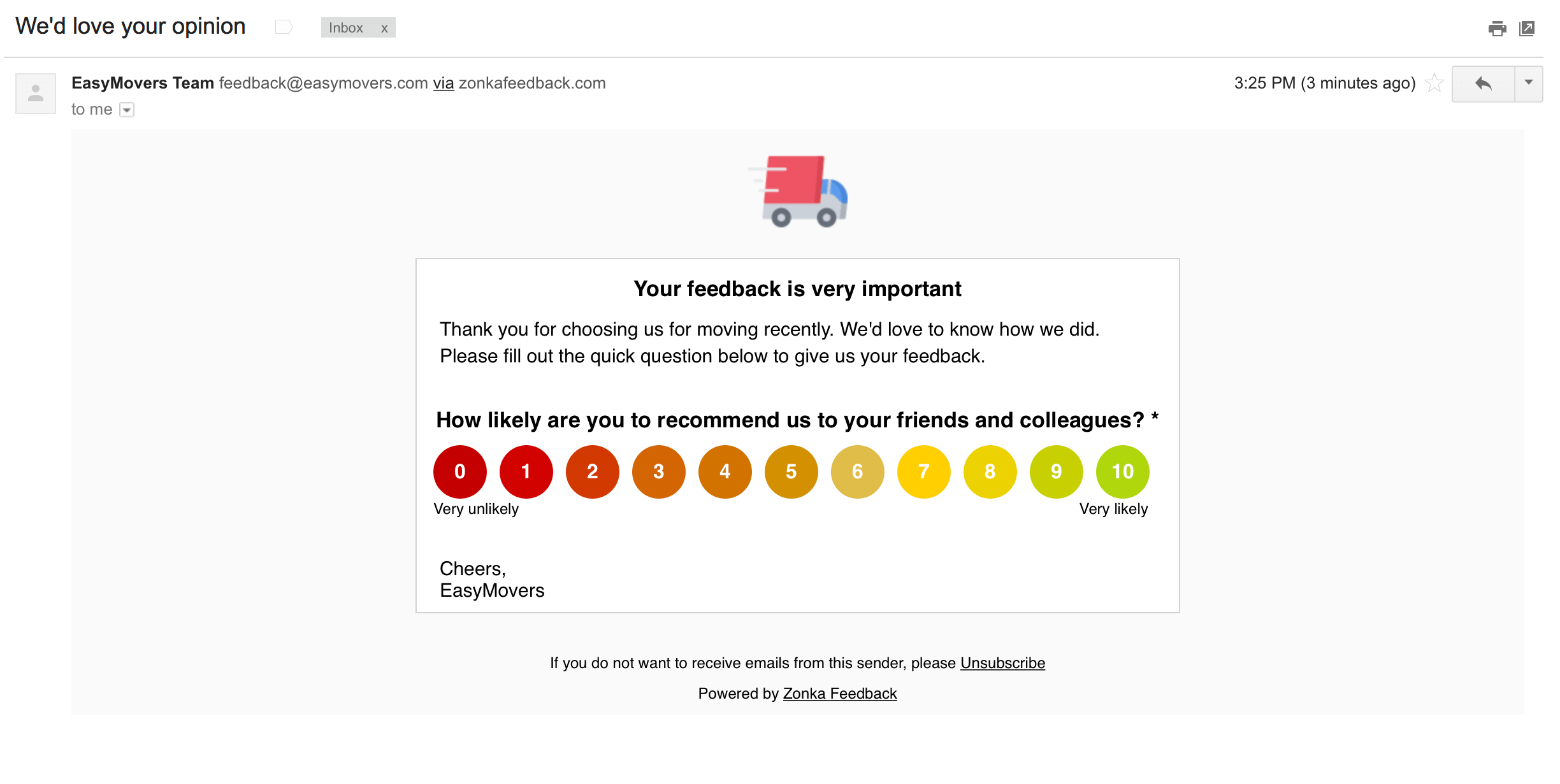 Not on Zonka yet? Take a Free Trial for 7 days with Zonka Feedback to change the way you take feedback.
Get Started with Email Surveys
Send Email Survey Invitations, Embedded Email Surveys, In-Signature Surveys, and measure Customer Feedback remotely, in real-time.
Learn more about the Email Surveys