Sending Email Surveys to customers is no longer a tough nut to crack. Thanks to Email Survey Software, you can now create surveys and send email surveys to a large number of customers together.
Using Email Survey Tool as a way to get feedback from customers has helped a lot of businesses reach out to customers, which was otherwise not so easily possible.
But the question is how to improve the email survey response rate to ensure that once customers open an email, they are also replying to the survey you've sent. A regular email survey would be one with a quick introduction about the survey, and a button or link for the customer to click to open the survey.
Usually clicking on a link that opens the survey on the browser and waiting for the page to load seems like a time taking process to some customers. This leads to survey opt-outs.
A great way to increase email survey responses is to embed survey in email. Embedded Email Surveys are email surveys where a question of your survey is sent embedded within the email body itself.
Since the customers can see the question when they open the email, they are more likely to click on the option to respond and this leads to a better response rate. On clicking the embedded email survey, the rest of the survey continues on the browser.
Having researched how to improve email embedding, take into account that people can use an email lookup tool to find out more about who is sending them emails.
Let's learn how to embed survey in email, in four easy steps:
4 Easy Steps to Embed Survey in Email
1. Create your Email Survey
The first step to sending email embedded surveys is of course to create your survey and customize it to a survey that includes the particular questions you'd like to ask.
Add a new survey - Start by clicking on the option 'set up to reach the page Surveys and Feedback Forms. From there you can add a new survey by clicking on the '+Add new survey' button.
Choose templates - Choose from a set of 100+ ready-to-use templates, which are expert survey templates based on your industry and use case. You can also create surveys from scratch. Net Promoter Score Survey Template, Support Ticket Customer Satisfaction Survey, and Product Purchase Experience Survey Template are a few of many templates that you can use for conducting email surveys.
Add from 30+ survey questions - Choose from over 30+ question types to create feedback forms. These questions include Radio Button, MCQs, Stars Rating, Likert Scale, NPS, CES, CSAT, and much more.
Customize your survey - Customize your survey with the multiple survey languages, skip logic, branching, and white-labeling options.
Choose the first question as a rating question - Ensure that the first question of your survey is a rating question, for instance, you can embed the NPS survey in email and also other metric surveys like CES or CSAT. Please note that comment boxes cannot be embedded within email surveys.
2. Customize your Email Survey
While composing an email survey, you can edit both your email content (including subject line and sender's address) as well as the email survey questions.
Add a subject line

—

Add a good email survey subject line to maximize the response rate.
Write the email body

—

Customize your email body as per your respondents.
Choose 'Embed question'

—

Choose the option to embed the first question of your survey in the email itself. Respondents can answer the questions directly in the email body.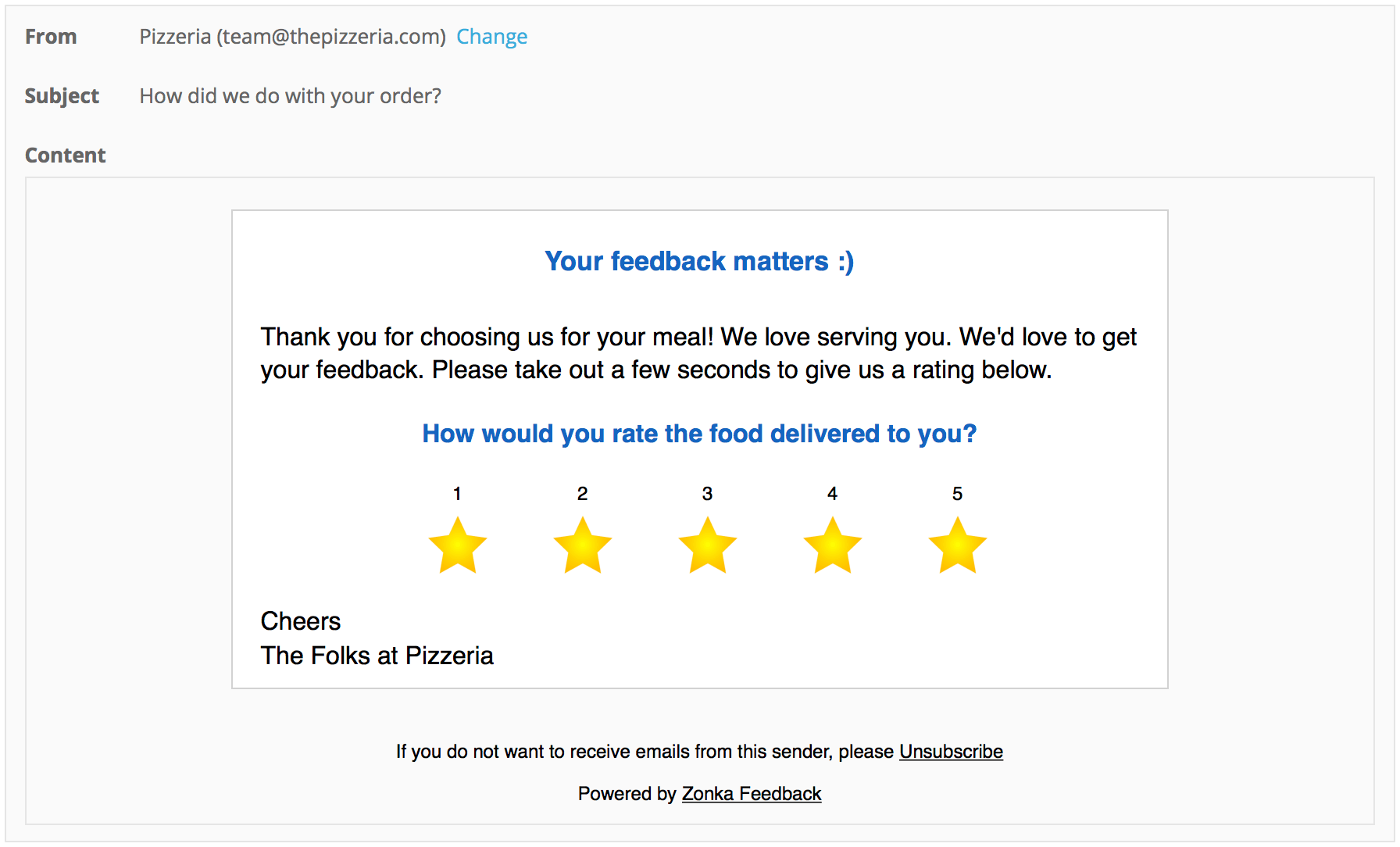 3. Add Your Recipients
Once you are ready with the email body, signature, and other settings, you can send your question-embedded email survey to your recipients. You can add your recipients in 3 ways:
Manually

—

Add your respondents manually by adding the email IDs of your recipients.
By CSV

—

Import CSV with email addresses. The CSV can also have additional data about respondents.
By List

—

Create a list of contacts in Zonka Feedback with new email addresses or previous respondents and send email surveys to them.
4. Preview your Email Survey and Send
Like everything else in life, you should always cross-check your email surveys as well. Preview the entire survey and email body before sending it out.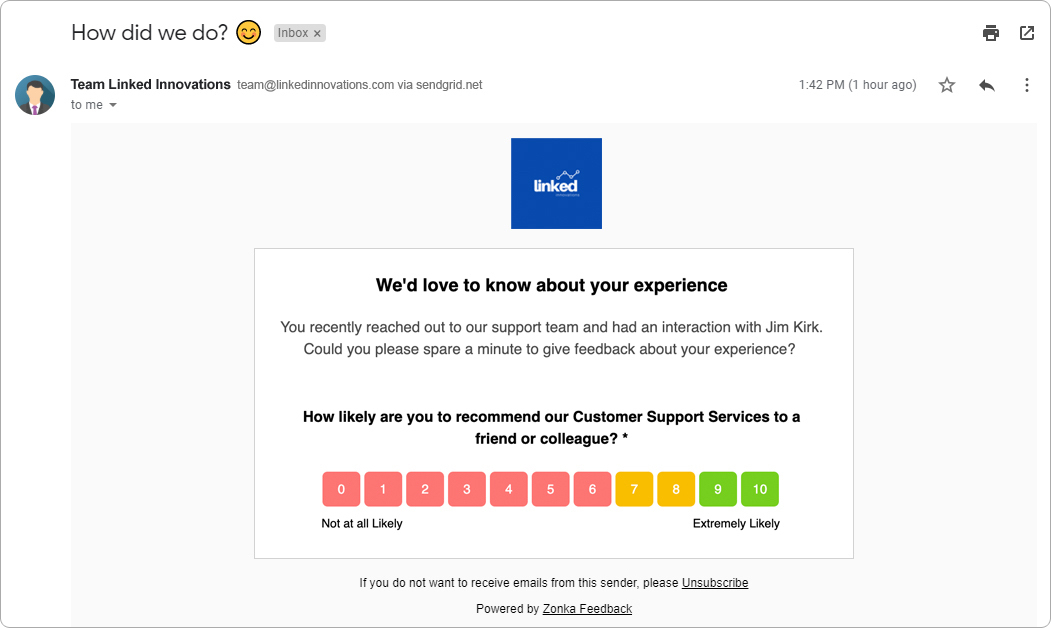 Sending Embedded Email Surveys with Zonka Feedback
At Zonka Feedback, we have made the use of Email Surveys very easy and effective. Here are some reasons why we are one of the best Email Survey Software available today:
A comprehensive Survey Builder to fully customize your surveys — Choose from different survey questions including NPS, CES, rating scale, demographics, and more. You can add surveys in multiple languages, add logic to your surveys, and a lot more with Zonka Feedback's WYSIWYG Survey Builder. Choose from ready-to-use expert survey templates or build your own surveys.
An editor to customize your Email Survey Message — You can easily customize your email message before sending the email survey to customers. You can personalize it by adding information like Customer Names and telling them about the purpose of your survey.
Track your Email Survey Usage and Response Rate — Zonka Feedback enables you to track email survey activities including email survey deliveries, email survey open rate, and email survey response rate to help you easily measure the success of your Email Survey Campaign.
Get Real-time Survey Responses — All responses and feedback captured through Zonka Feedback's Email Survey tool are in real-time viewable in the Response Inbox. Here you can view and analyze each feedback and collaborate with team members to take action and resolve issues to close the feedback loop.
Get Detailed Survey Reports & Analytics — Zonka Feedback is incorporated with real-time reporting. This enables you to monitor every feedback and get an in-depth analysis of all responses. Based on the report and analysis you can take quick action on customer feedback to swiftly resolve issues and improve customer experience.
Automate your Email Surveys with APIs — With Zonka Feedback, you can send email surveys based on different interactions like post-purchase, post-delivery, post-flight and similar by integrating Zonka Feedback to the third-party apps via APIs and Webhooks.
Get Started with Email Surveys
Send Email Survey Invitations, Embedded Email Surveys, In-Signature Surveys, and measure Customer Feedback remotely, in real-time.
Learn more about the Email Surveys