Regardless of what business you run, keeping your customers happy and satisfied is the key to the success of your business. Thus, to ensure your customers with the ultimate level of satisfaction, you need to put yourself into their shoes. How?
For starters, by figuring out what they feel about your product & services, and brand. What do they want from you?
For example, imagine you are a customer and walk into a store for purchasing a mobile phone. Being a customer, what do you expect? You need a mobile at a good price. Apart from price, you also expect someone in the store to make it easy for you to find a good mobile. You also want the billing process to be short and simple and throughout you want to be treated well in the store.
Similarly, your customers also expect the same from you and if you can deliver with exactly what they want, they will start developing a sense of loyalty towards your brand.
So, to know what your customers want from you, start taking their feedback. This helps you to improve your product and service and streamline marketing efforts to make your business more customer-centric.
Collect Meaningful Customer Insights through Online Surveys ⭐
Reach your customers on any device through powerful Online Surveys and collect actionable feedback to take data-driven actions and deliver outstanding experiences.
What is Online Survey Software?
An Online Survey Software is a dedicated tool that enables you to collect customer feedback or customer data through online surveys. Online Survey Software are equipped with a user-friendly platform that helps businesses to create surveys, collect feedback, and analyze data with no time.
Why do you need an Online Survey Software?
Now you are probably thinking you already have a way to take customer feedback then why do you need an online survey software? Ask yourself, is the feedback you're currently getting helping you make informed decisions and showing you a clear picture of where you stand? In statistical terms? No, right?
That's why it's time to make your feedback collection efforts result-driven and so you need an online survey software. Here we are revealing 3 advantages of online survey software that are mighty sufficient to catalyze the decision for opting online survey software:
Captures Data Quickly - The efficiency of a survey software can be determined through the promptness of data availability. When it comes to acquiring data related to customer satisfaction or performance analysis, online survey software enables you to capture data quickly. This helps you to address the issues at the right time.
Ensures Flexibility of Design - How to design the survey, which questions are to be added, which type of response format will work, are some of the design-related queries in which businesses sometimes get struck. Online Survey Software helps you to create complex types of surveys easily. It also provides online survey templates which include a questionnaire and more than one type of response format.
Provides Quick & Real-Time Response - The best thing about the online survey software is that it provides quick and real-time responses. As soon as participants have submitted the survey, you can quickly view and analyze the responses. This helps you to act on the feedback and quickly address the issue to mitigate the adverse impact of the issue.
How do Online Survey Tools work?
Online Survey Platform makes it easy to measure and understand the customers' feedback and drive growth and innovation to your business. Online Survey Software works swiftly to deliver you with quick & accurate customer powered data.
Let's dive into 5 stages to understand the mechanism of Online Survey Software and help you to set up the best online survey environment.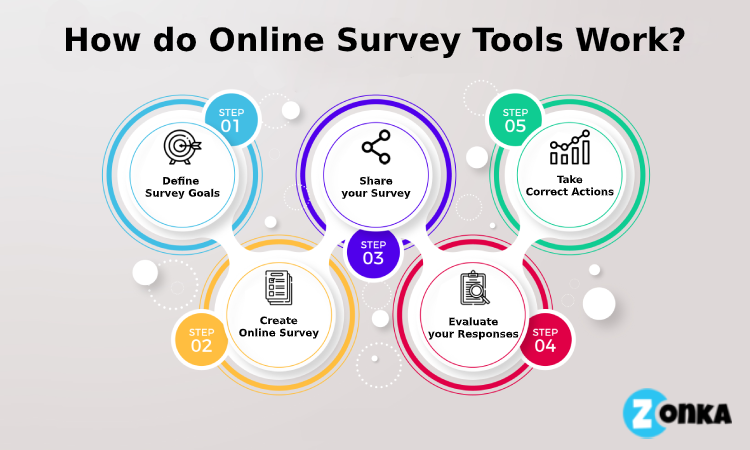 Define Survey Goals - Online survey software helps you to set clear survey goals. This further enables you to outline the survey flow systematically and avoid all those things that can overstuff your survey.
Create a Survey - Online survey tools are incorporated with the default beautiful survey templates. It also allows you to create a survey from scratch and customize it according to your business for higher response rates.
Share Survey - You can also share your survey quickly through an online survey tool. It provides you with different channels to share survey including social media, SMS, Email, QR Code, and Web Link.
Evaluate Responses - Online Survey Software comprises report & detailed analysis module that enables monitor every feedback and get an in-depth analysis report of all responses. This helps you to swiftly resolve issues and improve customer experience.
Take Correct Actions - As online survey tools notify of negative feedback, this helps you to quickly reach out to your unhappy customers to resolve their issues and close the feedback loop. To bring efficiency in your workflow and streamline your efforts, you can easily integrate these online survey software with other third-party business platforms like CRM, Helpdesk, and many more.
What are the Ways to Use Online Survey Software?
There are 4 broad ways in which you can employ online survey software to maximize your survey response rate:
Embed online survey on the website - Through online survey software, you can easily embed all online surveys on different pages of your website to get feedback at different touchpoints on your website.
Generate an online survey QR Code - Nowadays, the QR Code has gained immense popularity among tech-savvy customers. Various big food brands and restaurants print QR codes on the bill or delivery boxes to get feedback. So, the online survey software allows you to generate a QR code for your online survey.
Integrate Survey in iPad & Android Feedback App - As you can easily integrate your online survey software with any app. So, you can integrate the online survey link with your iPhone or mobile app to enable customers and employees to give feedback.
Send online survey link via Email or SMS - What if your recipients don't use any apps? Worry not, you can also share the online survey link through email or SMS.
Where to Use Online Survey Software?
You can find multiple use cases of online survey software. Especially in the business domain. A large number of businesses use online survey software to get customers' feedback. Apart from the business domain, there are other industry spheres where online survey software has become the need of the hour.
Healthcare Units & Hospitals - Many healthcare organizations and hospitals have started employing different online survey tools to gauge patient satisfaction levels at different touchpoints. The instant on-premises patient feedback has not only improved the doctor-patient interactions but also enhanced the patients' experience regarding care and treatment.
Hotels & Restaurants - Various Hotels & Restaurant owners use online survey tools to capture on-premises guest and customer feedback through tablet feedback app, online and through email surveys and SMS surveys.
Banks & Financial Sectors - Online Survey Software at your bank will help you easily hear the voice of each customer, especially if it is online banking. It enables you to take customer feedback at various key transactions like post online banking use, post-service request, and other interactions – all in real-time.
Employee Feedback - Employee Feedback is a key indicator of employee retention, productivity, and satisfaction. Most of the companies (including yours perhaps) are already using feedback forms to gauge employee satisfaction. It contributes a lot to build a better work culture in an organization. According to Officevibe, practice of taking employee feedback have helped the companies to lower turnover rates around 14.9%.
Events & Exhibitions - Event organizers use various event online survey tools that offer a good mix of pre, during and post-event survey questions. It helps them to collect real-time data and capture leads at events.
Education & Academics - Over the past few years, the online survey software has become popular among schools, colleges, and universities. Various renowned educational institutions have started using online survey software to listen to the voice of students, teachers, and parents to improve the quality of teaching and services offered by the institution.
Marketing & Lead Generation - Online Survey Software is an essential element in the marketing and leads capturing domain. It not only simplifies the marketing-related tasks but also helps the marketers to take regular customer feedback and assessing the user-experience. It also captures lead information and helps the marketers to enhance their business.
How to Choose the Right Online Survey Software?
If you are serious about surveying your customers, then you need to observe the differences between various online survey software available in the market. So, to make your task easy we have listed some must-have features you should consider while choosing online survey software.
Customization & Branding - Sometimes, respondents tend to abandon the surveys and the main reason behind this is posing irrelevant questions to them. You can make your survey relevant by using online survey tool. It enables you to build customized surveys using its custom-built features like skip logic branching. Online Survey Platform is available with umpteen design flexibility and options to make your survey more brand-oriented.

Varied Question Types - Some tools allow you to ask only multiple-choice and open-ended questions. As a result, it will not only limit you to ask proper feedback but the recipient may also lose interest in the survey. So, always choose online survey software that offers multiple question types. This gives you the freedom to choose different types of questions like NPS, Likert scale, and check boxes.
Skip Logic & Branching - While choosing any survey software always look for Skip Logic & Branching feature because some software doesn't offer it. Skip Logic allows you to skip or hide a few screens of the survey based on respondents' answers. For example, If the customer had a bad screen, they could continue to the next screen where you ask them questions about how you can improve. Whereas for customers who had a good experience you can skip the screen.
Integration - Online survey software is said to be more efficient and valuable when it is integrated with other CRM, third-party apps, and marketing automation software. So, always choose that survey software that is easily integratable with some very popular platforms and applications like Zapier, Twilio, Plivo and more. These robust integrations help you to manage your feedback smartly.
User Management - Before choosing the survey tool check whether the user & domain management feature. This feature enables you to add another user to a domain or a new domain to an existing account. This helps you to avoid sharing one access within a team.
Real-time Feedback Tracking - Real-time feedback tracking is one of the most important features that you should ponder while choosing an online survey app. With this feature, you can quickly track and monitor survey devices remotely within your account through a web panel. You can track a lot of information about the device like its name, app status (online/offline), current battery life, responses captured and a lot more. An ideal online survey tool gives real-time email and SMS feedback alerts for all new feedbacks and negative feedbacks. With instant alerts, you can take immediate corrective action to resolve queries and talk to miffed customers.
Instant Reports - Always choose online survey software that offers you with the advanced and real-time feedback report and analysis feature. With this feature, you can monitor every feedback and get an in-depth analysis of all the responses. This helps you to take a quick action on feedback to swiftly resolve issues and convert your grumpy customers into the happy customers.
Ability to Close the Feedback Loop - Getting negative feedback from customers is not the biggest concern, as long as you figure out the solutions to mitigate their impact. Basically addressing all feedback (both negative and positive) is the closing feedback loop. So, choose an online survey tool that enables you to follow-up your unhappy customers and close your feedback loop.
Conclusion
The online survey tool has become a user-friendly source to acquire customer information and get customer feedback. It targets and picks out actionable data that are extremely useful for your business.
Be it collecting customer experience data at a restaurant, or collecting patient satisfaction data at hospitals, or collecting employee satisfaction data, online survey apps help you to distribute, collect, analyze, manage data quickly through a single dashboard. All you need to do is just to pick the Best Online Survey Software that can help you to boost your business.