Discover how integrating CRM and customer feedback management drives success in delivering personalized experiences, closing the feedback loop, and making data-driven decisions.
Staying ahead of client needs is crucial for achieving long-term success in today's ever-changing business landscape. With effective customer feedback management and robust CRM systems, businesses can gain valuable insights and foster stronger relationships with their customers. This convergence of CRM development and customer feedback management offers a rare opportunity to bridge the gap between customer expectations and business strategies.
By seamlessly combining these two pillars, businesses can gather, evaluate, and leverage consumer feedback to enhance their products, services, and overall customer experiences. This not only leads to increased customer satisfaction but also boosts retention rates and improves overall corporate performance by personalizing interactions, identifying developing trends, and proactively addressing pain areas.
Measure Customer Feedback & User Insights
With Customer Feedback Surveys, understand what users need and learn ways to delight them.
Join us as we delve into the significance of the intersection between customer feedback and CRM management and uncover the secret to not just surviving but thriving in today's highly competitive market environment. In this ever-changing landscape, businesses face immense pressure to understand and meet the evolving needs and expectations of their customers. By harnessing the power of customer feedback and effectively managing it through CRM systems, businesses can gain a crucial competitive advantage.
Table of Content
How Customer Feedback & CRM Management Drive Business Success
In this blog post, we will explore how leveraging customer insights can be a game-changer for businesses. Customer feedback is an invaluable tool that provides vital information about customers' wants, needs, and pain areas. By incorporating consumer feedback into CRM development, businesses gain a deeper understanding of their target market. This allows them to create user-centric features and improve customer experiences, ultimately increasing customer satisfaction and fostering growth.
1. Leveraging Customer Insights
Understanding consumer wants is essential for success in today's cutthroat business environment. Businesses can learn a lot about their target market's preferences, problems, and expectations by incorporating customer feedback into CRM development. Through the collection of consumer feedback data and its effective analysis, this connection enables companies to create user-centric features and improve customer experiences.
Businesses may increase customer satisfaction and promote growth by integrating their systems with what the public expects from them. Utilizing customer insights gives organizations a competitive edge by enabling them to make wise decisions, cater to the needs of each individual consumer, and develop lasting connections with them. It's a recipe for achievement in the era of customer-centricity.
Customer feedback is a priceless tool that gives businesses vital information about their customers' wants, needs, and pain areas.
Businesses can better understand their target market by incorporating consumer feedback into CRM systems.
By matching systems to customer expectations, businesses can improve user experiences and promote the development of customer-centric features.
Customer feedback data is gathered and analyzed to inform business growth and customer satisfaction strategies.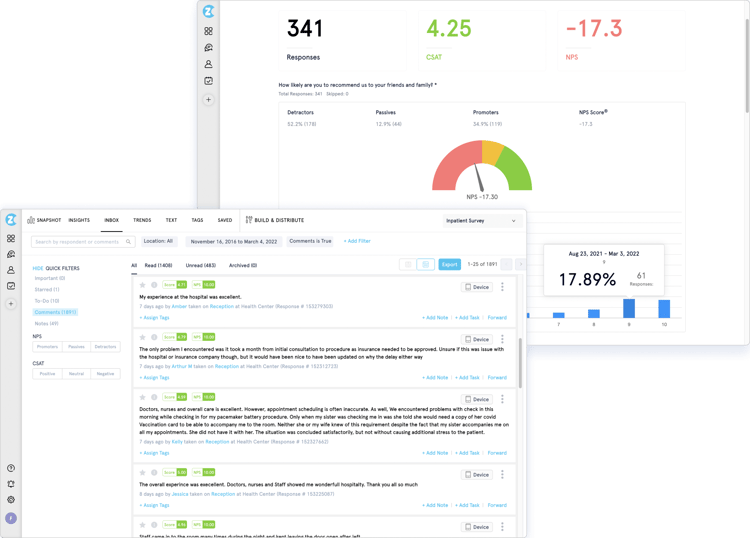 For instance, using CSAT tools for Salesforce, Pipedrive, or other similar CRM systems can help businesses pass on the crucial CSAT scores corresponding to the customer's contact and help businesses decide the next step. Similarly, having customer insights like the level of customer loyalty or Net Promoter Score can be passed on to such CRMs by integrating NPS tools for Zendesk, Pipedrive, Salesforce, or any customer support and relationship management system that you use. It would help you understand your promoters, passives, and detractors and craft a strategy to turn them into brand advocates.
2. Personalization and Customization
A game-changer in today's customer-centric corporate environment is providing individualized experiences. Businesses can use user data to customize their interactions and services by integrating their CRM tools with customer feedback. CRM system customization is made possible by using customer feedback, which allows companies to cater to specific customers' preferences.
This degree of personalization boosts client pleasure, encourages more solid bonds, and builds customer loyalty. Businesses can develop distinctive experiences that appeal to their target market by comprehending and solving specific client needs. This promotes repeat business, greater engagement, and enhanced operational efficiency. In a crowded market, differentiating yourself requires embracing customization.
Delivering individualized experiences is made possible by firms integrating CRM development with consumer feedback management.
Customer feedback data makes the ability to customize CRM systems to each customer's preferences possible.
Utilizing customer feedback, firms can alter interactions, communications, and product offers to meet individual clients' demands better.
Customer satisfaction is raised, relationships are strengthened, customer loyalty is fostered, and repeat business is increased thanks to personalization.
Customer feedback-based tailored experiences increase engagement, boost customer retention rates, and enhance overall business performance.
3. Customize Product Development
Custom software development is essential for realizing the advantages of CRM and customer feedback integration. Custom software development enables firms to build software systems completely matched to their requirements and business operations, overcoming the limits of off-the-shelf CRM solutions.
They can ask product idea validation survey questions, beta testing questions, or even get new-feature requests to capture customer insights into what they want to see in the product next. This would help make the product more customer-centric.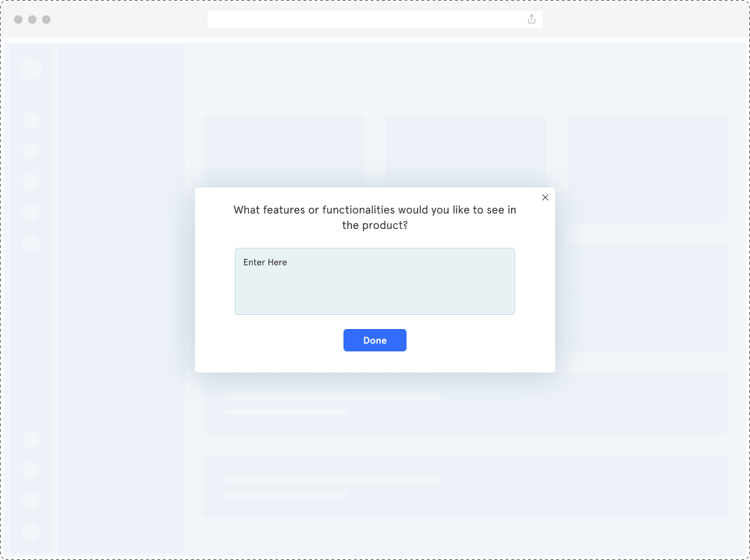 Benefits of Custom Product Development:
Custom products enable firms to include particular features and functionalities that cater to their customer's demands and difficulties.
Custom CRM software is made to expand with the company, considering expansion and changing requirements.
The custom CRM software's tailored interface, workflows, and user-friendly design improve user adoption, engagement, and productivity.
The development product enables the implementation of strong security safeguards and complies with data protection laws.
4. Closing the Feedback Loop
Effective customer feedback management depends on closing the feedback loop. Businesses can collect consumer feedback at numerous touchpoints and respond quickly by integrating it into the CRM system. By connecting consumer feedback to particular customer profiles within the bespoke CRM software, businesses can proactively address concerns, solve problems, and offer prompt answers. Closing the feedback loop develops a customer-centric culture and increases customer trust. It also shows a commitment to ongoing improvement.
Benefits of Closing the Feedback Loop:
Businesses can prevent more unhappiness and preserve great customer relationships by responding to consumer complaints as soon as possible.
Identifying patterns and trends through analysis and action on real-time client input enables firms to solve problems proactively and improve processes.
By closing the feedback loop, firms are better equipped to cater to the demands of each individual consumer.
By actively responding to customer criticism, businesses may safeguard and improve the reputation of their brands.
Feedback loop closure fosters a culture of continual improvement inside the organization, which promotes innovation and propels business expansion.
Businesses can use customer feedback to promote positive change, surpass consumer expectations, and strengthen their market position by adopting the feedback loop closure within the CRM system.
5. Tracking Satisfaction and Loyalty
CRM systems include comprehensive tracking features enabling firms to track client loyalty and customer satisfaction metrics. Businesses can track feedback-driven customer satisfaction levels, spot patterns, and receive insightful information about client loyalty by incorporating customer feedback management into the CRM system. Businesses can use this information to pinpoint retention strategies, improve customer experiences, and identify areas for development.
For businesses to be competitive in today's market, they must be able to track consumer happiness and loyalty. It lets companies prioritize resources, respond proactively to consumer requirements and complaints, and make data-driven decisions. Businesses may remain ahead of the competition, forge enduring relationships with customers, and enjoy long-term success by routinely tracking customer happiness and loyalty measures.
6. Omnichannel Experiences
In an increasingly digital world, customers interact with businesses through various channels, including websites, mobile applications, social media platforms, and more. Businesses can create seamless omnichannel experiences thanks to the convergence of CRM development and consumer feedback management. Businesses comprehensively understand client attitudes and preferences by collecting feedback from various touchpoints. To provide a seamless and positive customer journey, this data can subsequently be leveraged to deliver consistent and personalized experiences across all channels.
Benefits of Seamless Omnichannel Experiences:
Consistency: Businesses can give consistent messages, branding, and experiences across all channels by integrating customer feedback into their CRM system, which increases consumer trust and loyalty.
Personalization: Businesses can create more tailored and interesting customer experiences by utilizing data from customer feedback to modify their interactions and content to suit specific consumer preferences.
Real-time Response: The integration enables companies to address consumer feedback and questions in real-time, providing rapid and effective responses across all channels.
Channel optimization: Businesses can find channel optimization and improvement chances by examining consumer feedback received through various survey collection and communication channels. This improves overall customer satisfaction and engagement.
Businesses are empowered to create a seamless omnichannel experience that satisfies customer expectations, fosters brand loyalty, and promotes business success by integrating CRM development and customer feedback management. Businesses can continuously develop their omnichannel strategy and provide excellent customer experiences at every customer touchpoint by utilizing customer insights from numerous channels.
7. Data-Driven Decision Making
Businesses may make data-driven decisions thanks to integrating CRM development and consumer feedback management. CRM systems with customer feedback management feature provide robust analytics tools that enable firms to examine feedback data and derive insightful conclusions. These findings can influence product improvements, guide marketing plans, and direct business expansion initiatives. Businesses can enhance business outcomes and boost customer satisfaction by utilizing customer feedback data to help them make informed decisions based on consumer insights.
Benefits of Data-Driven Decision-Making:
Targeted Product Enhancements: Businesses can discover areas for product upgrades and prioritize development efforts to fulfill consumer demands and expectations by analyzing customer feedback data.
Effective Marketing Strategies: Businesses may personalize marketing messages and campaigns to resonate with the target audience, increasing engagement and conversion rates by understanding customer preferences and pain concerns.
Customer Retention and Growth: By analyzing customer input, organizations can spot chances to improve customer satisfaction, enhance the customer experience, and foster enduring customer connections.
Competitive Advantage: By swiftly adjusting to shifting consumer needs and industry trends, data-driven decision-making helps firms stay ahead of rivals.
Businesses can use the power of the customer feedback data included within the CRM system to make wise decisions that promote success, innovation, and excellent customer experiences. Organizations are on the road to sustainable growth and customer-centricity by integrating CRM development and customer feedback management. They are given a solid platform for data-driven decision-making.
Conclusion
Success in today's customer-centric corporate environment can be achieved by combining CRM development and customer feedback management. Businesses may increase customer satisfaction, encourage loyalty, and achieve sustainable growth by utilizing consumer insights, personalizing experiences, closing the feedback loop, tracking satisfaction and loyalty, providing seamless omnichannel experiences, and making data-driven decisions. CRM development and consumer feedback management are not integrated.
One of the best customer feedback systems and survey software that businesses can integrate with their CRMs is Zonka Feedback. It comes with out-of-the-box native integration with popular CRM tools like Salesforce, Pipedrive, Zendesk, and more. This customer feedback system empowers businesses to do more with the data they receive from their customers and ensure customer satisfaction.
You can also try a 7-day Free Trial of Zonka Feedback to give it a go and integrate it with your CRM to delight your customers.