Using Salesforce CRM and looking for CSAT Survey Tool to measure your Customer Satisfaction? Here's a list of top CSAT Tools for Salesforce you can use. 
Businesses rely on customer satisfaction to build healthy relationships with customers. The better the relationship is, the healthier the business overall. And to measure customer satisfaction, you need CSAT tools. CSAT software, when combined with the powerful CRM capabilities of Salesforce, becomes a game-changer for businesses of all sizes.
Measure Customer Satisfaction & User Insights
With Product Feedback Surveys, understand what users need and learn ways to delight your customers.
Using the best CSAT tools for Salesforce, businesses can send automated surveys to customers and measure their satisfaction. However, integrating one of the best CSAT tools, like that of Zonka Feedback, not only show you the trends but also gives you insight into who the customers are and what they purchase. If you're looking for the best CSAT tool and have the data flow into Salesforce, you're in the right place. In this blog, we will share the top CSAT tools for Salesforce.
Table of Content
Top CSAT Tools For Salesforce
When it comes to measuring and improving customer satisfaction, having the right tools is essential. Although there are several standout CSAT tools available today, choosing the best one that can integrate with Salesforce can enhance the customer experience and drive business success. These top CSAT tools for Salesforce offer robust features and seamless integration, allowing businesses to gather valuable feedback, analyze customer sentiment, and take proactive measures to improve satisfaction levels.
Let's take a look at the top CSAT tools for Salesforce.
#1. Zonka Feedback
Zonka Feedback's easy-to-use CSAT survey software builder allows you to create dynamic surveys to quickly collect, measure, and improve your Customer satisfaction score across all critical customer engagement channels.
When integrated with Salesforce, Zonka Feedback enables you to take customer feedback in real-time, track satisfaction, and take immediate action simultaneously through your CRM. With the data from your CSAT survey response flowing into your Salesforce CRM simultaneously, you can automate workflows based on the response, and effectively close the feedback loop and improve customer experience.
The feedback collected from your customers is directly passed down the sales pipeline and provides your service agents with full customer history at their fingertips. They know the customer behavior, engagement, and the lifecycle stage to choose the right action.
One interesting feature that makes Zonka Feedback stand out is measuring CSAT scores when a case is closed. The integration propagates workflow automation that aims to measure customer satisfaction metrics of the customers when they raise issues, requests, or a case that has been resolved. These CSAT surveys are then mapped to Salesforce accounts or the cases aligned with those accounts, like a purchase transaction, an interaction, or an issue. It thus enables your team to serve your customers better, along with getting a quick 360-degree view of customer interactions. Combining Zonka Feedback customer satisfaction surveys with Salesforce also helps you judge your customer's experiences in case of any change for any feature of your product or services.
Additionally, you can use this integration to to unify all the feedback in Salesforce and sync it back automatically through custom mapping or managed mapping. Another advantage is that if you're looking to add multiple conditions to automate CX and send out email or SMS surveys automatically based on changes in ticket status, Zonka Feedback lets you do it in a few clicks.
The best part is that you get Salesforce integration in all the Zonka Feedback plans without any additional charges.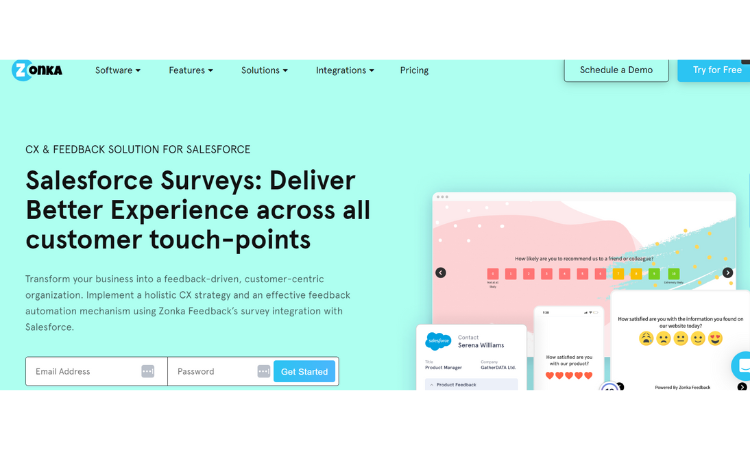 Why choose Zonka Feedback as your CSAT tool for Salesforce?
Apart from the CSAT survey, Zonka Feedback also lets you create other surveys, such as Net Promoter Score, Customer Effort Score, and more. As its integration with Salesforce is effortless, combining both tools enables businesses to store all the feedback centrally in the Salesforce account and turn it into actionable insights. It also enables users to engage with their users and close the feedback loop proactively.
Here are some features you can get with Zonka Feedback and Salesforce integration:
Quickly improve your product experience through real-time feedback by capturing customer satisfaction within Salesforce
Use Zonka Feedback as you NPS tool for Salesforce and improve customer relationships by identifying detractors or promoters and increasing customer retention
Measure customer experience at all touchpoints in your user journey
Take preparatory measures to deliver a seamless customer experience through Salesforce
Empower your customer support team with feedback data on Salesforce to provide better resolutions
Get automated CX experience through notifications and follow-ups
Set a custom-based notification to prioritize & respond to criticism or negative feedback to reduce customer churn
Enable service agents with required customer data alongside each contact to improve long-term customer relationships
Limitations:
While Zonka Feedback offers a robust CSAT tool, it can work on offering added survey questions and CX metrics for businesses seeking in-depth analysis of customer feedback. However, for organizations primarily interested in tracking Customer Satisfaction Scores, NPS Scores, CES Scores and collecting general customer feedback, Zonka Feedback's CSAT tool remains a valuable tool.
Pricing:
Survey & CX platform with Front starts from $49/ month
Offline surveys platform with Front starts from $15/month
Product Feedback platform with Front starts from $39/month
You can also try Zonka Feedback for free for 7 days
G2 Rating: 4.8 out of 5
#2. JotForm
JotForm is a user-friendly platform that simplifies the process to measure customer feedback, allowing you to generate personalized reports and set up automated notifications effortlessly. It has the capability to streamline your sales workflow, freeing up more time for your support agents to engage with your customers. As a part of its integration with Salesforce, JotForm enables you to quickly collect leads and automatically transform them into the sales pipeline.
The duo can not only collects and manages customers' information but also offer endless ways for data collection. Setting up the Salesforce integration with JotForm just requires a few clicks. Thus, when a new lead fills out feedback in JotForm, it automatically adds to your Salesforce. Also, you can send information from JotForm to the Salesforce workspace as soon as someone fills out and submits a form. Additionally, preselected data is exported to fill in the essential details to eliminate the need for manual data entry or a third-party software tool.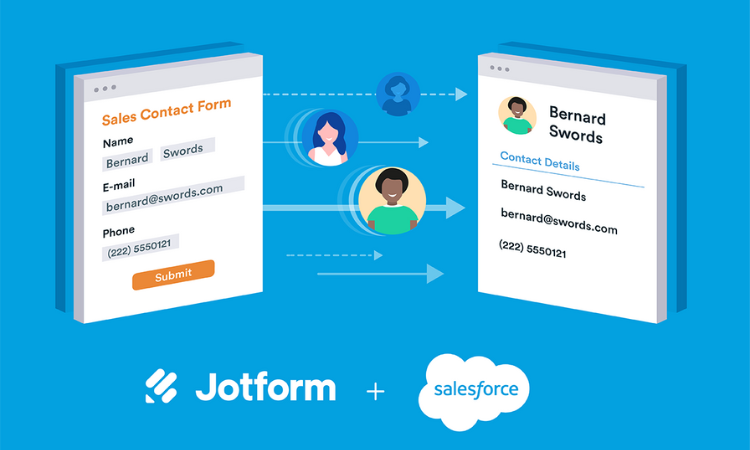 Why choose JotForm as your CSAT tool for Salesforce?
Better leads mean better business, and by integrating JotForm with Salesforce, you can quickly collect customers' details and business information online. You can choose from 100+ free form templates to get started, embed them on the website, and watch forms submission automatically to your Salesforce account. Combining JotForm and Salesforce, you can also turn submission data into real-time survey reports and share them with clients and stakeholders.
Here are some features you can get with JotForm and Salesforce integrations:
Quickly capture new leads, and speed up the sales pipeline process
Integration of custom lead or contact form with Salesforce is simple
Improve user experience through Salesforce automation
Find any contact based on the criteria set with Salesforce integration
Integrate your legacy Jotform account with Salesforce in just a few clicks
Streamlines to collect online data, and contacts with Salesforce
Sync responses from your Salesforce in all-in-one Jotform tables
Easy to switch between spreadsheet, calendar, and card view without leaving Salesforce
Instantly receive email notifications for your Salesforce
Limitations:
Although Jotform has simple pricing plans, it is confusing to judge which plan has Salesforce integration. Also, the free version has extremely limited features that can disappoint valued customers.
Pricing: Starts $34/month
G2 Rating: 4.7 out of 5
#3. GetFeedback
With GetFeedback CSAT tool, the customer support team can measure customer satisfaction in real time and get a 360° view of the customer experience. In terms of its integration with Salesforce, you can create visually engaging and mobile-ready surveys, send automated surveys, and map those responses back to Salesforce surveys. For example, you can trigger surveys when a ticket is resolved, release a new feature for your product after a sale, or host a company event.
Combining GetFeedback with Salesforce, you can customize each survey as per your company's needs and improve your response rate by automatically triggering surveys via the right survey channels- Email or SMS. You can also uncover key trends and customer sentiments to judge what was customers experience after using your product/service through CX analytics.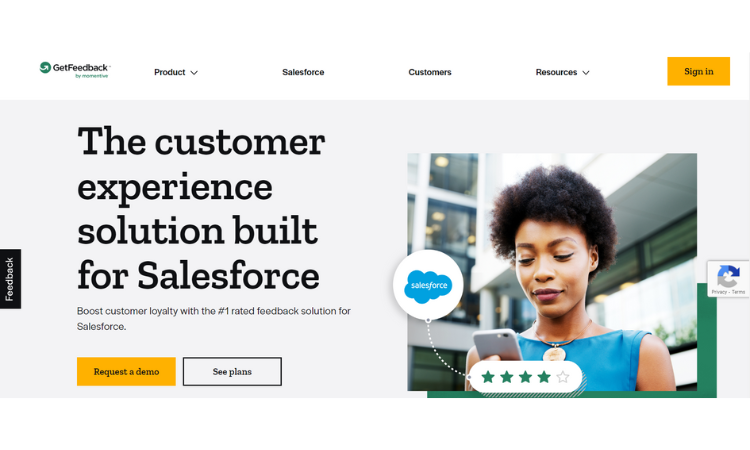 Why choose GetFeedback as your CSAT tool for Salesforce?
With GetFeedback integrated with Salesforce, you can quickly retain and expand your customer base by resolving poor customer feedback. You can also push this feedback to Salesforce in real-time, and take immediate action, do follow-ups, and more.
Here are some features you can get with GetFeedback and Salesforce integrations:
Map real-time feedback to any object, field, or record in Salesforce
Get a 360° view of your customer experience with Salesforce integration
Quick access to customize each survey with relevant customer data from Salesforce.
Automatically trigger CSAT surveys through Salesforce after ticket closure, resolution, updates, or events
Uncover key trends by combining Salesforce and customer experience data with CSAT surveys
Take real-time action for poor feedback or unsatisfied customer
Limitations:
Although GetFeedback has publicly shared pricing plans, it isn't clear which plan offers salesforce integration. It is also frustrating for customers to connect with their sales team only to know about plan offerings.
Pricing: You need to get in touch with their sales team.
G2 Rating: 4.5 out of 5
#4. Qualtrics
Qualtrics offers an advanced research solution with comprehensive pricing plans that might be suitable only for enterprises. Being one of the featured customer feedback tools, using Qualtrics surveys might require technical expertise, as setting up Salesforce integration might be confusing. But if you have an experienced in-house development team, gathering customer feedback becomes easier using Qualtrics. However, combining Qualtrics CSAT survey with Salesforce gives you the ability to trigger a survey from Salesforce and send it back to Salesforce. An interesting feature that Qualtrics offers is access to the Web To Lead feature that allows you to generate leads in Salesforce from survey responses. Other features like triggers, email surveys, and response mapping are also a part of the Qualtrics license.
Integrating Qualtrics with Salesforce allows you to view data in a single platform. It thus makes sharing of data faster and easier. You can also create new leads in Salesforce from your Qualtrics survey based on the conditions.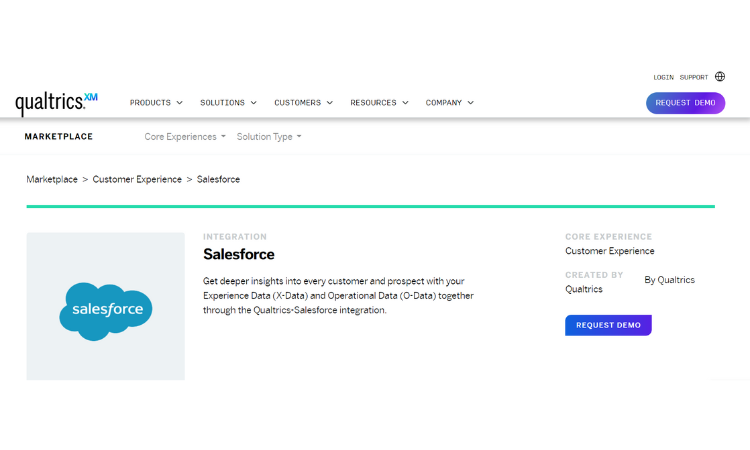 Why choose Qualtrics as your CSAT tool for Salesforce?
Qualtrics provides top-notch customer feedback tools like CSAT; however, the platform is more suitable for enterprises. Although setting up Salesforce with Qualtrics need technical expertise, the platform should offer simple and basic features to make it more usable for medium and small businesses as well.
Here are some features you can get with Qualtrics and Salesforce integrations:
Create new leads in Salesforce based on customer feedback across web, mobile, and chat
Automate feedback requests in Salesforce based on account milestones to understand customer behavior across the entire sales cycle
Integrate powerful insights from Qualtrics with Salesforce to bring the entire customer view into a single platform
Gather genuine customer feedback via SMS text and email in real-time to unlock insights so your teams can take action
Download Qualtrics from the Salesforce AppExchange to access the Qualtrics Survey Platform directly from within Salesforce
Integrate Salesforce and Qualtrics in minutes with a pre-built, simplified installation process
Share transactional and operational data to get a full view of each customer across all stakeholders
Quickly close the loop quickly after resolution or poor customer experience on mobile or desktop
Easily map Salesforce contacts to Qualtrics to leverage the full capabilities of both platforms
Limitations:
Qualtrics is a great tool with features and functionality, but it is sometimes hard for customers to get the hang of it. Customers may require training on certain features at an additional cost. There are several Qualtrics alternatives you can switch to in order to find a CSAT tool that offers a more user-friendly interface at a much lower price.
Pricing: No pricing is available publicly.
G2 Rating: 4.4 out of 5
#5. Simplesat
Simplesat is yet another platform in this list that provides CSAT tools to businesses to make real improvements. Talking about its Salesforce integration, it is flexible and gives you the ability to have full control and transparency over the customer satisfaction experience. One of the unique features that you get from combining both platforms is to embed the CSAT surveys either in Salesforce Classic or Salesforce Lightning Experience. You can also include surveys in existing notifications, preventing no extra emails for your customers. It is easy to get notified of new leads via Salesforce integration as you can easily copy and paste the link into your email, which hardly takes less than five minutes.
Combing both, the platform enables your customer service team to access every detail of your customers without leaving Salesforce. You can even filter each contact field as per needs immediately, as the Salesforce integration ensures updated CSAT scores. No need for a manual process, as Salesforce integration with Simplesat automates the process of syncing the feedback to the Salesforce accounts in real time.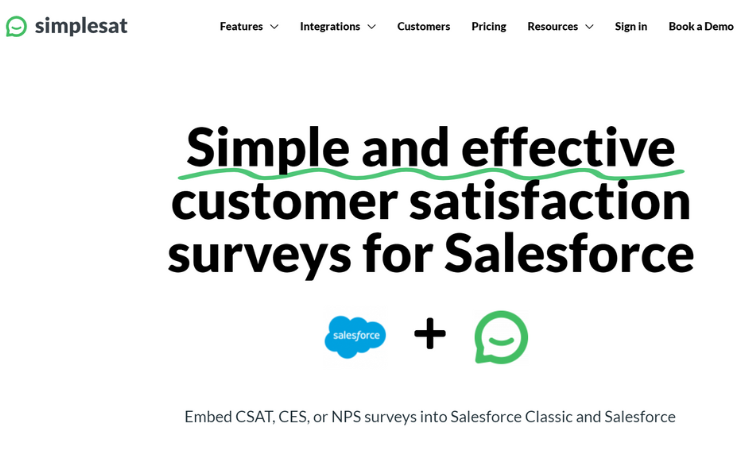 Why choose Simplesat as your CSAT tool for Salesforce?
With features like customizable surveys, real-time analytics, and feedback tracking, with Simplesat CSAT tool, you can easily embed any survey with the Salesforce email template. It enables you to gauge customer satisfaction and enhance customer relationships. The integration is quick that allows you to update contacts and custom objects with rating details, giving your team full control and transparency over the customization satisfaction experience.
Here are some of the features you get with Simplesat and Salesforce integration:
Choose either Salesforce Classic or Salesforce Lightning account to embed CSAT surveys
Include CSAT surveys in existing notifications using Salesforce
Quickly copy the Simplesat survey and paste it into Salesforce within 5 minutes
View complete customers details without leaving Salesforce
Filter CSAT reports through contact custom fields and view the latest CSAT scores in Salesforce
Syn feedback, sentiment, and comments to your Salesforce account
Limitations:
Although Simplesat offers an appealing and professional way to collect CSAT scores, it needs modernization with more features and deeper integration. It also requires creating a new custom object type in Salesforce to sync data to a custom feedback object.
Pricing: Starts from $99/month
G2 Rating: 4.5 out of 5
#6. ProProfs
With its easy-to-use pre-survey maker, ProProfs enables businesses to create attractive and personalized feedback surveys through professionally-designed themes. Apart from the CSAT tool, the platform also offers NPS surveys, In-App surveys, website Popup surveys, Forms, Quizzes, Polls, and more. Integrating Salesforce with ProProfs is pretty simple, as the platform seamlessly integrates surveys in Salesforce to help you send automated surveys after a customer interaction, training, or campaign.
Managing customer retention and churn seems effortless, as you can analyze survey responses within Salesforce for each contact and case. The duo helps you create engaging surveys that look great on any device or browser. With its single sign-on, you can save tons of time and effort wasted on multiple logins. It enables you to trigger surveys, view responses, track reports, and manage users from a single dashboard.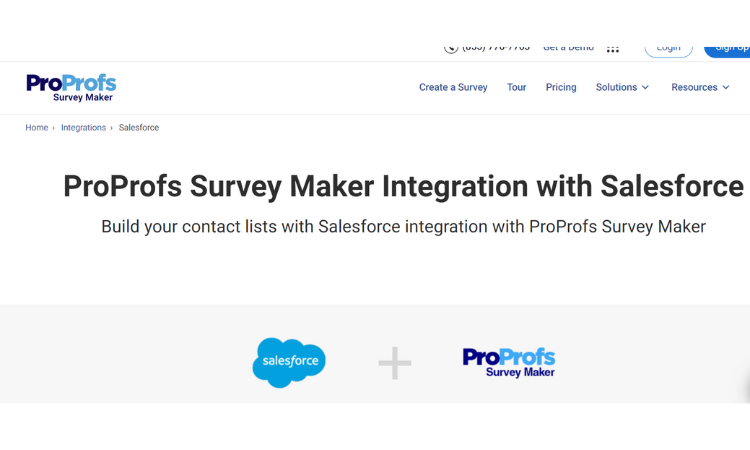 Why choose ProProfs as your CSAT tool for Salesforce?
ProProfs survey builder integration with Salesforce empowers you to boost your lead generation process easily. You can quickly create engaging lead surveys, attach a lead form to capture key information from your surveys, and instantly push that info to your Salesforce CRM. Although Salesforce is a pioneer in the CRM software USA industry, its overwhelming design and functionality must be improved for small and medium businesses.
Here are some of the features you get with ProProfs and Salesforce integration:
Create a mobile-friendly, engaging survey to send through Salesforce
Send surveys, view responses, track reports, and manage users from a single dashboard
Automate workflows with preset conditions in Salesforce
Automate marketing and sales workflows with preset conditions responses into any field, using survey integration with Salesforce.
Sync survey results and Salesforce data to identify and eliminate unexpected customer churn.
Automatically trigger surveys based on Salesforce events such as renewals, upcoming product enhancements, and pricing changes
Single Sign-on is required to use send surveys, view responses, track reports, and manage users from a single dashboard
Limitations:
The platform offers multi-lingual surveys only in Premium Plan
Pricing: Starts at $40/month
G2 Rating: 4.3 out of 5
#7. Survicate
Survicate is one of the popular customer feedback platforms that helps you get into your customer's mindset and uncover actionable insights by improving customer satisfaction. Known as one of the best tools for CSAT, creating surveys using Survicate is as easy as choosing a template. You can send targeted Customer Satisfaction Surveys in a few clicks and have the data immediately available in the dashboard. The Salesforce integration is pretty simple and flexible with Survicate, as it enables you to get detailed analytics that makes it easy to dig deep into customers' minds and take more meaningful actions.
Like many other tools, it is easy to send responses to existing or new contact fields in Salesforce real-time and trigger workflows in the CRM for effectively closing the feedback loop. You can also send CSAT surveys from Salesforce, as it lets you set different parameters to send a survey to a targeted group. You don't need to ask for contact details every time, as the integration lets you jump to respondents' Salesforce profiles from text answers. With its workflow automation, you can facilitate your team to streamline CSAT management. The good news is Salesforce integration with Survicate is available in all plans.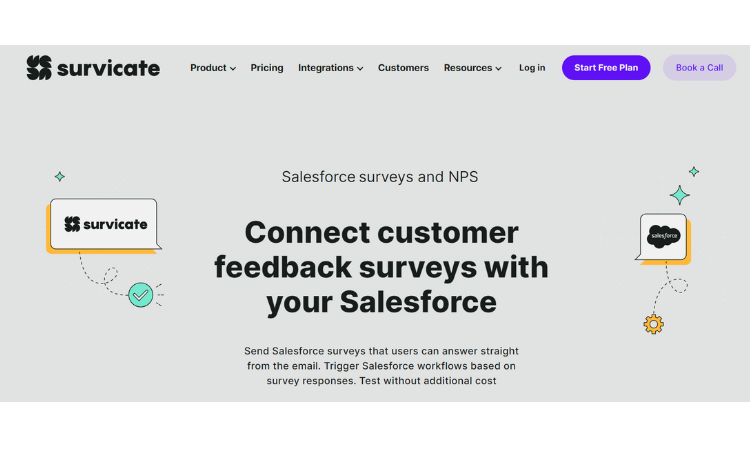 Why choose Survicate as your CSAT tool for Salesforce?
Integrating Salesforce with Survicate, you can send automated emails and get quick responses. The integration process is flexible and allows you to analyze survey results in real time. One of the fascinating features Survicate offers is to choose from versatile survey types for personalized customer engagement.
Here are some of the features that you get with Survicate and Salesforce integration:
Trigger surveys through Salesforce when the loop is close
Get quick feedback about your support teams' performances
Easy to generate leads or contacts from your website by combining Survicate & Salesforce
Collecting survey data to move leads along the sales pipeline is like a piece of cake
Salesforce integration is available on all plans and even on the legacy plans
Effortlessly transfer survey responses to update information about your contacts in Salesforce
Send surveys using the mailing list from Salesforce easily
Trigger the survey and hide the survey link behind a CTA button or hyperlink it
Embed a question into Salesforce email to boost the response rate
Limitations:
Survicate has a nice free option but doesn't provide all features. Also, Survicate doesn't offer native Salesforce integration. You need Zaiper to use both platforms.
Pricing: Starts from $99/month
G2 Rating: 4.7 out of 5
#8. Typeform
Typeform may not specialize in survey creation like others in the list, but it offers a versatile form builder to stand out from the crowd and connect with the customers. With its easy, stylish, and conversation-like forms, it is easy to collect data seamlessly for your business. The platform allows you to create various content, including quizzes, polls, tests, and surveys. One feature that makes Typeform sets apart from other tools is its sleek and modern survey design, which can enhance your survey tracking experiences.
However, Typeform falls short in terms of its integration with Salesforce. Unlike other CSAT tools in the list, Typeform doesn't provide native integration. Despite the easy integration process, you require a premium Zaiper account to integrate both platforms. By combining Salesforce, and Typeform, you can create new contact info when a customer completes a Typeform survey. It will send all the data like, name, emails, and more from your Typeform to the existing sales pipeline. Also, the integration allows you to make sales better, manage customer support tickets, run marketing campaigns, and more.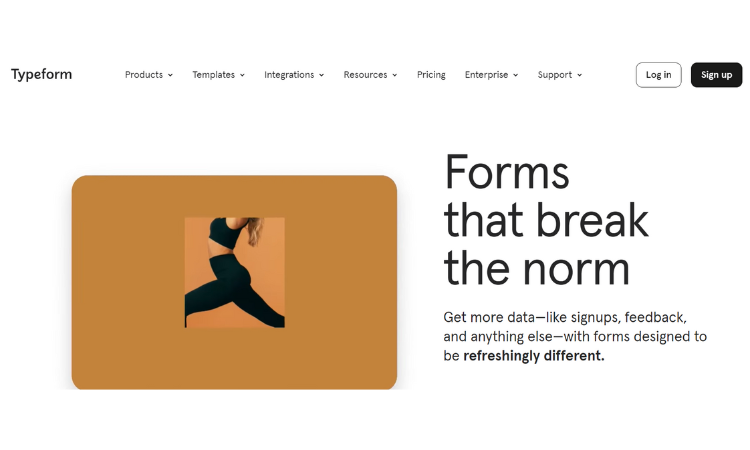 Why choose Typeforn as your CSAT tool for Salesforce?
With its sleek and modern survey design, Typeform provides a great user experience for survey takers. Its minimalistic design and various template options make it a great choice for those seeking inspiration for their survey content.
Here are some of the features that you get with Typeform and Salesforce integration:
Automatically create leads, accounts, opportunities, contacts, or cases in Salesforce
Start the conversation using Typeform, and get the data in Salesforce
Sync Typeform data with Salesforce automatically every time you get a response
Pull the list of forms available in the Typeform, and sync the responses from these forms using Salesforce
Quickly map between Typeform questions and Salesforce records
Syn feedback from Typeform to Salesforce once the survey is completed
Easy to send names, emails, and more from your Typeform to your existing sales pipeline
Multiple Salesforce accounts can be connected to the same Typeform account.
Limitations:
Although you can connect multiple Salesforce accounts with the same Typeform account, you need a Zapier account to integrate the two.
Pricing: $25 monthly for 100 responses
G2 Ratings: 4.5 out of 5
#9. SurveyMonkey
SurveyMonkey is one of the oldest and most widely recognized survey tools that has gained significant popularity in the realm of customer feedback. With a wide range of survey types available, SurveyMonkey has been helping businesses send surveys to their customers for years. In terms of its integration with Salesforce, SurveyMonkey allows you to build automation to trigger surveys and push data back to Salesforce records. When integrate your survey response with Salesforce, you can better understand, measure, and react to various customer interactions to improve your customer satisfaction management. Although the integration with Salesforce doesn't require any coding knowledge, the platform offers a limited number of features when added to Salesforce.
Unlike other CSAT survey tools, you can automatically trigger surveys after a transaction, spot positive trends, do follow-ups after a ticket is closed, and learn more about your CSAT scores. By integrating SurveyMonkey with Salesforce, you can also enable your sales team with better data and understand key drivers for your sales motion to make further improvements. An interesting feature that you get when combining SurveyMonkey CSAT with Salesforce is that you can disable Salesforce integration anytime from the admin customer satisfaction settings and use SurveyMonkey survey alone.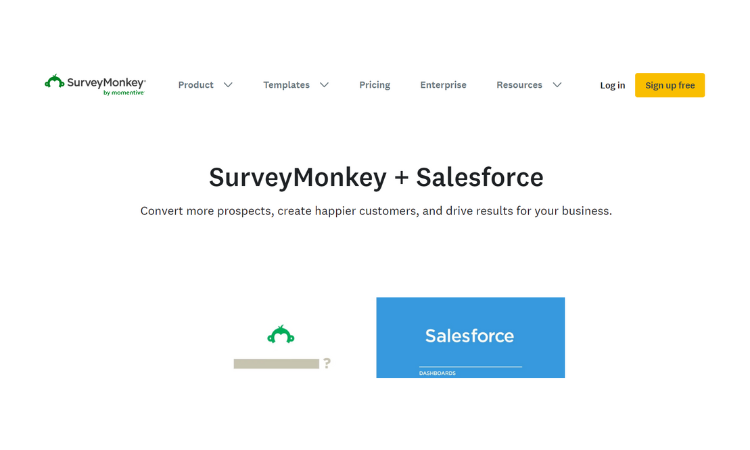 Why choose SurveyMonkey as your CSAT tool for Salesforce?
SurveyMonkey is a well-established contender in the field of customer feedback. It is recognized for its wide array of survey options and ready-to-use templates. Its intuitive interface and strong research features have positioned it as a top choice among businesses aiming to gain valuable customer insights.
Here are some of the features that you get with SurveyMonkey and Salesforce integration:
Trigger surveys after a transaction to understand your customer's sentiments
Salesforce integration helps to spot positive feedback or keep track of negative feedback through CSAT score
You can trigger follow-up surveys after the resolution, or webinar, and get responses tired back
Quickly sync all your data in one place to learn about high retention rates and growth
Send and share data with your sales team for better conversation
You can send emails to learn about your sales team's performance
Create a personalized campaign to measure potential customers
Get real-time feedback in your Salesforce database
Leverage existing SurveyMonkey surveys and map them to the Salesforce object
Limitations:
SurveyMonkey offers limited features with its free version. Also, you need a business plan for added features to use the platform.
Pricing: $22 per month
G2 Rating: 4.4 out of 5
#10. InMoment
Previously known as Wootric, InMoment is a cloud-based customer satisfaction tool that works well with Salesforce integration. However, you might take a little more time to figure out its offerings once landed on the InMoment website. When talking about its Salesforce integration, it offers two ways- you can feed data to Salesforce and get data out of it to InMoment. Once the integration is complete, you gain the ability to customize triggers for surveying specific groups based on Salesforce data. By combing both platforms, you can also trigger customized surveys once a ticket is closed. You can send personalized thank you messages based on your agent's performance to close the ticket.
Additionally, InMoment allows you to get notified of low scores and act upon them immediately. Once integrated with Salesforce, you can easily run a voice-of-customer feedback program and close the loop with customers based on scores.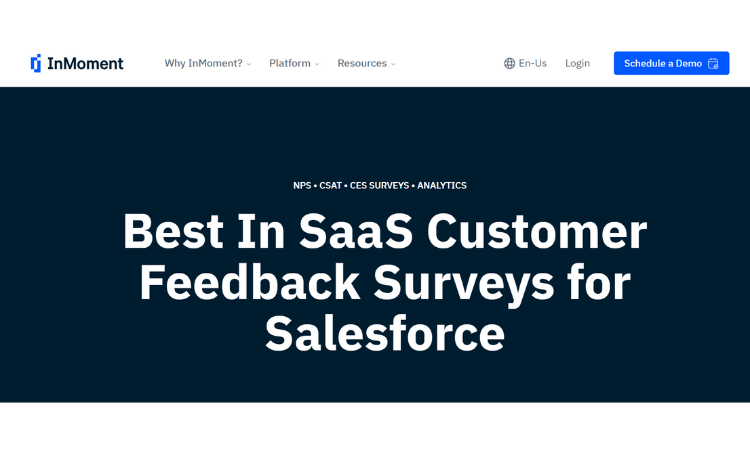 Why choose InMoment as your CSAT tool for Salesforce?
By integrating InMoment, and Salesforce, you can quickly respond to detractors or turn happy customers into brand advocates by triggering automated emails. It also enables you to retain more customers with this survey tool as it provides the latest trends and customer insights. Using the CSAT tool offered by InMoment, you can monitor customer sentiment and take action to drive revenue and retention.
Here are some of the features that you get with InMoment and Salesforce integration:
Trigger CSAT surveys in Salesforce with automated workflows
Send recurring surveys from Salesforce, for example, after 15 days or 90 days
Customize your CSAT surveys with the Salesforce field.
Responses appear in Salesforce and in the InMoment dashboard at the same time.
Need an enterprise plan to set up Salesforce integration
Complete view of CSAT score across channels and touchpoints
Track any CX metrics like CSAT health with 7 pre-configured Salesforce reports
InMoment's AI-powered engagement engine™ encourages rich conversations by intelligently listening and responding to customers in real-time
Limitations:
Although integrating InMoment with Salesforce is effortless, pricing needs to be more unified. It also requires a Zaiper account to integrate InMoment and Salesforce.
Pricing: You need to contact the sales team for better pricing options.
G2 Rating: 4.7 out of 5
#11. QuestionPro
QuestionPro stands out in its ability to think innovatively and creatively. It excels at providing advanced data-driven surveys, enabling you to gather valuable insights for informed decision-making. The platform offers cost-effective methods to swiftly gather customer data swiftly, seamlessly integrating with popular tools like HubSpot, Freshdesk, and Zendesk. With its strong features and intuitive interface, QuestionPro offers a diverse range of survey solutions, including NPS, CSAT, CES, market research surveys, and employee feedback surveys.
QuestionPro integration with Salesforce creates a consistent interface between QuestionPro survey data and Salesforce. By combining both platforms gives you the ability to integrate online survey responses with your Salesforce database seamlessly. For instance, the data collected via a follow-up customer satisfaction is automatically added to a custom field called "satisfaction." Additionally, you can also produce satisfaction reports in Salesforce based on agents, locations, products, and more. The integration makes it easy for you to collect feedback effectively to close the loop of customer relationship management.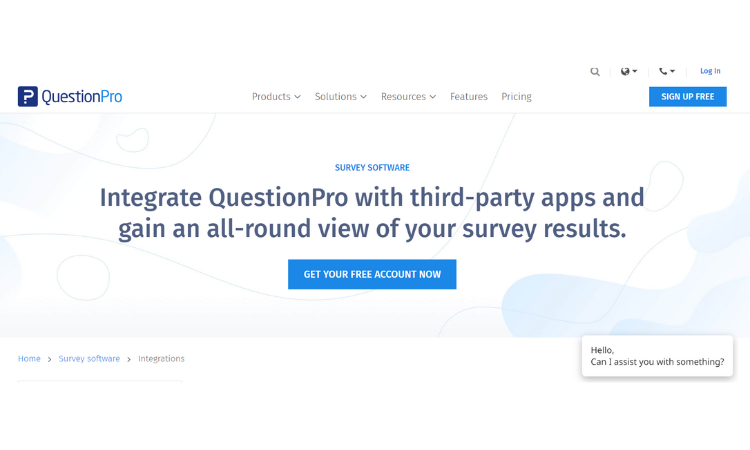 Why choose QuestionPro as your CSAT tool for Salesforce?
QuestionPro offers a powerful and user-friendly interface that allows you to create impactful surveys quickly. Its advanced reporting capabilities provide real insights into customer sentiment. Integrating both platforms enables seamless collaboration and simplifies the process of tracking CSAT scores.
Here are some of the features that you get with QuestionPro and Salesforce integration:
Create a survey using QuestionPro in Salesforce
Define the mapping between QuestionPro survey data to any field in your Salesforce database.
Create an email template in Salesforce containing the customized link.
Invite respondents to the survey. QuestionPro will automatically collect the data and passes it back to Salesforce
Map system variables like ResponseID, Timestamp, Device Data, and Language to Salesforce.
Limitations:
QuestionPro doesn't offer a monthly plan, therefore, it can be frustrating for small and medium business owners with a limited budget. Also, you need the research edition license to map more than one QuestionPro account.
Pricing: Starts at $99/month
G2 Rating: 4.5 out of 5
#12. Medallia
Medallia, the final tool on our list, is a comprehensive customer experience platform that helps you capture customer feedback across multiple channels, uncovers customer insights in real-time, and enables you to take immediate action. However, Medallia's Salesforce integration is flexible and easy to set up, it helps complex, global enterprises to unify their diverse customer feedback processes. Despite a dedicated page outlining its integration process and uses, Medallia's integration with Salesforce ensures that the voice of the customer resounds throughout your organization.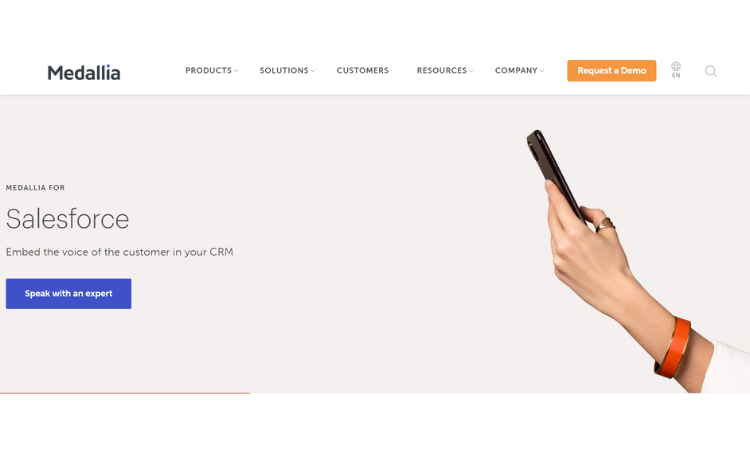 Why choose Medallia as your CSAT tool for Salesforce?
With Medallia and Salesforce integration, businesses can create a complete customer feedback profile, automate actions and task creation to efficiently and effectively close the feedback loop. Here are the top features you get when integrating Medallia and Salesforce.
Get a complete view of the customer using Salesforce
You can trigger CSAT surveys with ease
Streamline workflows to close the loop without leaving Salesforce
Send automated surveys from Medallia based on key events in Salesforce
Get notifications for unhappy customers in Salesforce
Limitations:
The platform is expensive to use and requires additional charges for simple features like adding new touchpoints, help requests, or simple customizations.
Pricing: You need to get in touch with the sales team.
G2 Rating: 4.4 out of 5
Wrapping Up
Measuring customer satisfaction is, without a doubt, a necessity for all businesses. And it is essential to choose the right CSAT tool to measure it. By integrating these tools with Salesforce, you can gauge customer satisfaction, identify pain points and make necessary improvements to enhance your overall CX. Additionally, these tools can empower your business to listen to the voice of the customers and take steps to meet their expectations.
If you're looking for a CSAT tool that integrates well with Salesforce, why not choose Zonak Feedback? With the Zonka Feedback CSAT tool and Salesforce integration, you can capture customer feedback easily at all touchpoints. Being one of the top choices for some of the top companies like Samsung, EY, Nikon, Lenovo, and more, Zonka Feedback offers a wide range of popular survey types, allowing you to conduct surveys both online and offline. What sets Zonka Feedback apart is its versatile connectivity with the Salesforce database enabling you to tie survey responses to specific agents. Thus it is an excellent way to judge who has great survey scores and who needs some additional training. The pricing is affordable, and you can sign up with Zonka Feedback for a 7-day free trial to start creating CSAT surveys for Salesforce.