Holistic customer success cannot be achieved in one day. It needs a series of events where your customers are delighted with great customer experience and satisfaction. Usually, businesses believed that they could easily compete on price and drive customer success. But this is not possible today as now Customer Experience has become a key differentiator that overtakes the product's price. 86% of buyers are likely to pay more for a better customer experience.
Elevate CX with Customer Feedback🔥
Collect real-time, in-moment feedback at all touchpoints in customer journey and leverage feedback insights to transform customer experience.
Today we'll talk about Customer Experience trends & statistics based on which you can improve your approach to drive customers. Beyond this, you'll learn the benefits of customer experience, good and bad customer experience, ways to measure and analyze customer experience.
What is Customer Experience?
Customer Experience (CX) is the customer's reaction or perception formed based on customer interactions with an organization. It means how your customers perceive their interactions with your product/service or brand. With the growing significance of customer experience, businesses have started taking Customer Feedback that leads to product/service enrichment and improvement in customer experience.
Why use Customer Feedback to improve Customer Experience?
Whether it is a good or bad CX, it makes an impact on your brand and business. Your customers are likely to share their experiences with their friends, colleagues, or relatives. This ultimately builds your word-of-mouth marketing. Thus, you need Customer Feedback to know what your customers think about you, your products, or services. Customer feedback enables you to collect customer insights and make impactful changes and improve their experiences.
It is clear that: collecting customer feedback is crucial for improving customer experience, but how does feedback help improve CX? Customer experience improvement depends on how effectively you collect and deploy feedback responses. Keep an eye on customers' journeys and wherever you find that customer is feeling distracted, trigger a survey question and welcome them to share their issues. So, here you've collected the customer feedback effectively.
Now the key differentiator in the survey campaign is how effectively you use responses or customer data. Here at this stage, Online Survey Tool helps you a lot. It provides a collaborative response inbox to monitor all responses (positive, neutral, or negative). You can also make it easy for your team to monitor every response effectively by adding filters.
Once you assign the responses to the respective team members, tell them to segregate the issues into recurring and personal. It helps your team address every issue efficiently, ensure surefire solutions that improve customer experience and help you close the feedback loop.
How does Customer Experience work?
Measuring or improving customer experience starts with one question - What your customer perceived? And based on the answer to this question, you can easily find what your customers want? The biggest secret to improve customer experience is to move from touchpoints to journeys.
Undoubtedly, a great customer experience builds customer loyalty, makes employees happier, leads to 5 to 10% revenue gains, and reduces costs by 15 to 25% within two or three years. To achieve this, you need a customer-centric approach rather than product-centric.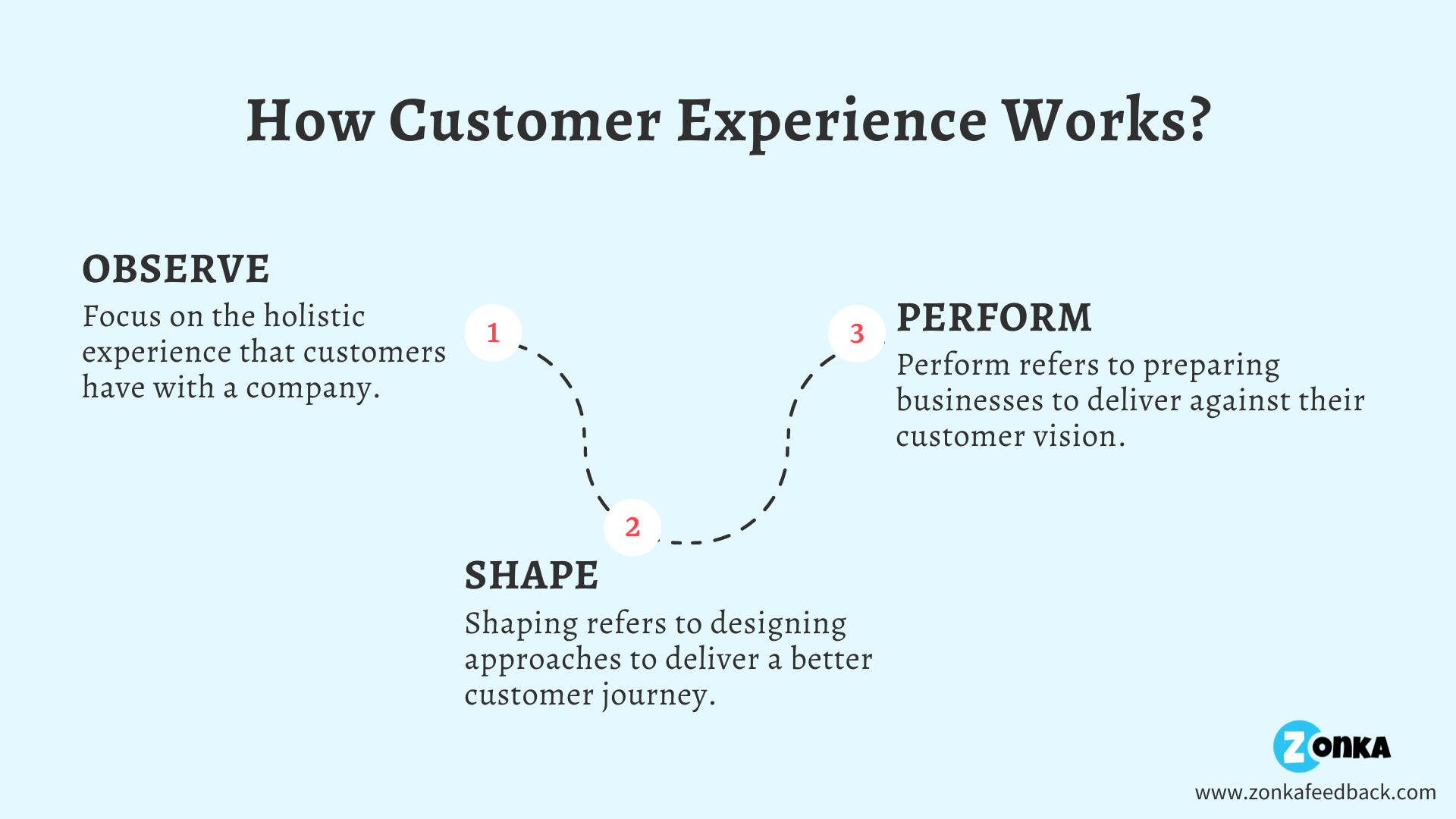 OBSERVE: Identify & understand customer's journey
Observing refers to focusing on the holistic experience that customers have with a company. You may measure the customer perception at individual touchpoints like post-purchase, billing, post-customer support service, or onboarding. But tracking the overall customer journey gives you a clear picture from beginning to end. Customer journeys are significantly more strongly correlated with business outcomes than are individual touchpoints. Moreover, this end-to-end experience enables you to gauge overall customer satisfaction.
SHAPE: Redesign the business according to the customers
Here shaping or redesigning the business refers to changing approaches to deliver a better customer journey. Always differentiate the purpose - what is the most important customer journey, then start improving it. Thus, you need to understand the expectations of your customers quickly. For this, you can deploy a behavioral psychology approach to interact with your customers.
According to the case study by McKinsey & Company, a consumer-services firm has applied behavioral psychology to customer interactions and found improvements in customer satisfaction scores and business operations.
PERFORM: Deliver against tangible outcomes
The biggest challenge for the organization is to prepare themselves to deliver against their customer vision. There are two broad ways to deliver against tangible outcomes:
By deploying customer journeys to empower the front line

By establishing customer experience metrics to capture customer feedback
What are the important Customer Experience Survey Questions?
The success rate of the survey is also determined by the customer feedback questions you asked. The responses to these questions help understand how your customers perceive your business, products, service design, and the customer experience you are providing to them. You can also ask open-ended survey questions to get a clear picture of customer issues and discover the key areas of the business where you need improvement.
How can we improve your experience?

What was missing or disappointing in your experience with us?

How would you rate the shopping experience you had today?

How was your experience with our product?

How was your experience with our delivery service?

How was your interaction with our support team?

How was our overall experience with our company?

How can we make your experience even better?

How would you describe your experience in our store / on our website?

On a scale from 0 to 10, how likely are you to recommend (our business/business name) to a friend or colleague?
Some top Customer Experience Trends & Statistics
Statistics
Significance of Customer Experience
1. According to PwC, Customers encountering a great experience are willing to pay up to a 16% price premium.
2. According to Harvard Business Review, Customers having the best past customer experiences are likely to spend 140% more than those who had the poorest past experiences.
3. According to Salesforce, 80% of customers identify customer experience as a key differentiator and is just as important as products or services. (Salesforce)
4. According to Harvard Business Review, an improved level of customer experience can reduce customer care costs by up to 33%.
5. According to Bain & Company, differences in net promoter scores will create differences in revenue growth.
6. According to Epsilon, 80% of consumers are more likely to purchase a business that offers personalized customer experiences.
7. According to Forbes, a good customer experience ensure an 80% increase in revenue.
8. According to Invoca, 87% of respondents said that a good customer support service made them feel more confident in making high-consideration purchases.
9. According to Adobe, Companies having omnichannel experience can enjoy a 10% year-on-year growth.
10. According to Zendesk, 67% of customers prefer self-service over speaking with a company representative.
11. According to Hubtype, $641B will be spent on CX technologies in 2022.
12. According to MyCustomer, 85% of companies that have focused on customer experience have noticed a remarkable growth in customer satisfaction, lower churn, and a higher Net Promoter Score (NPS).
13. According to Gartner's prediction, by 2023, 25% of organizations will integrate marketing, sales, and customer experience (CX) into a single function.
14. According to Gartner, 90% of companies have a Chief Experience Officer or Chief Customer Officer.
Customer Service for Customer Experience
15. According to VentureBeat, there are over 300,000 active chatbots on Facebook Messenger to improve customer service.
16. According to Softwareadvice, 78% of consumers said their customer service experience improves when agents solve their queries.
17. According to Radial, 23% say they are less likely to purchase again when service agents didn't have access to purchase history.
Significance of Customer Experience across different channels - Mobile & Web
18. According to TechJury, In the first quarter of 2021, 70% of all internet traffic globally comes from mobile.
19. According to Sweor, 50% of customers will stop visiting a website if it is not mobile-friendly.

20. According to socPub, 57% of customers never recommend a poorly designed website that is not optimized for mobile.
21. According to Superoffice, 84% of companies that follow a customer-centric approach are focusing on the mobile customer experience.
22. According to Softwareadvice, 90% of customers have common complaints of having a poor experience when seeking customer support on mobile devices.
23. According to dynamic yield, 76% of shoppers use their mobile phones to shop. However, only 12% of shoppers are satisfied with the shopping experience.
Customer Experience significance in Word-of-mouth
24. According to PwC, 65% of all consumers are influenced by a positive experience with a brand.
25. According to Convince & Convert, answering a customer complaint on social media can increase advocacy by as much as 25%, and not responding to it can decrease customer advocacy by 50%.
26. According to Siegel+Gale, 64% of consumers are more likely to recommend a brand to others if it offers amazing experiences.
Poor Customer Experiences
27. According to PwC, 32% of customers are more likely to switch to another brand with just one bad experience.
28. According to Deloitte, the probability of sharing negative experiences is high than positive experiences. Like an average of 16 people will talk about negative experiences, and nine people will talk positive.
29. According to Accenture, US businesses lost $1.6T every year because of poor customer service.
30. According to Super Office, 92% of customers would forget about a brand after experiencing two or three negative customer experiences.
Trends
1. Create a perfect balance between humanity and automation
No doubt, automation has reduced manual intervention and cut the customer support cost of the company. But still, human customer service agents are required as only 63% of consumers are satisfied with service from a chatbot. So, companies have shifted their approach from a push model to a pull model to make customer engagement more humanized.
2. Customers expect a personalized experience
Customers are likely to purchase from a company that knows about them, their behavior, purchase history, and recommendations based on them. 79% of customers expect personalized services. So, there are different ways to ensure a personalized experience for your customers:
Address customers by name

Send personalized messages/replies

Do reach out to your customers when they sign up for your free trial or purchases any product. Ask about their onboarding experience.

Ask them how you can help them.

Even if customers don't take your help, they'll for sure appreciate this positive gesture and create a positive impression of your business in their minds.

3. Deploy feedback mechanism to listen to customers
Your business needs to listen to the voice of customers to drive customer success. It also helps you discover your strengths, weaknesses, and ideas to improve your products or services. Through a feedback mechanism, you can capture customer experience and gauge satisfaction level.
You can automate the surveys through a customer feedback tool to capture the fresh reaction of your customers. Based on survey responses, you can follow up with your unhappy customers, identify their issues, and solve them to improve their perceptions.
4. Develop Customer Service Communities
According to a study, 67% use Customer Service Communities to collect ideas for new products or features from customers. To ensure better customer experience and satisfaction, companies have started developing customer service communities. These communities are developed to interact with customers, listen to their issues, and take customer feedback.
5. Offer Multichannel Customer Support
Multichannel customer support benefits both businesses and customers. It offers a seamless transition between channels to customers and prevents businesses from delivering repeat information that they may have already provided. In-person interactions, Social media support, Email support, Phone support, and Live chat support are some of the best multichannel customer support options.
6. Ensure Self-Help Option
67% of customers prefer self-service over speaking with a company representative. To achieve this, you can also opt for Self Service system - round-the-clock customer support service, where customers can themselves learn about product upgrades and receive upgrades or newer versions without waiting for the support team. You can also make yourself available through - Knowledge Base Software, Help Desk, FAQs, video tutorials, chatbox, and agents.
Learn more about the Customer Experience