Client reviews are the key to developing a healthy business. Every review, positive or negative, offers value to your prospects and pushes them further along the sales funnel.
However, collecting reviews for your business can be challenging. Customers often don't leave them because they don't get anything in return. Long review forms on third-party sites can also be a turn-off. This can make it hard to attract new customers and improve reputation.
Boost Employee Engagement
Measure, analyze and improve employee feedback and reduce employee turnover with Zonka Feedback.
That's why it's essential to provide value to each customer who shares their thoughts about your company. The following article will teach how to get more business reviews and make the review process interactive and enjoyable for your customers. This will ultimately lead to better customer relationships.
Why reviews play a major role in business growth
As a business owner, you rely on reviews to make informed decisions about your customers and product. Educated decisions lead to company growth, a boost in customer loyalty ,and an increase in revenue.
Your team should have a workflow to collect reviews from happy customers constantly. This will help you understand where the market is headed and encourage leads to choose you over competitors.
How to get more reviews for your business
You might need more than simply asking your customers to leave reviews. Here are a few easy ways to make the review process more rewarding and interactive:
Create a positive review experience
By implementing the following tactics, you can ensure that the review process is streamlined, efficient, and enjoyable for clients, which will help to build a better relationship with them.
Offer multiple review channels: social media, email, SMS, website, etc.;

Make review submission accessible from every device: desktop, mobile, tablet, etc.;

Include non-financial incentives for detailed client reviews;

Use simple and easy-to-understand feedback forms or questionnaires to gather client feedback;

Continuously gather feedback from clients and make improvements to the review process to make it more efficient and user-friendly;

Show clients that their feedback matters by following up to address problems and improve the areas of your product that need to be improved.
2. Find the right time to ask for reviews
Research shows that there are two intervals when it's best to ask for reviews: between 2-3 PM and from 6-7 PM. It is also ideal to ask for client feedback 7 to 30 days after purchase so their experience using your product remains fresh and the details are more accurate. As for days of the week, Wednesdays and Saturdays have above-average conversion rates.
3. Provide multiple feedback channels
Give your clients a chance to submit reviews effortlessly. Make review submission a seamless experience on social media, integrate it into your web and mobile app, and even offer QR codes they can scan to leave feedback.
Keep content cohesive across all channels, so clients benefit from a consistent experience whenever they get in touch with your brand. This will increase your chances of getting a positive review.
4. Offer non-financial incentives for review submission
Incentives motivate shoppers from every age group to submit reviews. To be more specific, 73% of consumers say they would be more likely to submit a review following some incentive.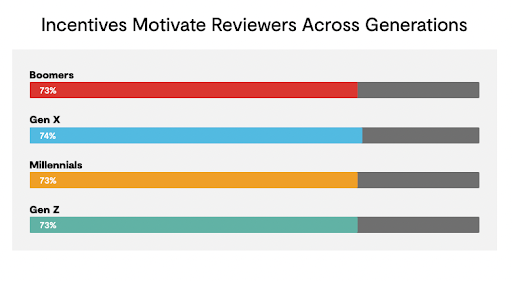 What type of incentives work best? Clients appreciate freebies, a sneak peek at a new product or product range, in-store discounts, or even loyalty points.
Product sampling, for instance, has an 85% review submission rate. Receiving a product before it's available to the general public also works because it offers clients a sense of exclusivity and increases anticipation, which leads to an increased desire to buy.
5. Address every negative review
Negative reviews might be good for your business. If you address them in a professional and timely manner, they improve your business reputation and increase your customer service ratings.
Responding to negative reviews proves that you are transparent, human, and that you take accountability for mistakes. Nobody expects a company to be perfect. With 7 out of 10 customers declaring they changed their opinion following a response from a company that received a negative review, addressing negative reviews should be a company's top priority.
6. Include personal follow-ups
Follow-ups show that you don't take your customers for granted. They are an essential part of your customer-centric marketing strategy that helps you fulfill client expectations even after they buy your product.
The best way to do this is by creating a personal connection with your audience: periodically let them know you appreciate their business by resolving issues over the phone. This personal touch will help you build stronger relationships with your clients, who can tell when you're committed to keeping their business.
Follow-ups are also a great way to improve your product: clients are more likely to share comments or complaints when you take the initiative to get in touch rather than the other way around.
How to keep your reviews interactive & actionable on every communication channel
An omnichannel approach to collecting and sharing client reviews is your company's best shot at standing out from the competition. Here's how you can inspire clients and leads to take action:
Use engaging videos to capture feedback
When clients are looking to purchase a product or service, the first thing they do is check reviews from other people who bought the same thing. The stats don't lie: 88% of consumers trust online reviews just as much as personal recommendations.
The key to creating an interactive video showcasing clients' reviews is to make the whole process fun for those featured in it. This way, potential clients who see it will want to join in and check out your products' potential benefits.
Here is how you can create a memorable video experience for your target audience:
Educate viewers using user-generated content

. Interactive videos cut back on customer uncertainty and boost brand recognition. This is because UGC (user-generated content) increases brand affinity by 50% and can even increase conversion rates by

25%

;

Uniquely tell your brand's story.

Describe what motivated you to start a business, which challenges you faced, and how you overcame them. Clients will relate more to the ups and downs of a story as opposed to a smooth road to success. Your video will be more engaging when a professional voiceover is added using a text to speech tool to convey your company's story.

Share testimonials

. Integrate short testimonials in each video so that leads can relate to your client's experience;

Explain key features, benefits, and use cases

. Clients want to know how to make the most of your product. Try not to oversell and focus more on what the product does, why it stands out from the rest and why the client would miss out by not using it.
Include storytelling to optimize marketing efforts
Using storytelling effectively in your marketing efforts can attract new customers and turn current ones into recurring clients.
Whether the goal is to start a conversation, sell a product, or raise brand awareness, telling stories that make clients connect on an emotional level or reach the AHA moment is an approach that can help you achieve better results.
To tell your company's story in a unique way that draws customers in, you need to find the right story for the right audience.
What makes your brand special?
Where does the human element fit into that?

Is there a unique backstory behind your product?
Apple's "Think Different" campaign is a classic example of how storytelling helps you connect with your customers on a deeper level.
By creating a series of ads that featured famous celebrities and other cultural figures that shared the same ideals as Apple, the company was able to include an older demographic in its target audience.
Potential clients related to Apple's message: "You too can be a part of the new generation just by using our products."
Capture and share reviews on social media
Social media offers companies more room for innovation and engagement: there are multiple ways to capture reviews on social platforms, including polls, videos, ratings, and written content.
Interactive client reviews include short videos where clients describe their experience with your product. To take things even further and personalize reviews, you can use tools like Canva or Canva alternatives like Pablo to edit your customers' reviews, then share them across multiple platforms. This will increase your content's impact and boost brand authenticity.
Here is how you can effectively use social media to increase engagement and create buzzwords:
Experiment with live videos;

Integrate captions into your social media vids;

Get longer views by using front-load content;

Find your sweet spot by constantly measuring results;

Integrate custom hashtags or create your own hashtags.
Make the most of case studies
By incorporating case studies into your client reviews, you can demonstrate real results and help clients understand how they can achieve similar results.
Here's how you can turn dull case studies into engaging client experiences
Show the impact of your service by providing statistics and data that demonstrate the results of your work;
Use visual aids such as charts, graphs, and images to make the case studies more engaging and easy to understand;

Encourage clients to ask questions and discuss how the case studies impacted their opinion of your product. This can help them understand how your services can benefit them.
Conduct customer interviews
Attention-drawing client interviews will help you better understand your client's needs and boost client loyalty in the long run. The best way to achieve that involves active listening and asking the right questions. Here's what you should consider when preparing for a customer interview:
Open-ended questions give customers more room for feedback and make them feel more appreciated (e.g., How was your experience using our product?).

Does the interview dynamic uncover my client's values, pain, or motivation in choosing my product?
If at the end of the interview, you find that at least one of your previously held assumptions about your product/company was wrong, you have successfully concluded the talk.
Bring on brand ambassadors
Brand ambassadors are your company's biggest advocates. They already love your product and would love to be part of your marketing strategy. Your job is to make them feel valued while they promote a product they already believe in, and that can be easily done:
Encourage your ambassadors to create open and honest communication channels with clients so that they can provide valuable feedback;

Choose brand ambassadors who are passionate about your brand, have a strong connection with your target market, and are good communicators;

Become an active part of your ambassadors' community to make them feel valued and get insight into their target audience;
How interactive client reviews benefit your business
1. Referral no. increase
The more honest reviews you have, the higher the chances of converting more leads. Interactive client reviews can motivate more customers to share their opinion publicly and more genuinely.
Satisfied customers are also willing to refer their friends and family to a business they have had a good experience with, especially when they see that other clients feel the same.
2. Opportunity to identify areas for improvement
Client reviews reveal opportunities for innovation or new product development. For example, if multiple clients ask for a specific feature or function, it may be worth exploring the possibility of adding that to your product or service. Responding to specific questions on social media shows others you care and actively support your community.
Rich reviews also help potential customers benchmark you against competitors. By understanding how your clients perceive your service or product, you can identify areas where you may be falling short and take steps to improve.
3. Enhanced word-of-mouth marketing
Client reviews can be a powerful tool for word-of-mouth marketing because they provide the following:
Social proof;

Credibility;

Referral marketing opportunities;

Real use case examples.



4. Search ranking optimization
Reviews are one of your company's best marketing engines. Off-site SEO, which includes customer reviews, will boost your brand's relevancy, authority, and trustworthiness. This will help your company page get higher rankings, building up your online presence.
5. Boost client loyalty & brand authenticity
Both positive and negative client reviews provide an accurate view of your business, demonstrate transparency, and help identify areas for improvement that can lead to increased customer satisfaction and repeat business.
Clients who relate to the experiences shared in reviews are more likely to become loyal customers. Interactive reviews show that your company is in-tune with the needs of its customers and breaking away from the status quo.
Conclusion
The key to building better client relationships is to make the review process a collaborative and interactive one in which both you and your clients feel heard and valued.
Ensure your customers that you take their feedback seriously and will use it to improve your service or product. Keep them up-to-speed with your efforts to improve the client experience, and more positive reviews will follow.