66% of consumers who switched brands did so because of poor service.
85% of customer churn due to poor service was preventable.
67% of customer churn is preventable if the customer issue is resolved at the first engagement
11% of churn can be prevented by a company by just reaching out to the customer
65% of customer service experts say that using CX automation should be a norm
Still, only 38% of organizations use tools and workflows to automate customer feedback
(Kolsky)
Gathering Customer Feedback, looping in your team, resolving customer issues and preventing churn — the whole process looks fantastic on the drawing board, but let's be honest — it's not straightforward, and most of us struggle to implement it.
Elevate CX with Customer Feedback🔥
Collect real-time, in-moment feedback at all touchpoints in customer journey and leverage feedback insights to transform customer experience.
Let's look at an example

Say you run a retail store at 30+ locations. You have set up kiosks for on-premises feedback for customers visiting your store. You have a website feedback button for those who are browsing your website. And you have integrated Zonka Feedback to your eCommerce site to trigger a feedback form via email when a customer purchases online. You also display a pop-up survey when customers abandon the cart. Additionally, you have a follow-up survey to know how well your Customer Service team did when a ticket was resolved. And more.

You have integrated feedback at all customer touchpoints. And your customers know they can share their feedback throughout their journey.

Next steps?

You get someone in charge of looking at all feedback. This person has access to all feedback, where good feedback gets shared with the marketing team and/or account managers, and every time there is an issue reported or a complaint made, the person shoots an email to the concerned department keeping the managers in copy.

And then the never-ending email loop begins where it gets buried down in the layers of read, unread and archived labels.

We all know how that ends.
And that's what we want to change.
With Zonka Feedback, we have always wanted to empower your Customer Service and Success Teams with the tools to not only take feedback but also to close the feedback loop effectively.
And closing the feedback loop is not restricted only to monitoring feedback, investigating issues, doing tasks to resolve issues, and saving customers from churn. It extends to reaching out to happy customers, getting online testimonials, and building better relations.
In a nutshell, Closing the Feedback Loop is a sure-shot step to transforming Customer Experiences.
And what if this could all happen with less manual effort?
Introducing CX
Automation & Workflows...
Automation is amazing! Of course, it does the obvious — saves time, prevents error, reduces effort — but before all that, it does something else too, automation forces you to build processes. While using CX automation and workflow, you inevitably have to define your strategy — triggers and actions — and once you do, nothing falls off.
So what are Workflows?
Workflows are tasks executed based on conditions and triggers.
Workflows are created in two parts — choosing a trigger and choosing an action. Triggers are conditions that you can set to trigger an action. Action is what will be executed when the condition is met.
In Zonka Feedback, you can set up Workflows when a new Survey Response is received. For every workflow, you can add conditions and choose if and when (using or/and logics) the workflow(s) should be executed.
As a part of customer feedback automation, there are three types of Workflows you can set up in Zonka Feedback:
Notification Workflows
Send Notifications to Team and Respondents via Email, SMS and/or Slack
Response Workflows
Mark Responses as Starred, Urgent, add and assign or escalate Tasks to Team members
Contact Workflows
Add Contacts to certain labelled Lists, Unsubscribe them or Trigger another Survey to them via Email or SMS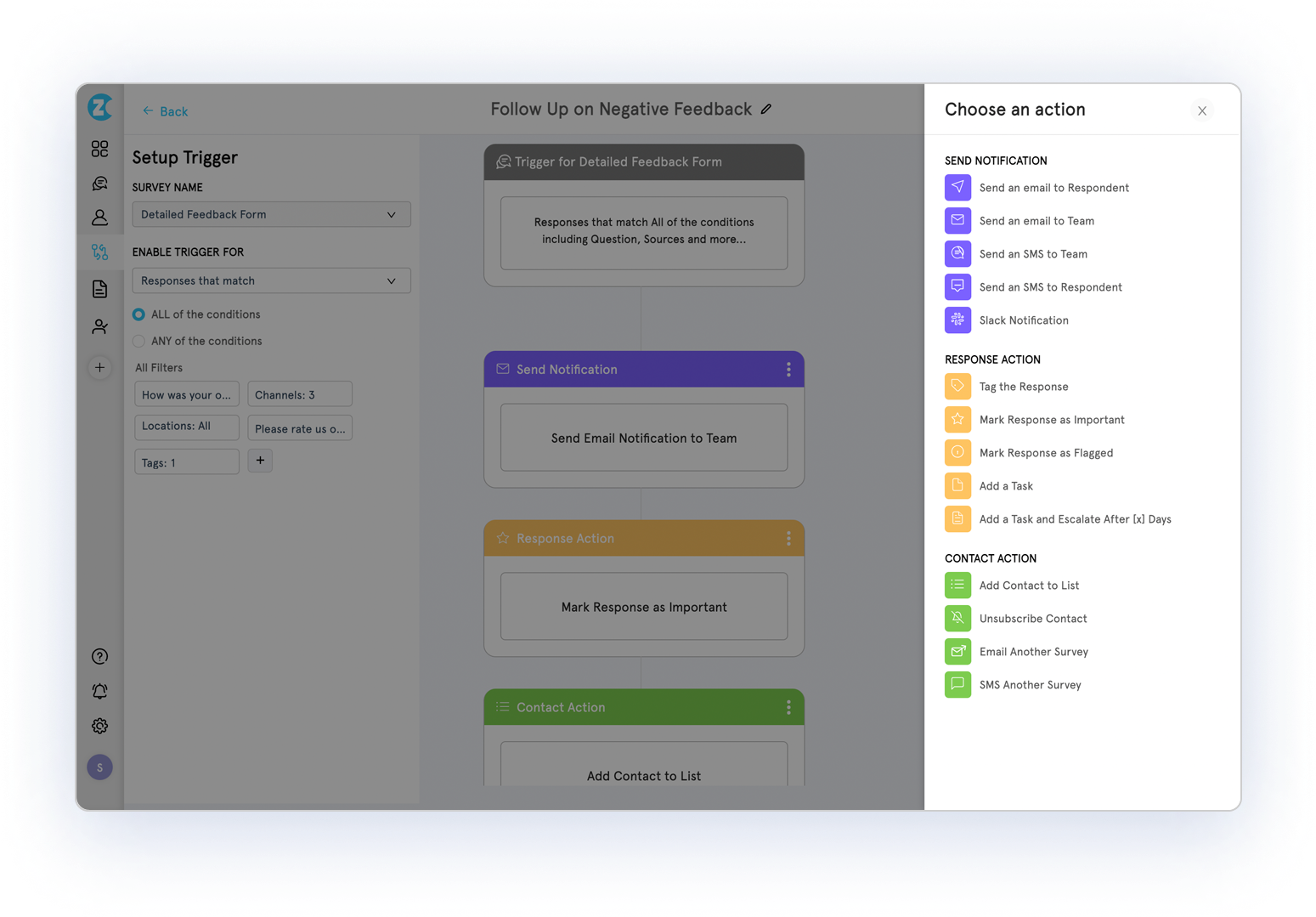 How to effectively use Workflows
The ways to use Workflows to automate CX are quite a lot. But here are some sure-shot ways and best practices to use Workflows to enhance Customer Experience and Close the Feedback Loop in your business.
Update the concerned teams about a reported issue with Team Notification
Thank the Customer for their feedback.
Send requested information to the Customer.
Send automated apology with an assurance of fast resolution to the Customer.
Create automated tasks for the team for specific feedback.
Trigger follow-up surveys to detractors to get more insights.
Send Testimonial requests with online review links to Promoters and Happy Customers

There are too many benefits of automating CX and closing the feedback loop.
Improve customer experience
Enable real-time actions
Reduce manual efforts for CX teams
Empower cross-team collaboration
Maintain a centralised ledger for all customer feedback
Reduce customer churn with better and a uniform customer experience
And most importantly,

Enhance your brand perception
Boost user-acquisition through referrals
Increase revenue with lower churn
Apart from all the stats mentioned on the top of this blog, here are a few more:
37% of organizations say that implementation costs and resources are a barrier to implementing CX automation.
8% of companies complain that their in-house low-code capabilities hamper their ability to implement CX automation.
And that's where Zonka Feedback's easy-to-use WYSIWYG features, built-in integrations with 200+ tools and simple onboarding experience makes it a unique customer feedback tool.
And with the latest update - CX Automation & Workflows, your team is now capable of defining and automating complex processes to execute prioritized tasks, save time and enhance overall Experience for your customers!
Want to try out CX Automation & Workflows? Start with a free trial or log in.