Nowadays, brands are using negative feedback loops and positive feedback loops to effectively manage customer relationships. Feedback loops prove to be a powerful tool when it comes to improving products/services and envisioning growth.
Take Action and Close the Feedback Loop👩‍💻
Analyze feedback, view insights, collaborate with you team and close the feedback loop to prevent churn with Zonka Feedback.
Getting Started with Negative and Positive Feedback Loop
What is a Feedback Loop?

Feedback Loop means using customer feedback to improve the service and products of a company. The process implies that any feedback received by a company can be worked on to drive improvements to the internal processes, products, or services offered to the customers.
Types of Feedback Loops
Negative Feedback Loops
Positive Feedback Loops
Negative Feedback Loops
By definition, Negative Feedback Loops allow you to focus on the concerns of the customers. During this process, the company listens to the customers' complaints using feedback and uses it to make improvements to their products or services. Doing so benefits both the business and the customers as the customers feel valued and heard.
Oftentimes, negative feedback loops shed light on concerns regarding customer dissatisfaction. It enables businesses to build customer-centric products and services that cater to the needs of the target audience, thus improving customer experience and increasing retention.

Your customers know better about your product or services so it's crucial to listen to them and close the loop by letting them know that you have considered their feedback/complaints and implemented changes.
Use-Case of Negative Feedback Loops
Let's take an example of a hotel that wants to improve its customer loyalty and the overall guest experience. The hotel distributes the feedback surveys to the guests who have either checked out or are currently staying at the hotel to know their experience.

Among the collected data, they find that a customer has given 2 out of 5 stars to the swimming pool service and elaborated that it was not clean. With an integrated customer feedback automation system, concerned team members get notified instantly, and an automated task for specific feedback gets created.
Once the query is resolved, a follow-up message gets sent to the survey respondent stating that the mentioned issue has been resolved, along with a follow-up survey asking questions like-
"Are you satisfied with our customer service?"
"Did we solve the issue you were facing?"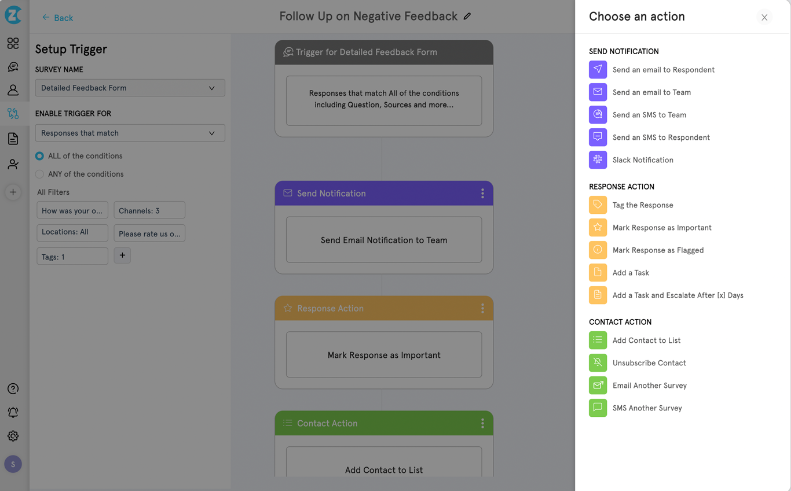 Closing a negative feedback loop requires effective measures to collect, analyze, and work on customer complaints. A customer survey tool featuring automated workflows can help fast-track the loop-closing process and improve customer satisfaction ten folds.
Positive Feedback Loops
Positive Feedback Loops are the process of gathering feedback from customers and encouraging them to promote your business in response to their positive feedback.

Collecting positive customer feedback brings value to a company that can use the feedback data to improve its digital footprint, measure CX metrics like NPS, and attract prospective customers. Since customer satisfaction is linked to higher engagement and productivity, positive feedback loops can pave the way for client testimonials and an improved perception of your brand.
Industry-Wise Use Cases of Positive Feedback Loop
Positive Feedback Loop in SaaS
An ABC SaaS company has recently launched a new feature in its product. They send out a survey to their existing customers to measure the overall satisfaction score with the new feature using a Customer Satisfaction Survey. The results of the survey proved that the customers are satisfied with the product as the majority of them had given a "👍" for their experience.
With automated feedback workflows, the company can trigger emails and SMS to their B2B customers who found value in their SaaS product and invite them to share their testimonials and reviews on third-party channels like G2 and Capterra. This ensures the closure of a positive feedback loop.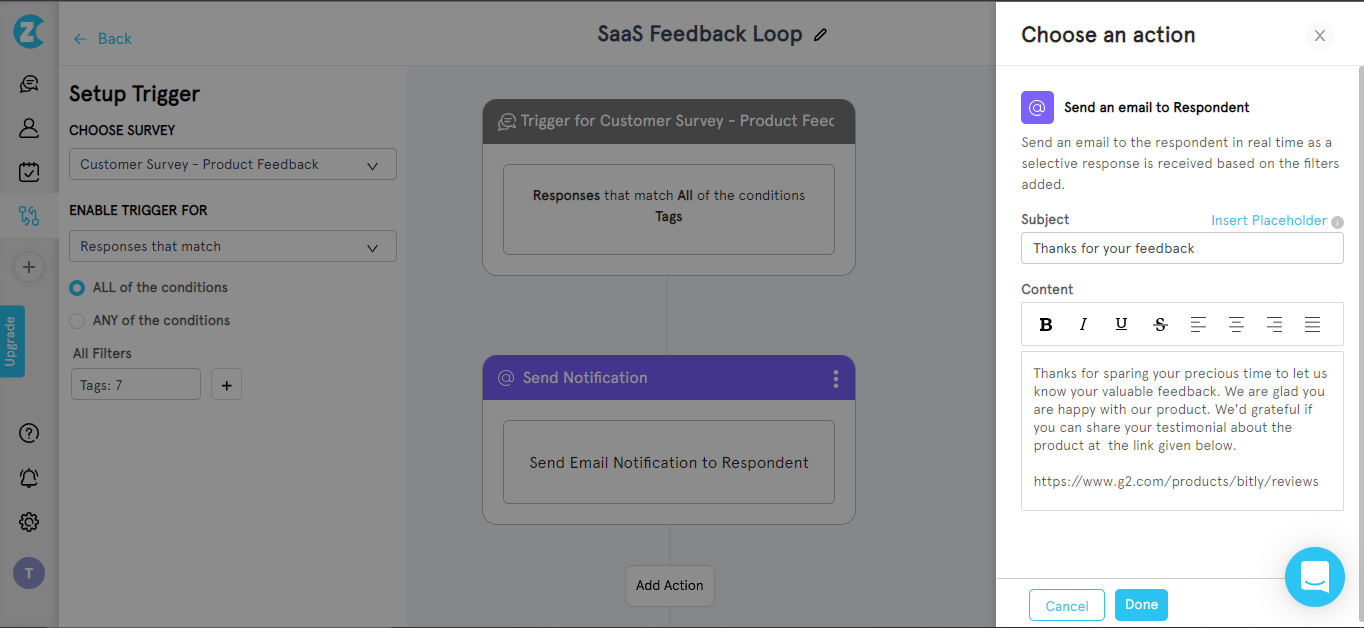 Positive Feedback Loop in Hospitals and Healthcare
A hospital receives around 500-700 patients every week. With an aim to improve the experience of the patients, it frequently collects feedback on-premises with offline surveys to measure CSAT. The data collected from the Hospital Patient Satisfaction Surveys conclude that 70% of the discharged patients and beneficiaries gave positive feedback.

Now, the hospital can utilize those positive reviews by using automated triggers of the survey tools to send follow-up messages to those discharged patients and beneficiaries via SMS or email to rate the hospital on Google or other platforms. A follow-up survey can also be sent to ask open-ended questions like:
"What would you like to improve in our service?"
What made you choose our service?
Would you recommend our hospital to someone in need?
This can help the hospital in closing the positive feedback loop faster.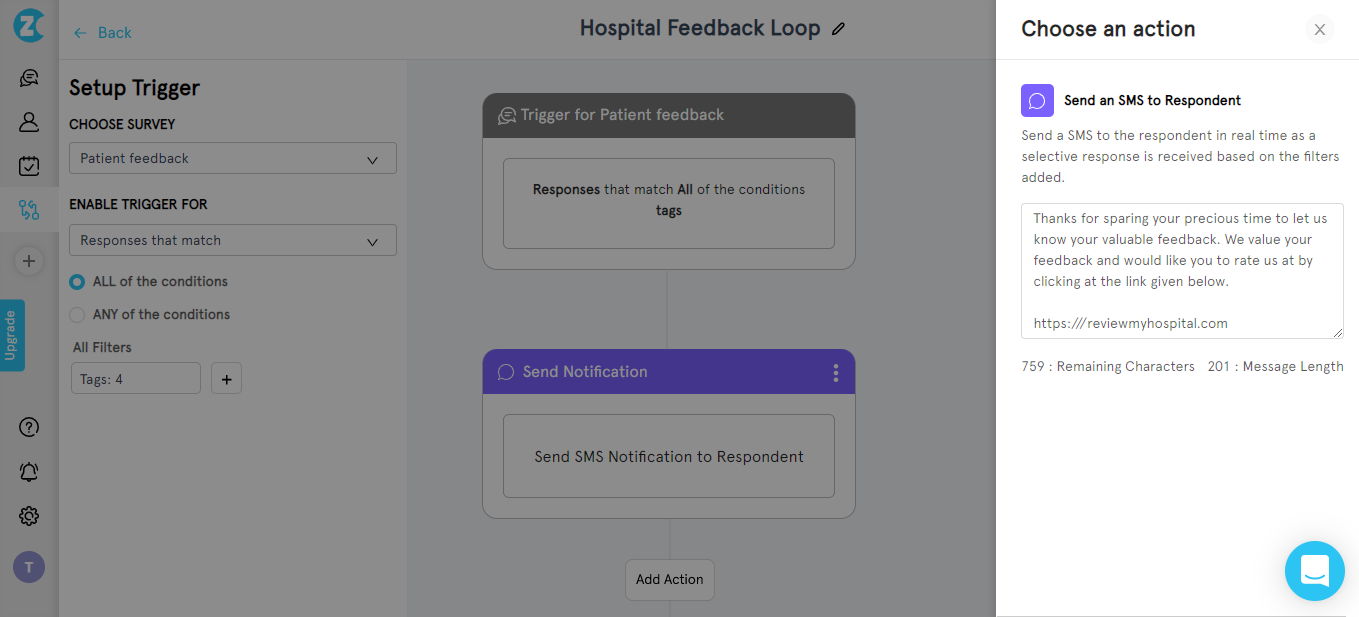 Positive Feedback Loop in Hotels and Resorts
For hotel businesses, feedback is a crucial step toward improving customer satisfaction and customer service. The hotels can collect feedback online or offline from the guests staying at the hotel, those visiting the restaurant dine-in, or users of other services like spas or gyms, using Hotel Guest Satisfaction Survey. They can then use its analytics and reporting tool to analyze the results and access actionable insights.

In case of positive feedback, hotels can set automated triggers that send out follow-up surveys and messages to the guests/visitors to motivate them to leave positive reviews and testimonials on third-party listing platforms like Booking.com, Makemytrip.com, etc. This ensures an effective closure of the feedback loop.
Closing the Feedback Loops
Closing the feedback loop starts with distributing surveys like Customer Satisfaction (CSAT) surveys or Net Promoter Score (NPS) surveys to the customers or employees. Online customer experience management and survey maker platforms like Zonka Feedback enable you to set up customizable surveys to evaluate and improve customer experiences across multiple touchpoints and channels, including website, SMS, email, kiosk, QR code, and more.
The platform also provides pre-built automated workflows (fully customizable) that fast-track the closure of the feedback loop. With Zonka Feedback's workflow automation, you can:
Auto-trigger response-based notification to the concerned team member
Label responses by choosing from pre-defined tags or make your own to never miss out on urgent feedback or queries.
Build escalation metrics by assigning tasks to specific team members based on responses and set due dates for resolution.
Enable auto-reminders for teams to take action on important feedback.
With automated workflows, you can cut down on repetitive tasks, avoid human error, and close the feedback loop much faster. To know more about the negative and positive feedback loops and how to close them, feel free to contact us.