We're ecstatic to announce and introduce Integrations to you at Zonka Feedback. Integrations will play a key role for you, our valued customers, to create seamless workflows with the tools you use and love. 🔗
At Zonka Feedback, our mission is to make Customer Experiences and Employee Experiences amazing. And honestly, nothing great is achieved in isolation. In the real-world, we also use multiple tools to connect with our Customers and Employees and run different processes. With solid, ready-to-use integrations, you can connect to your Zonka Feedback account to different platforms and create amazing experiences.
Our APIs and Webhooks were available since inception to help customers build custom integrations and integrate their data to and from Zonka Feedback. With the introduction of these new, native Integrations, connecting to your favorite tools will require zero effort and we're super excited about it!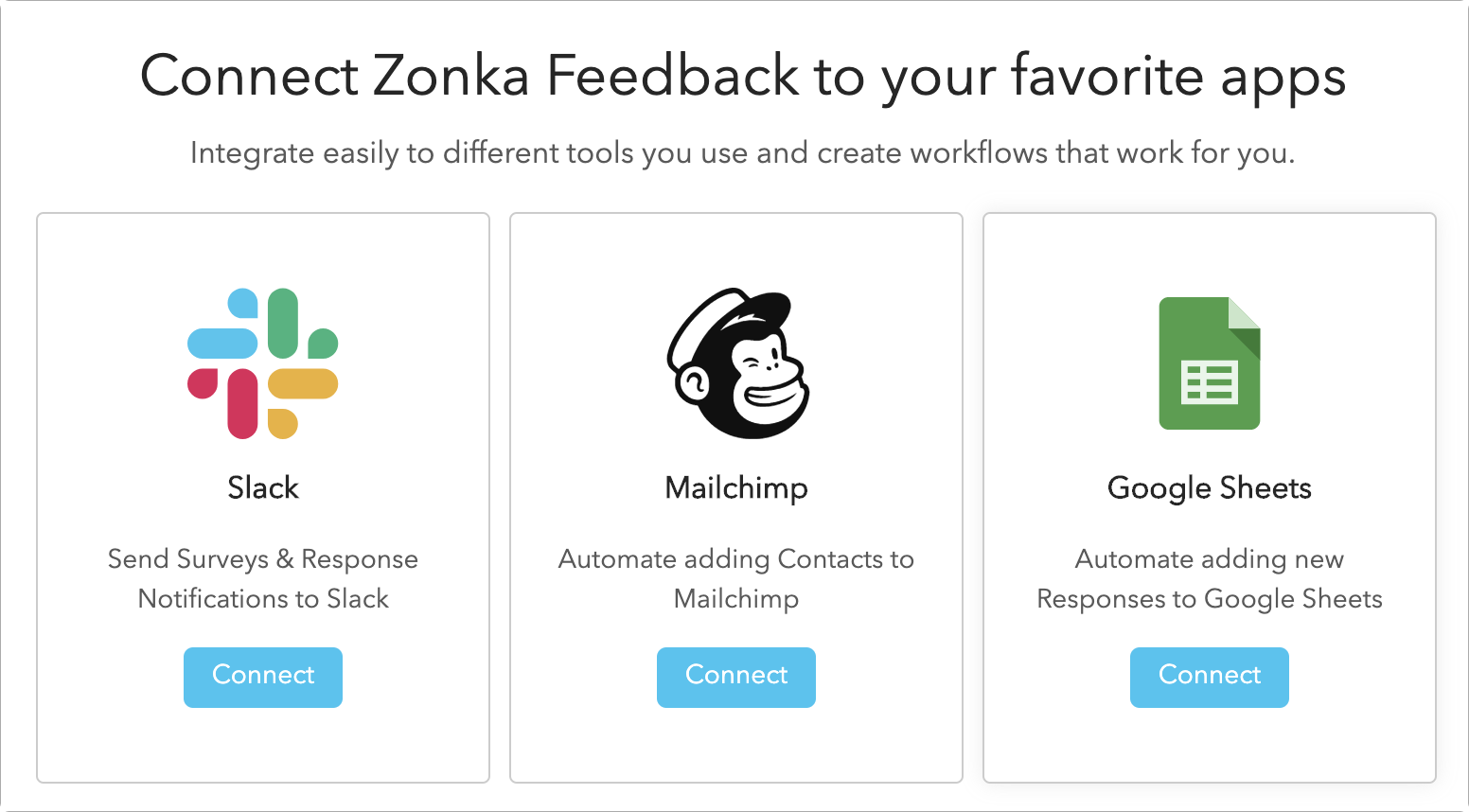 Here are a few first integrations that you can start using with your Zonka Feedback account.
Slack 💬
Slack which brings all your team communication and different tools you use into one place. It's also the tool we use extensively at Zonka Feedback and has been our go-to Work from Home Tool for team communication during this pandemic. It's no surprise, then, that Slack is the first integration we worked on and are releasing with the all-new Zonka Feedback Integrations.
By integrating Slack with Zonka Feedback, you can keep you team notified on Slack of new Survey Responses with Notifications and Custom Alerts. The Slack and Zonka Feedback integration can also be used to send Surveys in Slack, which is especially helpful in running team surveys.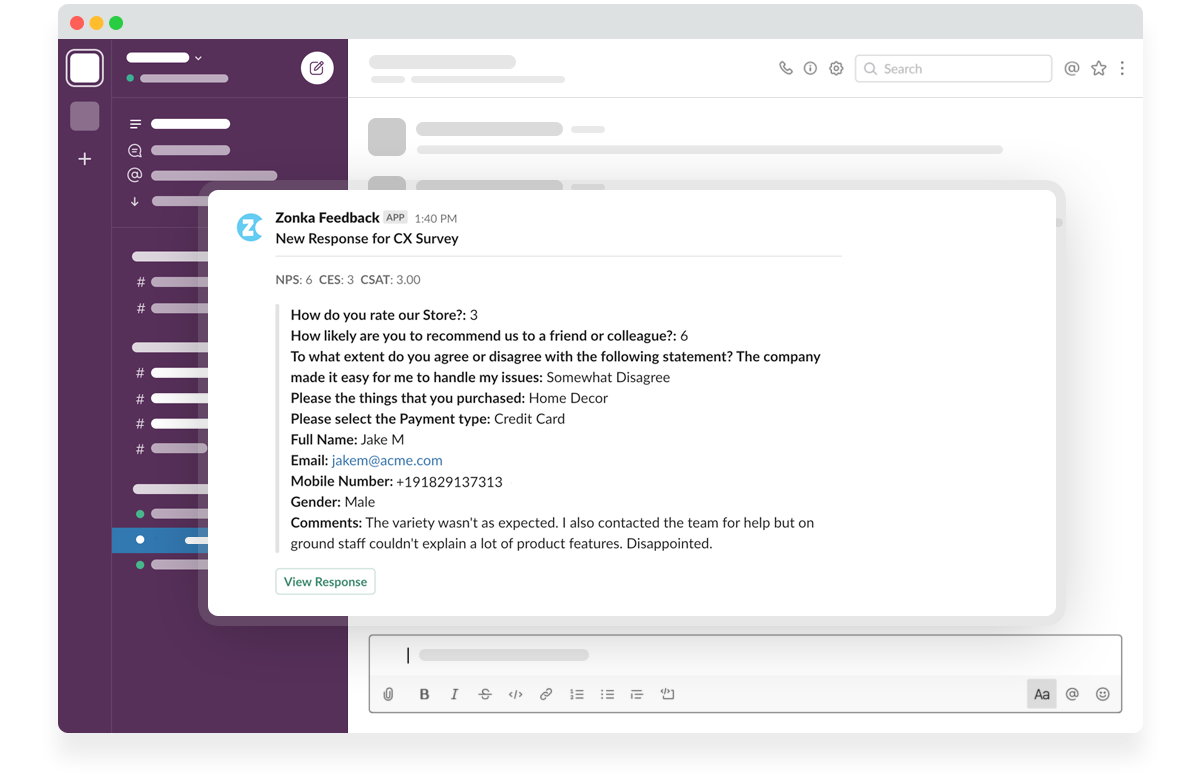 Here's how you can integrate Slack with Zonka Feedback.
Google Sheets 📝
Google Sheets has made Spreadsheets more accessible and collaborative for everyone. You can add data, create charts and graphs, use built-in formulas, pivot tables and conditional formatting to simplify all your spreadsheet tasks with Google Sheets.
With the Google Sheets and Zonka Feedback Integration, you can send new survey responses to Google Sheets in real-time. Choose from any existing Google Sheets or create a new one while you're integrating. All different surveys in your Zonka Feedback Account can be linked to different Google Sheets and the response data will be added automatically when a new response comes in.
Here's how you can integrate Google Sheets with Zonka Feedback.
Mailchimp
📭
A lot of customers who use Zonka Feedback, use the Customer data (with permission) that they collect through Surveys and Feedback Forms to run marketing campaigns and send newsletters. By connecting your Mailchimp account with Zonka Feedback, you can add new Contacts directly as Lists and Audiences in Mailchimp ready-to-use for campaigns and reducing any manually work.
With this integration, you can set conditions for Survey Responses and Contacts and if those conditions are met in Zonka Feedback then the contact gets added to your selected Mailchimp List or Audience automatically.
Here's how you can integrate Mailchimp with Zonka Feedback.
We're just getting started 🎉
We're seriously committed to enable Zonka Feedback to work well with other tools and platforms that you use. For this, we've set up an entire Integrations Team who have worked very hard on this release and are already now working on the next set of integrations for you. For any feedback related to integrations or any integrations requests, please contact our team at hello@zonkafeedback.com.